35 Best Vegan Sauces (Easy & Tasty)
Here are 35 Best Vegan Sauces' Recipes! They're all easy, creamy, tasty and so incredibly versatile! It's a mix of sweet and savoury sauces, and you're bound to find many that you love!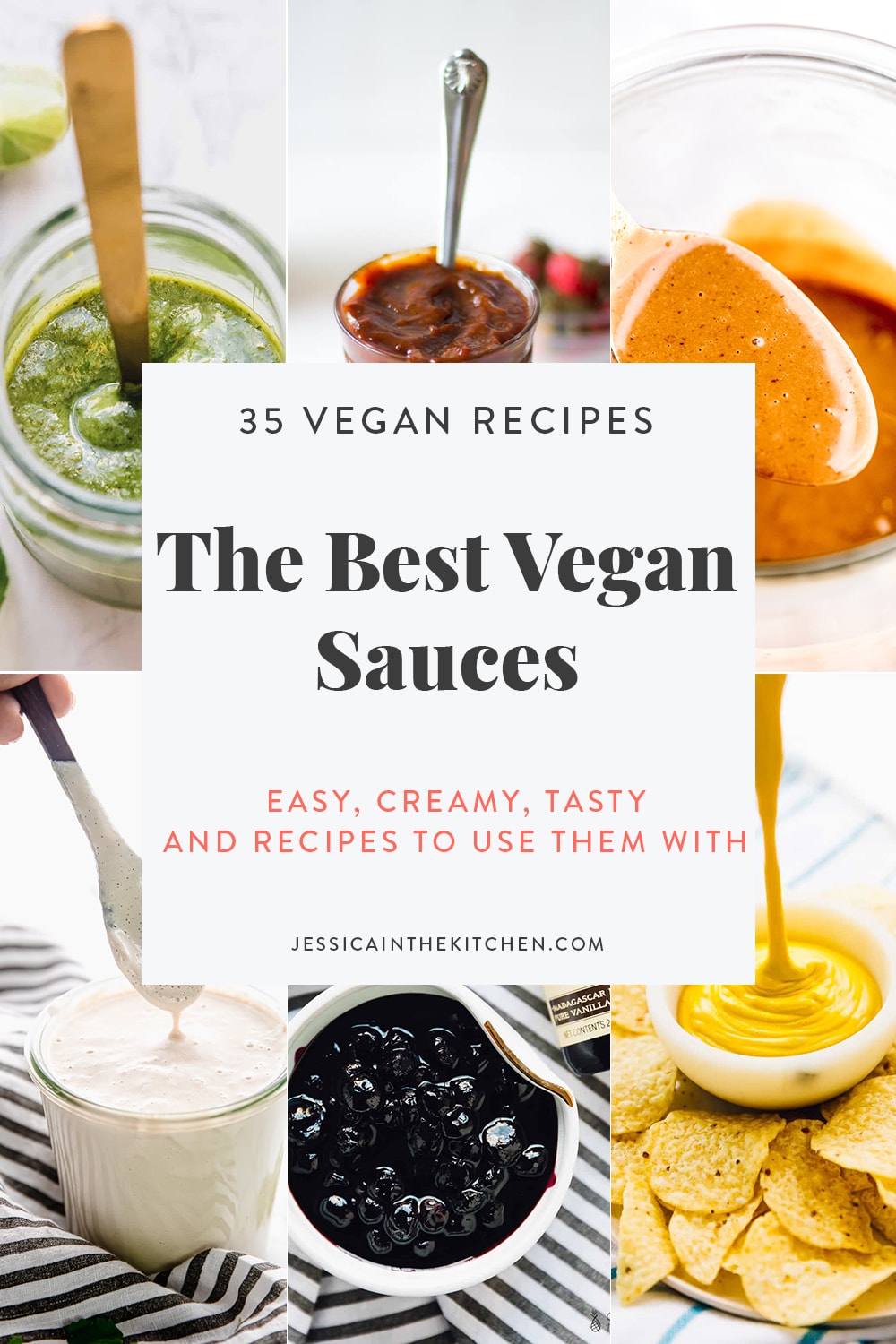 Happy September friends! Last month I had a live cooking show with a fellow incredible blogger friend Jenné of Sweet Potato Soul where we made my Tahini Mug Cake for our audiences. While we measured and mixed, I began to answer an audience question and began to list a couple of my favourite vegan sauces, which coincidentally, I've all made recipes on the blog for. She asked if I had a roundup of all my vegan sauces on the blog.
I realise: wait! I don't! How don't I?! What a fantastic idea! I knew I had to remedy this as soon as I could because friends: vegan sauces are like, the glue that holds together all your sweet and savoury meals! Not literally, thankfully, but I slap a sauce on pretty much everything. Not because it's dry or "needs" it, but because it completes it.
So remedy, here we are. It's safe to say I have a lot of sauces! Here's a roundup of all my favourite vegan sauces on the blog. For the sake of inclusivity and having one-stop for all the sauces/condiments available I've included my version of vegan mayo, and one or two salad dressings versatile and creamy enough to also be a sauce. They range from Alfredo sauces to cheese sauces, to bbq sauces, to even sweet sauces like blueberry sauce and caramel sauce and cashew whipped cream! The possibilities are endless. I'll add a little blurb beside some of them to show how I love to use it. I hope you thoroughly enjoy them!
35 Best Vegan Sauces (Easy & Tasty Recipes)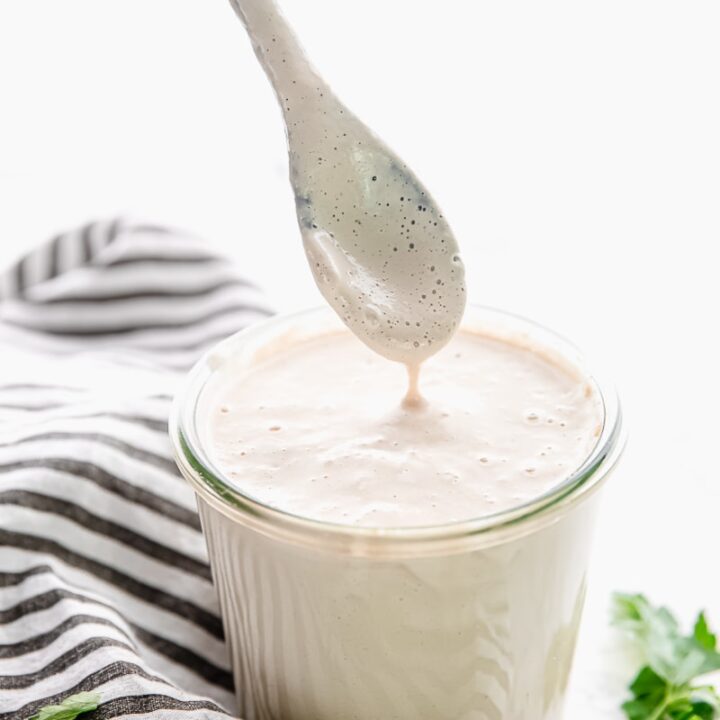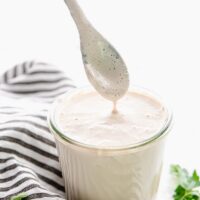 Vegan Alfredo Sauce + 5 Ways to Use it
This Vegan Alfredo Sauce is a creamy and divine dairy-free version of traditional Alfredo Sauce! It's made with a deliciously cheesy cashew cream sauce, and the sauce is made easily in your blender! There are actually so many ways to use this sauce beyond pasta - read on to find out more ways!

Ingredients
2 teaspoons vegan butter or olive oil
1/2 red onion, chopped
1 cup raw cashews, soaked overnight, or in hot water for one hour, drained
1/4 cup pasta water or filtered water
1 ½ cups unsweetened almond milk
4 cloves roasted garlic*
2 tablespoons nutritional yeast
½ teaspoon sea salt, or more to taste
2 tablespoons vegan parmesan cheese + extra for topping
1 tablespoon lime juice
Instructions
In a pan over medium-high heat, heat the vegan butter or olive oil. Add the onion, stir and let cook until translucent, about 5 minutes.

Remove the onions from the pan and add it to a blender. Add the rinsed off soaked cashews (without the water), the pasta water, the almond milk, the roasted garlic, the nutritional yeast, the sea salt, the vegan parmesan cheese and the lime juice.

Blend it all together until completely creamy. If you have a high powered blender this will happen quickly, about 1 minute, if not, just keep blending until completely smooth and creamy. Taste and add more salt or vegan parmesan cheese if necessary. Serve it with your desired dish or store in an airtight jar until you're ready to use it!
Notes
*YES roasted garlic takes about 40 minutes, but you'll need to wait for your cashews to soak for an hour at least anyway! Cut a bit of the top off of a whole head of garlic, put it in foil, drizzle olive oil on it, wrap the foil around it and cook it at 450 degrees F for 45 minutes in your oven until the cloves are soft and velvety! Allow it to cool, then push the cloves out. You can reheat this! Just reheat it in a stovetop over medium-high heat with a bit more almond milk to thin it out again until hot. Prep time doesn't include soaking the cashews overnight.
Calories: 198kcal, Carbohydrates: 12g, Protein: 7g, Fat: 15g, Saturated Fat: 2g, Sodium: 367mg, Potassium: 256mg, Fiber: 2g, Sugar: 2g, Vitamin C: 2mg, Calcium: 109mg, Iron: 2mg
Disclaimer: Although jessicainthekitchen.com attempts to provide accurate nutritional information, kindly note that these are only estimates. Nutritional information may be affected based on the product type, the brand that was purchased, and in other unforeseeable ways. Jessicainthekitchen.com will not be held liable for any loss or damage resulting for your reliance on nutritional information. If you need to follow a specific caloric regimen, please consult your doctor first.