Kale and Pistachio Pesto
Kale and Pistachio Pesto is the best pesto I have ever had! It's so creamy and flavourful, made with roasted garlic and perfect for a dip, your pasta or on anything!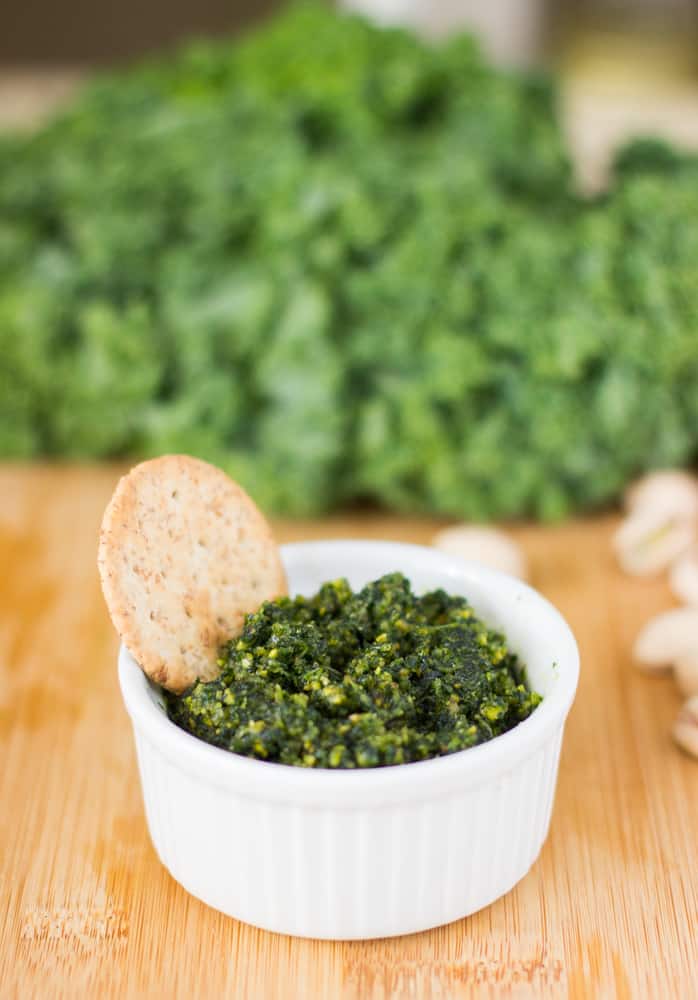 To say it's been an eventful week would be the understatement of the year for me. First off, thank you to everyone for your well wishes, like, really, thank you. I've read every single one and I'm getting to replying – but it's like I can't catch a break since I've been engaged! You may have noticed I didn't post a food post on Friday or Saturday, and while I could be honest and say I've been too busy staring at my hand to look up, I will say I just really really busy with life.
Let's go with that.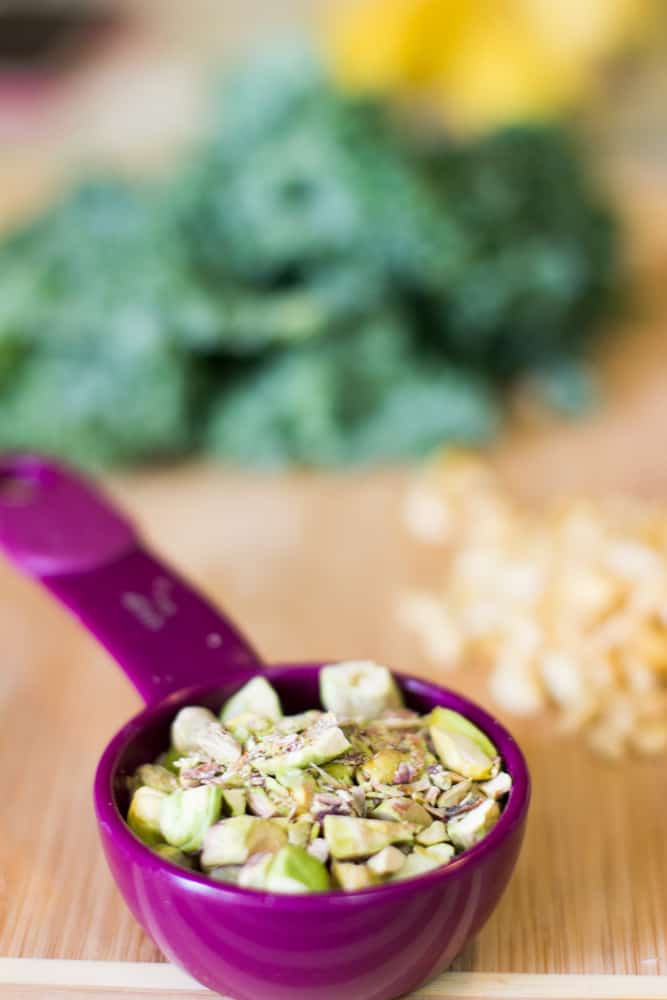 A Hearty, Healthy Twist on Traditional Pesto!
If you've been here for a while, you know I love pesto. The issue is I don't post as many pesto recipes as I make but I realised that if I loved them you may love them too! Pesto is this kind of green magical sauce that makes everything it touches ten times better.
Living in Jamaica, I tend to opt for pestos without basil (unless I buy it pre-made) since basil is imported and doesn't grow here, meaning it's a wee bit more expensive. No bueno. Plus, I love using the freshest ingredients I can in anything I make and kale is always an option. When I break pesto down, it's greens, nuts, olive oil and seasoning of your choice – you realise the world of possibilities that are available?!
For this pesto I wanted something different from my usual pine nuts and greens, and the pack of pistachios was just screaming at me. Okay, not literally. Whoa.

Kale Pesto with Pistachio Is Easy and Flavorful
I was attracted to the pistachios because of the green-on-green concept, and trust me, it worked out perfectly. I have never had a pesto I've loved so much – so much that after writing this I'm going to make more to put on some pasta (yummmm.) It's creamy of course, the natural oil in the nuts plus the olive oil helps with that. But then the flavour is out of this world (could this possibly be my most favourite phrase?) I can eat a bag of pistachios like a champ but creamed up?? Why have I never thought of this! All the flavours seem to marry together SO well and you're left with a pesto that's all up to your imagination and that you want to put on everything, which is exactly what I did.
I have to touch on the "elephant" in the room, the roasted garlic. Mr. Bakes and I were making roasted potato cubes and were going garlic to the pesto and thought hey, why not roast the garlic? 400 degrees for 30-40 minutes creates this masterpiece, then we went back and roasted an entire garlic head the next day after falling in love with the flavour. I didn't include this in the making time because you don't have to do it, but it enhances the flavour so much. It can also be done from the day before, then added to the pesto. I honestly think this is why it was the best pesto ever.
What's on your agenda this Monday? I'm trying to make the world a better place by eating more greens aka more pesto for days. Aren't I kind?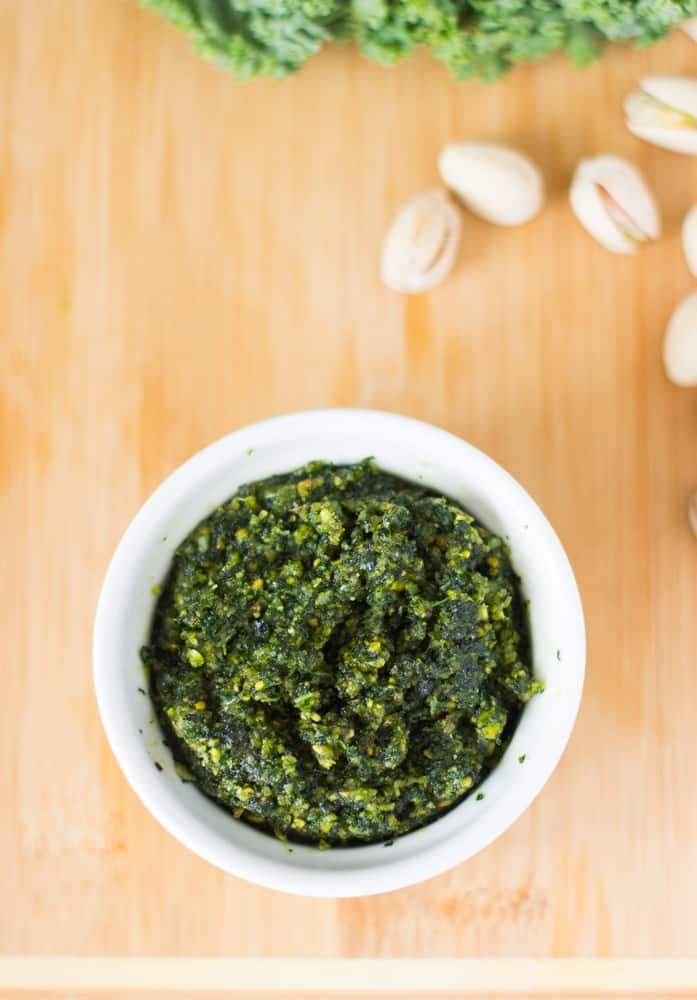 If you loved this kale and pistachio pesto, you'll definitely love my parsley pesto!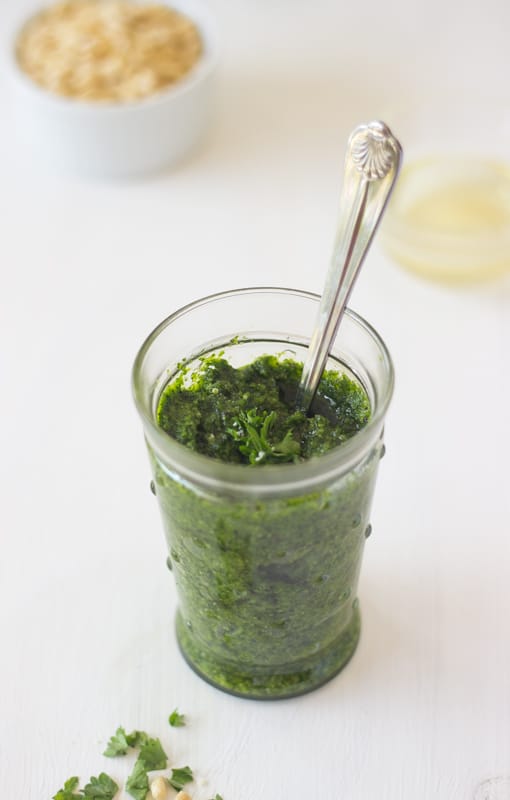 Why not try pesto in this caprese sandwich!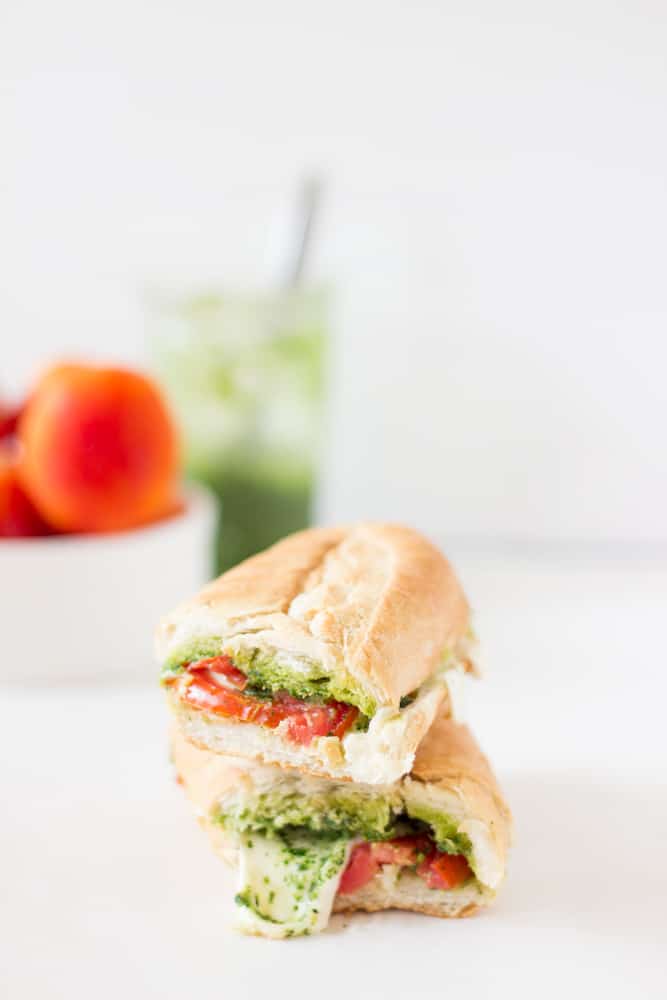 Want more spreads and dips? Check out my recipe index for more!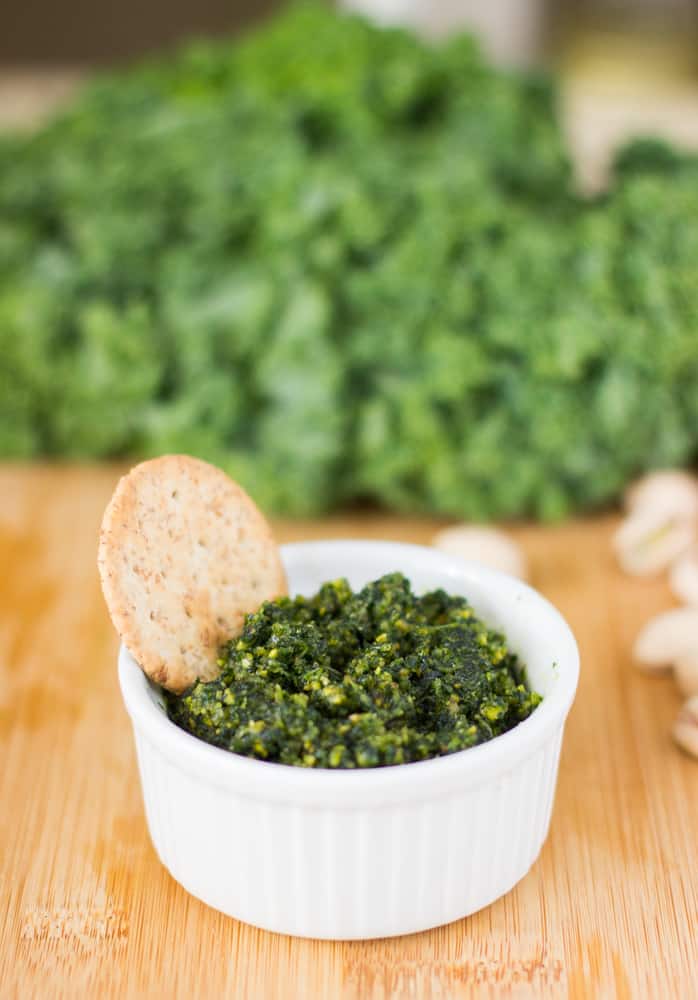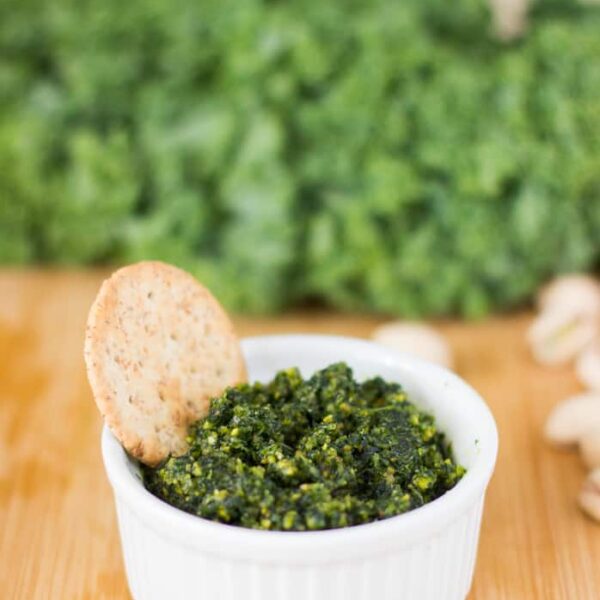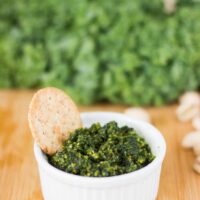 Kale and Pistachio Pesto
Kale and Pistachio Pesto is the best pesto I have ever had! It's so creamy and flavourful, made with roasted garlic and perfect for a dip, your pasta or on anything! 
Ingredients
2 cups kale, washed and de-stemmed
1/4 cup de-skinned pistachios, if you can't find de-shelled you can do them yourself
1/4 cup pine nuts
3 tablespoons olive oil
4 cloves roasted garlic or regular garlic cloves
1 teaspoon fine sea salt
1 teaspoon ground black pepper
Instructions
Add kale, pine nuts, and pistachios to a food processor and pulse until combined, scraping down the sides after a each pulses, for about 2 minutes.


Add the olive oil, roasted garlic, salt and pepper next and continue to pulse until combined, for about 2-3 more minutes. Feel free to add more olive oil if you want a more runny consistency, or more nuts if you want a thicker pesto
Calories: 107kcal, Carbohydrates: 4g, Protein: 2g, Fat: 10g, Saturated Fat: 1g, Sodium: 298mg, Potassium: 153mg, Fiber: 1g, Sugar: 1g, Vitamin A: 1689IU, Vitamin C: 21mg, Calcium: 32mg, Iron: 1mg
Disclaimer: Although jessicainthekitchen.com attempts to provide accurate nutritional information, kindly note that these are only estimates. Nutritional information may be affected based on the product type, the brand that was purchased, and in other unforeseeable ways. Jessicainthekitchen.com will not be held liable for any loss or damage resulting for your reliance on nutritional information. If you need to follow a specific caloric regimen, please consult your doctor first.