Parsley Pesto
This parsley pesto not only offers a gorgeous colour perfect for spring but is fresh, flavourful, and only takes 7 minutes to make.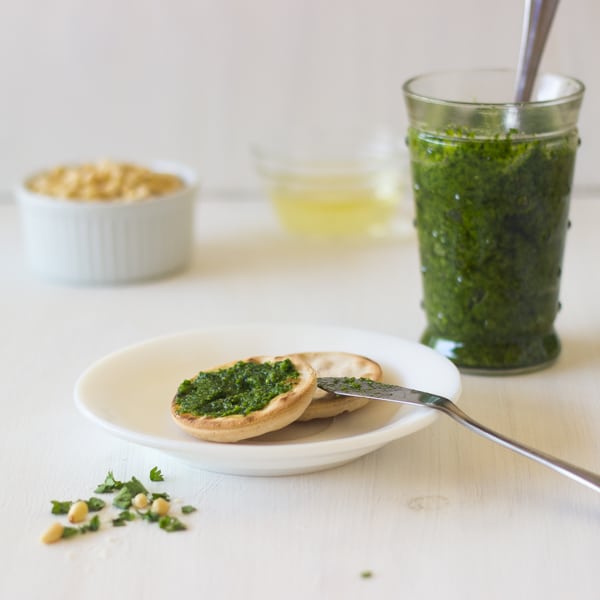 It's about that time in my country that it's finally starting to rain and create a variety from the endless sunshine. I know that sounds like a bundle of happiness, but it can be a bother when you're walking in the sun and going near blind from the brightness…

…
I'm now realising that to those of you who still have snow, I sound INCREDIBLY ungrateful. Oops.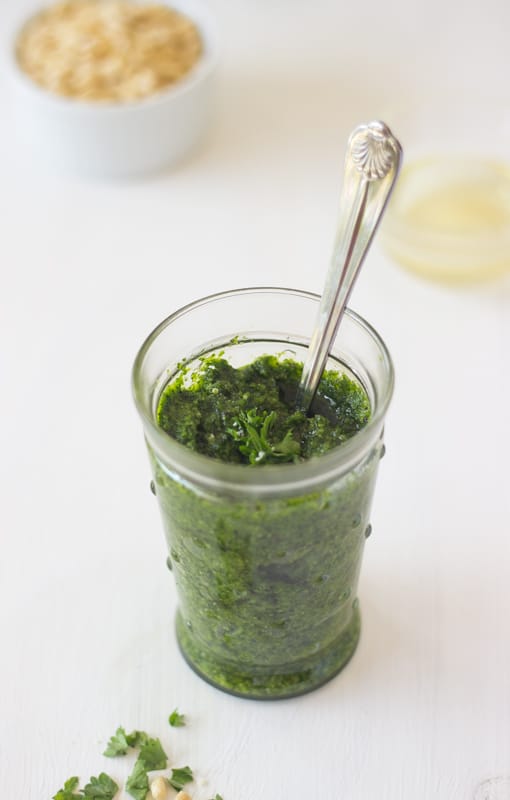 Now, don't get me wrong. I love Jamaica. The beaches, the sun, the hotels, the food. But sometimes, I am very happy for the rain. It just lets me know that the spring showers are here (thank you Lord) and that the day is cooled down for the afternoon. Although we don't have any distinct seasons here (winter is a bit cold) I would have to say spring is my favourite. It's not too hot, it rains to cool down such heat, and all your flowers bloom gorgeously. It also means all your produce begins to bloom also, case in point being this parsley.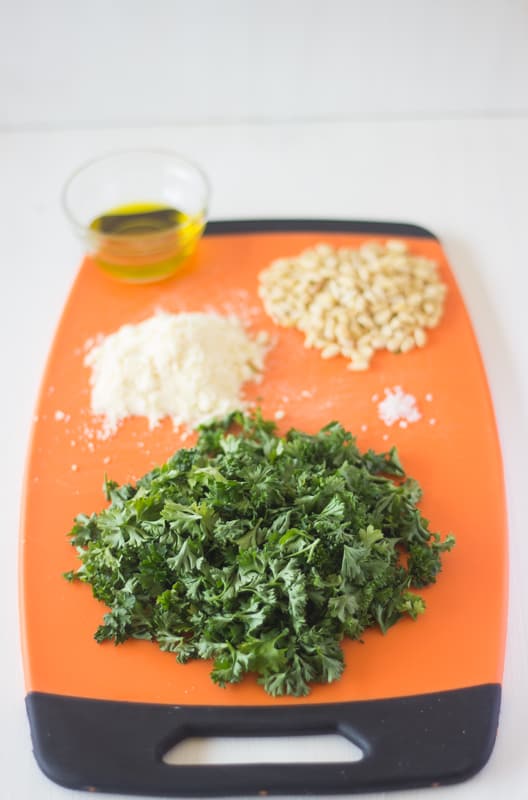 A long time ago I showed a glimpse of my back yard where we have some tomatoes growing – which means that currently we don't buy tomatoes at the supermarket – and this has beautifully expanded to parsley, scallions, scotch bonnet peppers, and tons of bananas. I think an orange tree is in the bloom. One day I will go on a mini adventure and show you pictures of it all!
That's why parsley pesto just makes sense. After all, isn't that what food blogs are about? Creating not only traditional meals but also those fine tuned to our own circumstances? I was surprised when I found out that there are so many varieties of pesto, and after making this parsley pesto I can see why. It is the recipe that you can switch out your greens, your cheese, your oil and even your nuts for anything you have on hand that fits properly. It is the perfect customisable recipe that allows you to put your own personality and taste into it, to create a delicious, creamy spread personally tailored to you.
I loved this spread, and kept eating pieces in between this shoot in an attempt to "clean up the sides".  I admit, ugh, that I have bought pesto way too many times when the ingredients cost a whole lot less than the bottle, and produced a lot more. It also tastes a lot fresher, and I can guarantee that after a day of sitting in your fridge, the flavours come together even more, producing a delicious spread.
Now if you'll excuse me, I have some parsley pesto to attend to. Happy Monday!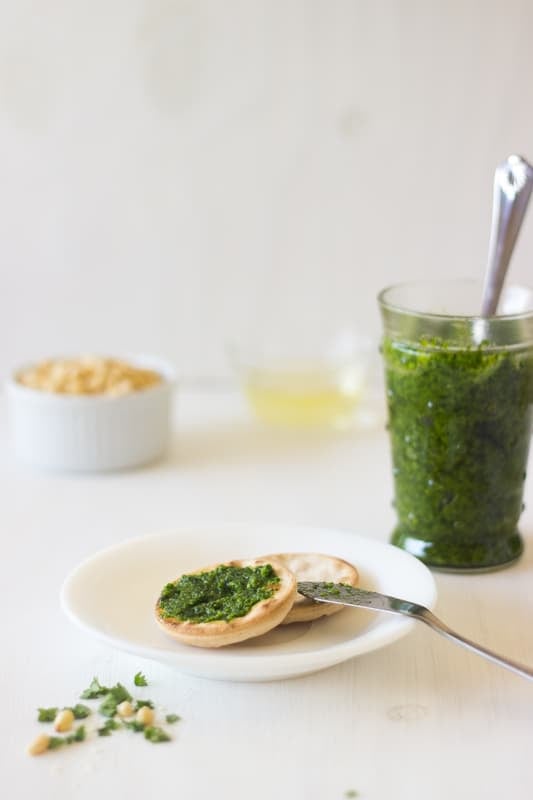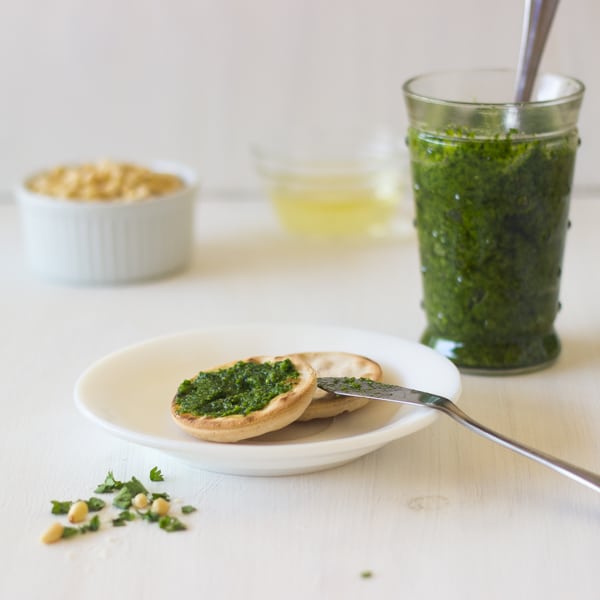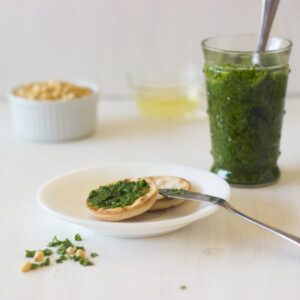 Parsley Pesto
This parsley pesto not only offers a gorgeous colour perfect for spring but is fresh, flavourful, and only takes 7 minutes to make.
Ingredients
2 1/2 cups parsley, stemmed and washed
1/3 cup toasted walnuts, or pine nuts
1/3 cup + 2 teaspoons grated parmesan cheese, vegan
3 cloves garlic
1/2 teaspoon coarse salt
1/3 cup olive oil
1/2 teaspoon pepper, adjust to taste
Instructions
Add the parsley, nuts, parmesan cheese, garlic, coarse salt and two tablespoons of olive oil into a food processor.

Blend the ingredients together in 5 second intervals until blended together, about 30 seconds. Scrape down the bowl with a spatula.

Add the rest of the olive oil and the salt and pepper. Blend everything together until smooth, but there is a slight texture left (if you prefer - else blend until completely smooth), about 1 minute.

Scrape down the bowl again ensuring everything is being incorporated.

You may want to add more cheese, olive oil or seasoning to appeal to your palette.

Spoon the pesto into a bowl and serve on crackers, bread, sandwiches, pizza, or other varieties.
Calories: 135kcal, Carbohydrates: 3g, Protein: 2g, Fat: 13g, Saturated Fat: 2g, Sodium: 203mg, Potassium: 130mg, Fiber: 1g, Sugar: 1g, Vitamin A: 1580IU, Vitamin C: 25mg, Calcium: 36mg, Iron: 1mg
Disclaimer: Although jessicainthekitchen.com attempts to provide accurate nutritional information, kindly note that these are only estimates. Nutritional information may be affected based on the product type, the brand that was purchased, and in other unforeseeable ways. Jessicainthekitchen.com will not be held liable for any loss or damage resulting for your reliance on nutritional information. If you need to follow a specific caloric regimen, please consult your doctor first.