Breakfast Tacos with Avocado Pico De Gallo Salsa
These Mexican Breakfast Tacos are a hearty breakfast packed with hash potatoes, scrambled eggs and avocado pico de gallo salsa with lime squeezed over the top.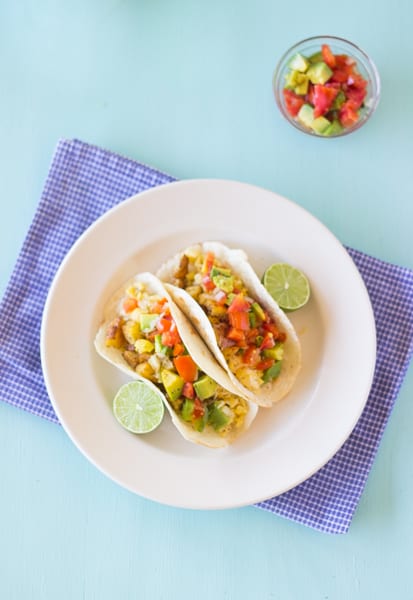 Breakfast Tacos are one of those meals that give you 100% creative freedom. I actually wish that in my former (or future) life, I created a breakfast taco food truck offering a sort of buffet style, where you could choose your own toppings and quantities.
It's one of those things that by the end of it, shows the kind of person you are. Are you the I'm-going-to-stuff-everything-possible-into-this-taco person? Or are you Houston-Style-Ingredients-Only person or are you this-is-an-omelette-in-a-tortilla type? I think I'm the last to be honest. I kind of just shove anything I would want in and on an omelette in my taco. Plus cheese, of course. Cheese makes everything even better.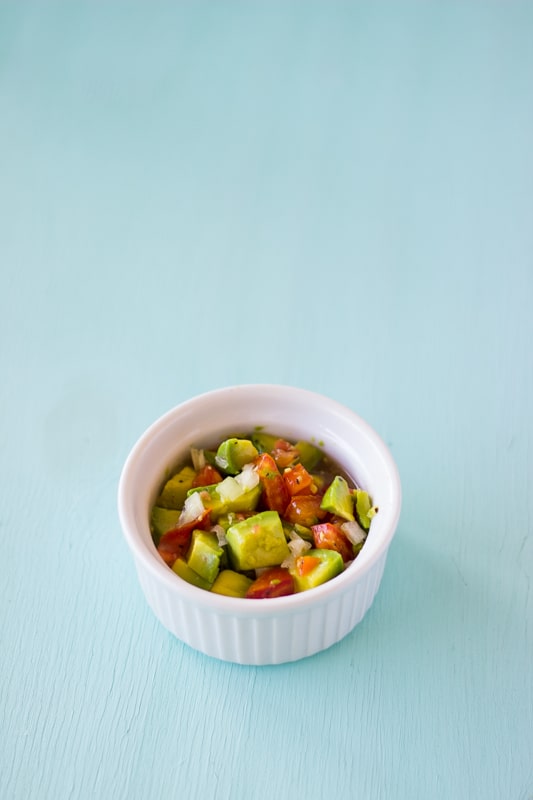 That's why although I have created a recipe that I know you'll devour, feel free to add or subject ingredients to your choice. This is YOUR taco baby! I opted for scrambled eggs topped with asadero cheese, a Mexican cheese , stove top hash potatoes, and an avocado pico de gallo. After Mr. Jessiker Bakes' version of pico de gallo I'm definitely the kind-of-in-love-throw-it-on-everything taco girl and I have been recreating it and putting it on everything. Next up – pineapple version! This taco is definitely bursting with all these amazing flavours that will leave you wanting to create your own taco joint.
I think I actually got inspired by that show Diners, Drive-Ins and Dives aka my insanely guilty addiction and the overflow of tacos, so the next morning for breakfast (after dreams of food, of course) I was craving a taco. It was way too early to justify a regular version, so I opted for a breakfast version with my own array of ingredients. Despite my avocado and pico de gallo addiction, I actually think my favourite part was the potatoes. They're cooked like hash browns minus the shredding and ton of oil, and create such a delicious crunch and contrast to the scrambled eggs. Can you say, ultimate breakfast?
What ingredients would you add to this? And P.S. it's time to fine tune your taco skills – Cinco de Mayo is around the corner.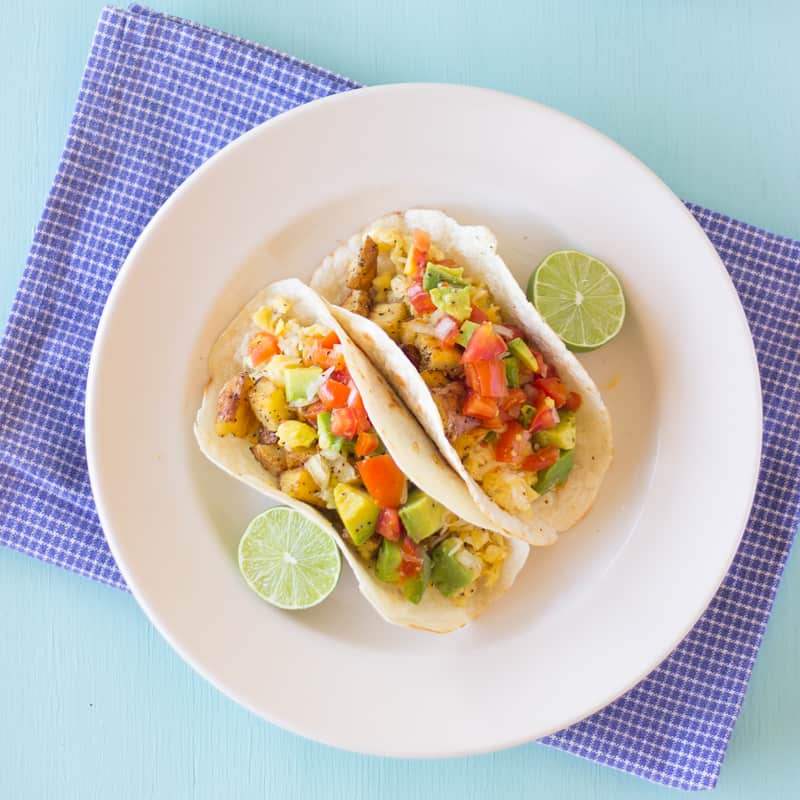 If you enjoyed these Breakfast Tacos you'll enjoy this Spicy Guacamole!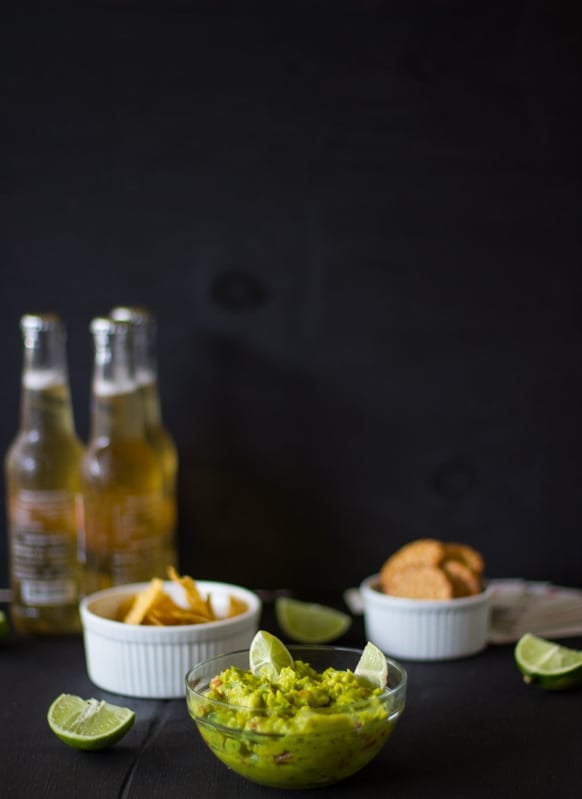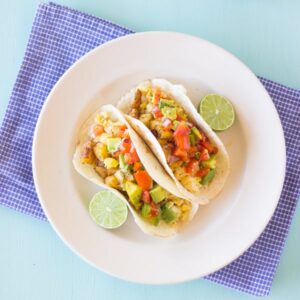 Breakfast Tacos with Avocado Pico De Gallo Salsa
These Mexican Breakfast Tacos are a hearty breakfast packed with hash potatoes, scrambled eggs and avocado pico de gallo salsa with lime squeezed over the top. 
Ingredients
2 6- inch tortillas, soft tacos
Pico de Gallo Salsa:
1/2 a small onion, diced
1 small tomato, diced
1 whole chili pepper, diced
3 small limes
1/2 teaspoon salt
1/2 teaspoon ground black pepper
1/2 avocado, diced
Hash Potatoes:
3 teaspoons oil
1 teaspoon black pepper
1 small or 1/2 medium potato, diced
Scrambled Eggs:
2 large eggs
1 pinch of salt
1 teaspoon of ground black pepper
2 tablespoons milk
2 teaspoons of parsley or green onions, chopped
2 tablespoons of asadero cheese or other Mexican Cheese
2 teaspoons of hot sauce
Instructions
Tacos
In a pan over medium high heat, place the tacos to get a slight crisp and to aerate them for about 30 seconds on each side. This creates a lighter finish. Set aside.
Pico de Gallo
Mix all of the ingredients except the lime, combining until mixed together. Squeeze the limes over the mixture - you want to pico de gallo to soak in the lime juice, so ensure the entire mixture is covered slightly with the juice. Allow to soak for about 15 minutes to ensure all the flavours are extracted - this can be done from before starting the other steps. Note, this makes more than you need. Place leftovers in the fridge covered with plastic wrap.
Hash Potatoes
Heat oil in a pan over medium high heat. Toss potato in pepper, and then place into pan when oil is hot. Oil should sizzle.

Cook potatoes until cooked through, at least 5 minutes and up to 10 minutes. Potato will be soft on the inside when cooked through. In the last few minutes, you can begin to cook scrambled eggs. Remove from heat when finished.
Scrambled Eggs
Whisk the eggs, salt, ground black pepper,hot sauce and milk together in a bowl.


In a pan over high heat, spray with non-stick cooking spray. When hot, pour the egg mixture into the middle of the pan.


Stir slowly with a rubber or silicone spatula, pushing eggs from the edges in a circular motion. Stir in a slow pushing method until curds begin to form, then begin to fold the curds over.

Lower heat, and stir until there is no more liquid egg. Remove pan from heat. Add the cheese on top.

Sprinkle with parsley or green onions.
Putting it Together
Lay tortilla on a place, then add the scrambled eggs with cheese on top in the middle of the tortilla. Add the potatoes and then the salsa. Split evenly between the two tacos. Serve with lime wedges to squeeze over the tacos.
Notes
Notes This recipe can be easily doubled or tripled for a family brunch option. Be careful of over adding salt = that's why I didn't add any to the hash potatoes or pico de gallo because the amount in the scrambled eggs and natural cheese is enough. Add to taste.
Calories: 672kcal, Carbohydrates: 88g, Protein: 22g, Fat: 29g, Saturated Fat: 7g, Cholesterol: 178mg, Sodium: 1502mg, Potassium: 1269mg, Fiber: 13g, Sugar: 12g, Vitamin A: 1244IU, Vitamin C: 102mg, Calcium: 301mg, Iron: 6mg
Disclaimer: Although jessicainthekitchen.com attempts to provide accurate nutritional information, kindly note that these are only estimates. Nutritional information may be affected based on the product type, the brand that was purchased, and in other unforeseeable ways. Jessicainthekitchen.com will not be held liable for any loss or damage resulting for your reliance on nutritional information. If you need to follow a specific caloric regimen, please consult your doctor first.