Easy Guacamole Recipe
This Easy Guacamole Recipe is the ultimate crowd pleaser dip! It's made with fresh ingredients, incredibly flavourful and takes 15 minutes to whip up!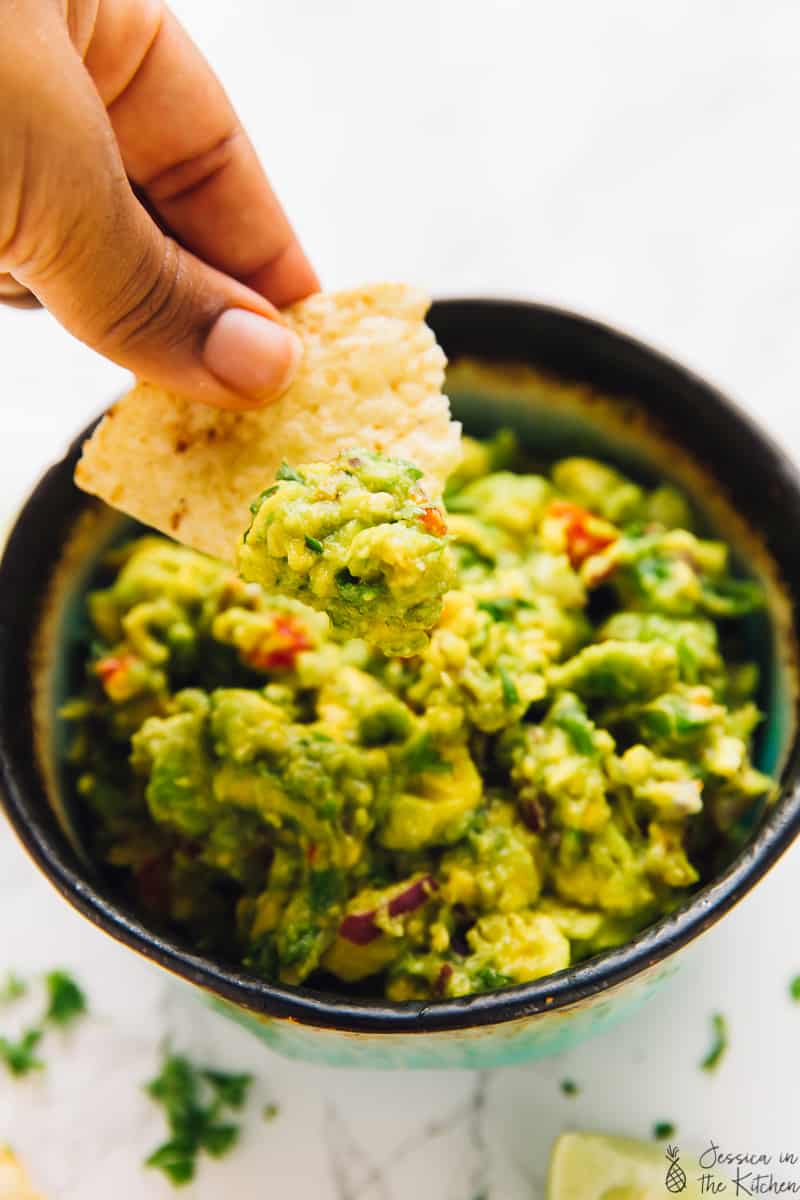 If you think I'm going to start this blog post talking about my love for Mexico…you're absolutely right.
I mean, how else do you start a post that is yet another ode to one of your favourite countries ever? Exactly.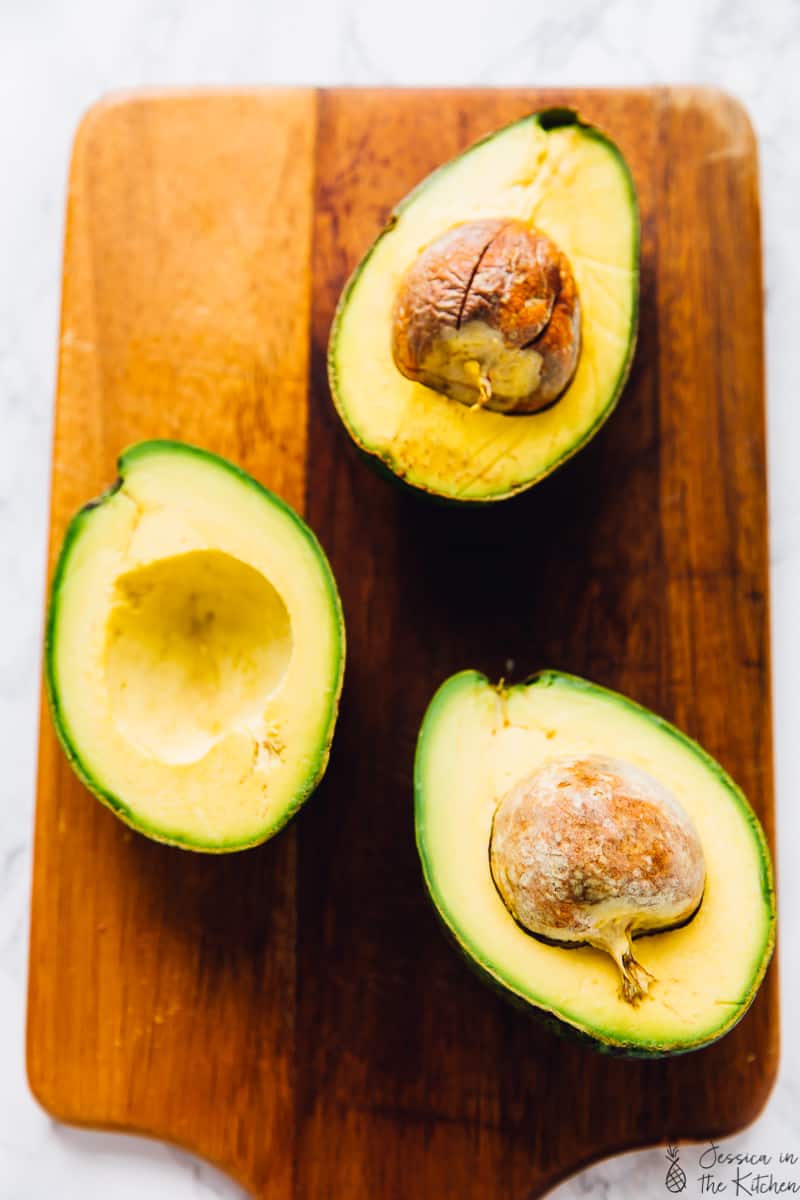 Whenever I look back on photos of our two times to Mexico, there are three distinct things that I remember. The music, the food and the chill. Everywhere we went, music was drifting softly in the background, turning you into that character in your favourite movie with the background music that fit oh so perfectly with their life. The chill – I felt so down to Earth, calm and mindful while in Mexico. I wanted to experience everything in that exact moment, exactly as it is. Everyday was a new bare faced, shoulders down, endless smile kind of adventure. Then, the food. I've got into this in full detail in both of my Tulum guides. First, our adventure staying in the town. Then, when we stayed on a hotel on the beach in Tulum. The food is beyond anything you thought it would be. And with every single meal, I had guacamole. I can't wait to go back!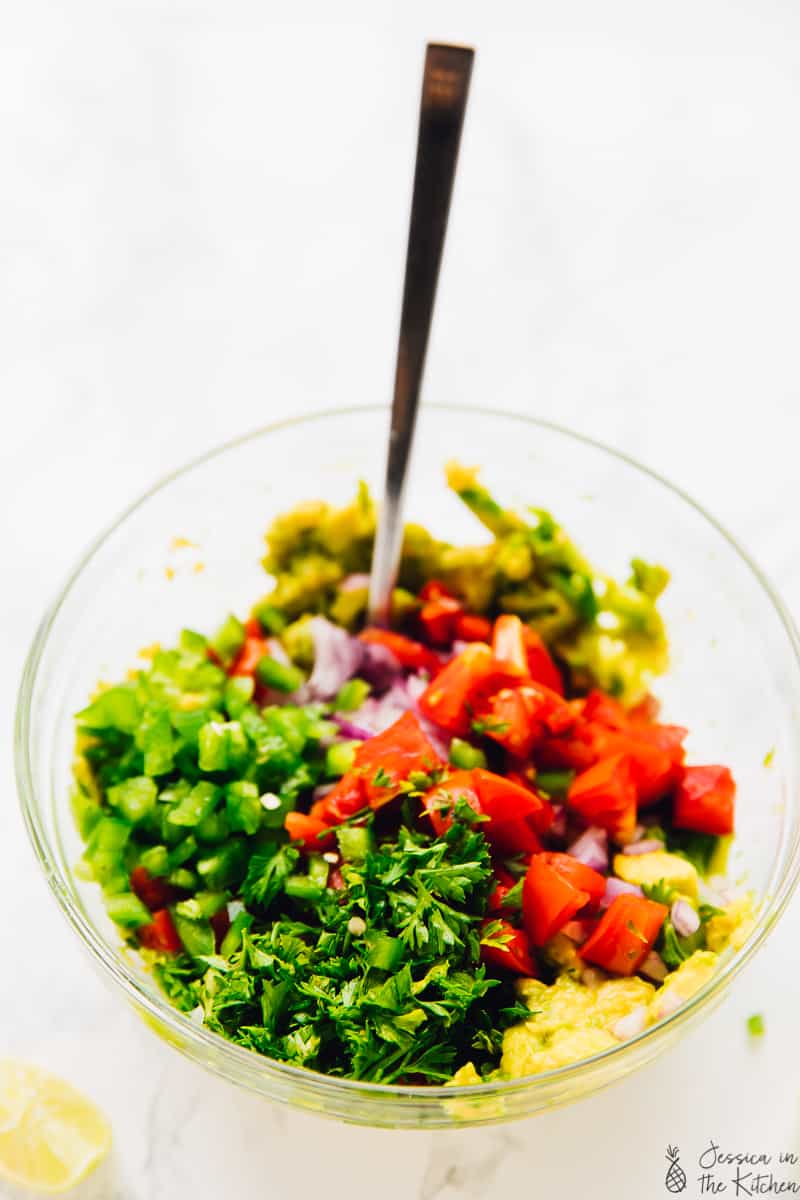 Ever since opting for more healthy fats in my diet, I've had avocado every. Single. Day. Yes, it truly has become a new love of my life. My mom has harked about avocado for years and while I thought I got it, I FINALLY just got it. As an ode to my new found adoration of avocado and my love of Mexico I decided to finally share a guacamole recipe.
Yes, I've shared guacamole before. But this one is a new, fresh and improved guacamole. This Easy Guacamole recipe can be made by literally anyone and has SO many uses that it's insane.
You can use this guacamole as:
A dip – perfect with chips or crackers or vegetables
On toast – hello upgraded avocado toast
In a wrap – can you say wrap heaven?
In a Mexican inspired bowl – hello quinoa/rice, black beans, corn and salsa!
On top of a burger – yes this tastes SO good alongside plantain chips too!
How to make the best guacamole
Okay let's go through some tips for making this guacamole the best version ever for you. A few things:
Choosing the right avocado – you want a nice and ripe avocado for this. When you press into it it should give a bit, and cause a small bit of a dent. If it is soft and squishy it's better used in a smoothie or a purée. You want your guacamole to be nice and chunky and have texture.
Onions – red or white works well here. I've made both ways and it's personal preference
Cilantro vs parsley – okay let's be real, cilantro is traditional here. But I can't stand the taste. So I opt for parsley instead. If you love cilantro definitely use it here. Otherwise use parsley.
Tomatoes – Roma tomatoes are my favourite here. Sometimes mushy or over watery tomatoes can water down your guacamole. I never scoops out the seeds but you definitely can before dicing and adding in the tomatoes!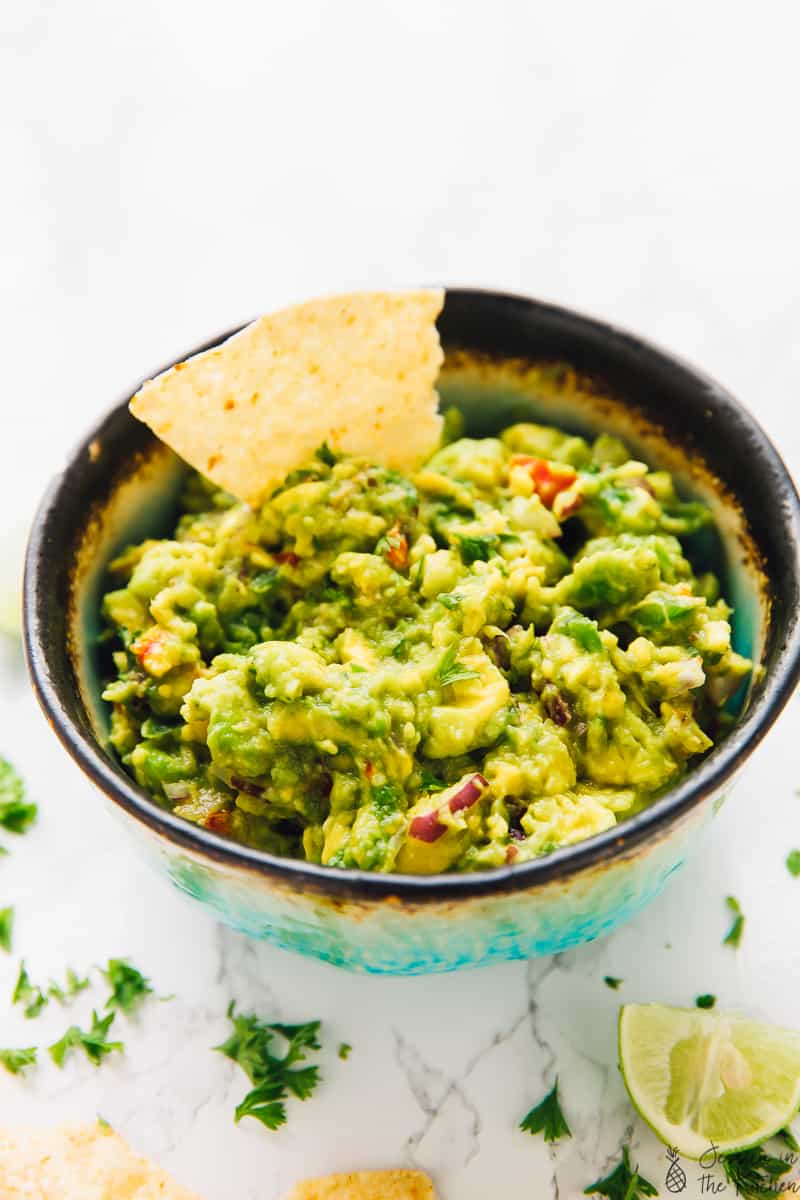 How To Store
Guacamole tastes best after sitting for about 15 minutes and the next day – so fresh. That being said, it still tastes amazing up to day three (if you have any left at this point). You can store your guacamole in an airtight container in the fridge to keep it fresh. I stuck a pit in mine and it honestly kept it fresh and bright green for the three days it was in the fridge. I've also added cold water over well packed together guacamole. I didn't love this method because the water found like ever hole and buried itself in! It still does get it super fresh though.
Serve up this guacamole with some chips or your favourite parcel of delivery and enjoy!!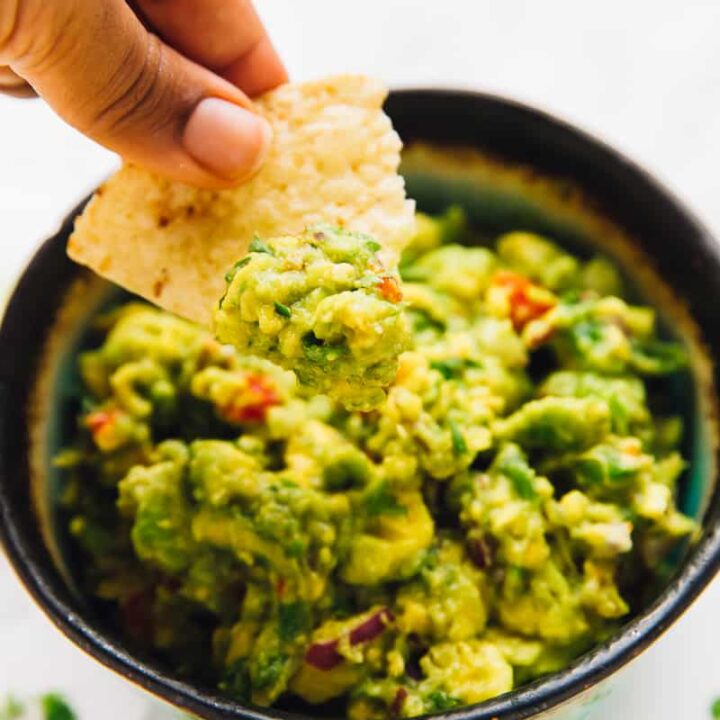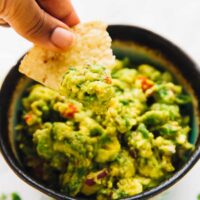 Easy Guacamole Recipe
This Easy Guacamole Recipe is the ultimate crowd pleaser dip!  It's made with fresh ingredients, incredibly flavourful and takes 15 minutes to whip up!
Ingredients
1 ½ large ripe avocados, 531.55g, pitted and peeled
1 jalapeño/chili, chopped
1 medium tomato, diced
2 tablespoons freshly squeezed lime/lemon juice
2 tablespoons chopped cilantro or parsley
1/4 red or white onion, 50g
1/2 teaspoon sea salt
pinch black pepper
½ teaspoon cumin
Instructions
In a large bowl, add the peeled and pitted avocados. Use a fork, potato masher or a pastry cutter to mash the avocado into rough chunks. Don't over mush it especially if you want it chunky.

Add in the rest of the ingredients and mash together to combined and until well mixed.

Let it sit for about 15 minutes for the flavours to meld together, then serve! Enjoy!
Calories: 89kcal, Carbohydrates: 6g, Protein: 1g, Fat: 7g, Saturated Fat: 1g, Sodium: 200mg, Potassium: 313mg, Fiber: 4g, Sugar: 1g, Vitamin A: 382IU, Vitamin C: 15mg, Calcium: 10mg, Iron: 1mg
Disclaimer: Although jessicainthekitchen.com attempts to provide accurate nutritional information, kindly note that these are only estimates. Nutritional information may be affected based on the product type, the brand that was purchased, and in other unforeseeable ways. Jessicainthekitchen.com will not be held liable for any loss or damage resulting for your reliance on nutritional information. If you need to follow a specific caloric regimen, please consult your doctor first.