Roasted Cauliflower Hummus (Vegan, Keto & Low Carb)
This Roasted Cauliflower Hummus is absolutely smooth and creamy! It's keto, making it perfect for a low carb spread and tastes so flavourful!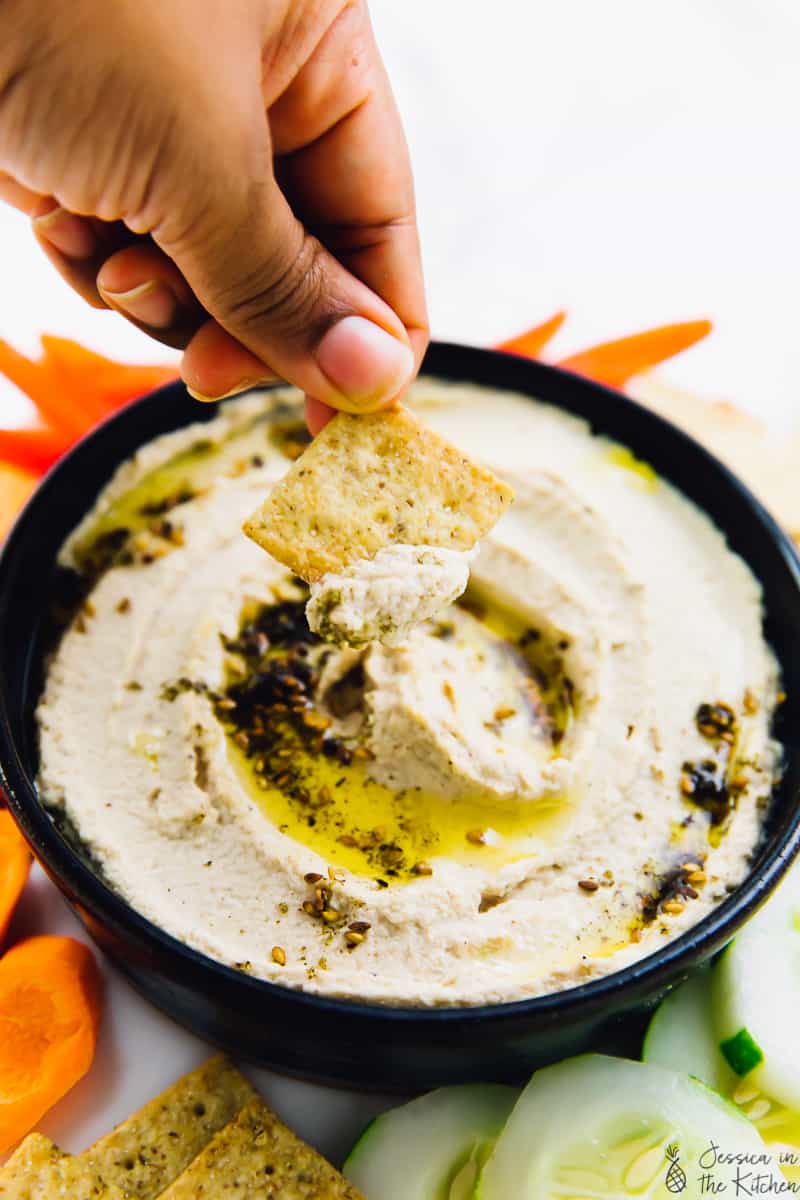 Before we start, can we take a second to look at how smooth that is? Like butta'. Okay, let's proceed.
You guys know I love cauliflower. In fact, I just did a huge post highlighting all the ways cauliflower can be used in your kitchen and I need to add this beauty to it. Cauliflower is like the most transformative veggie, so much so, that you can even turn it into hummus!
Cauliflower hummus? Yes I said it. I am happy to say that this cauliflower hummus is a smashing hit. You can call it a cauliflower dip if you want, but it really does taste just like hummus.
I'm talking spread on everything, from your sandwich, to your wraps, as a dollop in your salads. To of course, just eating it with veggies or crackers. This cauliflower hummus comes into at 3 net carbs per serving, which is a whole 1/4 cup, making this keto-friendly! The secret here is a few things.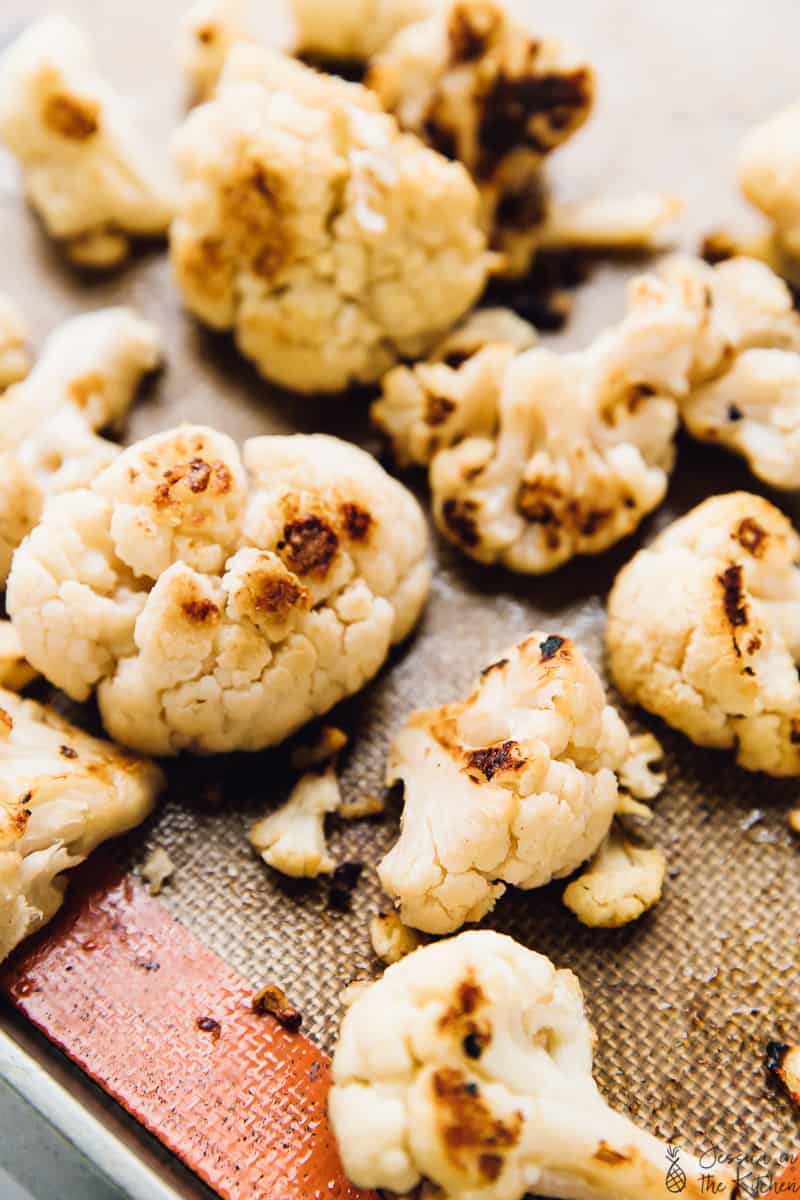 How to Make Cauliflower Hummus
The first thing you need to do is roast your cauliflower. Just like in my creamy cauliflower soup, roasting not only brings out the flavours but cooks the cauliflower to a special state that it can blend into anything. A quick 15 minute roast makes all the difference.
Next, blend everything together in specific steps! Yup it's that easy. While your cauliflower is roasting, stick some water into the freezer. You're going to want ice cold water. I learned while in Israel that ice cold water really sticks to and activates the fat in the tahini, making this hummus super fluffy. It's what I do now every time I make hummus!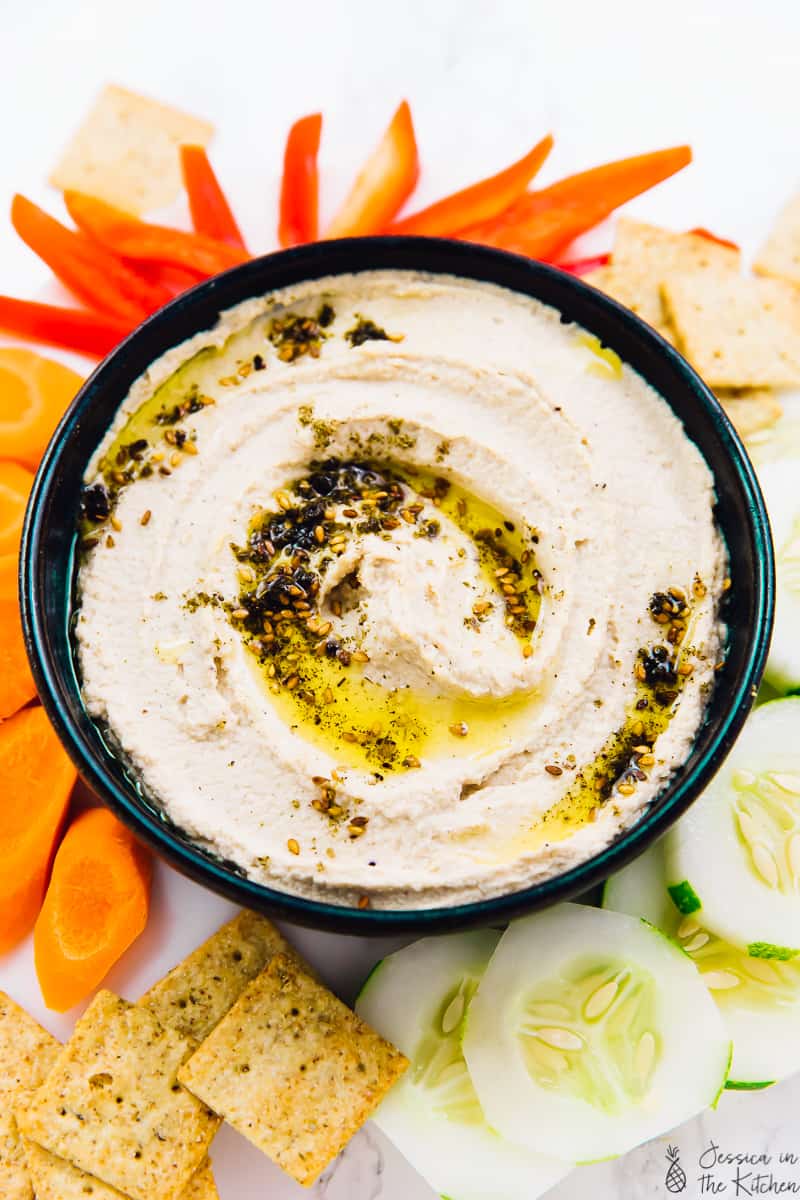 While the ingredients are straight forward, we can't forget to include tahini the queen. When I went to Israel, I fell in love with tahini. Some people ask if you can leave out tahini, but the answer is no! Tahini is what adds in some healthy fats here, and is what turns this from a cauliflower dip to cauliflower hummus!
Lastly, the time. When I say you're going to want to blend this, I mean for a solid 5 minutes straight, on. Think of it like a nut butter where it really starts to break down.
I used my food processor for this because I know most of you will be too instead of a high powdered blender. I stopped it every minute and half, scraped down, and blended. By the time it was done it had totally transformed into this creamy beauty you see before your eyes.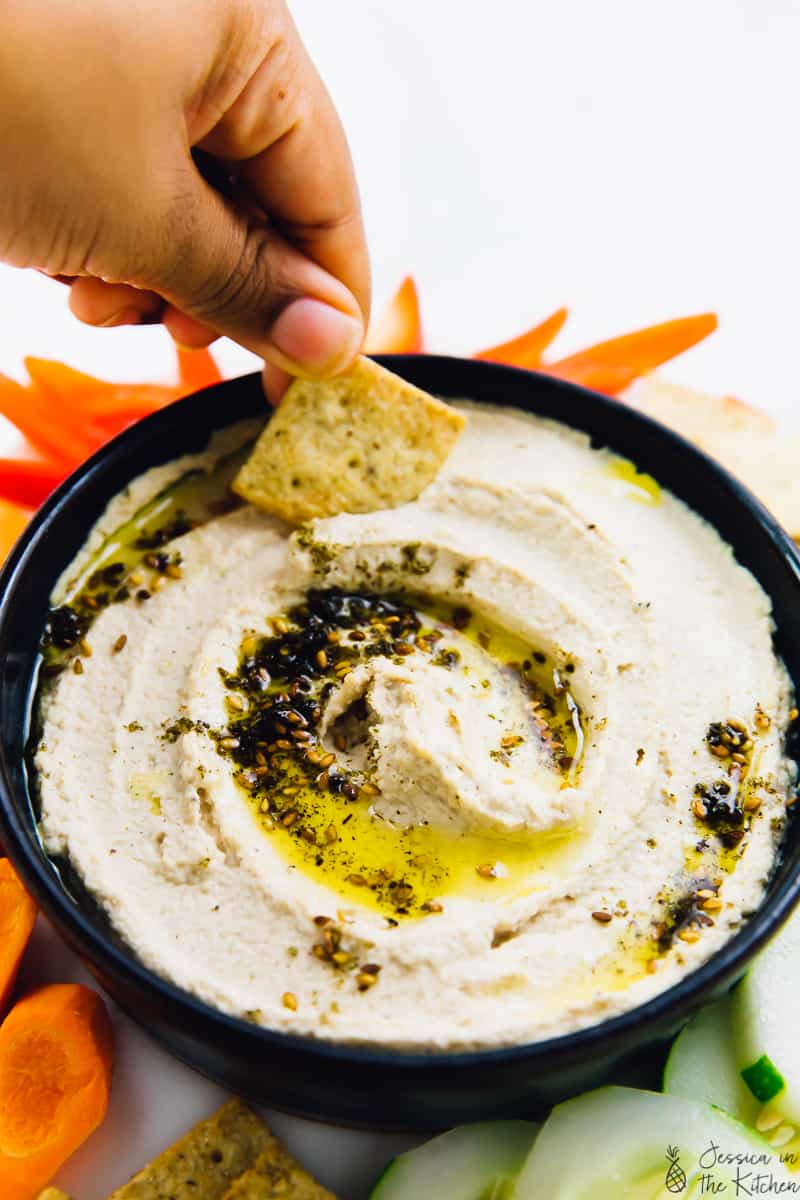 I want to make something clear, though. This doesn't mean I don't still have my traditional hummus. In fact right beside my container of cauliflower hummus in my fridge is my homemade hummus right now. Chickpeas are one of my favourite legumes ever, and they are a powerhouse of nutrients.
I have heard about cauliflower hummus for years now though, and it not only got me curious, but in challenge mode. After all, after making the smoothest soup ever aka my Cauliflower Soup, I wanted to see what other magical powers cauliflower holds. It's amazing to see that yet again, cauliflower has won me over.
I hope you give this dreamy roasted cauliflower hummus a try friends! Eat up and enjoy!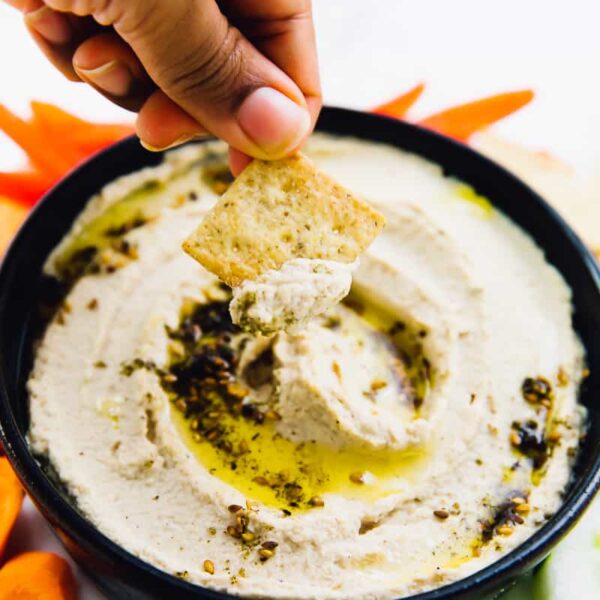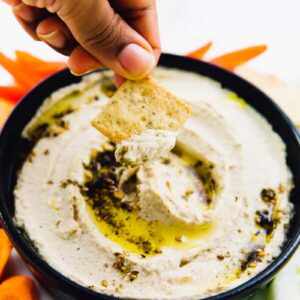 Roasted Cauliflower Hummus (Vegan & Low Carb)
This Roasted Cauliflower Hummus is absolutely smooth and creamy! It's perfect for a low carb spread and tastes so flavourful!
Ingredients
2 1/2 cups cauliflower
1 1/2 tablespoons olive oil
4 cloves roasted garlic
½ teaspoon sea salt
⅛ teaspoon ground black pepper
½ teaspoon cumin
juice of 1 lime
¼ cup tahini
½ cup ice cold water
Instructions
Preheat your oven to 450 F/230 C. Prepare a baking sheet by lining it with a silicone baking sheet or greased foil.

Remove florets from the cauliflower (aka don't use the stem). Chop the cauliflower into smaller pieces like in the photo above. Drizzle the cauliflower with 1/2 tablespoon of olive oil and rub all over. Place on the lined baking sheet and roast for 15 minutes in the oven.

Remove the cauliflower and let cool for about 5 minutes. Add to a food processor.

Add in the roasted garlic, sea salt and black pepper, cumin and the juice of one lime. Turn on the food processor to high to blend everything together. While blending, slowly stream in all of the tahini while the food processor is still running.. Blend for about 2 minutes and then stop to scrape down all the sides.

Turn the food processor back on and slowly stream in the ice cold water while the food processor is still running. The water should immediately begin to incorporate into the cauliflower hummus mixture. Let blend for 5 minutes straight or more depending on how powerful your food processor is, scraping down the sides every so often as needed.

Your hummus should be smooth and creamy when you're done. Taste test and add more salt, lime, tahini or water depending on your taste. Blend again until all incorporated. Serve with veggies and crackers and enjoy!
Notes
Calories are for ¼ cup (serving size is whatever you want!)  – it will incorporate with the tahini and make the hummus lighter and fluffier. If you're looking for low carb friendly crackers without having to make your own, I love the ones from Simple Mills!
Calories: 70kcal, Carbohydrates: 4.2g, Protein: 2g, Fat: 5.8g, Fiber: 1.3g, Sugar: 0.8g
Disclaimer: Although jessicainthekitchen.com attempts to provide accurate nutritional information, kindly note that these are only estimates. Nutritional information may be affected based on the product type, the brand that was purchased, and in other unforeseeable ways. Jessicainthekitchen.com will not be held liable for any loss or damage resulting for your reliance on nutritional information. If you need to follow a specific caloric regimen, please consult your doctor first.