Mango Habanero Cauliflower Wings 
These Mango Habanero Cauliflower Wings will blow your tastebuds away!! Coated in a sweet Mango Habanero sauce, they are unbelievably delicious and the perfect game day snack!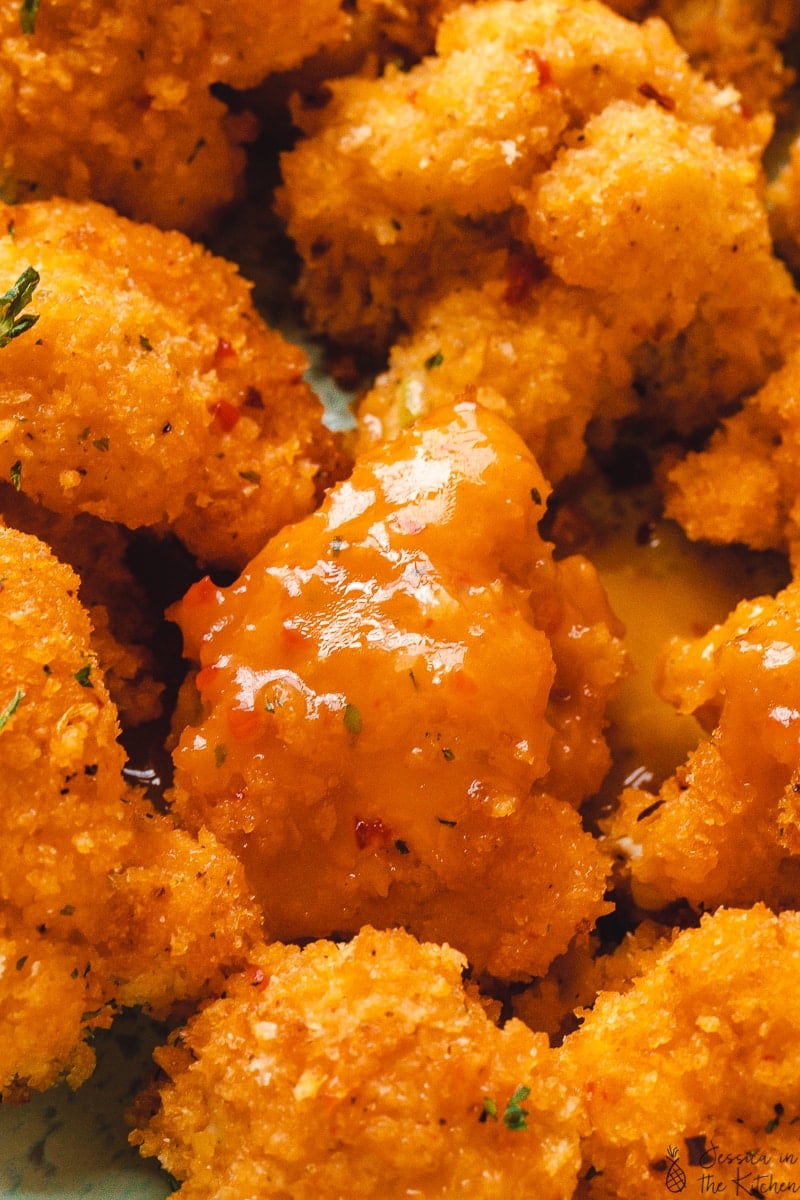 You guys have no idea how excited I am to share another cauliflower wings recipe. Mango Habanero Cauliflower Wings, at that! If you're familiar around here, then you guys know I love these. My first vegan cauliflower wings completely blew up and went viral – a recipe which I've made more times than I could possibly count. But if you have no clue what I'm talking about, let's get into it. You're about to go on a TASTY ride.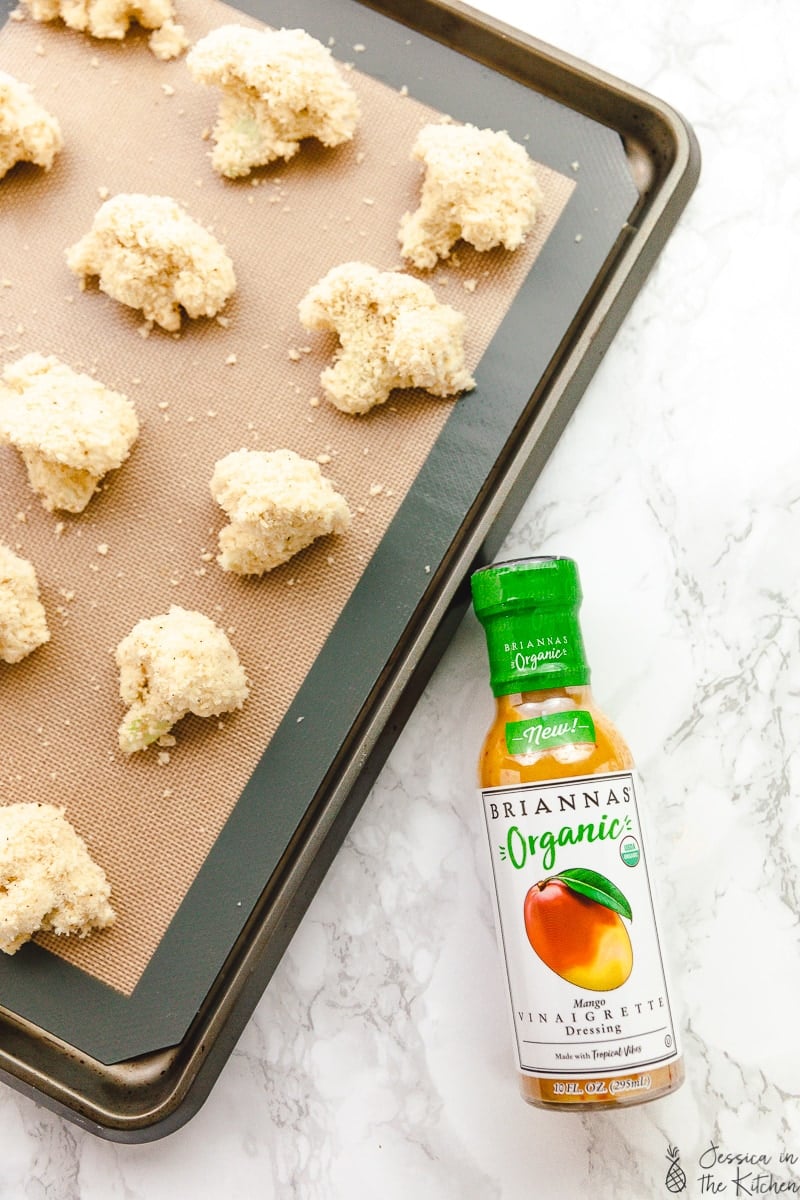 What are cauliflower wings?
Cauliflower wings are vegan wings/vegan bites that are breaded; seasoned and fried/baked that taste surprisingly reminiscent of chicken wings. I know, hard to believe, until you try one. I have a friend that years later, is still marvelling at the cauliflower wings I made for her and is convinced she was eating meat! If you love these, you'll definitely love my BBQ Cauliflower Wings too!
They're magical, crave-worthy, and a delicious low calorie treat. The best part about them is that you can dress them up and dip them into many difference sauces, for endless variety! They make the perfect finger food for football games, parties or just a night of you vs cauliflower wings. Guaranteed you'll both win that one.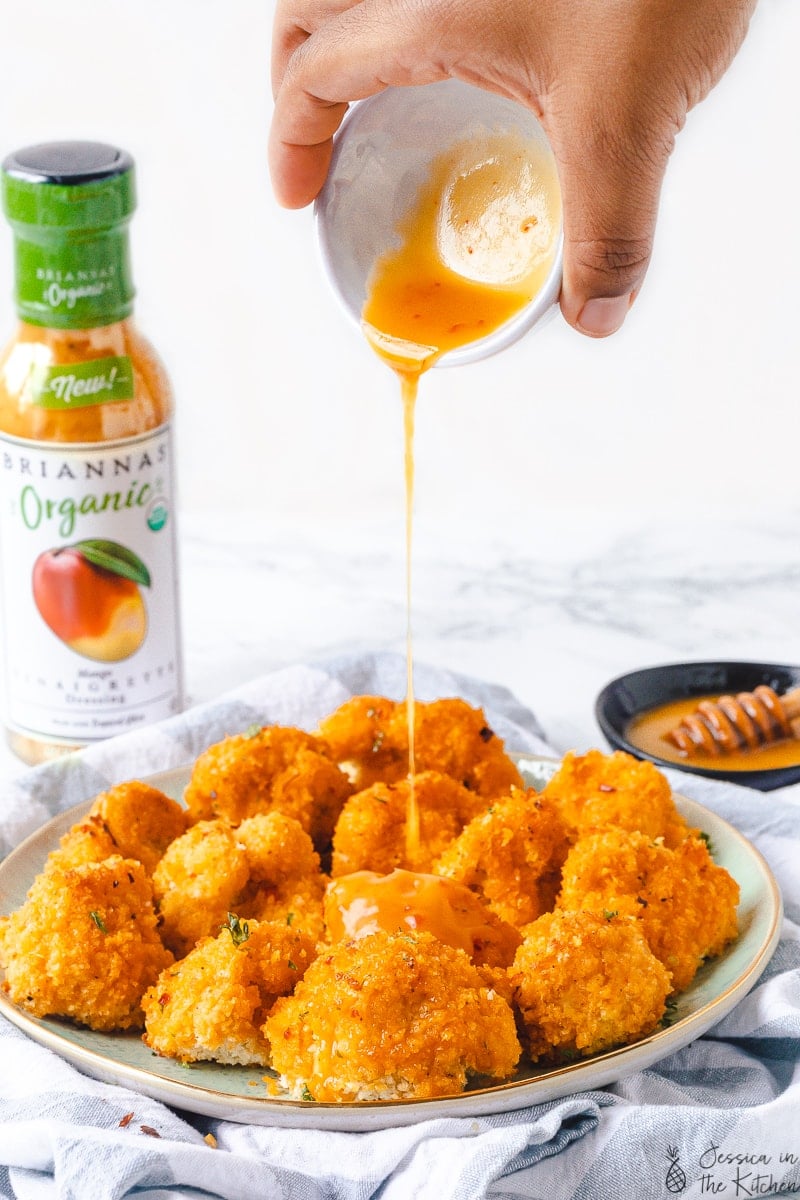 For today's variety, I opted for Mango Habanero flavour. It was my favourite flavour to order before going vegetarian/vegan years ago so I thought – why not give it a spin?! I based the sauce off of my Buffalo cauliflower wings sauce with a few changes. For the mango portion of the sauce, I immediately reached for my favourite salad dressing – BRIANNAS Organic Mango Vinaigrette.
This is reason #45610 why I LOVE BRIANNAS Organic Mango Vinaigrette. . We've been using it for so many months now and honestly, the possibilities are endless. Apart from drizzling it all over the salads, I use it as a dip, a spread, and even a sauce for so many meal prep meals that we make. It works perfectly in these Cauliflower wings because it packs both a sweetness and a mango flavour, making the sauce so much easier to make and so flavourful!
Apart from its flavour, BRIANNAS Organic Mango Vinaigrette. is my preferred dressing because it has no corn syrup, no gluten, it's all vegan and even kosher. I mean, we're talking an all-in-one win, am I right? I'm right.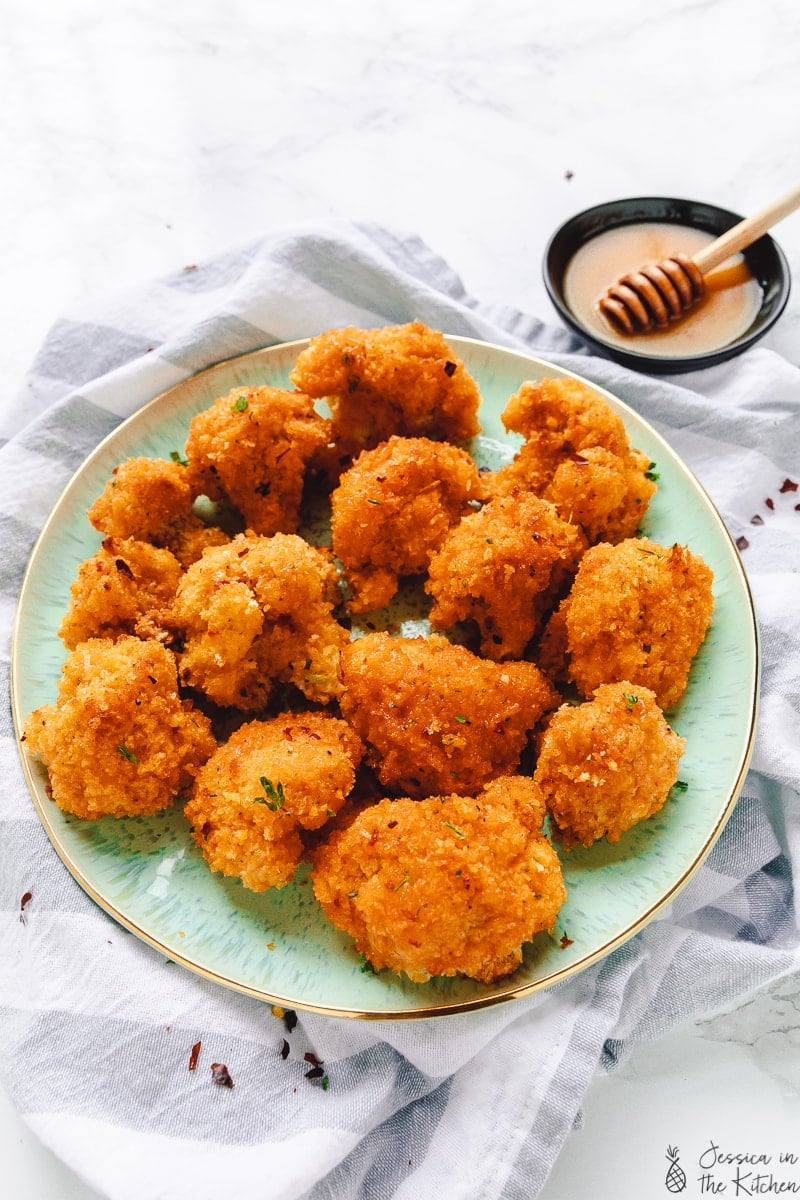 How to Make Cauliflower Wings
Making these wings is pretty straight forward. Set up your breading and dredging station and dip the cauliflower until breaded.
Bake off.
Meanwhile, you can make the sauce 5 minutes before it comes out. Heat up the BRIANNAS Organic Mango Vinaigrette with some vegan butter and habanero sauce. Also feel free to use any hot sauce you have, just keep the heat level in mind. Heat together on a stovetop and set aside – all done!
Then all that's left is to coat the cauliflower in the sauce and bake for 5 more minutes. That extra 5 minutes kinda caramelises the sauce a bit and lets it really sit into the cauliflower. Then BAM – done! Now comes the hardest part – try not to eat the whole thing in one sitting.
Just kidding, I've totally done that. Eat up and enjoy friends!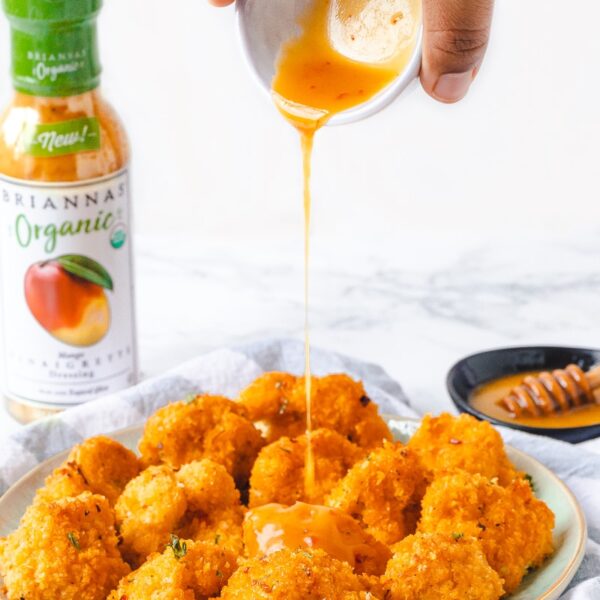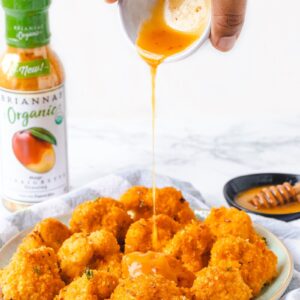 Mango Habanero Cauliflower Wings 
These Mango Habanero Cauliflower Wings will blow your tastebuds away!! Coated in a sweet Mango Habanero sauce, they are unbelievably delicious and the perfect game day snack! 
Ingredients
Cauliflower Wings
1 small head cauliflower, if using a large head, you may need to double the batter and sauce quantities
1/2 cup all-purpose gluten free flour
1/2 cup unsweetened almond milk
1/4 teaspoon sea salt
1/4 teaspoon ground black pepper
1/2 teaspoon garlic powder
1 cup crispy gluten free breadcrumbs, seasoned with salt and pepper OR toast your breadcrumbs slightly before using
Instructions
Cauliflower Wings
Preheat oven to 450 degrees.

Prepare a baking sheet by lining it with a silicone baking sheet or greased foil. Using a knife, remove florets from the cauliflower (aka cut off the leaves and don't use the stems). Chop the cauliflower into smaller pieces to resemble the size of wings.


In a separate bowl, whisk the gluten free flour, almond milk, salt, ground black pepper and garlic powder in a bowl to make the batter. In a separate bowl, place the breadcrumbs. Line it up beside the batter bowl.


Toss the cauliflower in the batter mixture one at a time, shaking off excess batter. Do not soak. Then, dip the cauliflower into the breadcrumbs to coat completely, then place onto the baking sheet. Repeat until all of the wings are coated.

Bake for 22 minutes. Please ensure your oven is completely preheated and hot.

While baking, prepare the ingredients for the sauce by whisking together.

Remove from oven. Toss the wings in the sauce (I like to use a spatula to move them around to get properly coated) then using tongs, remove and place back on the baking sheet. Bake for another 5 minutes for the sauce to soak into the wings.

Remove from oven and eat immediately - enjoy!
Sauce
While the wings are baking, in a small pot over low heat, mix all the sauce ingredients. Heat for about 4 minutes until ingredients are all melted, and whisk together until completely mixed, about 30 seconds Remove from heat. Taste a little bit to decide if you need more dressing to balance out the heat; if so, add a tablespoon at a time until your desired heat. Please note that especially depending on the hot sauce you use, these wings are hot so take caution!
Notes
HOW TO STORE CAULIFLOWER WINGS
You can store these Cauliflower Wings in airtight tupperware container in your fridge for up to 4 days, and reheat them in an oven or toaster oven until warmed. They taste best fresh. I wouldn't recommend freezing these as the batter may get soggy.
Calories: 189kcal, Carbohydrates: 33g, Protein: 7g, Fat: 4g, Saturated Fat: 1g, Sodium: 889mg, Potassium: 490mg, Fiber: 5g, Sugar: 8g, Vitamin A: 158IU, Vitamin C: 81mg, Calcium: 107mg, Iron: 2mg
Disclaimer: Although jessicainthekitchen.com attempts to provide accurate nutritional information, kindly note that these are only estimates. Nutritional information may be affected based on the product type, the brand that was purchased, and in other unforeseeable ways. Jessicainthekitchen.com will not be held liable for any loss or damage resulting for your reliance on nutritional information. If you need to follow a specific caloric regimen, please consult your doctor first.