Cheesy Buffalo Cauliflower Wings
I could not stop eating these Cheesy Buffalo Cauliflower Wings, they are crispy, filled with flavour and spicy!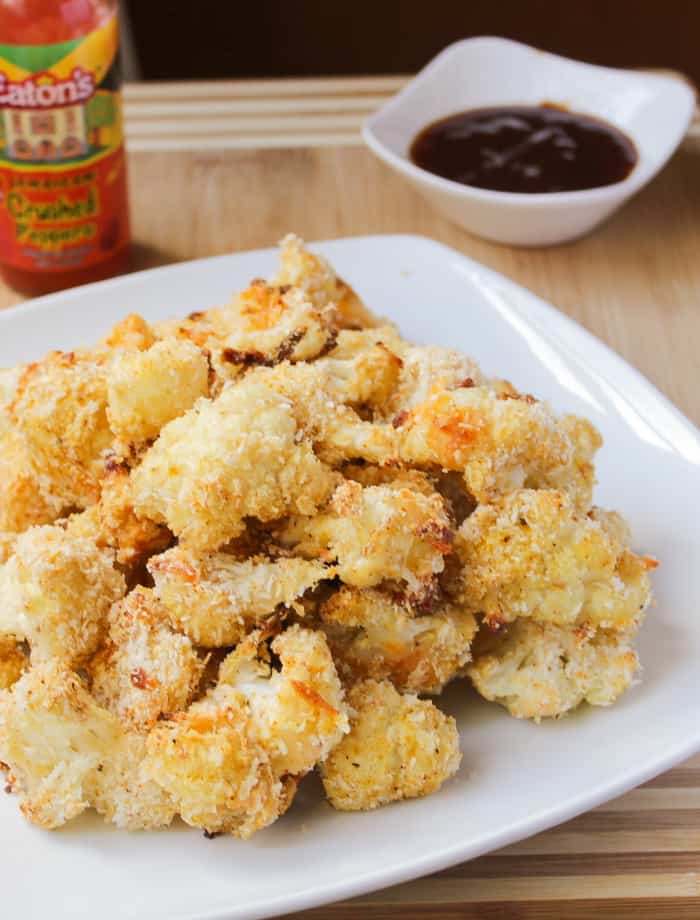 This was the killer for me. I could not stop eating these Cheesy Buffalo Cauliflower Wings, and I honestly could not tell the difference between this and chicken.
I literally repeated over and over "OMG this tastes like chicken." Even my vegetable-hating little brother ate these up saying how much they tasted like chicken.
Mr. Jessiker Bakes had his fair share, commenting on how delicious these were.
Compliments of the highest form 🙂 .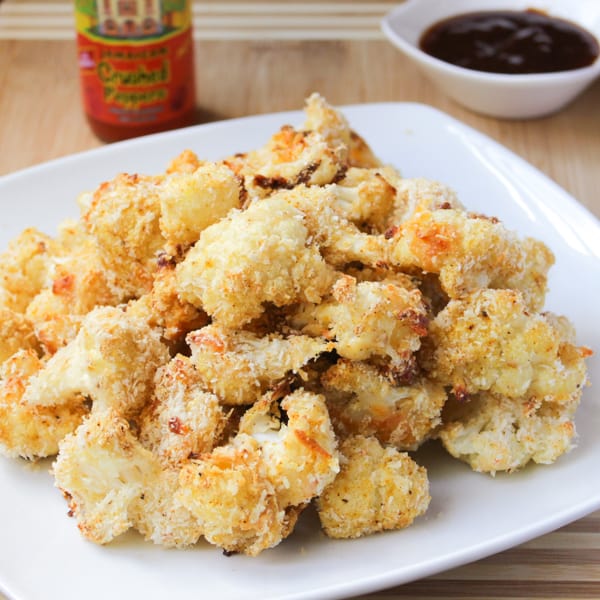 You see, my intention was not to mask the cauliflower, and in no way is it. It just shows how versatile and delicious this magical creamy vegetable is that once cooked whether in soup form or whole like this, you can't help but marvel in the deliciousness. This Cheesy Buffalo Cauliflower Wings will transform anyone into a cauliflower lover. It absorbs the flavours incorporated into it so well.
I have to say, I will be making these again. I kind of just poured my cauliflower heart out to you, which wasn't really my intention, but I need you to try these. If you are looking for a healthy Super Bowl treat, these are it. And I have to thank Eaton's for their amazing crushed peppers sauce which adds a delicious kick to these. I must be hanging out with Mr. Jessiker Bakes way too much since I added closer to ½ cup of hot sauce than the ¼ cup. Also, if you're looking for something for even more buffalo-ness, These Cauliflower Buffalo Wings take your traditional buffalo wing sauce and totally knock it out of the park.
Speaking of Super Bowl, what are your plans? Are you into football or the festivities and the food? I don't watch American Football except for on Super Bowl Sunday (confession) but I love the festivities and the food! I understand the game (or so I tell myself) so I can pay attention, but I'm really here for the commercials.
Fortunately Mr. Jessiker Bakes does watch it so I can just continue to repeat whatever he says about it 🙂 .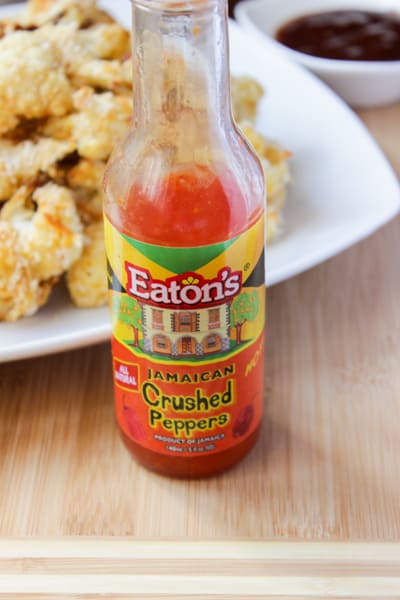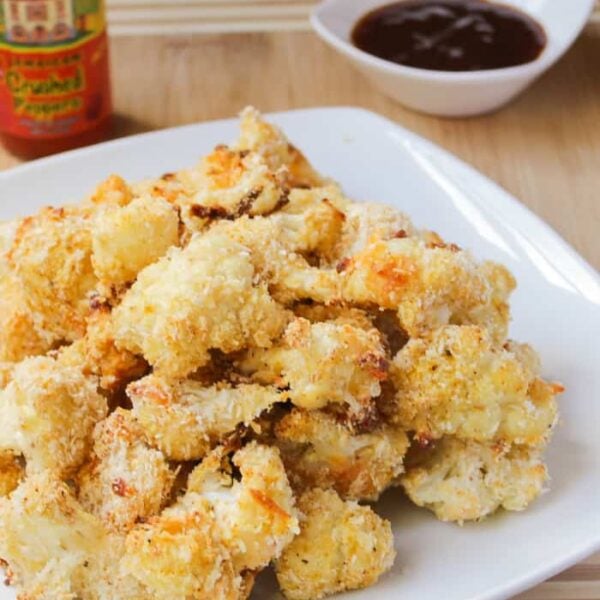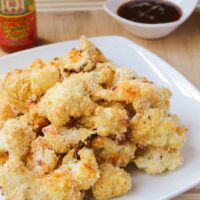 Cheesy Buffalo Cauliflower Wings
I could not stop eating these Cheesy Buffalo Cauliflower Wings, they are crispy, filled with flavour and spicy!
Ingredients
1 small head cauliflower
1/4 to 1/2 cup hot sauce
1/2 cup vegan shredded cheddar cheese
1/2 cup flour, whole wheat flour works fine, so does white flour
1/2 cup vegan milk
1 teaspoon salt
1 teaspoon ground black pepper
1/2 teaspoon garlic powder
1 teaspoon crushed red pepper flakes
1 cup panko bread crumbs
Instructions
Preheat oven to 450 degrees.

In a separate bowl, mix the flour, milk, 1/2 teaspoon salt, 1/2 teaspoon ground black pepper, garlic powder, 1/2 teaspoon crushed red pepper flakes, hot sauce and cheese together. Set aside.

Remove florets from the cauliflower (aka don't use the stem). Chop the cauliflower into smaller pieces, typically the size of chicken bites.

Toss the cauliflower in the mixture made earlier until well coated.

Season the panko bread crumbs with remaining salt ground black pepper and red pepper. Toss the cauliflower in the panko bread crumbs, half at a time until coated.

Spread out on a sprayed or greased baking sheet, and spray the "wings" with the cooking spray again to help with colour and crisping. Bake for 22-25 minutes.

Remove from oven and serve immediately. Serve with a dipping sauce (I used a barbecue sauce)
Calories: 260kcal, Carbohydrates: 43g, Protein: 15g, Fat: 4g, Saturated Fat: 1g, Cholesterol: 4mg, Sodium: 1654mg, Potassium: 744mg, Fiber: 6g, Sugar: 6g, Vitamin A: 424IU, Vitamin C: 110mg, Calcium: 212mg, Iron: 3mg
Disclaimer: Although jessicainthekitchen.com attempts to provide accurate nutritional information, kindly note that these are only estimates. Nutritional information may be affected based on the product type, the brand that was purchased, and in other unforeseeable ways. Jessicainthekitchen.com will not be held liable for any loss or damage resulting for your reliance on nutritional information. If you need to follow a specific caloric regimen, please consult your doctor first.