Peanut Butter and Strawberry Jelly Compote Waffles (GF + Vegan)
Peanut Butter and Strawberry Jelly Compote Waffles are delicious, reminiscent of pb&j and are gluten free, vegan, refined-sugar free and flourless!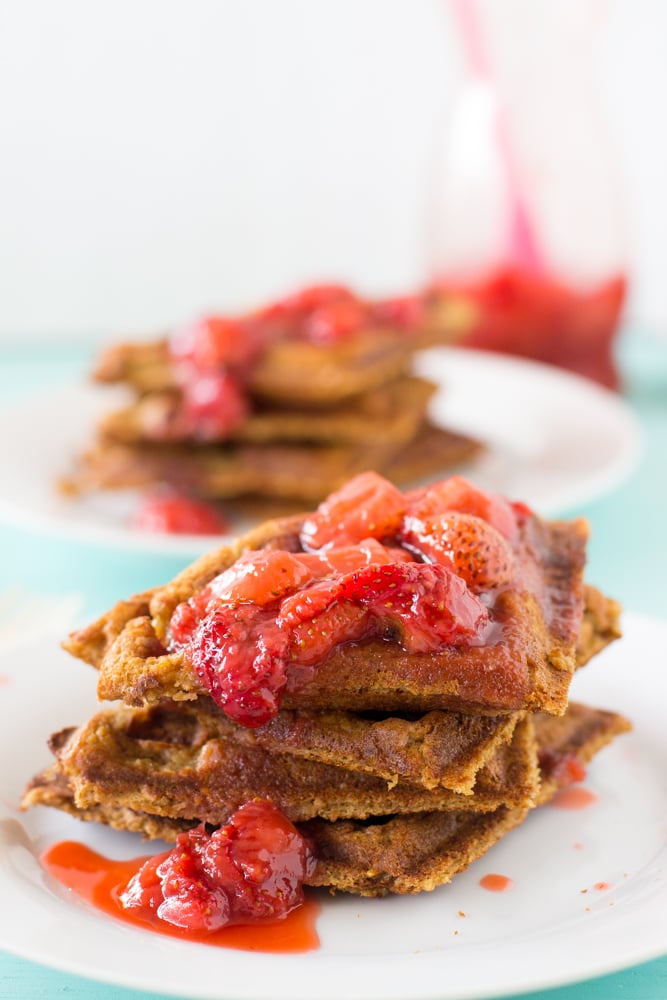 I was a PB & J sandwich kind of kid. I'm still very much into peanut butter and jelly sandwiches. The creaminess, the contrast in taste, all that squishy jelly! The jelly was my favourite part, and I always ALWAYS had to have strawberry, no other flavour would do. To this day, no other flavour will do (except blueberry or raspberry at times) and I LOVE peanut butter. Okay, so maybe I've taken it on in a healthier way, but nothing replaces a pb and j sandwich especially on a bad day. These Peanut Butter and Strawberry Jelly Compote Waffles are here for you to bring back those delicious memories.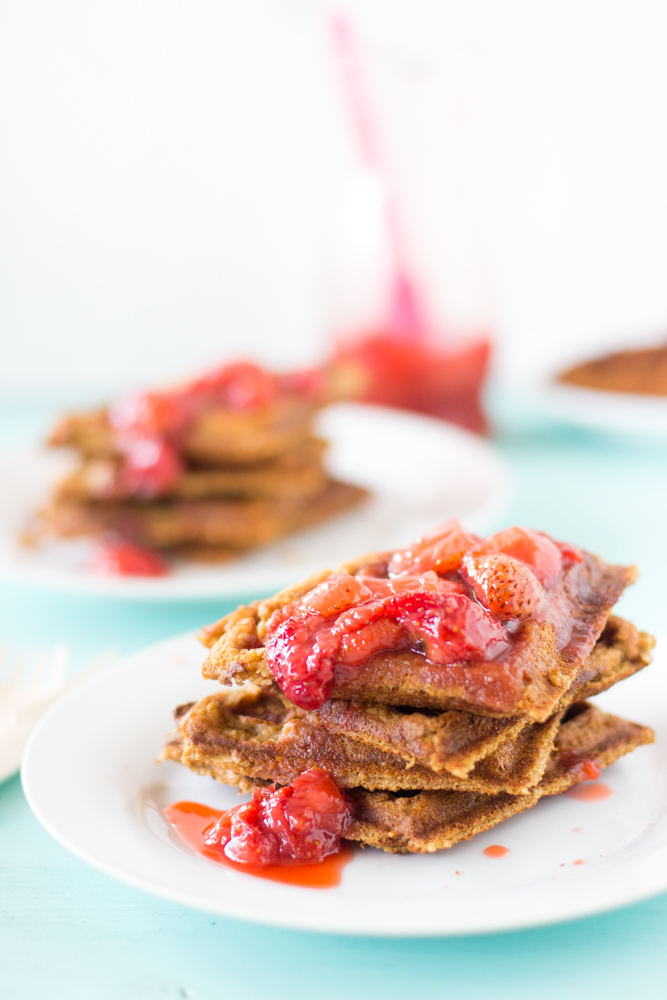 Now let's get this straight. Don't let the name fool you, don't let the fact that it's vegan or refined-sugar free or flour less fool you that these aren't straight up comfort food. That these waffles aren't filled with peanut butter flavour, and that that jelly compote isn't saying come to mama.
Not, literally.
Without a doubt, I'm making these waffles again. The first time I made them to shoot, it was kind of a crazy day so I KIND of ate all three servings by myself. I let Mr. Bakes take a piece, watching him enviously and remember the golden rule that we must share even our most precious belongings. Plus, he did help make them (aren't I so kind). The second time they were made he wasn't around so oops. 🙂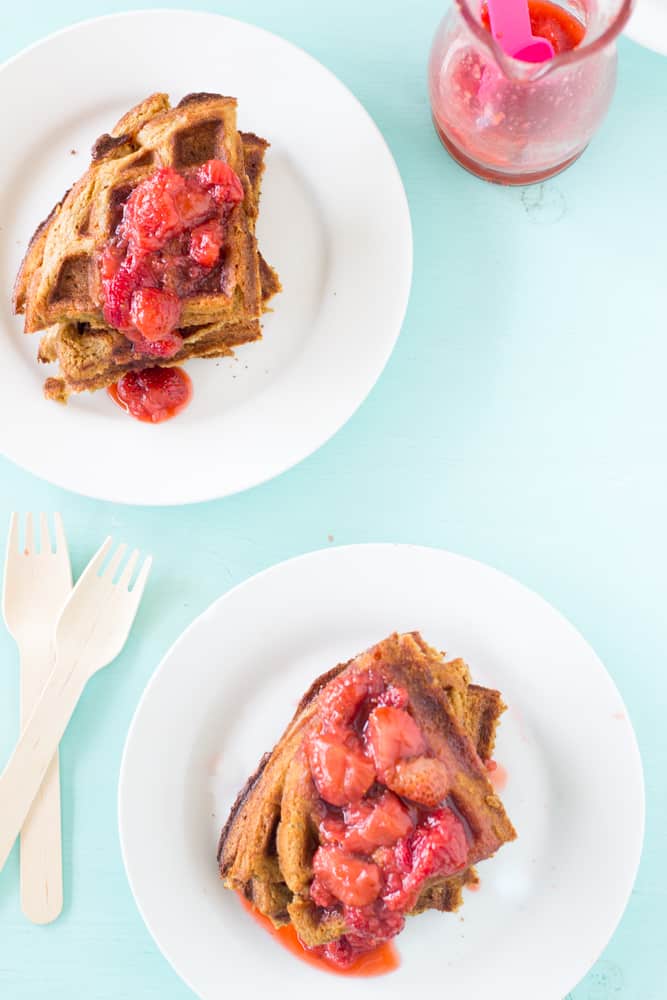 I tried not to go overboard on the peanut butter in these waffles, but you definitely taste the rich flavour. And the jelly compote? Oh boy. It's glorious strawberries reduced down with maple syrup and a bit of lemon juice and the result is closer to a jelly like compote syrup that when the camera goes off ends up getting poured ALL over these waffles.
Oooops. Not sorry.
I was actually pretty impressed by this breakfast, and took inspiration from my flour less apple pie pancakes, swapped the eggs out for peanut butter and added the compote. I promise, you'll love these peanut butter and jelly waffles. If it was up to me, I'd have this for breakfast everyday, and a pb & j sandwich for lunch and dinner.
Told you I was that kind of kid.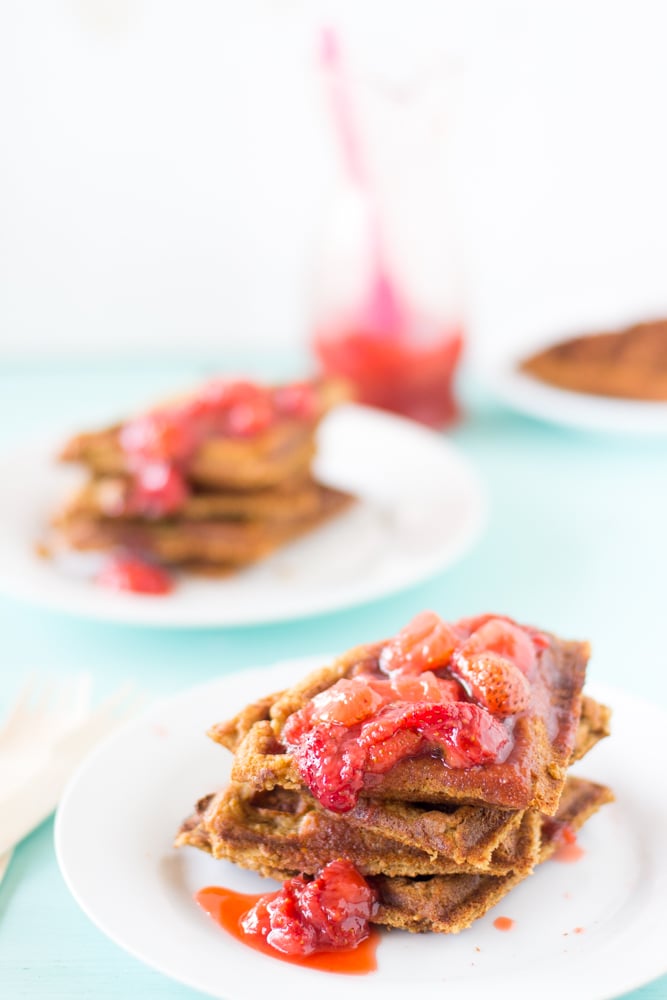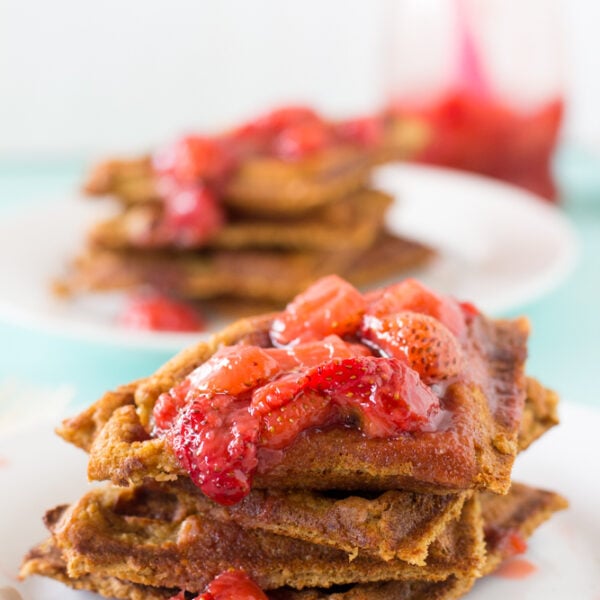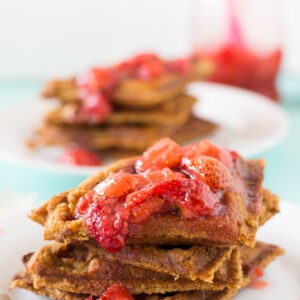 Peanut Butter and Strawberry Jelly Compote Waffles (GF + Vegan)
Peanut Butter and Strawberry Jelly Compote Waffles are delicious, reminiscent of pb&j and are gluten free, vegan, refined-sugar free and flourless!
Ingredients
1 1/4 cups ground gluten free oats, ground in a food processor or in a coffee grinder
1 teaspoon baking powder
1/2 teaspoon baking soda
1/2 teaspoon salt
1 1/4 cups almond milk
1 tablespoon maple syrup
3 tablespoons peanut butter
Strawberry Jelly Compote:
1 1/2 cup strawberries, de-stemmed and chopped
3 teaspoons lemon juice
4 tablespoons maple syrup
Instructions
Preheat waffle maker according to directions.

In a large bowl, add the ground oats, baking powder, baking soda and salt. Add the milk, maple syrup then peanut butter and whisk together with a whisk. Pour it all into a liquid measuring cup for easy pouring.


In heated waffle maker, pour ⅓ of the batter and cook until ready (according to waffle maker's indication - mine has a light that lights up when cooked through on max heat after about 3-4 minutes).
Strawberry Jelly Compote
This can be made while the waffles are being made or in advance.

In a pan over high heat, add all the ingredients for the compote, stirring with a wooden spoon or spatula. Allow to come to a boil, then reduce to medium heat, simmering for about 10 minutes, stirring often. When reduced to your liking, remove from heat and place in an ice bath or freezer to stop cooking for about 3 minutes. Pour from pan into a container to store it in, or straight over waffles.


Enjoy!
Calories: 351kcal, Carbohydrates: 55g, Protein: 9g, Fat: 12g, Saturated Fat: 2g, Sodium: 926mg, Potassium: 411mg, Fiber: 6g, Sugar: 26g, Vitamin C: 44mg, Calcium: 276mg, Iron: 2mg
Disclaimer: Although jessicainthekitchen.com attempts to provide accurate nutritional information, kindly note that these are only estimates. Nutritional information may be affected based on the product type, the brand that was purchased, and in other unforeseeable ways. Jessicainthekitchen.com will not be held liable for any loss or damage resulting for your reliance on nutritional information. If you need to follow a specific caloric regimen, please consult your doctor first.