How to Make Almond Butter
Homemade almond butter is so worth it! It's easy to make, more affordable than store-bought, and it's absolutely delicious. Here's how to make almond butter at home!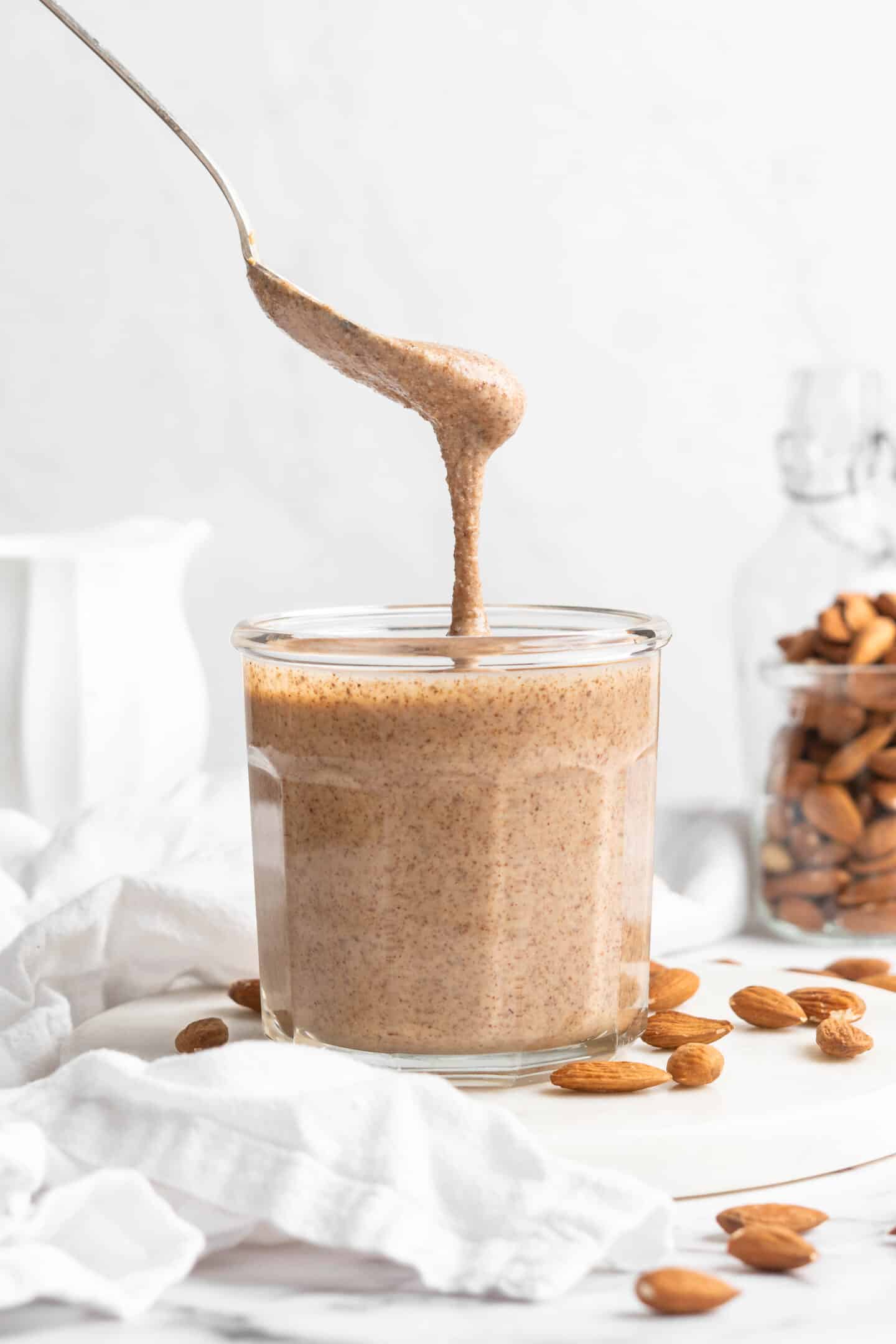 Almond butter is so expensive at the grocery store, but despite this, it's hard to resist—I mean, it's good stuff. It's supremely smooth and creamy, it's the perfect addition to so many of our favourite breakfast foods (I love to slather it on milk bread toast!), and a spoonful is the perfect pick-me-up thanks to its healthy fats and protein.
So why not try making it yourself?
Why Make Your Own Almond Butter
Aside from the monetary savings, making your own almond butter means you can control the ingredients. Store-bought almond butters often have added sugar, salt, and other oils, but when you make it at home, you can keep it as simple or as complex as you like—and avoid the unhealthy fillers.
Homemade almond butter tastes amazing, too. Nothing's more disappointing than shelling out $12 for a new brand of almond butter, only to get it home and find out it's bland and oily. Womp womp. When you make your own nut butter, it will never disappoint because you can taste and adjust as you go.
Oh, and did I mention how easy it is? Because that too! Once you know how to make almond butter, you'll wonder why anyone wouldn't make it at home.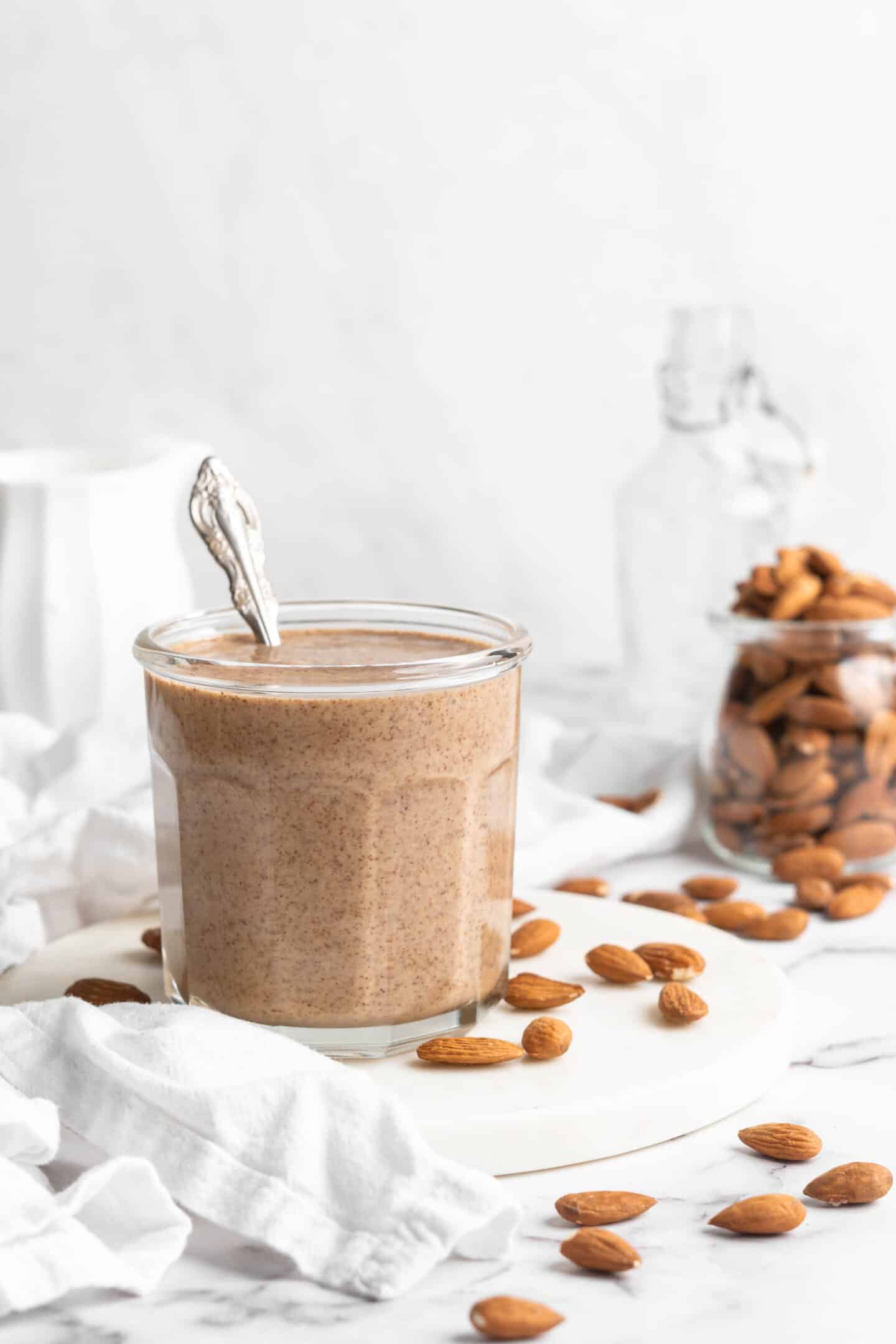 Is Almond Butter Good for You?
Yes! Almond butter is a great source of healthy fats, protein, fiber, and vitamins and minerals like magnesium and calcium. It's also low in sugar when you make it yourself, so you can slather it on everything.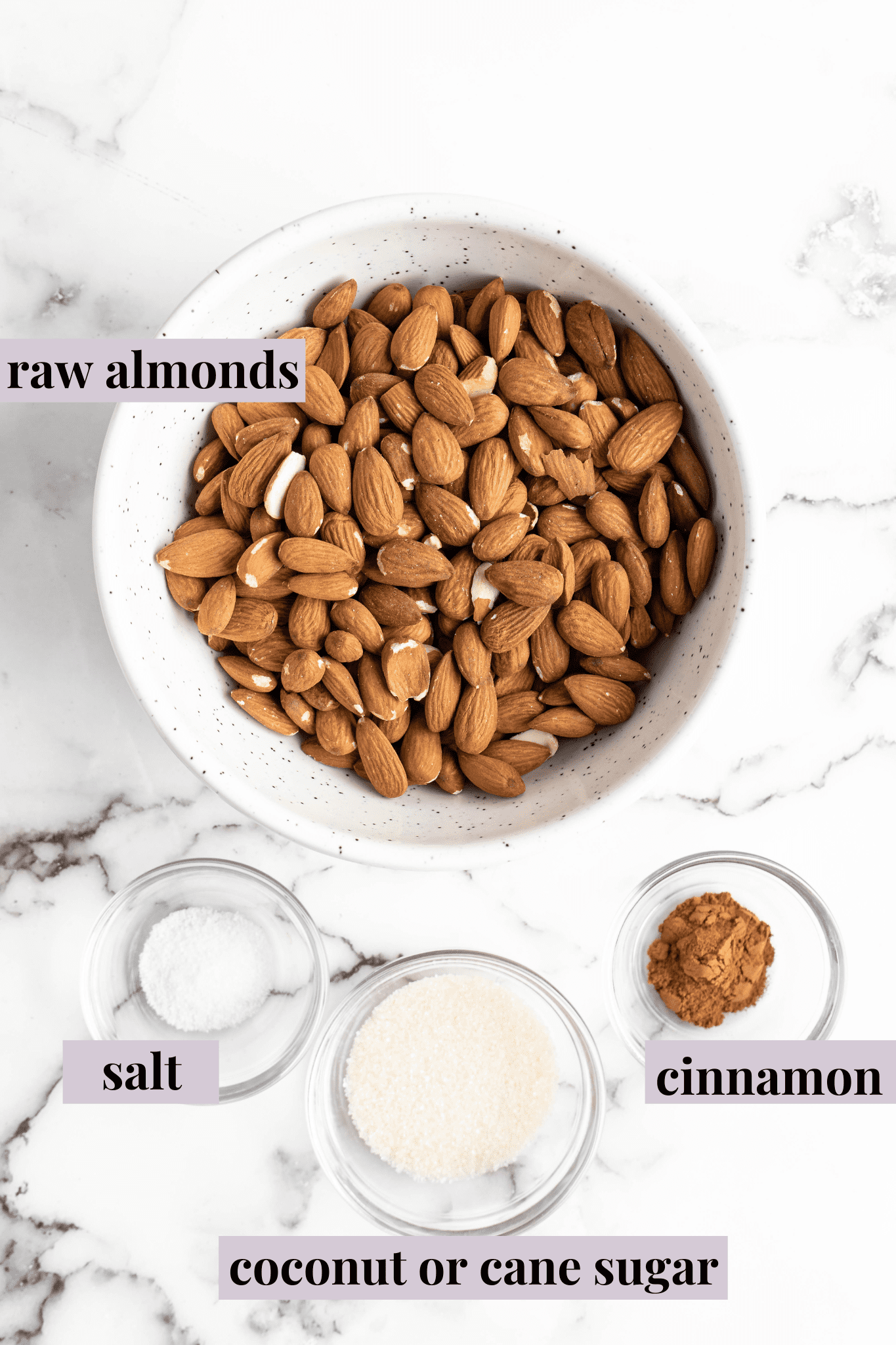 Notes on Ingredients
Please note that this is important information on the ingredients and instructions and the FULL recipe with amounts and details can be found DOWN BELOW (scroll to it) in the recipe card.
Raw almonds – Skin-on is just fine!
Sea salt
Optional for a sweet nut butter:
Coconut or cane sugar
Cinnamon
How to Make Almond Butter
This is going to be the best almond butter you've ever had! Here's how to make it.
Prepare. Preheat your oven to 350°F/180°C and line a baking sheet with parchment paper or a silicone mat.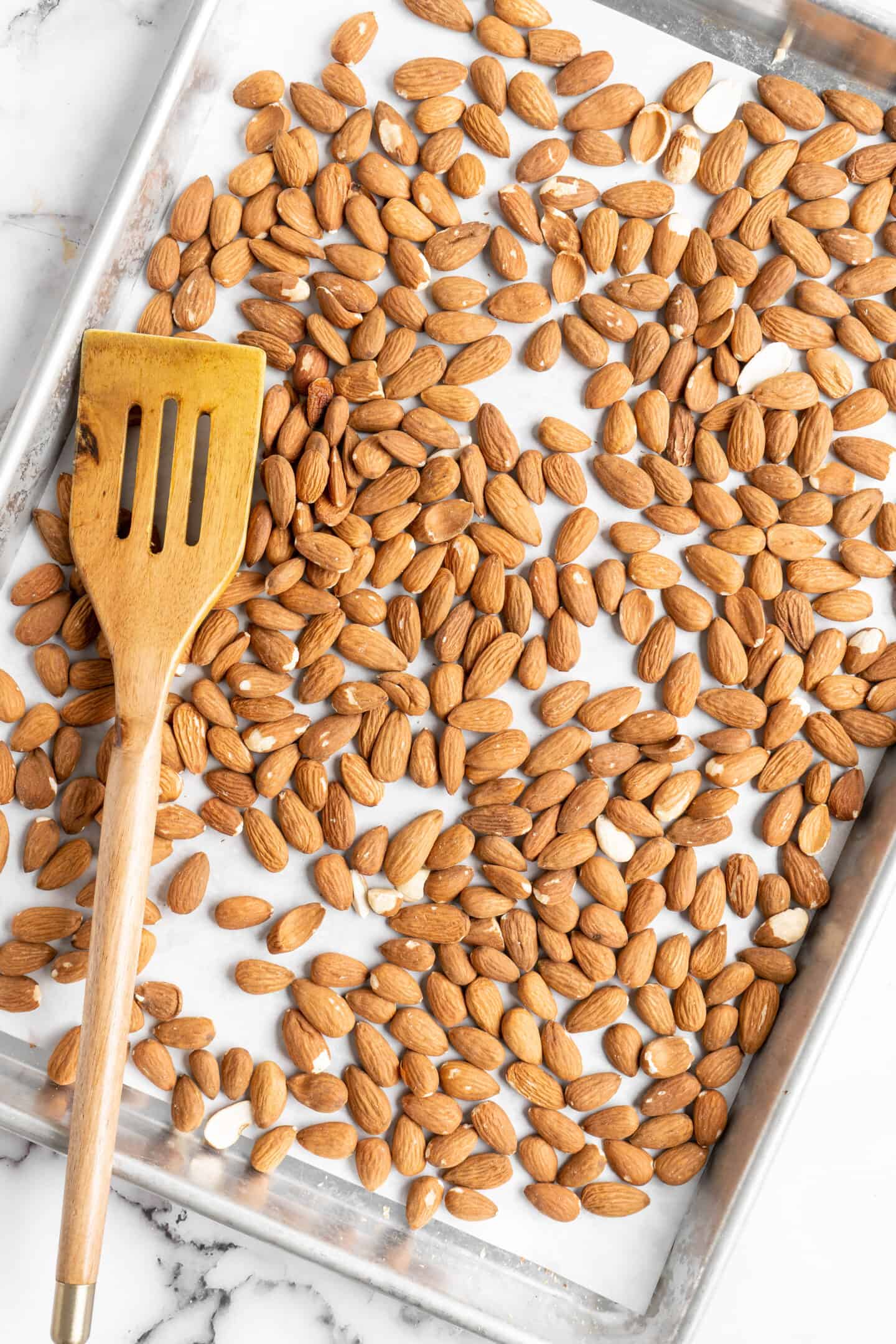 Roast the almonds. Place the almonds on the prepared baking sheet and toast them for 5 minutes, or until they're fragrant. This will warm up their oils.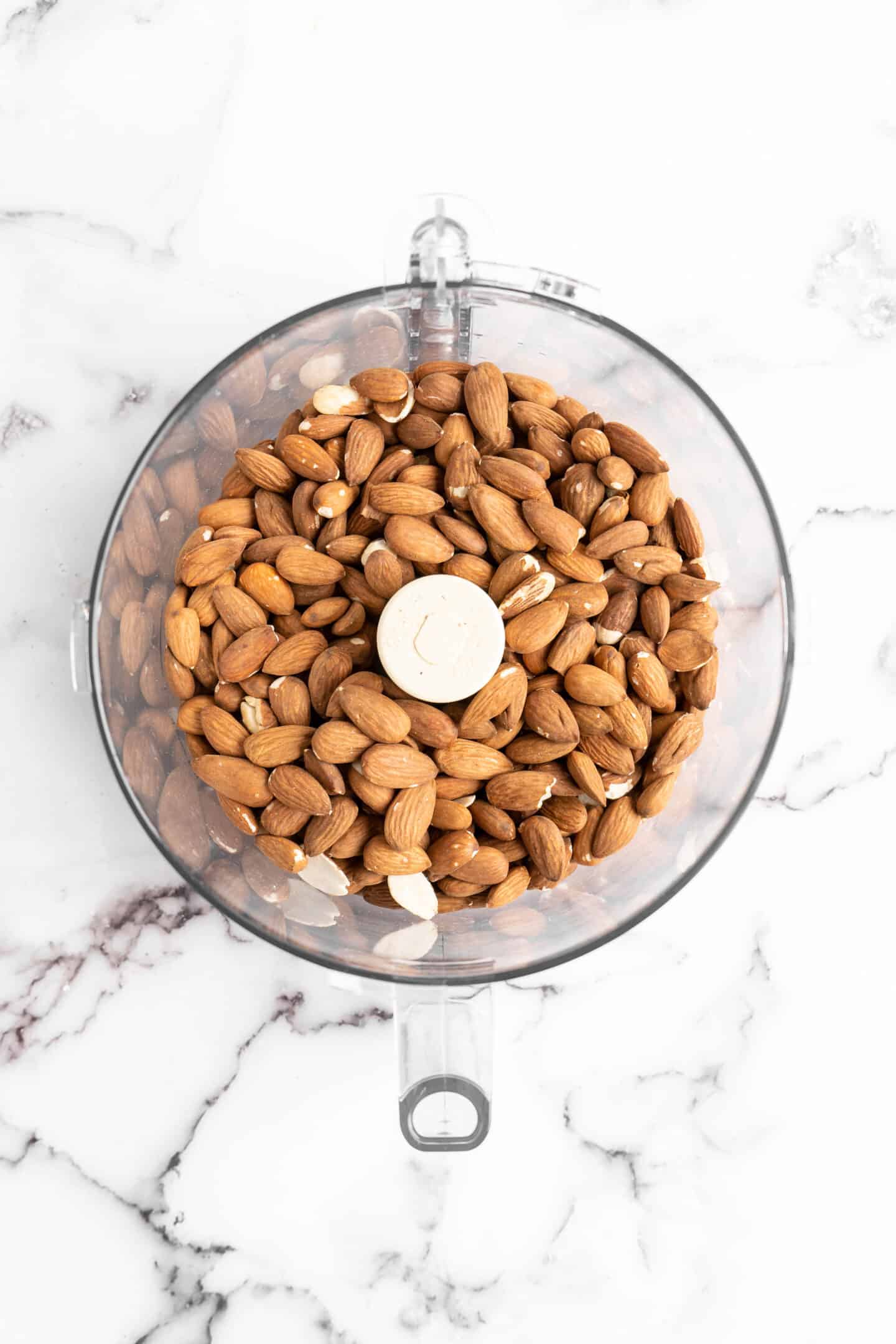 Process the almonds. Let the almonds cool slightly, then place them in your food processor. Process on low or high until the mixture forms a smooth, creamy nut butter, stopping to stir occasionally. Your food processor may get a bit warm depending on how long this takes, but you can turn it off and give it a break if needed.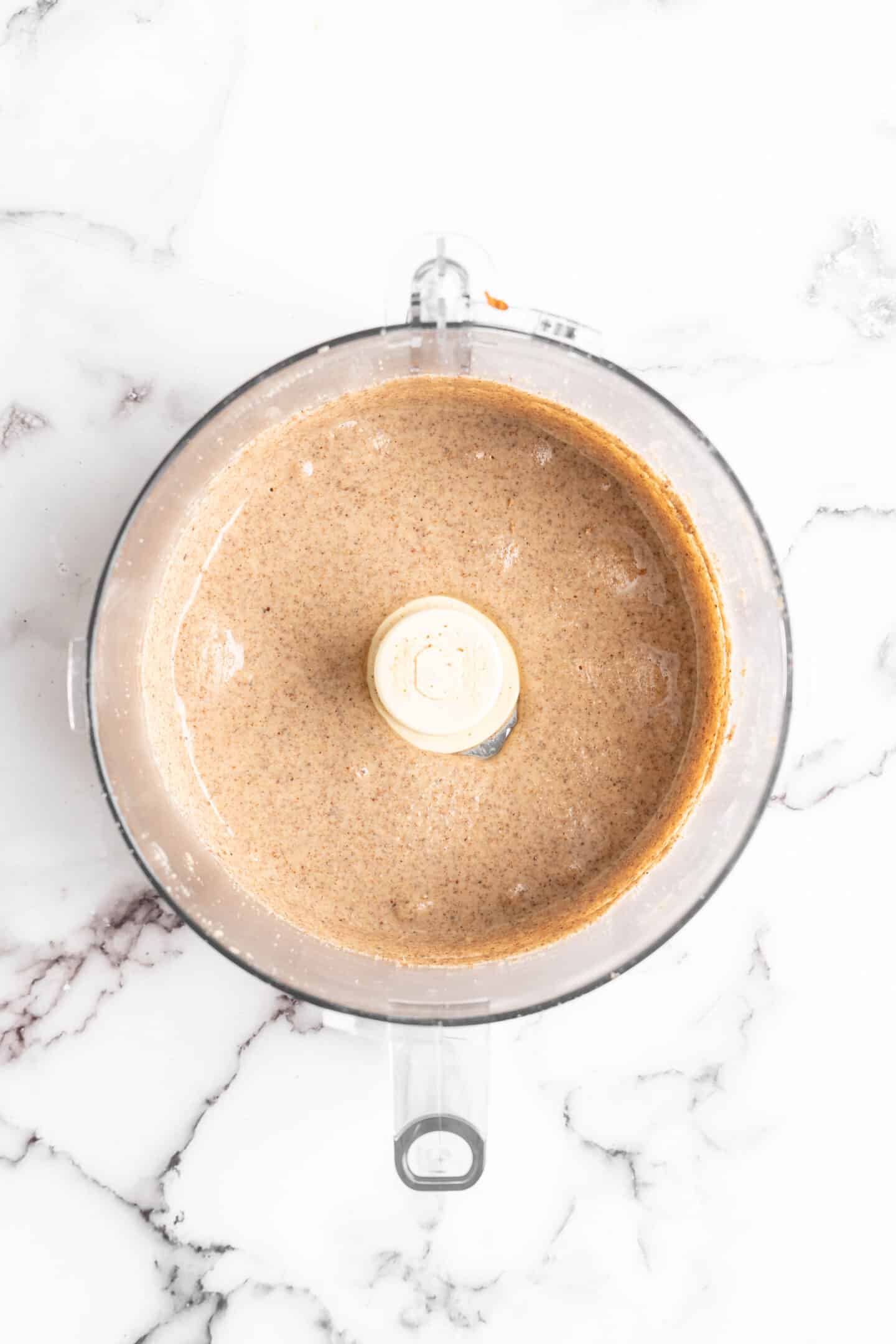 Season. Once the butter is smooth, add the salt and any add-ins. Process for another 30 seconds to incorporate.
Tips for Success
Now that you know the basics of how to make almond butter, these tips will help you make sure it turns out perfect:
Use unsalted almonds. This allows you to control the flavour of your nut butter. Salted nuts can be heavily salted, which isn't what you want in a nut butter.
Don't add too much salt, either. Just a pinch is perfect! You can always taste and add more if needed, but it's a lot harder to fix almond butter once you've added too much salt!
Be patient. It can take up to 15 minutes for the nuts to turn into butter, so don't panic if it seems to be taking a long time.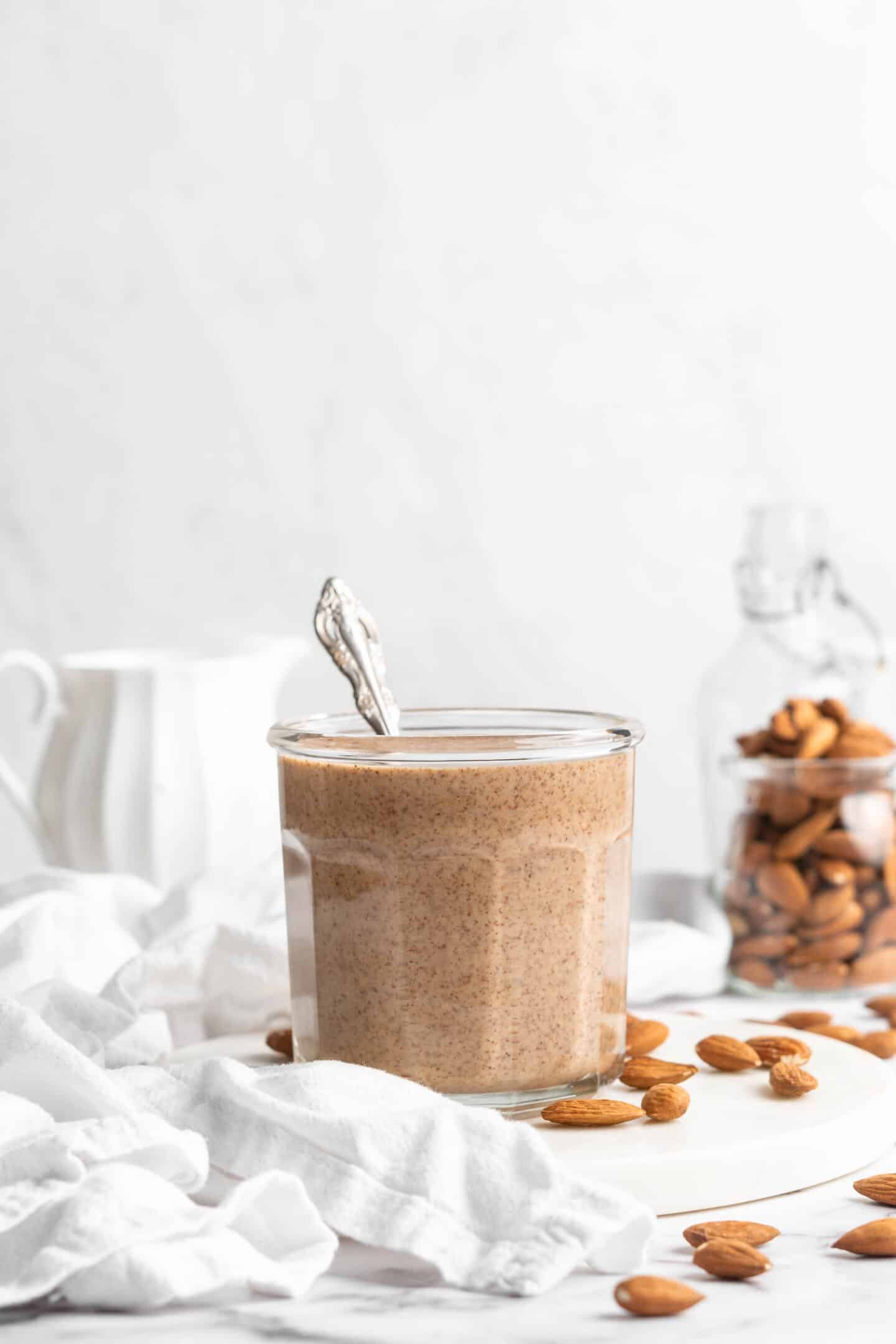 Flavour Ideas
Want to take your almond butter to the next level? Add some flavours! Here are some of my favourite mix-ins.
Make it cozy. Add finely chopped raisins (or cranberries, if you're not a raisin person), cinnamon, and maple syrup for a sweet spread for your morning toast.
Make it decadent. Add chocolate shavings and a pinch of salt for a sweet and salty nut butter that's straight-up amazing. I love this on pancakes and waffles!
Make it savory. I know it sounds strange, but a little bit of curry powder is delicious in almond butter!
How to Store
Pour your homemade almond butter into a jar with a cover and place it in the fridge. You can use this nut butter anywhere you'd use store-bought and it will keep for about a month. If needed, give it a stir before serving.
Can I Freeze This Recipe?
Yes, if you want to store your almond butter for an extended period of time, pop it in the freezer and store it for up to six months. Thaw it in the refrigerator before you use it.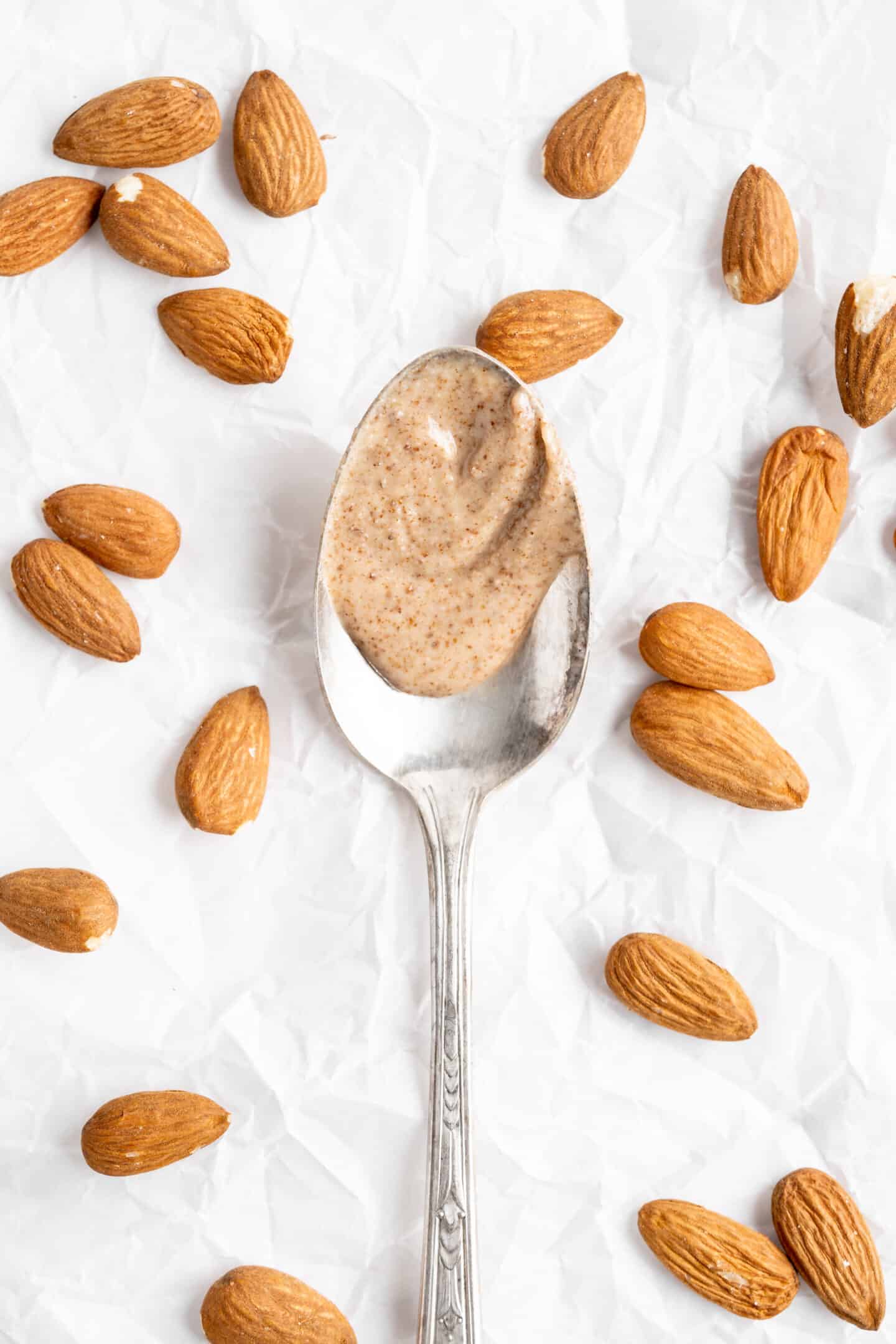 Enjoy friends! If you make this homemade almond butter recipe, please snap a photo and tag #jessicainthekitchen on Instagram! We'd also love it if you would leave a comment below, and give the recipe a rating! Thanks so much!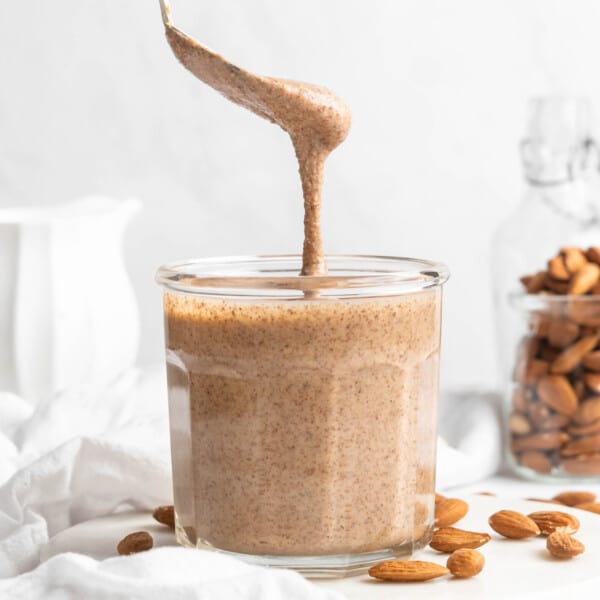 Homemade Almond Butter
A simple guide on how to make almond butter at home. It's cheaper and so much tastier than store-bought!
Ingredients
2-3 cups of raw almonds, or desired raw nut
pinch salt
Optional for a sweet nut butter:
2 tablespoons coconut or cane sugar
1 teaspoon cinnamon
Instructions
Preheat oven to 350°F/180°C. Line a baking sheet with parchment paper or a silicone mat.

Add the nuts to the baking sheet and bake for 5 minutes. This helps to give the nuts a fragrant smell and to warm up the oils in the nuts.

Remove the nuts and add to a food processor. Pulse on low or high until combined into a nut butter. Your food processor may get a bit warm depending on how long it takes, so just turn it off for about a minute to prevent overheating if this happens. You may also need to stir everything together every few minutes.

When liquified into a nut butter, sprinkle over a pinch of sea salt and extra add ins if adding now too. Pulse for another 30 seconds to incorporate.

Pour into a jar with a cover and place in the fridge. You can use this nut butter anywhere you'd use storebought!
Notes
Toasting the nuts helps to warm up the oils in the nut, which helps it to blend easier. If you're making peanut butter, it's better to buy dry roasted, unsalted peanuts. How to store: Refrigerate your almond butter in a jar for up to a month, or in the freezer for up to 6 months. You may need to stir the nut butter before you use it.
Calories: 219kcal, Carbohydrates: 11g, Protein: 8g, Fat: 18g, Saturated Fat: 1g, Polyunsaturated Fat: 4g, Monounsaturated Fat: 11g, Trans Fat: 0.01g, Sodium: 0.4mg, Potassium: 263mg, Fiber: 5g, Sugar: 5g, Vitamin A: 1IU, Vitamin C: 0.01mg, Calcium: 99mg, Iron: 1mg
Disclaimer: Although jessicainthekitchen.com attempts to provide accurate nutritional information, kindly note that these are only estimates. Nutritional information may be affected based on the product type, the brand that was purchased, and in other unforeseeable ways. Jessicainthekitchen.com will not be held liable for any loss or damage resulting for your reliance on nutritional information. If you need to follow a specific caloric regimen, please consult your doctor first.