Vegan Arancini – Fried Rice Balls (Air Fryer Option!)
Arancini are delicious fried rice balls! They are stuffed with warm gooey vegan mozzarella and served with a mouthwatering arrabbiata sauce & perfect for appetisers! There's also an option to make them in your air fryer!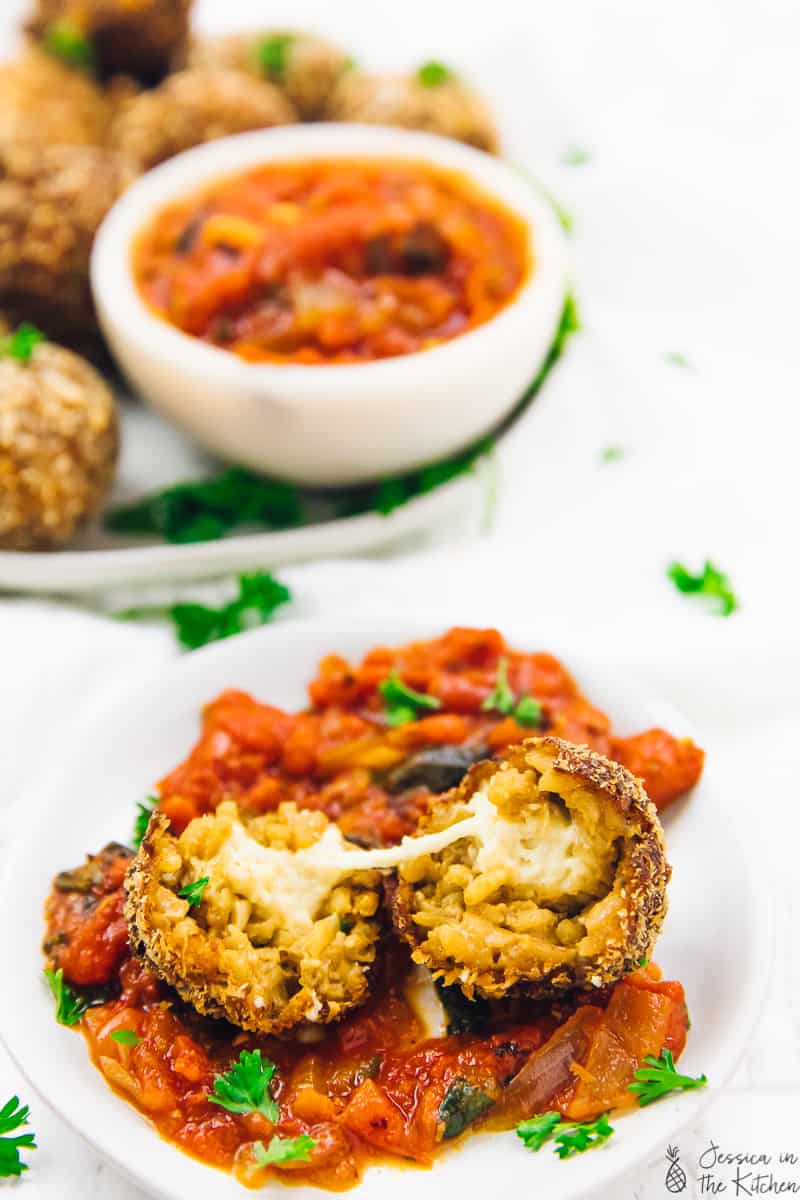 If you're like me then when you hear "fried rice balls" you run to see where you can sign up. Arancini, or fried risotto balls or fried rice balls are just as indulgent and delectable as they sound. You're taking your home cooked, creamy and comforting risotto that's already perfect – I made it here if you want to check it out. Then you let it sit for about a few hours until cooled, but preferably overnight. It really marries when sitting overnight. Then you scoop that, roll it in breadcrumbs and fry it. But it gets BETTER. You also stuff these magical risotto balls with CHEESE. THEN you fry it. Uh, who thought of this? Thank you for existing.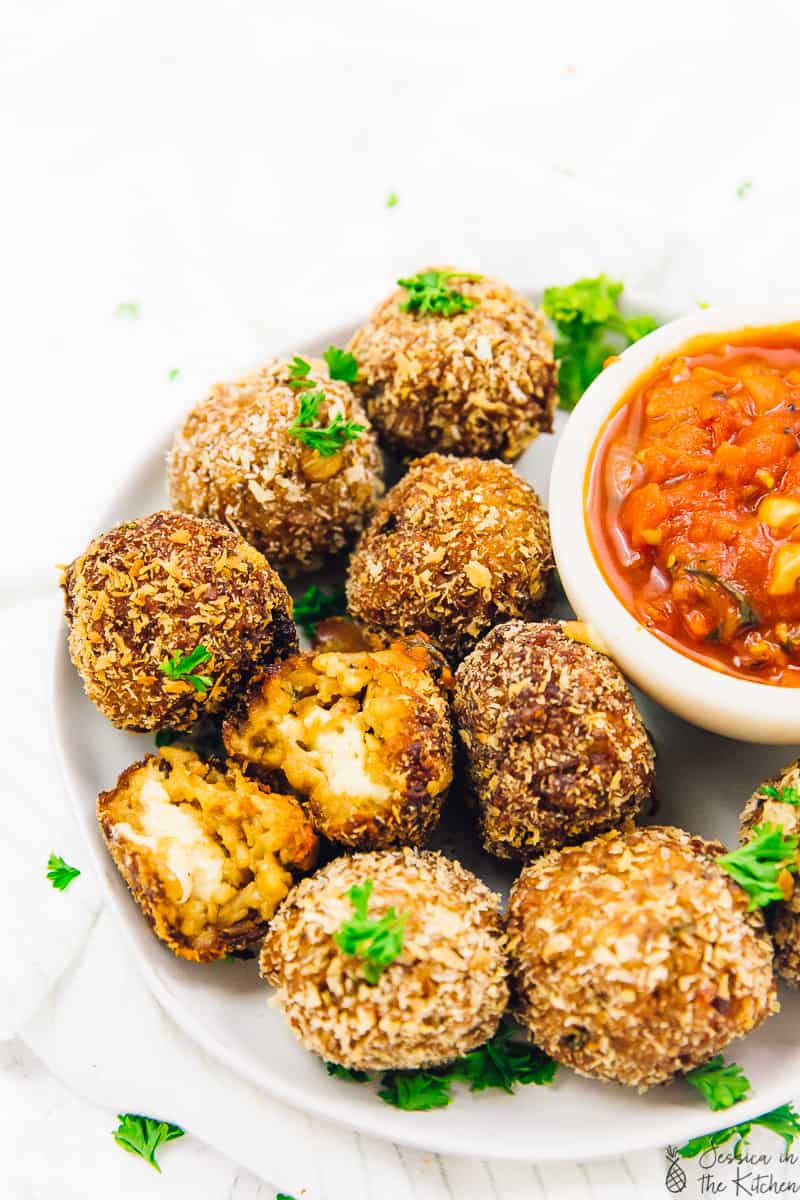 You guys know we don't fry things very often, but when we do I would rather use an oil that I know can handle the heat and that I can use on a regular basis. This is where Thrive Algae Oil steps in. If you're a regular at JITK then you already know my love for Thrive Algae Oil. I've been using this Oil for over a year now. Not only is it now my go to oil for any use it's also Gavin's. Be that sautéing, pan frying, baking, salad dressings and now deep frying. Yes – with a smoke point of up to 485° it can handle that heat too. Is there anything Thrive can't do?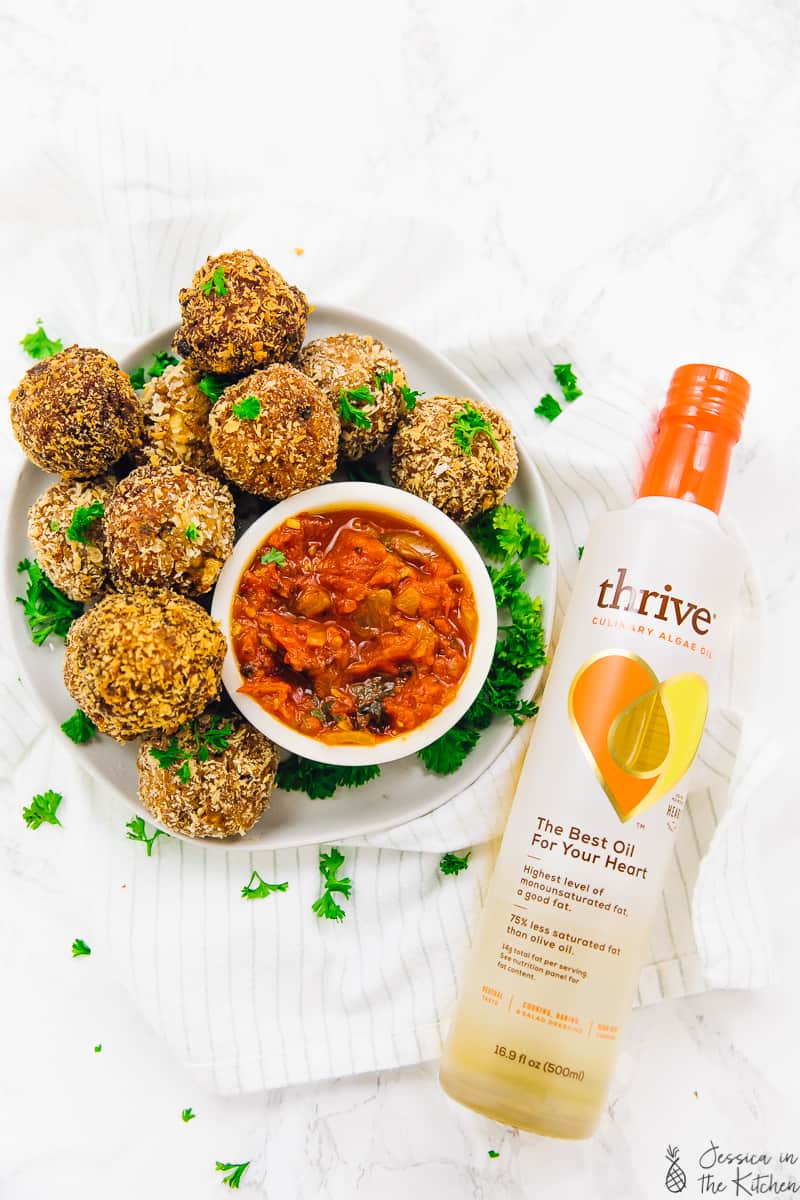 If you're new here let me tell you some more about Thrive Algae Oil. Made from algae that was originally sourced from the sap of a Chestnut tree (not from water like other algae), Thrive contains the highest level of monounsaturated fats (MUFAs) (AKA the good stuff like in avocado!) of all cooking oils. That makes it one of the best oils for maintaining heart health. Plus it has a light, neutral taste so you never have to sacrifice deliciousness for nutrition. If you want even more proof you can head on over to their Amazon page, where you'll see so many people falling in love and agreeing that it's one of the best oils they've used for all kinds of cooking and mixing. I know for sure it has been for me.
Although we usually go straight to Amazon when it's time to order another bottle, you can also find Thrive Algae Oil in major supermarkets like Walmart and Target!!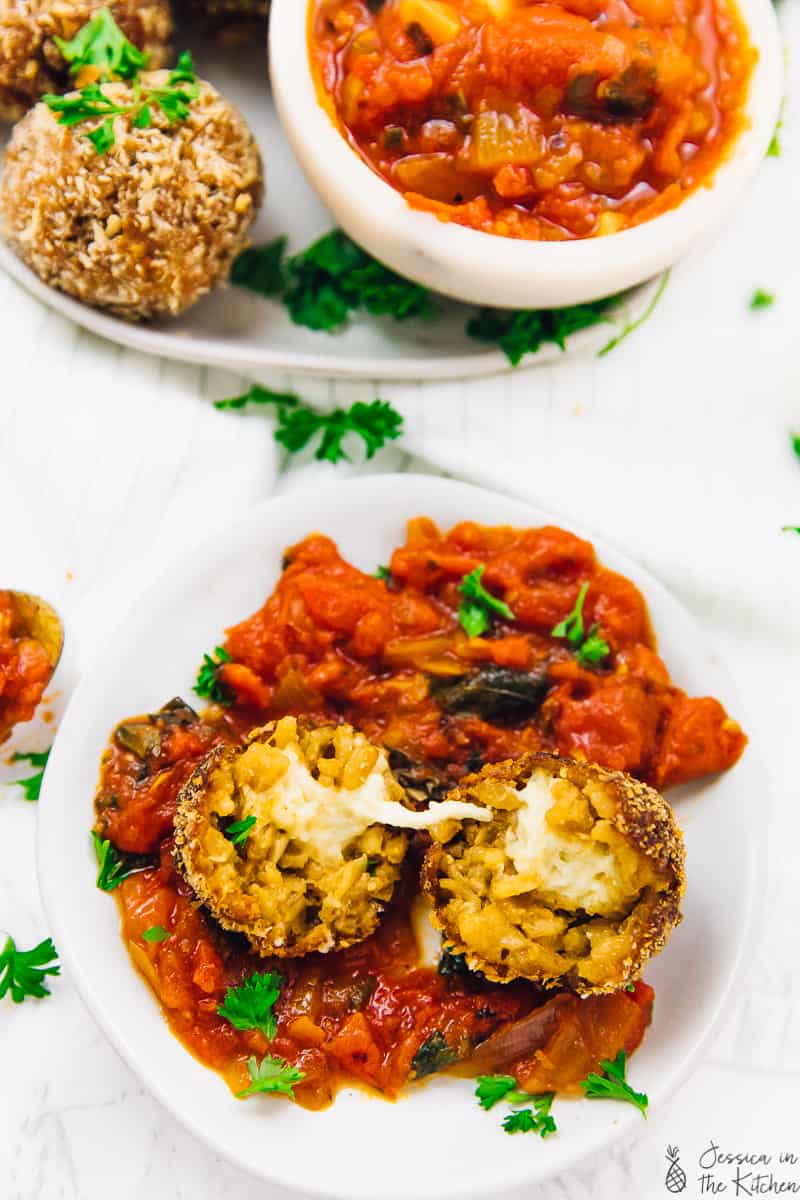 Anyway friends, be sure to give these Arancini a try. They pair so well with arrabbiata sauce, which is essentially a spicy marinara sauce. I love scooping some onto my Arancini while they are still hot and that cheese pull is still ever present. I've linked to them in the recipe but if you can't wait here they are. These Arancini are perfect for Italian night at home, appetisers and pretty much any occasion. Put them on your list and make them!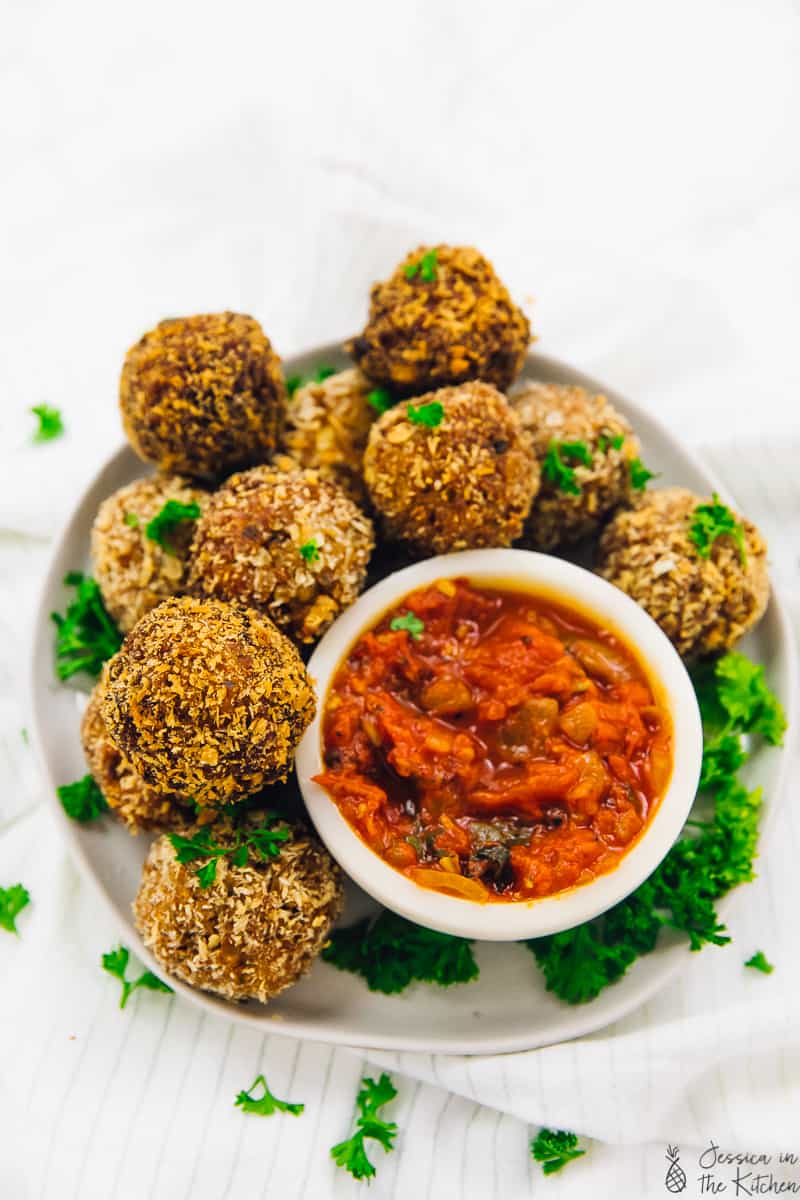 If you don't want to fry them, NO PROBLEM. I also included an air fryer option YAY! Finally, right? I'm happy to say these babies are super tasty in the air fryer. I just drizzle and/or use a silicone brush to brush the Thrive Algae Oil all over my risotto balls then air fryer. Let's be honest, if they are 10/10 deep fried they are 8/10 air fried, but they are still certainly delicious and means you can still give them a try. Eat up and enjoy friends!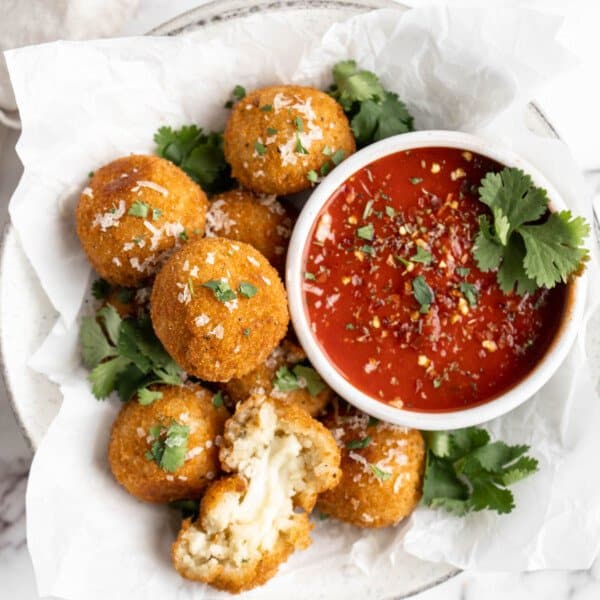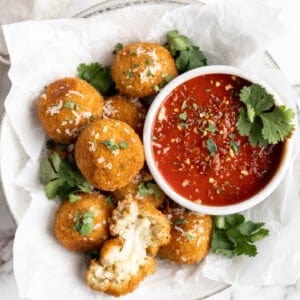 Vegan Arancini (Fried Rice Balls)
These arancini are stuffed with melty vegan mozzarella, then fried (or air fried!) to crispy perfection. The perfect way to use leftover risotto!
Ingredients
2 - 2 1/2 cups leftover risotto
1 cup plain panko breadcrumbs
1/4 teaspoon sea salt
1/4 teaspoon ground black pepper
1/4 teaspoon garlic powder
Thrive Algae Oil for frying
Vegan Mozzarella, at room temperature
Serve with Arrabbiata Sauce and garnish with parsley
Instructions
Set up a breading and stuffing station - one bowl for the panko breadcrumbs, and one bowl for the mozzarella. Crush the panko breadcrumbs a bit in their bowl so they are more crumb texture.

Heat up a pan with the oil, you want it to come at least 1 inch up the side of the pan or more. That way you can fry them like I did (turning them over), or even deep fry them.

While oil is heating up (or you can do this before), roll the risotto into golf size balls, which is about two tablespoons. Flatten one tablespoon into your palm, then spoon or pull about a teaspoon of vegan mozzarella into the centre. Add the other tablespoon on top and then roll into a tight rice ball, squeezing slightly. It should not fall apart easily, if it does see notes below. 

Roll that ball into the panko breadcrumbs to cover completely, or place it in the bowl then cover it with more breadcrumbs by sprinkle it over it, turning it.

Test the oil to see if it's hot enough (a sprinkle of panko breadcrumbs should sizzle and float). Drop one risotto ball into the oil with a tongs or a spider. Allow to cook about 5 minutes on one side, then flip and cook for about 2-3 minutes on the other side. The balls should be golden brown. Remove and set on a plate lined with a paper towel.

Only make as many balls as you're going to eat, but the entire recipe makes about 12-15 fried risotto balls. Serve with parsley and Arrabbiata sauce. Enjoy!
Notes
AIR FRYER OPTION Stick the risotto balls in the fridge to firm up even more. Preheat your air fryer for about 5 minutes of 450F while it's chilling. Remove and drizzle each risotto ball with about a teaspoon of Thrive Algae Oil, or brush it all over with a silicone brush. You don't want to overcrowd the air fryer container. Air fry for about 8 minutes in the air fryer. Every air fryer is different so test with one to ensure yours is fully heated through and doesn't burn. Remove and serve with parsley and Arrabbiata sauce (link to blog post). Enjoy! FURTHER NOTES My leftover risotto was creamy and sticky so I didn't need to add anything to keep it together. If you feel that yours isn't sticking together, you can add a flax egg to it and even like 1/4 cup breadcrumbs to help it all stick together.
Calories: 153kcal, Carbohydrates: 31g, Protein: 2g, Fat: 2g, Saturated Fat: 1g, Cholesterol: 4mg, Sodium: 120mg, Potassium: 18mg, Fiber: 1g, Sugar: 1g, Calcium: 1mg, Iron: 1mg
Disclaimer: Although jessicainthekitchen.com attempts to provide accurate nutritional information, kindly note that these are only estimates. Nutritional information may be affected based on the product type, the brand that was purchased, and in other unforeseeable ways. Jessicainthekitchen.com will not be held liable for any loss or damage resulting for your reliance on nutritional information. If you need to follow a specific caloric regimen, please consult your doctor first.