Spicy Arrabbiata Sauce (Easy & Vegan)
Spicy Arrabbiata Sauce is about to be your new favourite tomato sauce! It has only 8 ingredients, so much incredible depth in flavour and is so versatile!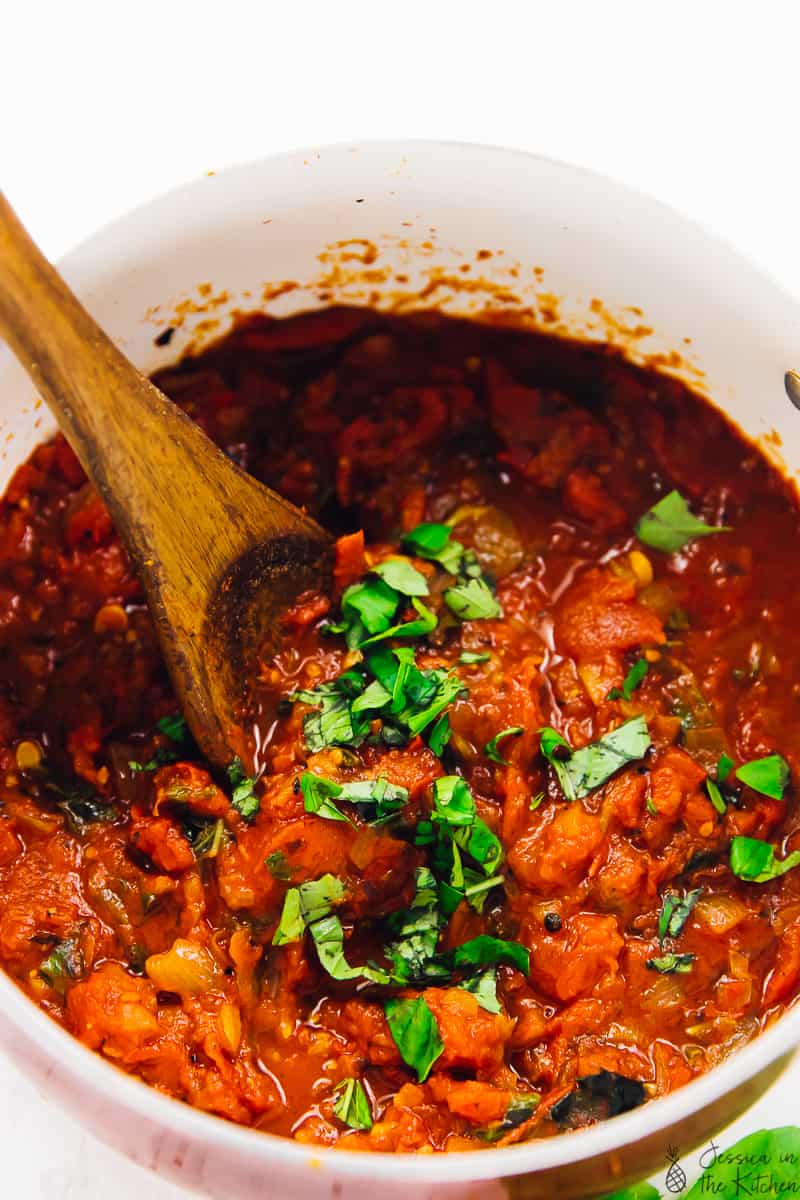 Arrabbiata. Arrabbiata. *tries again* Arrabbiata Sauce! Despite the fact that I'm still struggling to pronounce this sauce properly, I can't stop saying it. If you've never heard of Arrabbiata Sauce you're in for a treat. I'm talking possibly best tomato sauce of your life treat.
If you've heard the story of me going to Italy already, bear with me. I've been to Italy twice now, and I loved it both times. It's as if you've never tasted tomatoes like you've tasted them in Italy. On pizza, in pasta, as a dip – tomato rules.
This sauce is no exception and the second I found out about it I knew I had to give it a try. Although I'm an avid lover of marinara sauce, sometimes I like something with more depth. More layers of flavour. More spice! That's where Arrabbiata Sauce steps in.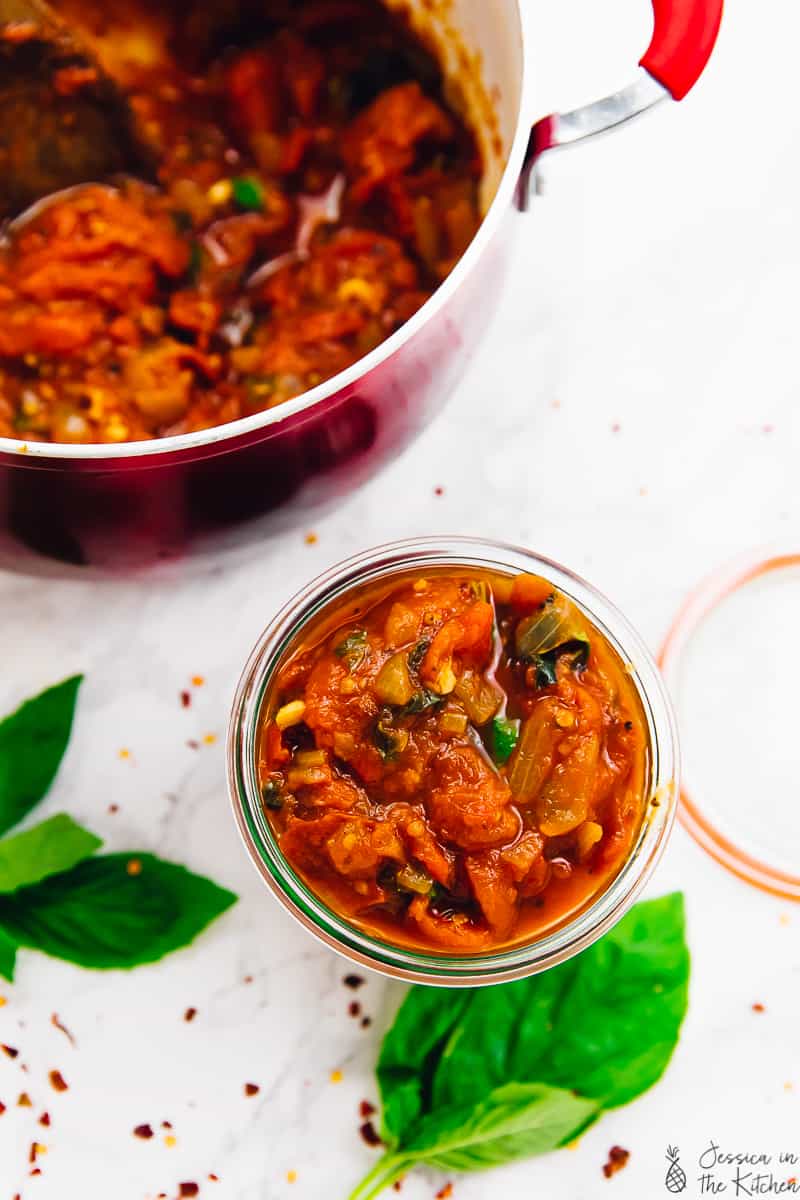 Arrabbiata means "angry", which speaks to the spice of this sauce. Traditionally it's made with dried chilli peppers. For the sake of ease and the fact that our dried chilli peppers were just finished, I used fresh red pepper flakes. I've scoured the traditional Italian sites and this was an accepted and suitable replacement.
Apart from the pepper flakes, I tried to keep everything else as traditional as possible, and based the technique loosely off of my homemade tomato sauce. So what's the main difference between Arrabbiata sauce and marinara sauce? To me – it's the spiciness, the depth and the cooking techniques. Otherwise you could easily use Arrabbiata sauce anywhere you would usually use marinara sauce.
This sauce is very very easy to make. First, to pull out flavour and extra spice, I used a technique I've seen Gav do quite a few times. I sautéed the red pepper flakes in the oil. Not only does it pull out all the flavours, it creates a beautiful red oil that I want to use in SO many dishes now! Add in the seasonings then sauté. Then the tomatoes and the simmering takes care of the rest for you. That's it, then you eat!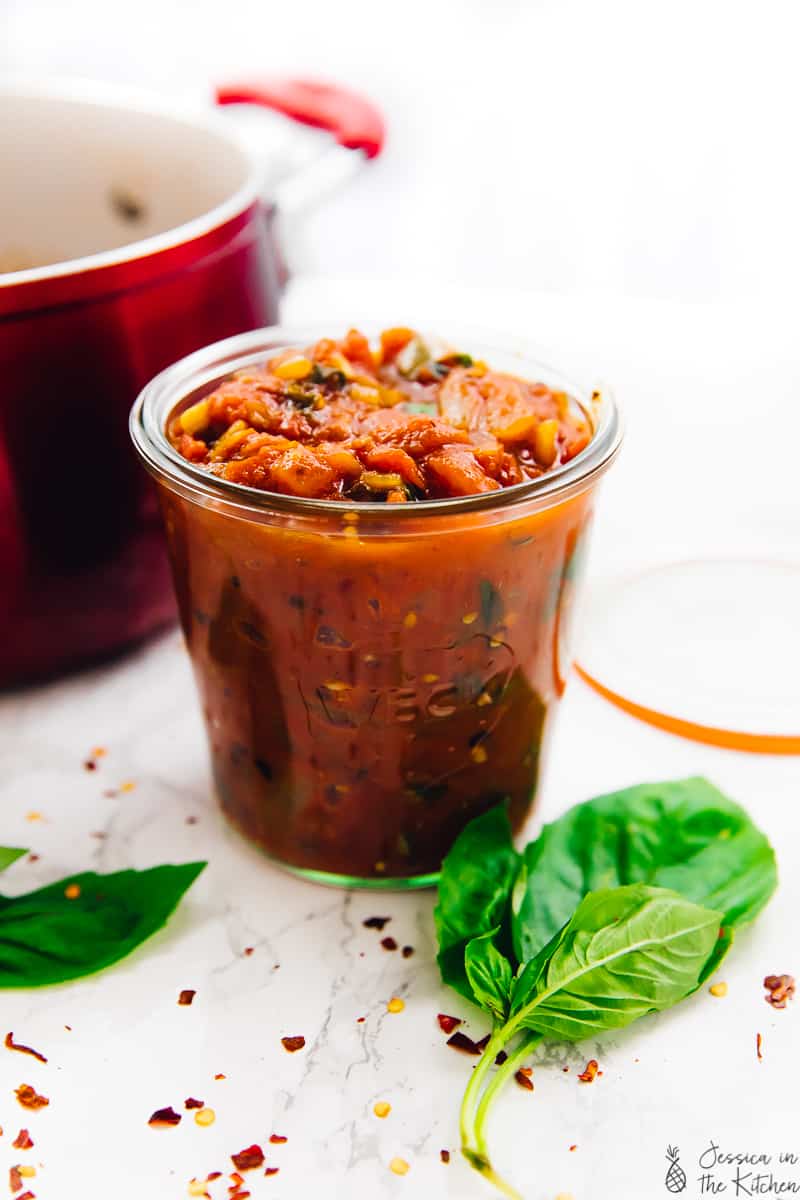 What you get is Arrabbiata Sauce. Delightfully spicy (you could reduce the red pepper flakes a bit if you want only mildly spicy), divinely delicious and so versatile. One of the things that I love about this sauce is that after you make it, you can use it so many ways.
We used the sauce as a dip for our
Arancini
. Gav made a bolognese with it and his homemade walnut meat that I couldn't stop eating. We're definitely putting it all over pasta. This recipe makes a lot, but we've already gone through over half of it in a few days.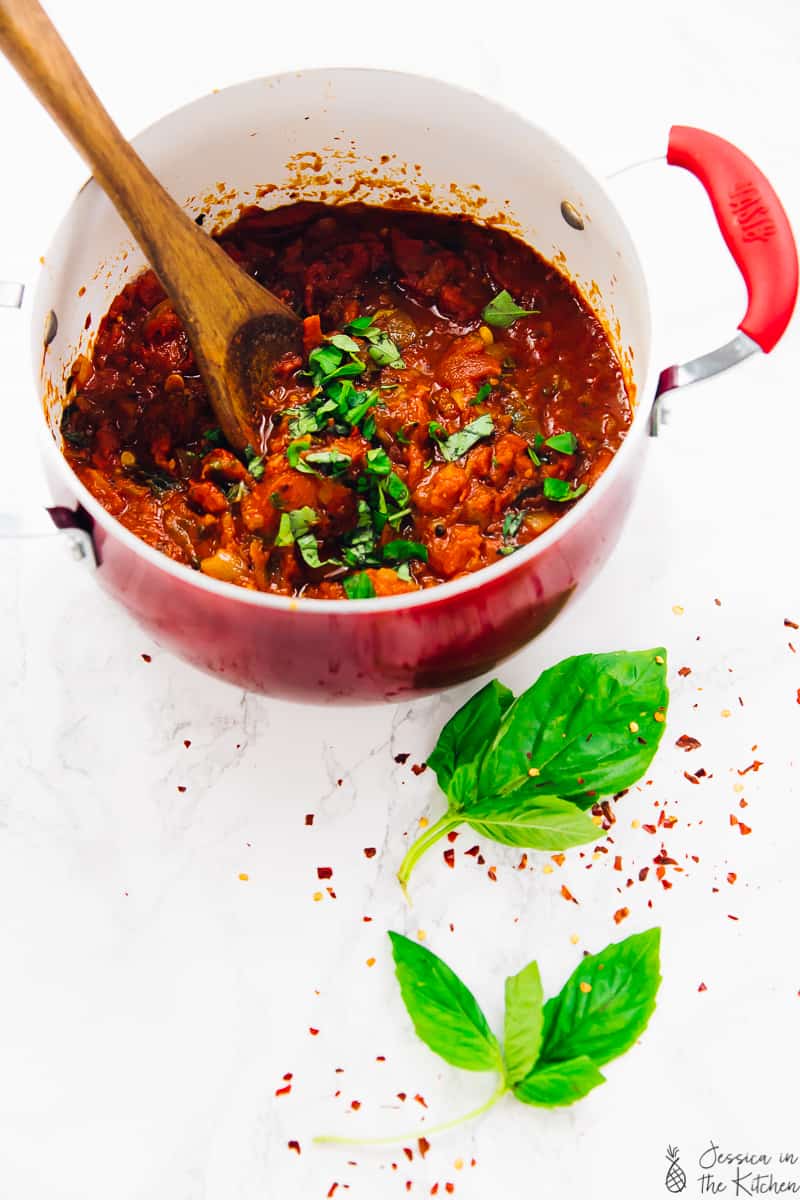 I hope you try this sauce and enjoy it, friends!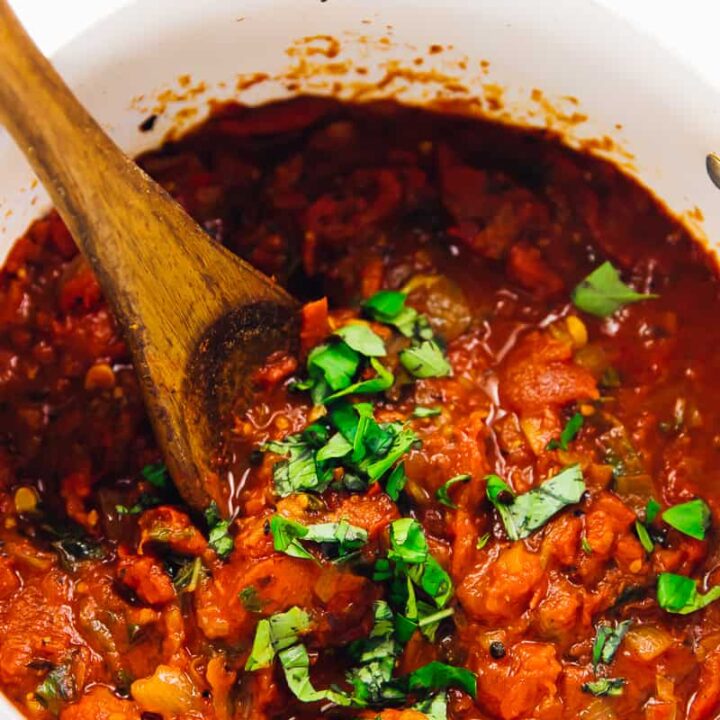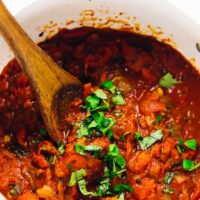 Spicy Arrabbiata Sauce (Easy & Vegan)
Spicy Arrabbiata Sauce is about to be your new favourite tomato sauce! It has only 8 ingredients, so much incredible depth in flavour and is so versatile! 
Ingredients
1 tablespoon oil of choice
2 teaspoons red pepper chilli flakes
1 large white onion
2-28 ounce cans of whole tomatoes
6 cloves garlic
sea salt to taste*
1/4 to 1/2 teaspoon ground black pepper
1/2 cup fresh basil, chopped or julienned
Instructions
In a pan over medium high heat, heat the oil.

Add in the red pepper chilli flakes and cook through for about 3 minutes, swirling in the oil, checking to ensure they don't burn. The flakes should be sizzling.

Reduce heat to medium and add in the garlic and the onions. Sauté for about 5 minutes until onions are translucent and garlic is fragrant.

Add in the entire two cans of tomatoes. Stir everything together. Cover the pot for about 10 minutes to break down the tomatoes slightly.

Remove cover and using your wooden spoon or spatula, kind of chop up the tomatoes. I loved mine chunkier but you could even taste an immersion blender to the mix at the end. Stir the tomato mixture and let simmer for 30 minutes, stirring infrequently.

After 30 minutes, season to taste with salt and add the black pepper and stir again. Remove from heat and fold in the chopped basil. Allow to cool slightly then serve and enjoy!
Notes
*I say sea salt to taste because some cans of tomatoes including salt. I added 1/2 teaspoon of sea salt to my entire pot, but add based on your tomatoes and taste. * You know I usually always recommend fresh tomatoes but canned tomatoes are more traditional here. It will work with fresh tomatoes though, but you may need to cook it for about 15 minutes longer for an added depth of flavour! I would just remove the skins first.
Calories: 75kcal, Carbohydrates: 8g, Protein: 1g, Fat: 5g, Saturated Fat: 4g, Sodium: 146mg, Potassium: 171mg, Fiber: 2g, Sugar: 3g, Vitamin A: 647IU, Vitamin C: 7mg, Calcium: 37mg, Iron: 1mg
Disclaimer: Although jessicainthekitchen.com attempts to provide accurate nutritional information, kindly note that these are only estimates. Nutritional information may be affected based on the product type, the brand that was purchased, and in other unforeseeable ways. Jessicainthekitchen.com will not be held liable for any loss or damage resulting for your reliance on nutritional information. If you need to follow a specific caloric regimen, please consult your doctor first.