Homemade Roasted Garlic Tomato Sauce – Incredibly Easy
Learn how to make incredibly easy homemade tomato sauce, then use it in everything!! It's taken up an extra notch with the addition of divine homemade garlic. Your kitchen will smell heavenly! Perfect way to use up your summer tomatoes!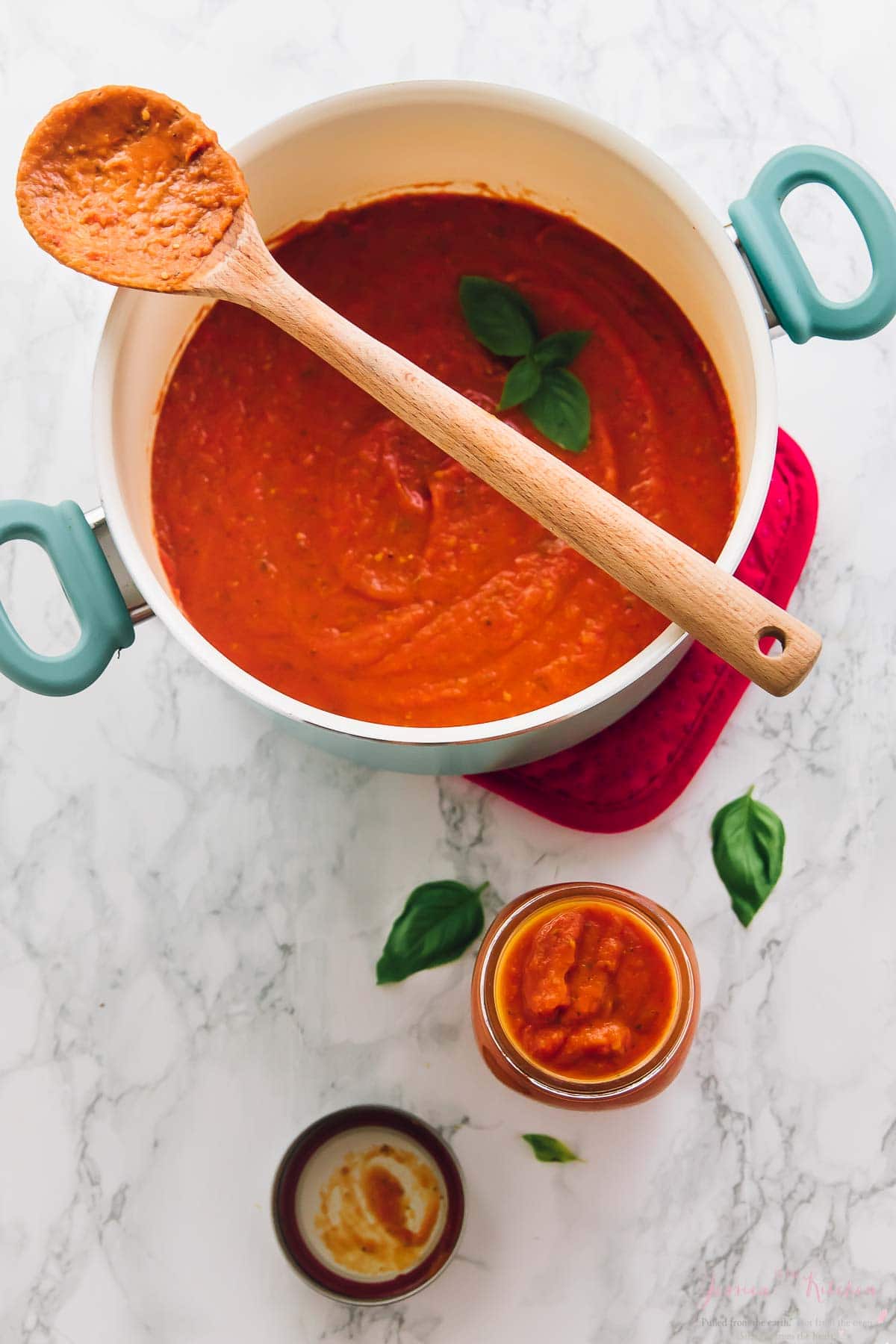 There are experiences in life that are fun & exciting, and then there are those that completely change you as a person. One of those experiences? Experiencing something you've eaten all your life, homemade, 100% from scratch, for the very first time. Some people see food as just food, but I see it as the nourishment of the soul. After experiencing tomato sauce in Italy the first time, I was blown away at the flavour difference. The second, on a trip many years later, I knew I would have to made this from scratch.
Friends, this sauce will change the way you make your pasta, pizza, even your tomato soup. You will, quite literally, spoon it from the pot, right into your mouth. Let's go for a ride.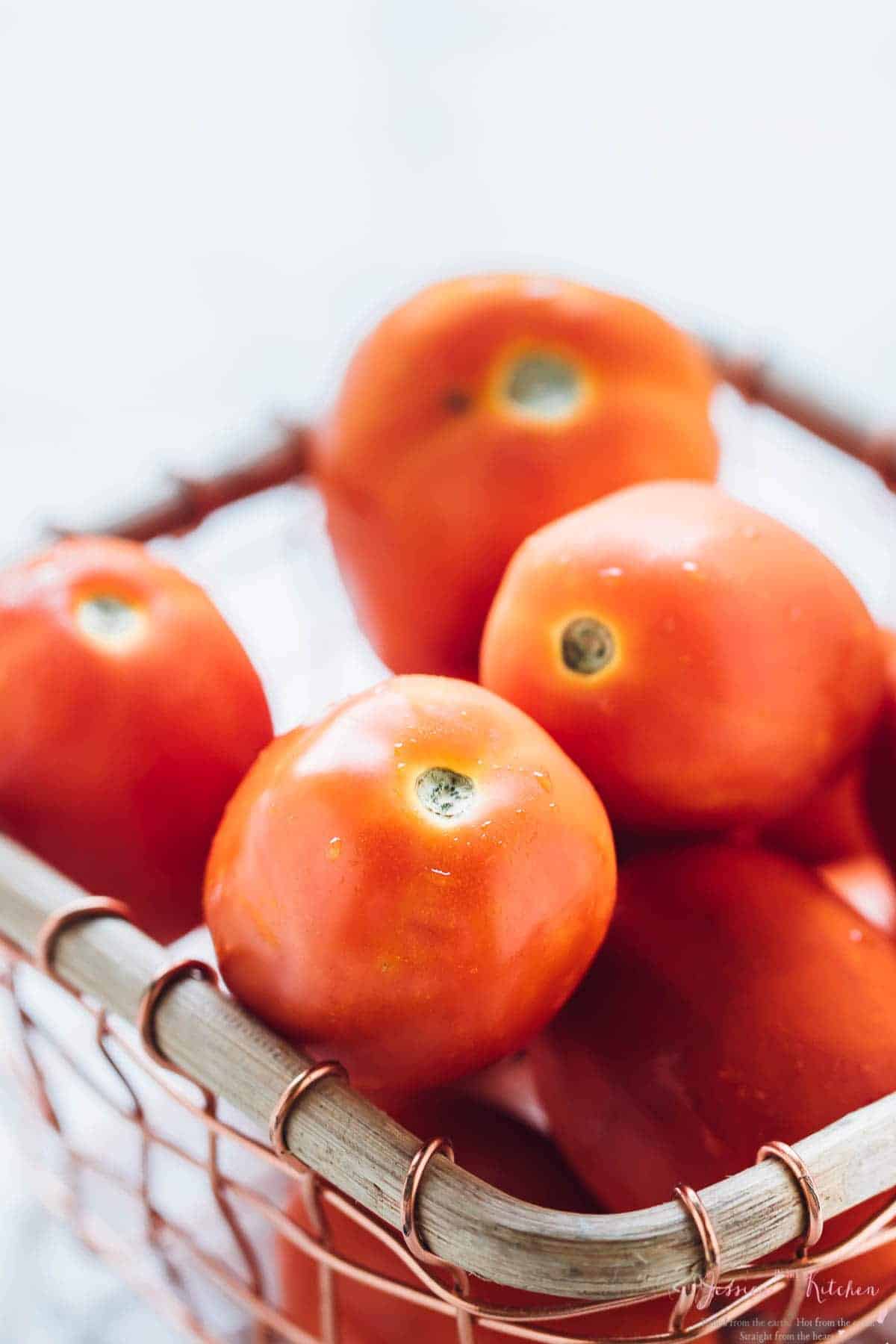 Two of my friends are currently doing a tour of Europe, and not only am I living vicariously through them, it's bringing up old fun memories from my own travels. I went to Spain, France and Italy a few years ago with my family, and most recently, to France and Italy with the Mr. for our honeymoon. Needless to say, these are places that you fall in love with, forever. The food, the music, the ambience – it's magical. Travelling on a whole is a love of mine, but even greater than the monuments and the people are the food from these places. I truly believe that you experience a new place, by eating the food.
It's something that the Mr. and I truly have in common. Whenever we go somewhere new, we try to have things we've never eaten before, and we end up feeling truly connected to the place. Coming from a country where food is an integral part of our culture, I feel like I truly "get it" after a real, local meal.
I digress. Back to the tomatoes.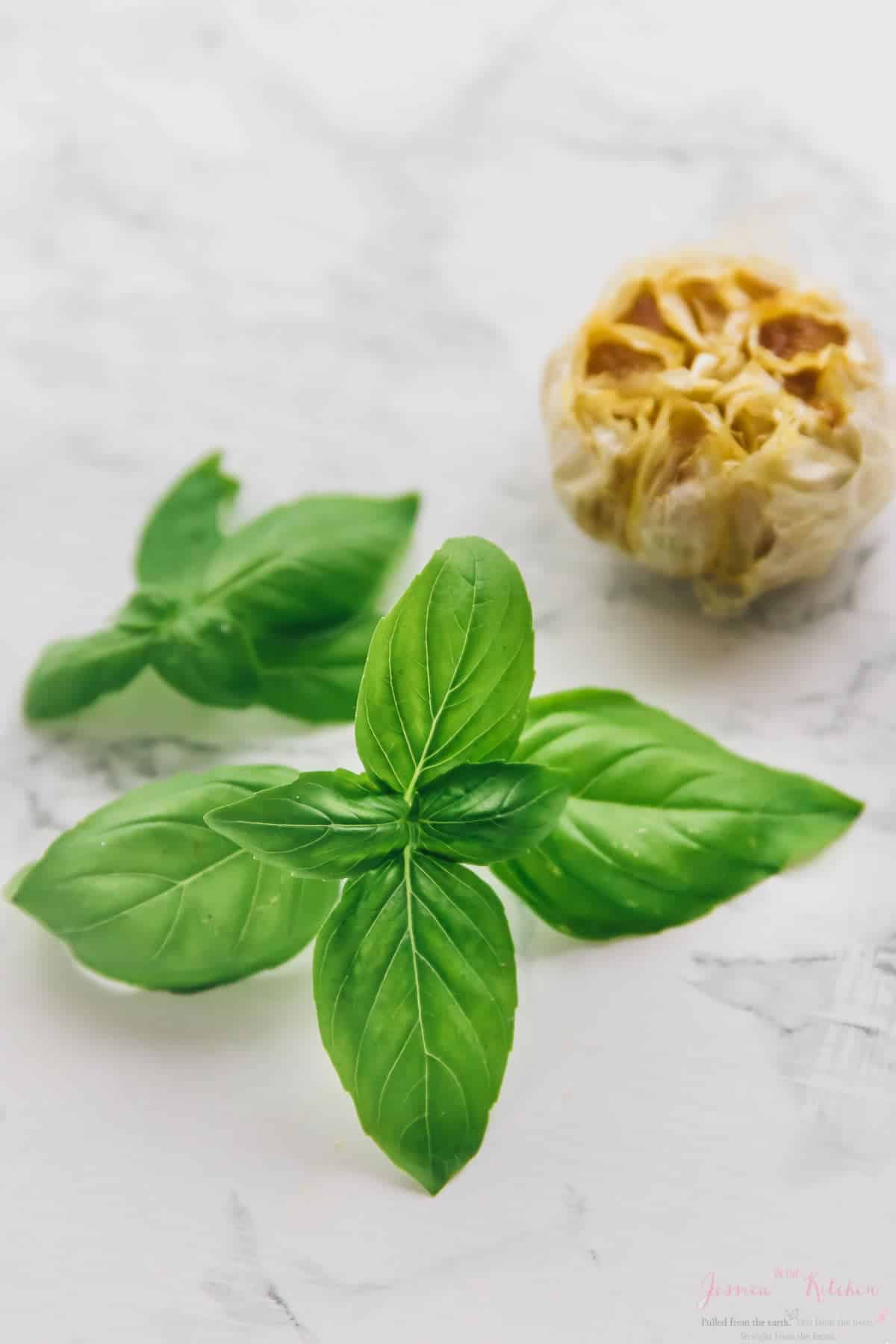 Can I just say, before I dive into the sauce, that you are currently looking at basil THAT I GREW. YES, I GREW THAT. What?? One of my closest friend's mom gave me a basil plant, and I propagated my own from it and then grew it straight from the seed too. You heard (read?) that correctly. I now have three different basil plants and this basil above is from the last batch that I pruned. I'm also growing tomatoes, and I'm hoping that in the summer months I'll be able to give a fun post on my small but mighty garden.
AGAIN, I digress. We are really going to talk about the sauce now.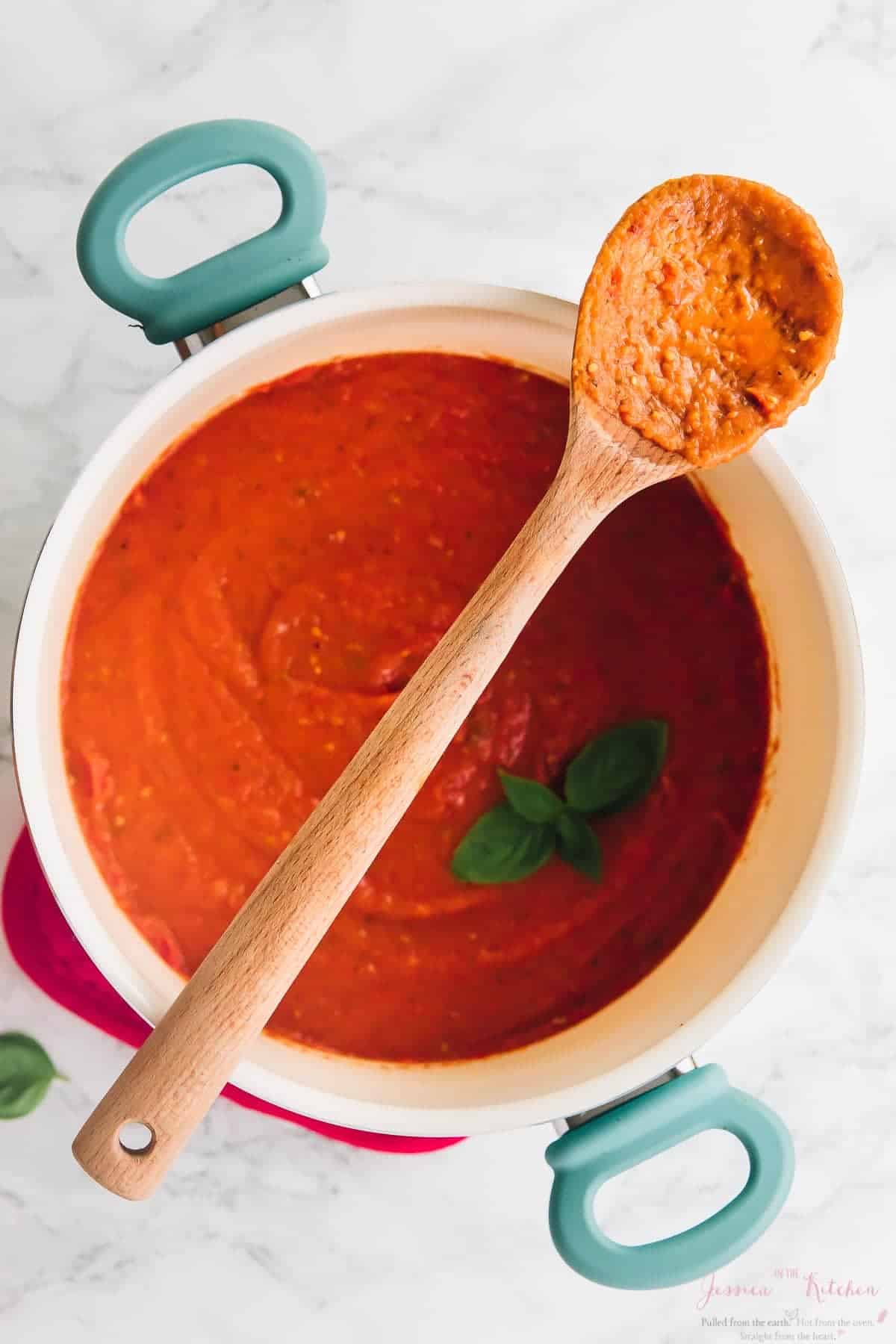 Both times on visiting Italy, we had fresh tomato dishes, and it was as if I could abandon the entire meal and just drink the sauce itself. You know when a sauce is the star of the dish? Well, yes. Exactly.
As a result, I've wanted to make homemade tomato sauce for a while now, and finally decided to do it. I make no claims that this is "authentic" in any way, but it is insanely delicious. The roasted garlic my friends, please, do not skip it. It's such an easy process, and to be so honest, there is no good reason why we don't use it every day, on every single thing. You cut off a tip of the garlic to expose the cloves a bit, drizzle a little olive oil on top, cover in foil, and then roast it. Your entire kitchen will smell like heaven on earth. You can roast it ahead of time, on the same day, or a little bit before starting the sauce. It's entirely up to you. What you end up with a is a buttery soft, aromatic head of garlic just waiting to amp up anything you put it into. If you have a toaster oven, use that so you don't end up turning on the big oven just for it.
Next, everything is so easy, you'll wonder why you don't make this a bi-monthly tradition. Sauté the onions, add a bit of red wine vinegar (which deglazes and adds a burst of acidity), add in the tomatoes, the seasonings, the garlic and then leave to simmer. Simmer away, my friends! You can simmer it for 30 minutes, or even up to an hour. As with anything that simmers, the flavours just continue to deepen. Isn't it fascinating how food just keeps getting better and better, the more time is put into it?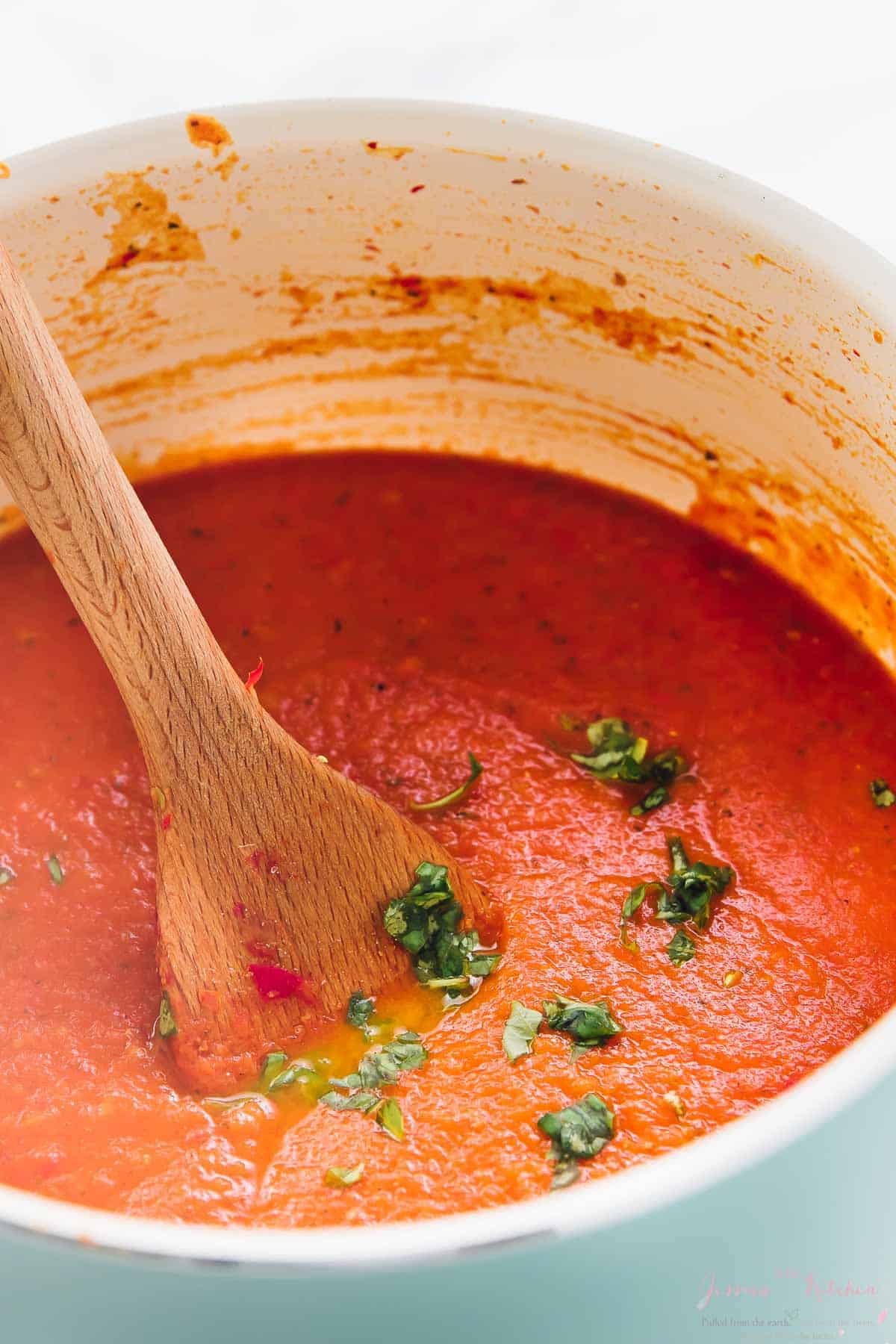 Then, puree it, and add in the basil at the end. Basil has such a strong flavour and scent, but loses that during a simmering process. For best results, always add it at the end of your sauce. I used 5 pounds of tomatoes which, while it seems like a lot, means that if you're growing them yourselves, you can use up all of your harvests. It also means that after this process, you don't have to do it again immediately after finishing the first jar that same night. After tasting this sauce, you'll literally want to slather it on everything, too. It's also perfect for a fresh, delicious gift to a friend or family member. In any case, you can easily half the recipe if needs be.
When you try this friends, let me know. I guarantee you will love it. Needless to say, we'll be making our favourite kale pesto pizza again this week with it.
Enjoy!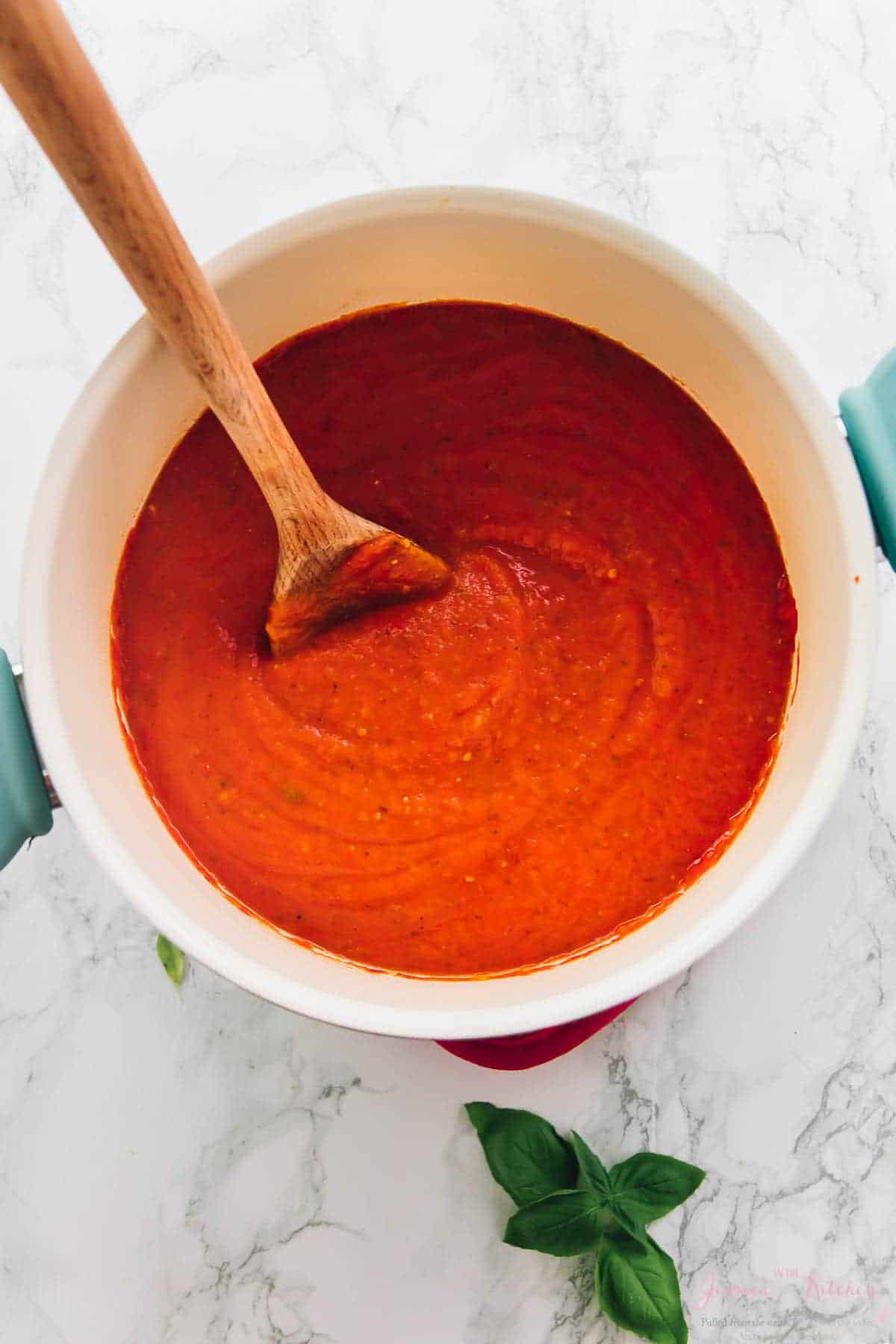 If you try this Homemade Roasted Garlic Tomato Sauce please let me know in the comment section below, or tag me on instagram with the hashtag #jessicainthekitchen! For more exclusive recipes follow me on Instagram AND on Snapchat: jessinkitchen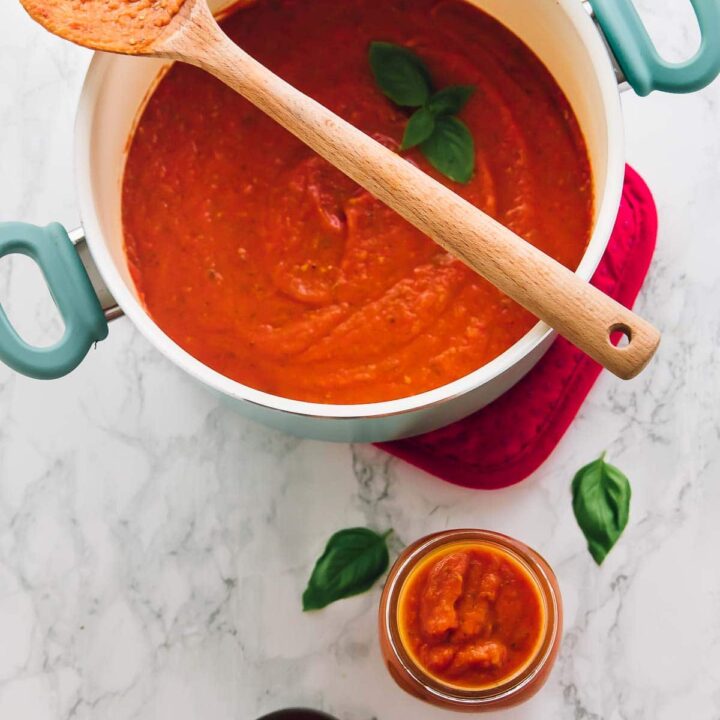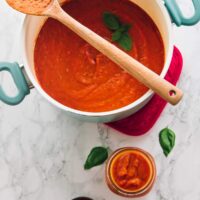 Homemade Roasted Garlic Tomato Sauce - Incredibly Easy
Learn how to make incredibly easy homemade tomato sauce, then use it in everything!!
Ingredients
1 large head garlic, about 10 cloves + drizzle of olive oil
2 tablespoons extra virgin olive oil or virgin olive oil
2 medium yellow onions, chopped
1 tablespoon red wine vinegar
5 lbs. fresh ripe plummy tomatoes, washed, stems removed and chopped
1 1/4 teaspoons freshly ground sea salt
3/4 teaspoon freshly ground black pepper
1/2 teaspoon dried oregano or 1 tablespoon chopped fresh oregano
1/4 cup chopped fresh parsley
1 bunch fresh basil, chopped (use as much or as little as you like, but don't go over like 1/4 cup)
Instructions
1. Preheat oven to 450 ° F/ 230° C. Cut off the top of the head of garlic, with the cloves still connected, but just enough to expose them a bit. Place in some foil and drizzle a little bit of olive oil over the top. Wrap the foil around the garlic, and roasted for 45 minutes in the oven. You can do this ahead of time if you'd like, or while the other ingredients are cooking.

2. In a pot over medium high heat, heat the olive oil. When oil begins to shimmer, add in the chopped onion and sauté until translucent, about 5 minutes, stirring often. The onions should be golden and shimmering. Add the red wine vinegar and stir into the onions. Add in the chopped tomatoes and stir everything together. Cover the pot with lid and increase heat to medium high. Steam the tomatoes for 8 minutes - this will soften the tomatoes, help them to break down and allow more flavour to be infused into them. They will not burn since a lot of liquid will be released, but you can still check every few minutes to ensure.

3. Remove the pot and reduce heat to medium. Add the salt, pepper, oregano and parsley and stir everything in to combine. Squeeze the roasted garlic cloves into the tomato mixture. It will be butter soft, so you can just squeeze them out of the skins. Stir together again.

4. Reduce heat to medium low (should be simmering) and place pot cover back on slightly but not to completely cover the pot. Simmer the sauce for 30 minutes up to an hour, if desired. The skins should dissolve right off the tomatoes, and all the ingredients should be extremely soft and combined. Remove pot from heat and blend the sauce with your immersion blender until completely blended through. Add in the chopped basil and stir in.

5. Allow sauce to cool. You can serve the sauce immediately if desired, but after a night in the fridge, the flavours really develop. Place in mason jars and store in the fridge. Enjoy!!
Notes
Notes:
HOW TO STORE: They can be stored in the mason jars in the fridge for 5 to ten days.
This recipe is vegan and gluten free. Prep time doesn't include the roasted garlic timing. You can make it at the same time, or ahead of time.
You can feel free to switch up the herbs if you'd like; more of some, less of others or even new herbs. It's up to you!
You can use fresh red wine or even white wine instead of the red wine vinegar.
If don't have an immersion blender, allow the mixture to cool completely and then blend it in a blender.
The tomatoes we used were naturally sweet, but if you want, you can add a tablespoon of sugar to the sauce to balance out the acidity.
Calories: 255kcal, Carbohydrates: 38g, Protein: 8g, Fat: 11g, Saturated Fat: 2g, Sodium: 1014mg, Potassium: 1926mg, Fiber: 11g, Sugar: 23g, Vitamin A: 6824IU, Vitamin C: 116mg, Calcium: 108mg, Iron: 3mg
Disclaimer: Although jessicainthekitchen.com attempts to provide accurate nutritional information, kindly note that these are only estimates. Nutritional information may be affected based on the product type, the brand that was purchased, and in other unforeseeable ways. Jessicainthekitchen.com will not be held liable for any loss or damage resulting for your reliance on nutritional information. If you need to follow a specific caloric regimen, please consult your doctor first.