Creamy Tomato Soup with Cheesy Croutons (Vegan)
This delicious Creamy Tomato Soup with Cheesy Croutons is nourishing, filling & so simple to make. You can use a few ingredients to bring out big flavours in under an hour!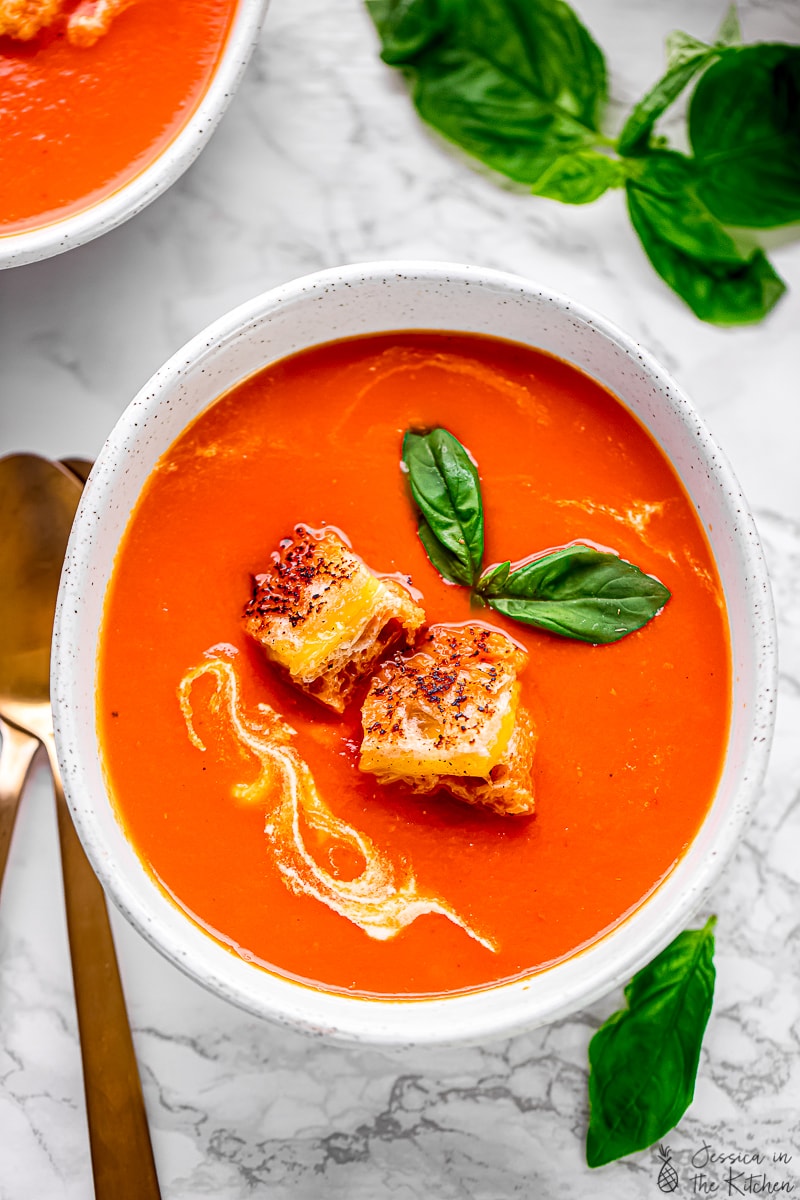 Creamy Tomato Soup with Cheesy Croutons
This month I've been trying to release some of my favourite classic recipes that for some reason, I've yet to share on the blog. Growing up, tomato bisque was my favourite soup. I'm now a fan of all kinds of soups – from creamy cauliflower soup, to lentil soup, to even mushroom – but tomato has a special place in my heart. This Creamy Tomato Soup has some fantastic and comforting flavours come together. The rich flavour of the tomatoes paired with the smoothness of the cream really warms my soul.
Then, as if that wasn't already enough, it's topped with some cheesy croutons. FRIENDS. I'm talking mini grilled cheeses on top. I was making this when I had some friends over and we had to start doling out extra cheesy croutons because they're that good.
Writing about this soup (and of course, having some while writing) has made me realise the best things about this dish. It truly has the ability to elevate your mood. I was feeling pretty tired and lacking energy the other day & immediately turned to some of the leftovers of this now. That was probably the best thing I could have done. Now, I'm not saying this soup has magical powers (yes, yes I am), but it made me feel so warm and comfortable. It left me satisfied, but not heavy, and totally nourished.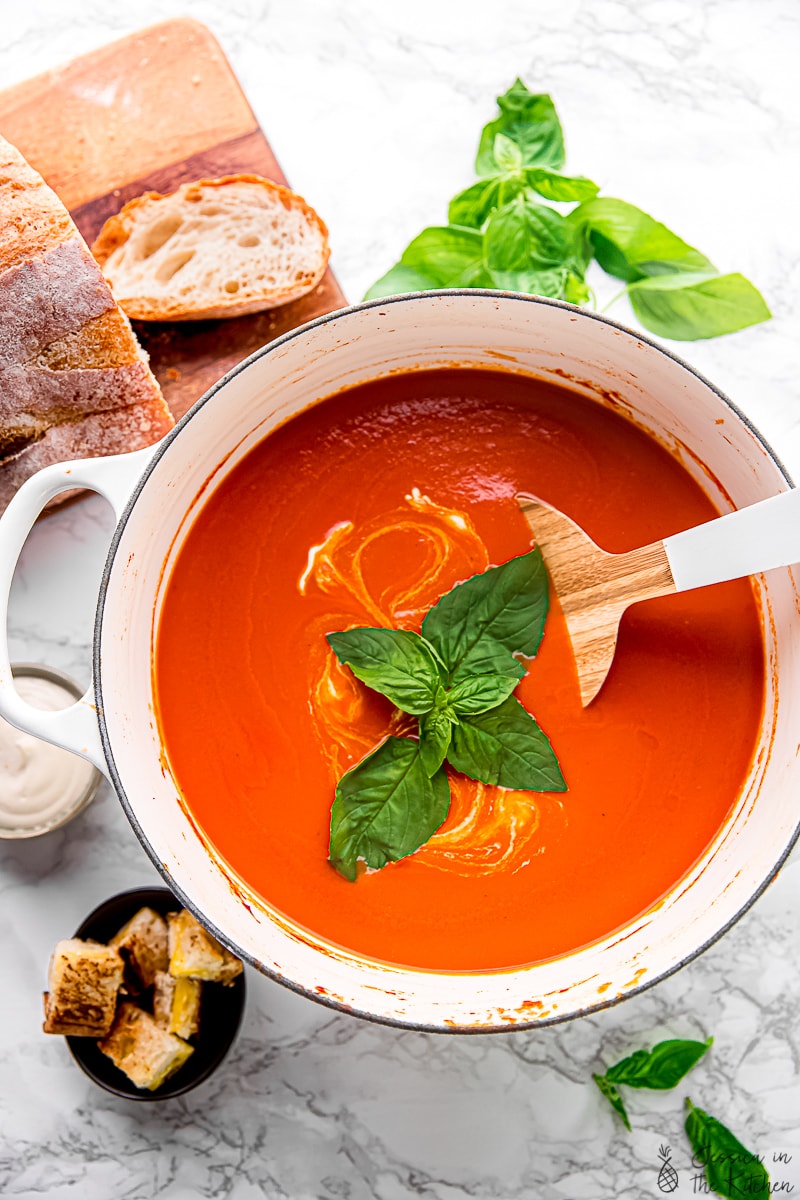 Ingredients for this Creamy Tomato Soup
The first thing I always talk about ad nauseam to all my friends about cooking is using great ingredients.
Tomatoes – since these are the star the soup, ensure that you get the best tomatoes you can find! Using large juicy tomatoes is great. You can also used canned tomatoes! I love these.
Mirepoix – I'm pretty sure I always start a soup with a mirepoix. It really gets me into the soup mindset, and of course lays the best base.
Vegetable stock/broth – I've been using a veggie base for my stock now because it lasts longer and I can always have it when I want to make broth. It's high in quality and flavour, and really amps up this soup. Plus, using stock allows this soup to still be creamy, but on the lighter side.
Cashew Cream – ohhhh cashew cream! This cashew cream really helps to balance out the acidity of the tomatoes and adds a delightfully creamy touch to the soup. Don't skip this step! If you have vegan heavy cream, you could also use it here. These are my favourite cashews for yielding the highest quality and the freshest cashews.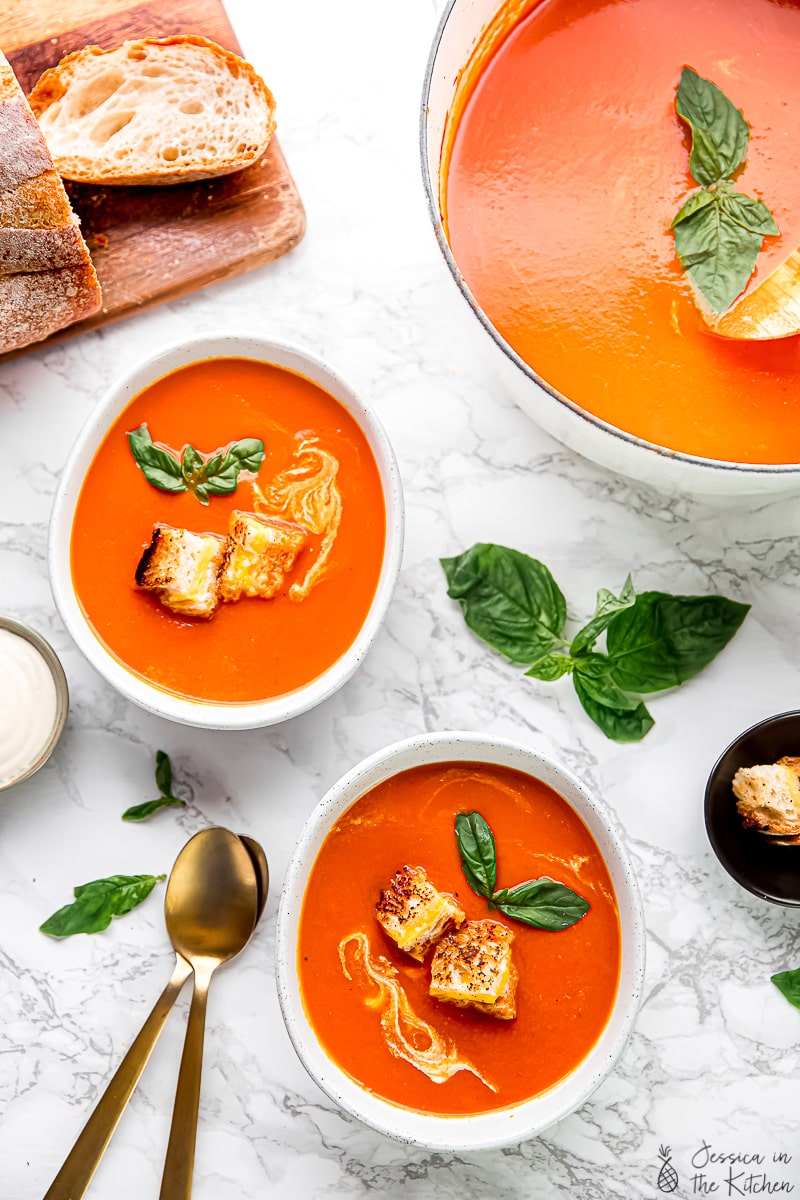 How to make Tomato Soup in a Blender:
After we've sauteed the veggies and simmered, we put the entire soup into a blender. I recommend doing this in two to three portions depending on the size of your blender. Also, I recommend ensuring that your blender is verified to make soups to ensure you're being safe. You can definitely use an immersion blender if you prefer, but it won't yield the same result.
After this return, the mixture to the stove and cook it down some more and then swirl in and combine the cashew cream.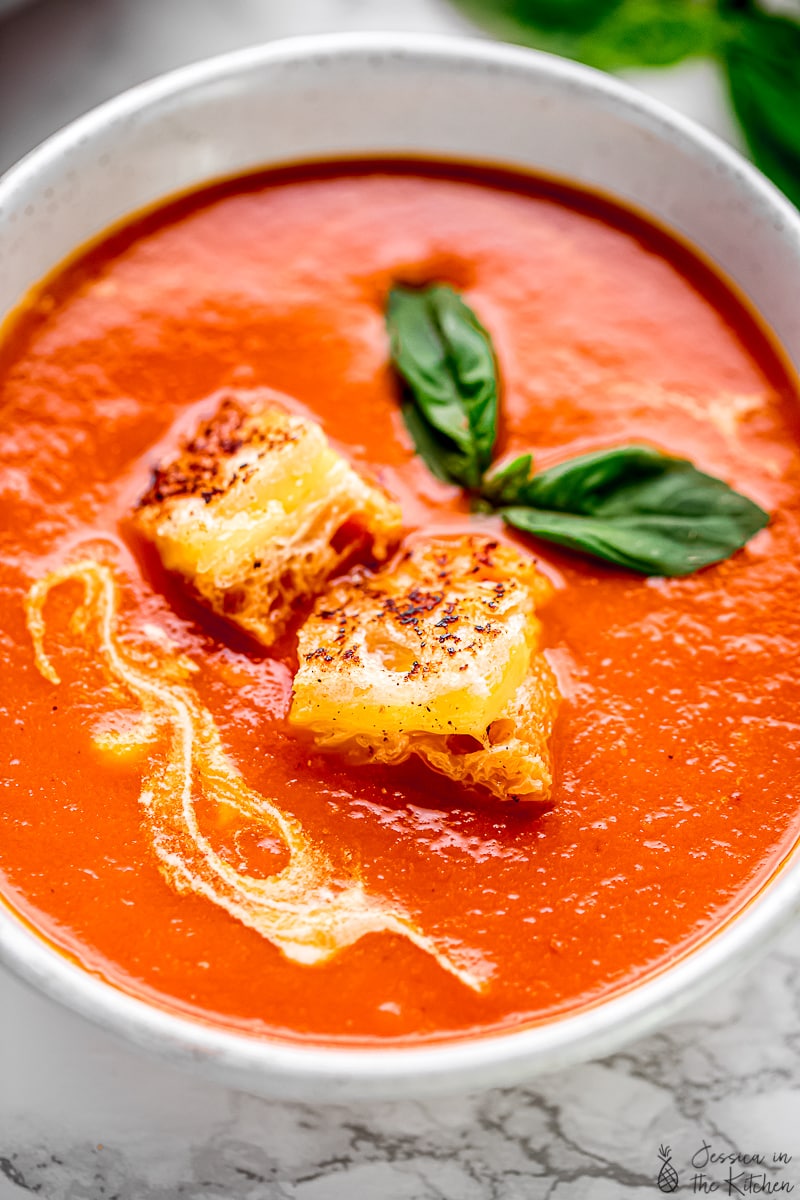 What to eat with Creamy Tomato Soup
Grilled cheese croutons! There's something so therapeutic about preparing a grilled cheese sandwich. Making the croutons is as easy as cutting it into cubes, then placing the crispy bits into your bowl of soup.
An extra dollop of cashew cream. I find that this gives an extra smooth texture when having your first bites.
Spice kick – red pepper flakes. Gavin will tell you to add as much red pepper flakes on top for a pretty but spicy kick.
Fresh herbs. You can also be a purist and chiffonade some basil leaves and gently sprinkle it on the surface.
A little vegan shredded cheese. These are just a few, to be honest, the possibilities are endless.
Anyway, I plan to make this a regular thing – ya know, sharing meals I actually eat all the time! It honestly makes me feel closer to you guys since it feels like I'm actually letting you into my kitchen. I hope you enjoy!
Enjoy friends! If you make this post about how to caramelize onions, please snap a photo and tag #jessicainthekitchen on Instagram! We'd also love if you would leave a comment below, and give the recipe a rating! Thanks so much!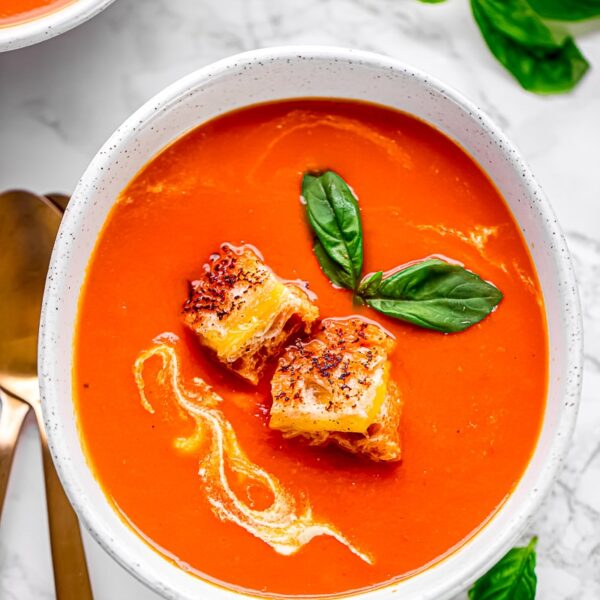 Creamy Tomato Soup with Cheesy Croutons (Vegan)
This delicious Creamy Tomato Soup with Cheesy Croutons is nourishing, filling & so simple to make. You can use a few ingredients to bring out big flavours in under an hour!
Ingredients
2 tablespoons olive oil
1 medium yellow onion, diced
1 medium sized carrot, peeled and diced
3 stalks celery, diced
5 cloves garlic, minced
56 oz of fresh or canned tomatoes, chopped, keep liquids
3 tablespoons raw sugar/coconut sugar
2 teaspoons dried oregano
salt & pepper to taste, I use ¼ teaspoon sea salt and 1/4 teaspoon ground black pepper
4 cups vegetable broth
2 tablespoons to ¼ cup cashew cream
Instructions
In a large, deep pot over medium-high heat, heat the olive oil.

Add the onions, carrot, celery and minced garlic. Stir together and allow to sweat for about 8 minutes, to soften and release natural juices from the veggies.

Add in the tomatoes, sugar, dried oregano and salt and pepper. Stir together. Pour in the vegetable broth and stir again.

Bring to a boil, and then to a low rolling simmer for 25 minutes, stirring occasionally.

Scoop out the soup and in a few batches (so you don't overfill your blender and it doesn't overflow) pour into your blender. If you have a glass blender, ensure it cools down a bit first!

Press the soup setting or blend until fully blended out. Pour back into the soup pot and mix the soup together one more time to combine everything. Taste and adjust seasonings if needed.

Add in the cashew cream (up to 1/4 cup, taste after 2 tablespoons to see if you want more) and stir to combine. Serve the soup and top with your favourite toppings and enjoy!
Cheesy Croutons
While the soup is simmering, In a grilled cheese maker or on a skillet, prepare grill cheese sandwich to your likening until very crisp. Cut into cubes and add a few to soup immediately before serving.
Calories: 129kcal, Carbohydrates: 23g, Protein: 4g, Fat: 4g, Saturated Fat: 1g, Sodium: 788mg, Potassium: 640mg, Fiber: 4g, Sugar: 14g, Vitamin A: 1966IU, Vitamin C: 20mg, Calcium: 85mg, Iron: 3mg
Disclaimer: Although jessicainthekitchen.com attempts to provide accurate nutritional information, kindly note that these are only estimates. Nutritional information may be affected based on the product type, the brand that was purchased, and in other unforeseeable ways. Jessicainthekitchen.com will not be held liable for any loss or damage resulting for your reliance on nutritional information. If you need to follow a specific caloric regimen, please consult your doctor first.