How to Make Vegan Parmesan Cheese
This vegan parmesan cheese recipe is quick, easy, and it tastes amazing—and you only need 5 ingredients and 5 minutes to make it!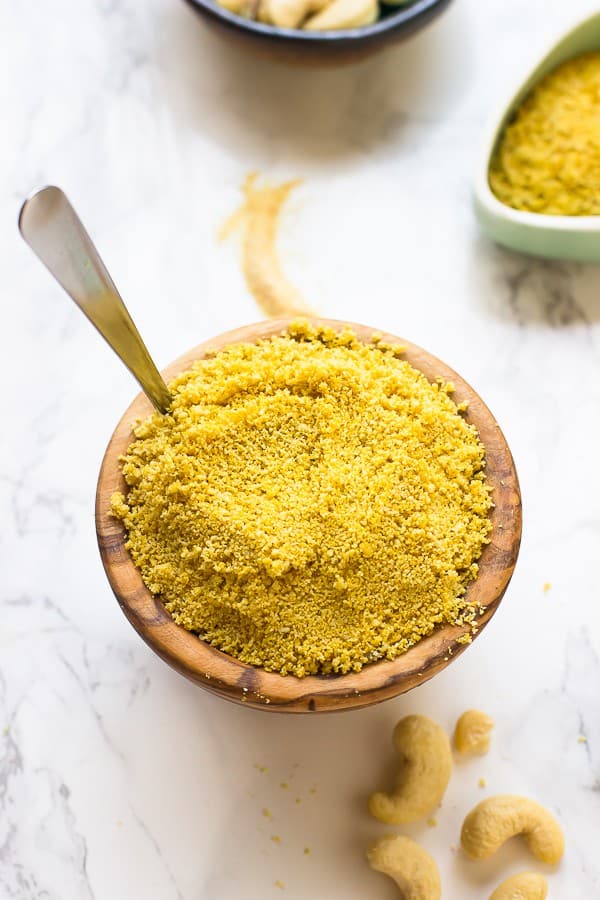 Parmesan cheese is one of those magical foods that has a way of making just about everything taste better. When I went vegan, I knew I needed to find a plant-based alternative…
In walks in five super simple ingredients: cashews, nutritional yeast, sea salt, garlic powder, and an unexpected addition that made all the difference, onion powder. Five minutes, a lifetime of happiness, and lots of cheesy vegan pizzas.
So, how and why does this taste like parmesan cheese? If you've ever made cashew butter, then you know that it grinds down into a meal similar to almond meal before turning into its gooey butter goodness. That cashew meal mimics parmesan cheese in texture and consistency.
The cashew meal provides the perfect base to add nutritional yeast. Nutritional yeast is the vegan go-to for cheese-like flavour and it has tons of B12, making it delicious and nutritious. Then the other three ingredients—garlic powder, onion powder, and sea salt—add even more flavour, slight saltiness, and an extra hint of cheesiness.
If you miss adding that crumbly, shakeable cheese on all the things, you're going to want to keep this vegan parmesan on hand!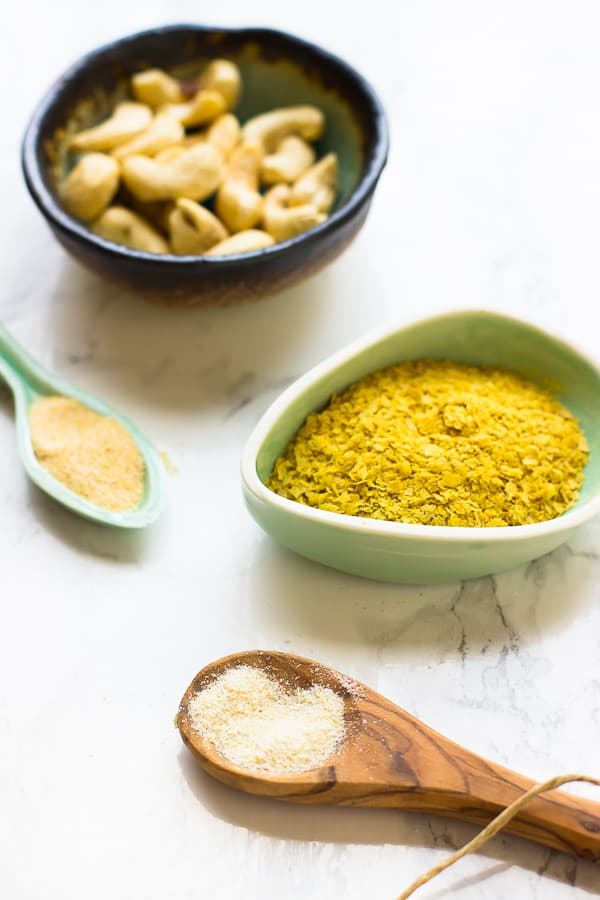 Notes on Ingredients
Scroll down to the recipe card to find the ingredient quantities and recipe instructions.
Raw cashews – For the right texture and flavour, raw cashews (not roasted or salted!) are a must.
Nutritional yeast – You can find this in the bulk section or with the seasonings in many grocery stores, or it can be ordered online.
Garlic powder
Onion powder
Sea salt
What Is the Purpose of Nutritional Yeast?
Nutritional yeast is commonly used in vegan recipes because it brings a funky, cheesy flavour to the table when traditional cheese isn't an option. It's also an excellent addition to vegan diets because it contains protein and vitamin B12, along with many other vitamins and minerals.
How to Make Vegan Parmesan Cheese
Get ready, friends! Your vegan parmesan will be ready to sprinkle on pizza, pasta, salads, and more in just a few minutes.
Grind the cashews. Add the cashews to a food processor and process until they form a coarse meal, similar to the shelf-stable grated parmesan sold in plastic containers at the grocery store.
Finish. Add the remaining ingredients and pulse a few times until everything is combined.
How to Use Vegan Parmesan
Use vegan parmesan any way you'd use regular parmesan! Here are some of my favourite ideas: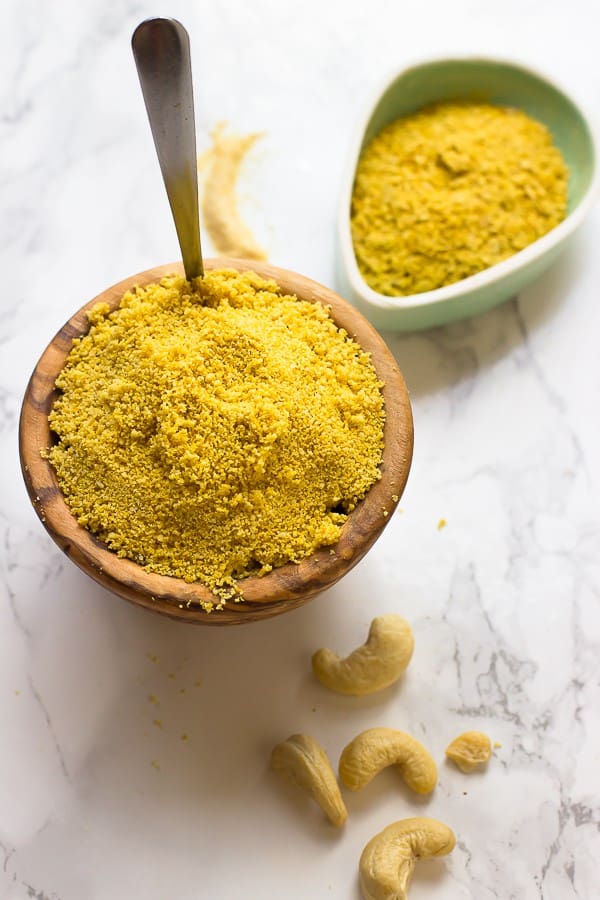 Tips for Success
As you can see, there's really not much to this recipe. Here are a few additional pointers, though:
Nut allergies? No problem! You can substitute the cashews for sunflower seeds or pepitas. Just note that this will alter the colour and flavour—you'll still get that funky-cheesiness, but with more seed flavour.
Don't over-mix. If you run the food processor too long, you'll end up with parmesan paste—not very appetizing! Just pulse until everything has come together.
Use a food processor. A blender just won't cut it here. If you don't have a food processor, you can place the cashews in a plastic bag and pound them with a rolling pin to crush them. The result will be a coarser vegan parmesan, but it taste just as good.
How to Store
Store your vegan parmesan cheese in the refrigerator for up to 2 months. (Although all of the ingredients are technically shelf-stable, the fridge will keep the raw cashews from going rancid.)
Can This Recipe Be Frozen?
If you want your vegan parmesan cheese to last longer, you can place it in a freezer bag or airtight container and freeze it for up to 6 months. As long as there's no moisture in the container, you should still be able to scoop it and use it directly from frozen.
Enjoy friends! If you make this vegan parmesan cheese, please snap a photo and tag #jessicainthekitchen on Instagram! We'd also love it if you would leave a comment below, and give the recipe a rating! Thanks so much!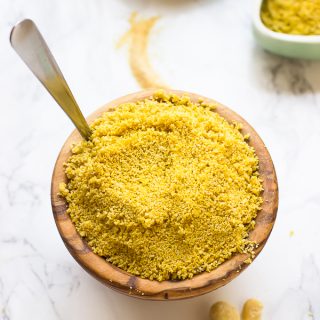 How to Make Vegan Parmesan Cheese
This easy vegan parmesan cheese is the perfect addition to pizza, pasta, salad, and more!
Ingredients
3/4 cup + 1 tbsp raw cashews
1/4 cup nutritional yeast
1/2 tsp garlic powder
1/4 tsp onion powder
3/4 tsp sea salt
Instructions
In a food processor, add the cashews and blend until they became ground down into a meal.

Add all the other ingredients and mix together until combined.

Enjoy!
Notes
This vegan parmesan cheese should be stored in an airtight jar in your fridge. It will last up to 2 months.
Calories: 32kcal, Carbohydrates: 2g, Protein: 1g, Fat: 2g, Saturated Fat: 1g, Polyunsaturated Fat: 1g, Monounsaturated Fat: 1g, Sodium: 98mg, Potassium: 49mg, Fiber: 1g, Sugar: 1g, Vitamin C: 1mg, Calcium: 2mg, Iron: 1mg
Disclaimer: Although jessicainthekitchen.com attempts to provide accurate nutritional information, kindly note that these are only estimates. Nutritional information may be affected based on the product type, the brand that was purchased, and in other unforeseeable ways. Jessicainthekitchen.com will not be held liable for any loss or damage resulting for your reliance on nutritional information. If you need to follow a specific caloric regimen, please consult your doctor first.