Pesto Zucchini Noodles with Burst Cherry Tomatoes
Pesto Zucchini Noodles with Burst Cherry Tomatoes have ALL the crave-worthy flavour of pasta with NONE of the guilt or carbs!
Happy Earth Day! If you do two things today, definitely read my 5 Tips for Sustainable Eating post which is all about super easy ways you can help Mother Earth today. Then, make these zucchini noodles.
I'm pretty sure these zucchini noodles, aka zoodles, are completely winning the alternative pasta noodle game. It's the complete epitome of spring in a bowl, it's incredibly delicious, and BEST of all, it's guilt free. Guilt free pasta? Why am I not already signed up for this? I didn't know how good this would be until I finally tried it, and I have definitely been won over.
Firstly, those beautiful swirls created by a spiralizer are to die for. I didn't even use a fancy spiralizer for this, but a smaller spiralizer mainly because it was easier to wash. Yeah, I roll on team #lessdishestowash. I was so in love with these spirals that I definitely made way too many noodles but kept on going anyway, which ended up working out in my favour since I ate EVERYTHING in one sitting. That's the beauty of these noodles, you can do exactly that since well, you are eating zucchinis. Okay okay, I shared some with the Mr., but I could have totally eaten all of this. Do you know when you've made a dish, and you taste it, and it is just WAY better than you thought it was going to be, and so in your state of shock you consume half the dish standing over the stove?
Totally me. Totally worth it.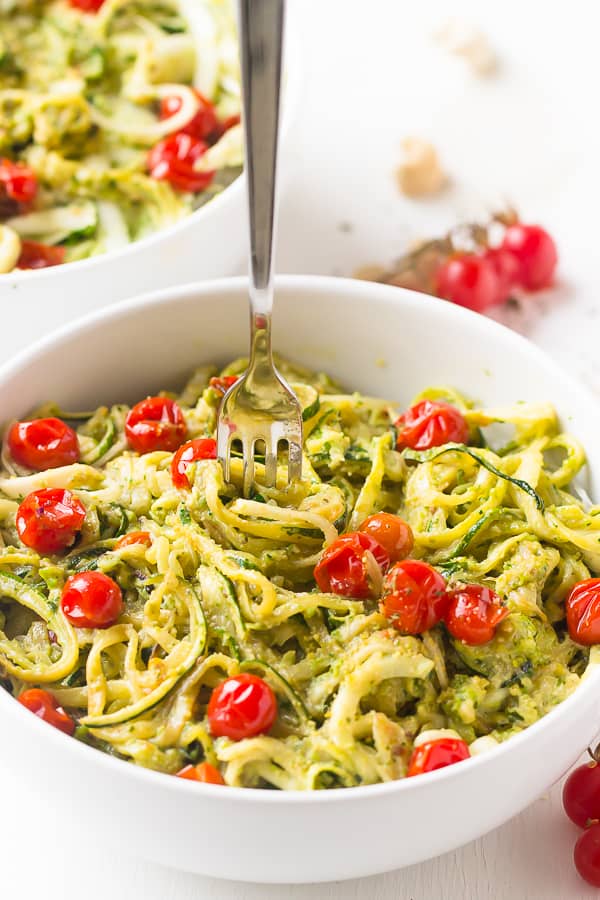 Secondly, that pesto. I raved about it two days ago and it's a must for these noodles. It gives it a "creamy" sauce that's nutty, delicious, and perfect for coating the noodles without weighing them down. Basically, this cashew pea pesto was made for the noodles, which is hilarious since I wasn't planning to make zoodles when I made this pesto. Making perfect pesto + finding perfect zucchinis = a match made in heaven and on my plate.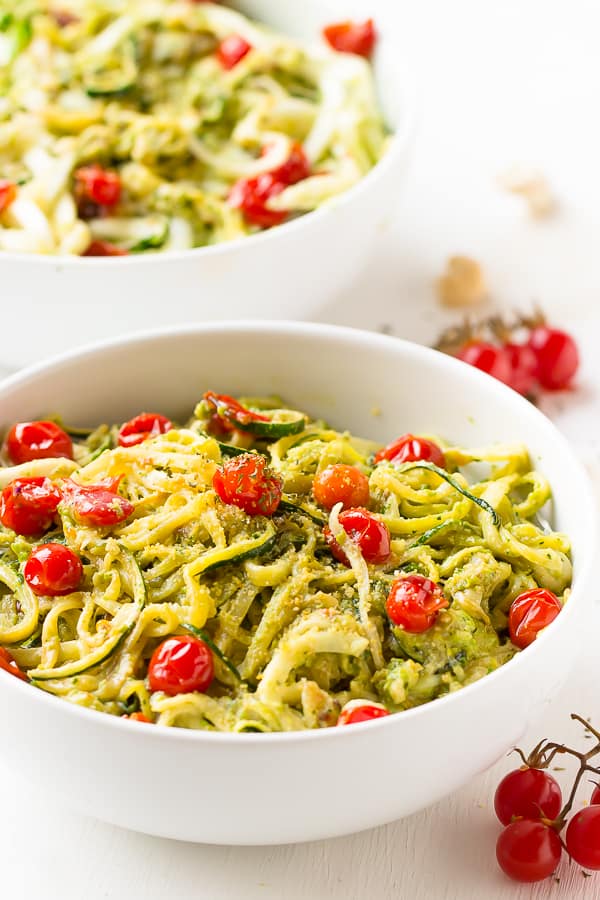 Thirdly, those cherry tomatoes. My Instagram friends, you know my obsession with cherry tomatoes. So cute, so tiny, so yummy and so mine. I couldn't NOT use them, and for the last two years, I have made burst cherry tomatoes (aka tomatoes with a high heat added to them that make them burst slightly in texture and flavour) a totally acceptable habit in my life. Since tomatoes are pretty much a permanent requirement for pasta dishes, they were, literally, the cherry on top for this dish.
Whoa, I think I've been waiting my entire life to be able to say that.
| SHOP THE POST // CLICK THE LEFT & RIGHT ARROWS TO SCROLL |


If you try these Pesto Zucchini Noodles with Burst Cherry Tomatoes, please let me know in the comment section below, or tag me on instagram with the hashtag #jessicainthekitchen! For more exclusive recipes follow me on Instagram AND on Snapchat: jessinkitchen.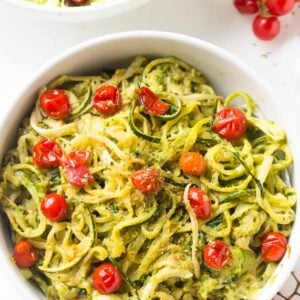 Pesto Zucchini Noodles with Burst Cherry Tomatoes
Pesto Zucchini Noodles with Burst Cherry Tomatoes have ALL the crave-worthy flavour of pasta with NONE of the guilt or carbs!
Ingredients
Creamy Cashew Pea Pesto
2 large zucchinis
ground sea salt & ground black pepper to taste
1/2 cup small cherry tomatoes*
1 tablespoon coconut oil
vegan parmesan cheese, to garnish
Instructions
Spiralize your zucchinis and then wrap in paper towels or a light kitchen dish cloth. Pat to soak up the excess water from the noodles.

In a pan over medium high heat, add ¾ tablespoon of the coconut oil and heat. Add the zucchini noodles and cook for about 1 to 2 minutes until still slightly crunchy but tender. Remove from the pan and place in a bowl, but don't remove the pan from the heat.

Add in the last teaspoon of coconut oil, and add the cherry tomatoes and toss in the coconut oil to coat. Heat through for about 2 minutes until the tomatoes are heated, and slightly burst. Season with salt and pepper. Remove from heat.


Add a few tablespoons (to your liking, I added about 3-4 tablespoons) of the cashew pea pesto and toss lightly together to combine. Add the tomatoes to the mixture and combine. Serve with some vegan parmesan cheese sprinkled on top. Enjoy!
Notes
This recipe is vegan gluten free. The prep time includes making the pesto. *If you're using slightly larger cherry tomatoes, cut them in half before heating.
HOW TO STORE
You can store these noodles in a tupperware container in the fridge for 2-3 days. They taste best fresh but can be stored and eaten for lunch the next day. Simply reheat in the microwave to serve.
I wouldn't recommend freezing these noodles since the thawing process may affect the texture of the noodles. You can make the pesto and freeze ahead of time by storing in a freezer safe container for up to a month.
Calories: 158kcal, Carbohydrates: 9g, Protein: 3g, Fat: 13g, Saturated Fat: 7g, Cholesterol: 1mg, Sodium: 305mg, Potassium: 593mg, Fiber: 2g, Sugar: 6g, Vitamin A: 877IU, Vitamin C: 44mg, Calcium: 56mg, Iron: 1mg
Disclaimer: Although jessicainthekitchen.com attempts to provide accurate nutritional information, kindly note that these are only estimates. Nutritional information may be affected based on the product type, the brand that was purchased, and in other unforeseeable ways. Jessicainthekitchen.com will not be held liable for any loss or damage resulting for your reliance on nutritional information. If you need to follow a specific caloric regimen, please consult your doctor first.