Creamy Cashew Pea Pesto
This Creamy Cashew Pea Pesto is loaded with spring veggies and so delicious that you'll want to put it on everything!
I want to start by saying a huge THANK YOU to everyone who completed my reader survey! I got some seriously fabulous responses and an overwhelming amount of users filled it out. If you asked me any questions I actually can't reply since it's anonymous but you can leave a comment or email me at ask@jessicainthekitchen.com. You guys rock!!
Now, straight to this pea pesto. This is a creamy, why-haven't-I-made-this-before, goes-on-EVERYTHING cashew pea pesto. It's a game changer friends. This is not your traditional pesto, but it's the magic pea pesto sauce you've been dying to taste. Want to hear the best part? 10 minutes from start to finish. YES. Let's get into the magic please?!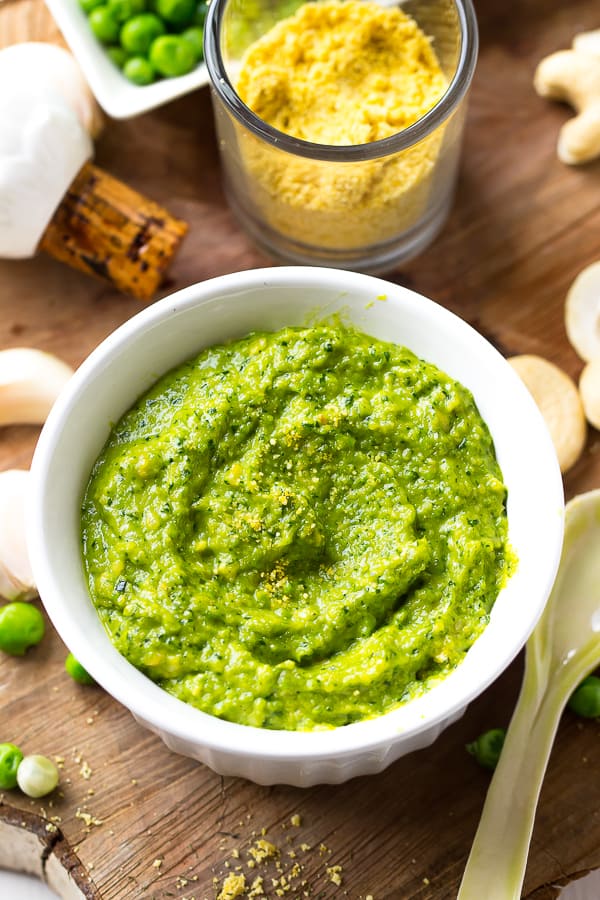 With Spring being in full swing, I really should've delved into all things peas already. I knew I wanted a dish for it to shine and well, who doesn't love pesto?! Olive oil, cheese, and nuts – yes, yes and yes. I have a brilliant surprise – I usually buy vegan Parmesan cheese, but I finally came up with a recipe!! Look out for that VERY soon but basically I'll be adding it to all the things. I've finished half of it in one day already…send help. Actually, don't.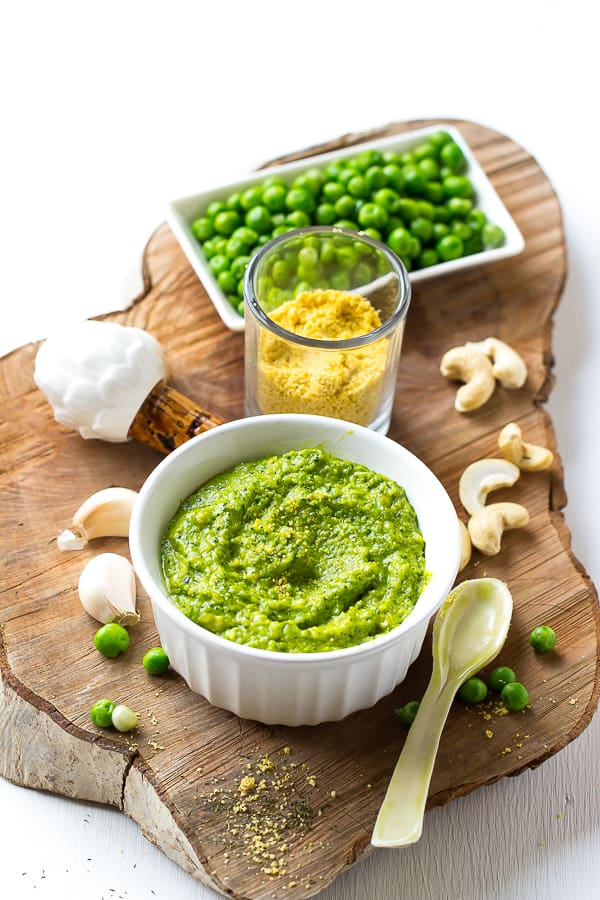 I think the peas and cashews make the huge difference in this pesto for its creaminess, and ultimately making it such a delicious pesto. Bright green, nutty with a lovely texture and ready for anything. This is the pesto you bring to parties. You can put pesto on pastas, in salads, tacos…or just eat it with a spoon like I did half of the day I made it. I honestly couldn't stop tasting it! This pesto is 100% vegan, made from whole foods, gluten free and most importantly delicious. HELLO yumminess!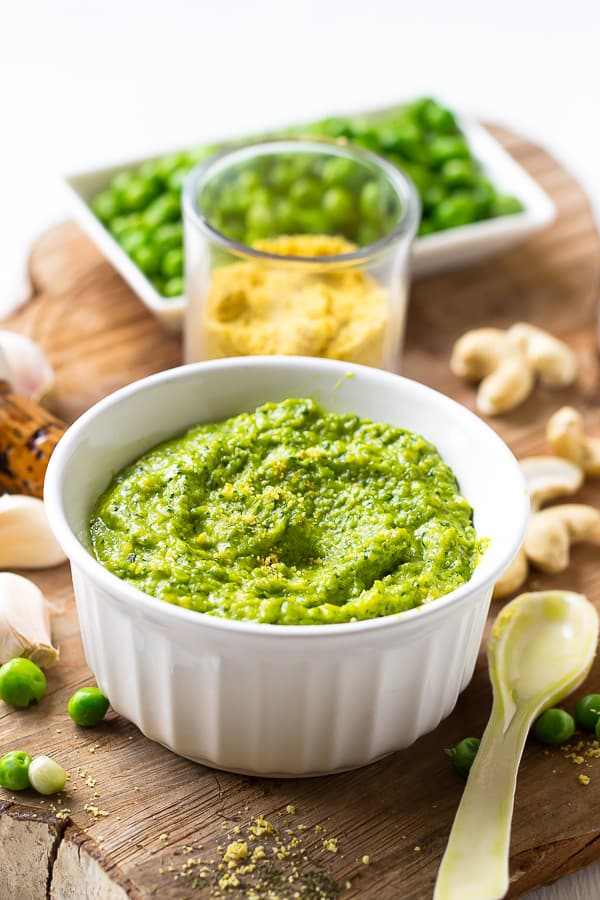 If you try this Creamy Cashew Pea Pesto, please let me know in the comment section below, or tag me on instagram with the hashtag #jessicainthekitchen! For more exclusive recipes follow me on
Instagram
AND on Snapchat: jessinkitchen.
MORE PESTO RECIPES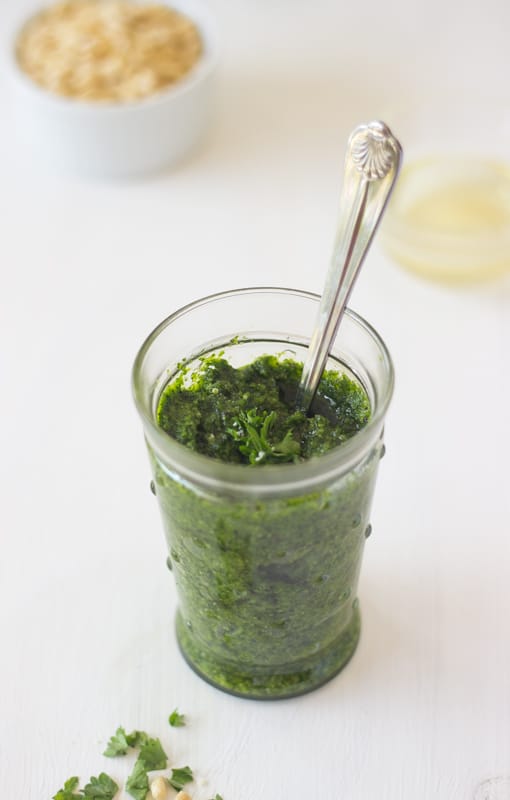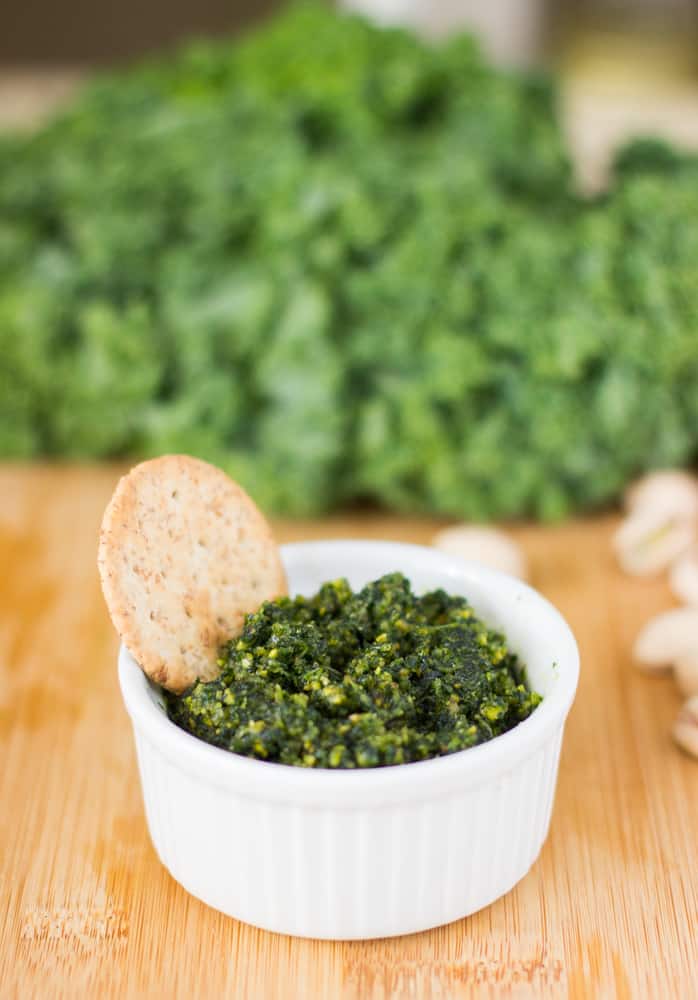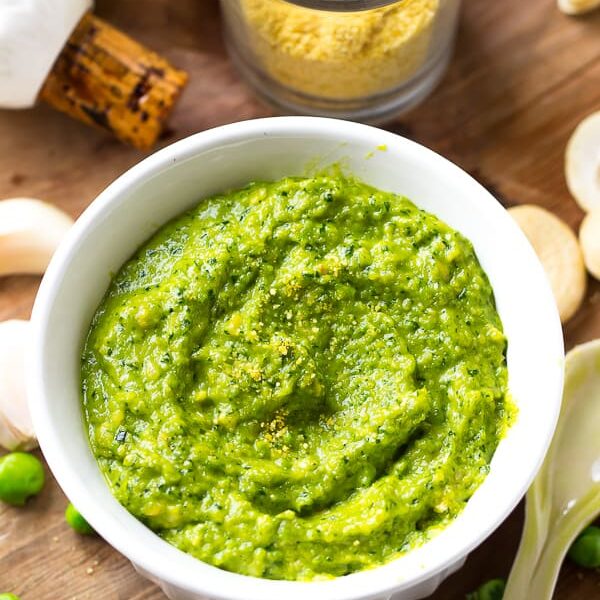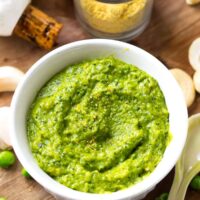 Creamy Cashew Pea Pesto
This Creamy Cashew Pea Pesto is loaded with spring veggies and so delicious that you'll want to put it on everything!
Ingredients
1/2 cup fresh peas, if frozen, thawed
1/2 cup soft kale/parsley
1/4 cup cashews
3-4 tablespoons vegan Parmesan cheese
Juice of 1 small lime, scant 1 tablespoon lime juice
Sea salt to taste
2-3 tablespoons olive oil
Instructions
Pulse the peas and kale in a food processor until combined. Add the cashews, parmesan cheese, lime juice and salt. Blend all together for a few pulses. With the food processor still running, slowly pour in 2 tablespoons of olive oil, a tablespoon at a time. Blend together until completely combined and creamy - there shouldn't be any whole pieces of any of the ingredients. Taste and add another tablespoon of olive oil if desired, and add more sea salt to taste if necessary.

Enjoy!
Notes
This recipe is naturally vegan and gluten free.
HOW TO STORE You can store this in an air tight tupperware container in the fridge for up to two weeks (although you'll probably eat it all before that). I wouldn't recommend freezing this since it would ruin the consistency.
Calories: 99kcal, Carbohydrates: 6g, Protein: 2g, Fat: 8g, Saturated Fat: 1g, Sodium: 93mg, Potassium: 104mg, Fiber: 1g, Sugar: 1g, Vitamin A: 514IU, Vitamin C: 15mg, Calcium: 18mg, Iron: 1mg
Disclaimer: Although jessicainthekitchen.com attempts to provide accurate nutritional information, kindly note that these are only estimates. Nutritional information may be affected based on the product type, the brand that was purchased, and in other unforeseeable ways. Jessicainthekitchen.com will not be held liable for any loss or damage resulting for your reliance on nutritional information. If you need to follow a specific caloric regimen, please consult your doctor first.