Air Fryer Asparagus
This lemon pepper air fryer asparagus is the perfect low effort side dish for busy weeknights! With crispy tips and tender stalks, asparagus in the air fryer is the absolute best!
I always thought roasting asparagus was the way to go, but then I tried it in the air fryer. Let me tell you, friends: it's like magic. I love the air fryer for Crispy Air Fryer Tofu and Air Fryer Baked Sweet Potatoes, but I had never tried cooking asparagus in it until recently—and now I'm kicking myself for not doing it sooner.
The stalks of the asparagus are perfectly tender, while the tips get delightfully crispy. Add garlic powder and lemon pepper seasoning and you'll want to eat these as a snack. (And hey, why not?! You could definitely do that!)
This air fryer asparagus is one of those recipes you'll find yourself making again and again. Any time you need an easy side dish to pair with your dinner, it's going to be your go-to!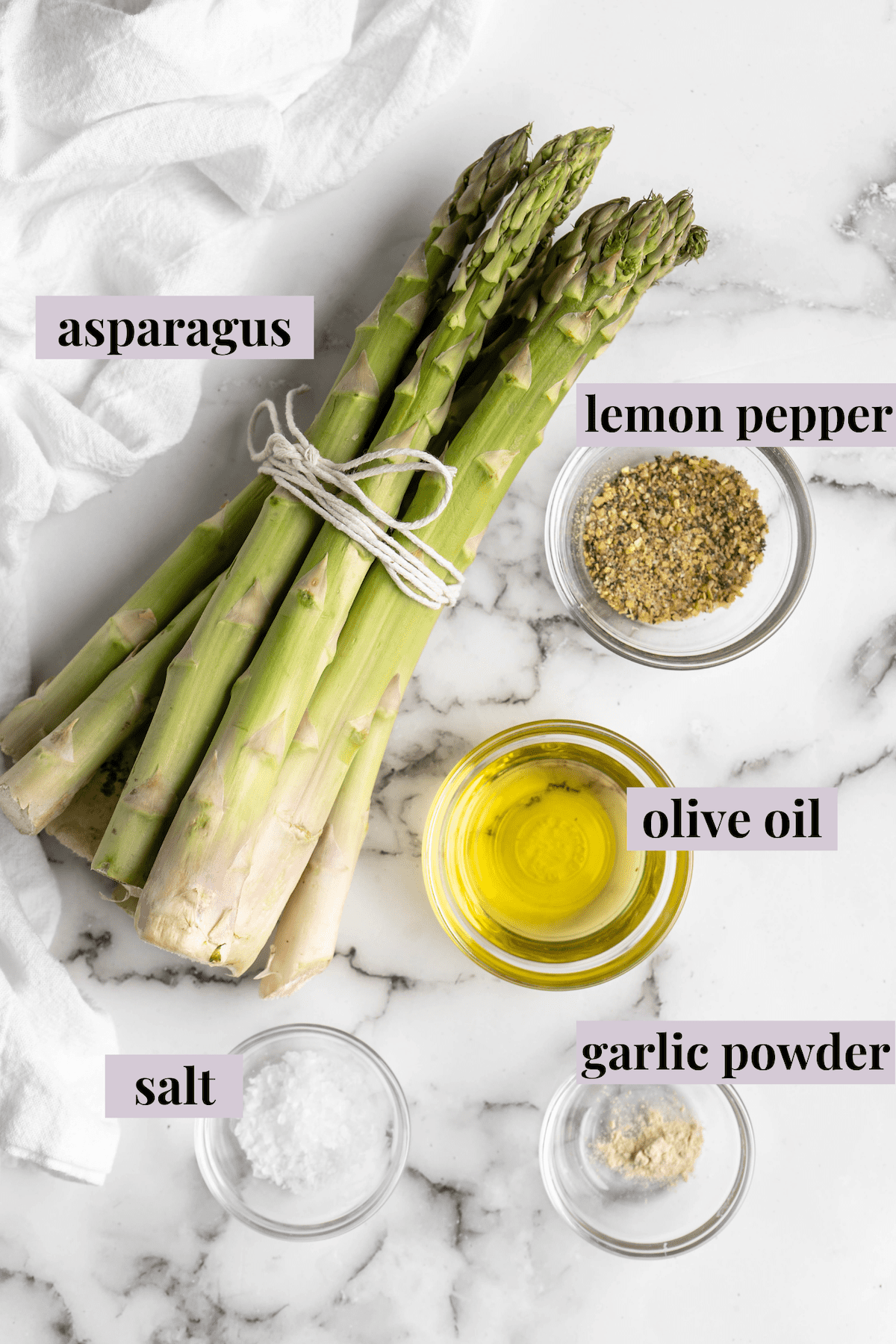 Notes on Ingredients
Please note that this is important information on the ingredients and instructions and the FULL recipe with amounts and details can be found DOWN BELOW (scroll to it) in the recipe card.
Asparagus
Olive oil
Lemon pepper seasoning – If you don't have lemon pepper seasoning on hand, you can make your own by combining lemon zest and black pepper.
Garlic powder
Sea salt – I use sea salt in my cooking because it has more minerals and depth of flavour than table salt.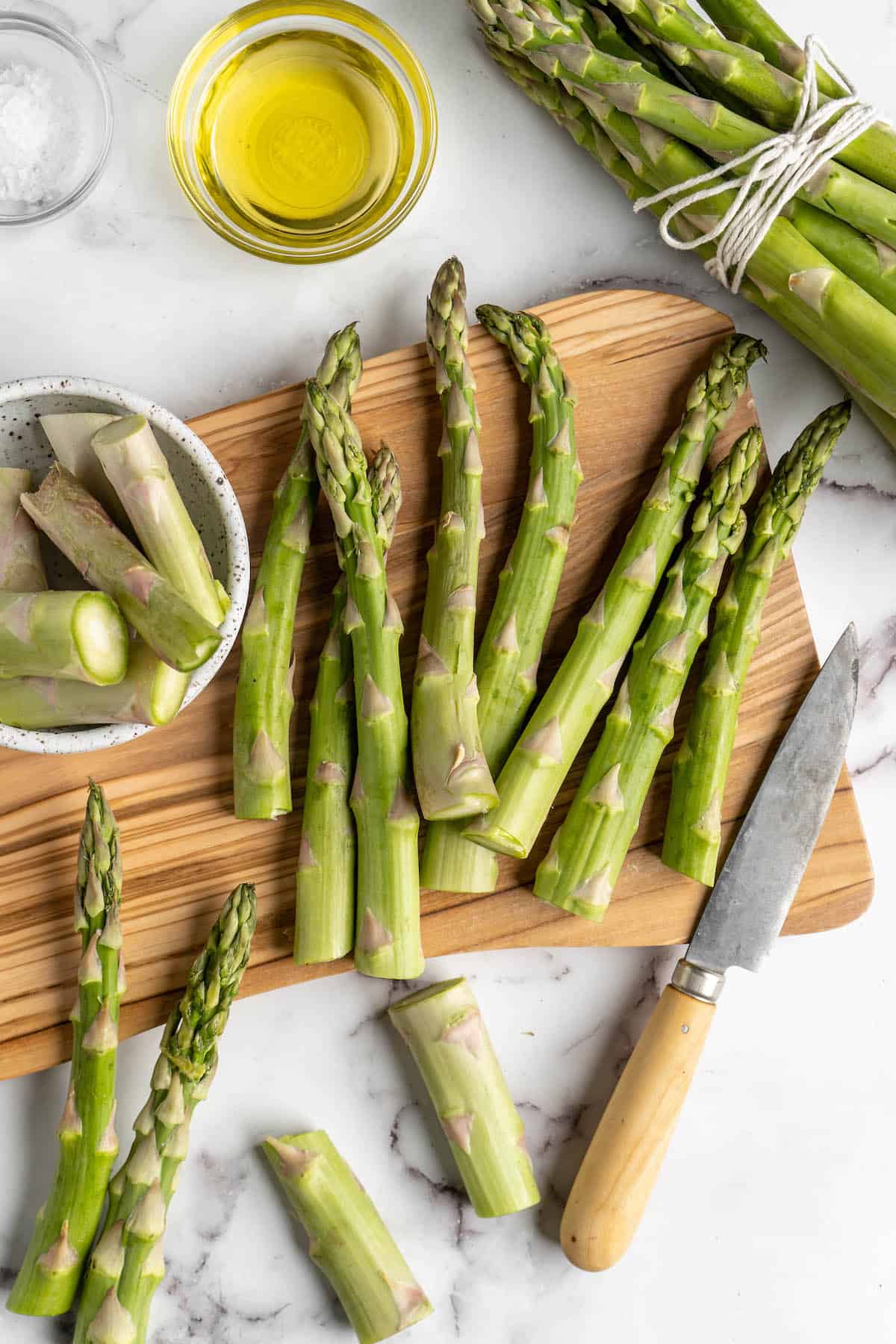 Does Asparagus Need to Be Cut Before Cooking?
Yes, asparagus stalks have thick, tough, woody ends that need to be trimmed. You can use a knife to cut the thick parts off, but an even better method is to snap them off with your hands—the asparagus will naturally break where the tough part begins.
How to Make Air Fryer Asparagus
Before you get started, make sure you pat the asparagus dry. This will help you get those nice crispy tips!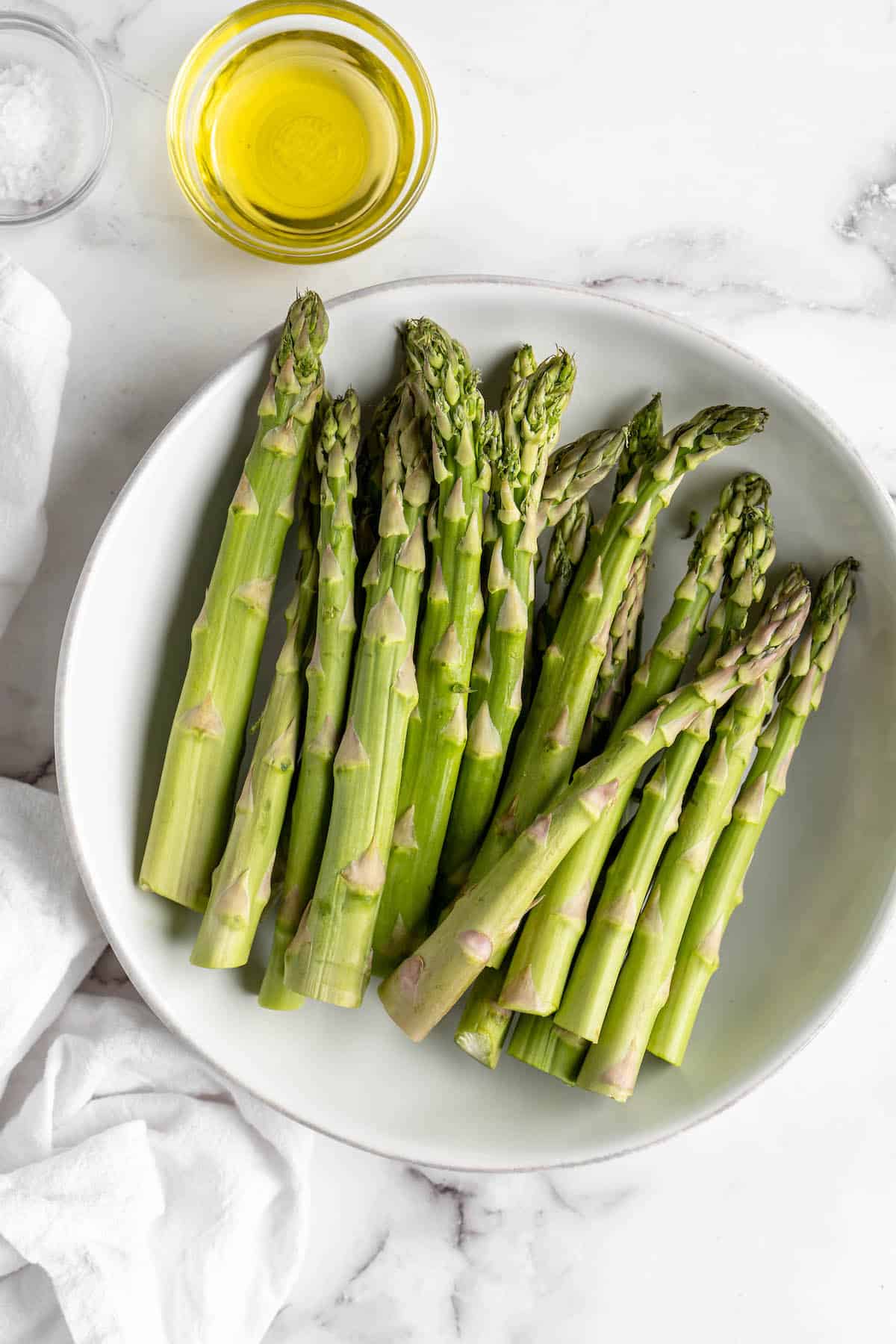 Season the asparagus. Place the asparagus spears in the air fryer basket or a large bowl. Drizzle them with olive oil and toss to coat, then sprinkle with the lemon pepper seasoning, garlic powder, and salt. Use your hands to toss everything together and make sure the asparagus is evenly coated with both the oil and seasonings.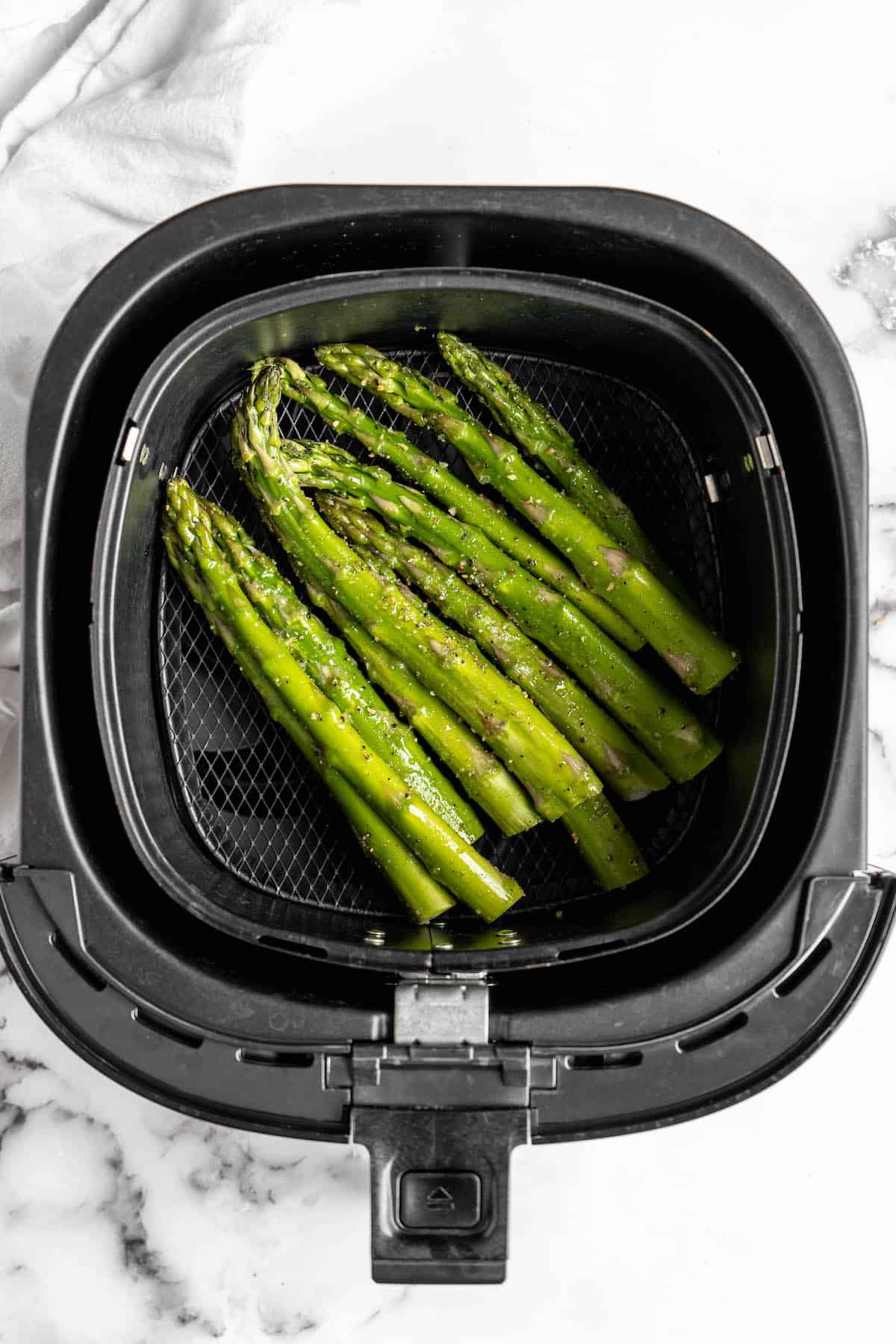 Cook. Air fry the asparagus at 400ºF for 7 minutes, or until the bottoms are tender and the tops are crisp.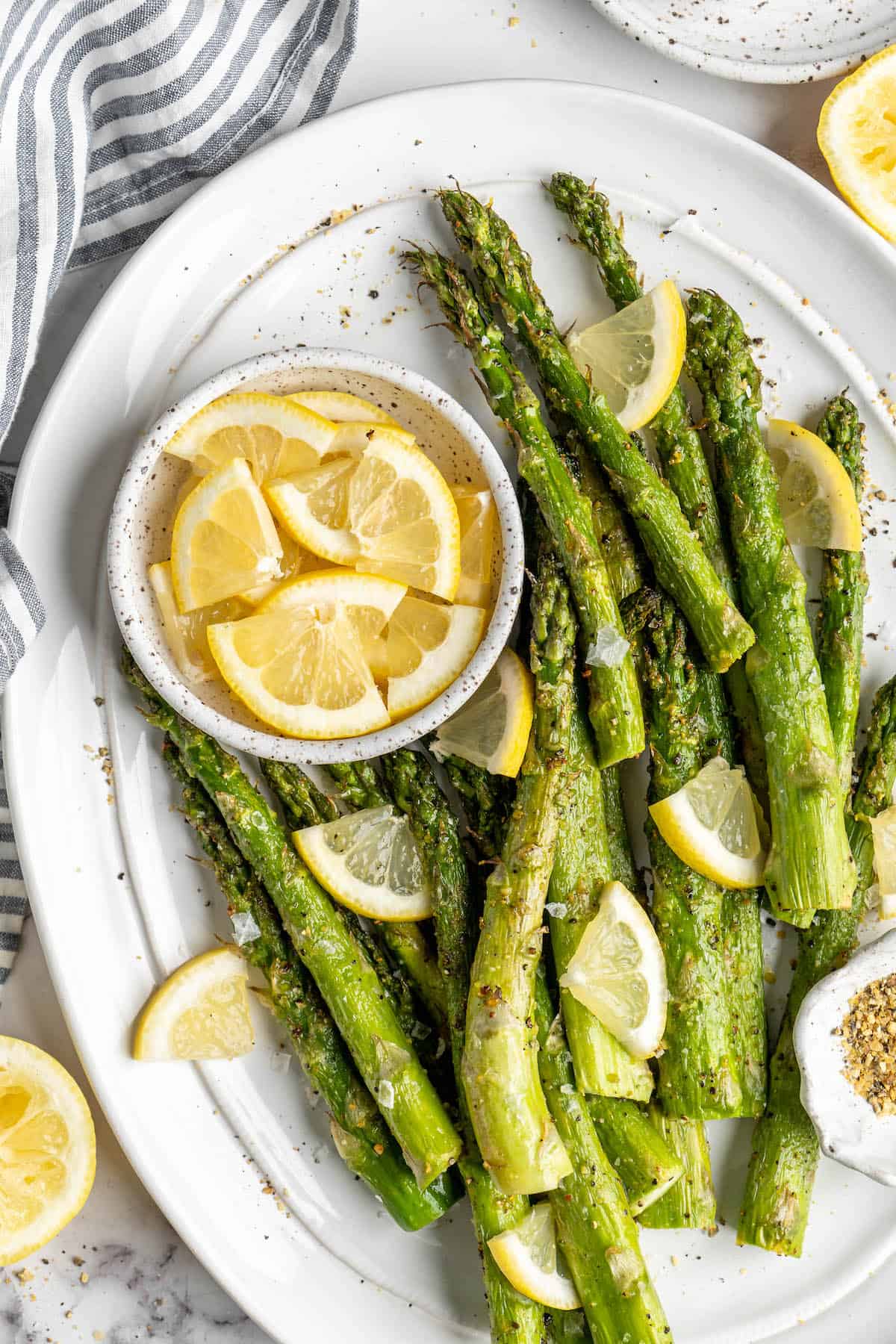 Finish. If desired, squeeze lemon juice over the asparagus and toss to coat. Transfer to a plate and serve.
Tips for Success
These simple tips will help make sure you get perfect air fryer asparagus every time!
Buy uniform sizes. It doesn't matter if your asparagus are thin or fat or somewhere in between—just make sure all (or most) of the spears are the same size so they're all done cooking at the same time.
Adjust the time as needed. Thicker asparagus will take longer to cook, and those wispy little thin asparagus will take less time.
Don't crowd the basket. If you have a small air fryer, you may want to divide the asparagus into two batches. Air fryers work by circulating hot air around the food, so the asparagus should be in a single layer in the basket.
Variations
I love lemon pepper seasoning with asparagus, but you can use this same method of making air fryer asparagus with any number of different seasonings. Here are a few ideas:
Make cacio e Pepe asparagus with vegan Parmesan cheese and cracked black pepper. (A squeeze of lemon juice is delicious on this too!)
Season the asparagus with salt and pepper, then when the asparagus is finished cooking, toss it with lemon juice, sliced toasted almonds, and minced fresh herbs.
Drizzle the asparagus with balsamic glaze just before serving.
Spoon chili crisp over the top for some crunch and heat.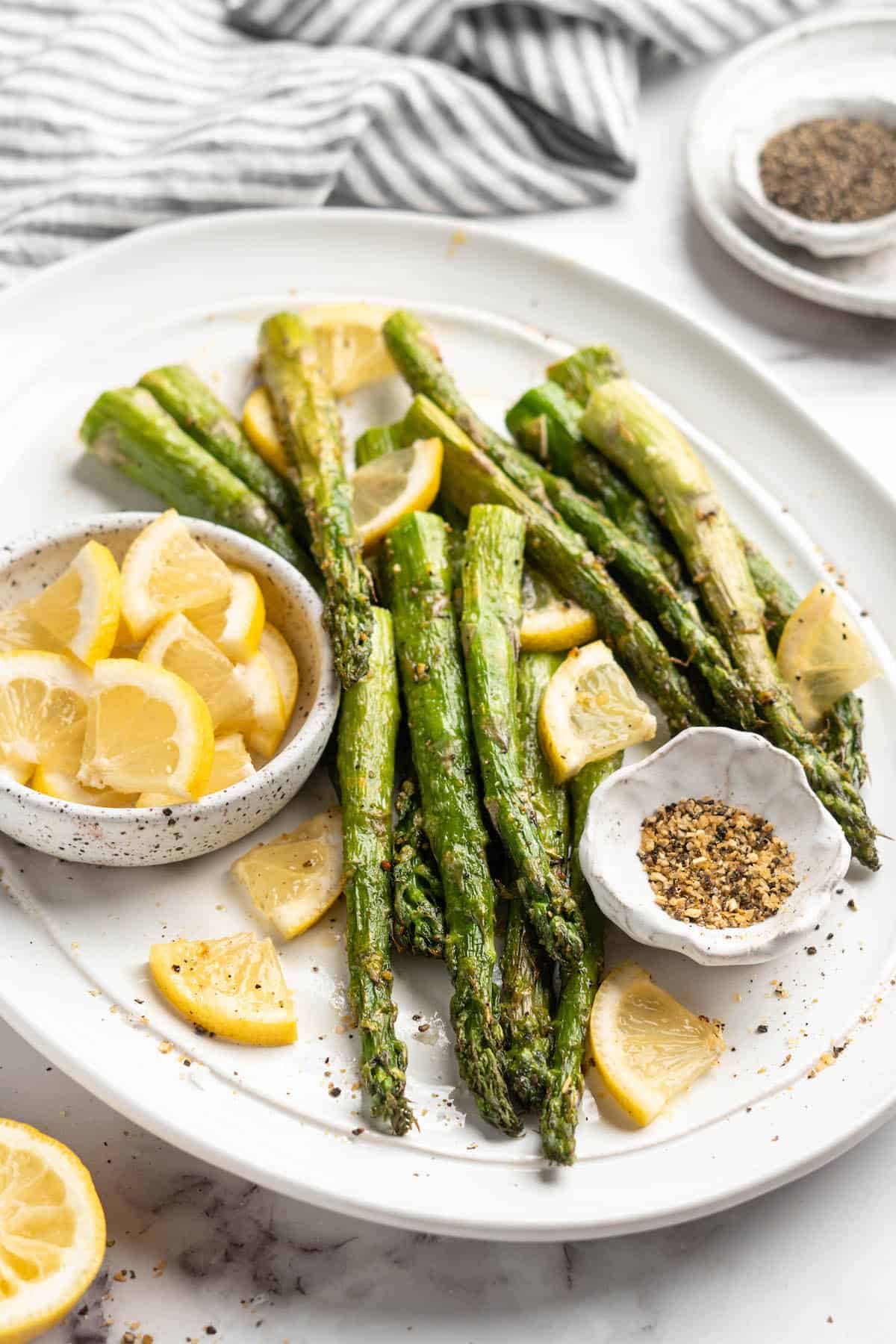 What to Serve With Air Fryer Asparagus
Air fryer asparagus is the perfect side dish or addition to:
How to Store and Reheat Leftovers
Store leftover air fryer asparagus in an airtight container in the refrigerator for up to 5 days. It can be eaten cold, warmed up in the microwave, or reheated in the air fryer. Try adding it to salads or using leftovers as a pizza topping!
Can This Recipe Be Frozen?
When you freeze air fryer asparagus, it won't be nearly as crispy and delicious upon thawing and reheating, so I don't recommend it; it's perfectly safe to freeze, just not very tasty.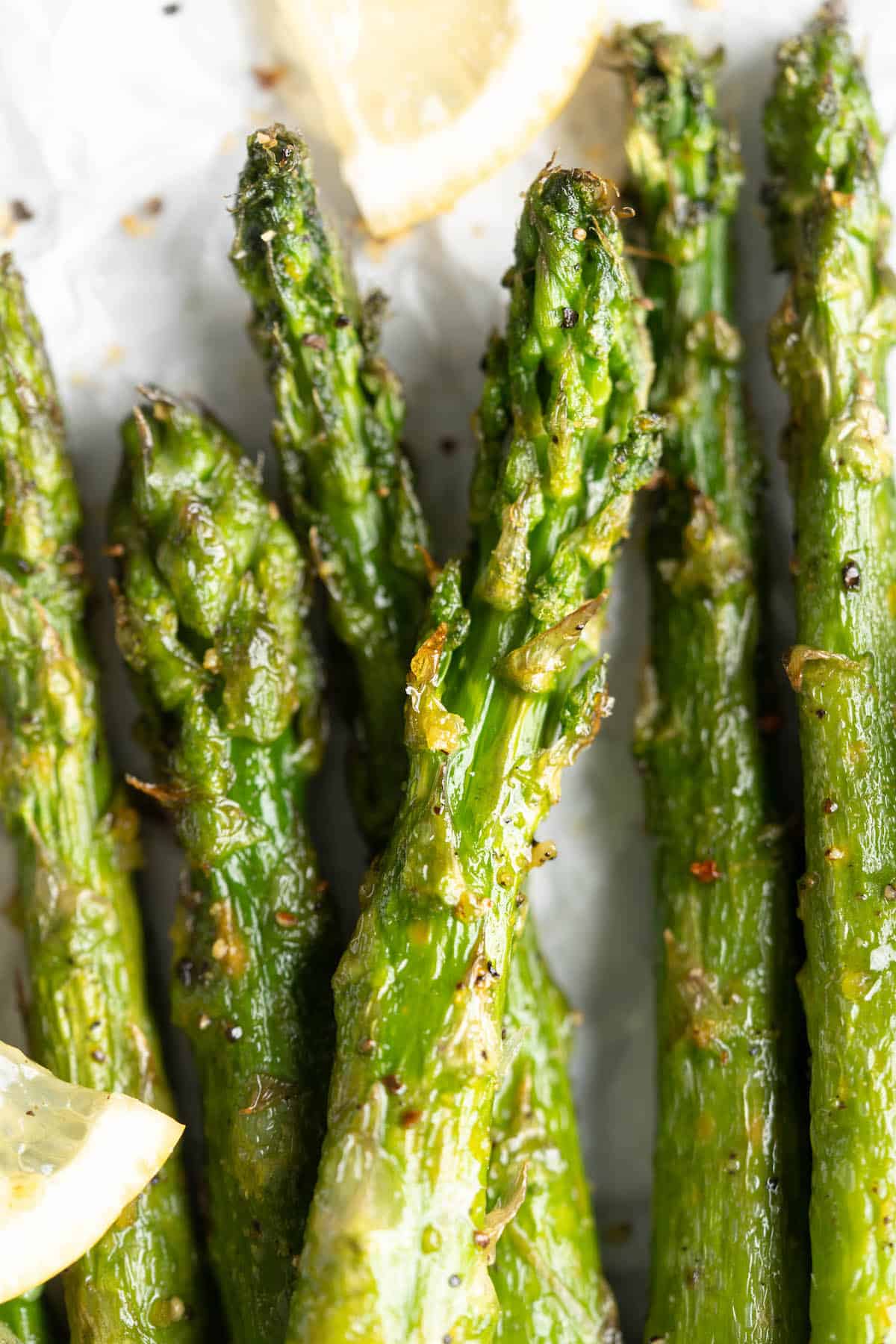 Enjoy friends! If you make this air fryer asparagus recipe, please snap a photo and tag #jessicainthekitchen on Instagram! We'd also love it if you would leave a comment below, and give the recipe a rating! Thanks so much!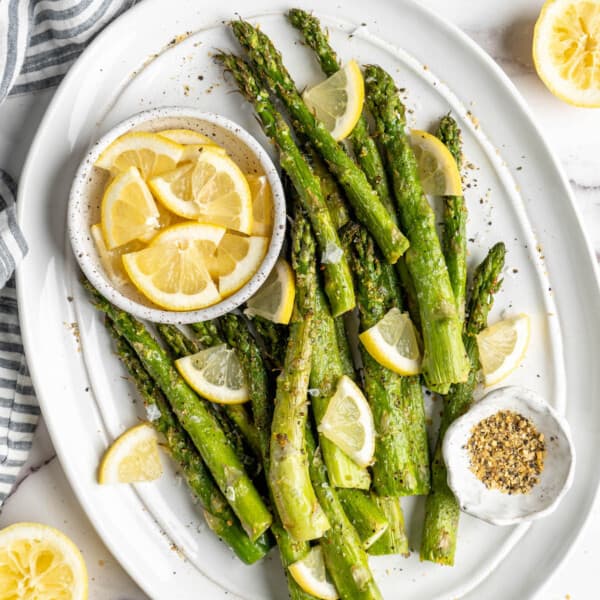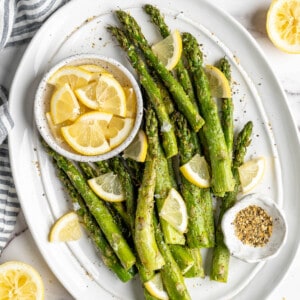 Air Fryer Asparagus
This easy lemon pepper air fryer asparagus is the perfect healthy side dish for busy weeknights. It's so delicious, you'll want to eat it as a snack! It's done in under 10 minutes from start to finish.
Ingredients
16 ounces asparagus, thoroughly cleaned and pat dry
1 tablespoon olive oil
2 teaspoons lemon pepper seasoning
generous sprinkle of garlic powder
freshly cracked sea salt
Instructions
Using a knife or your hands, cut off the woody ends of the asparagus.

Add them to the air fryer basket or a bowl first.

Drizzle over the olive oil and rub to combine. Sprinkle over the lemon pepper seasoning, garlic powder and sea salt. Mix lightly with your hands to combine.

Air fryer at 400F for 7 minutes.

Squeeze lemon all over, toss to combine, then transfer to a plate to enjoy!
Notes
Store leftover air fryer asparagus in an airtight container in the refrigerator for up to 5 days. It can be eaten cold, warmed up in the microwave, or reheated in the air fryer. 
Calories: 56kcal, Carbohydrates: 5g, Protein: 3g, Fat: 4g, Saturated Fat: 1g, Polyunsaturated Fat: 0.4g, Monounsaturated Fat: 3g, Sodium: 75mg, Potassium: 242mg, Fiber: 3g, Sugar: 2g, Vitamin A: 863IU, Vitamin C: 6mg, Calcium: 32mg, Iron: 3mg
Disclaimer: Although jessicainthekitchen.com attempts to provide accurate nutritional information, kindly note that these are only estimates. Nutritional information may be affected based on the product type, the brand that was purchased, and in other unforeseeable ways. Jessicainthekitchen.com will not be held liable for any loss or damage resulting for your reliance on nutritional information. If you need to follow a specific caloric regimen, please consult your doctor first.