Mediterranean Quinoa Salad Bowl
This Mediterranean Quinoa Salad Bowl is loaded with delicious and filling veggies, topped with creamy hummus and comes together in just 20 minutes!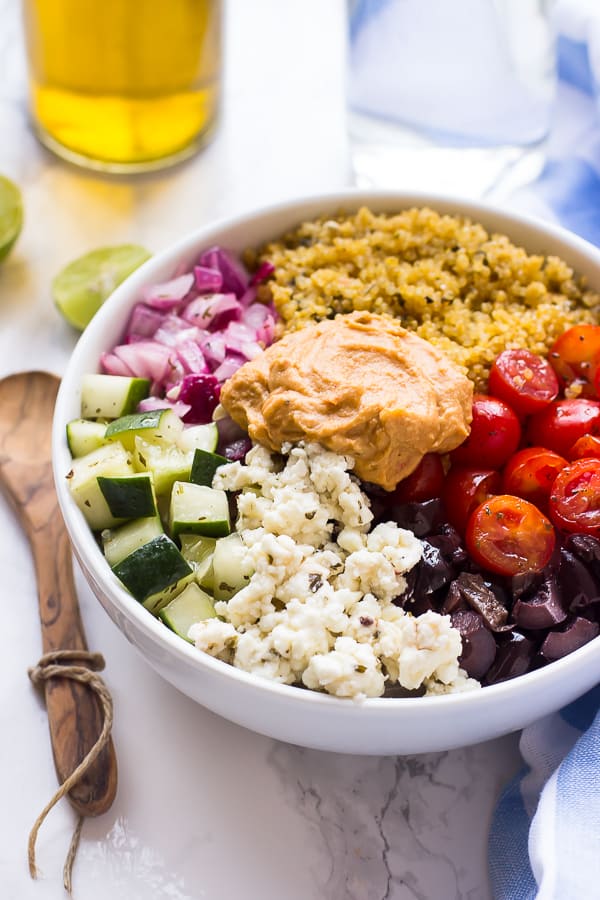 Do you know one of those meals that you just keep going back to, time and time again? The ones that don't really require specific quantities, have amazing flavours and taste great no matter what? That's this Mediterranean Quinoa Salad Bowl for me. Friends, add this bowl to your weekly rotation. Let's have a build-a-bowl party.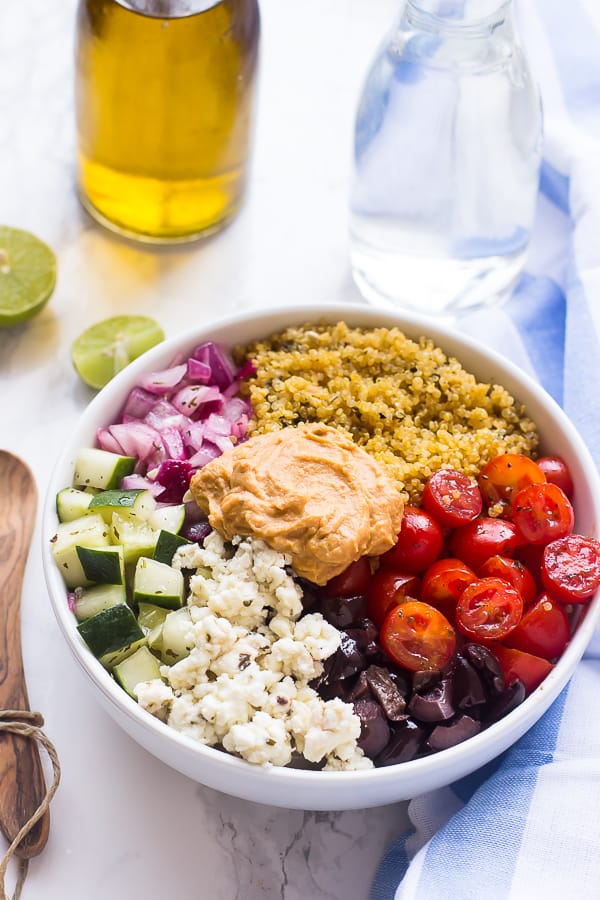 I have very fond memories of all things Mediterranean. The first date the Mr. and I ever had was at a Mediterranean restaurant, and one of my most favourite family trips was travelling through different countries in the Mediterranean. Apart from beautiful scenery and amazingly clear skies, food is #1 on the list of my favourite parts of the Mediterranean. Now, I've made a Mediterranean Quinoa Salad before, sans hummus, and fell completely in love with the flavour combinations. It's probably no surprise that this bowl has quinoa, since I've done it
here
,
here
and I'm pretty much a
quinoa fanatic
. It goes with just about anything your heart desires and is the perfect carb for a bowl meal for brunch, lunch, dinner and pretty much any time of the day.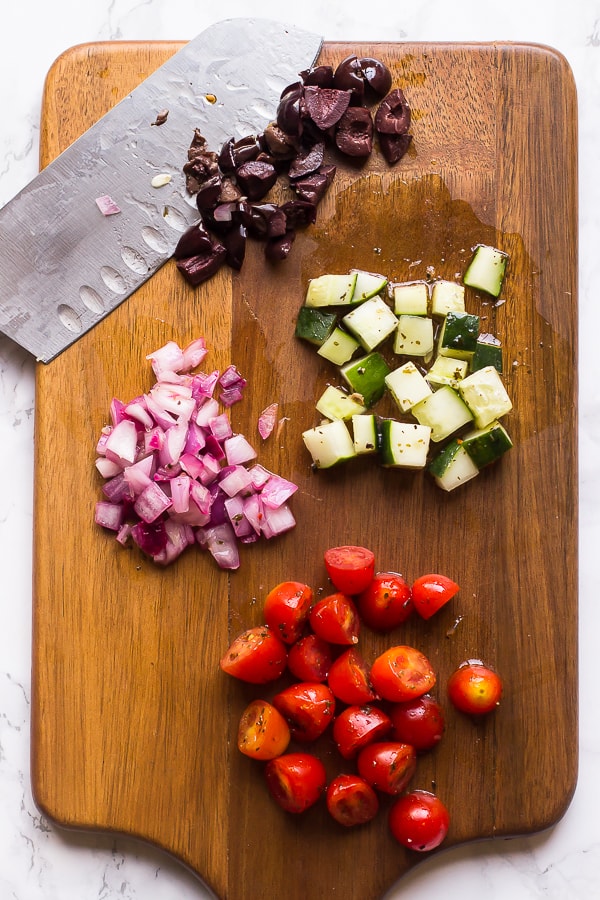 There's no other way to put this: this salad is the BOMB. The Mediterranean combination of cucumbers, red onions, tomatoes, olives and hummus really works so well together and is so easy to combine that this shouldn't even be a recipe. Actually, I want YOU to combine any amount of these ingredients that you want because well, it's your bowl! These are my suggestions although, I tend to spoon more hummus on aaaand maybe some more vegan feta.
Shhhhh.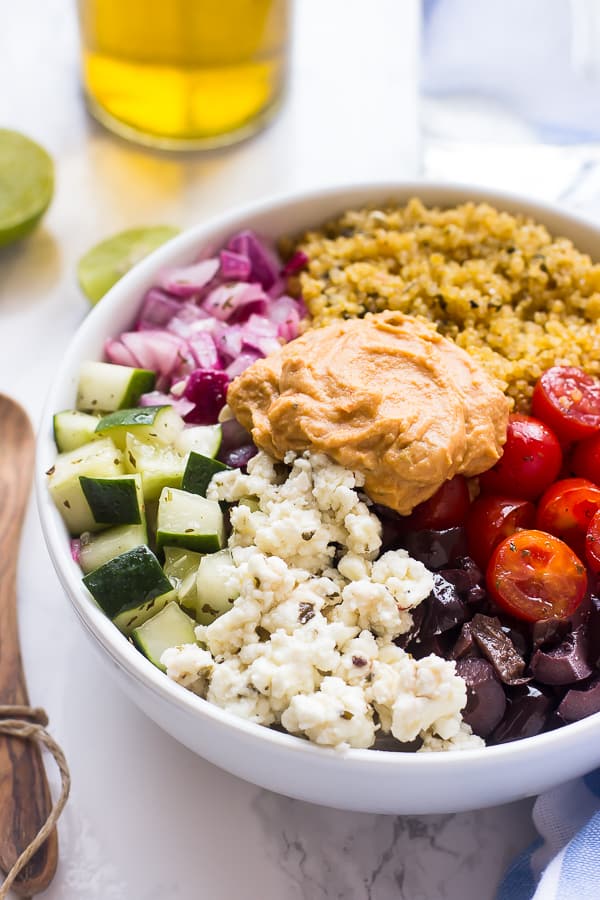 | WHAT YOU'LL NEED // MY FAVORITE INGREDIENTS & PREP PRODUCTS |



If you try this Mediterranean Quinoa Salad Bowl please let me know in the comment section below, or tag me on instagram with the hashtag #jessicainthekitchen! For more exclusive recipes follow me on Instagram AND on Snapchat: jessinkitchen.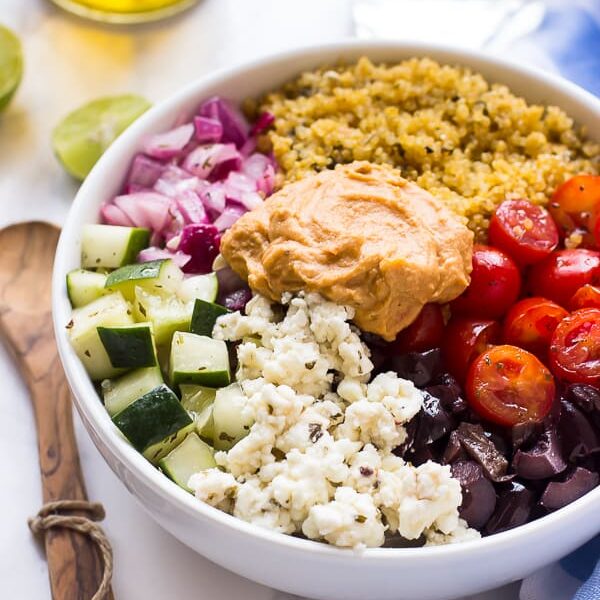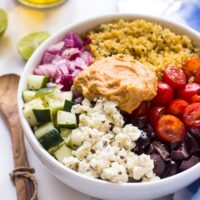 Mediterranean Quinoa Salad Bowl
This Mediterranean Quinoa Salad Bowl is loaded with delicious and filling veggies, topped with creamy hummus and comes together in just 20 minutes!
Ingredients
1 cup cooked quinoa
1/4 cup chopped cucumbers
1/4 cup chopped olives
1/4 cup vegan tofu feta cheese or store-bought vegan feta
1/4 cup tomatoes, diced
2 tablespoons red onion
2 teaspoons chopped parsley
2 tablespoons hummus
1/2 tablespoon olive oil + salt + black pepper
Lime wedges to serve
Instructions
Cook the quinoa according to package directions and as desired: see here how to cook quinoa
Per Bowl
Split the ingredients in half and add to each quinoa bowl as desired. Spoon hummus on top and mix all the ingredients together if desired. Drizzle olive oil, and grind salt and black pepper over each quinoa bowl. Serve with a lime wedge to squeeze over olives, cheese, tomatoes and red onions.

Enjoy!
Notes
This recipe is naturally gluten free.
SUBSTITUTE: If you don't have vegan feta cheese/don't want to make it, you can omit it and add more olives for brine.
HOW TO STORE QUINOA BOWL
If you want to prepare this bowl ahead of time, I recommend preparing all the ingredients ahead of time for prep in separate tupperware containers, so that you can just reheat them put the entire bowl together. You can make the bowl a day in advance then eat it, but I wouldn't recommend keeping it together for longer than that.
If you're making this for lunch, just assemble it all together the morning of, or in a mason jar.
Calories: 244kcal, Carbohydrates: 28g, Protein: 6g, Fat: 12g, Saturated Fat: 2g, Sodium: 464mg, Potassium: 258mg, Fiber: 5g, Sugar: 2g, Vitamin A: 221IU, Vitamin C: 4mg, Calcium: 40mg, Iron: 2mg
Disclaimer: Although jessicainthekitchen.com attempts to provide accurate nutritional information, kindly note that these are only estimates. Nutritional information may be affected based on the product type, the brand that was purchased, and in other unforeseeable ways. Jessicainthekitchen.com will not be held liable for any loss or damage resulting for your reliance on nutritional information. If you need to follow a specific caloric regimen, please consult your doctor first.