The Best Kale Salad with Sesame Tahini Dressing
This is the Best Kale Salad with Sesame Tahini Dressing that you will ever taste. The freshness of the salad is made even better with the creamy tahini dressing! It's the perfect nutritious lunch, plus I share tips on how to massage your kale.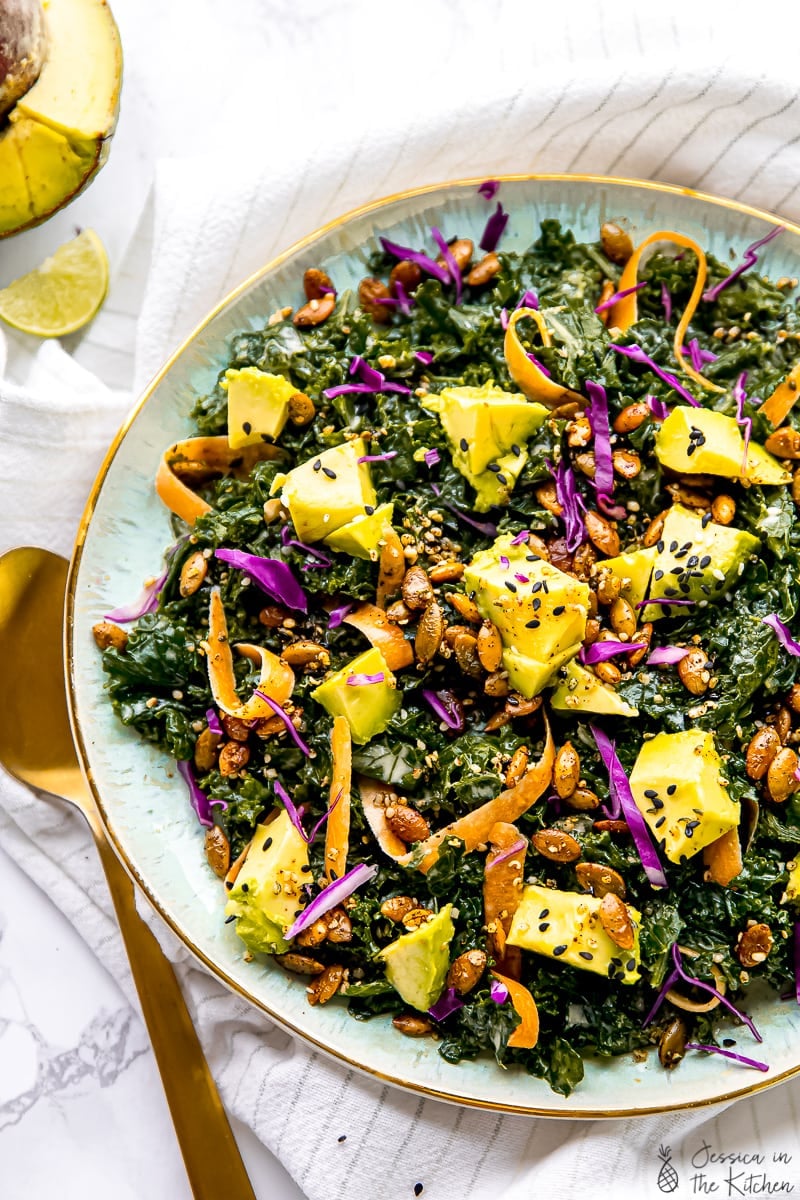 Recently I've been eating quite a lot of soups and stews with deep and rich flavour. The thing I love about these foods is that they leave me feeling warm and comfy, especially after a long day of work. When I thought about making this recipe, I wanted the same deep flavours but I wanted to feel light and airy. This is how this Kale Salad with Sesame Tahini Dressing was born. Between the seasoned pumpkin seeds, the creaminess of the tahini and avocado, there is so much flavour that I just can't choose what to devour first. Let's not even get started on the kale, which has a rich and flavourful bite that goes really well with the slightly sweet carrot. To be honest, my mouth is watering just thinking about it right now.
The star of this show is obviously the kale. This is so funny because kale wasn't my favourite salad choice years ago, but the versatility of it keeps amazing me every day. From one of my favourite snacks kale chips to adding it to an amazing soup with white beans, kale quickly became my go-to green. Not all kale is created equally though. Some Kale is perfect when used in soups or stews like Redbor kale. I used curly kale as its good for almost every method. Other great kale to use is dinosaur kale, baby kale and red kale.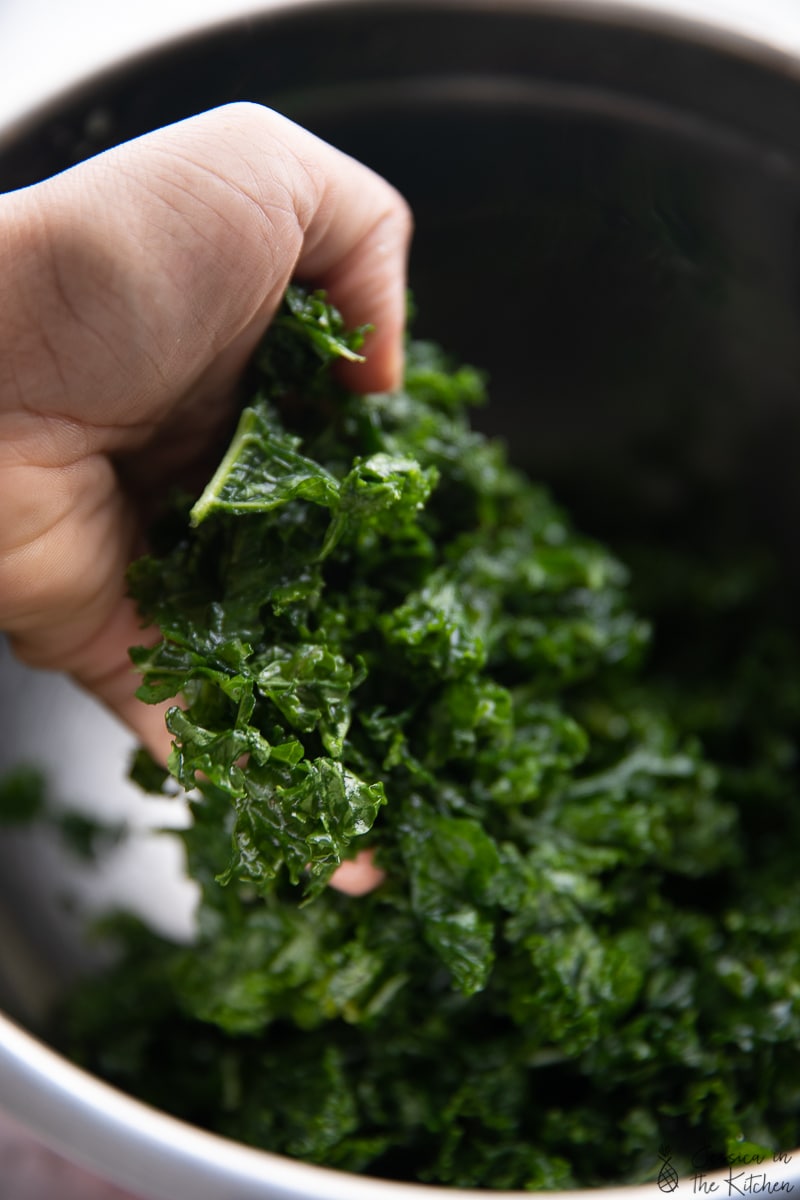 How do I get Raw Kale to taste less Bitter?
If you're a kale lover like me you'll have had kale in all its forms and preparations. Like me, you'll know that sometimes kale can get a bit bitter. Well, friends, with this salad I made sure to write down the proper preparation so that you'll get the smoothest tasting kale you've ever had raw.
Okay guys, its time to put on my science hat. That bitter taste that you sometimes taste coming from kale is actually caused by a compound. This compound is called isothiocyanates. It's activated when the outer surface is bruised. So to remove this taste its best to massage (bruise) and chop the kale and then wash it. Washing after bruising and chopping removes the compound. Tada! Your end result is clean tasting kale! Ok, phew, science hat is now off.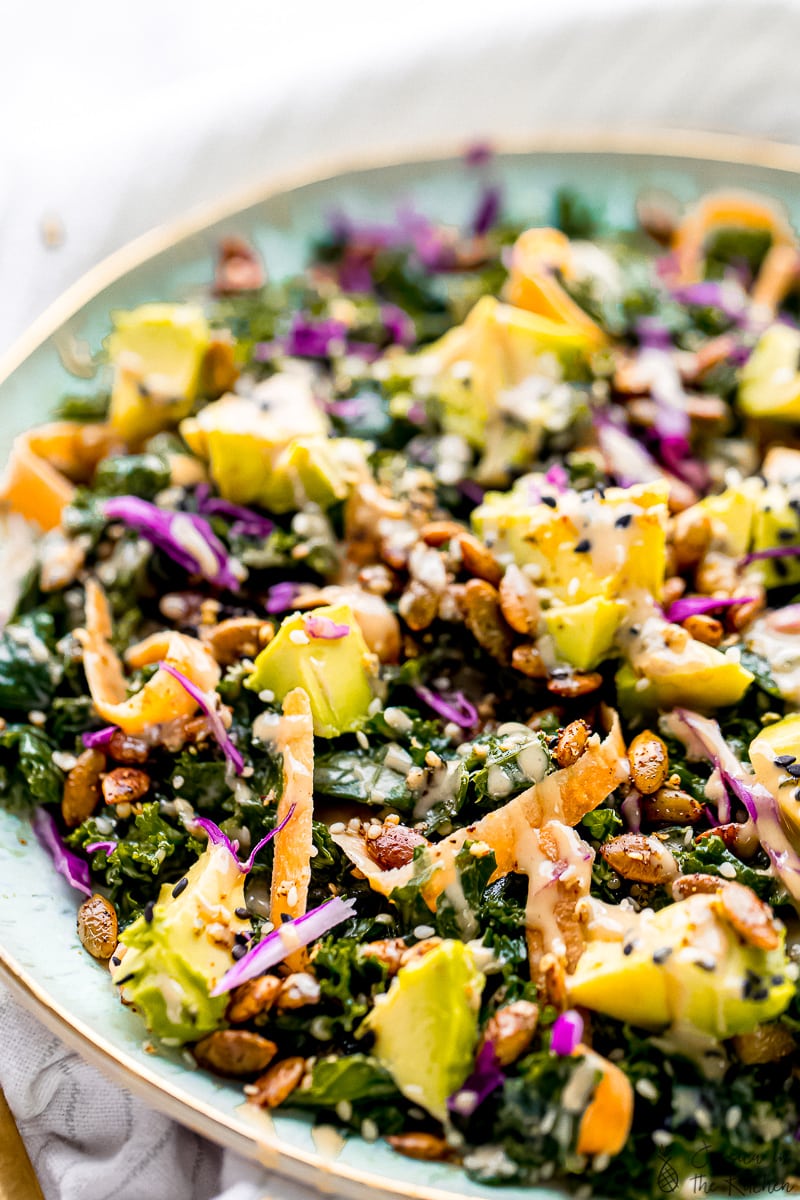 Ingredients for The Best Kale Salad with Sesame Tahini Dressing
Kale. Wow – This is such a wonderful green. It has a unique taste and an even better texture. Kale is the base of the salad and is packed with nutritious vitamins and minerals. When massaged, it takes the flavours of this green to a new height.
Tahini Dressing – This consists of rich and creamy tahini (sesame seed nut butter) combined with sesame oil, tamari, lime juice, water and garlic. These ingredients combine so well together they should all be found on the same shelf at the supermarket! All add their own unique flavour boosted by the umami of the tamari and the sesame oil. This for sure is a crowd-pleasing dressing that you can add to so many more dishes.
Toppings – The carrots provide a counterbalancing flavour, while the pepitas and the avocados are great for texture. To make this salad even more balanced, the hemp seeds provide a great protein boost!
What dressing should I use for Kale Salads?
For this Kale Salad, I used a Sesame Tahini Dressing but there are other dressings in which you can use. I wanted a clean and creamy taste for my salad. The Sesame Tahini Dressing really brings out the natural flavour of the kale without overpowering it. For a salad like this that is perfect. All the ingredients work perfectly to balance the taste.
On the flip side, a light vinaigrette like the one I used in my kale and apple chickpea salad could also be used. If you want a real kick like Gav, spicy tahini also works! The point is, kale changes to accept a lot of dressings that you decide to use. No matter which dressing you use, you'll love this salad.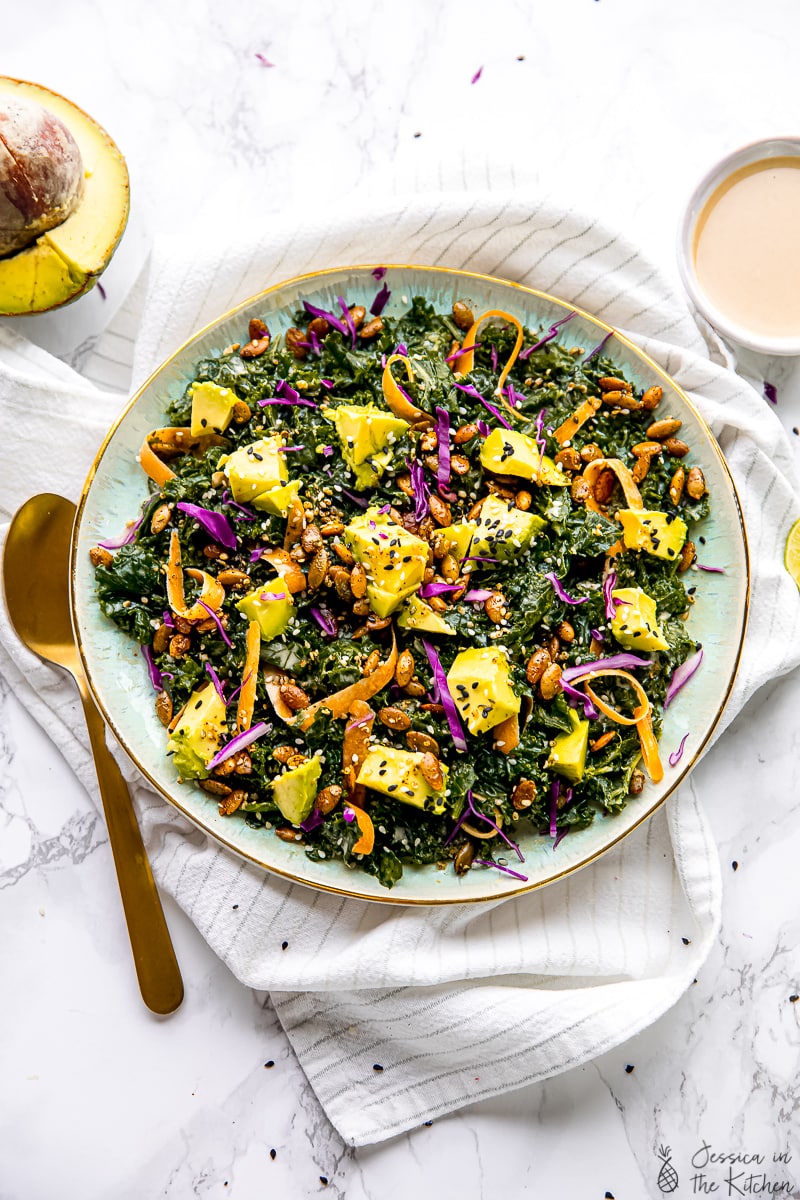 Enjoy friends! If you make this post about The Best Kale Salad with Sesame Tahini Dressing, please snap a photo and tag #jessicainthekitchen on Instagram! We'd also love if you would leave a comment below, and give the recipe a rating! Thanks so much!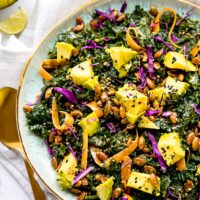 The Best Kale Salad with Sesame Tahini Dressing
This is the Best Kale Salad with Sesame Tahini Dressing that you will ever taste. The freshness of the salad is made even better with the creamy tahini dressing! It's the perfect nutritious lunch, plus I share tips on how to massage your kale.
Ingredients
The Best Kale Salad
6 cups kale, torn and washed
Tahini Dressing
1/4 teaspoon sea salt
½ tablespoon sesame oil
1/2 tablespoon tamari or liquid aminos or low sodium soy sauce
2 tablespoons water
2 tablespoons lime juice
1 clove garlic, minced
Toppings (use any amount you want, but these are my rough estimates)
⅓ cup pumpkin seeds/pepitas
½ avocado, cubed
carrot ribbons, from 1 carrot
¼ cup shredded purple cabbage
¼ cup hulled hemp seeds
1 tablespoon black or white sesame seeds, optional
Instructions
The Best Kale Salad
Massage and cut or tear kale in a large strainer for about 2 minutes. After cutting, wash kale, dry and set aside.

Add dressing on top or lightly combine. Add toppings and toss to combine.

Enjoy!
Tahini Dressing
In a medium-size bowl add all the dressing ingredients and whisk until fully combined and smooth.
Notes
For an extra delicious salad, toast your pepitas beforehand in about 2 teaspoons of oil over medium high heat for about 5 minutes. Shake occasionally, until pepitas begin to pop. Season generously with salt, pepper and paprika.
Calories: 275kcal, Carbohydrates: 17g, Protein: 13g, Fat: 20g, Saturated Fat: 2g, Sodium: 268mg, Potassium: 765mg, Fiber: 4g, Sugar: 1g, Vitamin A: 12751IU, Vitamin C: 130mg, Calcium: 206mg, Iron: 4mg
Disclaimer: Although jessicainthekitchen.com attempts to provide accurate nutritional information, kindly note that these are only estimates. Nutritional information may be affected based on the product type, the brand that was purchased, and in other unforeseeable ways. Jessicainthekitchen.com will not be held liable for any loss or damage resulting for your reliance on nutritional information. If you need to follow a specific caloric regimen, please consult your doctor first.