How to Cook Tempeh
Tempeh isn't just tofu's lesser-known cousin! It's also one of the best whole food meat substitutes out there. Learn how to cook tempeh like a pro and some of my favorite ways to use it.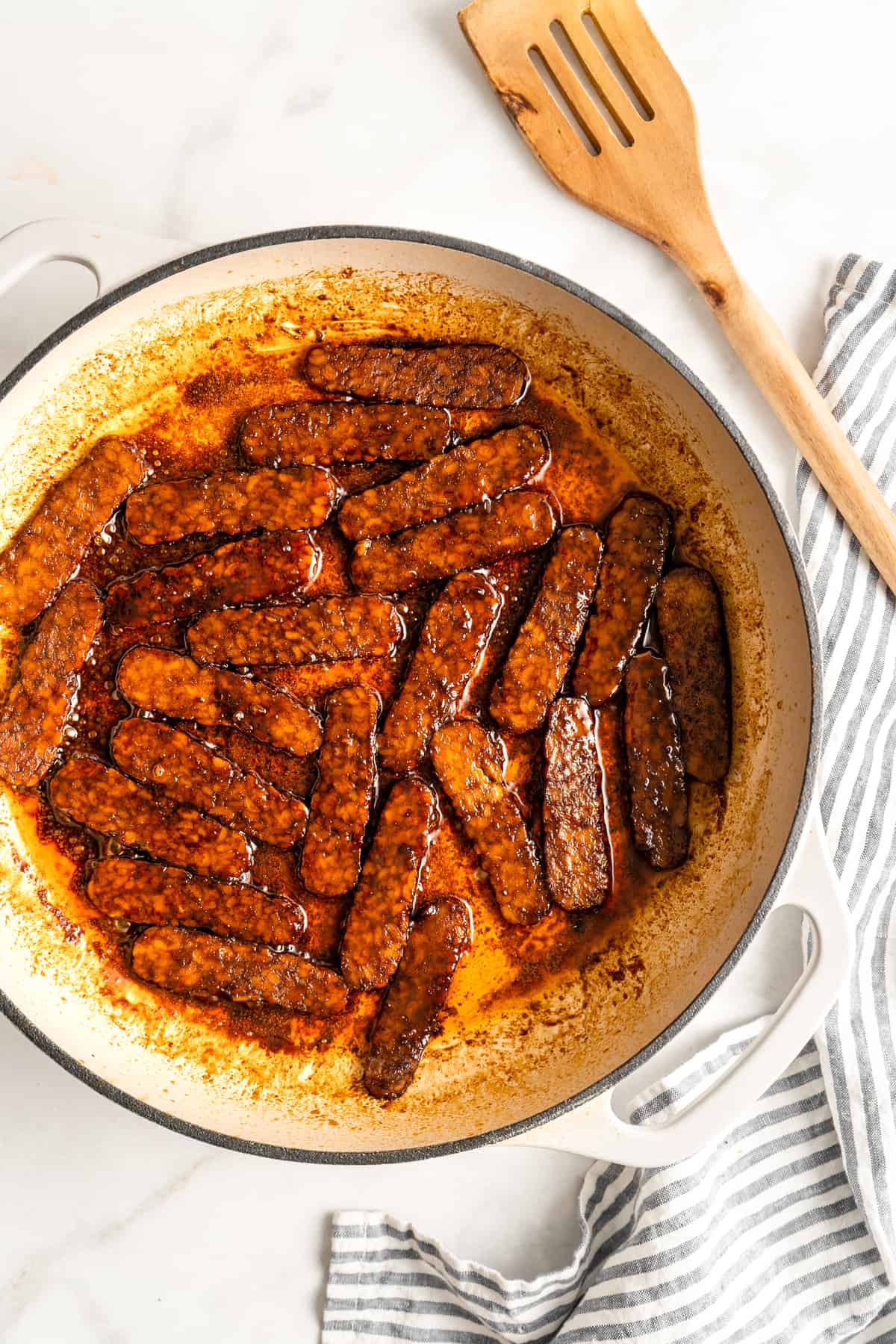 Like tofu, tempeh (pronounced tem-pay) is made with soy beans, but the similarities pretty much end there. This means that if you're not a fan of tofu, you might still enjoy tempeh! While tofu has a soft or chewy texture (depending on the type you use), tempeh is a bit firmer, and it has an interesting texture because its primary ingredient is whole soybeans.
Tempeh originated in Indonesia, where it's a staple used in a wide variety of dishes. (If you ever have the chance to go to an Indonesian restaurant, you are in for a treat—especially if you love tempeh!) It's made by fermenting soybeans and forming them into a slab. You can make your own tempeh at home, but it's a complicated process, so you might want to stick to buying it at the grocery store!
What Does Tempeh Taste Like?
Most vegans fall into one of two camps: you either want your meatless remakes to taste exactly like the original, or you simply want to find a protein to take the place of meat without mimicking its flavor. If you fall into the latter category, you'll appreciate tempeh! It has a nice, nutty flavor, and it can be used to replace meat in a recipe, but it doesn't taste like meat.
Like tofu, tempeh will take on the flavors that are added to it, although that nuttiness will still come through. This makes it excellent for marinating or pairing with a delicious sauce to soak up. Some people find that tempeh has a bitter flavor, while others aren't bothered by it. Steaming tempeh eliminates this flavor, and it also helps tempeh absorb marinades better.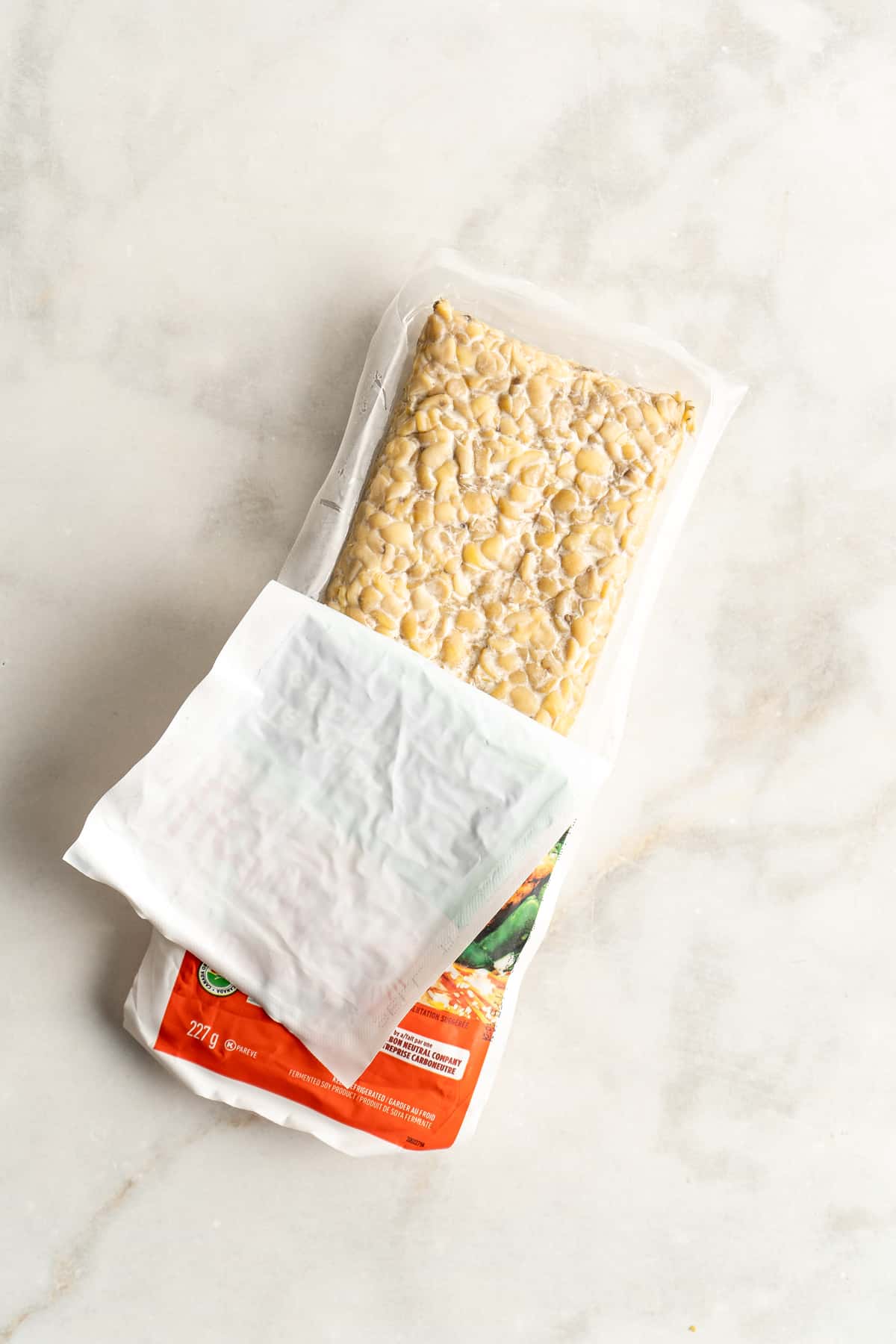 How Do You Cook Tempeh?
There are so many ways to cook tempeh! I'll share my favorite in just a bit, but you can:
Bake it. Baked tempeh is the perfect low-effort protein option.
Fry it. Pan fry, deep fry, stir fry—it's all good! You can also enjoy it in a sandwich like my BLT Sandwich.
Grill it. Place cubes of tempeh on skewers with veggies and marinate them before grilling.
Cut it into cubes. For a meaty bite!
Cut it into slices. Thin slices get nicely crisped on the edges.
Crumble it up. Perfect for making chili or tacos!
Use it as an ounce-for-ounce substitute for meat in a recipe. It's nutrient packed and less costly than most store-bought faux meats.
Tempeh Bacon Recipe
You can also use tempeh to make a killer plant-based bacon. Here's how: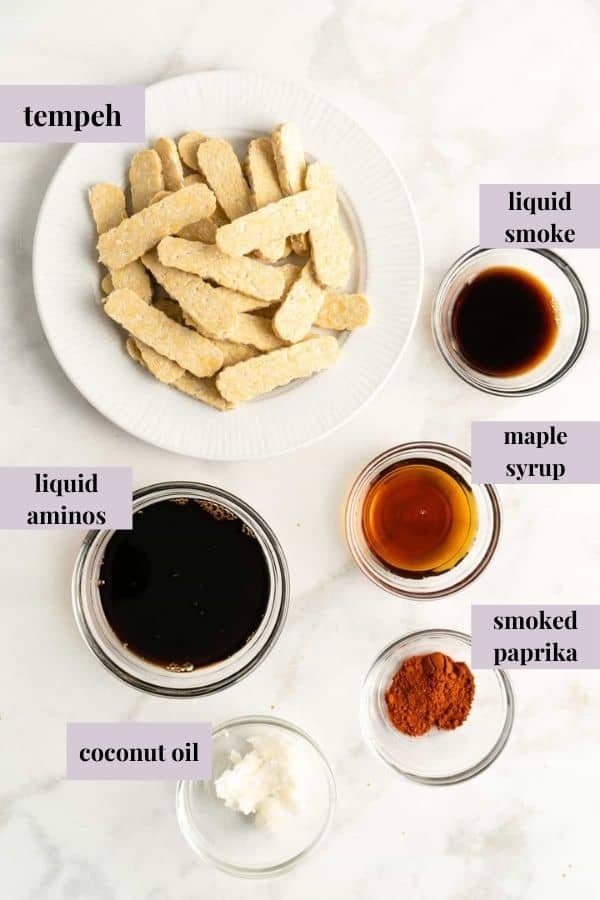 Notes on Ingredients
Please note that this is important information on the ingredients and instructions and the FULL recipe with amounts and details can be found DOWN BELOW (scroll to it) in the recipe card.
Low sodium soy sauce, tamari, or liquid aminos – Tamari and liquid aminos are gluten-free.
Liquid smoke – Key to the smoky bacon flavor in this recipe.
Maple syrup – Make sure you get real maple syrup, not breakfast syrup!
Smoked paprika – This amps up the smoky flavor even more and adds some natural color to the marinade.
Tempeh
Coconut Oil
How to Make Tempeh Bacon
Use homemade tempeh bacon in a BLT, as a topping for your favorite veggie burger, in a vegan Cobb salad, or as a savory side to serve with pancakes or waffles.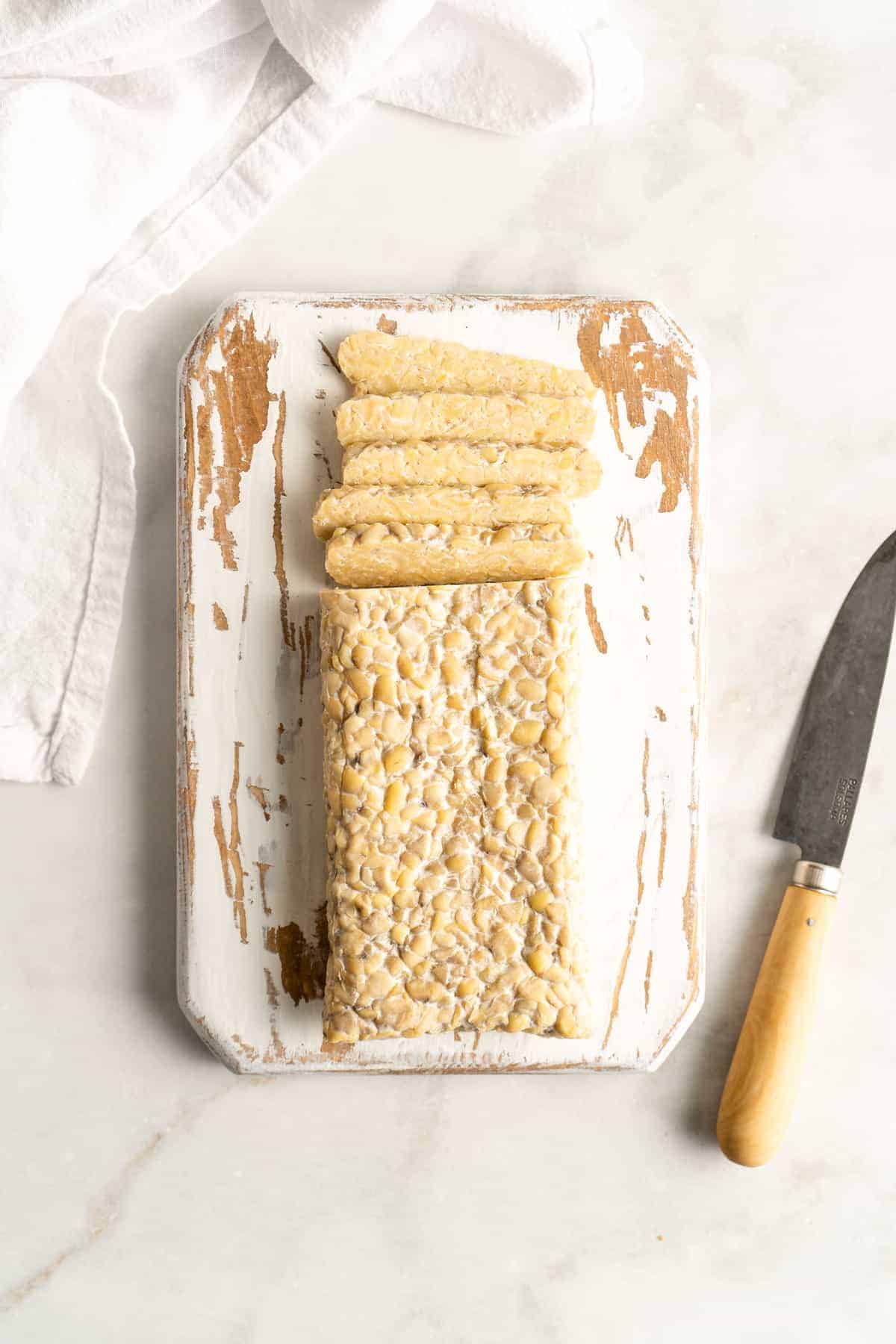 Prepare the tempeh. Slice the tempeh as thin as possible without it falling apart. This will help it get crispy!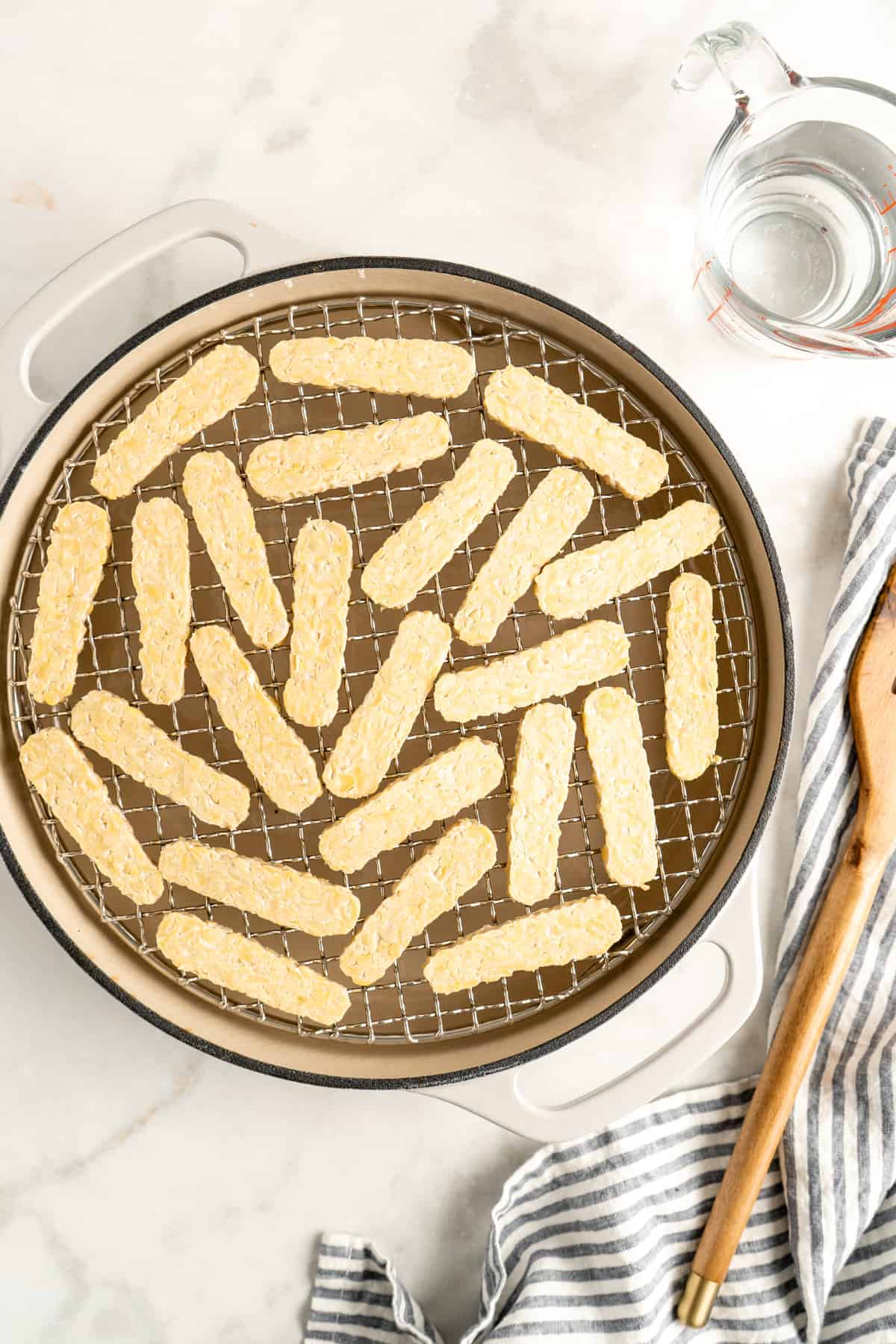 Steam the tempeh. Use a steamer basket or a wire rack placed in a large pot filled with boiling water. (The water shouldn't be so high that it reaches the basket or rack.) Carefully add the tempeh slices, cover the pot, and steam them for 10 minutes. This removes bitterness and gives the tempeh the ability to absorb all the bacon-y flavors you're about to add.
Make the marinade. In a wide, shallow bowl or container, whisk the liquid smoke, maple syrup, soy sauce, and smoked paprika.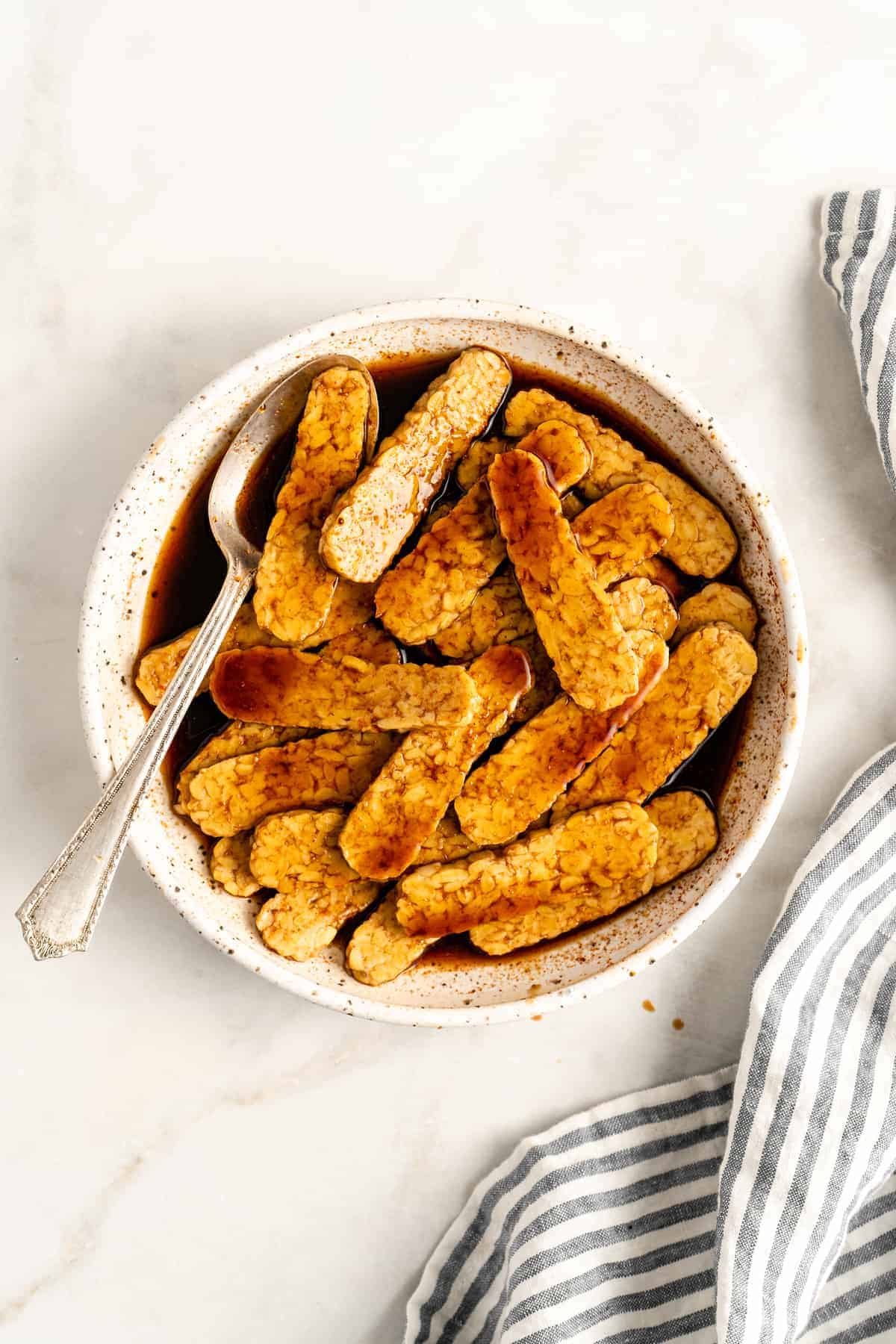 Marinate the tempeh. Let the tempeh cool a bit, then place it in the marinade. Cover the container and let the tempeh marinate in the refrigerator for at least 2 hours, or overnight.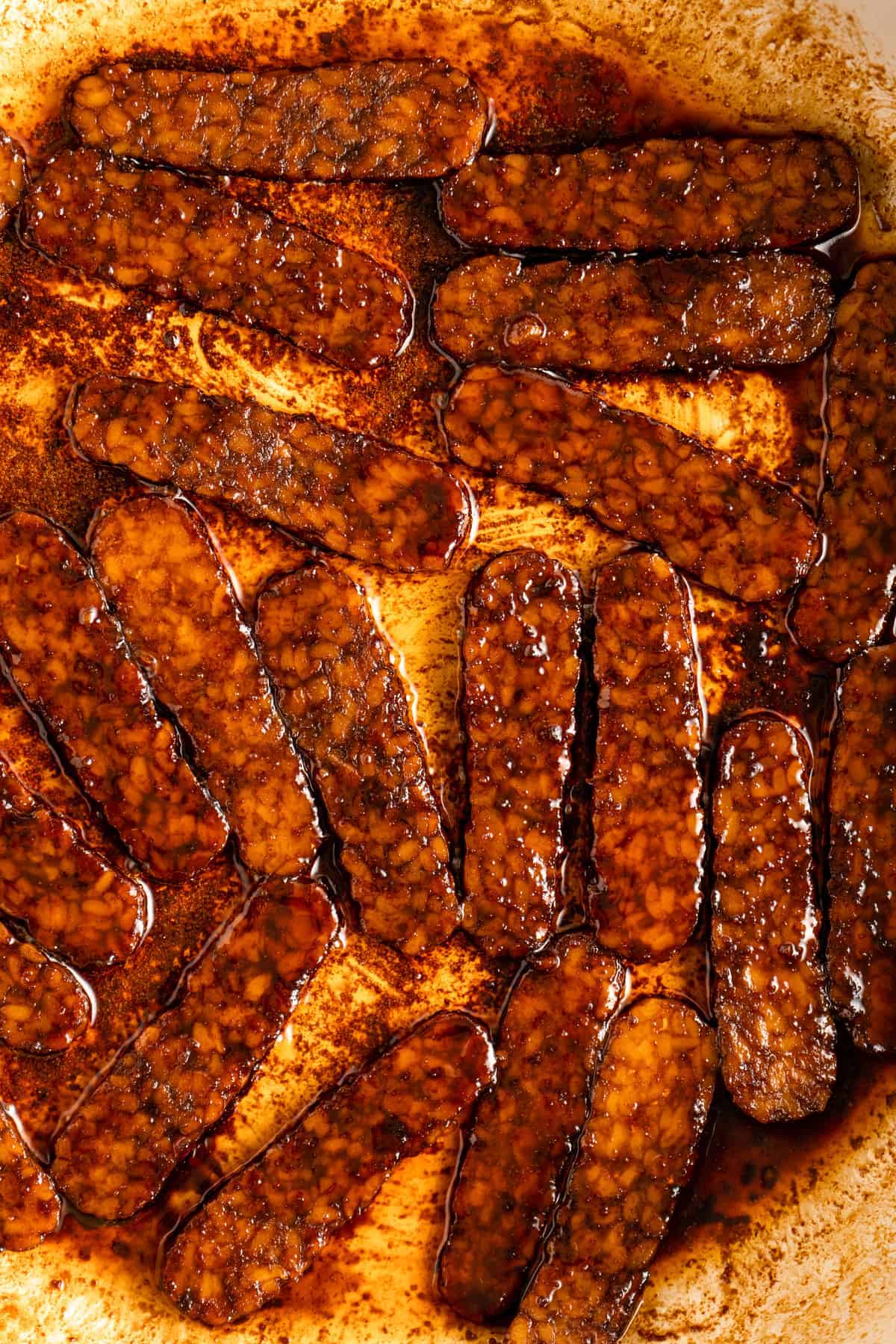 Cook the tempeh. Heat the coconut oil in a skillet over medium-high heat, then add the slices of tempeh bacon. Cook for 2 to 3 minutes on each side, or until they're nicely browned and crisp on the edges. Remove from heat and pour any leftover marinade into the skillet; stir the tempeh to coat it in the sauce.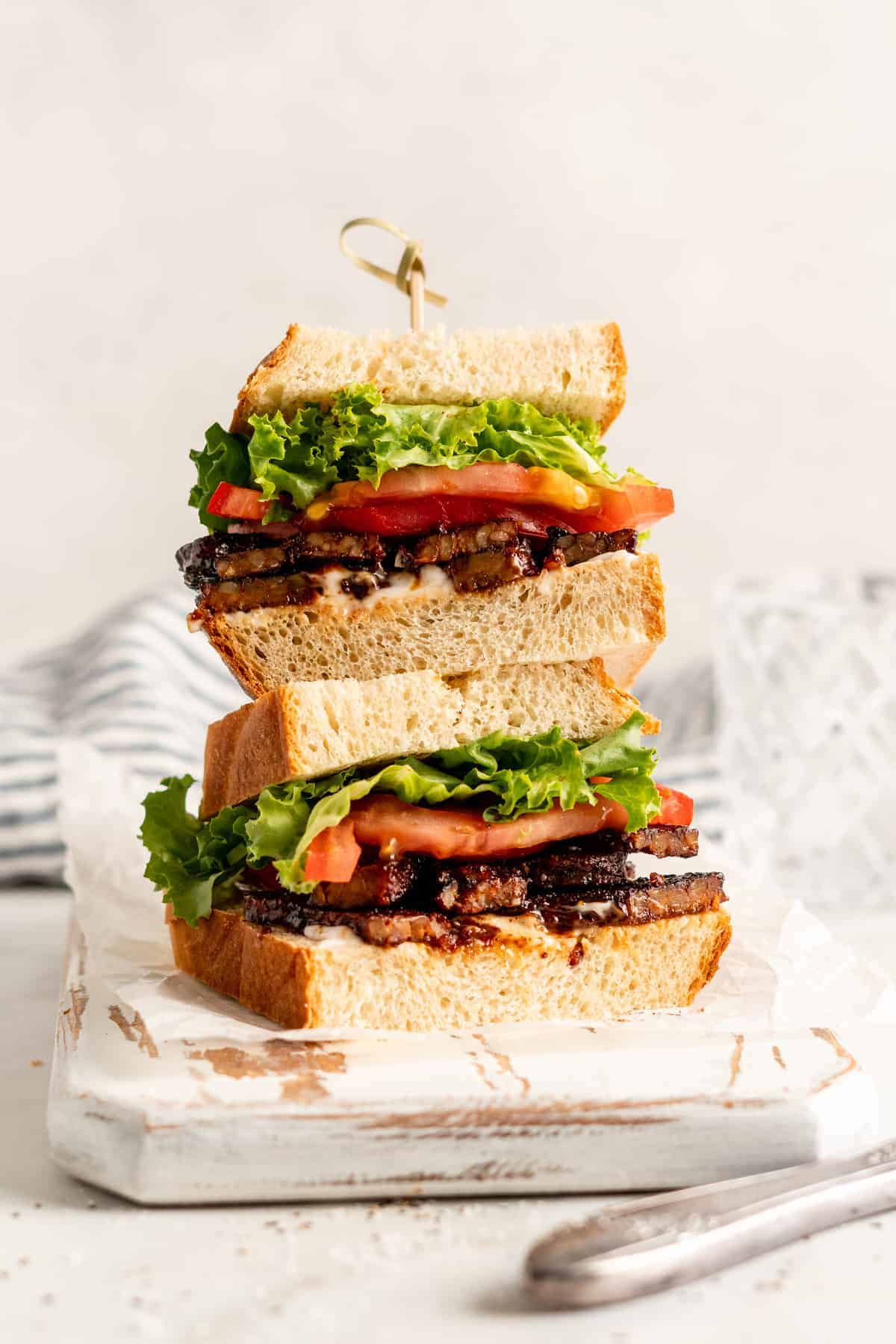 Why Does My Tempeh Have White/Black/Gray On It?
Oof, I know what you're thinking: Did my tempeh go bad? Well, it didn't go bad, but it is full of fungus. That's a good thing, though—it's how tempeh ferments! A fungus called Rhizopus oligosporus, which grows on teak and hibiscus leaves on the island of Java, is added to soybeans as part of the fermentation process.
Is Tempeh Healthier Than Tofu?
For one, tempeh is fermented, which means it's chock full of probiotic goodness. As a bonus, it also has prebiotics, which help probiotics thrive once they reach your digestive system. Tempeh is a great source of protein and packed with vitamins and minerals, including iron, calcium, magnesium, and manganese. It's also the best plant-based source of vitamin B12.
Where Is Tempeh in the Grocery Store?
You can usually find tempeh either in the refrigerated case in the produce section alongside the seitan and tofu, or in the dedicated vegetarian/plant-based refrigerated area.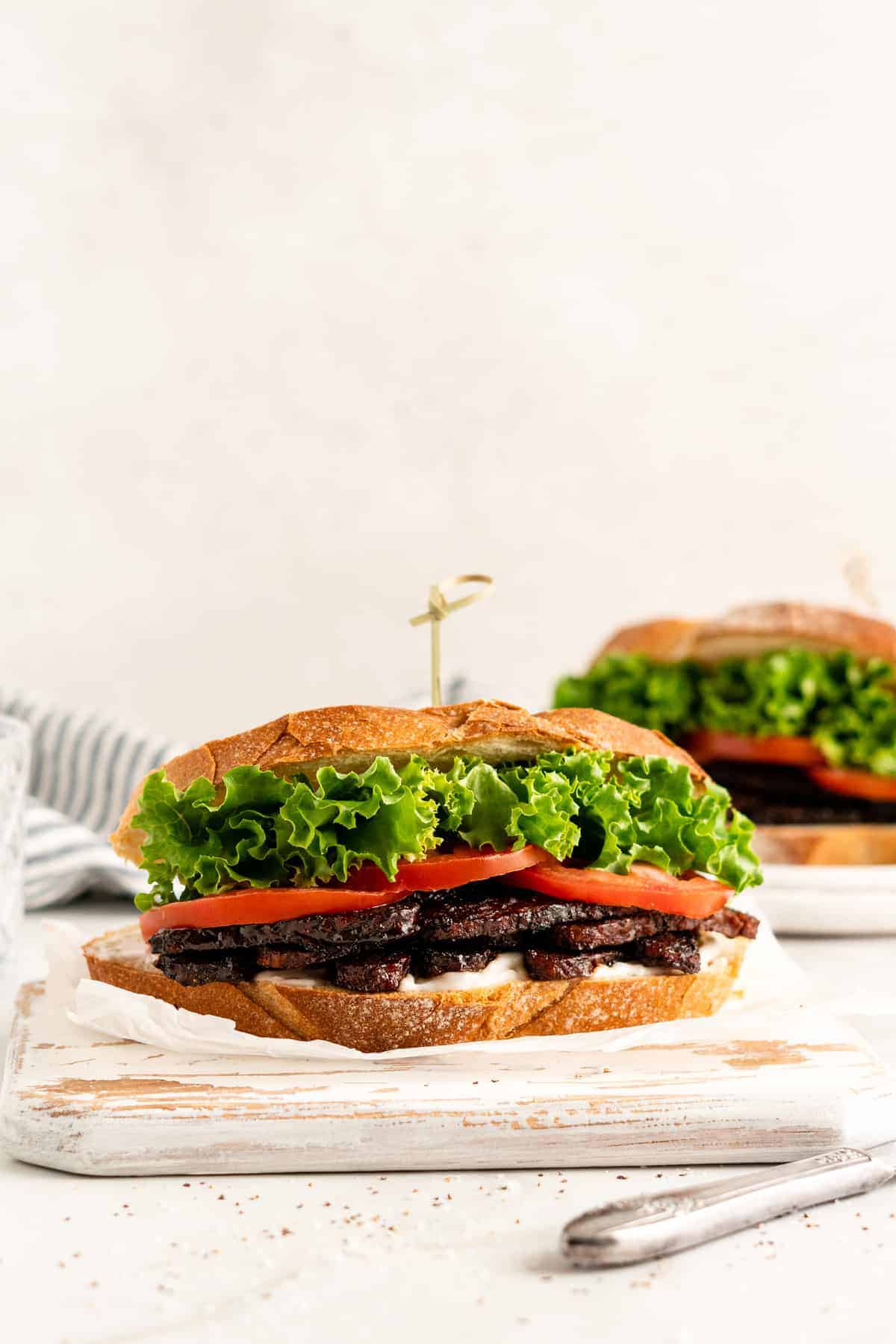 Enjoy friends! If you make this Tempeh Bacon, please snap a photo and tag #jessicainthekitchen on Instagram! We'd also love it if you would leave a comment below, and give the recipe a rating! Thanks so much!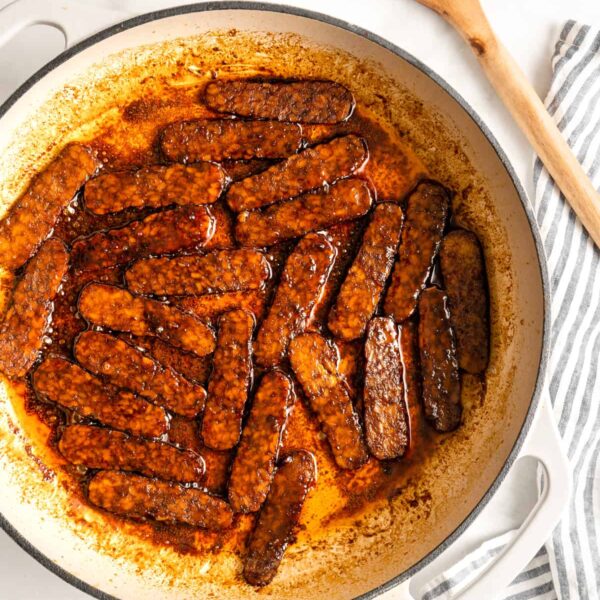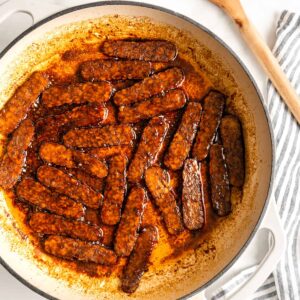 Tempeh Bacon
This tempeh bacon has all the smoky sweet flavor you love! Perfect for salads, sandwiches, and breakfast bowls.
Ingredients
3 tablespoons low sodium soy sauce tamari or liquid aminos*
2 teaspoons liquid smoke
1 1/2 tablespoon maple syrup
1/2 teaspoon smoked paprika for colour
8 ounces tempeh
1 – 2 teaspoons coconut oil
Instructions
Slice the tempeh as thin as you can (without letting it fall apart). This helps to crips up the tempeh bacon slices. If you don't care about that, feel free to slice of however you want.

In a pan, a steam basket or a cooling rack, and pour some water under neath that is not touching the pan. We're doing this to steam your tempeh, so if you have another way to steam it that's fine too! Even a place on crushed up foil with water underneath will work. Bring to a boil them add the slices of tempeh on top of the cooling rack/basket/plate (not touching the water). Cover with pot cover and steam for ten minutes. This helps to remove the bitterness and helps the tempeh to absorb more flavour.

In a bowl or a Tupperware container, stir together the liquid smoke, the maple syrup, the tamari/liquid aminos and the smoke paprika. Add in the slightly cooled tempeh and gently toss or stir to ensure all of the pieces are marinated. Cover and let marinate for 2 hours up to overnight.

When you've finished marinating them, heat the oil in a pan over medium high heat.

Add the slices of tempeh bacon and allow to cook for about 2-3 minutes on each side, until cooked through and browned. Remove from heat, and add over any extra marinade to coat the tempeh in it from the residual heat.

Serve in a BLT sandwich, in a vegan Cobb salad, or any other way you desire!
Notes
*If you have neither of these, you could also use a low sodium soy sauce. *If you're soy-free, you can use chickpea tempeh.
Serving: 1g, Calories: 156kcal, Carbohydrates: 10g, Protein: 11g, Fat: 9g, Saturated Fat: 4g, Polyunsaturated Fat: 2g, Monounsaturated Fat: 2g, Sodium: 11mg, Potassium: 250mg, Sugar: 4g, Calcium: 71mg, Iron: 2mg
Disclaimer: Although jessicainthekitchen.com attempts to provide accurate nutritional information, kindly note that these are only estimates. Nutritional information may be affected based on the product type, the brand that was purchased, and in other unforeseeable ways. Jessicainthekitchen.com will not be held liable for any loss or damage resulting for your reliance on nutritional information. If you need to follow a specific caloric regimen, please consult your doctor first.