Tempeh Stir Fry with Peanut Ginger Sauce (Vegan)
This Tempeh Stir Fry with Peanut Ginger Sauce is done in 35 minutes & perfect for a weeknight meal! A great meal prep option, and so delicious!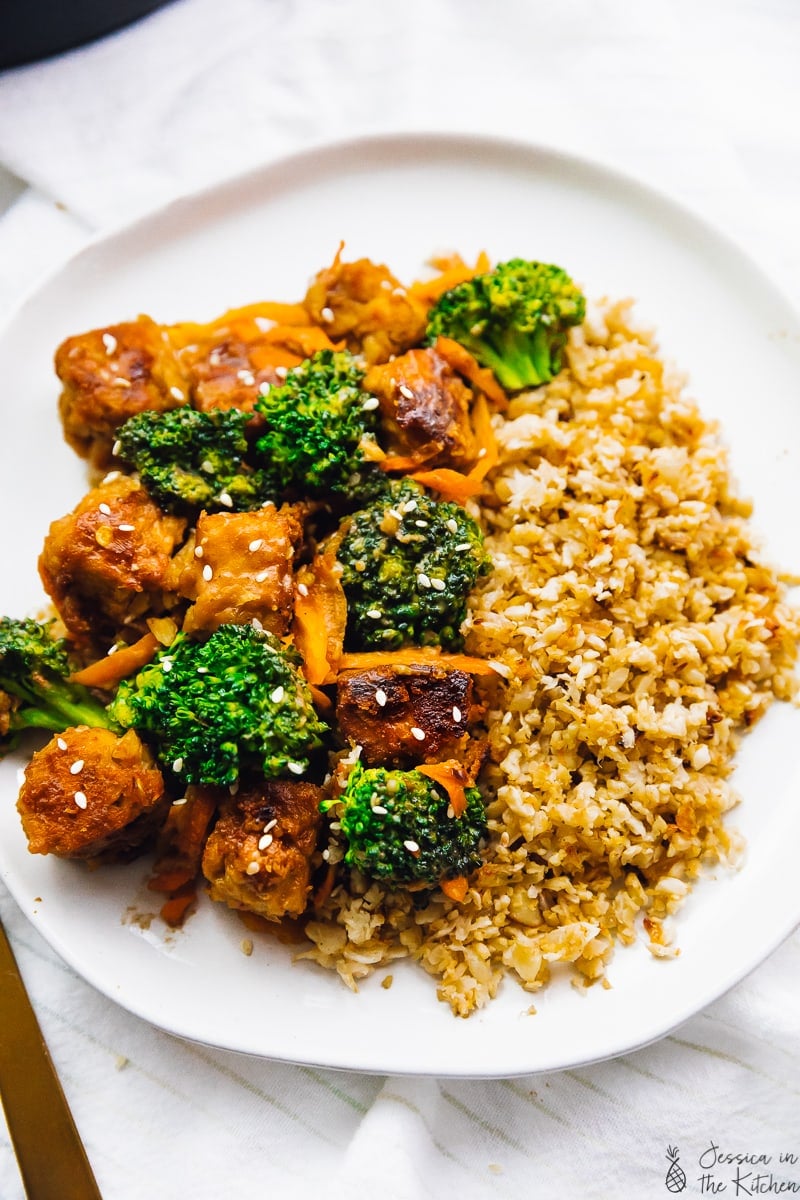 The first time Gav and I made tempeh he took one bite and "ew, no." He didn't like the taste, the texture or the smell. I'm laughing right this because I remember the moment so clear that it took us months to buy tempeh again. As it turns out, we had tried a very – how do I say – "natural" chickpea tempeh. Spoiler alert: don't buy chickpea tempeh if it's your first time trying tempeh. After buying regular tempeh and giving it a good marinade, he was 100% in. And tempeh was officially welcome in our household.
What is tempeh?
Tempeh is often misunderstood. Think of tempeh as tofu's fermented cousin. Both made from soybeans, tempeh is made through a process fermentation process of soaking the soybeans. It means it's less processed and has a lot of nutrients. It's also pretty high in fibre. I go into full detail here but long story short: I love tempeh as a vegan protein option. You just have to know how to use it.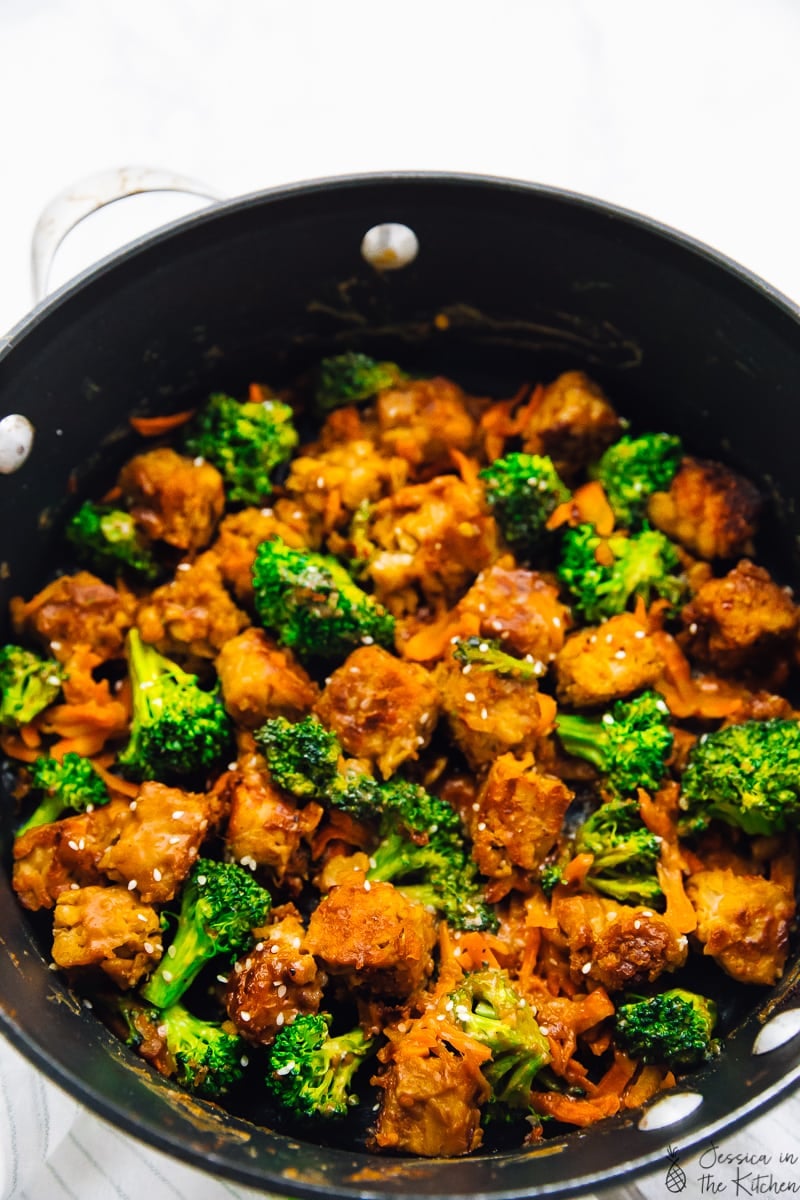 Because of the texture of tempeh, it really soaks up flavour and gets beautifully crisp on the outside while staying soft on the inside. I was really feeling for some tempeh so I asked Gav to pick up some at the supermarket. While I was originally going to just make a tempeh version of my Tofu and Veggie Stir Fry in Sweet Ginger Sauce, an idea popped into my head – why not in peanut ginger sauce?
I love a great thai peanut sauce. I've used it with Fresh Spring Rolls, an Asian Noodle Salad and even with a Cashew Thai Quinoa Salad. It's creamy, umami packed, salty and high in protein and fat. Hello flavour town. Toss crispy tempeh that immediately soaks up this flavour into that sauce and some broccoli and carrot and you have a divine 35 minute stir fry. The peanut ginger sauce gets nice and thick and really coats the tempeh too, creating a rich flavour all around. Trust me, you're going to want to give this one a try soon.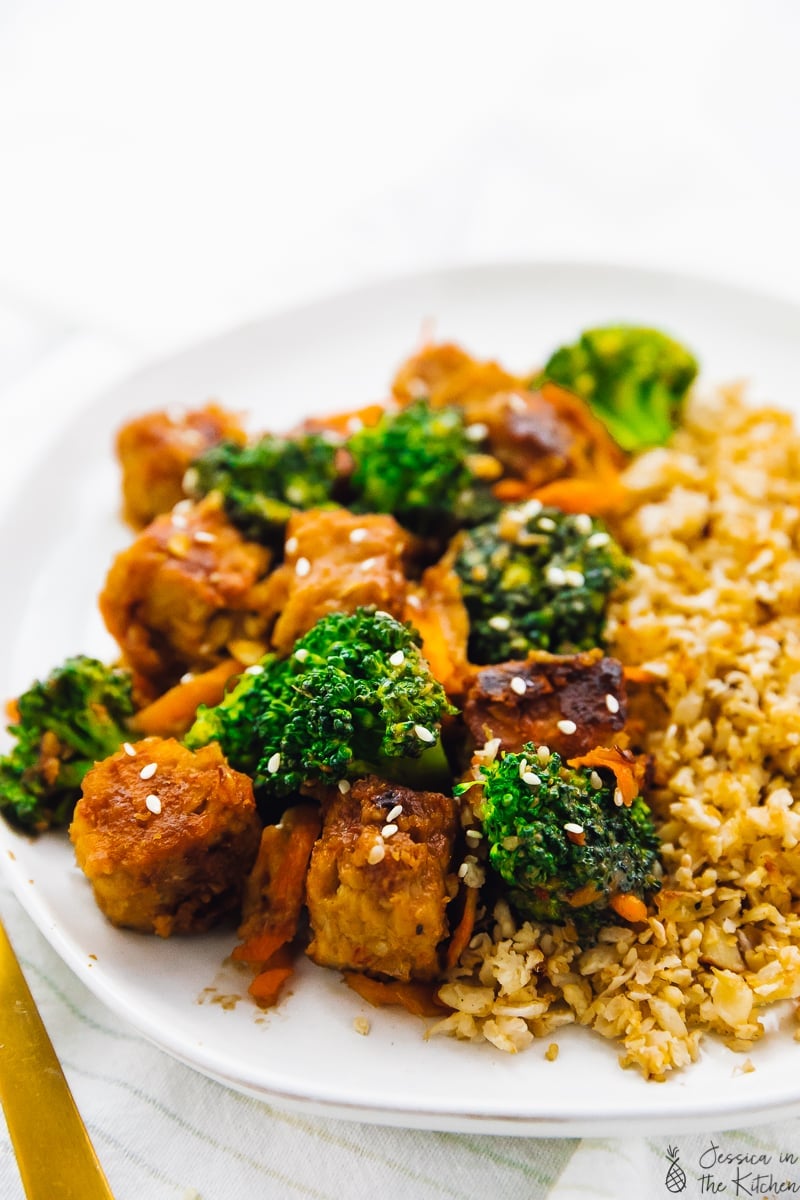 What to serve with stir fry
I served this tempeh stir fry up with some seasoned cauliflower rice, and man, I forgot how much I love cauliflower rice! I'm not a big fan of rice (unless we are talking about sushi and fried rice), so even when Gav and I were dating, I would always get noodles with my lunch from our favourite Asian restaurant. After a few years I felt myself not wanting noodles as much, so I would gravitate to rice. Except I had to really soak them in sauce to give them some flavour. I love that with cauliflower rice I can really season it up and that it's made so quickly! Plus, it's also low carb and lots of nutrients. You can check out my cauliflower rice recipe here.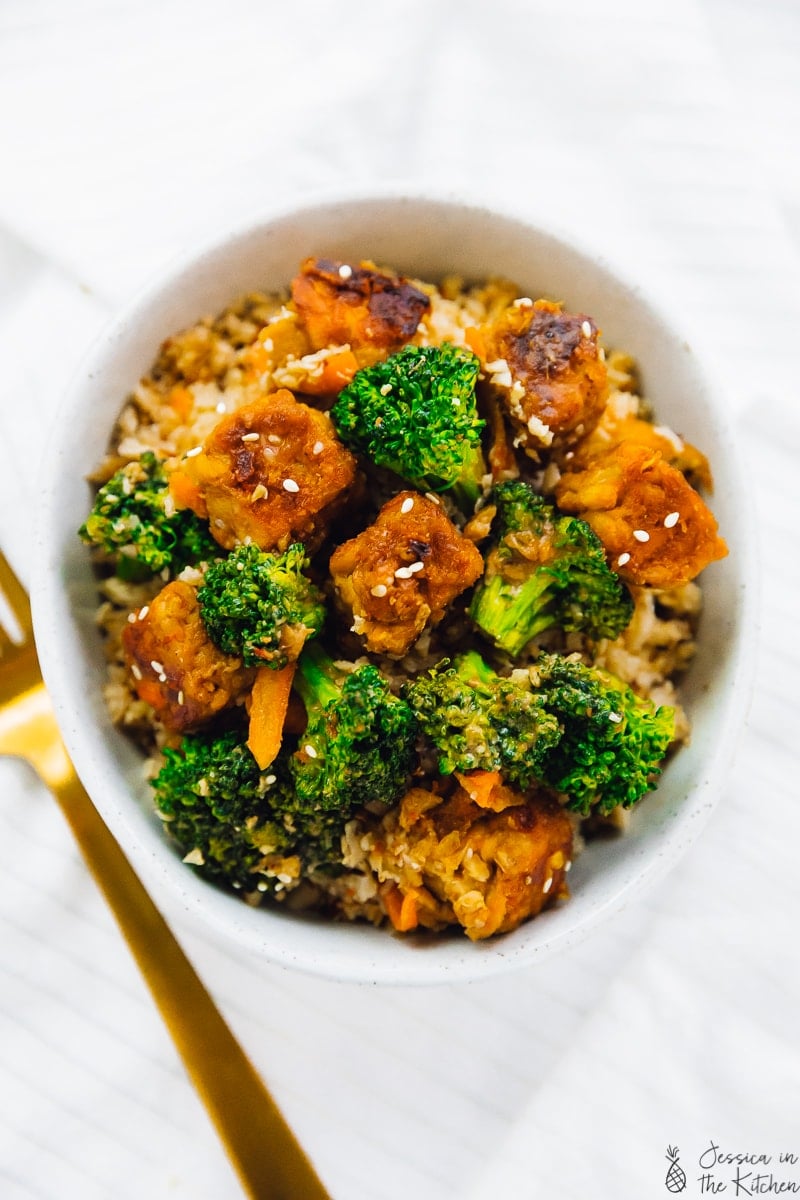 Tips for making this Tempeh Stir Fry with Peanut Ginger Sauce
Crisp up the tempeh really well in the first stage. This will help it's texture when the sauce is mixed in, and give it a great overall texture.
Cut up your veggies to around the same size throughout. So carrots should be the same size julienned all around, and same for broccoli. That way they will all get cooked through evenly and you'll still get a nice bite.
When reheating, I enjoyed reheating this on the stove top over the microwave since it really gave the tempeh back that nice crispness.
Is this Tempeh Stir Fry Low Carb?
Since you know I'm having fun experimenting with lower carb meals, this dish comes in at 8.6 net carbs which is so crazy to me. Add some cauliflower rice on the side and you have a perfect filling meal. I thought maybe this serving five would be too small a portion at first, but thanks to the peanut and the protein in the tempeh, I was so full after my meal. Of course, if you need more – just have more! I hope you enjoy this dish friends! Eat up!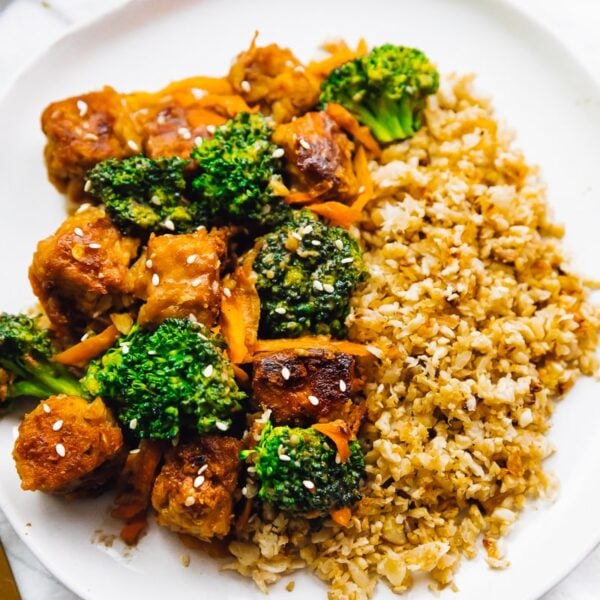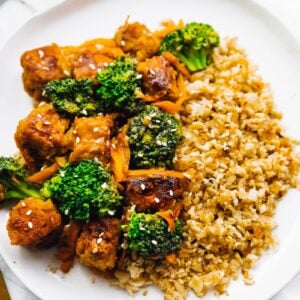 Tempeh Stir Fry with Peanut Ginger Sauce
This Tempeh Stir Fry with Peanut Ginger Sauce is done in 35 minutes & perfect for a weeknight meal! A great meal prep option, and so delicious! 
Ingredients
Peanut Ginger Sauce
1/2 teaspoon ground ginger or freshly minced ginger
1 tablespoon maple syrup
2 tablespoon liquid aminos
1 teaspoon rice wine vinegar
1/2 teaspoon sesame seeds
1/3 cup natural peanut butter
1/4 cup hot water
1/4 teaspoon crushed red pepper flakes
Tempeh Stir Fry
8 ounces tempeh, cut into 1" cubes
Pinch sea salt and pepper
1 tablespoon coconut oil or sesame oil
2 168g heads of broccoli, large stem removed and chopped
1 large carrot, peeled and julienned
Instructions
Peanut Ginger Sauce
Whisk all the ingredients together in a bowl, or mix in a jar with a lid (shake vigorously) or until combined. Set aside until ready to use. This can be made ahead of time and stored in the fridge.
Tempeh Stir Fry
In a pan over medium high, heat the oil. When hot, add in the tempeh and crisp on each side for about 2 minutes on each side, until all sides are crisped up and browned. Add in 2 tablespoons of the sauce and stir to combine for about a minute or two until it's all absorbed into the tempeh. This helps to infuse the tempeh with some sauce while it is cooking. Season with a sprinkle of sea salt and ground black pepper. Remove from pan and set aside.

In the same pan, add the broccoli and carrot and toss for about 2 minutes heat. Then add in a few tablespoons of water and cover pan. Allow to steam for about 2 minutes. Remove cover, lower heat to medium and add in the tempeh and the sauce. Stir to coat everything in the sauce, then and allow to cook for another 2-3 minutes in the sauce.

Remove from heat and top with extra sesame seeds. Serve and enjoy!
Notes
While we didn't need to do it here, sometimes tempeh can have a bitter taste. In that case, steaming the tempeh first removes this and improves the overall flavour. Here's how to steam tempeh:
Cut the tempeh in 1 inch cubes.
In a pan, a steam basket or a cooling rack, and pour some water under neath that is not touching the pan. We're doing this to steam your tempeh, so if you have another way to steam it that's fine too! Even a place on crushed up foil with water underneath will work. Bring to a boil them add the slices of tempeh on top of the cooling rack/basket/plate (not touching the water). Cover with pot cover and steam for ten minutes. This helps to remove the bitterness and helps the tempeh to absorb more flavour.
Again, we didn't do it here and it wasn't bitter at all! We did have to do it for another tempeh brand that we tried.
Calories: 255kcal, Carbohydrates: 15.4g, Protein: 15.6g, Fat: 15.6g, Fiber: 6.8g, Sugar: 4.8g
Disclaimer: Although jessicainthekitchen.com attempts to provide accurate nutritional information, kindly note that these are only estimates. Nutritional information may be affected based on the product type, the brand that was purchased, and in other unforeseeable ways. Jessicainthekitchen.com will not be held liable for any loss or damage resulting for your reliance on nutritional information. If you need to follow a specific caloric regimen, please consult your doctor first.