Thai Peanut Noodles
Thai peanut noodles make for a flavourful, effortless lunch. You'll want to eat the gingery peanut sauce with a spoon!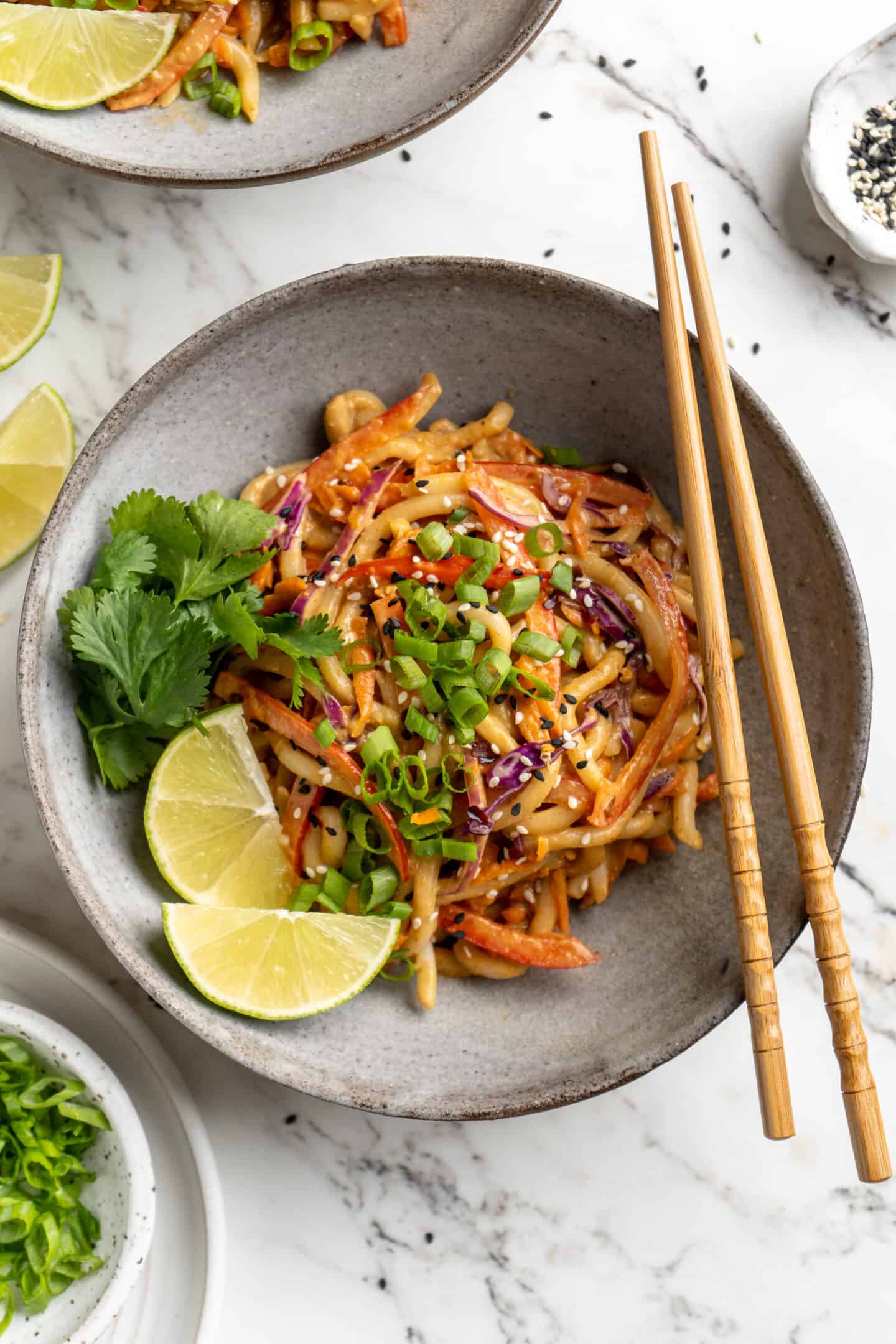 These Thai peanut noodles are something I would have happily packed for lunch in high school and definitely when I was working my day job as an attorney. They're satisfying, yet healthy; they taste like something you'd buy at a restaurant, but they're practically effortless to make. Does it get any better than that?!
Just like my sesame noodles and 15-minute quinoa salad, this is a lunch that can be enjoyed warm or cold, which means you don't have to wait around for the breakroom microwave (or, even worse, cook your noodles in a microwave that just warmed up someone's leftover salmon—yuck). Personally, I prefer these Thai peanut noodles cold so the veggies stay crisp and crunchy!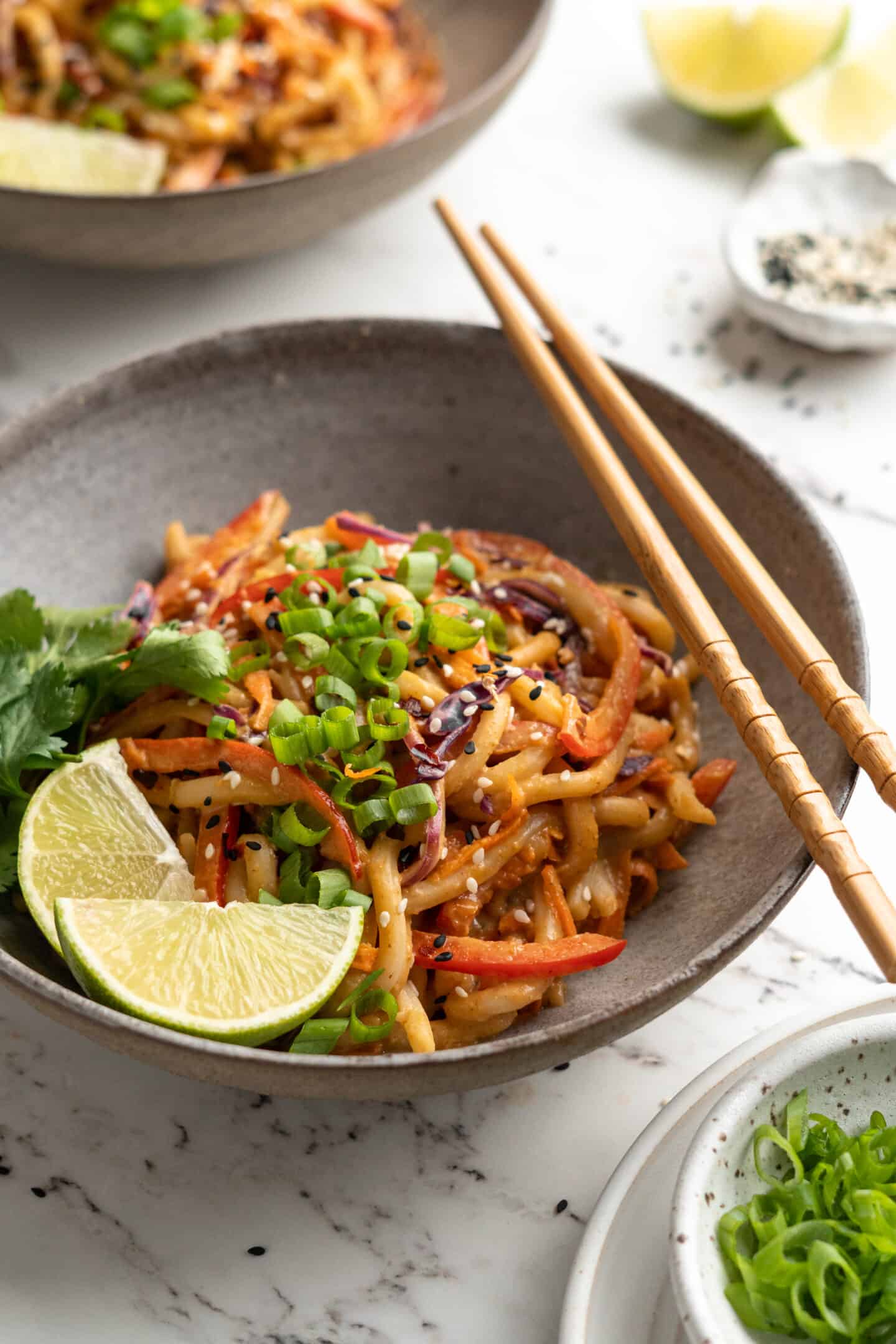 Why You'll Love This Thai Peanut Noodles Recipe
Here are the best things about this cold noodle salad:
Great for lunches. Peanut noodles are kid-friendly and adult-approved, which means they're great for school and work lunches!
It's super simple. This noodle salad recipe takes less than 15 minutes to throw together.
Smooth and creamy peanut sauce. Hello delicious! Peanut sauce is a favorite for good reason—it's just sweet enough and it's loaded with big, bold flavours. Here we combine creamy peanut butter with just the right amount of ginger, maple syrup, and red pepper flakes to make it perfectly balanced.
Loaded with veggies. Crunchy fresh vegetables make this noodle salad a true showstopper. I love adding red peppers, carrots, and cabbage for texture and colour, but you can easily use whatever you happen to have on hand in your crisper drawer.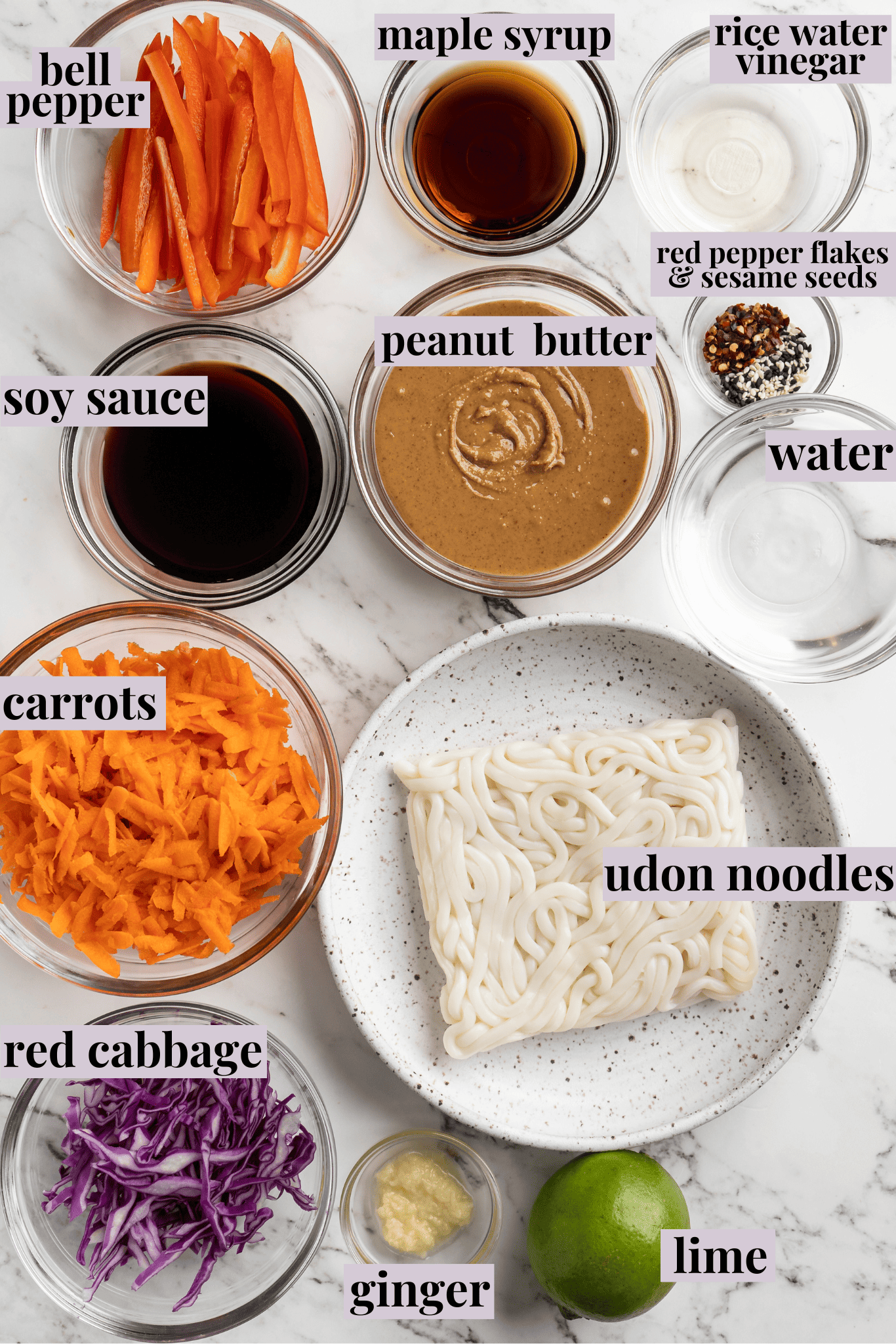 Notes on Ingredients
Scroll down to the recipe card to find the ingredient quantities and recipe instructions.
For the Noodle Salad:
Noodles –Udon noodles are great, or use soba for a gluten-free option.
Green or red bell pepper – Green has a bit more bite, while red bell peppers are sweeter.
Carrot
Red cabbage – Regular green cabbage is fine too, just not quite as colorful.
For the Peanut Ginger Sauce:
Fresh ginger
Maple syrup – Coconut sugar is another option for sweetening this peanut sauce.
Low-sodium soy sauce – Or tamari or liquid aminos.
Warm water
Rice wine vinegar – Make sure you use unseasoned, which isn't sweetened.
Sesame seeds
Natural peanut butter – Use smooth, not crunchy.
Crushed red pepper flakes
Lime juice – Optional, for a little extra zip.
Garnish – Sesame seeds and chopped peanuts.
Can I Substitute Ground Ginger for Fresh?
No, I don't recommend substituting ground ginger for fresh. Fresh ginger has a much more pungent flavour than ground and will give you the best results in this recipe. However, if you don't have any fresh ginger on hand, you can use ground ginger as an alternative. Keep in mind that the flavour won't be quite as intense and vibrant.
How to Make Thai Peanut Noodles
You're just a few minutes away from enjoying a satisfying peanut noodle salad! Here's what you need to do.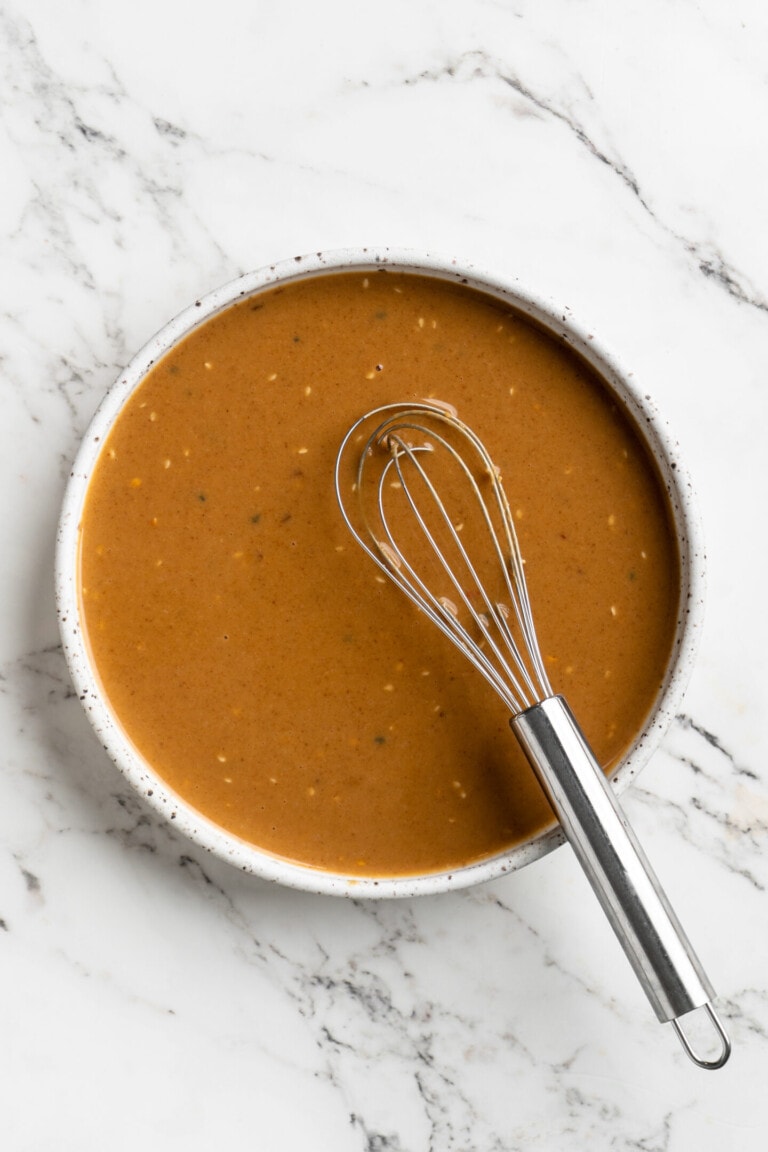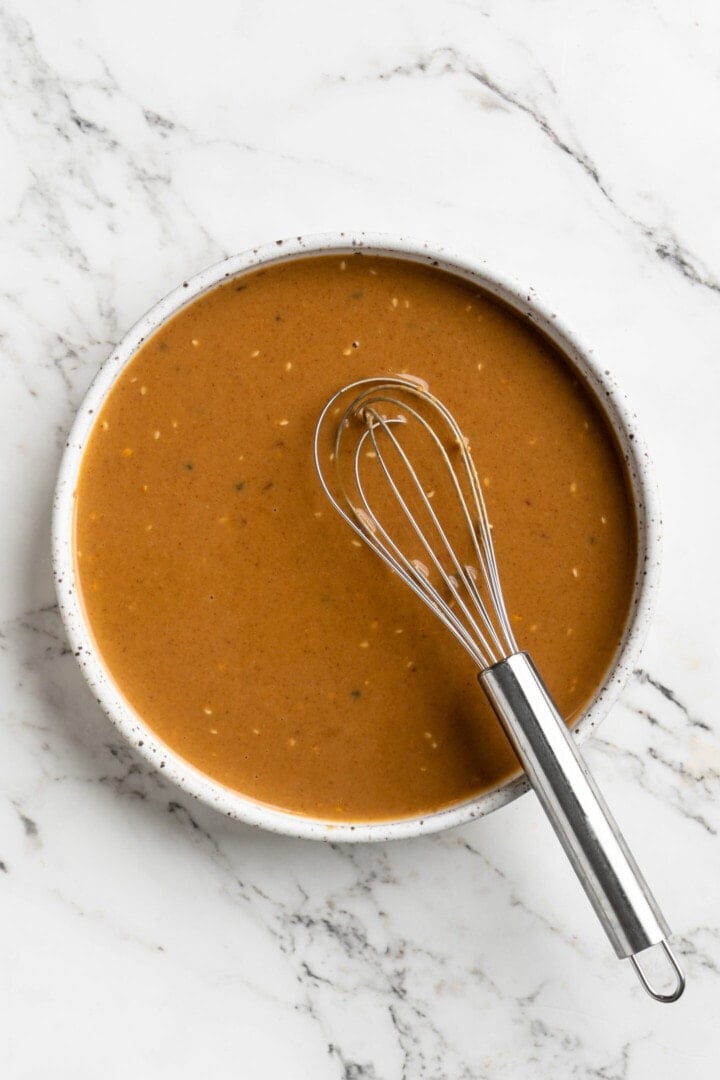 Make the peanut sauce. Whisk the ingredients together until they're smooth, creamy, and well-combined.
Cook the noodles. Cook the noodles in a pot of salted water according to the package directions. Drain and cool.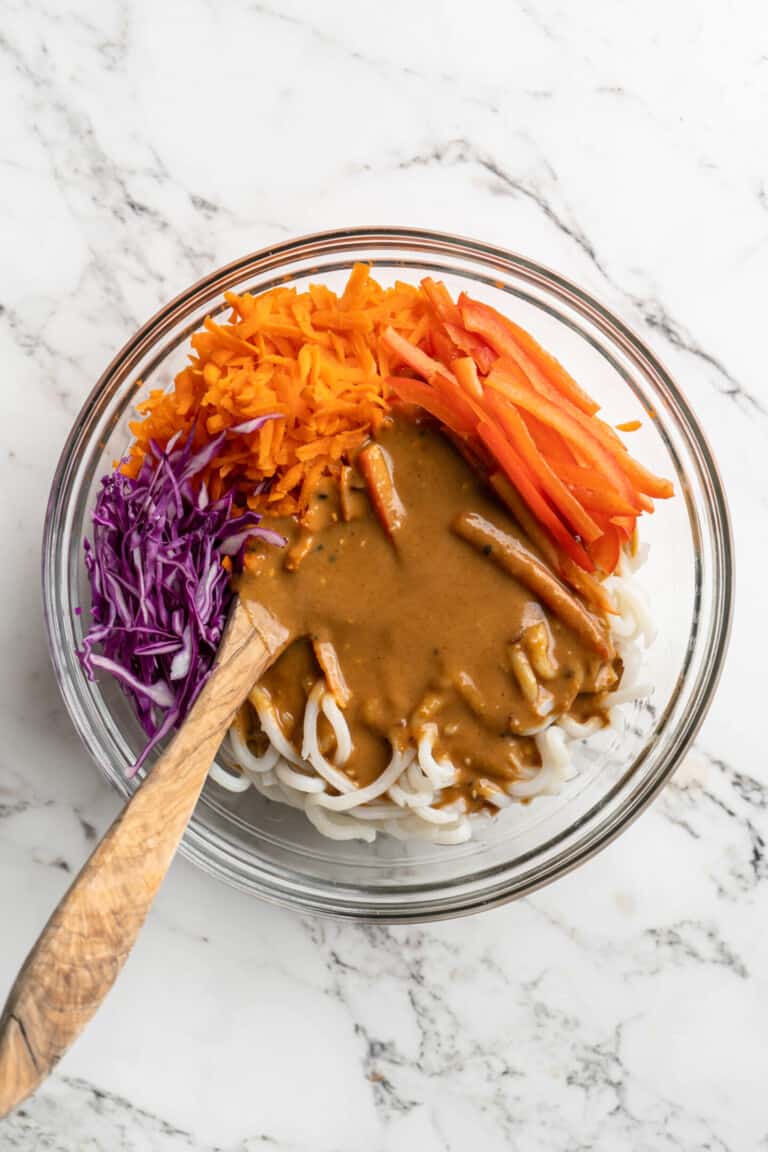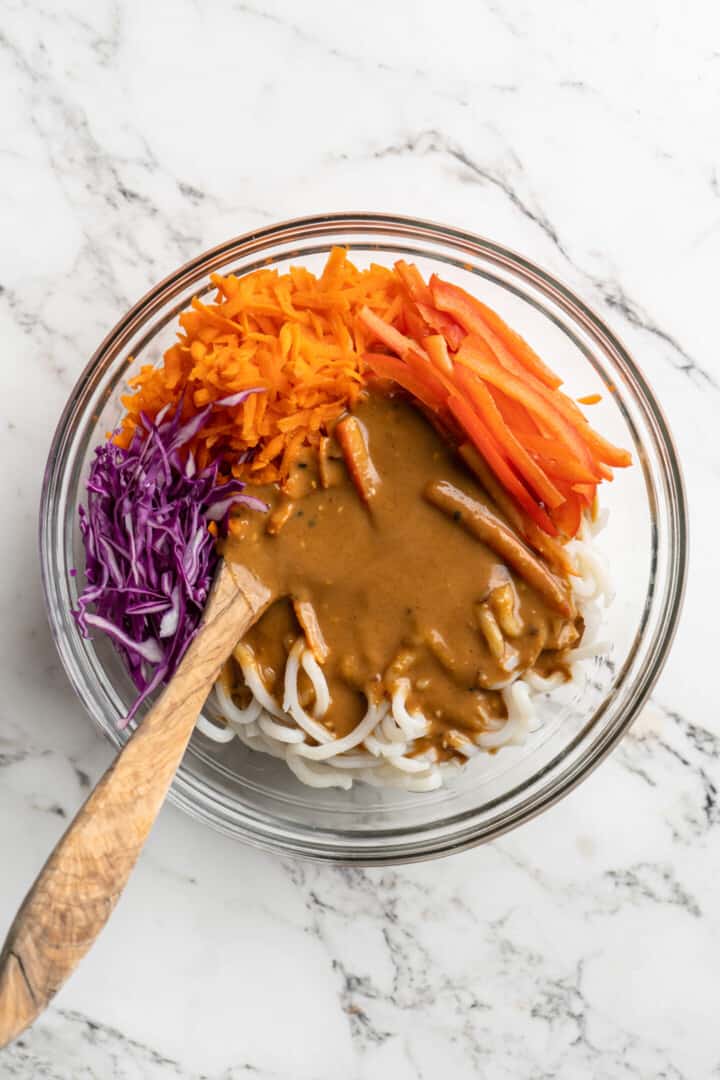 Assemble. Toss together the noodles, veggies, and peanut sauce and season to taste.
Serve. Garnish with sesame seeds and chopped peanuts, then enjoy!
Tips for Success
Follow these additional pointers for perfect Thai peanut noodles:
Make sure to use the right type of noodles. Udon and soba are both great options for this dish, but you can also experiment with different types of noodles like ramen or somen. Even spaghetti or linguine will work if you don't have Asian noodles on hand.
Adjust the heat level. If you're not a fan of spicy food, you can reduce the amount of crushed red pepper flakes in the sauce. Love your food hot and spicy? Then add some more!
Whisk the sauce well. It can take some time for peanut sauce to come together! Keep whisking until all the ingredients are well-combined. If it seems too thick, you can add more water a teaspoon or two at a time.
Serving Suggestions
If you want to add some additional garnishes to your Thai peanut noodles, here are some ideas:
Edamame or marinated tofu for extra protein
Asian pickled cucumbers
Fresh herbs like basil, mint, or cilantro
Crispy wonton strips
A drizzle of toasted sesame oil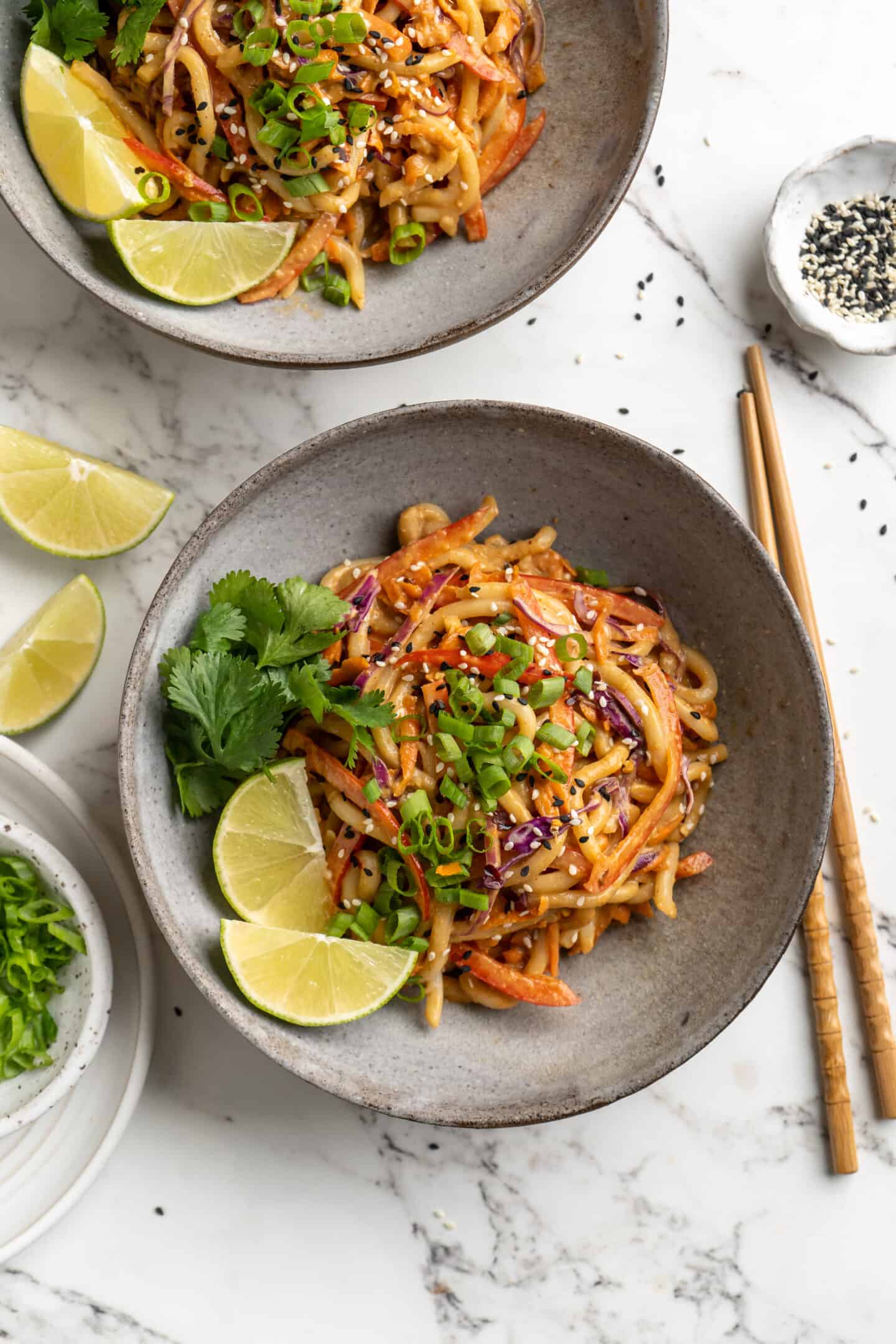 Variations
Looking to switch things up? Here are some ideas for variations on this recipe:
Use different types of nuts or nut butters in the sauce—try almond butter or cashew butter.
Make it nut-free (and perfect for school lunches!) by swapping the peanut butter for sunflower seed butter.
Use fresh lime juice instead of rice wine vinegar.
Swap the fresh raw vegetables for steamed or sautéed vegetables.
How to Store Leftovers
Store Thai peanut noodles in an airtight container in the fridge for 3 to 4 days.
Can I Freeze This Recipe?
With the fresh vegetables in these Thai peanut noodles, this recipe is best enjoyed when freshly made.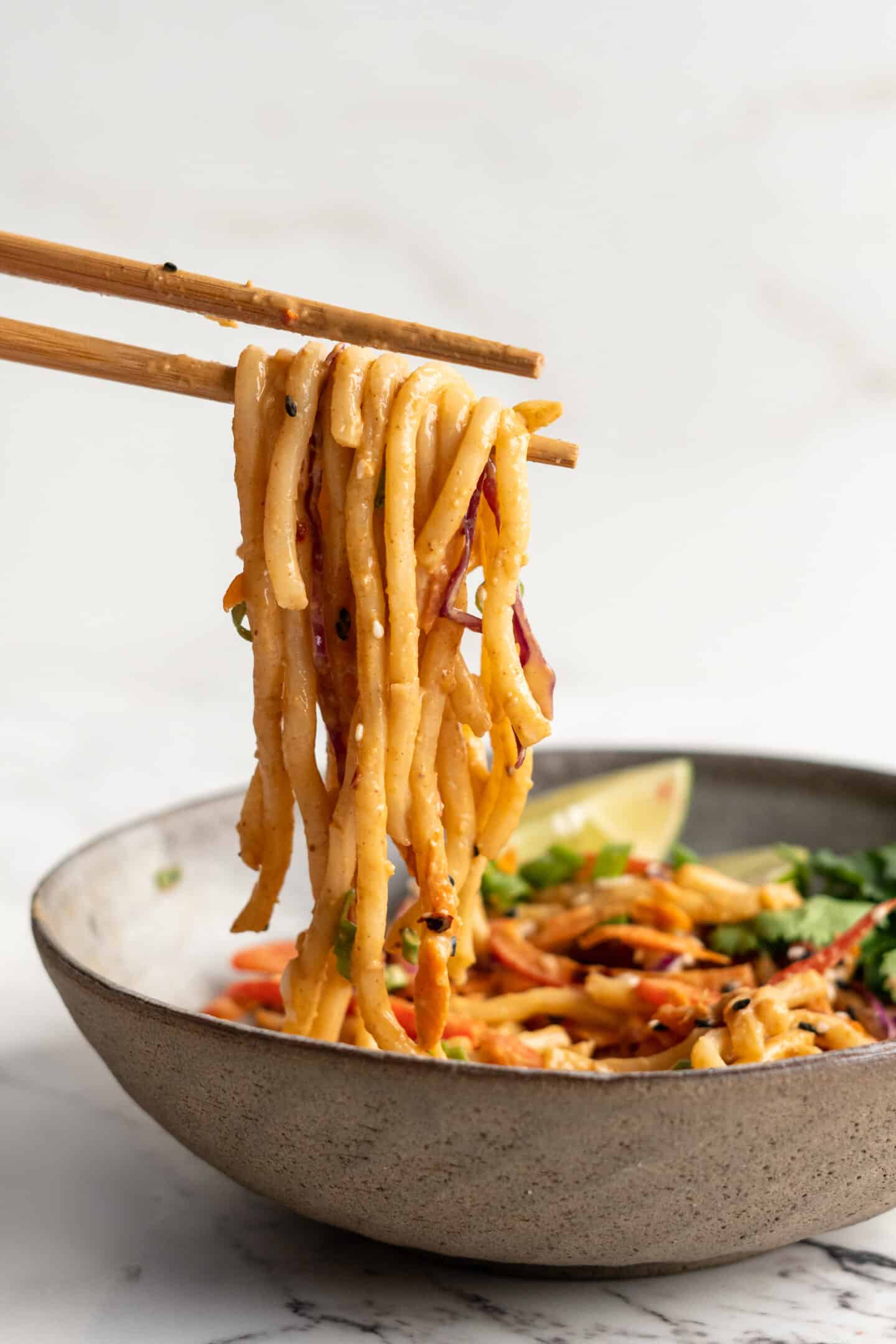 More Easy Vegan Lunch Ideas
Enjoy friends! If you make this Thai peanut noodles recipe, please snap a photo and tag #jessicainthekitchen on Instagram! We'd also love it if you would leave a comment below, and give the recipe a rating! Thanks so much!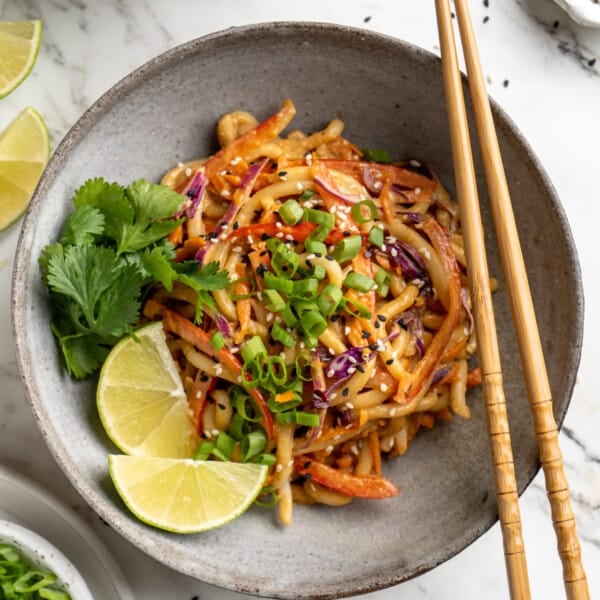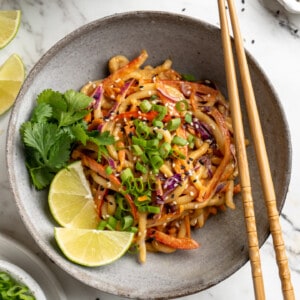 Thai Peanut Noodles
Thai peanut noodles make for a flavourful, effortless lunch or meal prep dinner. You'll want to eat the gingery peanut sauce with a spoon!
Ingredients
Noodle Salad
8 ounces noodles, such as udon noodles (soba for gluten free)
1 medium green or red bell pepper, 96g, thinly sliced
1 large carrot, thinly grated, 106g
⅓ cup red cabbage slices, 51g
Peanut Ginger Sauce
1/2 teaspoon fresh ginger
1 tablespoon maple syrup
3 tablespoons low sodium soy sauce
3 tablespoons warm water
1 tablespoon rice wine vinegar
1/2 teaspoon sesame seeds
1/3 cup natural peanut butter, smooth
1/4 teaspoon crushed red pepper flakes
Juice ½ lime, optional
sesame seeds and chopped peanuts, for garnish
Instructions
Peanut Ginger Sauce
Whisk all the ingredients together in a deep bowl until combined. Set aside until ready to use.
Noodle Salad
Allow a pot of salted water to come to a boil. Add the noodles and cook and drain and cool according to your package's directions. Allow noodles to cool completely, and drain off as much water as possible.

In a large bowl, add the noodles, veggies and the peanut ginger sauce and toss together to combine. Taste and adjust flavour according to your liking. Garnish with sesame seeds and chopped peanuts and enjoy!
Notes
To store: Store Thai peanut noodles in an airtight container in the fridge for 3 to 4 days.
Calories: 382kcal, Carbohydrates: 55g, Protein: 15g, Fat: 12g, Saturated Fat: 2g, Sodium: 829mg, Potassium: 358mg, Fiber: 4g, Sugar: 8g, Vitamin A: 1051IU, Vitamin C: 45mg, Calcium: 33mg, Iron: 1mg
Disclaimer: Although jessicainthekitchen.com attempts to provide accurate nutritional information, kindly note that these are only estimates. Nutritional information may be affected based on the product type, the brand that was purchased, and in other unforeseeable ways. Jessicainthekitchen.com will not be held liable for any loss or damage resulting for your reliance on nutritional information. If you need to follow a specific caloric regimen, please consult your doctor first.