Noodle Salad with Peanut Ginger Sauce
This Creamy Dreamy Noodle Salad is loaded with so much flavour and is amazing for an easy lunch! It's tossed in a creamy peanut ginger sauce!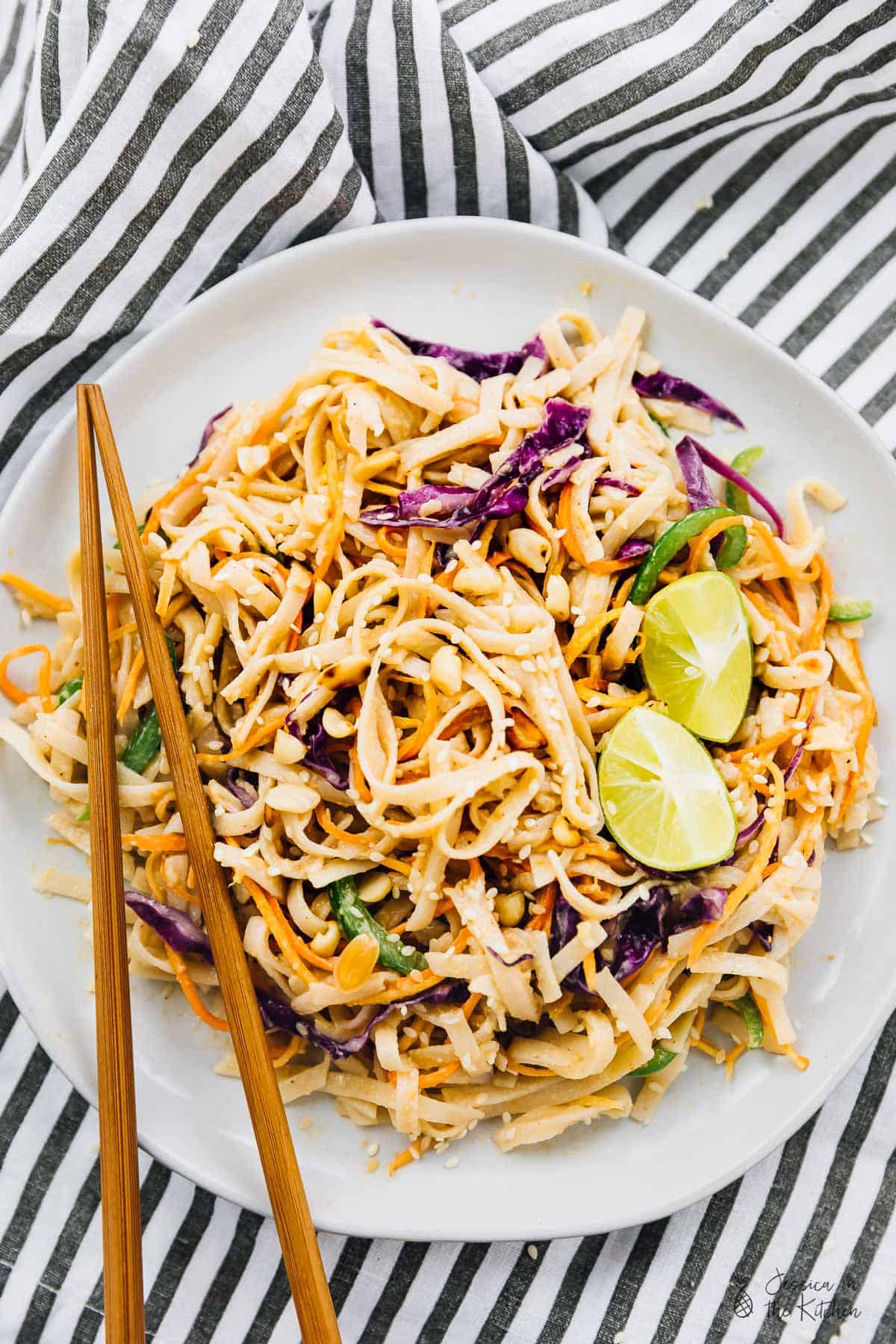 Have you ever noticed that when you hear throwback music, even if you haven't heard it in years, you seem to automatically know all of the lyrics? We went to brunch yesterday and I was literally bopping along to songs that I definitely haven't heard in over 10 years. Even though we always hear that the human brain has terrible memory (hi Mandela Effect), it's interesting the things that we hold onto in our memories. Music has always been that thing for me.
Speaking of memories, this noodle salad is something I would've happily packed for lunch in high school and back in university and definitely when I was working a day job as an attorney. Even though I didn't live on campus for university, and home wasn't that far from work, it always made such a difference to pack lunch. Otherwise it meant going home for lunch (TERRIBLE idea) or always having to buy lunch (ugh.). I admit I wasn't always the best at planning meals ahead back then, but I'd like to think that I've gotten way better at it now.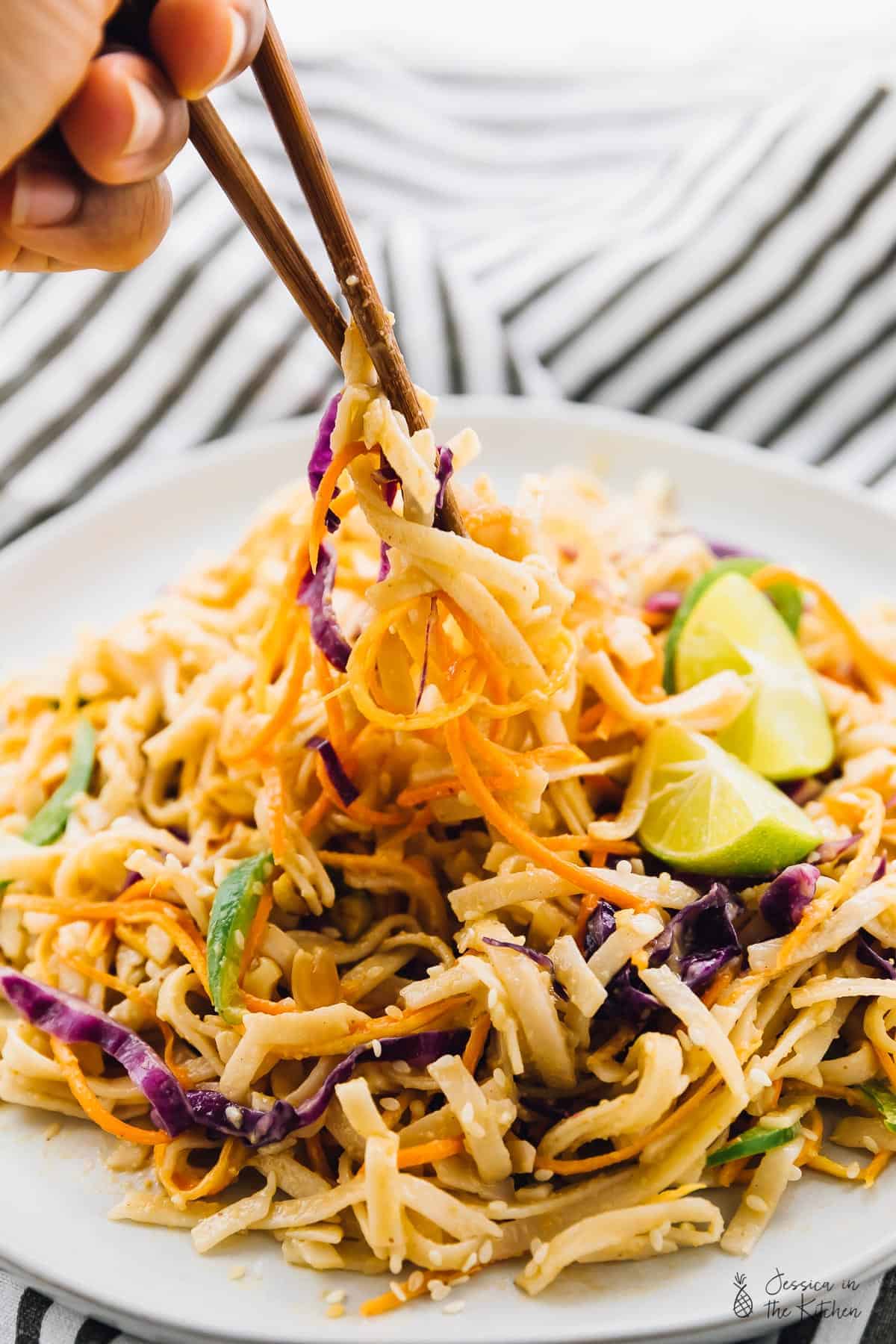 Noodle Salad
Take this Noodle Salad for example. It makes you WANT to prep ahead of time. You'd think cold noodles would taste kinda weird, but they're so amazing. Add some thinly sliced veggies and top with a creamy
thai peanut sauce
? Yup, that's lunch friends. Best things about this cold noodle salad:
Great for lunches
Tastes amazing cold
Smooth and creamy peanut sauce
Loaded with veggies
Easy to swap for your favourite veggies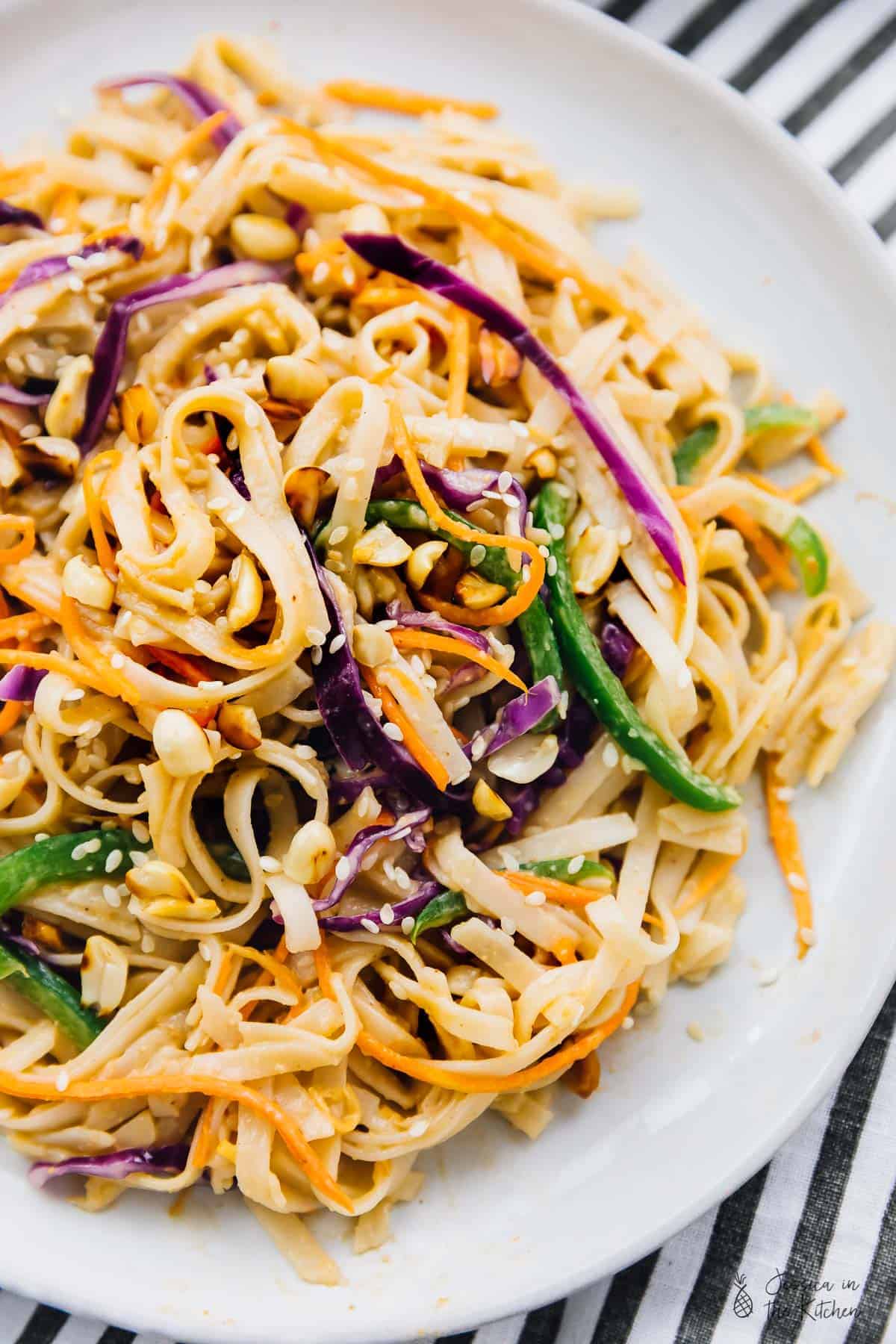 It doesn't matter where you're having lunch – this will work so well. In fact if you want to bring it school and peanuts aren't allowed, you could easily swap it out. Almonds, tahini, sunflower seed butter – they'll all work as a great base. The noodles keep great for a few days, too. They're super filling thanks to the noodles and the nut butter.
So tell me – do you also seem to have fantastic memory when it comes to old songs? And when are you making these noodles?! Enjoy friends!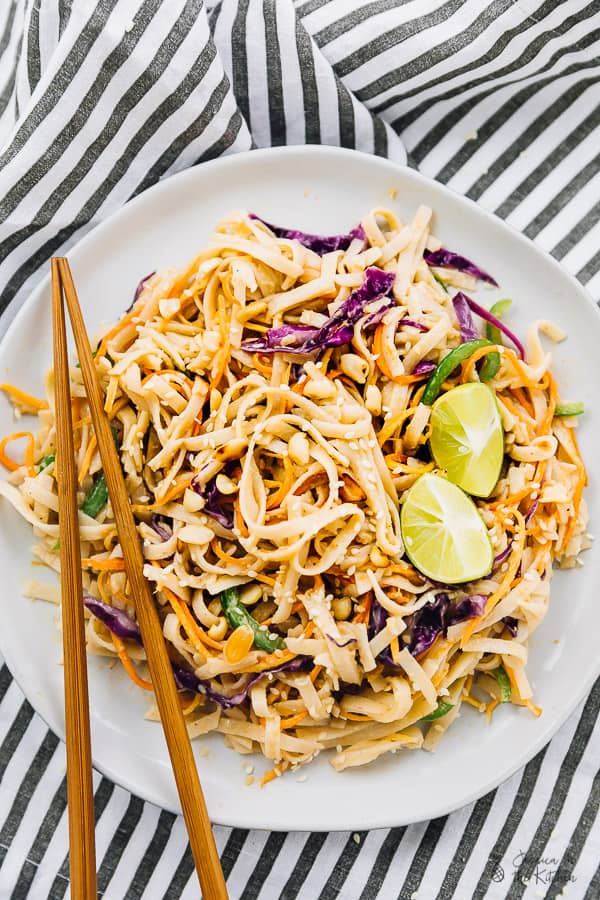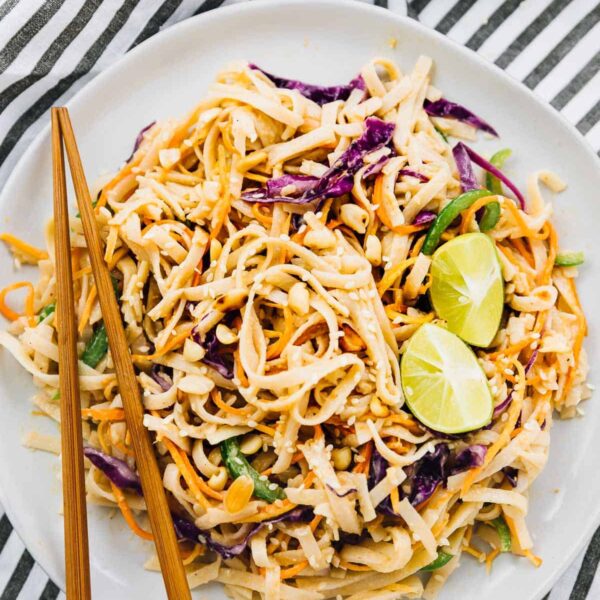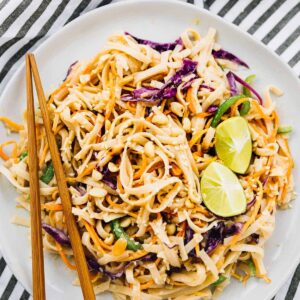 Noodle Salad with Peanut Ginger Sauce
This Noodle Salad is loaded with so much flavour and is amazing for an easy lunch! It's tossed in a creamy peanut ginger sauce!
Ingredients
Noodle Salad
8 ounces noodles, soba for gluten free
1 medium green or red bell pepper, 96g, thinly sliced
1 large, 106g carrot, thinly grated
⅓ cup 51g red cabbage slices
Peanut Ginger Sauce
1/2 teaspoon fresh ginger
1 tablespoon maple syrup
3 tablespoons liquid aminos
3 tablespoons warm water
1 tablespoon rice wine vinegar
1/2 teaspoon sesame seeds
1/3 cup natural peanut butter, smooth
1/4 teaspoon crushed red pepper flakes
Juice ½ lime, optional
Instructions
Peanut Ginger Sauce
Whisk all the ingredients together in a deep bowl until combined. Set aside until ready to use.
Noodle Salad
Allow a pot of salted water to come to a boil. Add the noodles and cook and drain and cool according to your package's directions. Allow noodles to cool completely, and drain off as much water as possible.

In a large bowl, add the noodles, veggies and the peanut ginger sauce and toss together to combine. Taste and adjust flavour according to your liking. Serve and enjoy!
Calories: 382kcal, Carbohydrates: 55g, Protein: 15g, Fat: 12g, Saturated Fat: 2g, Sodium: 829mg, Potassium: 358mg, Fiber: 4g, Sugar: 8g, Vitamin A: 1051IU, Vitamin C: 45mg, Calcium: 33mg, Iron: 1mg
Disclaimer: Although jessicainthekitchen.com attempts to provide accurate nutritional information, kindly note that these are only estimates. Nutritional information may be affected based on the product type, the brand that was purchased, and in other unforeseeable ways. Jessicainthekitchen.com will not be held liable for any loss or damage resulting for your reliance on nutritional information. If you need to follow a specific caloric regimen, please consult your doctor first.