Vegan BLT Sandwich
This Vegan BLT Sandwich is loaded with lots of meaty flavour! It's perfect for quick lunches and dinners and you can use the tempeh bacon in so many ways!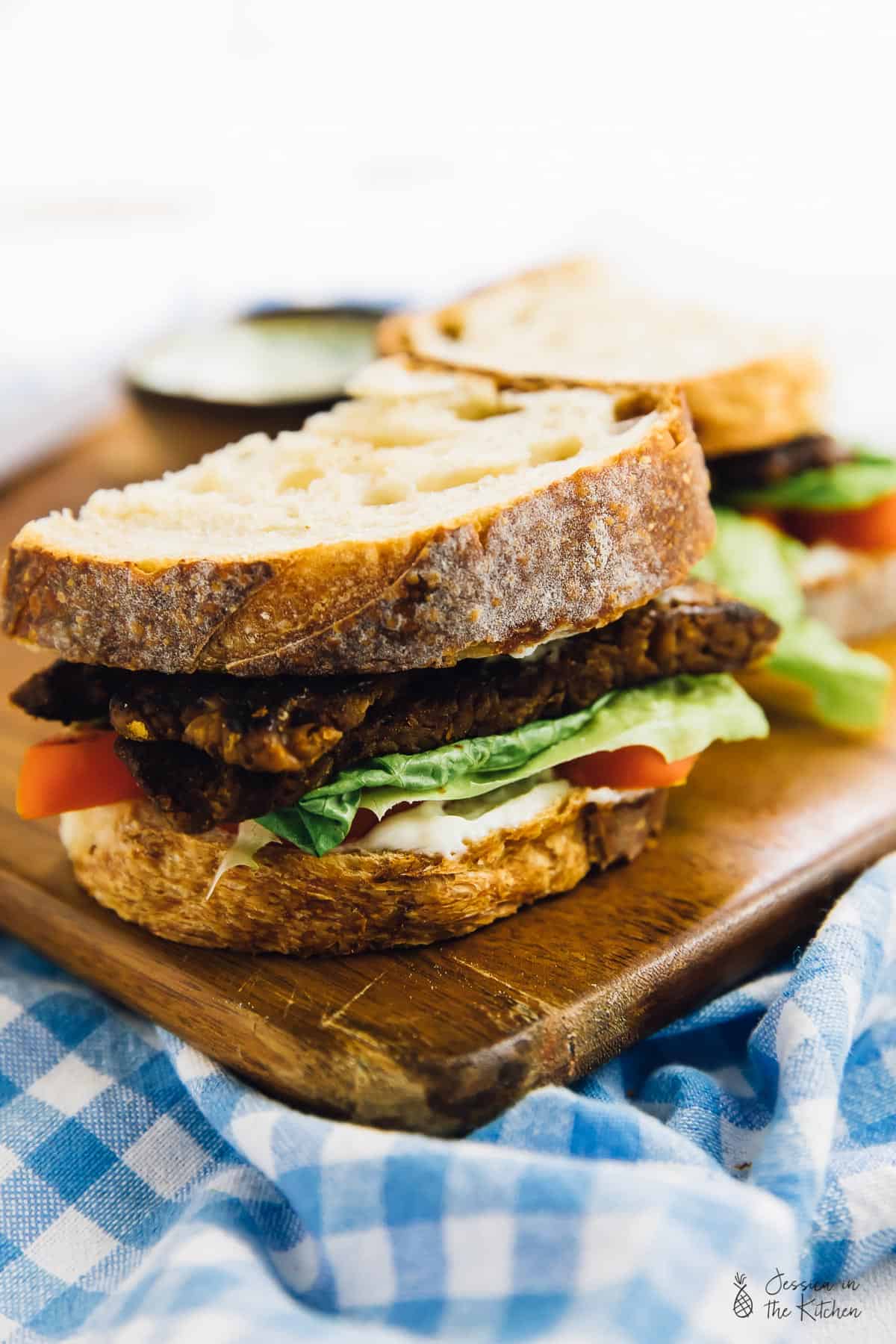 2018 was a really inspiring year for me. I'm so glad that I was able to do so many amazing things and have so many amazing things highlighted to me. One of the coolest things happening food wise, is that I got to step out of my comfort zone. Trying brand new things, and recreating dishes that I think you guys have been craving. Only to realise, they are dishes that I've been craving too.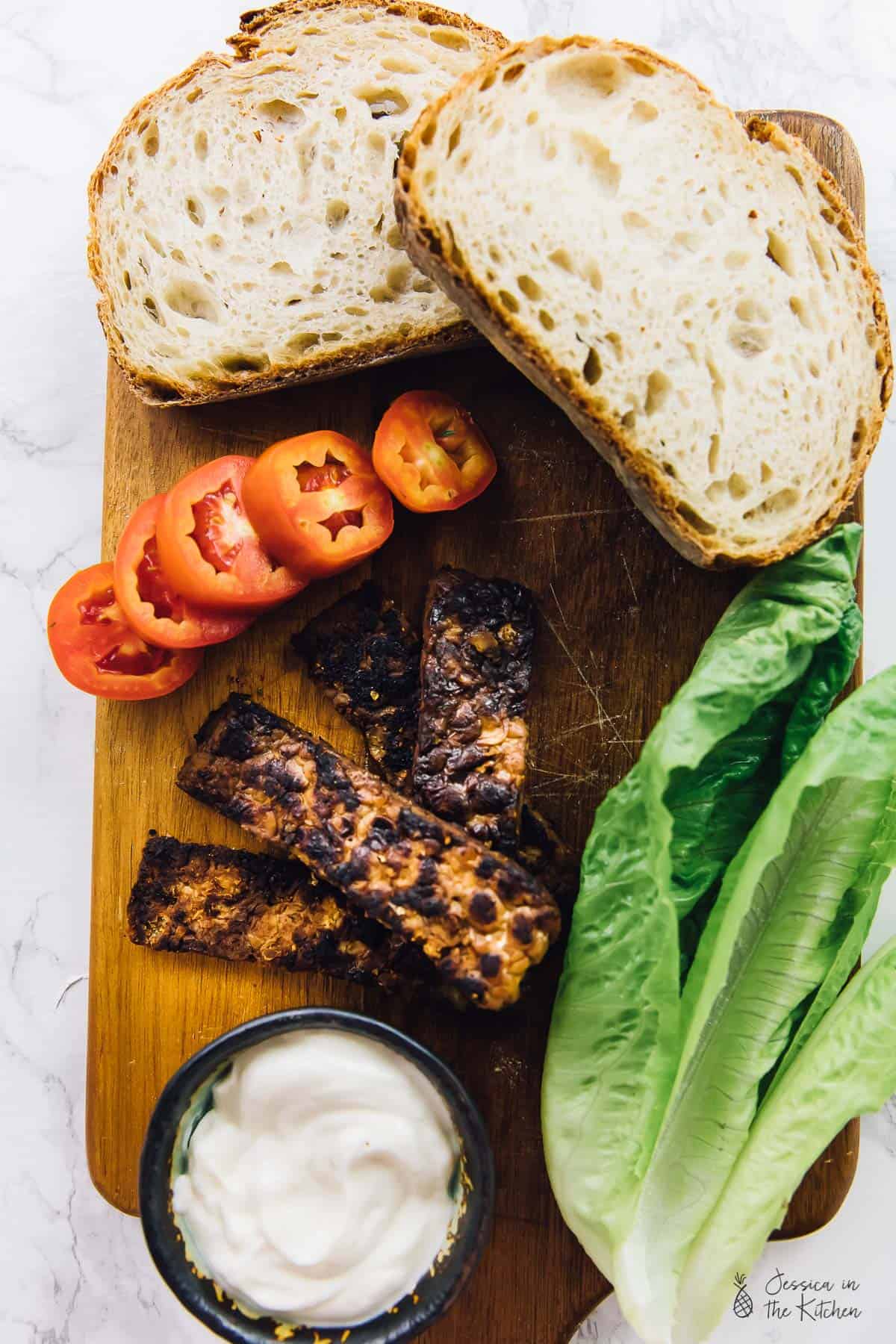 That's where this Vegan BLT Sandwich comes in. Meaty, crispy, crunchy and one of the best sandwiches I've had since this year has started. Let's start with the amazing components making that sandwich, most importantly the tempeh bacon.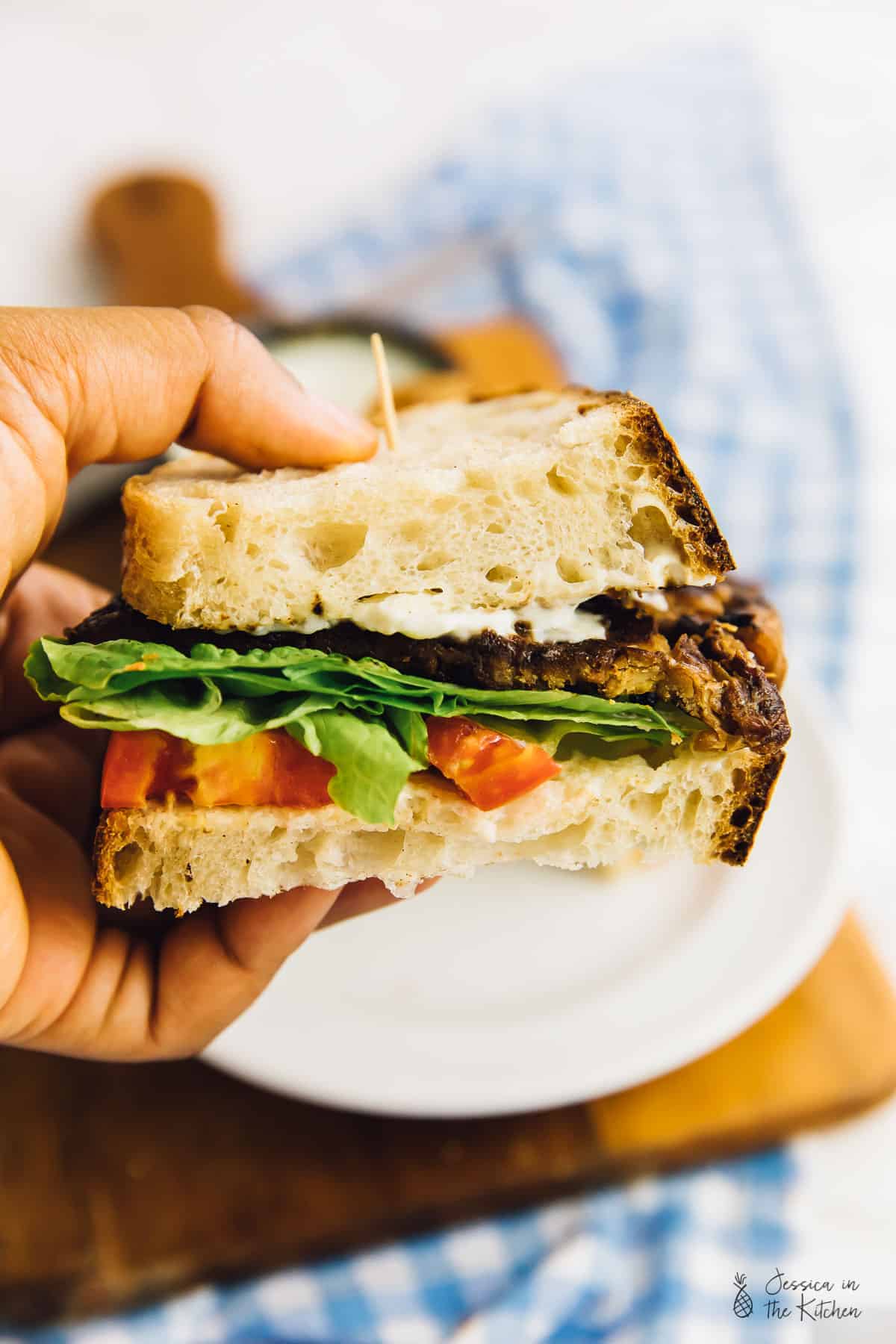 I've always wanted to experiment more with vegan bacon recipes, and that's where the tempeh bacon came in. I've made a
shiitake mushroom bacon
and a
coconut bacon
, and now I can proudly say that this tempeh bacon was also a success and made the list. What a divine creation.
Tempeh naturally soaks up amazing flavour once prepared properly, so it was such a great base to build a nice thick and filling sandwich. The tempeh bacon can also be used in a ton of other recipes. A vegan Cobb salad is definitely on the horizon, a buddha bowl, or any other sandwich. Even with a brunch dish with my
tofu scramble
.
After that it's the well now lettuce, tomato and that bread. I recommend romaine lettuce, but well, iceberg lettuce has no nutritional value, and romaine tastes much better. If you can get your hands on a beef tomato, definitely use that. Otherwise a nice, fresh tomato that hasn't been in the fridge works perfectly. The bread? Personally, I prefer a sourdough bread. Any bread that you love works here though. Vegan mayonnaise isn't a must, but it sure does up the overall quality of this sandwich.
Who's making this with me?! Enjoy friends!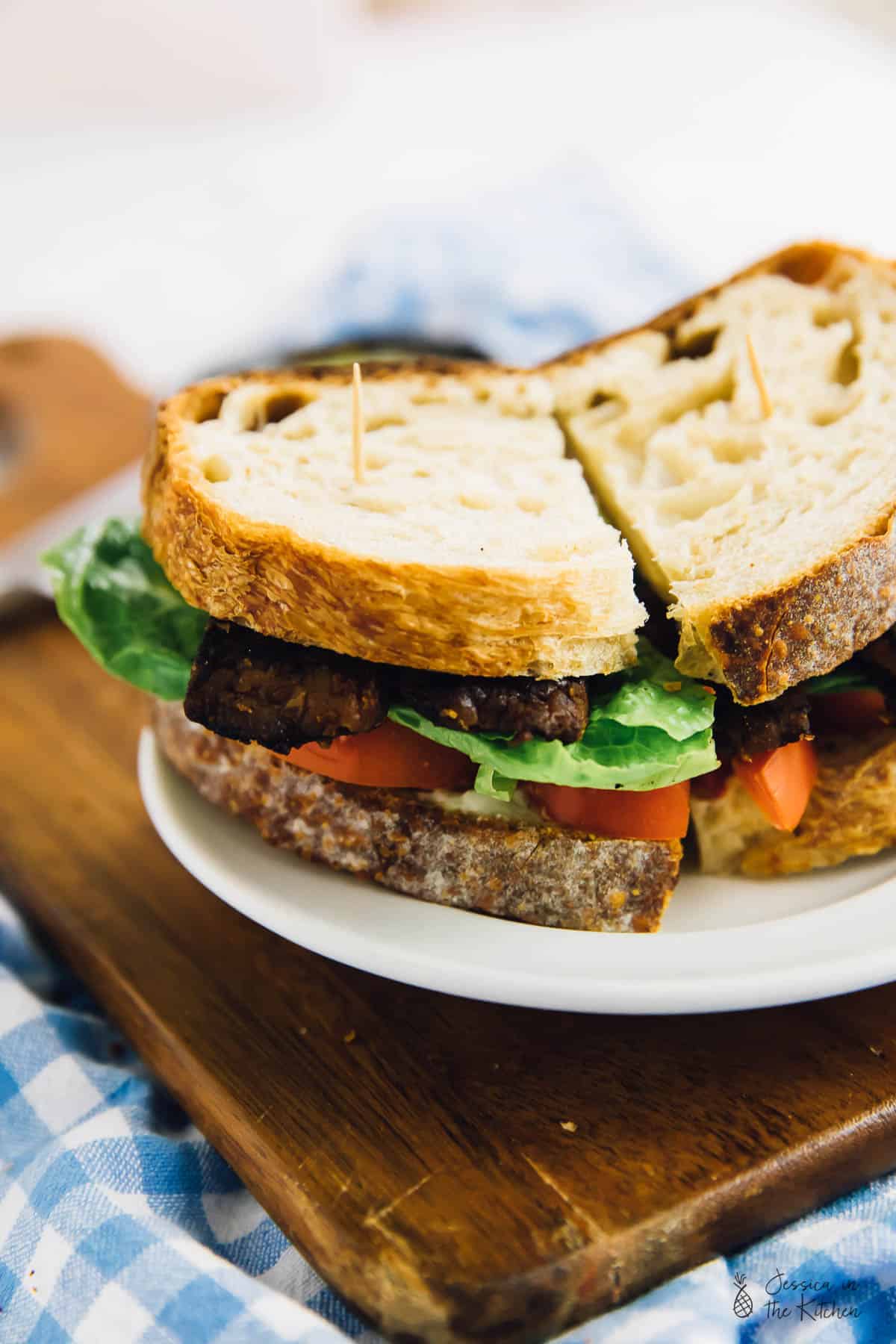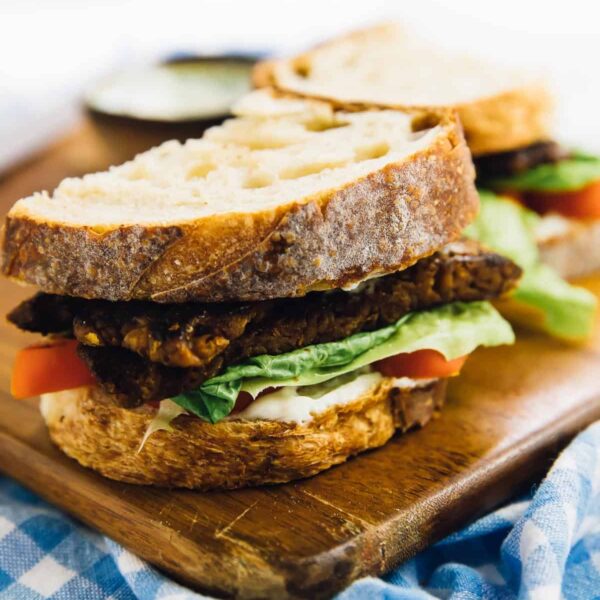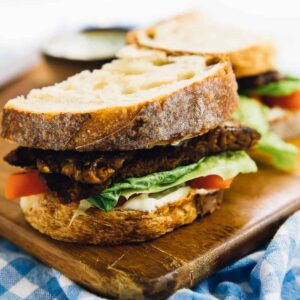 Vegan BLT Sandwich
This Vegan BLT Sandwich is loaded with lots of meaty flavour! It's perfect for quick lunches and dinners and you can use the tempeh bacon in so many ways!
Ingredients
Tempeh Bacon
3 tablespoons low sodium soy sauce, tamari or liquid aminos*
2 teaspoons liquid smoke
1 ½ tablespoons maple syrup
½ teaspoon smoked paprika, for colour
8 ounces tempeh
1 - 2 teaspoons coconut oil
Sandwich
3 slices romaine lettuce, washed and chopped
1 large tomato, sliced
½ tablespoon vegan mayonnaise
2-3 slices of tempeh bacon
2 slices sourdough bread, or bread of your choice
Instructions
Tempeh Bacon
Slice the tempeh as thin as you can (without letting it fall apart). This helps to crips up the tempeh bacon slices. If you don't care about that, feel free to slice of however you want.

In a pan, a steam basket or a cooling rack, and pour some water under neath that is not touching the pan. We're doing this to steam your tempeh, so if you have another way to steam it that's fine too! Even a place on crushed up foil with water underneath will work. Bring to a boil them add the slices of tempeh on top of the cooling rack/basket/plate (not touching the water). Cover with pot cover and steam for ten minutes. This helps to remove the bitterness and helps the tempeh to absorb more flavour.

In a bowl or a Tupperware container, stir together the liquid smoke, the maple syrup, the tamari/liquid aminos and the smoke paprika. Add in the slightly cooled tempeh and gently toss or stir to ensure all of the pieces are marinated. Cover and let marinate for 2 hours up to overnight.

When you've finished marinating them, heat the oil in a pan over medium high heat.

Add the slices of tempeh bacon and allow to cook for about 2-3 minutes on each side, until cooked through and browned. Remove from heat, and add over any extra marinade to coat the tempeh in it from the residual heat.

Serve in a BLT sandwich, in a vegan Cobb salad, or any other way you desire!
BLT Sandwich
Spread the mayonnaise evenly on both slices of bread. Assemble the ingredients: Slice of bread, tempeh bacon, lettuce, tomato, then slice of bread.
Notes
*If you have neither of these, you could also use a low sodium soy sauce. *If you're soy-free, you can use chickpea tempeh. Calories are for tempeh alone, one serving of tempeh + the sandwich ingredients would be 431 calories.
Calories: 163kcal, Carbohydrates: 12g, Protein: 11g, Fat: 9g, Saturated Fat: 4g, Polyunsaturated Fat: 2g, Monounsaturated Fat: 2g, Sodium: 411mg, Potassium: 278mg, Fiber: 1g, Sugar: 5g, Vitamin A: 123IU, Vitamin C: 1mg, Calcium: 74mg, Iron: 2mg
Disclaimer: Although jessicainthekitchen.com attempts to provide accurate nutritional information, kindly note that these are only estimates. Nutritional information may be affected based on the product type, the brand that was purchased, and in other unforeseeable ways. Jessicainthekitchen.com will not be held liable for any loss or damage resulting for your reliance on nutritional information. If you need to follow a specific caloric regimen, please consult your doctor first.