How to Make Coconut Bacon (Vegan Bacon)
Learn how to make coconut bacon with just 5 ingredients in just 20 minutes! It's smoky, crispy, crunchy and tastes JUST like the real thing!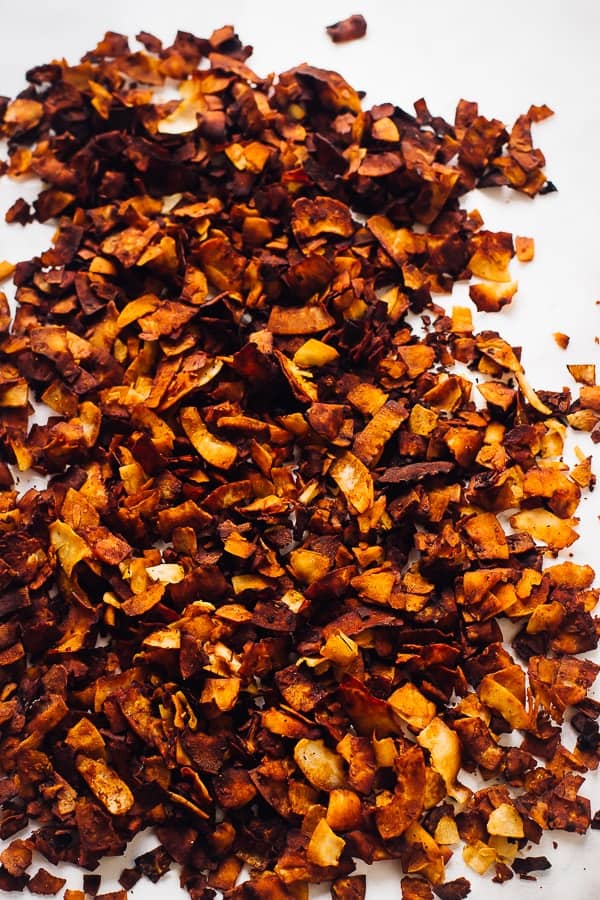 Coconut bacon. VEGAN bacon. This is quite possibly one of the greatest things ever invented. If you're a bacon lover you may or may not be sneering at your screen right now, but do NOT knock it until you try it. My husband, lover of bacon, was given this is in a blind test (#foodbloggerhusbandproblems) and remarked immediately "Hey, this tastes like bacon!"
Would I lie to you? If for that reason alone, you need to see how to make this incredible coconut bacon.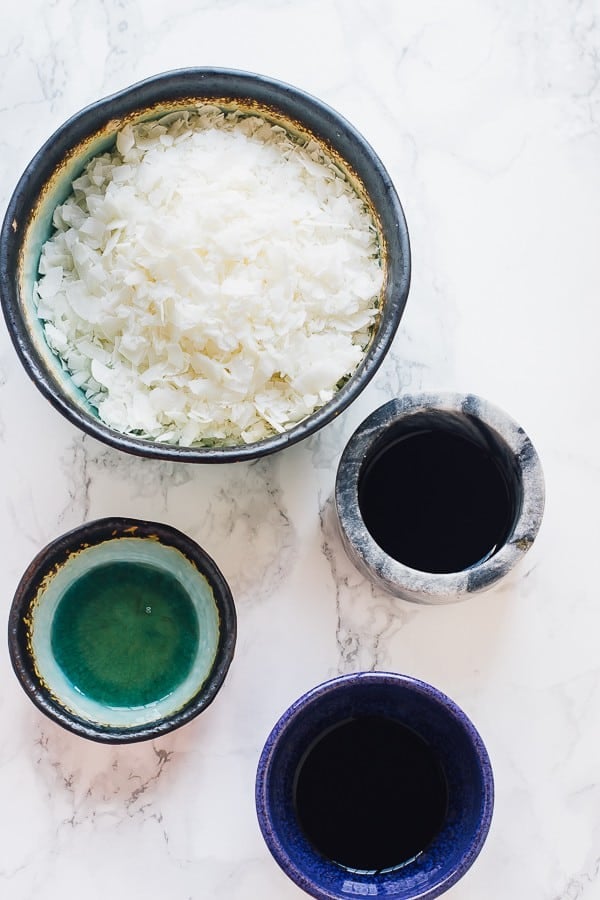 I make no claims to inventing coconut bacon, but I sure wish I had tried it the first time I saw it floating around the web. You see I haven't had bacon in so long that I truly don't even remember what it tastes like, so I had no real interest in giving it a try. Then came the Fall of 2016.
Okay, so it still isn't Fall yet but let's pretend it is. I suddenly wanted to make a harvest cobb salad (coming next month) and all the sads came when I realised that I couldn't really call it a cobb salad if there was no bacon, right? Wrong. A smart, wise and hungry voice told me to try coconut bacon. After scouring the internet and particularly loving a video I had seen by hot for food I decided to give it a try. After a few tries and recipe testing, I came forward with this beauty.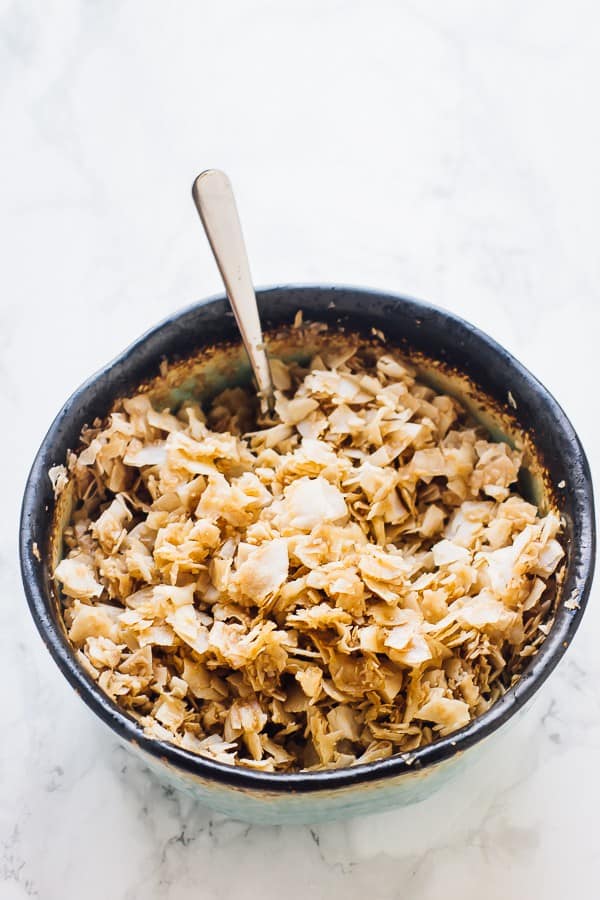 So you still may be wondering, okay Jessica, but WHAT is coconut bacon? Coconut bacon is vegan bacon that is made out of unsweetened large coconut flakes, flavoured with the amazing umami inducing flavours of tamari, liquid smoke and maple syrup, and baked to a golden crisp perfection that actually, actually looks and tastes like bacon. I know, I can't believe I'm saying these words too.
I don't mean your fry in a pan bacon, but more like bacon bits. If the Mr. fell in love with it, you'll definitely love it too. I've already used it on stuffed mushrooms (recipe coming next month), that delightful cobb salad, and as a very handy snack. Seriously, this can get really addictive so I recommend hiding it behind a bag of frozen food you're unlikely to touch.
Oh, that's one of the coolest parts. Once they've cooled and you've "taste tested" about 15 times, you store these in a zipped freezer safe bag in the freezer. It helps to keep them fresh, crispy and filled with flavour. They thaw in seconds, truly seconds. Pop them out and onto your food and they're just as delicious as when you first made them. Promise me you'll give them a try because you'll surely be missing out otherwise!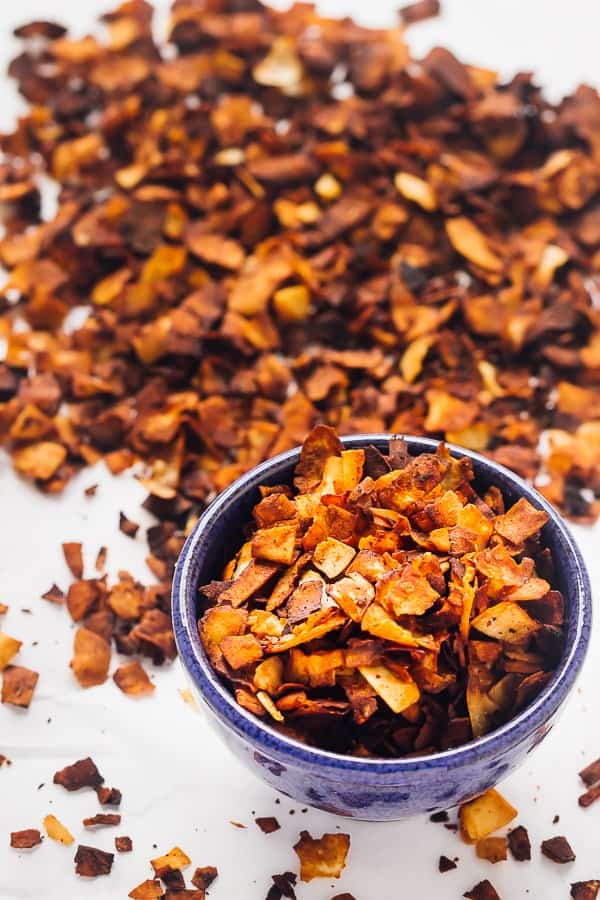 P.S. Here are some of the items I used to make this recipe if you'd like to use them too:
| WHAT YOU'LL NEED // SHOP MY FAVORITE INGREDIENTS & PREP PRODUCTS |


If you try this Coconut Bacon please let me know in the comment section below, or tag me on instagram with the hashtag #jessicainthekitchen! For more exclusive recipes follow me on Instagram AND on Snapchat: jessinkitchen.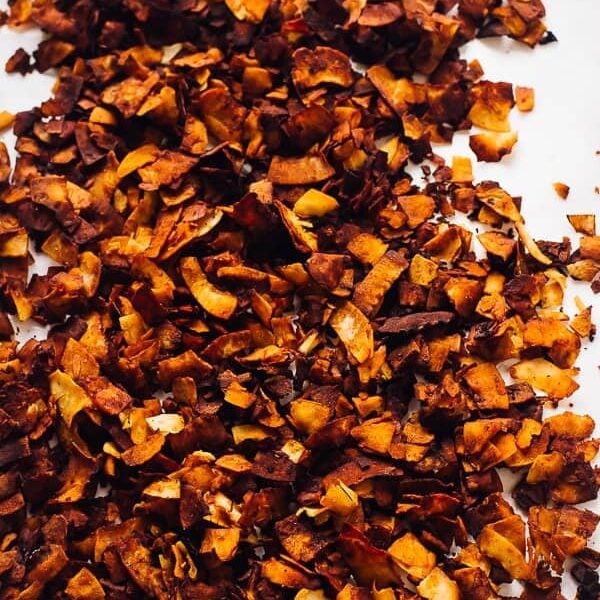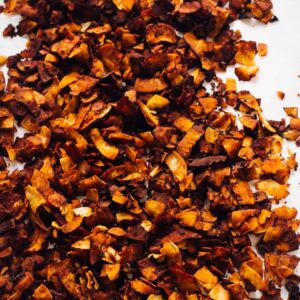 Vegan Bacon Crumbles
These vegan bacon crumbles are rich, salty, sweet, and smoky. They taste just like real bacon bits, but they're plant-based, gluten-free, and take only 20 minutes!
Ingredients
2 cups unsweetened coconut flakes
2 tablespoons tamari
1 tablespoon liquid smoke
1 tablespoon maple syrup
¼ tsp smoked paprika, for color
Instructions
Preheat your oven to 350 ° F/175 ° C. Line a baking sheet with parchment paper or a silicone mat.

Place the coconut flakes in a large bowl.

Mix together the tamari, liquid smoke, maple syrup and paprika and pour over the coconut flakes. Toss gently to combine until all the coconut flakes are coated. Spread out evenly onto the baking sheet.

Bake for 12 minutes.

 Remove from the oven and let cool completely.
Notes
Inspired and adapted from hot for food.
This recipe is vegan and gluten free. You can use liquid aminos if you don't have tamari. The liquid smoke is crucial for the smokey flavor and the umami similar flavor of bacon.
HOW TO STORE: Use immediately, or store them in a freezer safe zipped bag to store. This keeps them fresh and crisp, and thaws in seconds.
JESSICA'S KEY TIP: These burn very easily, and I actually burnt my first batch! After 12 minutes, either take them out or keep your eye on them very closely. It will also help to turn the baking sheet halfway in the oven to ensure even baking.
Calories: 100kcal, Carbohydrates: 5g, Protein: 1g, Fat: 9g, Saturated Fat: 8g, Polyunsaturated Fat: 0.1g, Monounsaturated Fat: 0.4g, Sodium: 176mg, Potassium: 88mg, Fiber: 2g, Sugar: 2g, Vitamin A: 21IU, Vitamin C: 0.2mg, Calcium: 6mg, Iron: 1mg
Disclaimer: Although jessicainthekitchen.com attempts to provide accurate nutritional information, kindly note that these are only estimates. Nutritional information may be affected based on the product type, the brand that was purchased, and in other unforeseeable ways. Jessicainthekitchen.com will not be held liable for any loss or damage resulting for your reliance on nutritional information. If you need to follow a specific caloric regimen, please consult your doctor first.