Vegan Bacon Crumbles
These vegan bacon crumbs are smoky, crunchy, and salty, just like real bacon! They're made out of coconut, take just 20 minutes to make, and are gluten-free.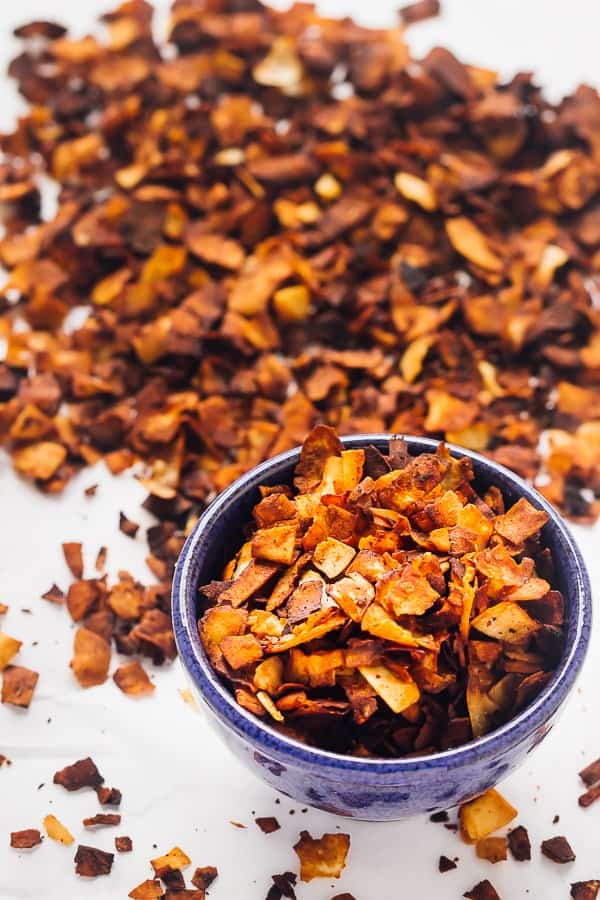 Bacon is one of the most universally loved foods in the world. It has so many amazing flavors: it's sweet, salty, smoky, savory, and rich. It's also pure meat, and super unhealthy. So I decided to find the best recipe for vegan bacon crumbles. The goal was to find a plant-based recipe that had all the flavor and indulgence of bacon bits, while being healthy.
This recipe does exactly that. It uses flaked coconut, which is rich, nutty, and has a fatty flavor. Tamari, liquid smoke, paprika, and maple syrup give the vegan bacon crumbles the traditional bacon flavor. This recipe is fun and easy to make, and only takes about 20 minutes. Plus, it's gluten-free! Give this to a bacon lover in your life, and they might not even know that it's not real bacon!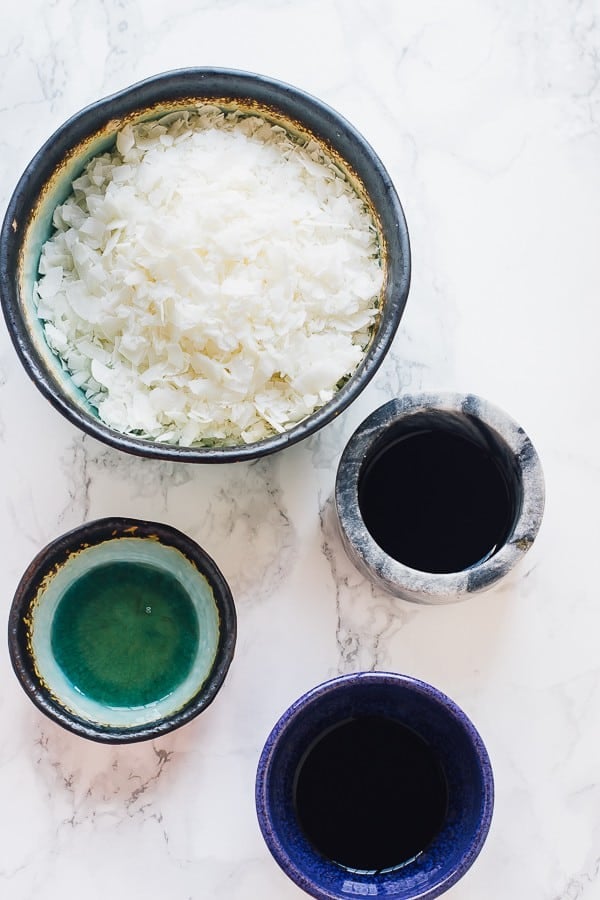 Notes on Ingredients
Here are the five ingredients that you need to make vegan bacon crumbles out of coconut. Check out the recipe card at the bottom of the page to find the exact amounts for each ingredient.
Flaked coconut – Make sure to use unsweetened, un-toasted coconut for this recipe.
Tamari
Liquid smoke
Maple syrup – You want to use 100% pure maple syrup for vegan bacon.
Smoked paprika
What is Tamari?
Tamari is a sauce made from fermented soybeans. It is very similar to soy sauce, but usually uses no wheat, making it gluten-free (always check the label though, as some brands use a small amount of wheat). You can use soy sauce in this recipe if you're not trying to make gluten-free vegan bacon crumbles.
How to Make Vegan Bacon Crumbles
Here's how to make these super simple plant-based bacon bits. They only take 20 minutes!
Prep. Preheat your oven to 350F, and line a baking sheet with parchment paper.
Put the coconut in a bowl. Place the flaked coconut in a large mixing bowl.
Mix the ingredients. In a smaller bowl, add the tamari, liquid smoke, maple syrup, and smoked paprika, and stir to combine. Pour the mixture over the coconut and mix until all the pieces of coconut are coated.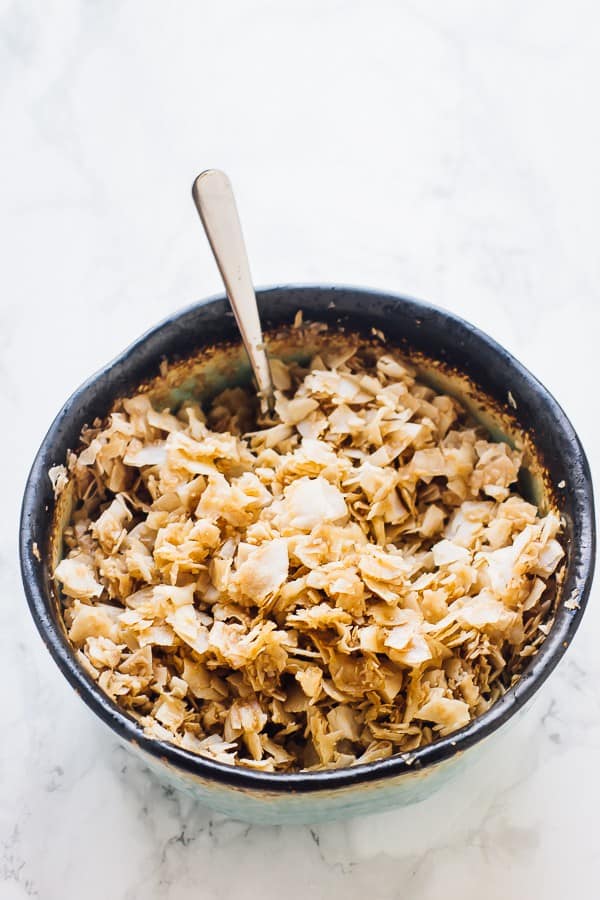 Bake. Put the flaked coconut on the baking sheet and place in the oven. Bake for 12 minutes, then cool and eat!
Tips for Success
Here are some tricks and tips to use when making these coconut vegan bacon crumbles.
Spread out the coconut. When baking these plant-based vegan crumbles, spread the coconut out across the baking sheet so that the pieces aren't touching each other too much. If you crowd the shaved coconut, the bacon bits will be a little bit limp and soggy instead of crispy and crunchy.
Watch for burning. This recipe can burn super easily, so keep an eye on it when it's in the oven. Start checking on it before the 12 minutes are up, to make sure it's not burning. If you notice that the vegan bacon is getting too dark, pull it out of the oven immediately.
Have fun with seasonings. This recipe has just 5 ingredients, but you can add to it if you want. Bacon is a food that you can buy with a lot of different flavor options, so have fun seasoning your plant-based bacon the way you like it. You can add more or less of the listed ingredients, or add other flavors like garlic, pepper, and chilis.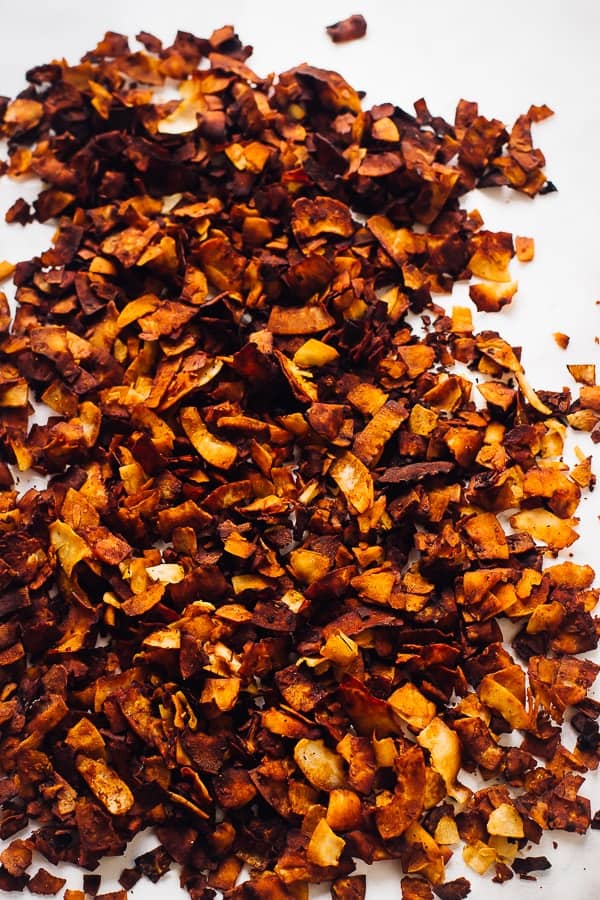 How to Serve Vegan Bacon Crumbles
You can use these vegan bacon crumbles in any recipe that calls for bacon bits. However, my favorite way to use them is simply by putting them on top of a salad! Here are a few of my favorite recipes to add vegan bacon crumbles to.
How to Store
You can store vegan bacon crumbles in an airtight bag or container in the fridge for up to a week. However, this recipe loses some of its texture when placed in the fridge.
Can I Freeze This Recipe?
Freezing is my preferred way to store vegan bacon crumbles. Put them in an airtight bag, get all the excess air out, and store them in the freezer for up to 3 months. They'll thaw at room temperature very quickly.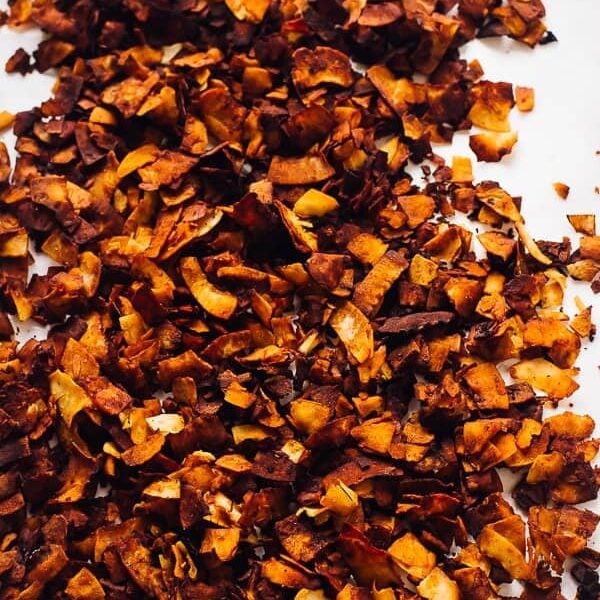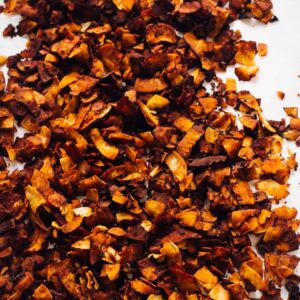 Vegan Bacon Crumbles
These vegan bacon crumbles are rich, salty, sweet, and smoky. They taste just like real bacon bits, but they're plant-based, gluten-free, and take only 20 minutes!
Ingredients
2 cups unsweetened coconut flakes
2 tablespoons tamari
1 tablespoon liquid smoke
1 tablespoon maple syrup
¼ tsp smoked paprika, for color
Instructions
Preheat your oven to 350 ° F/175 ° C. Line a baking sheet with parchment paper or a silicone mat.

Place the coconut flakes in a large bowl.

Mix together the tamari, liquid smoke, maple syrup and paprika and pour over the coconut flakes. Toss gently to combine until all the coconut flakes are coated. Spread out evenly onto the baking sheet.

Bake for 12 minutes.

 Remove from the oven and let cool completely.
Notes
Inspired and adapted from hot for food.
This recipe is vegan and gluten free. You can use liquid aminos if you don't have tamari. The liquid smoke is crucial for the smokey flavor and the umami similar flavor of bacon.
HOW TO STORE: Use immediately, or store them in a freezer safe zipped bag to store. This keeps them fresh and crisp, and thaws in seconds.
JESSICA'S KEY TIP: These burn very easily, and I actually burnt my first batch! After 12 minutes, either take them out or keep your eye on them very closely. It will also help to turn the baking sheet halfway in the oven to ensure even baking.
Calories: 100kcal, Carbohydrates: 5g, Protein: 1g, Fat: 9g, Saturated Fat: 8g, Polyunsaturated Fat: 0.1g, Monounsaturated Fat: 0.4g, Sodium: 176mg, Potassium: 88mg, Fiber: 2g, Sugar: 2g, Vitamin A: 21IU, Vitamin C: 0.2mg, Calcium: 6mg, Iron: 1mg
Disclaimer: Although jessicainthekitchen.com attempts to provide accurate nutritional information, kindly note that these are only estimates. Nutritional information may be affected based on the product type, the brand that was purchased, and in other unforeseeable ways. Jessicainthekitchen.com will not be held liable for any loss or damage resulting for your reliance on nutritional information. If you need to follow a specific caloric regimen, please consult your doctor first.