Vegetable Soup (One Pot & Comforting)
This One Pot Vegetable Soup is the best soup I have EVER had. It's hearty, healthy and so good for you! It's super customizable and very affordable.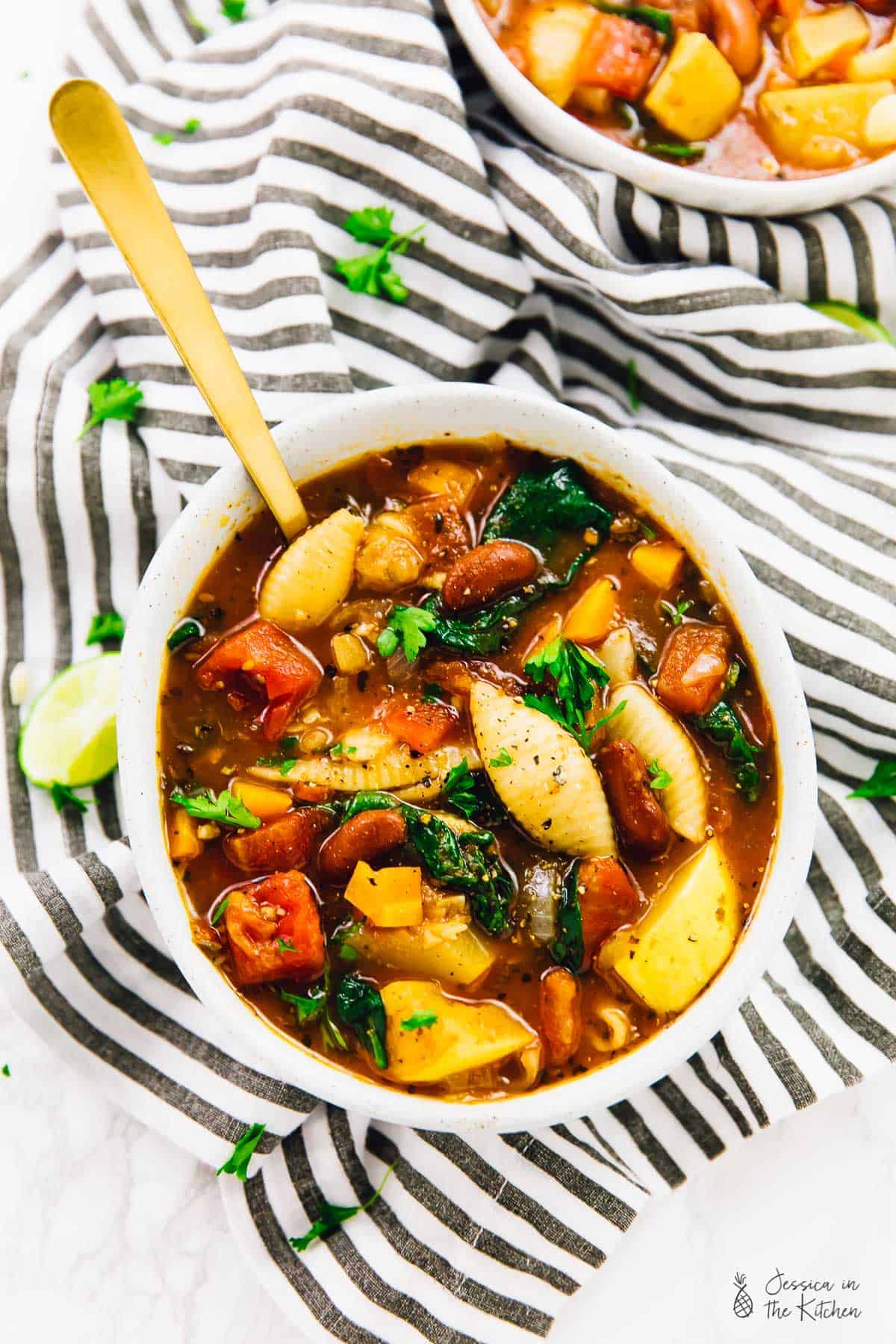 Thank you so much to Thrive Algae Oil for sponsoring this post! All opinions and text are 100% mine. Thanks for supporting the brands that support Jessica in the Kitchen!
Depending on where you live right now, it's probably very cold. Even if it isn't, it's probably rainy. Even if it isn't, this winter minestrone soup is still perfect for you. Why? Because this may be the best quick meal you will have all year.
Sometimes it's so hard to convey in words just how divine something tastes. Simply put – after eating this vegetable soup as I'm writing this let me tell you – I didn't want to stop. Gav said "I feel like this is the best soup I've ever had" and I same "same!!" A few tries later, this sentiment still rings true for me. The first time I ever had minestrone soup was in an airport lounge. It was a summer minestrone soup and a delightful combination of zucchini, chickpeas and of course the tomato base.
Minestrone Vegetable Soup
It was my introduction to this amazing soup and I knew since then, a year ago, that I'd want to recreate it in some way. If, like me, you were unfamiliar with minestrone vegetable soup, it was created as a unique and inspiring way to use up leftovers in a soup. It's a hearty combination of mirepoix, veggies of the season, plus beans and pasta and greens.
I think whoever invented this soup must've been a genius with a starving family waiting for dinner because it really does the trick. After just one bowl I'm certain that this is not just the easiest soup I've made all month, but also the most delicious.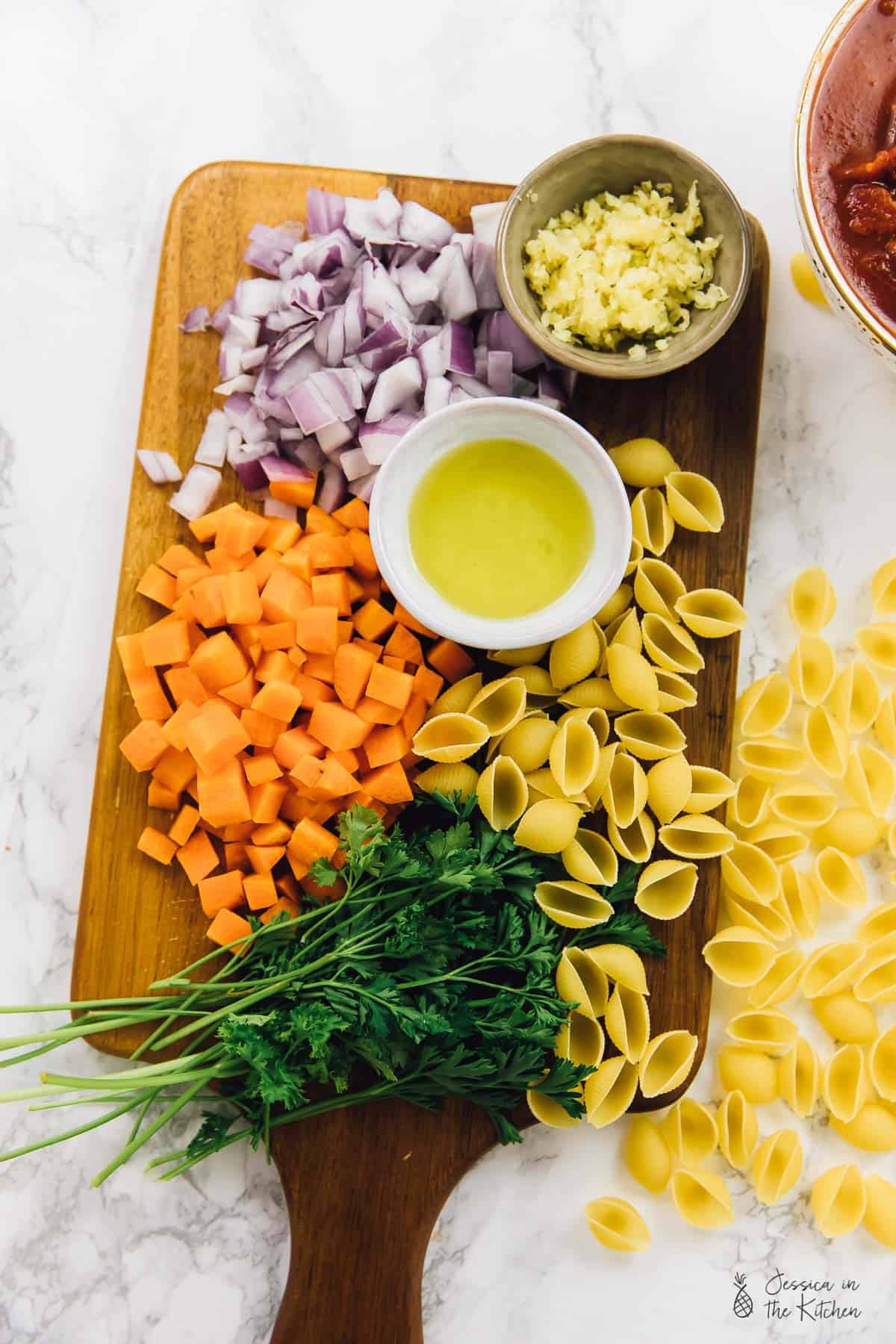 I based the recipe for this off of my lentil soup, since it's so close to a minestrone vegetable soup. Just like my lentil soup, it starts off with oil, which adds a richness to this soup. I used my Thrive Algae Oil for this recipe. If you've been here then you know I've been using this oil for a while now because I'm in love with how good it is for your heart. It also withstands high heat which in this season of baking is ideal and necessary.
Thrive Algae Oil is made from algae originally sourced from the sap of a chestnut tree (not the sea), and is loaded with monounsaturated fats (MUFAs) which are just like the good-for-you fats found in avocados. I also love that it's odourless and flavourless, so you can use it in anything from appetisers to dinners to desserts.
Needless to say – it goes beautifully with this Winter Minestrone Vegetable Soup. If you want to hear from more people – be sure to check out their Amazon review page, which is packed with feedback from others who are in love with it too!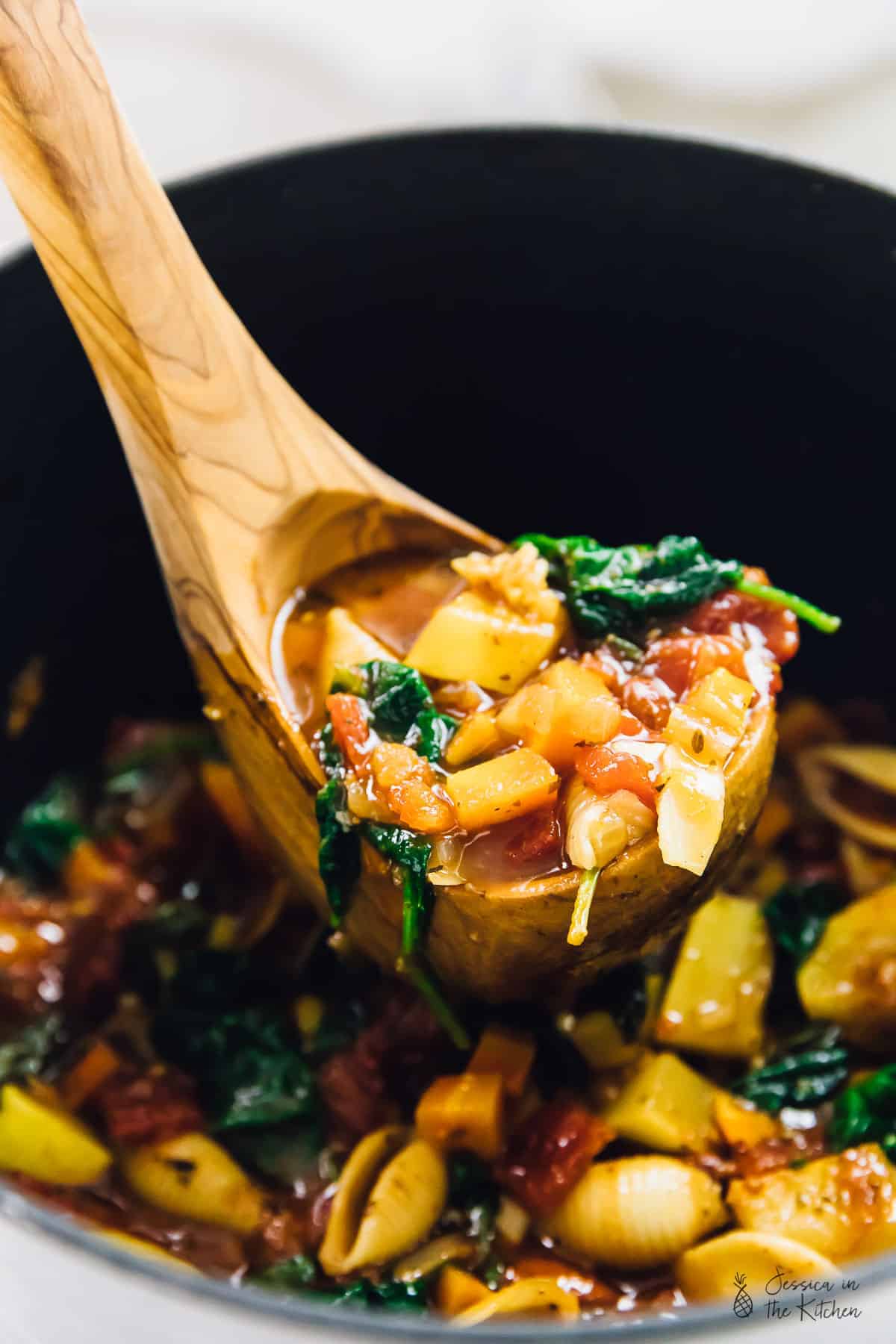 Of course instead of lentils, I used cooked kidney beans (you could use cannellini beans or chickpeas), and instead of garam masala, I used a combination of Italian seasonings. I also used a winter squash for the season. You could also easily use zucchini or even potatoes. Pretty much any hearty vegetable will work here and I'll include a few examples in the recipe.
That's why I love this soup so much. Truthfully with such an easy base of celery, carrots, onions and tomatoes, you don't have to buy much if you already have veggies in your fridge or pantry. We also used frozen spinach that we had in the freezer and of course fresh works just as well. I used my usual lime squeeze trick to tie it all in and let me tell you – this soup was DIVINE!! I don't say that lightly, either.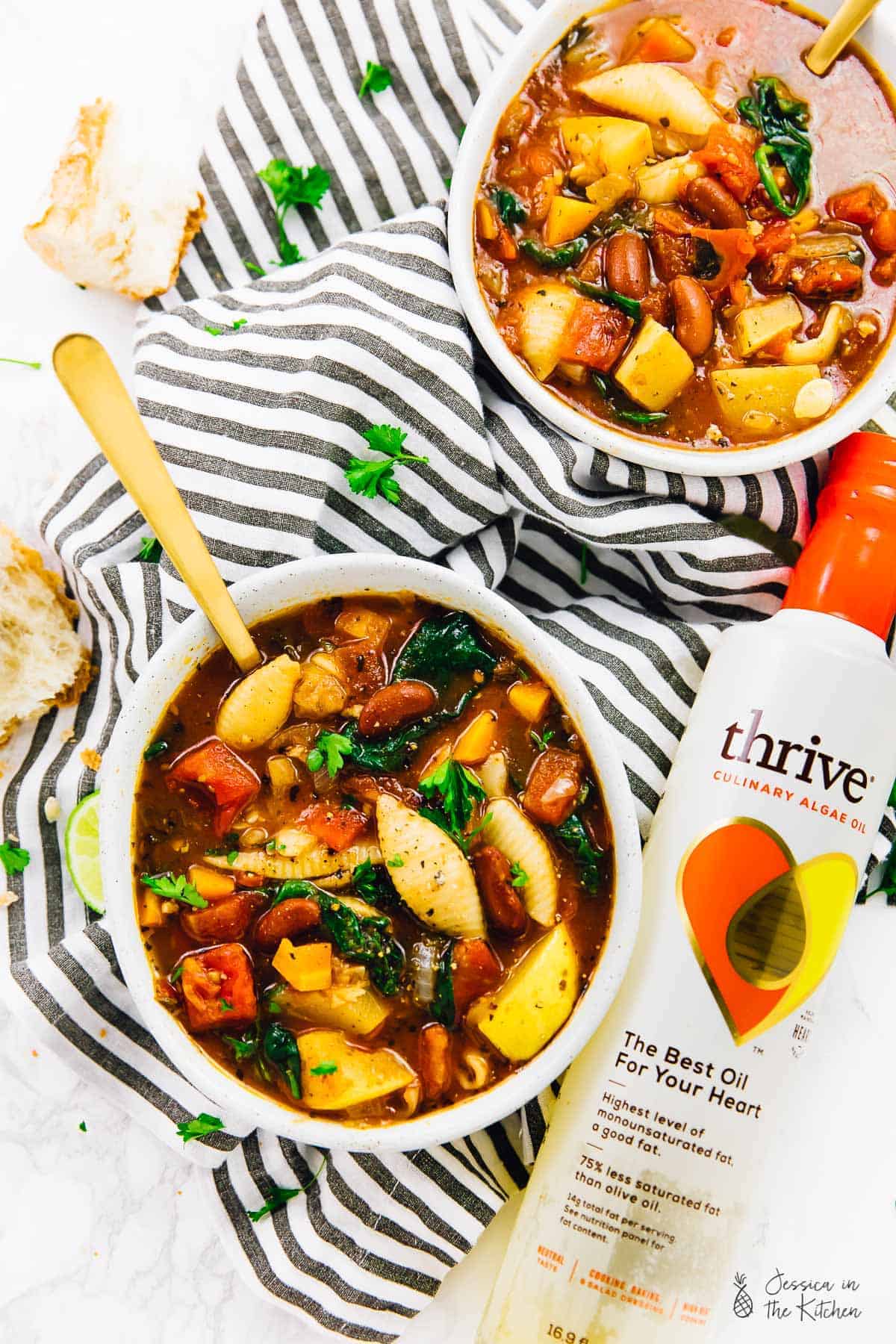 Be sure to whip this soup up and add in your own customisations if you want, or follow it to a T. Just be sure you have fun taste-testing and cooking. Throw on some music. Cheers to the season!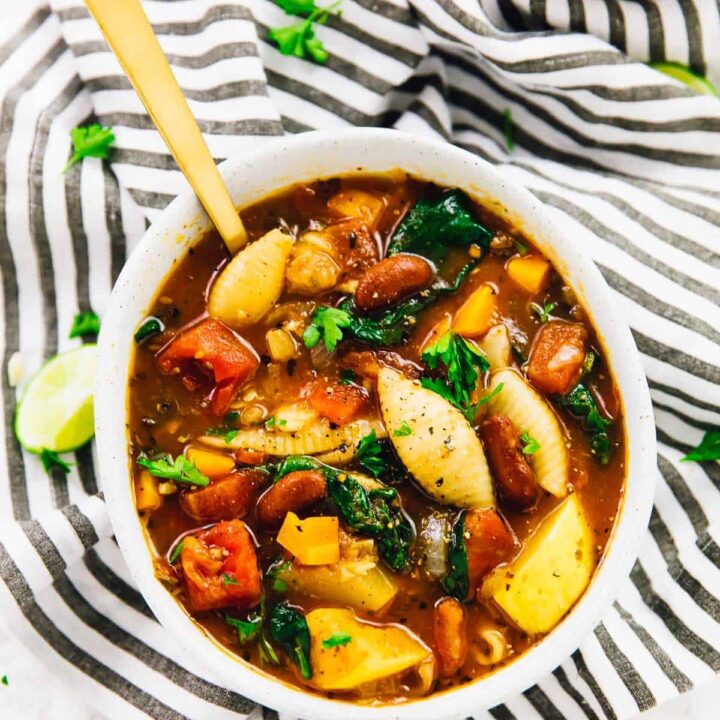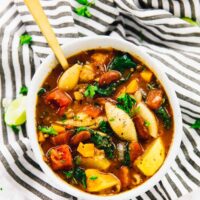 Vegetable Soup (One Pot & Comforting)
This Vegetable Soup is the best soup I have EVER had. It's hearty, healthy and so good for you! It's super customizable and very affordable.
Ingredients
3 tablespoons oil
1 large red onion, diced, (188g)
4 stalks celery, diced
1 large carrot, (226g) diced or two medium size carrots
1 medium yellow squash, chopped
5 cloves garlic, minced, (12g)
26 ounces fresh tomatoes, (737g) chopped – you can also use a 28oz can diced tomatoes with its juices
1 tablespoon tomato paste, (16.5g)
salt & pepper to taste, I use 3/4 teaspoon sea salt and 1/4 teaspoon freshly ground black pepper
1 tablespoon Italian seasoning or 1 teaspoon dried oregano, 1 teaspoon dried parsley, 1 teaspoon dried basil
1 teaspoon za'atar, optional but adds a boost in flavour
15 ounce can of red kidney beans or cannellini (white beans)
6 cups vegetable broth*
1 cup dry pasta such as shells, orecchiette or tortellini or any gluten free pasta
1 cup spinach
Juice of one limes about 1-2 tablespoons, squeezed over
Toppings, Optional: Oil drizzle, red pepper flakes, parsley, and/or sprinkle of zaatar or parsley, Crusty bread and vegan Parmesan
Instructions
In a large, deep pot over medium high heat, add half

Thrive Algae Oil

(1.5 tablespoons) to heat.

Add the onions, celery, carrot, squash and minced garlic. Stir together and allow to sweat for about 8 minutes, to soften and release natural juices from the veggies.

Add in the tomatoes, tomato paste, salt and pepper, Italian seasonings, za'atar, and kidney beans. Add in other half of the Thrive Algae Oil, stir together. Pour in the vegetable broth and stir again.

Bring to a boil, and then to a simmer. Add in the dry pasta and simmer for 20 minutes, until the pasta is fully cooked.

Remove soup from heat and taste test and add more salt and pepper if needed. You really want to ensure you've added enough to bring out all the flavours. Stir in the spinach and lime juice. The residual heat will help to add heat to all of these. 

Allow soup to cool slightly then serve! 
Notes
Notes In a soup like this, a high quality veggie broth makes all the difference. Adding an all natural veggie broth paste is great option to get high quality!
Calories: 288kcal, Carbohydrates: 46g, Protein: 12g, Fat: 8g, Saturated Fat: 6g, Sodium: 1189mg, Potassium: 883mg, Fiber: 10g, Sugar: 10g, Vitamin A: 3064IU, Vitamin C: 22mg, Calcium: 99mg, Iron: 5mg
Disclaimer: Although jessicainthekitchen.com attempts to provide accurate nutritional information, kindly note that these are only estimates. Nutritional information may be affected based on the product type, the brand that was purchased, and in other unforeseeable ways. Jessicainthekitchen.com will not be held liable for any loss or damage resulting for your reliance on nutritional information. If you need to follow a specific caloric regimen, please consult your doctor first.