How to Make Vegetable Broth with Veggie Scraps
Learn how to make vegetable broth with veggie scraps. It's flavourful, easy, cost-effective, and freezer-friendly!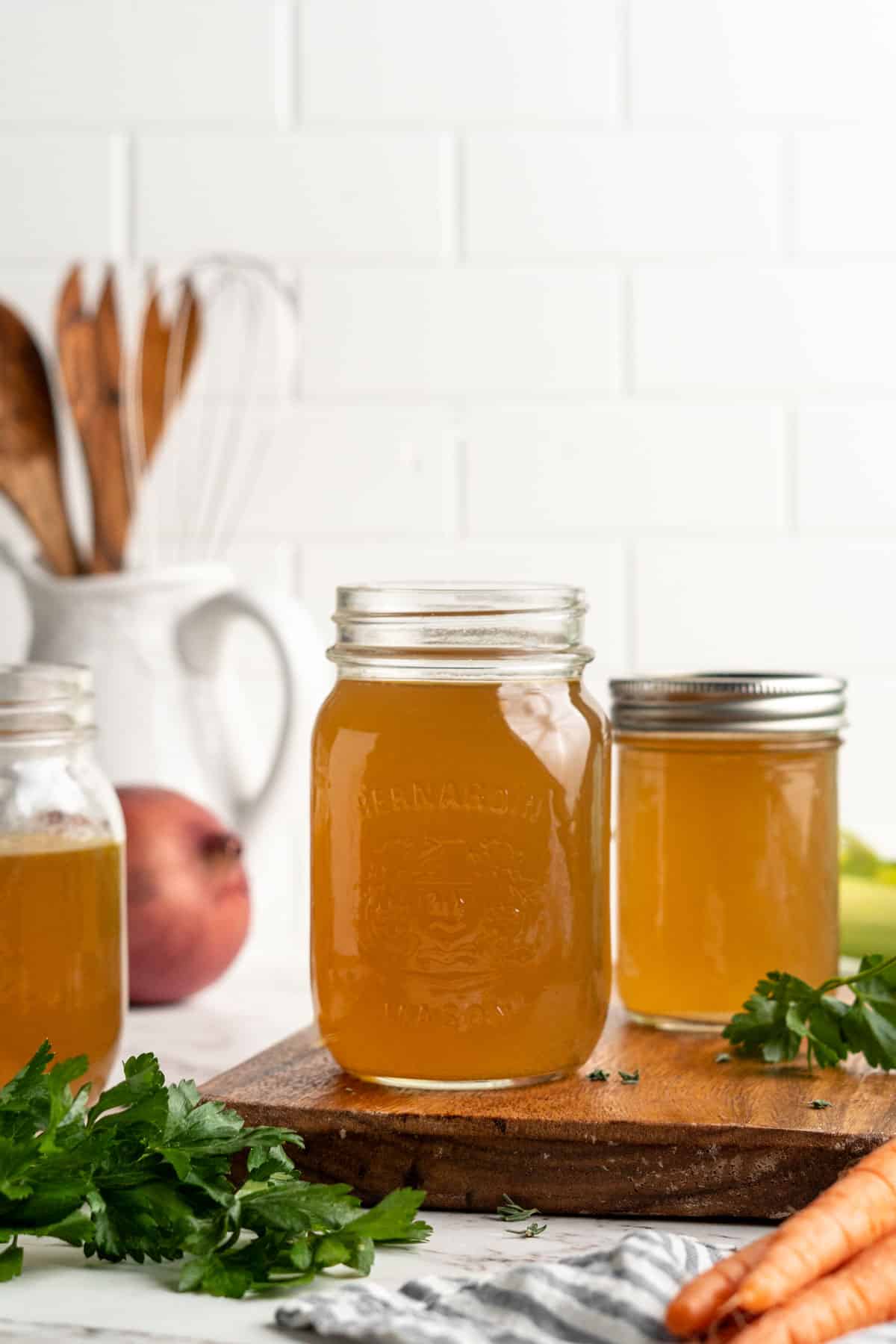 So many recipes call for vegetable broth, but if you usually rely on store-bought cartons or bouillon cubes, you're missing out! The first time I tried homemade vegetable broth I was blown away by the depth of flavour—and by how much money I was saving by making it myself. Best part? You can use kitchen scraps to make it!
Whenever you're cutting up an onion and you have a bit you don't use, throw it in a zipped freezer bag and into the freezer. Toss in the leafy tops of carrots and celery, papery garlic peels, extra herbs, mushroom stems. Over time, you'll accumulate lots of veggie scraps that would've otherwise gone into the trash, and when your bag is full, you can use them to make vegetable broth.
Once you have your collection of scraps, you'll also want to add celery, onion, carrot, and garlic for that classic vegetable broth flavour, then you simmer everything away until the liquid is infused with all that veggie goodness.
What Is the Difference Between Vegetable Stock and Vegetable Broth?
When we're talking about vegetable stock vs. vegetable broth (as opposed to animal-based stocks and broths), the only difference is that vegetable stock is seasoned with salt and pepper, while vegetable broth is not. So if you add the optional salt to this recipe, you've got stock!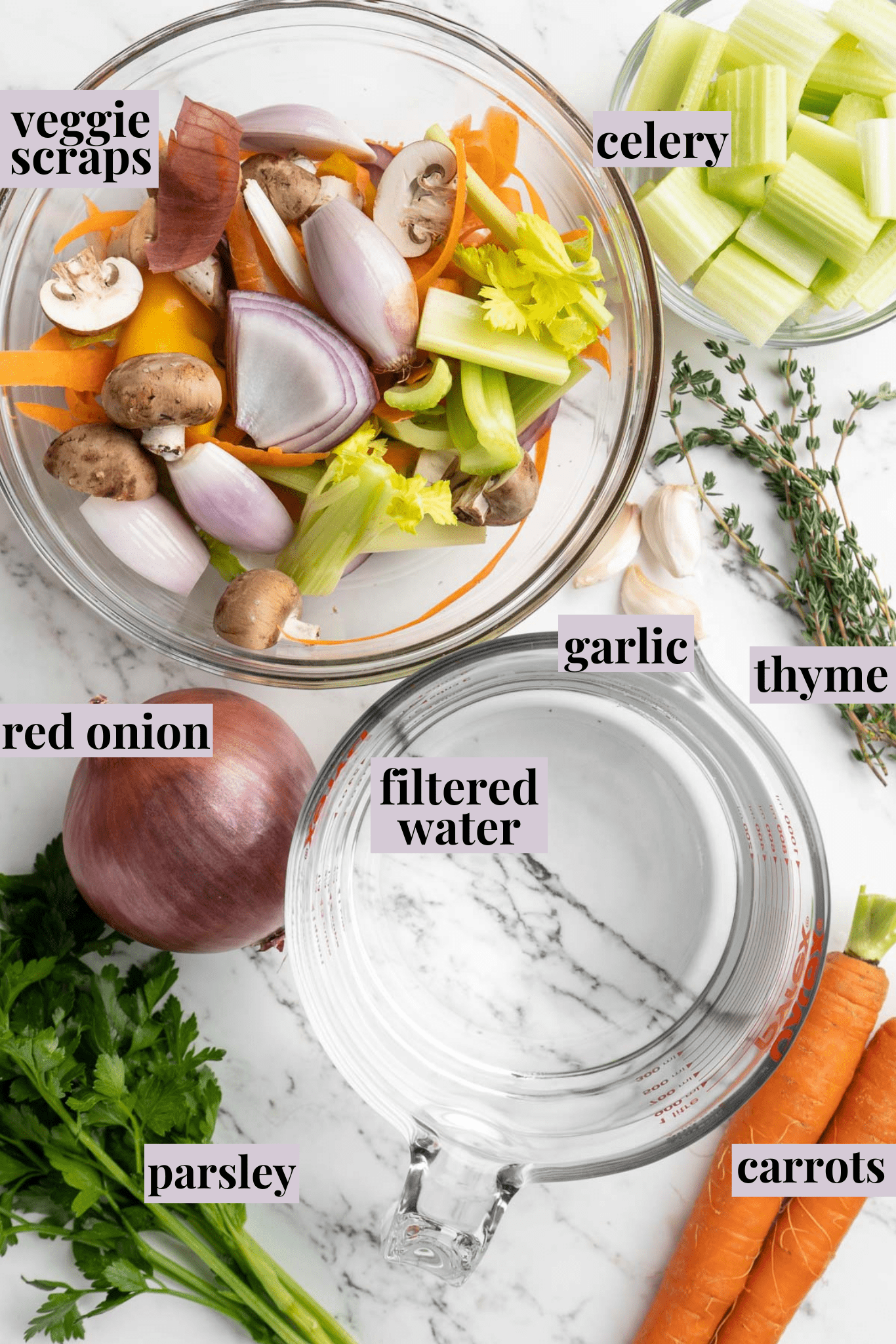 Notes on Ingredients
Scroll down to the recipe card to find the ingredient quantities and recipe instructions.
Celery – Chopping the celery (and carrots) exposes more of their surface area to the liquid, which means you'll get more flavour in your vegetable broth.
Carrots
Red onions – Yellow onions work too, or use leeks and shallots.
Garlic – I like to add a lot, but you can use less!
Thyme
Parsley
Frozen veggie scraps
Filtered water – Filtered water will help ensure your broth doesn't have any off flavours.
Optional Add-Ins
Mushrooms – Any kind you have on hand! This is a great way to use the tough stems of shiitakes.
Bell peppers
Salt
Peppercorns
Chili pepper or scotch bonnet pepper – I like adding a hot pepper for depth.
Liquid aminos – This adds umami to the broth.
What Not to Put in Vegetable Broth
Leave out broccoli, cauliflower, Brussels sprouts, kale, and other cruciferous vegetables, as they will make your broth bitter. I would also leave out potatoes; they'll make your broth cloudy. And, it goes without saying, don't add any vegetables that are spoiled!
How to Make Vegetable Broth With Veggie Scraps
I love making a batch of vegetable broth over the weekend so I can use it in my cooking all week long. Because it's largely hands-off, I can let the broth simmer away while I do other things around the house!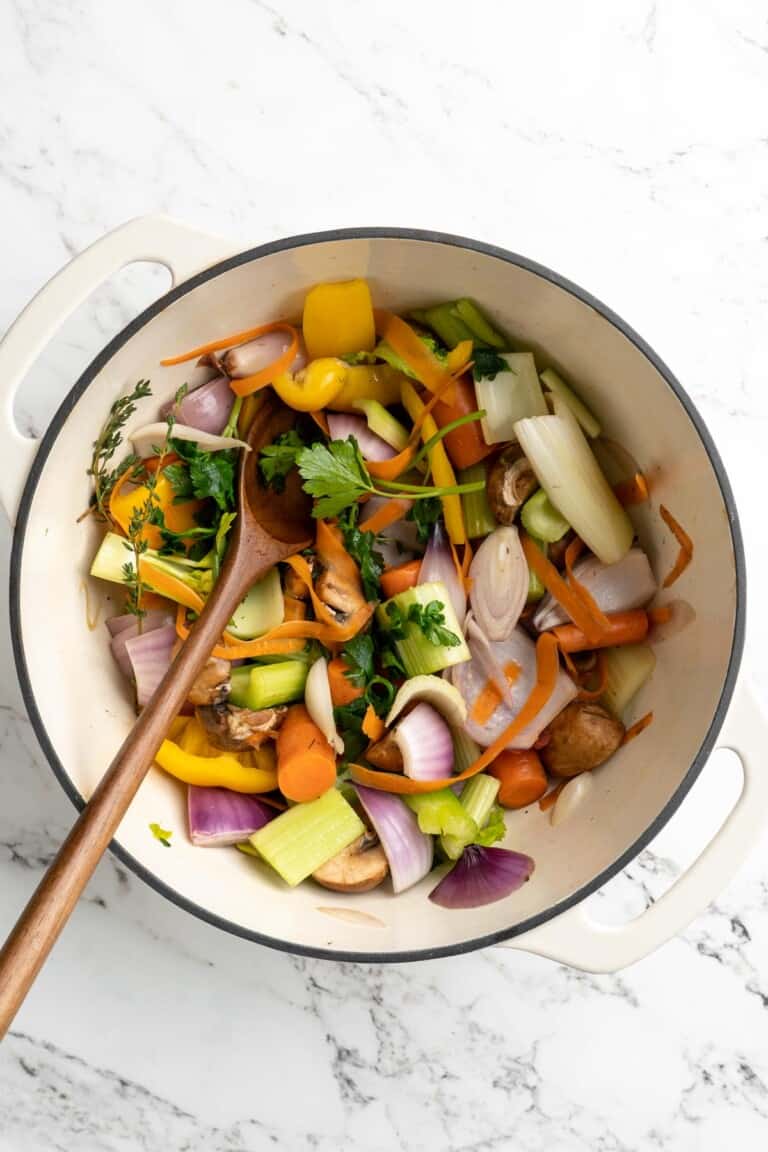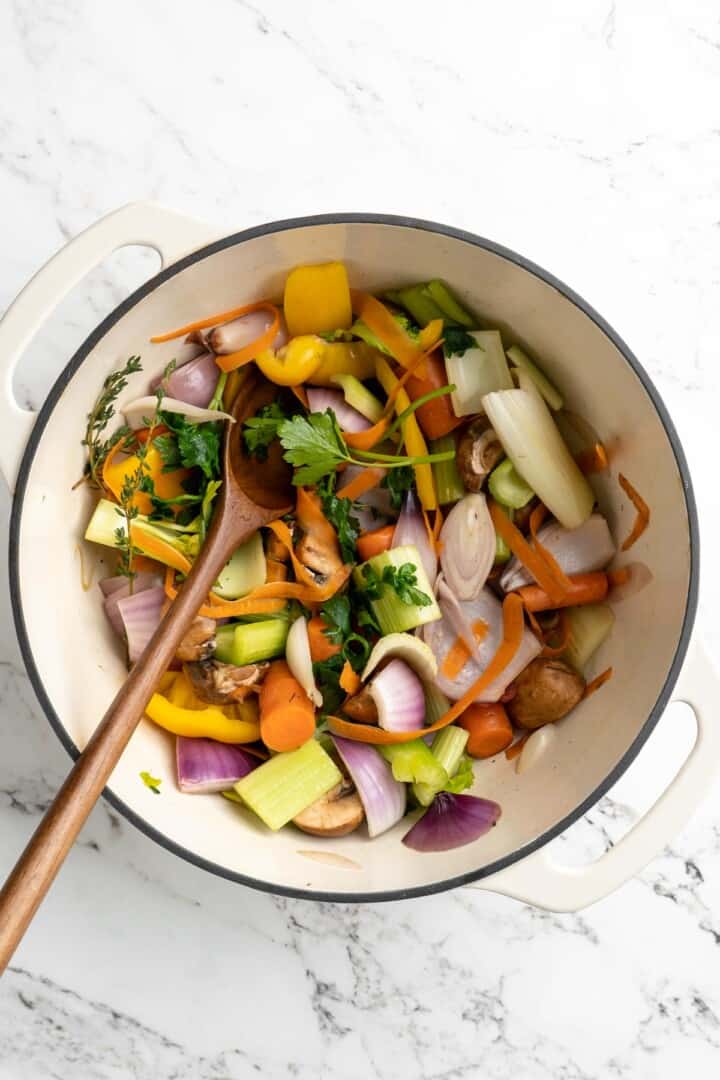 Sweat the ingredients. Place all of the ingredients except the water in a pot set over high heat. Let the heat sweat the ingredients for about 3 minutes. Add any of the optional ingredients, then stir in the water. Bring the mixture to a boil.
Simmer. Reduce the heat to a simmer and cook the vegetable broth for 1 hour.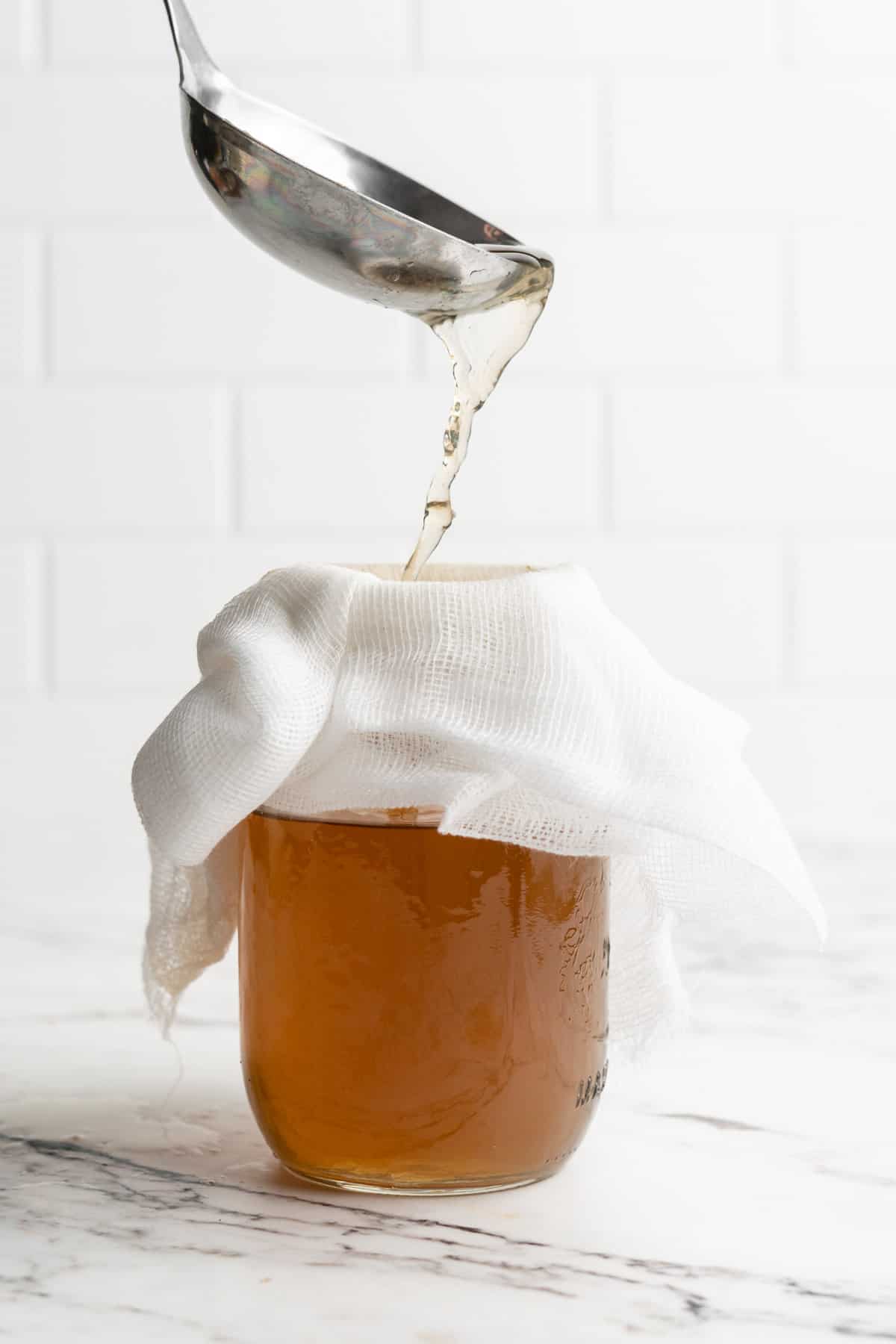 Cool and store. Remove the pot from the heat and allow the broth to cool. Place a layer of cheesecloth or a very thin towel on top of your jars or storage containers and pour the broth into them, discarding the vegetables caught in the cheesecloth. Add the liquid aminos, if using.
Tips for Success
Here are some tips to help you make sure your homemade vegetable broth turns out perfect.
Don't add too much salt. You'll probably be using your broth in a recipe, and odds are that recipe will have you adding salt as well. So you don't want to start with a broth that's overly salty!
Make concentrated broth. For even more flavour, you can use 10 cups of water instead of 12.
No cheesecloth? No problem! Just pour the broth into a fine mesh strainer set over a large bowl. Then, discard the solids and divide the broth into containers for storage.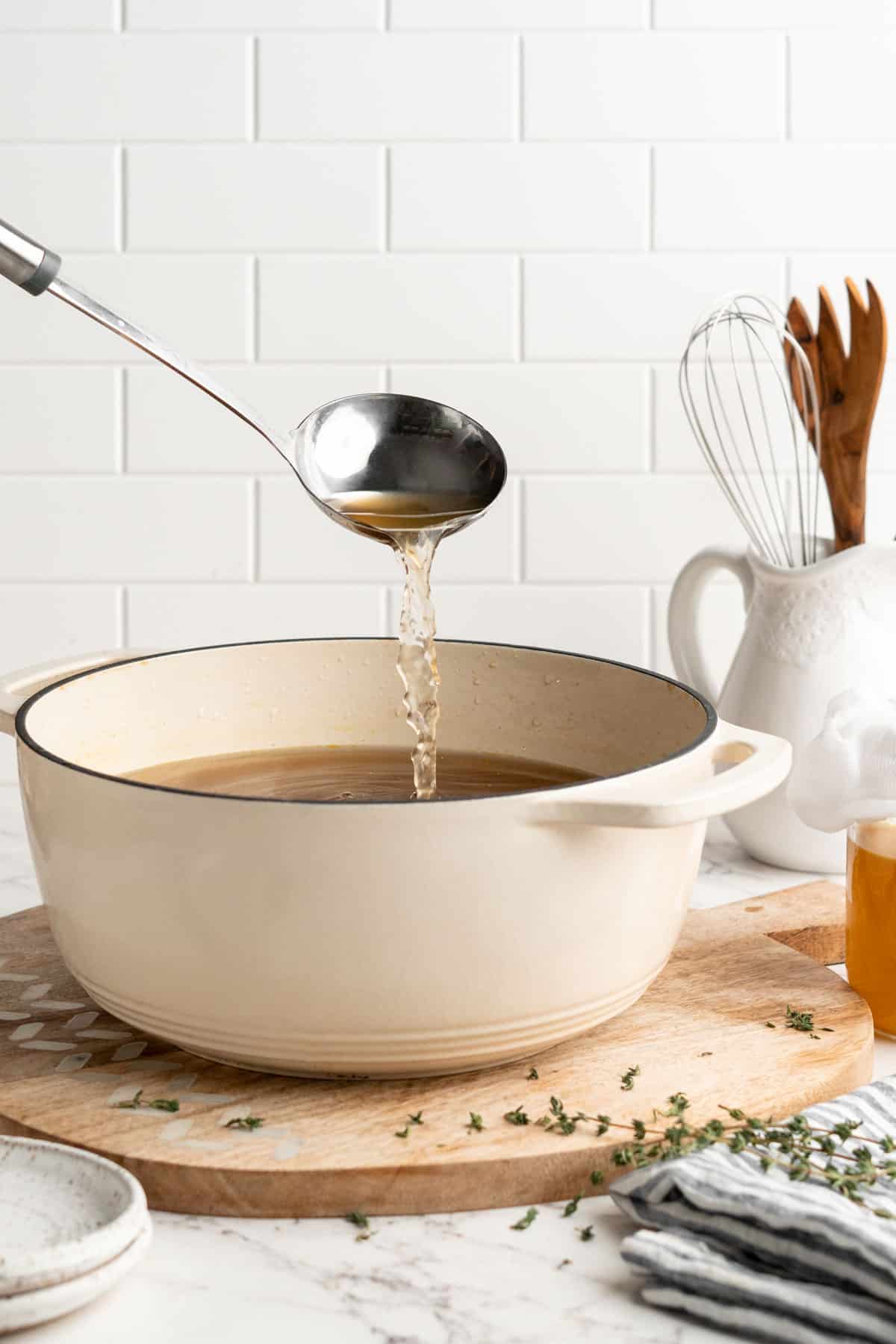 Variations
The best part about homemade vegetable broth is that it's so versatile. Here are some ways to customize this recipe:
Make mushroom broth by swapping the frozen veggie scraps for 6 cups of mushroom stems/scraps—or simply use fresh mushrooms.
Add turmeric for a golden colour, nutritional yeast, and some smoked paprika for a vegan chicken broth substitute.
Try adding shiitake stems, sliced ginger root, and kombu for an Asian-inspired broth perfect for making miso soup.
Save corn cobs after removing the corn and simmer them in the broth. This makes a delicious base for corn soup!
Uses for Vegetable Broth
I use this vegetable broth several times a week! Naturally, it's great in soups like my Vegetable Minestrone Soup and Roasted Cauliflower Soup. I also use it as a cooking liquid for quinoa and rice, for making Creamy Vegan Mushroom Risotto, and as a base for Vegan Gravy.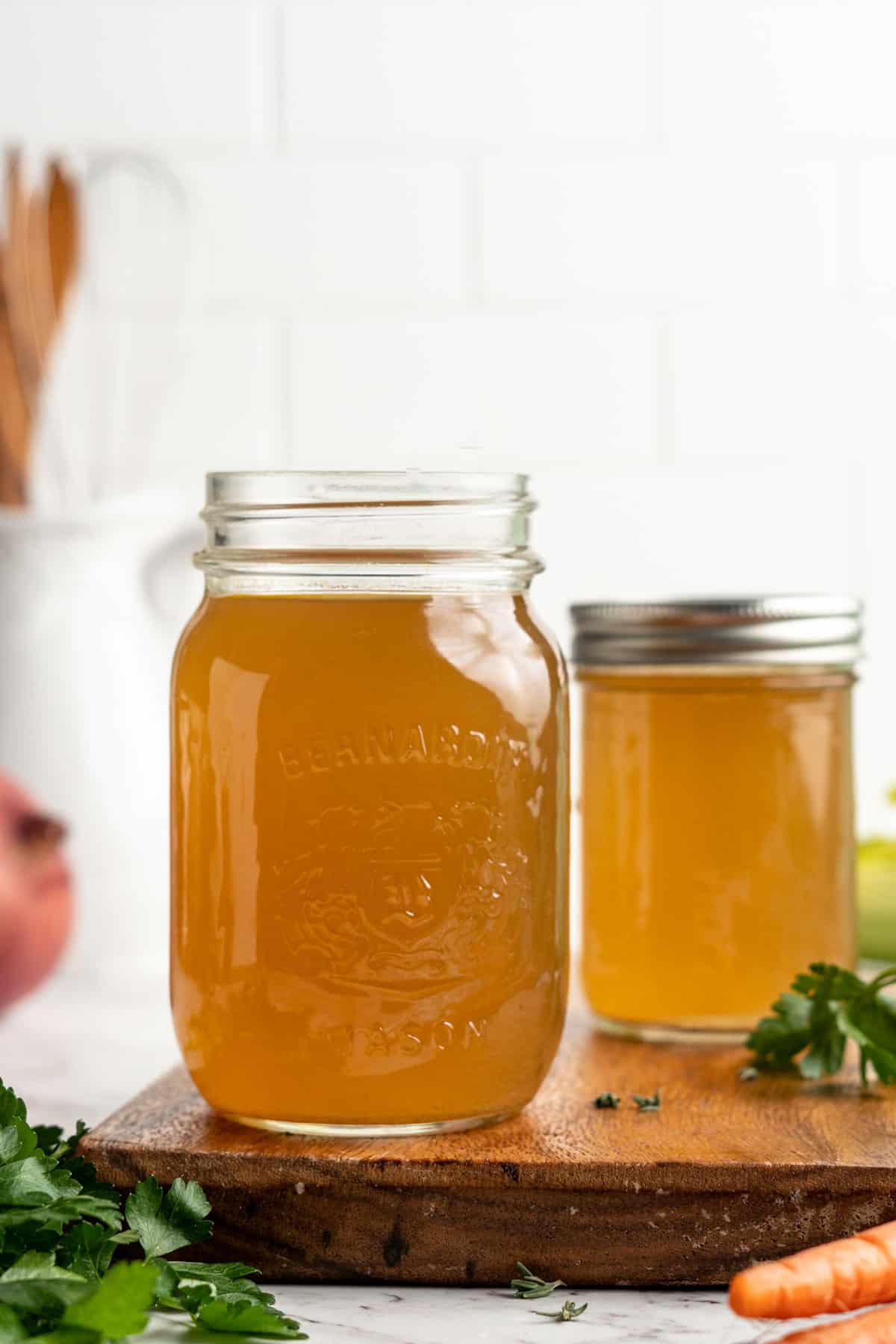 How to Store
Vegetable broth can be stored in the refrigerator for up to a week in an airtight container or jar.
Can This Recipe Be Frozen?
To freeze, allow the broth to cool completely and then divide into freezer-safe containers or ice cube trays. Once frozen, transfer cubes to a freezer bag for easy storage. Thaw in the fridge overnight before using.
More Kitchen Basics
Enjoy friends! If you make this vegetable broth, please snap a photo and tag #jessicainthekitchen on Instagram! We'd also love it if you would leave a comment below, and give the recipe a rating! Thanks so much!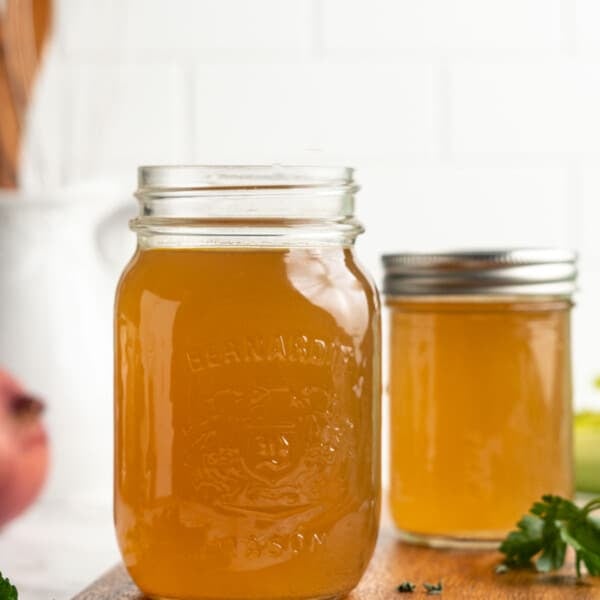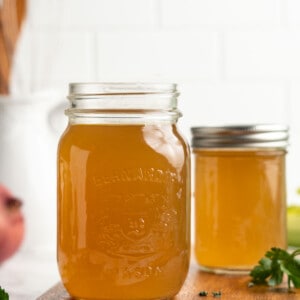 Vegetable Broth
Learn how to make vegetable broth with veggie scraps. It's the best broth you'll ever have, plus it's easy, cost-effective, and freezer-friendly!
Ingredients
How to Make Vegetable Broth with Veggie Scraps
3 stalks celery, chopped
2-3 medium carrots, chopped
1 to 2 red onions, or leeks or shallots, or all if you have
3 to 5 cloves garlic, you can lessen, I love adding garlic
Few sprigs thyme
A big handful parsley
2-3 cups of frozen veggie scraps
10-12 cups filtered water
Optional, but recommended if you have them
Mushrooms
Bell peppers
1/2 teaspoon salt
10 peppercorns
1 chili pepper or scotch bonnet pepper, helps to deepen flavours
Instructions
How to Make Vegetable Broth with Veggie Scraps
In a pot over high heat, add all the ingredients except the water. Let the heat sweat the ingredients for about 3 minutes to help bring out flavours. If adding in extra ingredients, add them now. Pour in all the water and stir. I use 12 cups, but you can use 10 cups if you want an even more concentrated broth.

Bring to a boil, then reduce to a simmer for 1 hour.

Remove from heat and allow to cool.

Select the containers you'll be storing broth in (I like clear large glass jars). Place a layer of cheese cloth or a very thin towel on top and pour into jars to catch liquid and strain vegetables.

At this point, I stir in equal amounts of liquid aminos (totalling 1/4 cup) in the jars. I end up with two jars, so I stir in 2 tablespoons into each. After sitting for a day the flavours will deepen even more.

Store in fridge for up to a week. See notes for freezing instructions. Enjoy!
Notes
Your veggie broth can last a week in an airtight container in the fridge. The best way to keep your broth for longer is to freeze it. You can freeze it flat in zipped tupperware containers, or poured into an ice cube tray.
Calories: 93kcal, Carbohydrates: 25g, Protein: 8g, Fat: 1g, Saturated Fat: 1g, Polyunsaturated Fat: 1g, Monounsaturated Fat: 1g, Sodium: 1780mg, Potassium: 487mg, Fiber: 7g, Sugar: 4g, Vitamin A: 13127IU, Vitamin C: 26mg, Calcium: 88mg, Iron: 2mg
Disclaimer: Although jessicainthekitchen.com attempts to provide accurate nutritional information, kindly note that these are only estimates. Nutritional information may be affected based on the product type, the brand that was purchased, and in other unforeseeable ways. Jessicainthekitchen.com will not be held liable for any loss or damage resulting for your reliance on nutritional information. If you need to follow a specific caloric regimen, please consult your doctor first.