Air Fryer Smashed Potatoes
These air fryer smashed potatoes are the perfect side dish. They're crispy on the outside, tender and fluffy on the inside, and quick and easy to make.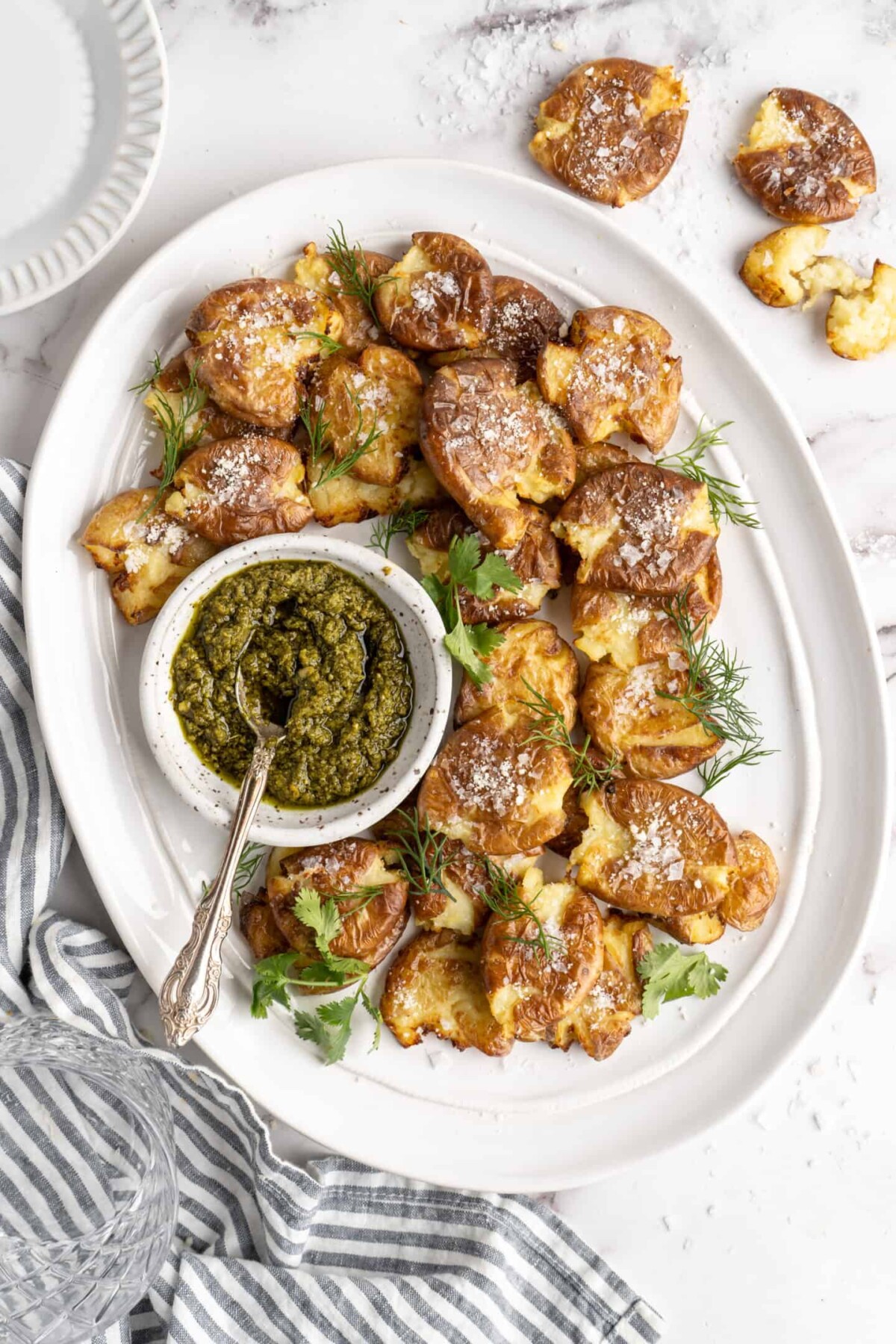 Potatoes are one of my favorite side dishes. They complement so many different meals, and add a salty, hearty element to the table. And this recipe for air fryer smashed potatoes is absolutely one of the best potato dishes I've found. It's so easy to make, with just three ingredients, and takes less than 45 minutes.
I recommend making some vegan ranch dressing or roasted strawberry barbecue sauce to dip these crunchy potatoes into, but they're pretty fantastic all by themselves, too. And did I mention that they're vegan? If you need a new side dish in your cooking rotation, look no further!
Notes on Ingredients
Here are the ingredients that you need to make these crispy air fryer smashed potatoes. The recipe card at the bottom of the article has the exact amounts for each ingredient.
Baby potatoes – You want to use baby potatoes that are quite small, or bigger ones that are cut in half. Make sure they're thoroughly washed and dried.
Flaky sea salt
Olive oil
Pesto – This is an optional garnish.
Shredded vegan cheese – Also an optional garnish.
How to Make Air Fryer Smashed Potatoes
Here's how to make these quick and easy crunchy potatoes.
Cook the potatoes. Place the potatoes in the air fryer and cook at 400F until cooked all the way through. This should take about 20 minutes.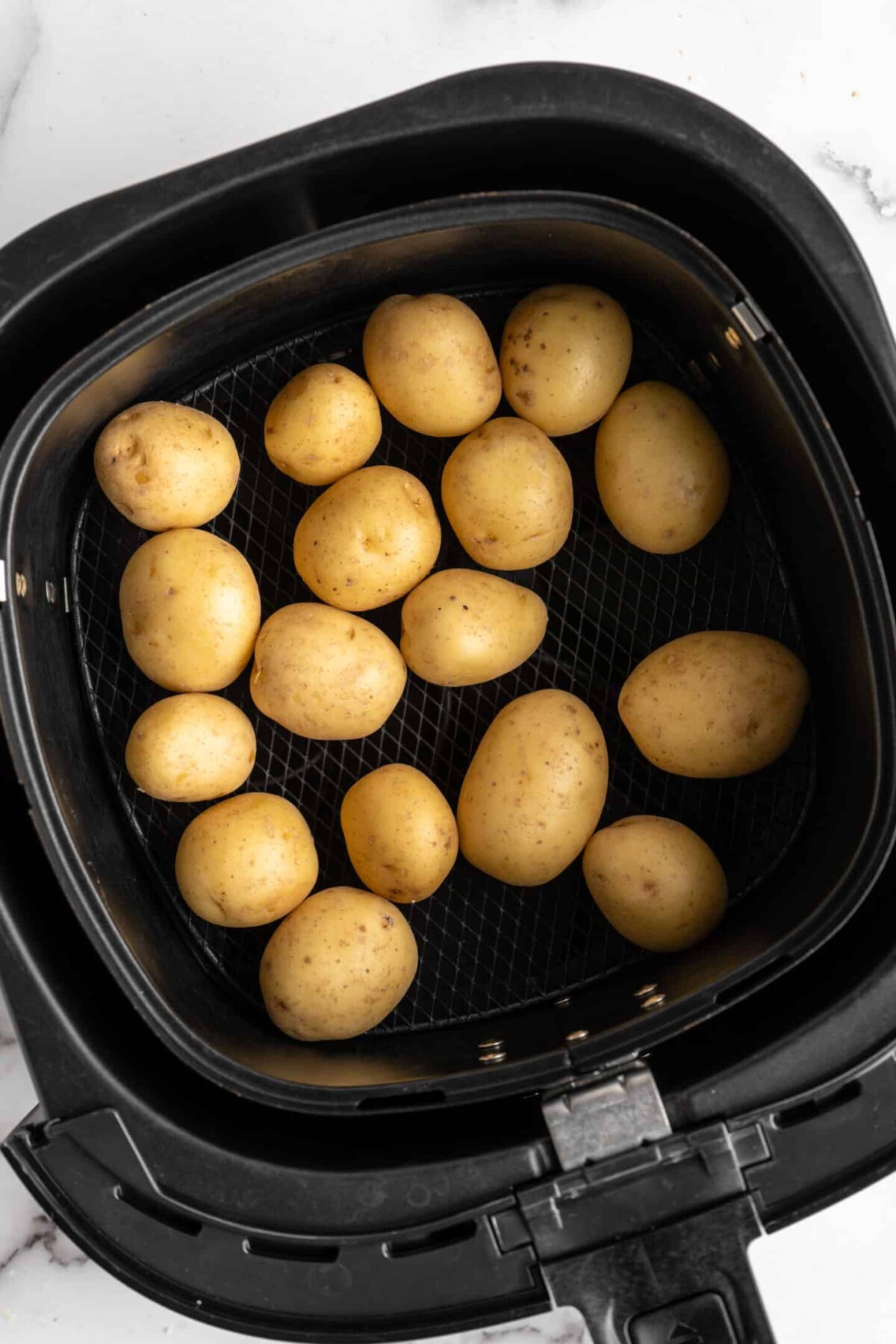 Smash. Remove the potatoes from the air fryer and place them on a baking sheet. Smash them with the bottom side of a glass, breaking the skin and leaving the potatoes flat.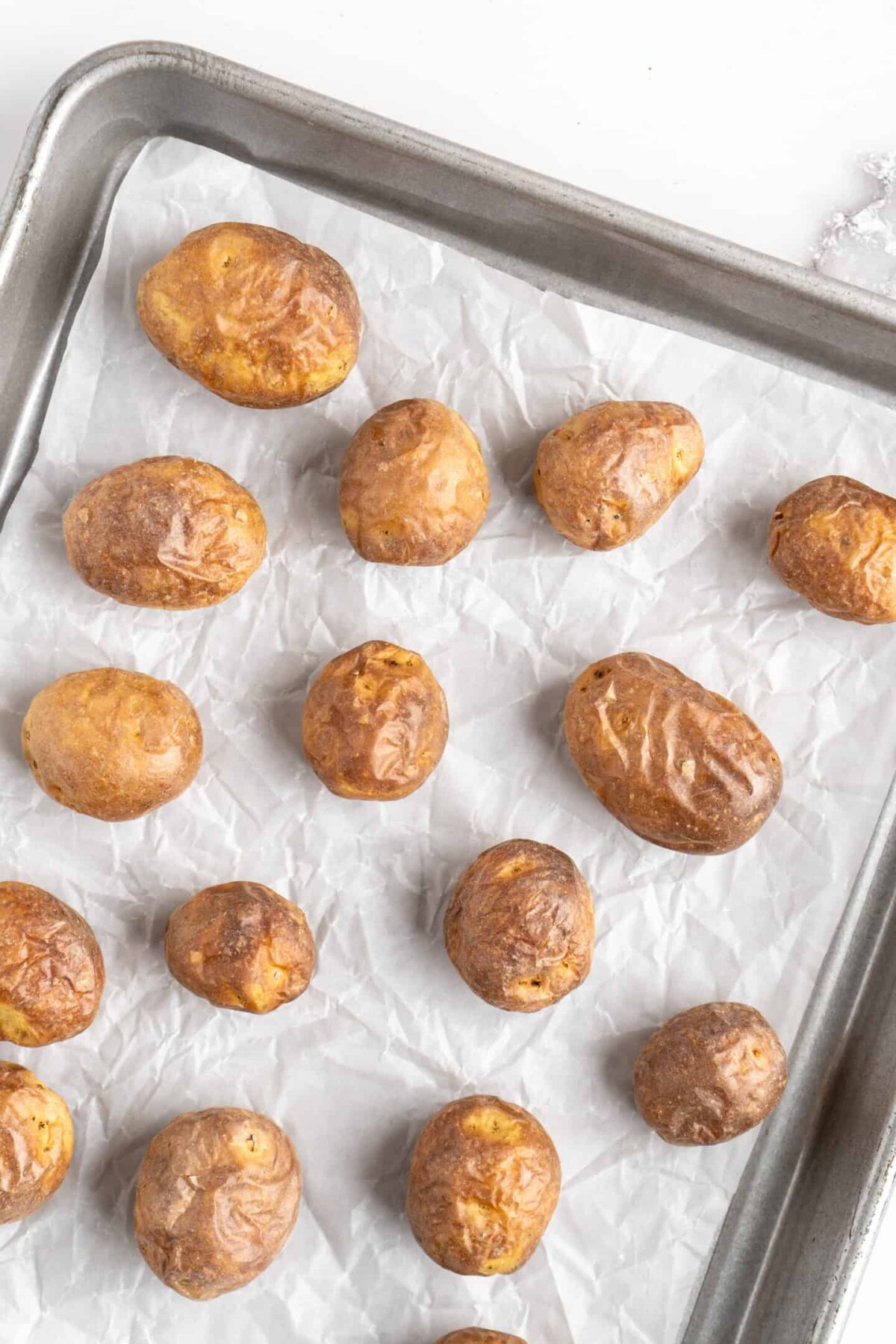 Add the olive oil. Drizzle the olive oil over both sides of the smashed potatoes, making sure to coat them thoroughly.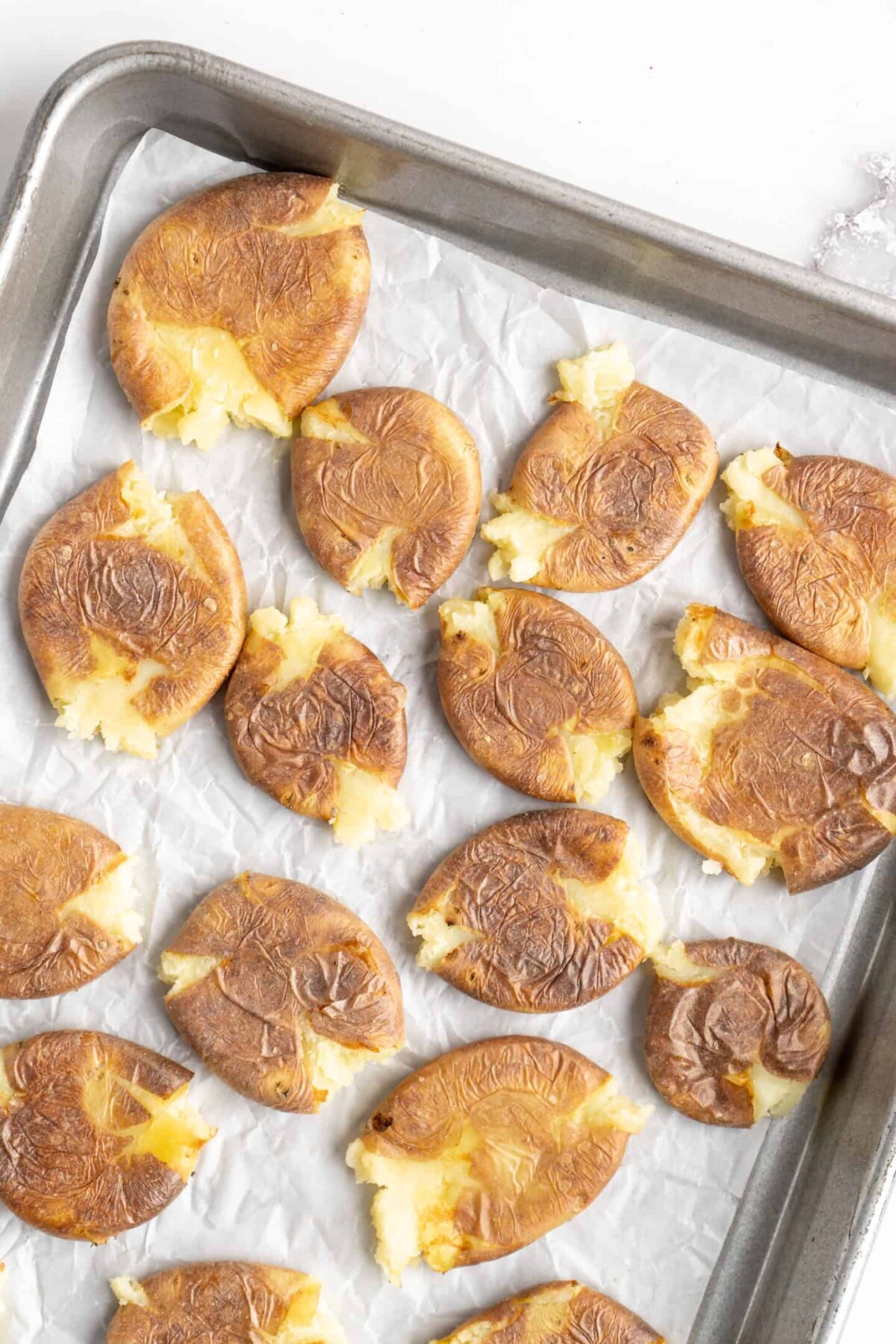 Season. Return the potatoes to the air fryer, then season with salt.
Finish cooking. Cook at 400F for 8 minutes, then remove the potatoes. Top with the optional garnishes, then eat while hot.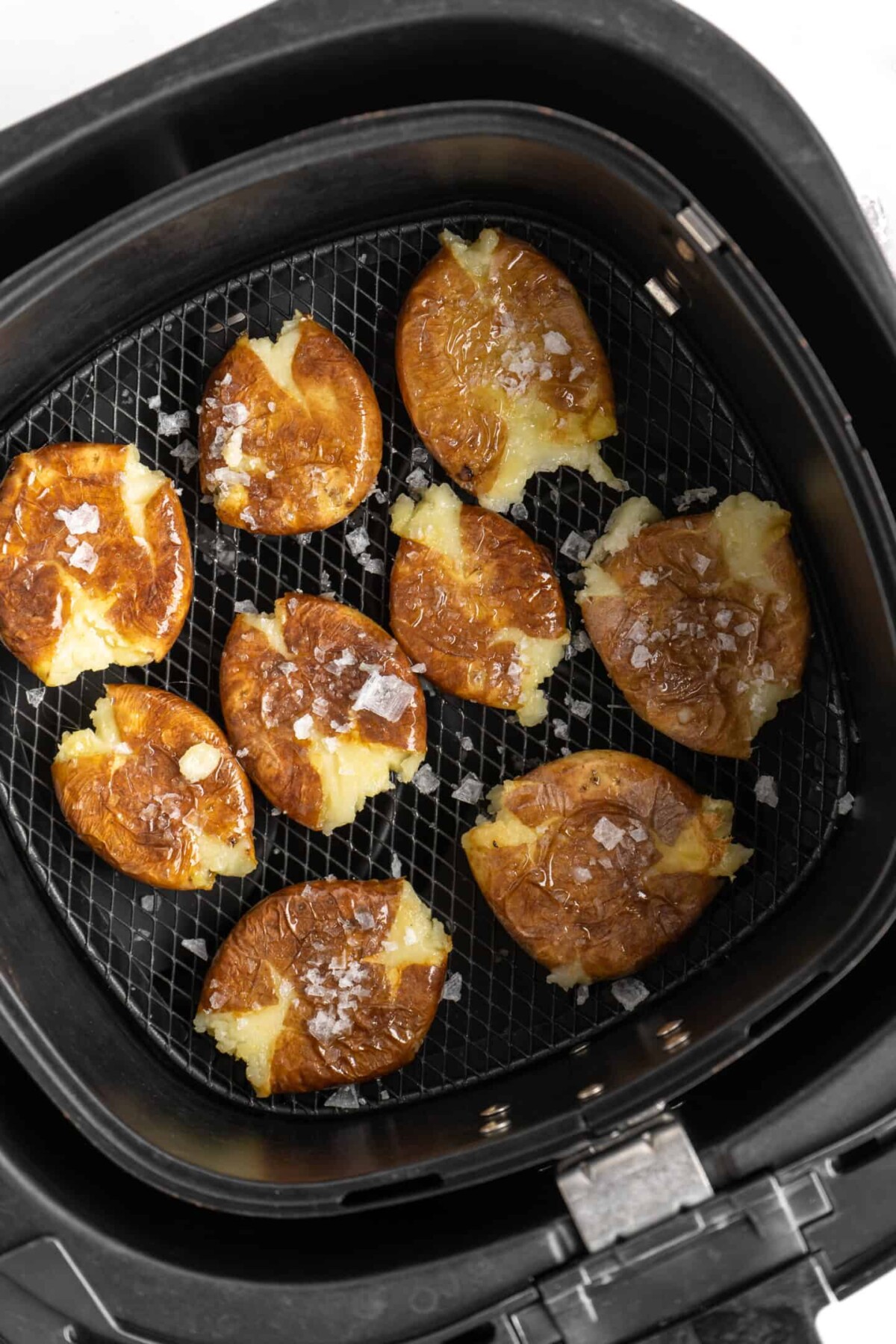 Tips for Success
Here are a few of my favorite tricks and tips for making the best air fryer potatoes.
Use good potatoes. Potatoes have a long shelf life, but after a certain point they start to get a little soft. Soft potatoes are still good to use for many different recipes, but I don't recommend using them for smashed potatoes. In order to get the perfect crunch on this recipe, use potatoes that are still fully firm.
Don't crowd. When you return the smashed potatoes to the air fryer basket, make sure they're not crowded. You don't want the potatoes to be touching, or else air won't be able to circulate around them, and they won't get crispy. You may have to cook the smashed potatoes in batches, but trust me: it will be worth it.
Don't skimp on the salt. If there's one food that can take a heavy dose of salt, it's potatoes. How many times have you had a french fry that had too much salt? Probably not many times. But we've all had countless experiences with fries that aren't seasoned enough. The same is true with smashed potatoes. They'll taste a little bland if you don't give them enough salt, but they'll pop with flavor if you season them strongly.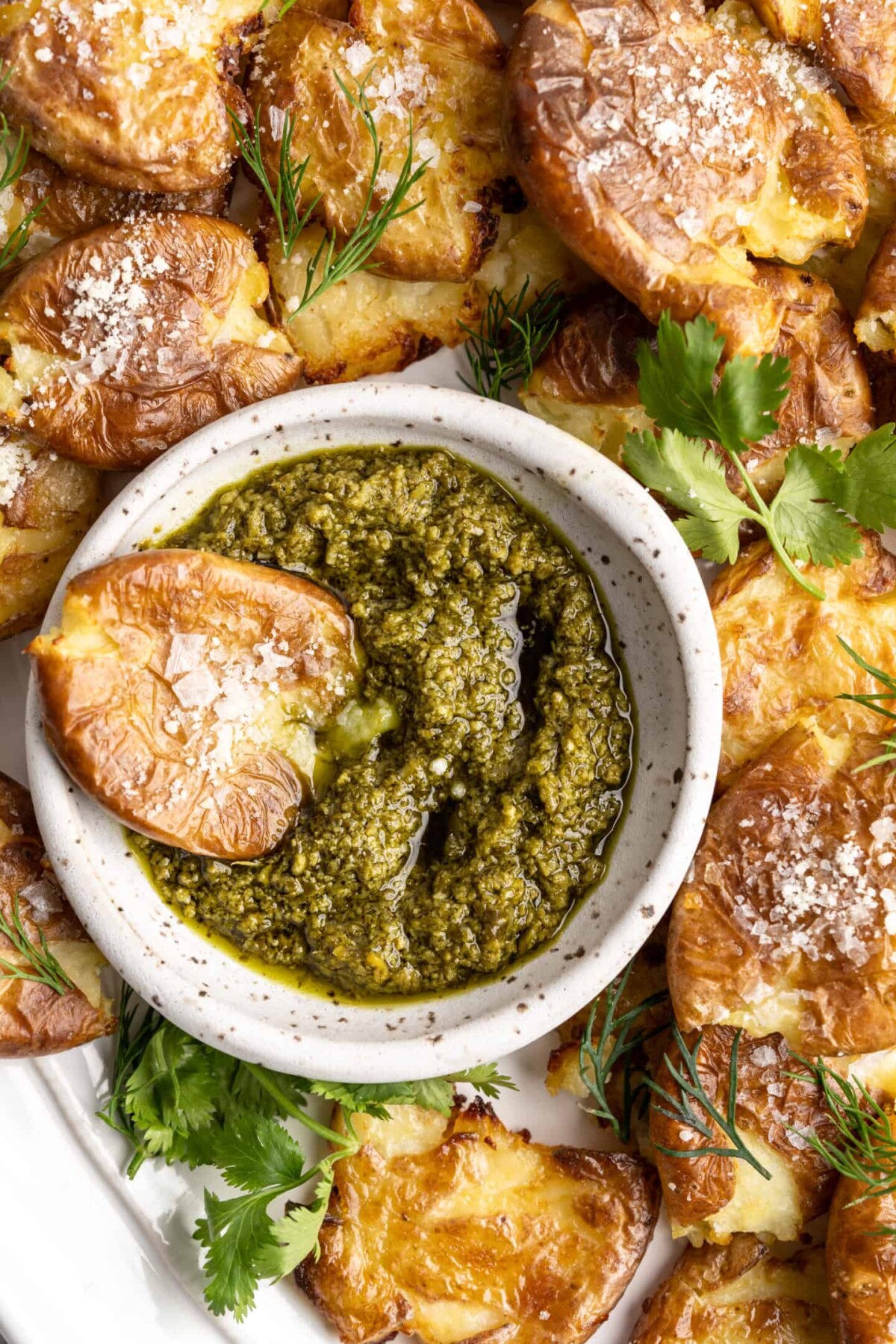 Serving Suggestions
I'm a fan of serving these crispy potatoes alongside a hearty, warm dinner. Here are a few of my favorite dishes to serve them with.
How to Store Air Fryer Smashed Potatoes
You can store these potatoes in an airtight container in the fridge for up to 5 days. However, they'll lose their crisp pretty quickly, so I don't recommend making a large batch just to have leftovers. You can reheat the potatoes in an air fryer set to 400F for 3 minutes.
Can I Freeze This Recipe?
Yes, you can freeze air fryer smashed potatoes in an airtight container for up to 3 months but, like putting them in the fridge, they'll lose some of their crispiness. Reheat straight from the freezer, in a 400F air fryer for 5 minutes.
More Air Fryer Recipes
If you want to make sure that your air fryer is being put to use, try out one of my other favorite air fryer recipes.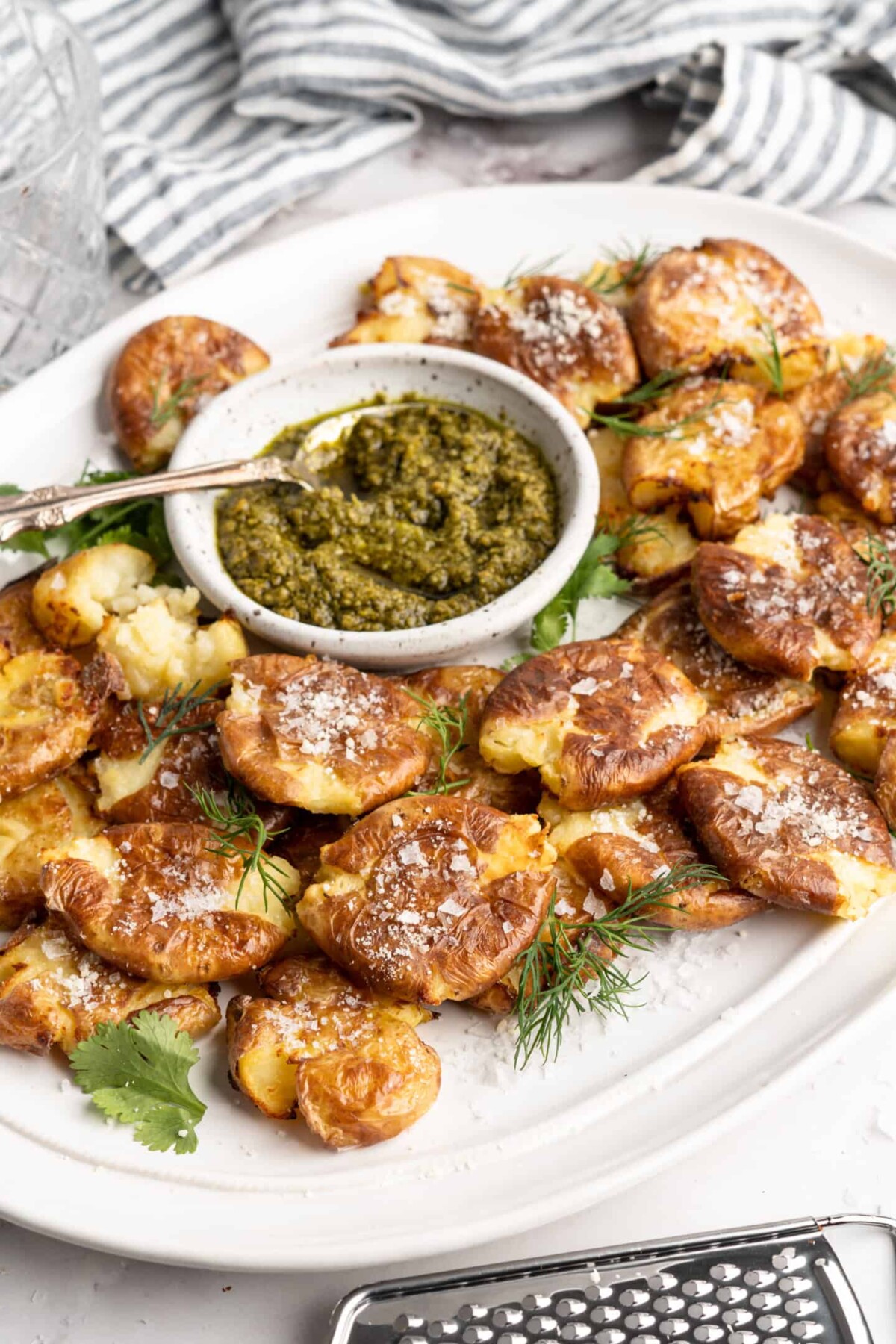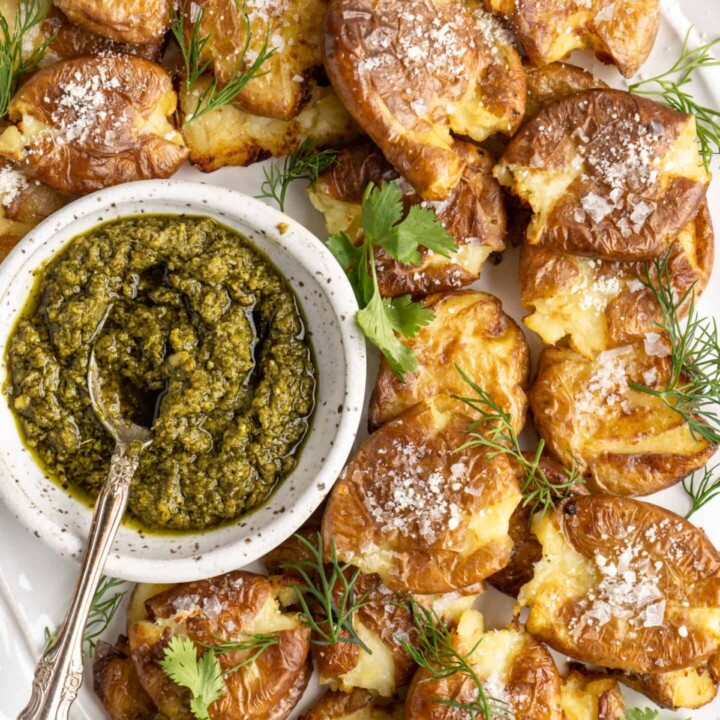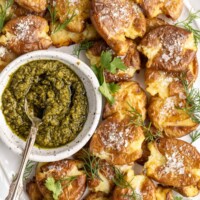 Air Fryer Smashed Potatoes
These air fryer smashed potatoes are crispy and crunchy on the outside, and light and fluffy on the inside. They're easy to make, vegan, and go perfect with almost any meal.
Ingredients
1 lbs baby potatoes, small, or cut in half if bigger, washed and patted dry
½ – 1 tsp flaky sea salt, for topping
1 ½ – 2 tbsp olive oil
pesto, optional
shredded vegan cheese, optional
Instructions
Add your potatoes into the base of your air fryer.

Air fry at 400°F for 20 minutes until cooked through.

Remove potatoes and place on a large baking sheet. Using the bottom of a class, smash the potatoes slightly.

Drizzle with the olive oil all over both sides of the potatoes. You want to really coat them in oil!

Add the potatoes back into the air fryer, leaving enough space so they don't touch (you may have to do multiple rounds but it's worth it!). Sprinkle with sea salt all over.

Air fry again at 400°F for 8 minutes. Remove and serve with any dip, or top with pesto, shredded vegan cheese, or more sea salt, and enjoy!
Notes
Store in an airtight container in the fridge for up to 5 days, or in the freezer for up to 3 months. Reheat in an air fryer at 400F.
Calories: 196kcal, Carbohydrates: 20g, Protein: 2g, Fat: 12g, Saturated Fat: 2g, Polyunsaturated Fat: 1g, Monounsaturated Fat: 9g, Sodium: 879mg, Potassium: 478mg, Fiber: 2g, Sugar: 1g, Vitamin A: 2IU, Vitamin C: 22mg, Calcium: 14mg, Iron: 1mg
Disclaimer: Although jessicainthekitchen.com attempts to provide accurate nutritional information, kindly note that these are only estimates. Nutritional information may be affected based on the product type, the brand that was purchased, and in other unforeseeable ways. Jessicainthekitchen.com will not be held liable for any loss or damage resulting for your reliance on nutritional information. If you need to follow a specific caloric regimen, please consult your doctor first.