Vegan Ranch Dressing
This Vegan Ranch Dressing is just as tangy and creamy as the traditional recipe, but it's oil-free, dairy-free, and it gets its silky smooth texture from cashews!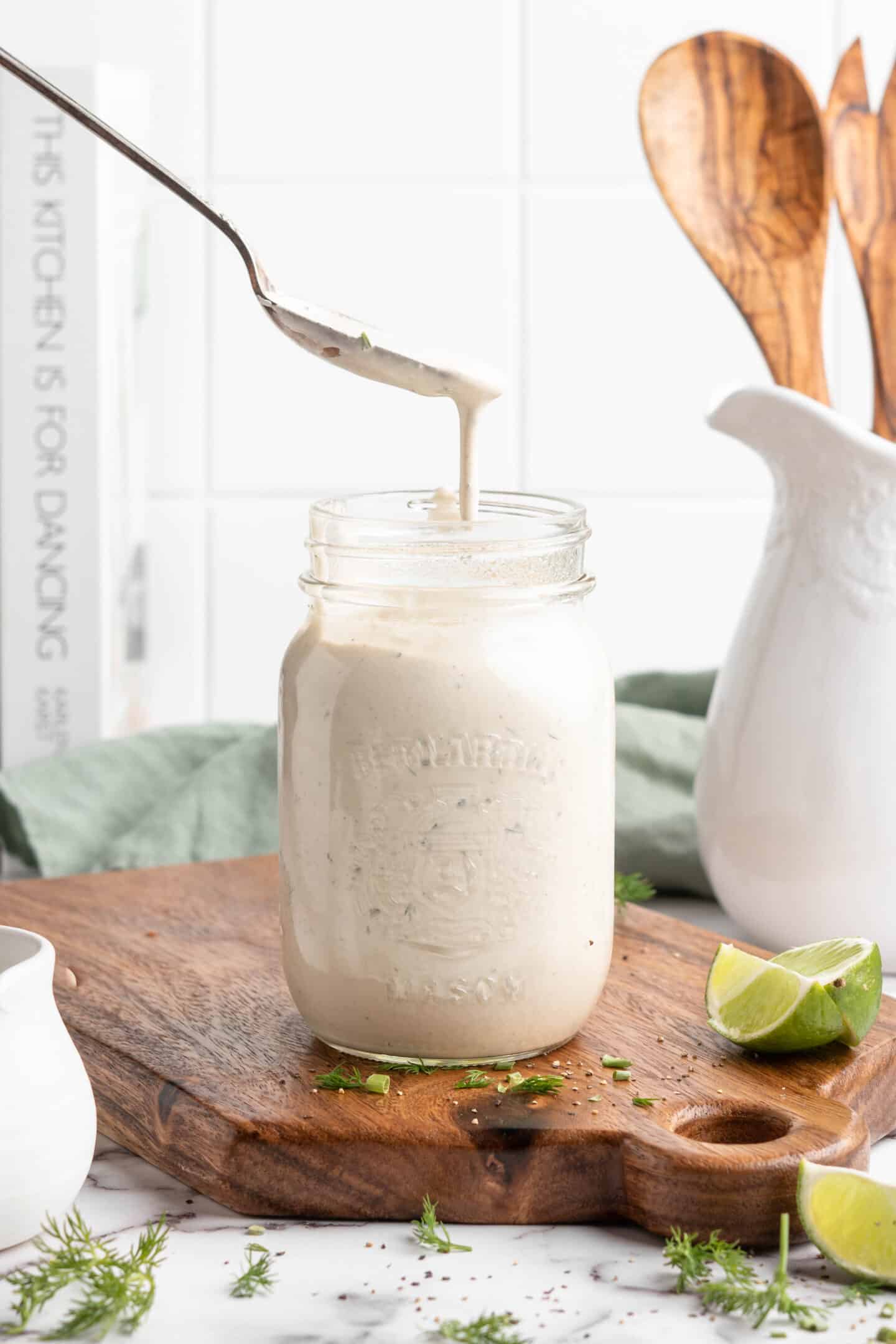 After I posted a recipe for Buffalo cauliflower wings, so many readers asked me to share the recipe for the vegan ranch dressing I paired them with, and the answer was: I bought it at the store. (Yep, even food bloggers rely on those store-bought convenience items.)
It turns out, you all really wanted a recipe for homemade vegan ranch dressing, so I rolled up my sleeves and got to work developing a creamy, tangy, dairy-free ranch dressing that was even better than my beloved brand of bottled dressing.
Well, here it is! This from-scratch vegan ranch dressing is unbelievably tasty, with that signature tangy flavour you expect from any decent ranch dip and, of course, that luxuriously creamy texture. Whip it up in minutes and add it to all the things!
(Cashews are one of my favourite tricks for making recipes creamy without dairy! Try my Cashew Milk, Cashew Whipped Cream, and Baked Vegan Mac and Cheese for some more ideas.)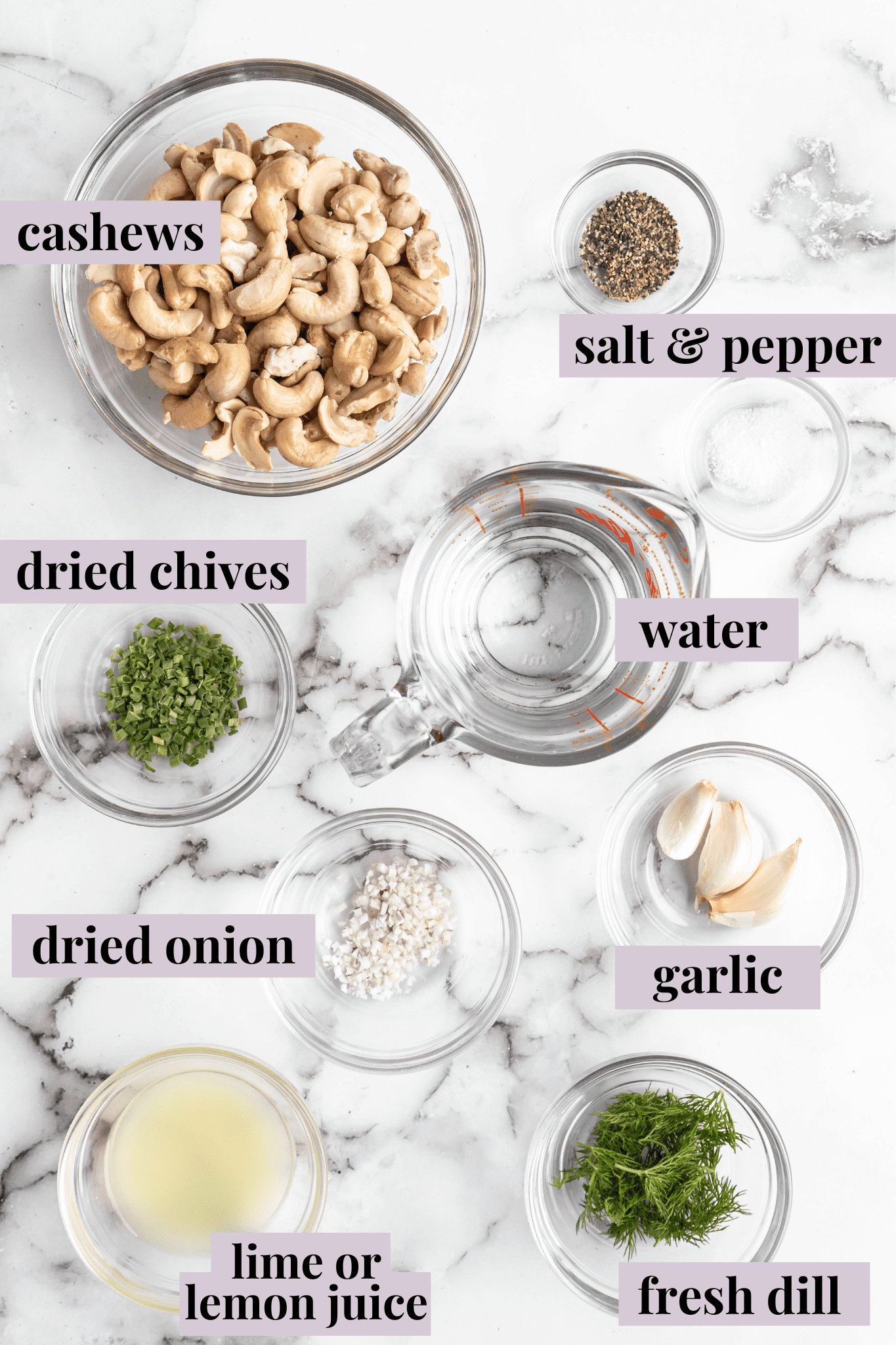 Notes on Ingredients
Please note that this is important information on the ingredients and instructions and the FULL recipe with amounts and details can be found DOWN BELOW (scroll to it) in the recipe card.
Raw cashews – Soak these in water overnight; this softens them up so they can be blended into a smooth consistency.
Water
Garlic
Lime or lemon juice – Lemon juice is a more traditional choice, but lime juice is a nice change of pace!
Dried onion
Dried chives
Freshly ground black pepper
Fresh dill – Fresh dill is miles better than dried dill when you're making homemade ranch dressing, but dried certainly works too; use one-third the amount.
Sea salt
How to Make Vegan Ranch Dressing
Here's how to make your own plant-based ranch at home!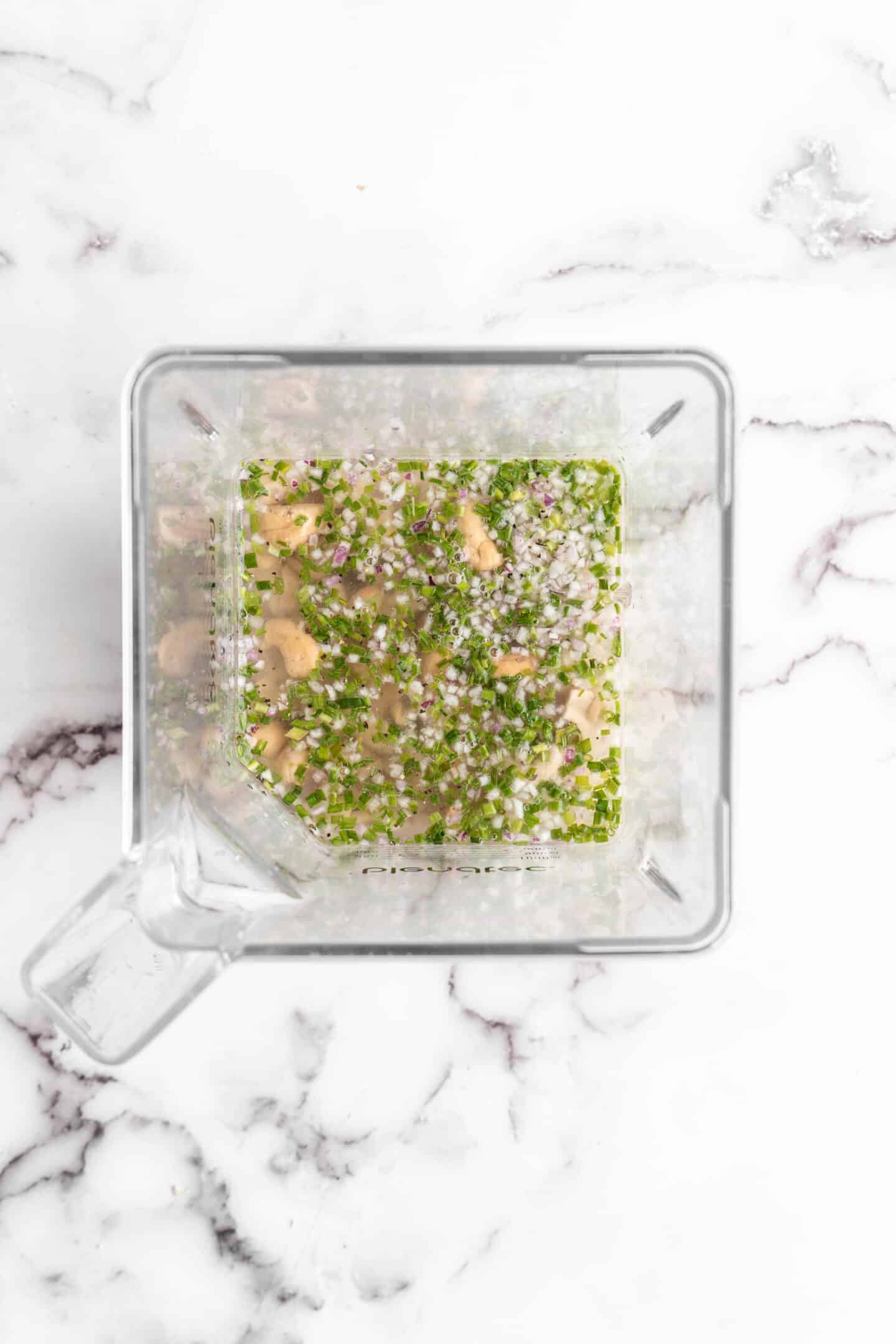 Combine the ingredients. Place all of the ingredients in a high-speed blender.
Blend. Turn on the blender and slowly increase the blender speed until it's running on high. (Or use your blender's dressing setting if it has one.) Blend the dressing until it's completely smooth, with no bits of cashews or large chunks of garlic.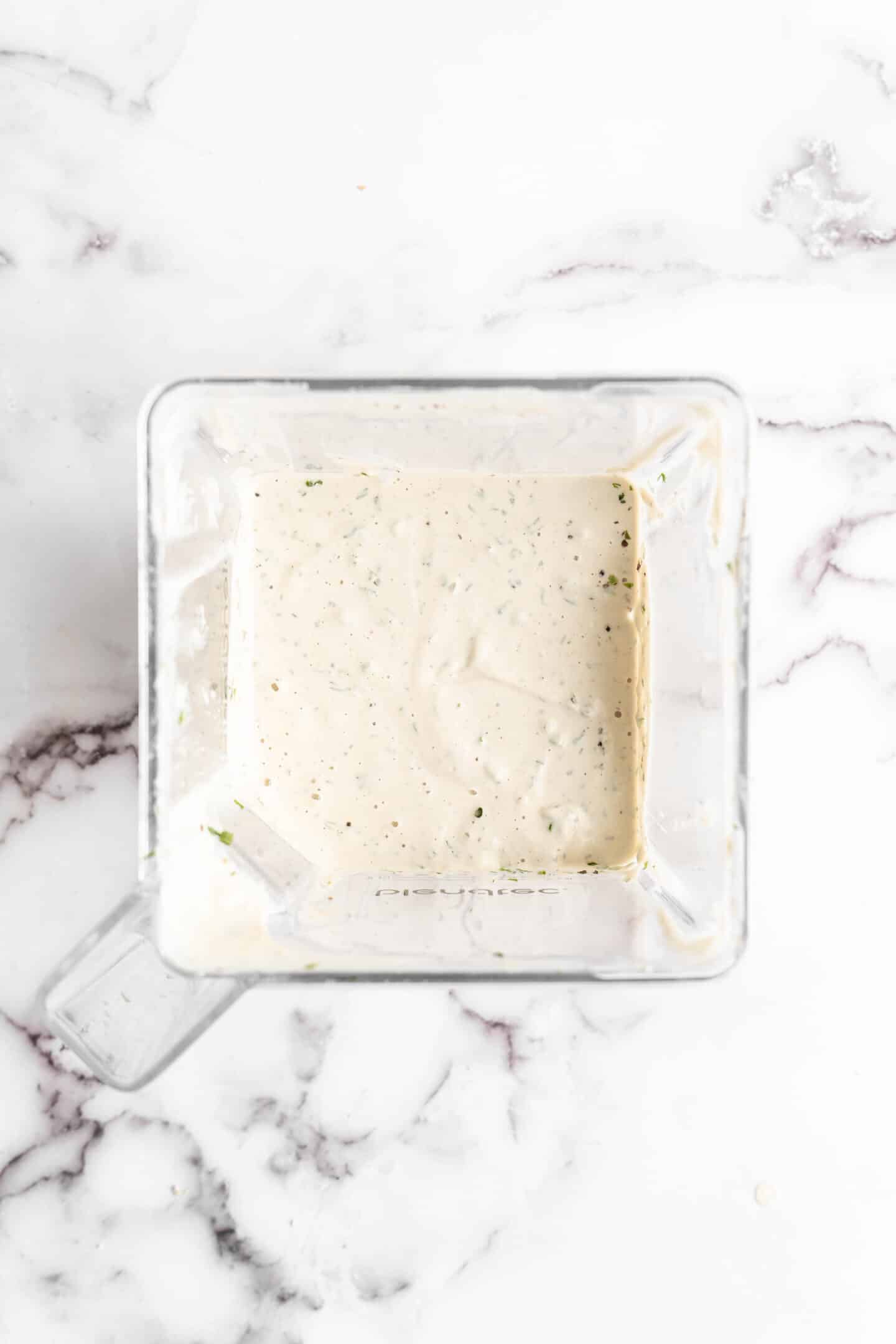 Finish. Season to taste; add more water for a thinner dressing, or more lime or lemon juice for a tangier flavour.
Tips for Success
While this vegan ranch dressing is easy, I have a bunch of tips to help you get it just right.
No blender? No problem! You can make this in a food processor instead, but keep in mind that the texture may not be quite as smooth.
Add the liquid first. Then layer on the solid ingredients. This helps create a vortex that pulls the solid ingredients to the blade, making it harder for air pockets to form.
Chill if needed. If your blender is running for a while, the dressing may end up being a little warm. If this happens, just pop it in the fridge until it's chilled.
Add the dill later, if desired. If you want that classic white ranch dressing, blend the dressing without the dill, then stir it in later. As written, this recipe will give you a dressing with a slight green hue to it since the dill is blended with everything else.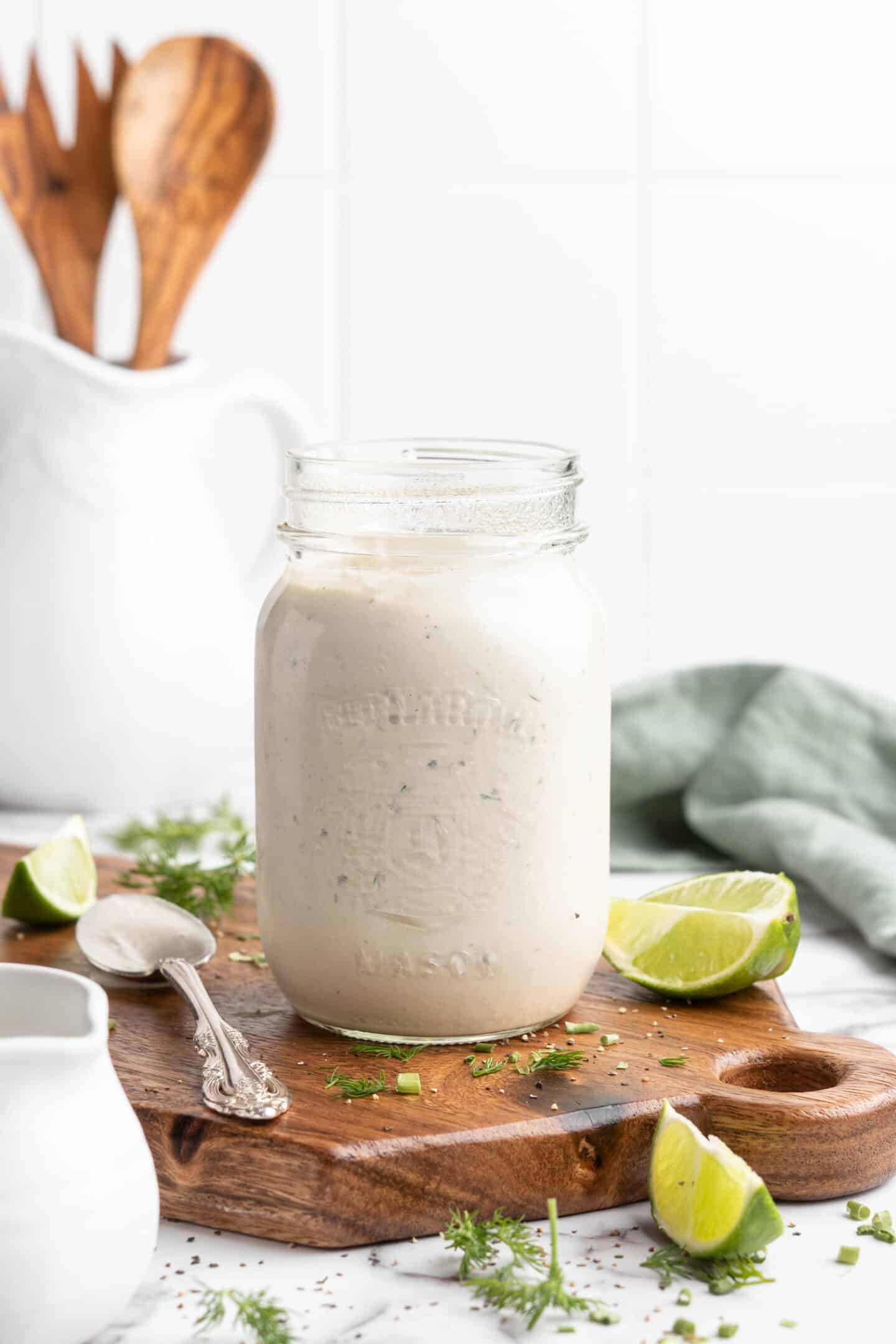 Variations
There are so many ways to customize vegan ranch dressing. Ranch is often paired with spicy foods to temper their heat, but you can add the heat to the dressing instead by stirring in sriracha or your favourite hot sauce.
You can fancy things up by adding cracked black pepper and nutritional yeast for plant-based peppercorn Parmesan ranch, add more herbs, blend in chipotle for some smoky heat—don't be afraid to experiment!
Serving Suggestions
Obviously, you can use this vegan ranch dressing on a salad (like my Vegan Crispy Cajun Fried Tofu Salad!), but it's also amazing as a dip for fresh veggies. If you're one of those people who likes ranch and pizza, try it with my Cauliflower Pizza Bites. I love it as a topping for Quinoa Burgers too!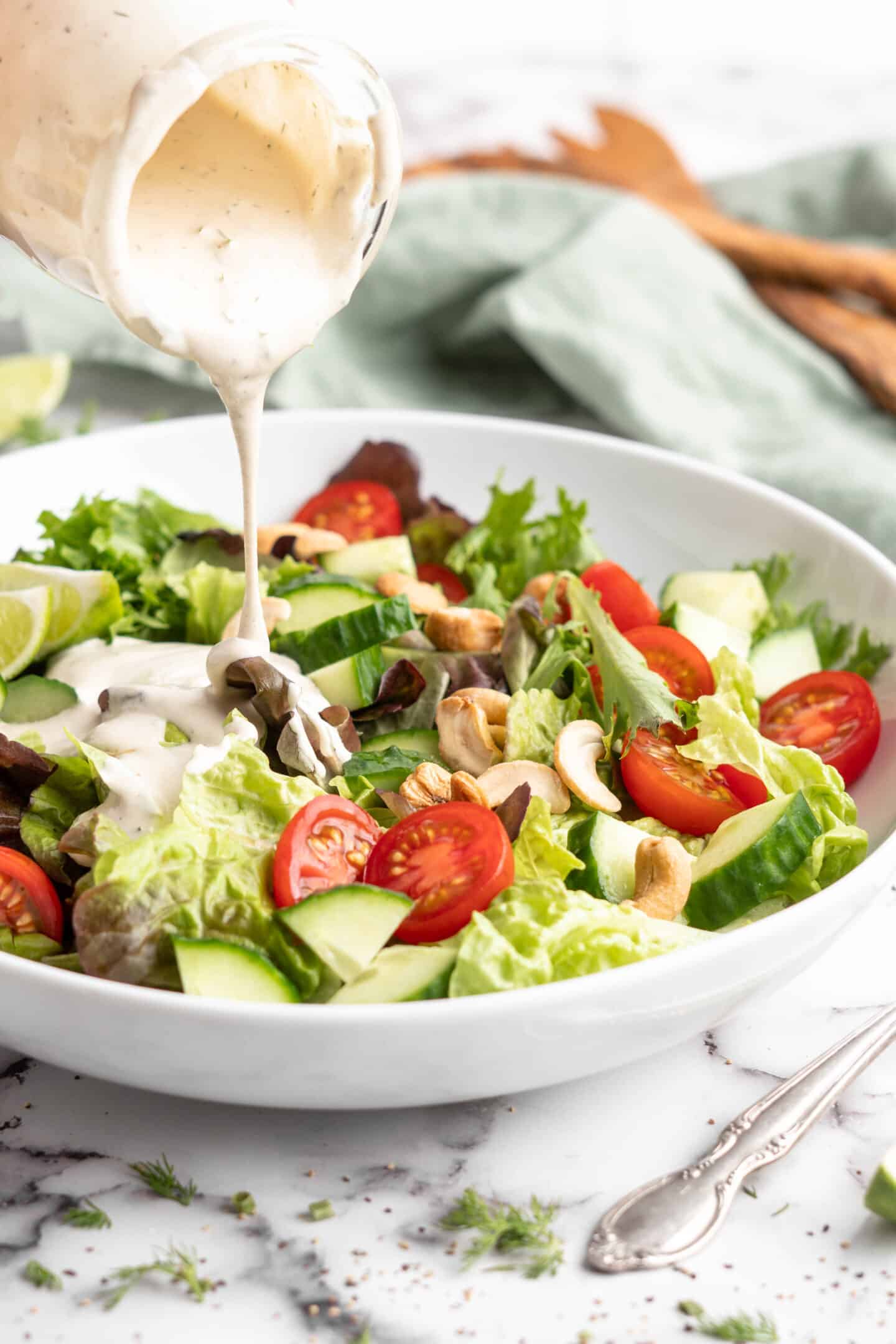 How to Store
Store your homemade vegan ranch in the fridge for up to a week. It will thicken when chilled, so let it sit at room temperature for 15 minutes before serving.
Can This Recipe Be Frozen?
Yes, you can freeze this dressing for up to 3 months. Let it thaw in the refrigerator before using it.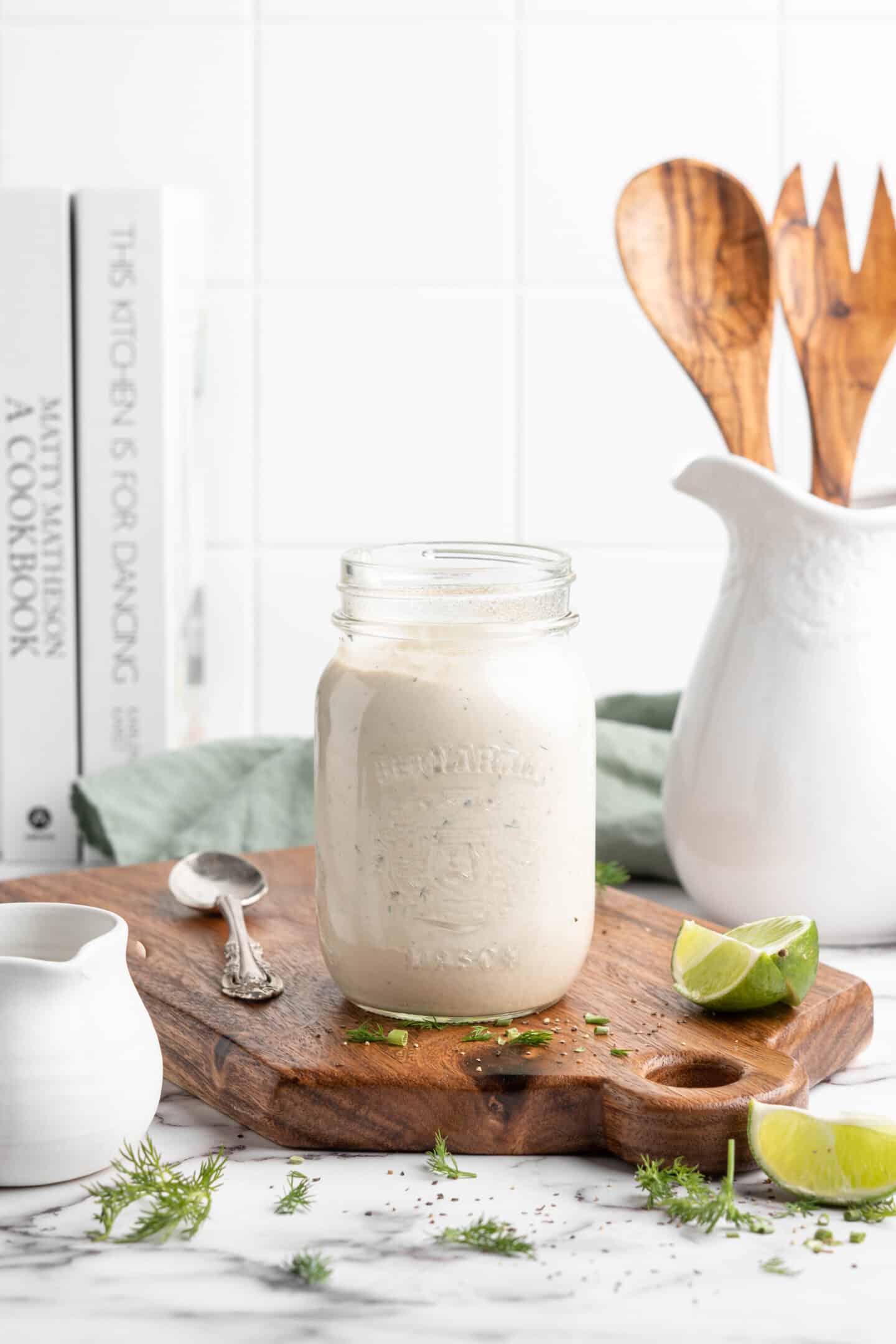 Enjoy friends! If you make this homemade vegan ranch dressing, please snap a photo and tag #jessicainthekitchen on Instagram! We'd also love it if you would leave a comment below, and give the recipe a rating! Thanks so much!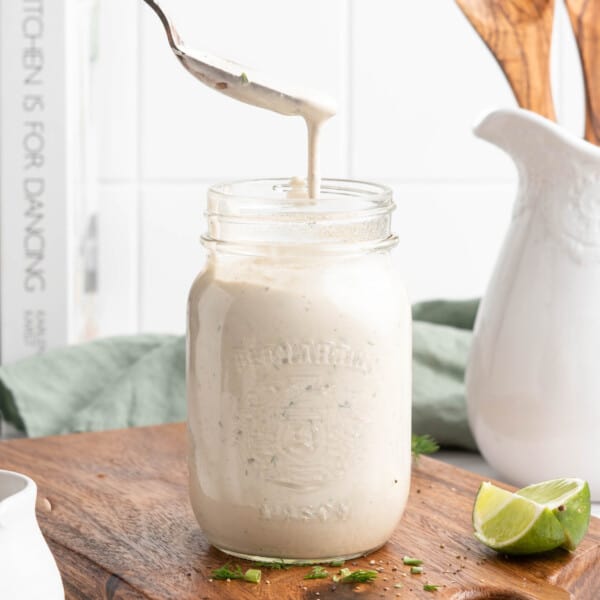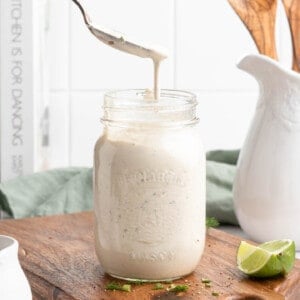 Vegan Ranch Dressing
This tangy vegan ranch dressing is every bit as delicious as the original, and it's so easy to make. Perfect for dressing up salads, dipping veggies, and more!
Ingredients
1 cup raw cashews, soaked overnight in water in a jar (this results in about 1 ¼ cups puffed cashews) and rinsed
3/4 cup fresh water
3 garlic cloves, peeled
1 tablespoon lime or lemon juice
1/2 teaspoon dried onion
1 teaspoon dried chives
1/4 teaspoon freshly ground black pepper
1 1/2 tablespoons fresh dill, chopped
½ teaspoon sea salt
Instructions
In a high speed blender, blend all the ingredients together until blended and completely creamy and incorporated. You can use your blender's dressing setting or blend for at least 2 minutes or until blended.

NOTE: the dill may turn it a slight light green hue, so you can always fold this in afterwards finely chopped. Taste and add more salt or lime/lemon juice if necessary. Add more water if you want it runnier . Serve on salads, with buffalo cauliflower wings or on veggie burgers.

Store it in the fridge for about a week. Before serving on salad, allow it to sit out of the fridge for about 15 minutes first since it can thicken up if you want it runny.
Notes
Store your homemade vegan ranch in the fridge for up to a week. It will thicken when chilled, so let it sit at room temperature for 15 minutes before serving.
Calories: 189kcal, Carbohydrates: 12g, Protein: 6g, Fat: 14g, Saturated Fat: 3g, Polyunsaturated Fat: 3g, Monounsaturated Fat: 8g, Sodium: 298mg, Potassium: 273mg, Fiber: 2g, Sugar: 2g, Vitamin A: 855IU, Vitamin C: 10mg, Calcium: 30mg, Iron: 2mg
Disclaimer: Although jessicainthekitchen.com attempts to provide accurate nutritional information, kindly note that these are only estimates. Nutritional information may be affected based on the product type, the brand that was purchased, and in other unforeseeable ways. Jessicainthekitchen.com will not be held liable for any loss or damage resulting for your reliance on nutritional information. If you need to follow a specific caloric regimen, please consult your doctor first.