Vegan Ranch Dressing (Oil-Free)
This Vegan Ranch Dressing tastes as tangy and is just as creamy as your favourite regular ranch dressing!! It's oil-free, dairy free and really pumps up a salad!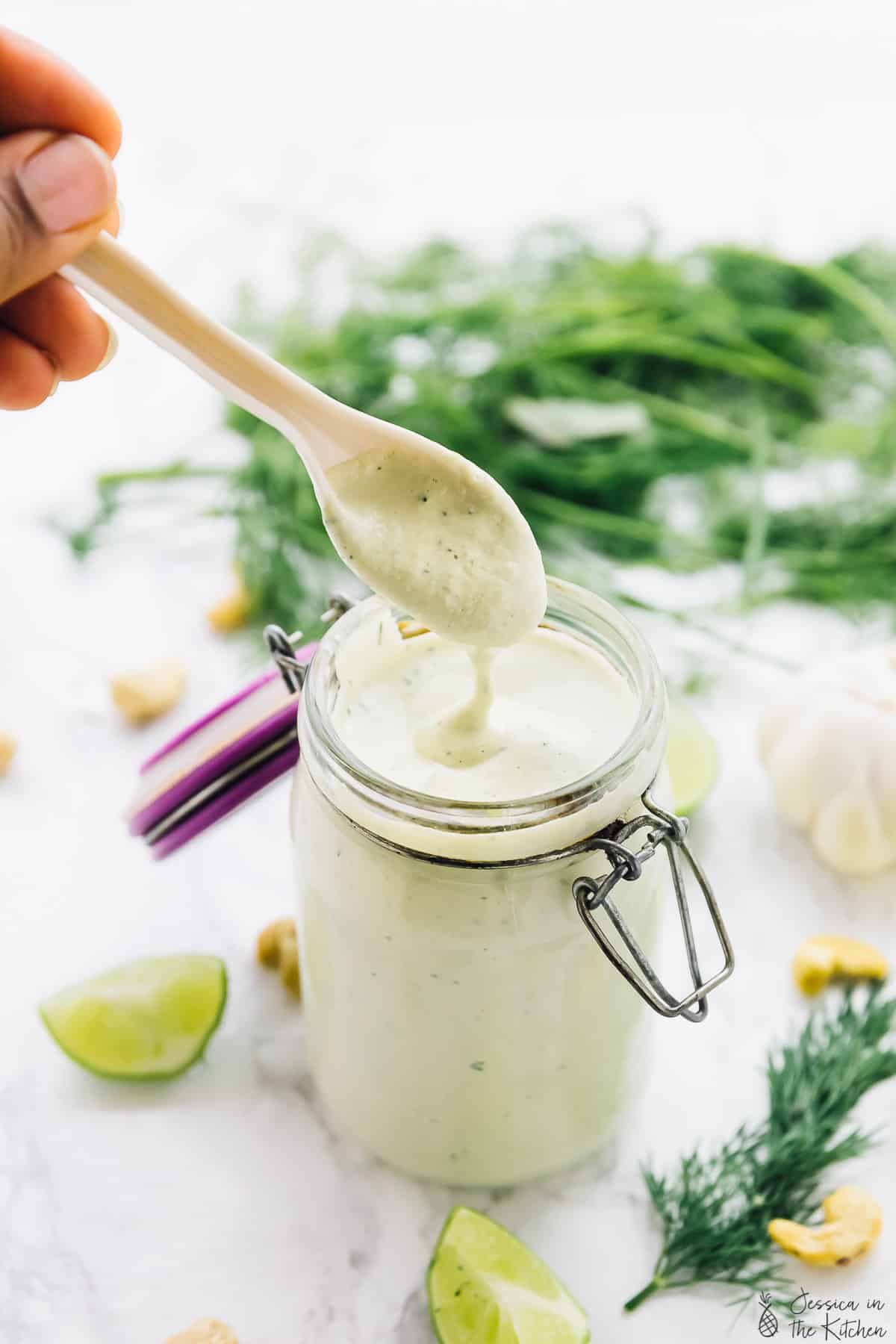 Ever since posting my
buffalo cauliflower wings
, besides "yum!!" the comment I get the most is "what's the recipe for that white sauce??" The "white sauce" is vegan ranch dressing and I usually buy a good organic brand that I love. Until I realised that you guys *really* wanted a recipe for it, so I created one!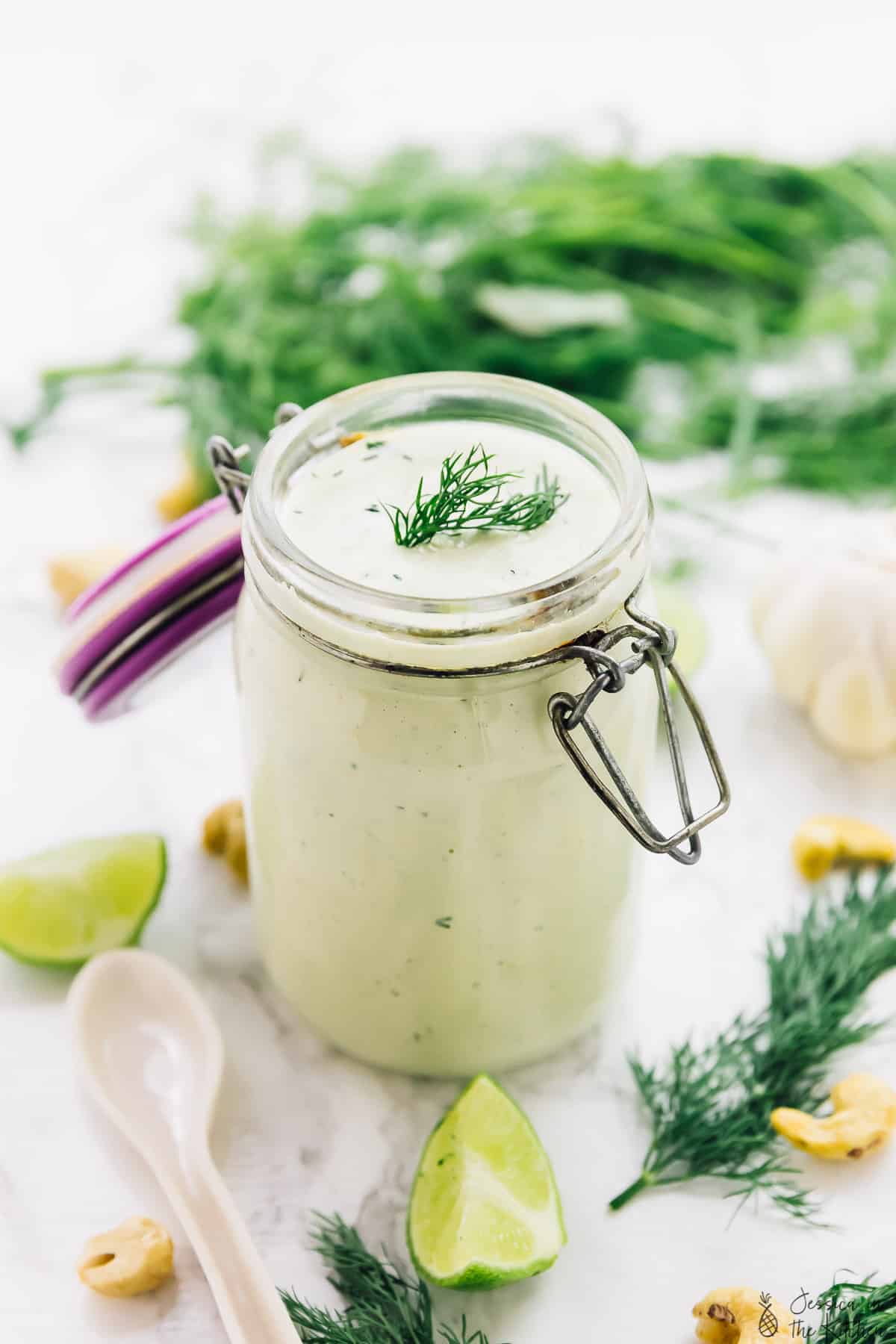 Vegan Ranch Dressing is unbelievably tasty. It has that tangy flavour that is exactly like regular ranch dressing. It drips like store-bought dressing. It's also SO easy to make, which I love.
Vegan Ranch Dressing Ingredients
All the ingredients come together to make that perfect tangy, creamy combo to make this vegan ranch dressing:
Cashews – when soaked, blend into perfect creaminess
Water – sure, plain ingredient but helps to give the dressing that spreadable, drip texture
Fresh dill – adds such a bright flavourful that is essential to ranch dressing
Lemon, dried onions and dried chives – adds that tangy flavour that will have you pouring extra vegan ranch dressing on, well, everything. The citrus also is a great emulsifying agent which stops liquids from separating and helps to keep the salad dressing
Garlic – garlic is amazing in everything!
Black pepper and sea salt – perfect for bringing out and balancing natural flavours. Feel free to add more salt by the pinch if you need to bring out yours a bit more, since all seasonings vary just a bit.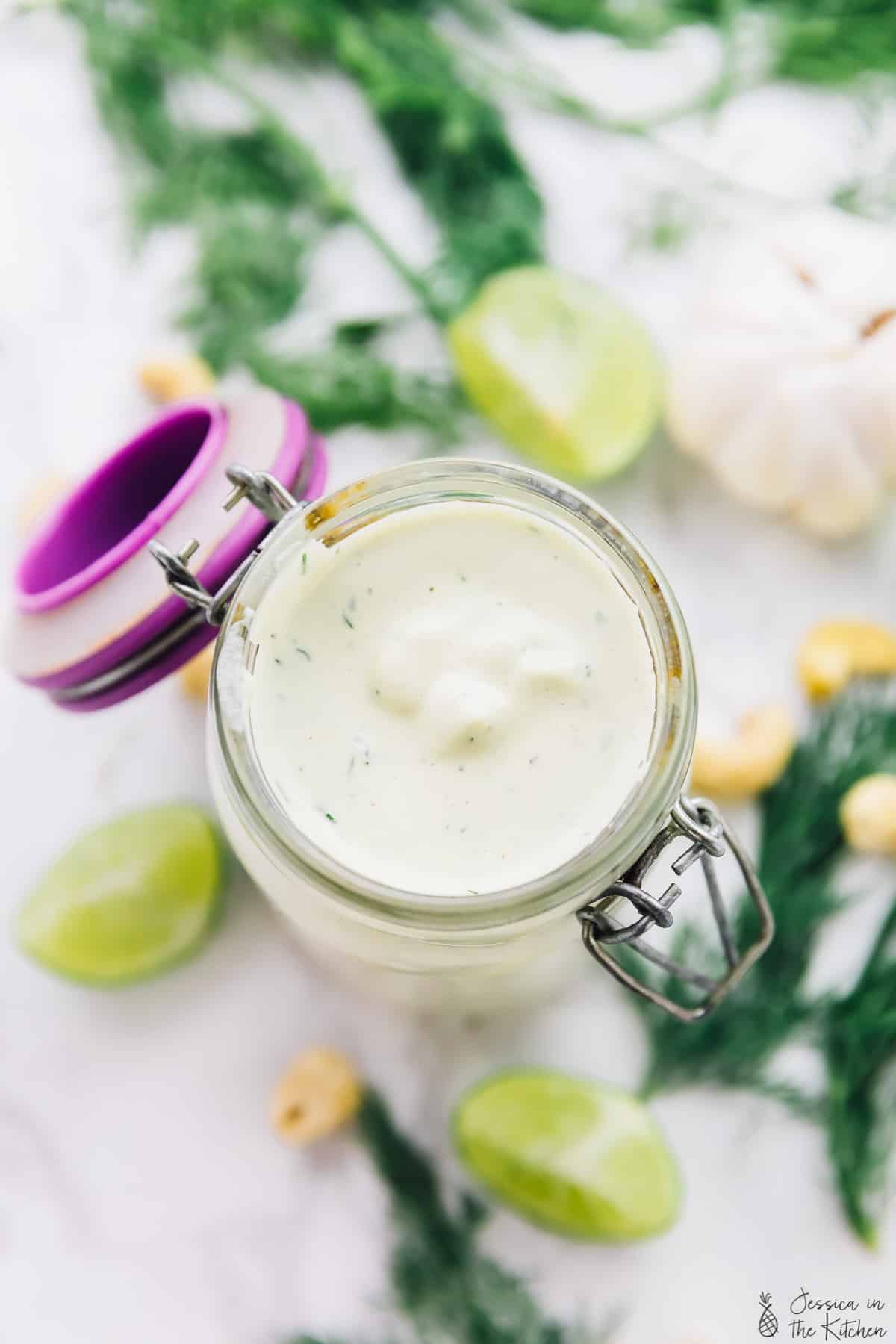 Also, feel free to add some additional seasonings. Some people love to add cayenne pepper or paprika or hot sauce to their ranch dressing. Go ahead and do it!
P.S. if you're using a high speed blender, then your ingredients can get really blended. Case in point, my dill *really* blended in causing a slight green hue. Really slight. It created an immediate flavour though, which was #worthit. If you want something pure white though, go ahead and just fold in the finely chopped dill and allow it to marinade for a couple of hours. You're good either way, friend.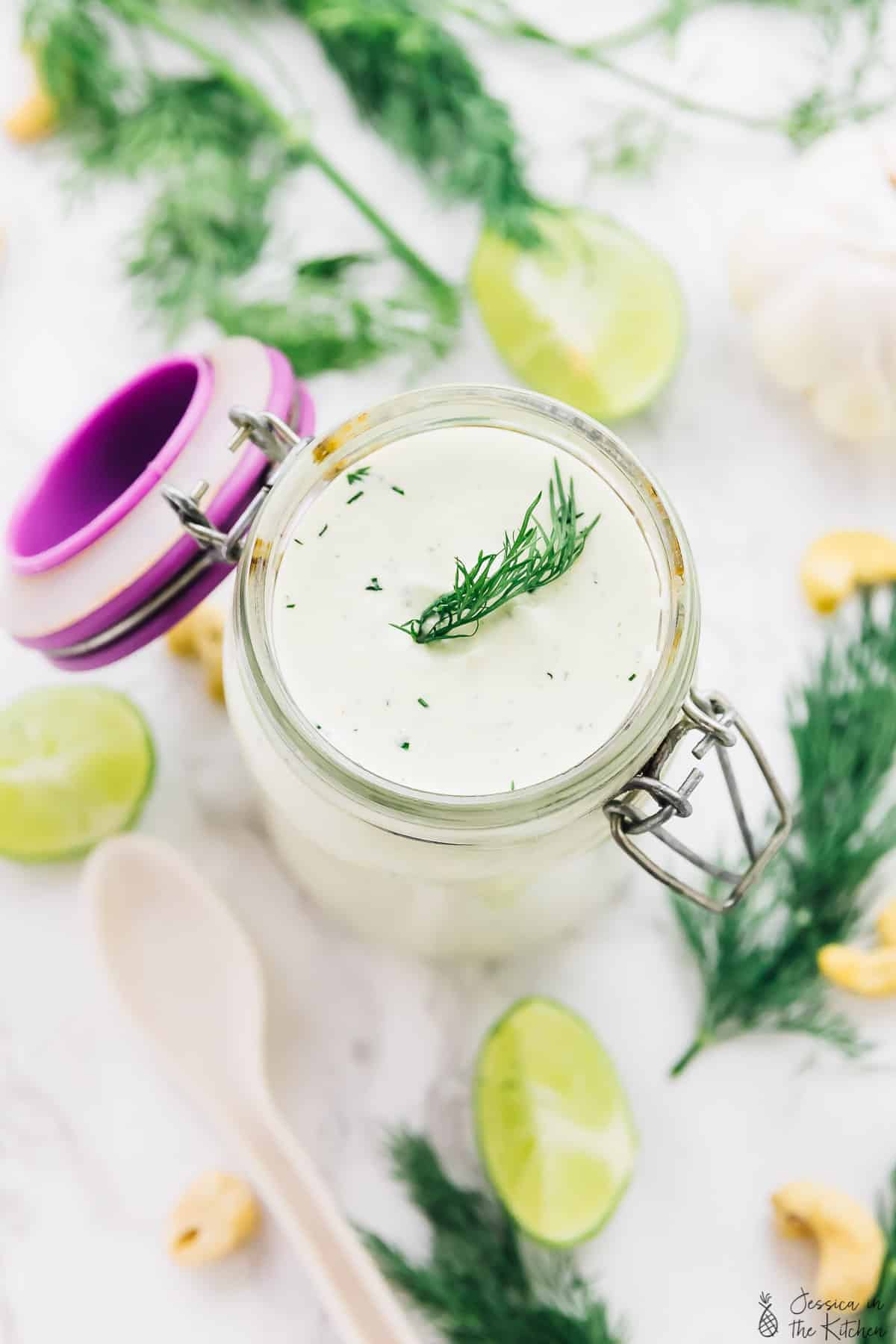 I hope you try this on everything and enjoy! I'm making a new salad recipe that I can't wait to bring to you that this will taste SO divine on!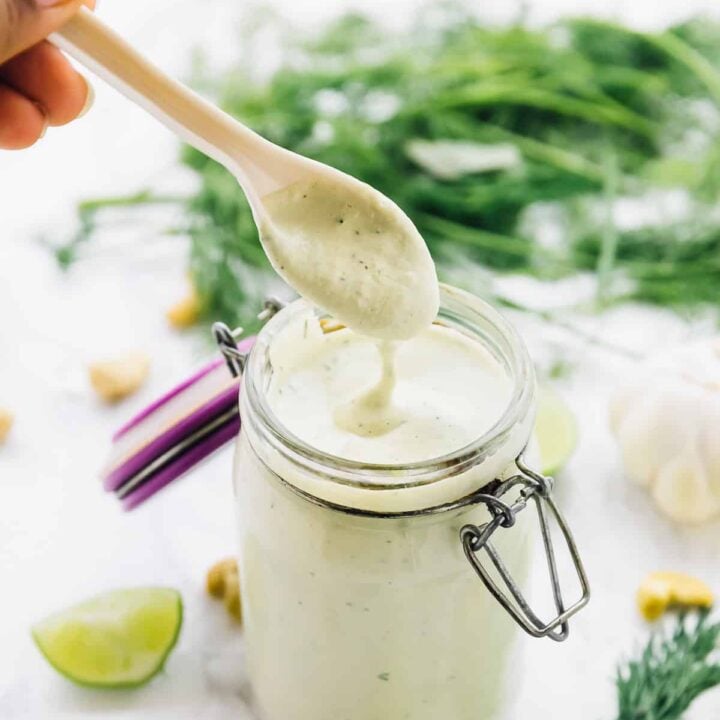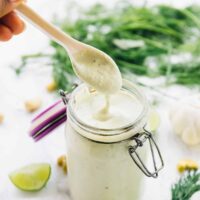 Vegan Ranch Dressing (Oil-Free)
This Vegan Ranch Dressing tastes as tangy and is just as creamy as your favourite regular ranch dressing!! It's oil-free, dairy free and really pumps up a salad!
Ingredients
1 cup raw cashews, soaked overnight in water in a jar (this results in about 1 ¼ cups puffed cashews) and rinsed
3/4 cup fresh water
3 garlic cloves, peeled
1 tablespoon lime or lemon juice
1/2 teaspoon dried onion
1 teaspoon dried chives
1/4 teaspoon freshly ground black pepper
1 1/2 tablespoons fresh dill, chopped
½ teaspoon sea salt
Instructions
In a high speed blender, blend all the ingredients together until blended and completely creamy and incorporated. You can use your blender's dressing setting or blend for at least 2 minutes or until blended.

NOTE: the dill may turn it a slight light green hue, so you can always fold this in afterwards finely chopped. Taste and add more salt or lime/lemon juice if necessary. Add more water if you want it runnier . Serve on salads, with buffalo cauliflower wings or on veggie burgers.

Store it in the fridge for about a week. Before serving on salad, allow it to sit out of the fridge for about 15 minutes first since it can thicken up if you want it runny.
Calories: 754kcal, Carbohydrates: 48g, Protein: 25g, Fat: 57g, Saturated Fat: 10g, Sodium: 1193mg, Potassium: 1073mg, Fiber: 6g, Sugar: 9g, Vitamin A: 3367IU, Vitamin C: 39mg, Calcium: 104mg, Iron: 10mg
Disclaimer: Although jessicainthekitchen.com attempts to provide accurate nutritional information, kindly note that these are only estimates. Nutritional information may be affected based on the product type, the brand that was purchased, and in other unforeseeable ways. Jessicainthekitchen.com will not be held liable for any loss or damage resulting for your reliance on nutritional information. If you need to follow a specific caloric regimen, please consult your doctor first.