Cauliflower Pizza Bites
These Cauliflower Pizza Bites will satisfy your pizza cravings! Everyone from kids to college students love them, and they are low carb!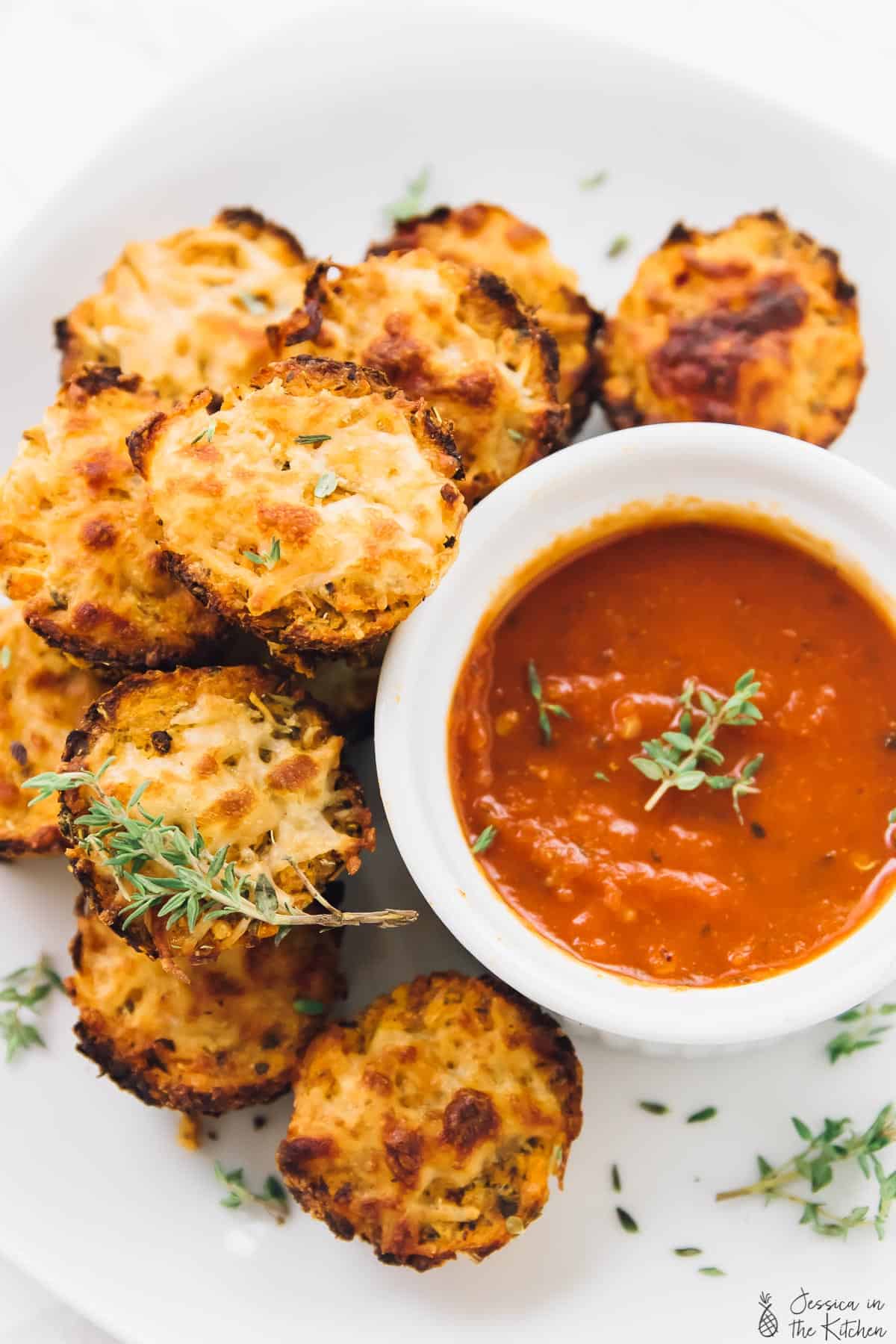 Oh friends, you're in for a treat today. Ever since I made my Quinoa Pizza Bites, I've been thinking of another way to make delicious and easy pizza bites. These Cauliflower Pizza Bites fit the bill PERFECTLY. I love that they are packed with hidden veggies (take it from the Mr. – you would never know!!), are low carb and super kid to adult friendly. Also – such an easy on the go snack/meal.
You've got to try these.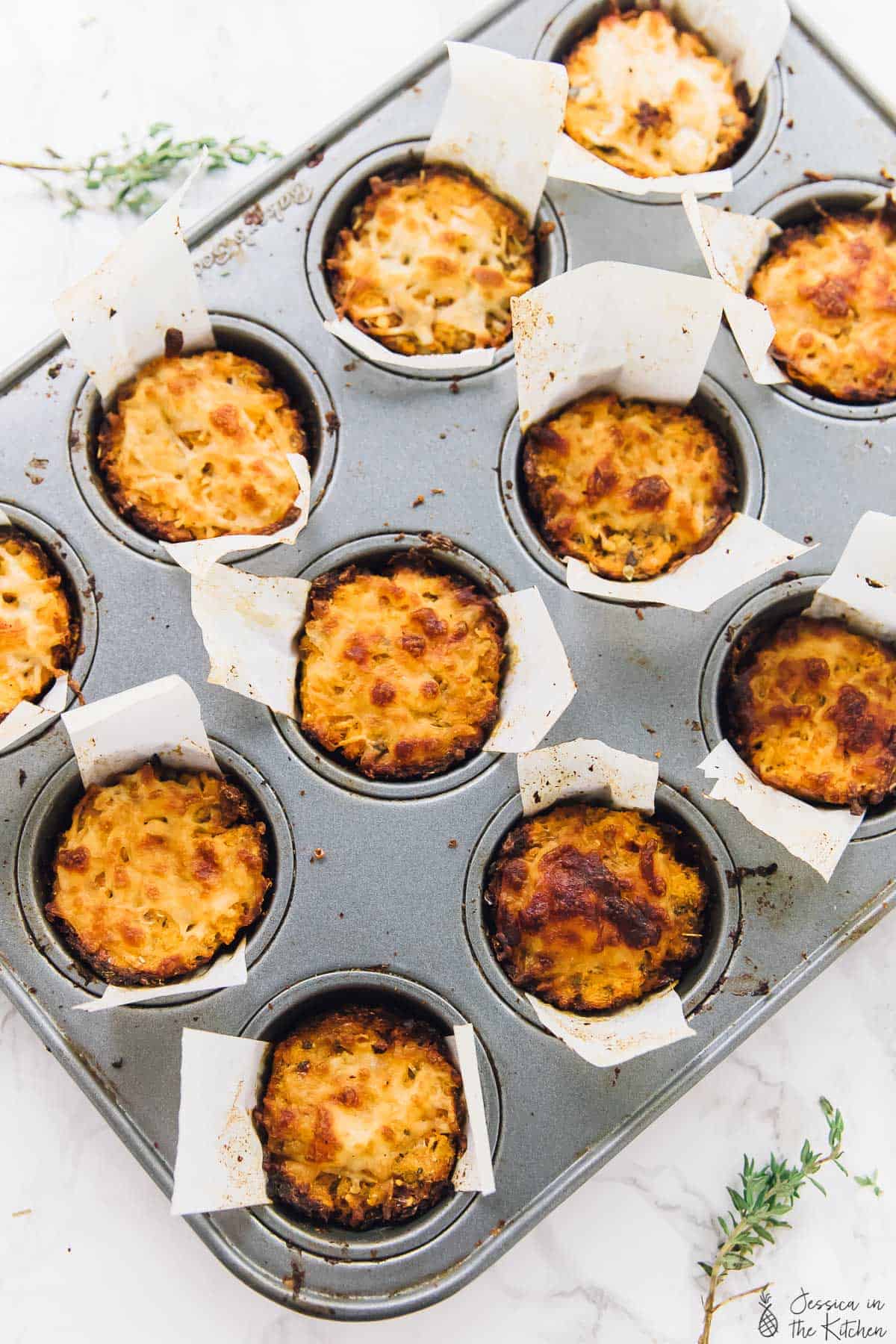 I'm always trying to find ways to sneak in more veggies into these recipes for you guys. So much so that I did a whole post on it. These cauliflower pizza bites are actually low carb, with 2g of carbs per bite, and a whole lot of cauliflower in there. The thing is – you wouldn't know. They taste like mini pizza bites, complete with the marinara sauce or homemade tomato sauce, all while being really healthy. I made these without a food processor on purpose because who wants to wash all those parts all the time?! Also, if you don't have a food processor, I wanted to show you how to make these anyhow and cauliflower rice in general.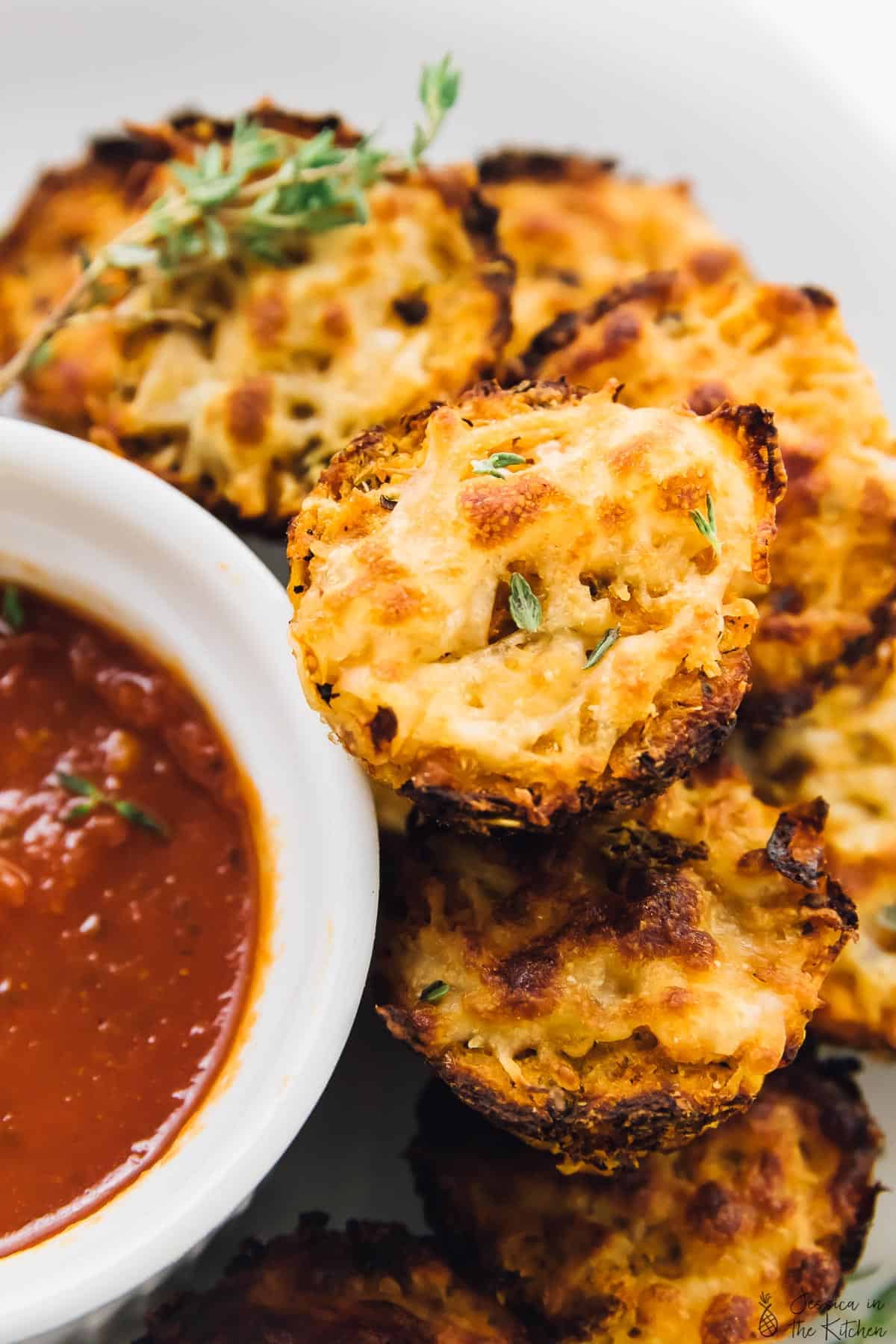 Just like you would cauliflower rice, you grate the cauliflower until it's completely shredded. Use the finest setting on your mandolin/grater for this. To ensure this recipe is crisp on the outside and fluffy on the inside, I cook the cauliflower, then squeeze allllll that liquid of it. Let me tell you – it is a LOT of liquid. I'm pretty sure the Mr. and I squeezed almost a cup out of ours! It's so important to squeeze it all out to ensure that the cauliflower bites are divine, and not at all soggy. Done properly – they are just wonderful.
You can add any toppings you'd like to these. I like to just add cheese, but if I ever get my hands on mini vegan "pepperoni" slices I would jazz these up, or even tiny sun-dried tomatoes on top. They're also super freezer friendly so MEAL prep time friends! Enjoy!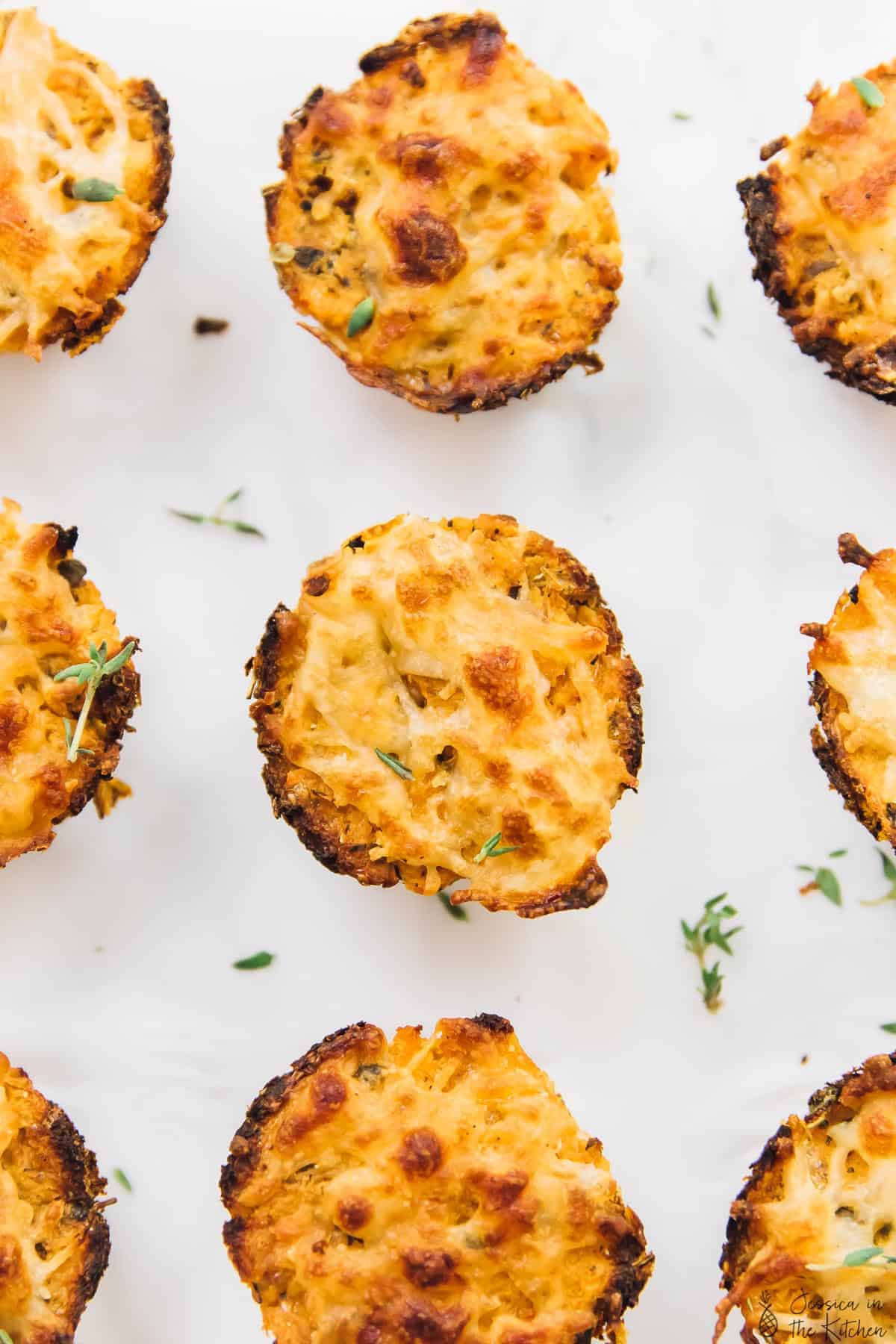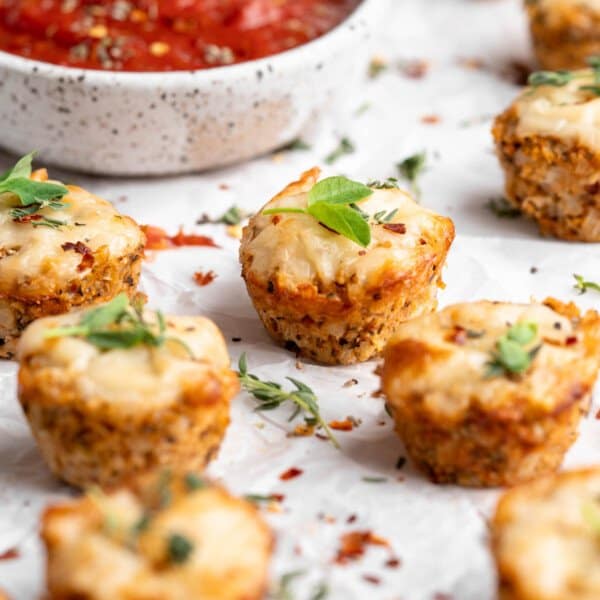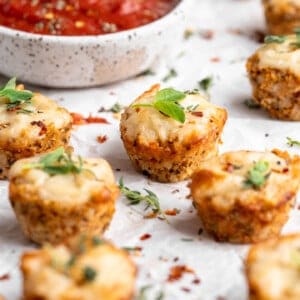 Vegan Cauliflower Pizza Bites
These Cauliflower Pizza Bites will satisfy your pizza cravings! They're cheesy, easy, and low carb, too!
Ingredients
1 medium head of cauliflower, 935 grams
½ cup vegan shredded cheese + 2 extra tablespoons of cheese
1 flax egg or egg replacement
¼ teaspoon sea salt, to taste
½ teaspoon ground pepper
3 tablespoons of marinara sauce
½ teaspoon garlic powder
3 teaspoons italian seasoning
¼ teaspoon crushed red pepper flakes, optional
Instructions
Preheat oven to 400 ° F/ 205° C. Layer a 12 mini muffin tin pan with parchment paper strips - it makes it so easy to remove.

Remove the cauliflower leaves. Using a mandolin/grater, shred the cauliflower to make a "cauliflower" rice. Place the cauliflower rice in a large bowl with a paper towel over it and microwave it for 5 minutes.

Remove and allow it to cool down. Put the cauliflower in a thin kitchen towel, and over a bowl or the sink, and bundle and squeeze tightly. A lot of liquid will be released! Keep squeezing until you can't get any liquid out. The cauliflower will look thick and fluffy and almost mealy.

In a bowl, mix the cauliflower, cheese, flax egg, salt, pepper, marinara sauce, garlic powder, italian seasoning, and crushed red pepper, except the extra 2 tablespoons of cheese. Using a tablespoon measuring, scoop the mix and put one tablespoon into each cup, then distribute the rest evenly among the cups. press them down tightly together.

Bake for 12-15 minutes. When finished, remove from over, top the cups with the remaining 2 tablespoons cheese, then broil for about 1 minute (please watch them, they burn easily).

After broiling, allow to cool on a wire rack for about 15 minutes and then remove from pan by lifting the parchment paper edges out.

Serve with extra marinara sauce - enjoy!!
Notes
To store: Cauliflower Pizza Bites will keep in an airtight container in the fridge for up to a week, or in the freezer for up to 3 months. To reheat, simply pop them in a 350ºF oven or the microwave until heated through. 
Calories: 34kcal, Carbohydrates: 5g, Protein: 1g, Fat: 2g, Saturated Fat: 1g, Sodium: 130mg, Potassium: 169mg, Fiber: 2g, Sugar: 1g, Vitamin A: 37IU, Vitamin C: 23mg, Calcium: 24mg, Iron: 1mg
Disclaimer: Although jessicainthekitchen.com attempts to provide accurate nutritional information, kindly note that these are only estimates. Nutritional information may be affected based on the product type, the brand that was purchased, and in other unforeseeable ways. Jessicainthekitchen.com will not be held liable for any loss or damage resulting for your reliance on nutritional information. If you need to follow a specific caloric regimen, please consult your doctor first.