Quinoa Pizza Bites
These Easy Quinoa Pizza Bites will satisfy your every pizza cravings. They are protein packed, delicious, and great for parties!
This might be my last Quinoa post for January (yeah right), because I think I'm all Quinoa-ed out! I've been eating it on the down low and I am officially adding it to my list of grains to eat endlessly.
These Quinoa Pizza Bites were such a hit! First of all, if I had my own way I would host a Super Bowl party will all of these delicious healthy stuff including of course my Sticky Sesame Cauliflower Wings but that would be in a perfect world…I still plan to sneak in some healthy treats without these shouting men knowing!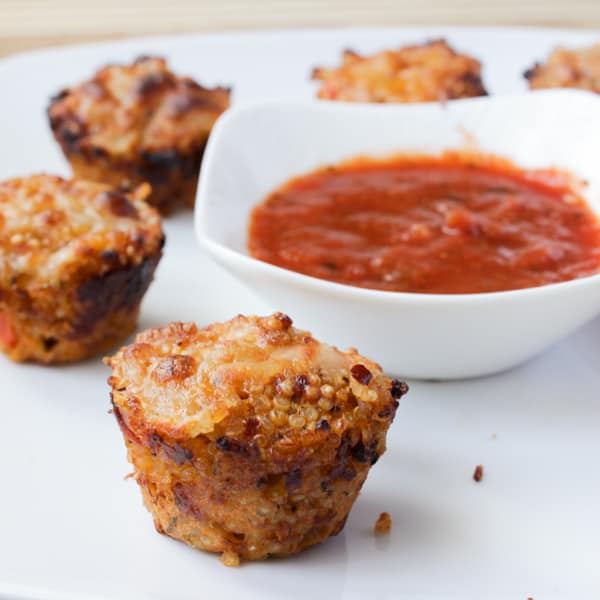 I will admit that I ate all of these…my mom got one. Being a huge pizza fan, I thoroughly enjoyed these. They're perfectly chewy and like mini pizzas in a bite (duh Jessica) PLUS you get additional sauce to dip them in. I can't get enough of pizza sauce, it's like crack to me! I even started taking smaller bites so that I could get more pizza sauce. 🙂 . Good thing it's healthy! If you like these, you'll definitely love my Cauliflower Pizza Bites too.
I also added melted cheese on top by turning on my broiler which gave these a delicious crust. They were the perfect lunch and are so great if you are on the go. I'm trying to look more into quick lunches since on my drive home I fought off the fast food thoughts and quickly rushed to the kitchen to cook something healthy aka Whole Grain Baked Mac & Cheese.
Ah, I think I hear it beeping that it's ready! While I go indulge in some "healthy" but delicious food, please try these! They are so good! Have an amazing weekend!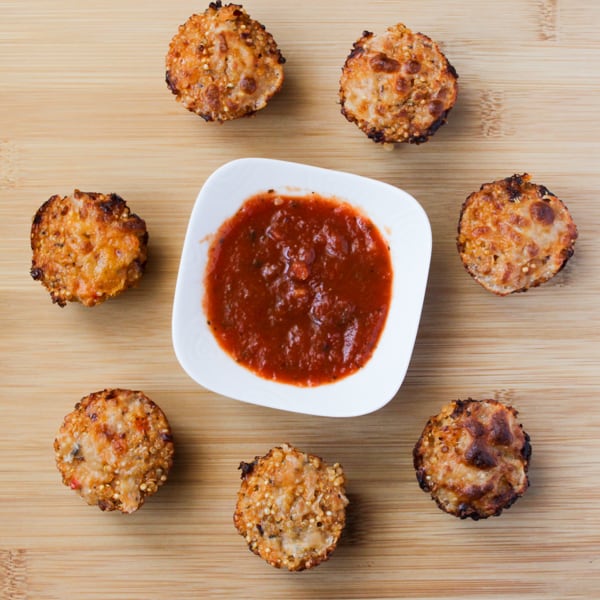 | SHOP THIS RECIPE // CLICK THE LEFT & RIGHT ARROWS TO SCROLL |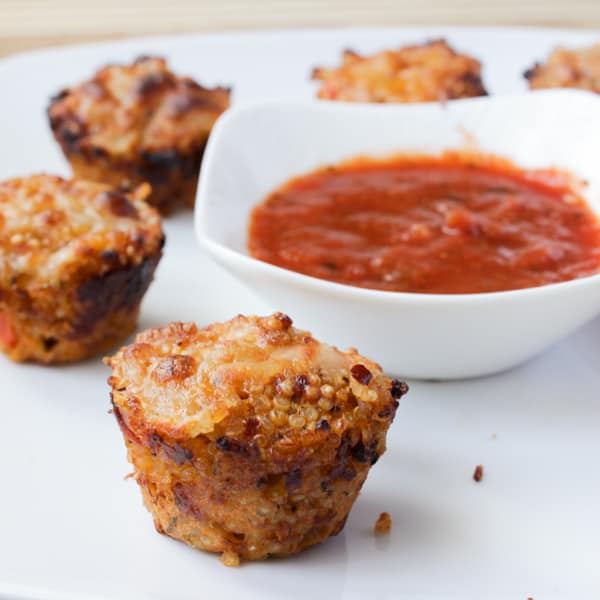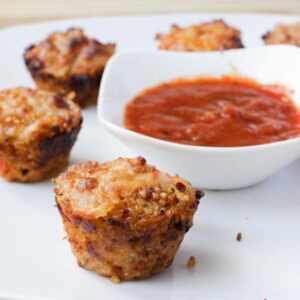 Quinoa Pizza Bites
These easy Quinoa Pizza Bites are protein-packed, super delicious, and great for parties!
Ingredients
1 cup cooked quinoa
1/2 cup vegan shredded cheese + 2 tablespoons for topping
1 flax egg
1/4 teaspoon salt, to taste
1/2 teaspoon ground pepper
3 tablespoons marinara sauce
1/2 teaspoon garlic powder
3 teaspoons italian seasoning
1/4 teaspoon crushed red pepper flakes, optional
Marinara Sauce, for dipping
Instructions
How to Cook Quinoa
Mix 1/2 cup uncooked and washed quinoa with 1 cup water and a pinch of salt. Bring to a boil first and then lower heat. Cook the quinoa for about 15 minutes until fluffy. You should get about 1 1/2 cups of cooked quinoa (you only need 1 cup for the recipe, so you could always make extra pizza bites or use it another time).
Quinoa Pizza Bites
Preheat oven to 400 ° F/ 205° C.

Grease a 12 mini muffin tin pan OR line it with parchment paper with strips over the sides. I found the parchment paper worked best for me!

Mix all of the ingredients together, except the extra 2 tablespoons of cheese.

Put a tablespoon into each muffin tin, packing them in.

Bake for 12-15 minutes.

Remove from oven and top with remaining 2 tablespoons of cheese. Broil for about 30 seconds to 1 minute (please watch them, they burn easily).

After broiling, allow to cool on a wire rack for about 15 minutes and then remove from pan.

Serve with Marinara Sauce. Enjoy!!
Notes
How to store: Place any leftover Quinoa Pizza Bites in an airtight container and refrigerate them for up to a week. They can be reheated in the microwave, air fryer, or in a 350ºF oven for 10 to 15 minutes, or until warmed through. How to freeze: Place the Quinoa Pizza Bites in an airtight container or freezer bag with parchment paper between the layers to keep them from sticking. They'll keep in the freezer for up to 3 months and they can be reheated with the same methods listed above, just adding a few extra minutes to the cooking time. If you're making this for kids or you don't like spice, the red pepper flakes can get spicy when baked, so you can leave them out.
Calories: 41kcal, Carbohydrates: 5g, Protein: 1g, Fat: 2g, Saturated Fat: 1g, Sodium: 117mg, Potassium: 52mg, Fiber: 1g, Sugar: 1g, Vitamin A: 37IU, Vitamin C: 1mg, Calcium: 16mg, Iron: 1mg
Disclaimer: Although jessicainthekitchen.com attempts to provide accurate nutritional information, kindly note that these are only estimates. Nutritional information may be affected based on the product type, the brand that was purchased, and in other unforeseeable ways. Jessicainthekitchen.com will not be held liable for any loss or damage resulting for your reliance on nutritional information. If you need to follow a specific caloric regimen, please consult your doctor first.