Peanut Butter Banana Overnight Oats
These Peanut Butter Banana Overnight Oats take only 5 minutes of prep time! They're an easy, healthy breakfast perfect for hectic days.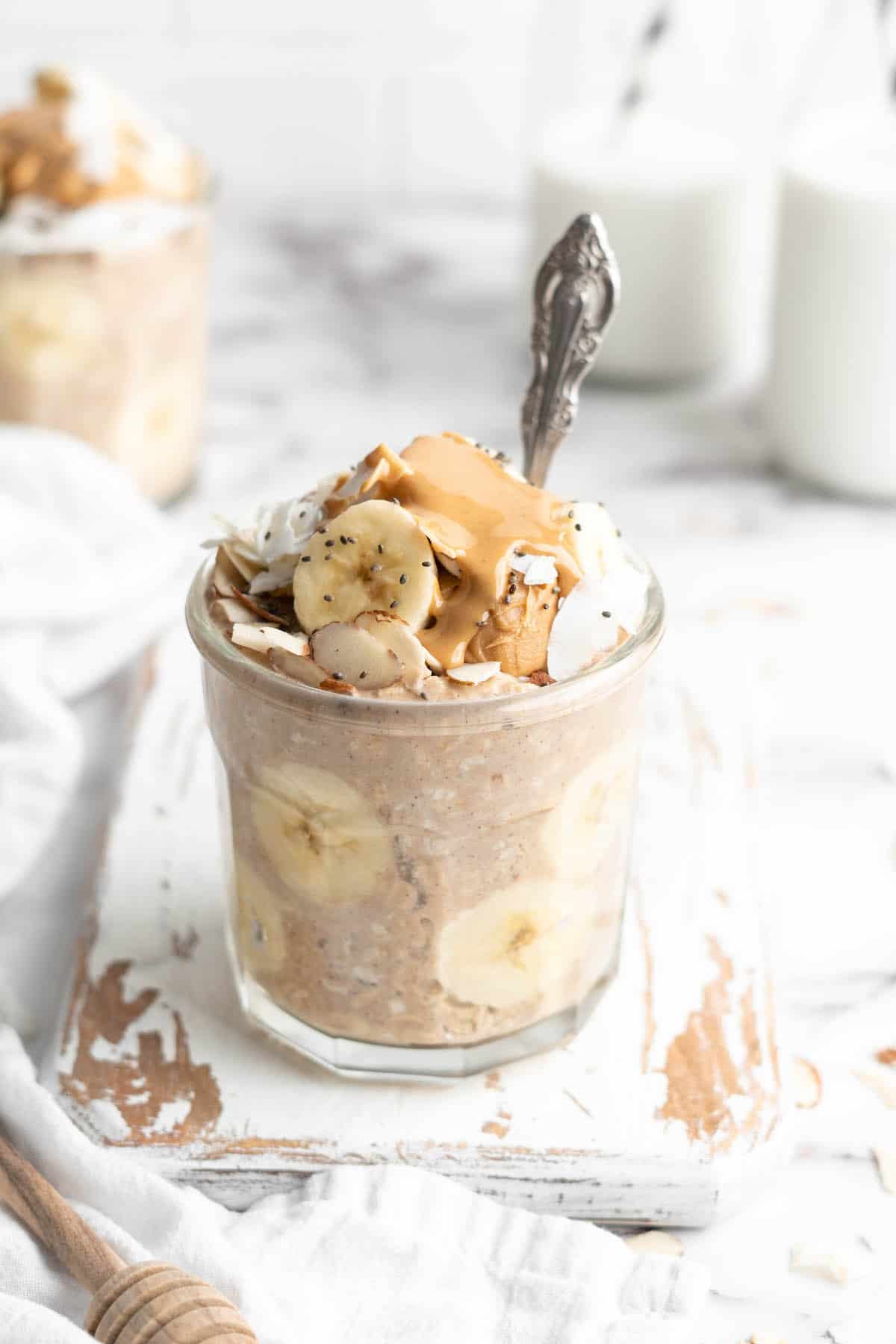 Overnight oats are the best make-ahead breakfast. They're healthy, filling, and they can be customised to your liking. Plus, they couldn't be easier to make!
Instead of standing over a hot stove to make oatmeal, overnight oats basically "cook" themselves whilst in your fridge overnight. Five minutes is really all it takes to make them—slice the banana, place it into the jar with the rest of the ingredients, stir, and then pop your jar in the fridge.
There's no excuse not to have a healthy breakfast when it takes only 5 minutes to put it together the night before!
What's So Special About Overnight Oats?
Overnight oats are practically effortless and require no cooking, so it's easy to see why they're so popular. But that's not the only thing that makes them special!
When you soak oats overnight, it's actually similar to the process of cooking them. While it takes longer than just warming up oats in the microwave or on the stove, that soaking time breaks down the oats' natural starches and reduces their phytic acid content. Doing so is believed to help your body make the most of oats' nutrients.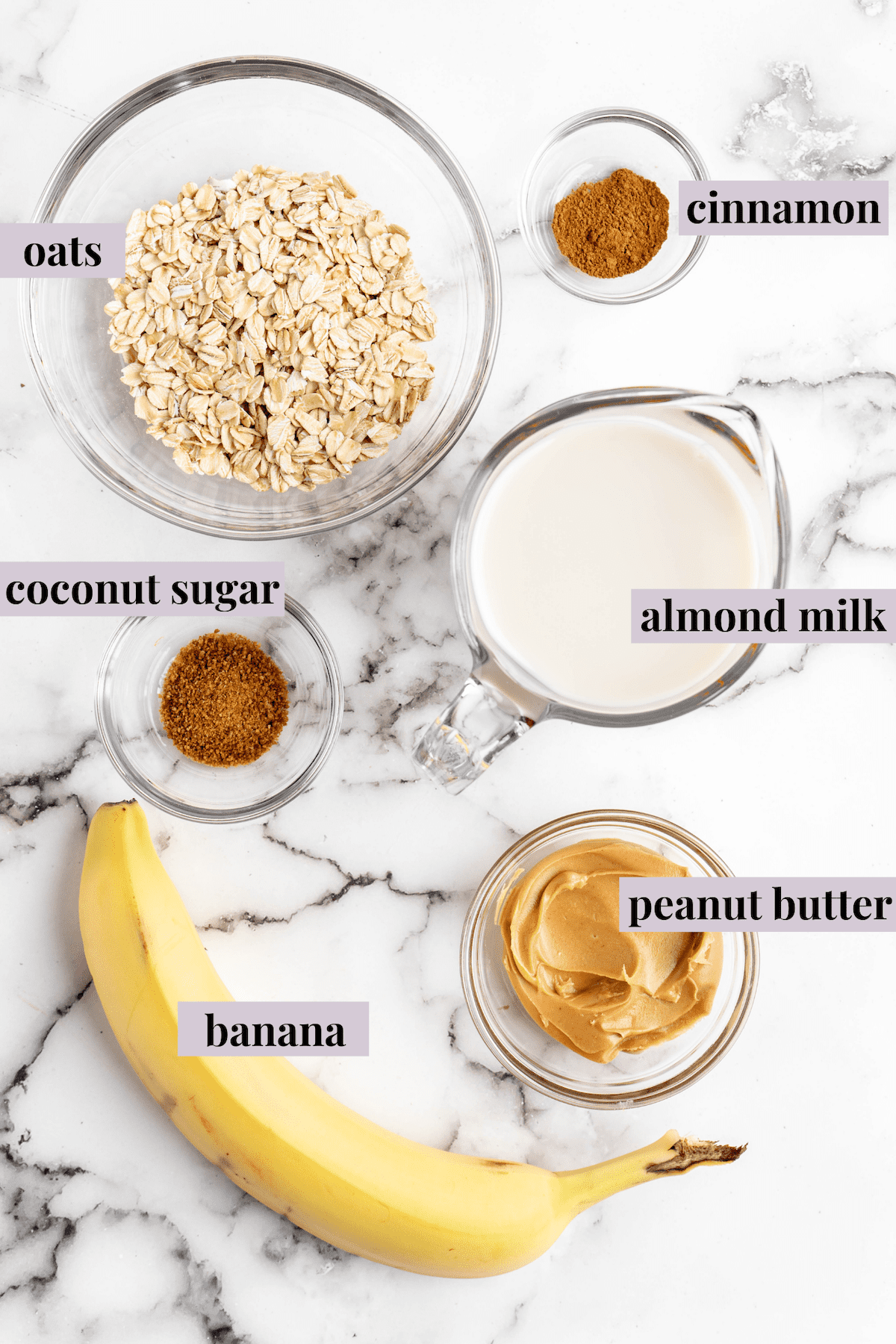 Notes on Ingredients
Please note that this is important information on the ingredients and instructions and the FULL recipe with amounts and details can be found DOWN BELOW (scroll to it) in the recipe card.
Almond milk
Gluten-free certified old fashioned oats
Banana
Cinnamon
Coconut sugar – Or your preferred sweetener.
Peanut butter
Coconut flakes, chopped nuts, or chia seeds – These are optional, but will add texture and nutrition to your oats!
How to Make Peanut Butter Banana Overnight Oats
Consider this a template! You can use this basic recipe with any add-ins or flavours.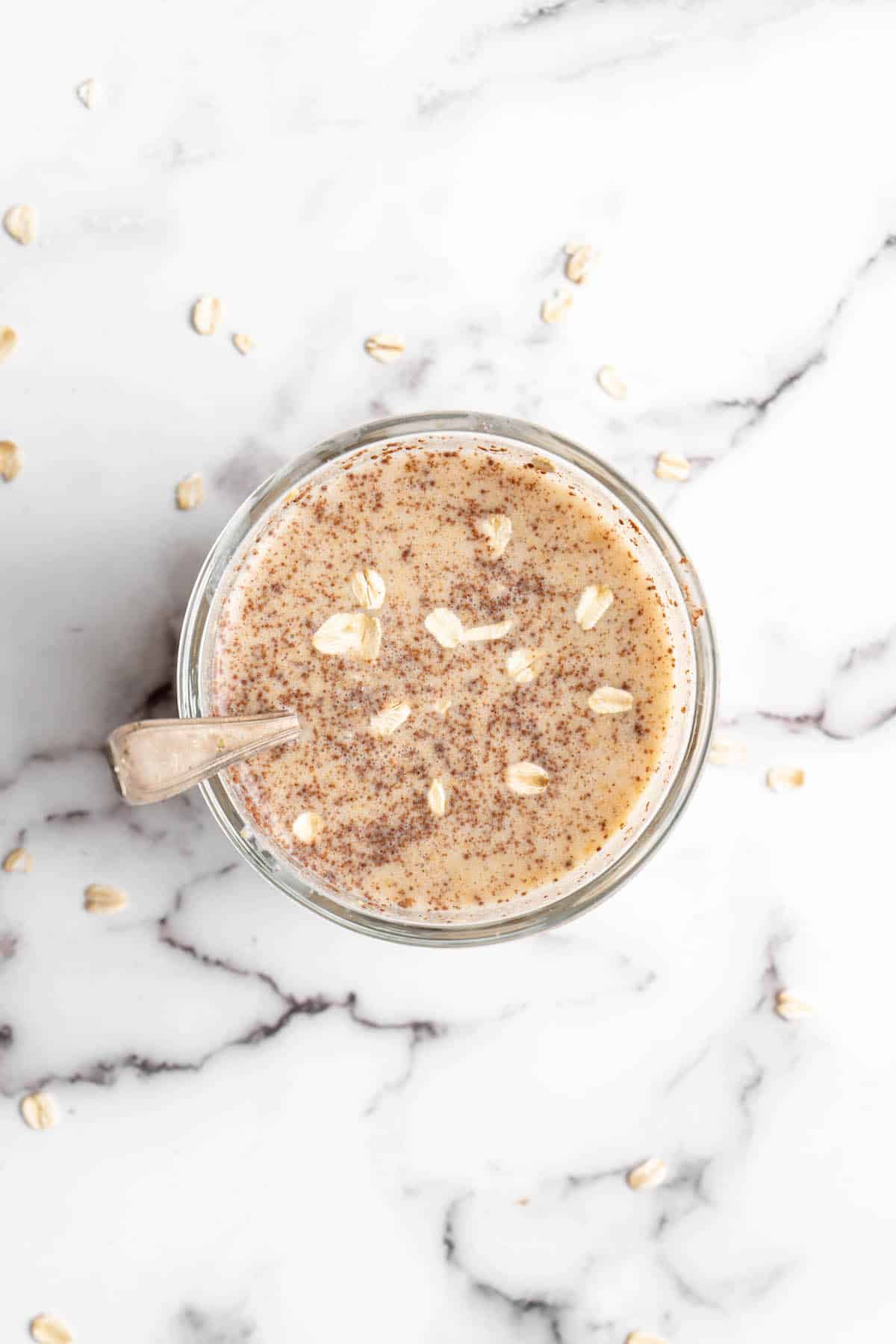 Combine the ingredients. Place all of the ingredients except for the bananas in a jar and stir to combine. Add the bananas on top or mix them in.
Refrigerate. Cover the jar and place it in the fridge overnight.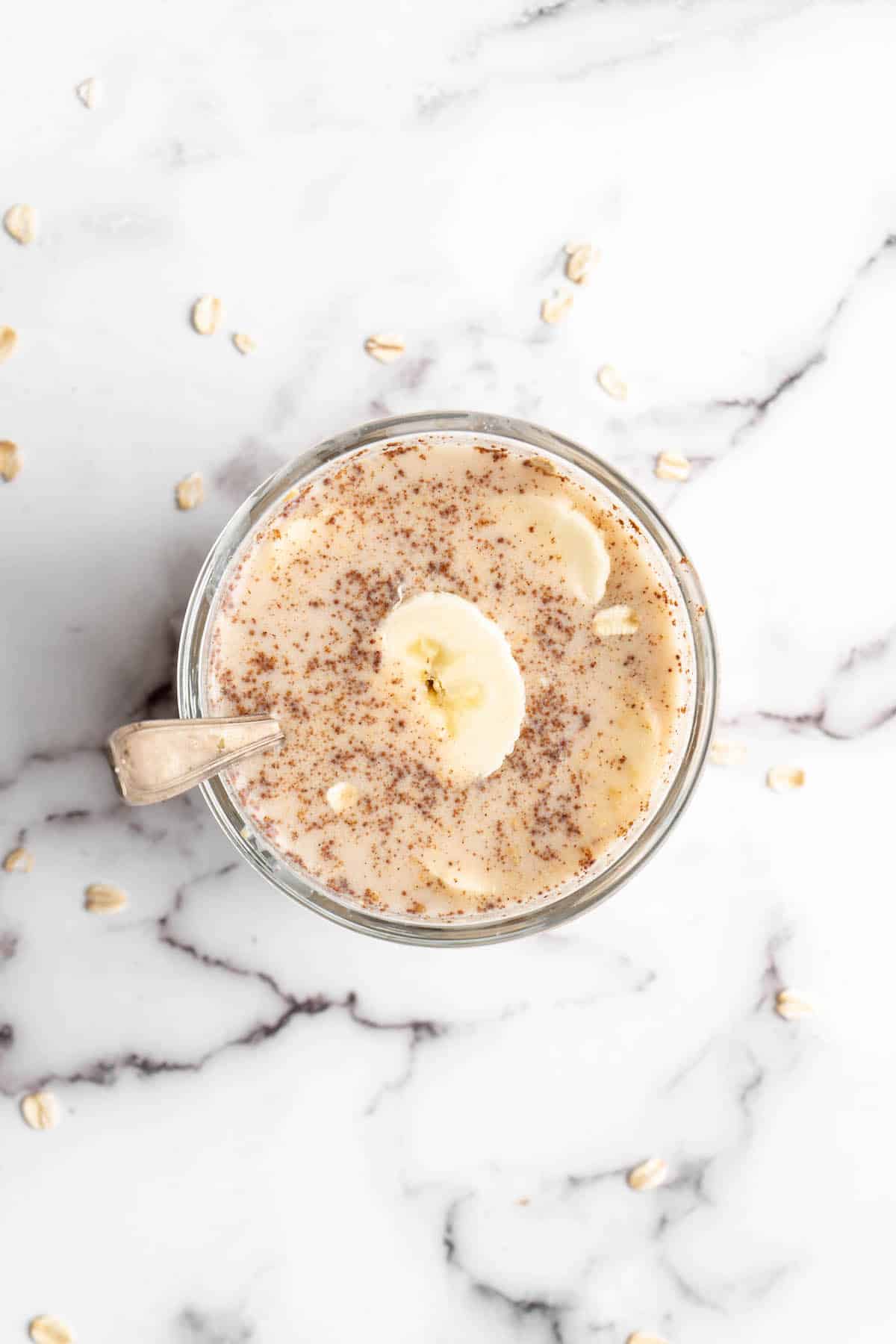 Enjoy! To eat the oats chilled, just grab a spoon, give them a stir, and dig in! If you prefer to warm them, empty the jar into a small pot over medium-high heat, or microwave the oats for about 45 seconds. Add any toppings you like and serve.
Overnight Oats 101: Everything You Need to Know!
Now that you've got my recipe for Peanut Butter Banana Overnight Oats, let's talk about overnight oats in general. If you have questions about how to prep overnight oats, I have answers!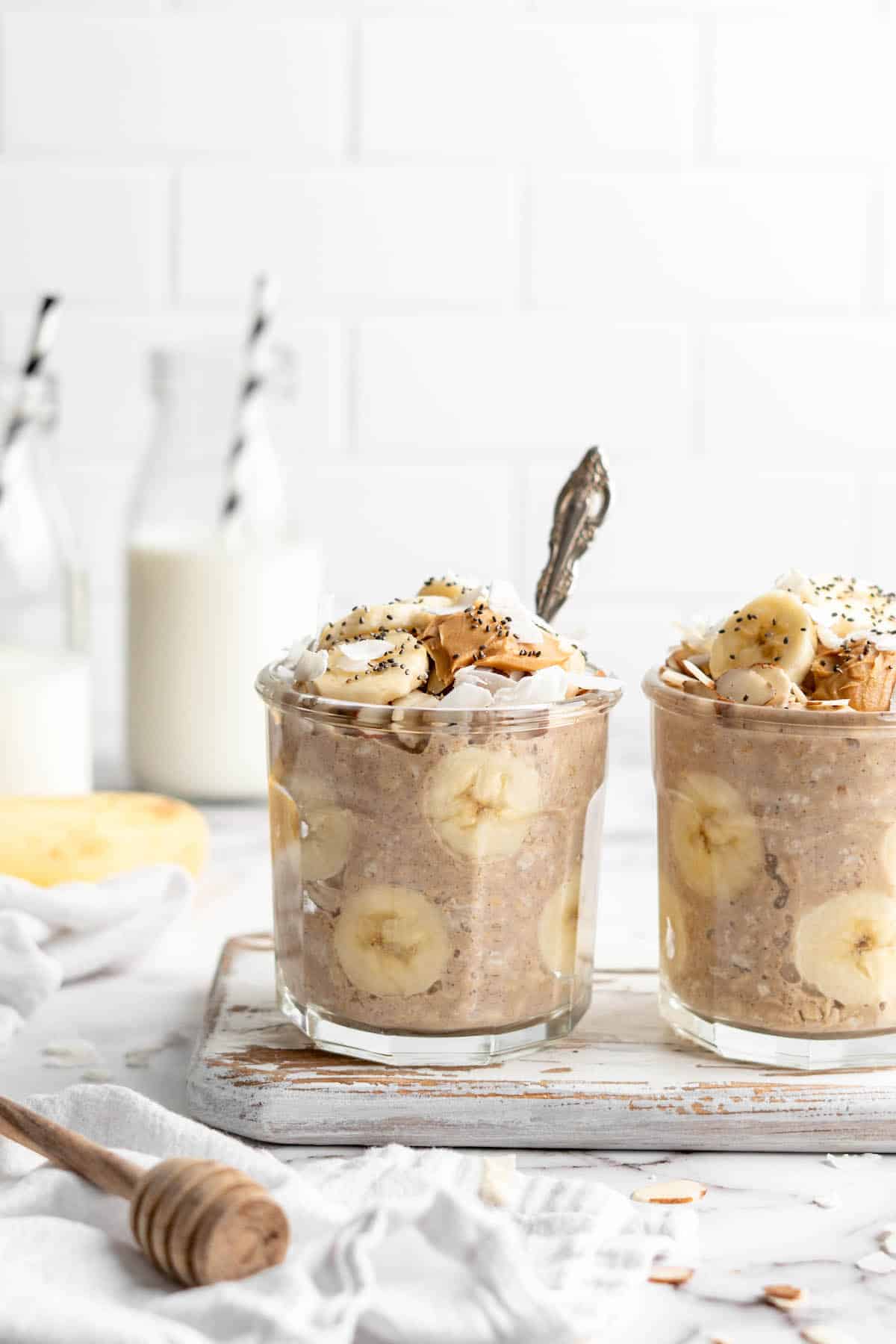 What Kind of Oats Should I Use?
You can use any type of rolled oats for overnight oats, but I recommend old-fashioned rolled oats. They have a heartier texture and hold up well after being soaked. Quick oats have a tendency to be mushier after soaking in the fridge overnight, while steel-cut oats are tougher and harder to digest.
Variations
I love these Peanut Butter Banana Overnight Oats, but there are limitless options here! Try:
Hemp seeds and fresh berries
Cacao nibs and cherries
Peaches, a splash of vanilla extract, and cinnamon
Pears, maple syrup, and chopped walnuts
Flavoured vegan protein powders for a high-protein breakfast
Or make one of these recipes:
Are Overnight Oats Eaten Cold?
Yes, overnight oats are eaten cold, straight from the fridge. They're surprisingly delicious that way! But if you're not a fan of cold oats, you can heat them up in the microwave or on the stovetop as directed above.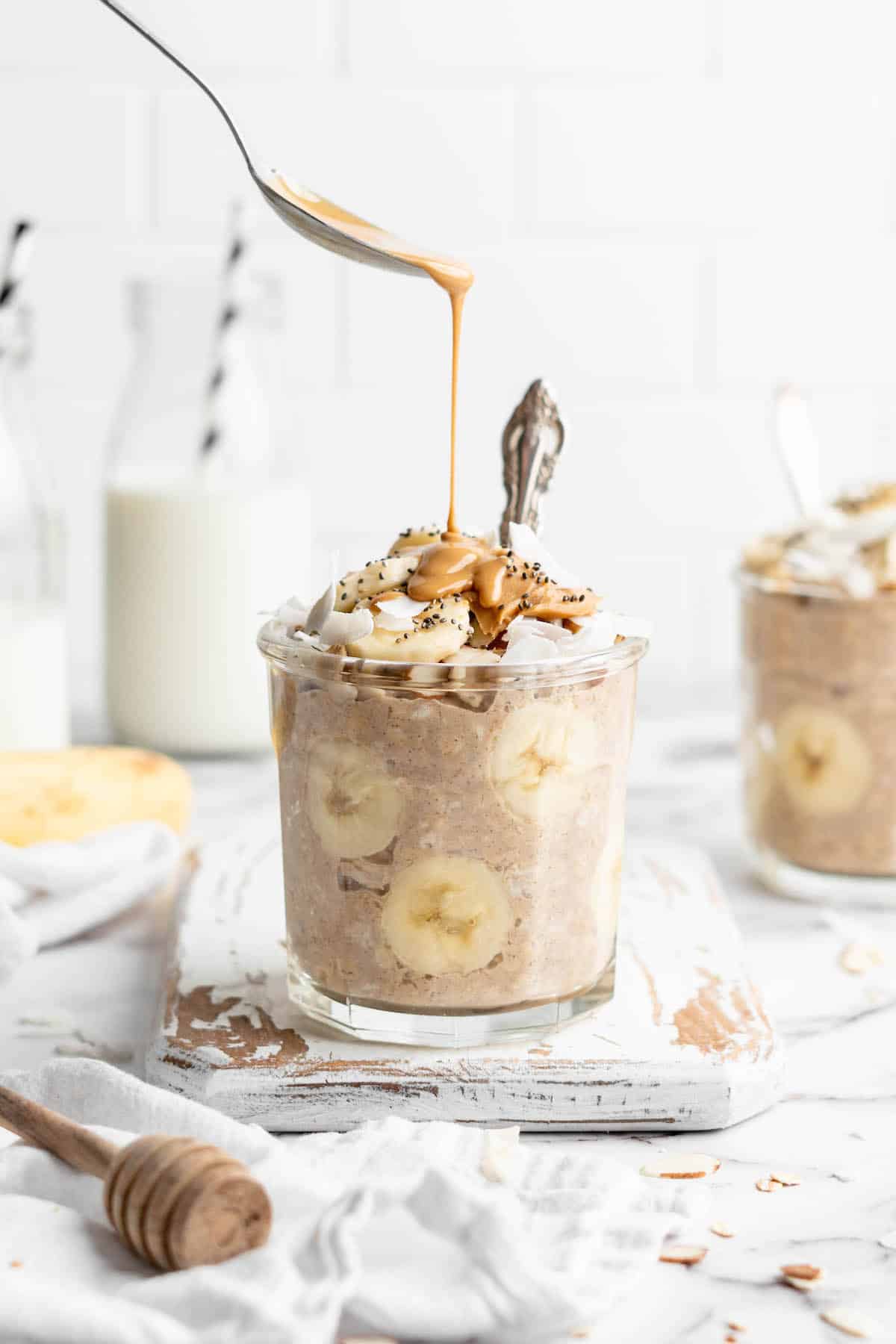 What If I Don't Have a Mason Jar? Can I Make Overnight Oats in Tupperware?
Yes, you can! I like using Mason jars because they're easy for grab-and-go breakfasts, but if you don't have a Mason jar, any container with an airtight cover will work just fine.
How Long Do Overnight Oats Last in the Fridge?
Overnight oats will last in the fridge for up to 5 days, although this depends on the fruit you add to it. (Some fruit will spoil faster than others!) Because it will last almost a week, overnight oats are an excellent option for meal prep breakfasts!
Enjoy friends! If you make this vegan peanut butter banana overnight oats recipe, please snap a photo and tag #jessicainthekitchen on Instagram! We'd also love it if you would leave a comment below, and give the recipe a rating! Thanks so much!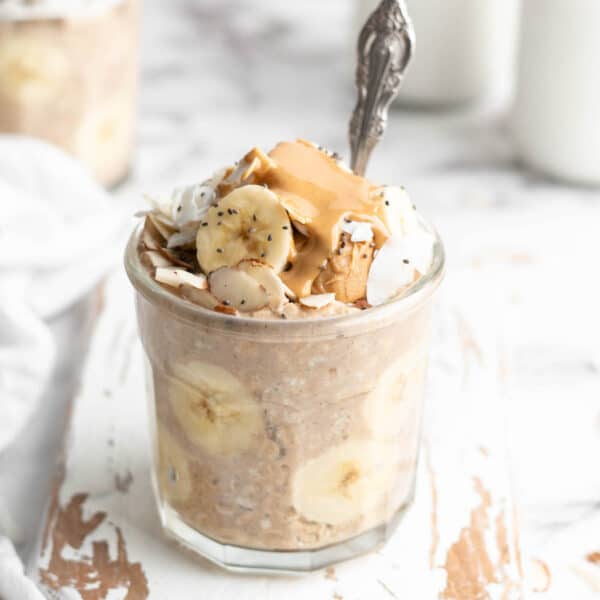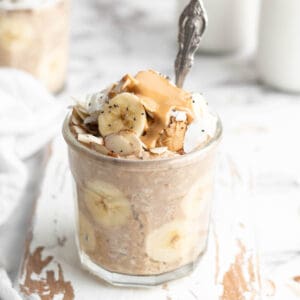 Peanut Butter Banana Overnight Oats
You're only 5 minutes away from a healthy, delicious breakfast! These Peanut Butter Banana Overnight Oats are perfect for busy weekday mornings.
Ingredients
1 cup almond milk
½ cup gluten free certified old fashioned oats
1 banana, sliced
¼ teaspoon cinnamon
1 teaspoon coconut sugar
1 tablespoon peanut butter
optional: coconut flakes, chopped nuts, chia seeds
Instructions
Mix all the ingredients in a jar, except the bananas. Stir to combine and cover. You can add the bananas at the top or mix in afterwards.

Place in the fridge overnight.

The next morning, remove and eat in the jar or place in a pot over medium high heat to reheat the oatmeal, or in the microwave to reheat if a microwave safe jar for about 45 seconds. Top with your favourite toppings – walnuts, chia seeds, more peanut butter and more coconut sugar (or anything else you want!).

Enjoy!
Notes
This recipe is vegan and gluten free. You can adjust the quantity of bananas if you'd like less more or less. You can also add more chia seeds if you want a more pudding texture.
You can also adjust sweetness levels after it's set up in the fridge and add more coconut sugar or even maple syrup if you desire.
You can swap almond butter, sunflower seed butter or any other nut alternative butters that you own.
Overnight oats will last up to 5 days in the refrigerator.
Calories: 402kcal, Carbohydrates: 62g, Protein: 12g, Fat: 14g, Saturated Fat: 2g, Sodium: 410mg, Potassium: 673mg, Fiber: 9g, Sugar: 19g, Vitamin A: 76IU, Vitamin C: 10mg, Calcium: 321mg, Iron: 2mg
Disclaimer: Although jessicainthekitchen.com attempts to provide accurate nutritional information, kindly note that these are only estimates. Nutritional information may be affected based on the product type, the brand that was purchased, and in other unforeseeable ways. Jessicainthekitchen.com will not be held liable for any loss or damage resulting for your reliance on nutritional information. If you need to follow a specific caloric regimen, please consult your doctor first.