Tofu and Veggie Stir Fry in Sweet Ginger Sauce
This Tofu and Veggie Stir Fry pairs chewy tofu and tender-crisp vegetables with an irresistible sweet ginger sauce for the perfect weeknight dinner. It's great for meal prep, too!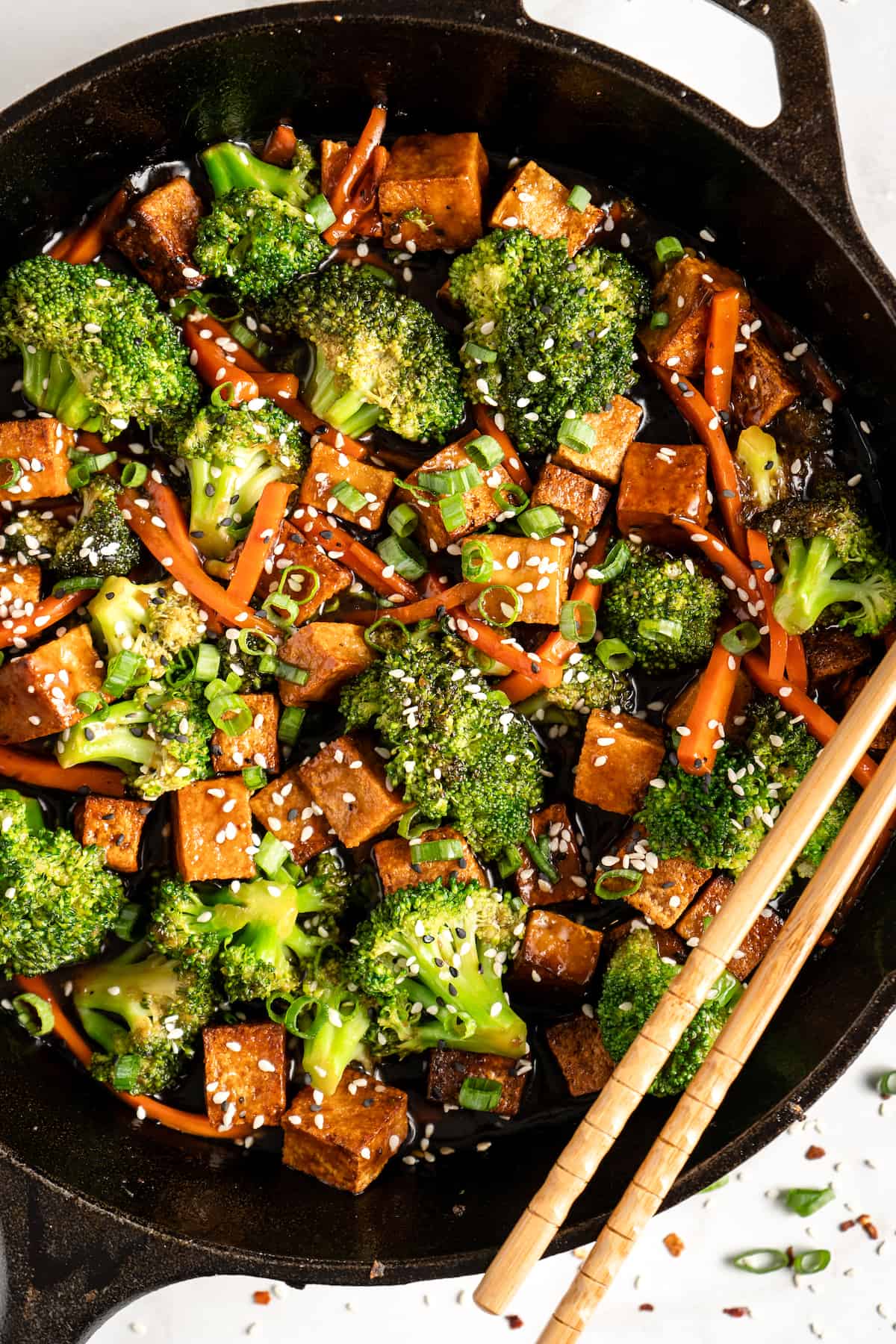 Stir fries are the ultimate weeknight meal. When you're tired after a long day at work, a stir fry requires minimal effort—and even better, you'll have dinner done in minutes, too. They're packed with flavour (hello, sweet ginger sauce!) and a variety of textures, and they're super healthy.
This Tofu and Veggie Stir Fry has the perfect balance of plant protein and vegetables, and you'll love the way the soft, chewy tofu contrasts with the slightly crisp carrots and broccoli.
Oh, and if carrots and broccoli aren't your thing? This recipe is easy to customize with your favourite veggies. Sliced bell peppers, mushrooms, snap peas or snow peas, thinly sliced onions, zucchini—it's like a choose-your-own-adventure kind of stir fry!
But whatever you do, don't skip that sauce. It's sticky and sweet, with a lovely bit of warmth from the fresh ginger root. So good.
Notes on Ingredients
Please note that this is important information on the ingredients and instructions and the FULL recipe with amounts and details can be found DOWN BELOW (scroll to it) in the recipe card.
For the sweet ginger sauce:
Soy sauce or liquid aminos
Maple syrup or agave
Ginger root
Garlic
Rice wine vinegar – Be sure to buy the unseasoned kind; seasoned rice vinegar has added sugar.
For the stir fry:
Firm tofu – Press the tofu before you start this recipe. Learn more: How To Cook Tofu 101 + Best Tips on Making the Most Delicious Tofu
Sea salt and pepper
Oil
Sesame oil
Broccoli – Cut the broccoli into uniform pieces to ensure that it cooks evenly.
Carrot – If you want to save yourself some prep time, you can buy a bag of julienned carrots instead of cutting them yourself.
Cornstarch
Water
Can You Substitute Ground Ginger for Ginger Root?
You can substitute ground ginger for ginger root in this recipe, but I don't recommend it. Dried, ground ginger has a very different flavour profile than fresh ginger root. Fresh ginger is fragrant, subtly sweet, and has a complex, warm flavour that adds so much to this recipe.
If you do need to swap in ground ginger in this stir fry or any other recipe, 1/4 teaspoon of ground ginger is equivalent to 1 tablespoon of fresh ginger.
How to Make Tofu and Veggie Stir Fry
Ready for an easy, healthy dinner? Let's get started!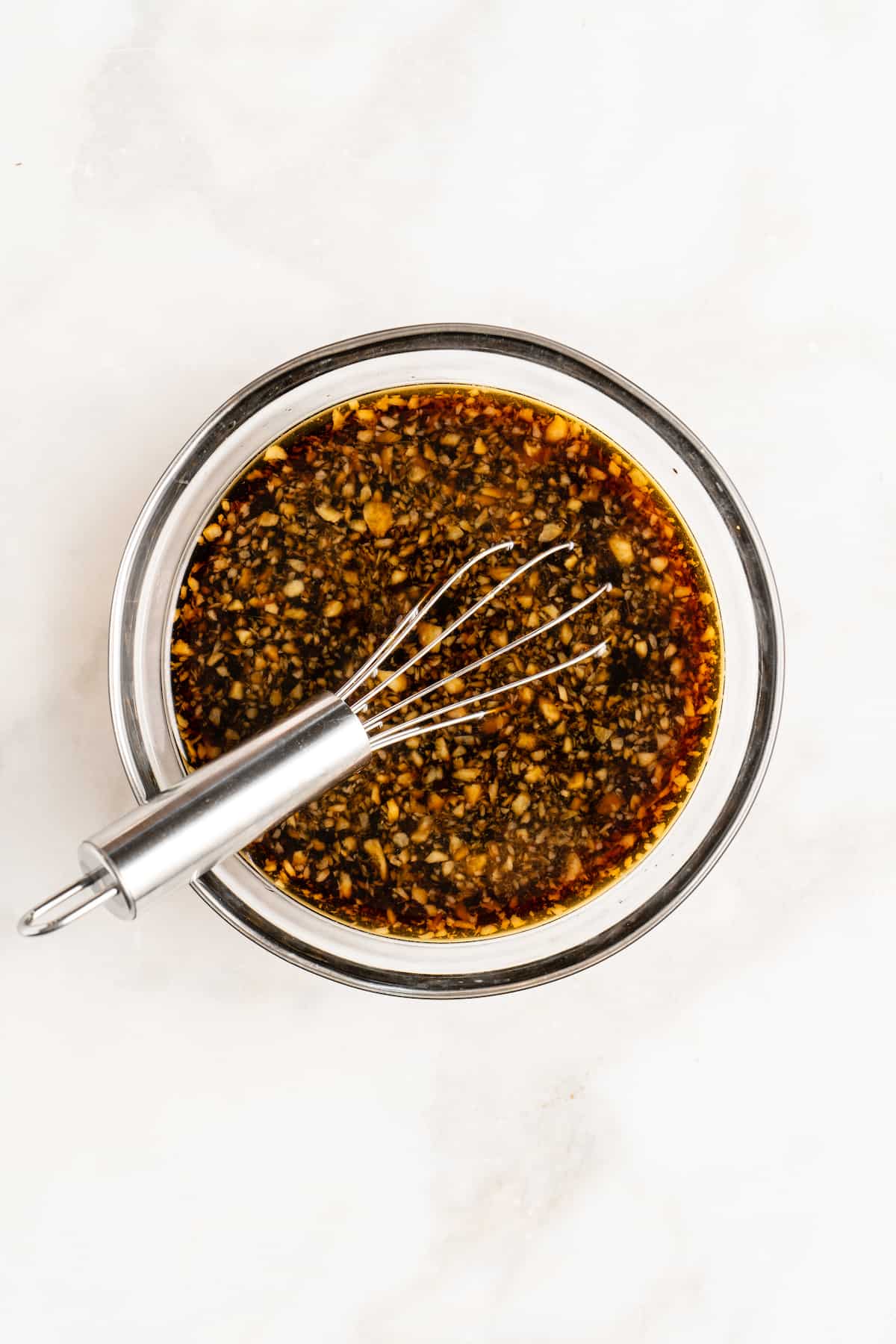 Make the sauce. Whisk the sauce ingredients together in a small bowl; set aside.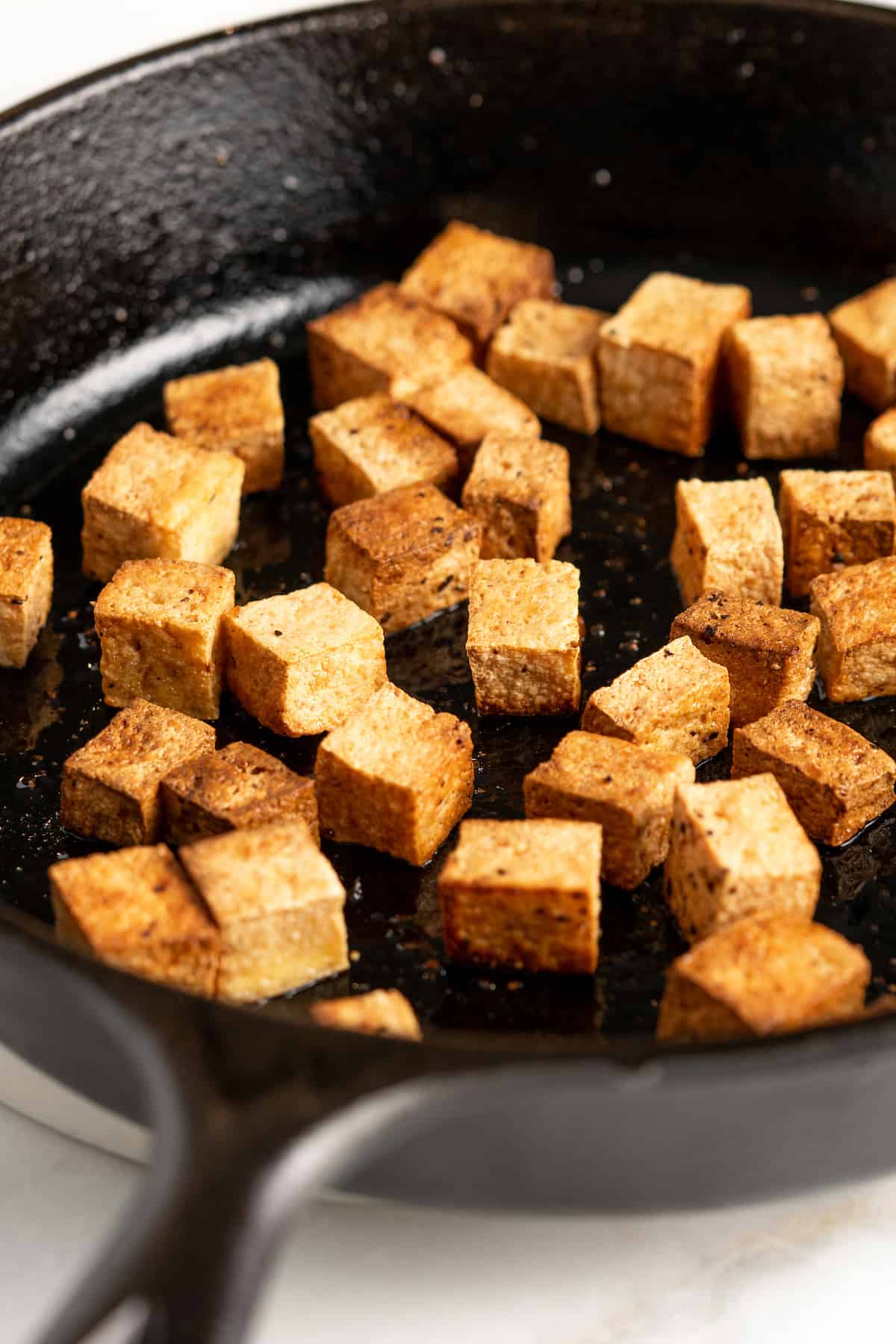 Cook the tofu. In a large skillet or wok set over medium-high heat, add both of the oils. Once they're hot and shimmering, add the tofu and 2 tablespoons of the sauce; be careful when you do this, because there might be some spattering! Cook each side of the tofu for about 2 to 3 minutes, until all sides are crispy and lightly browned. Season with salt and pepper and transfer to a plate.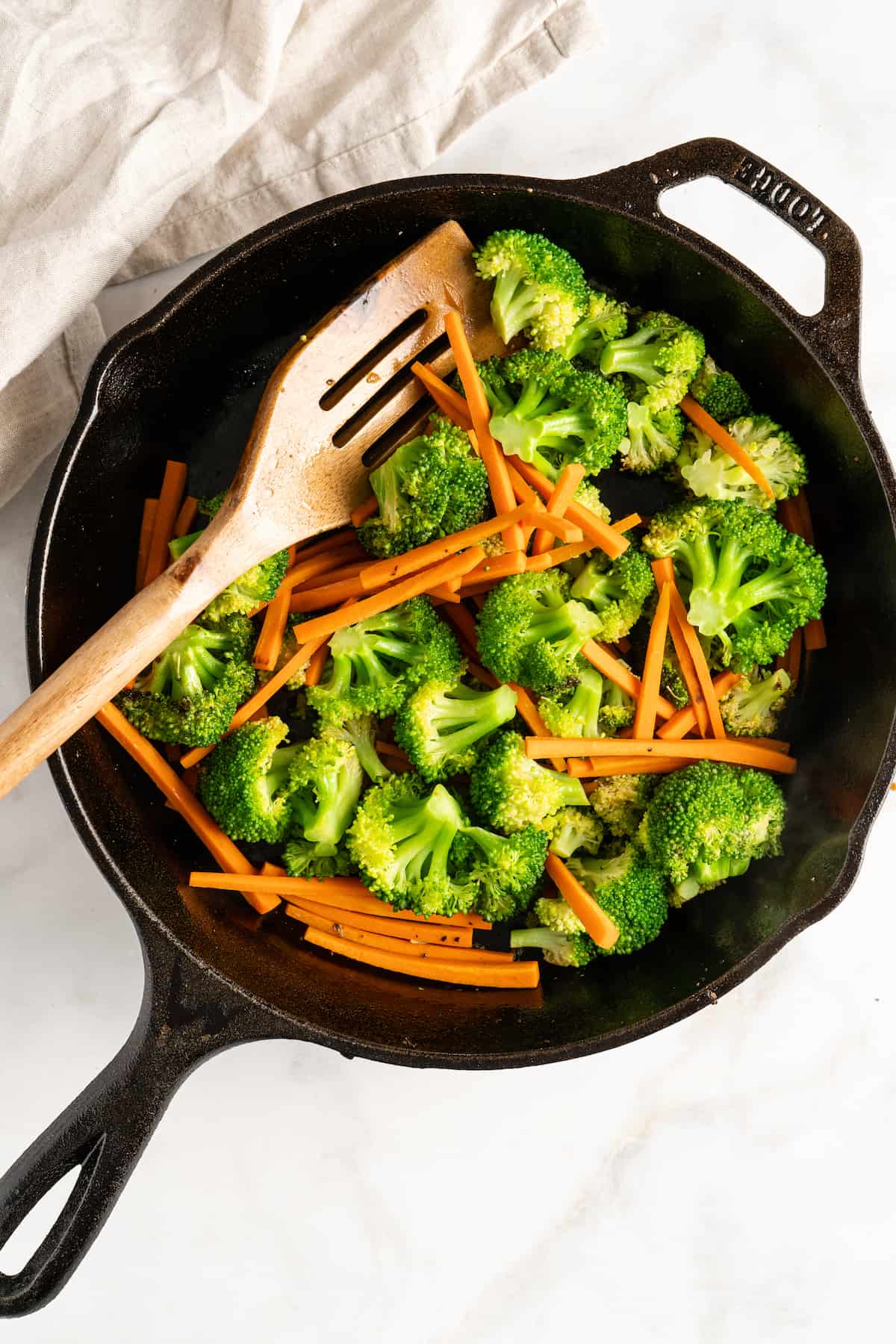 Cook the veggies. Return the pan to the stovetop and add the broccoli and carrots; stir fry for about 2 minutes. Add a few tablespoons of water and cover the pan. Steam for about 2 minutes, then uncover and lower the heat to medium.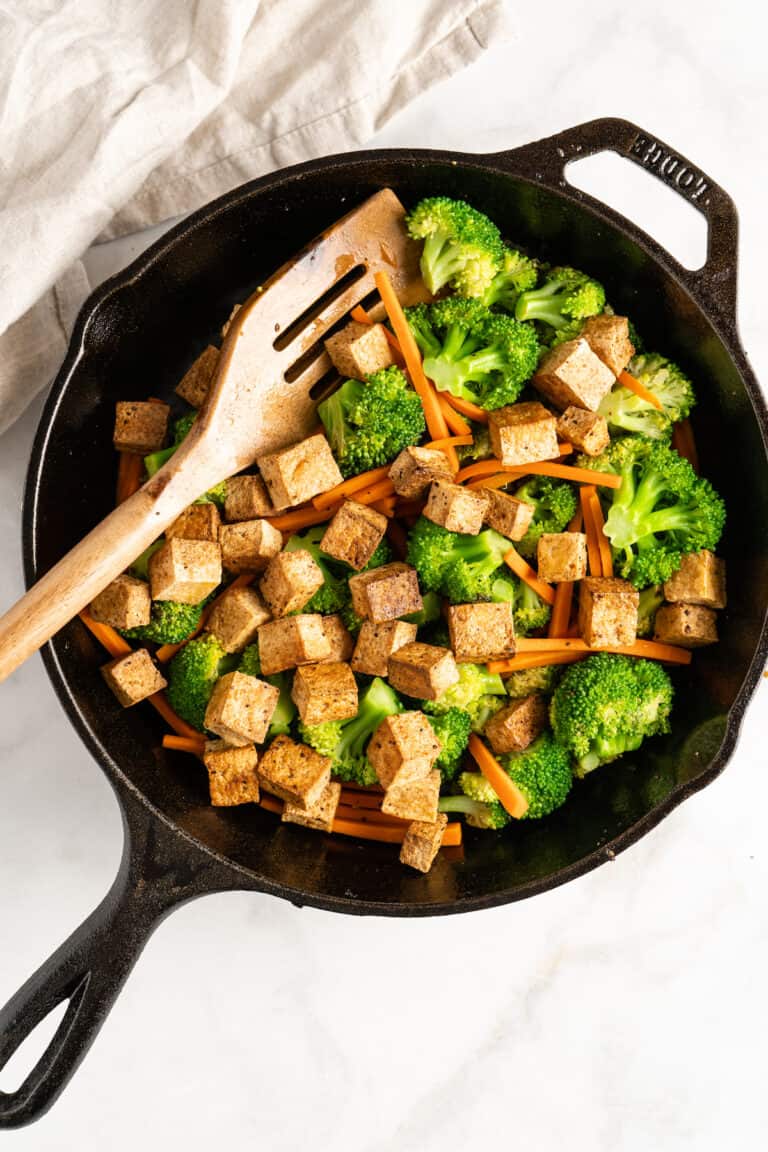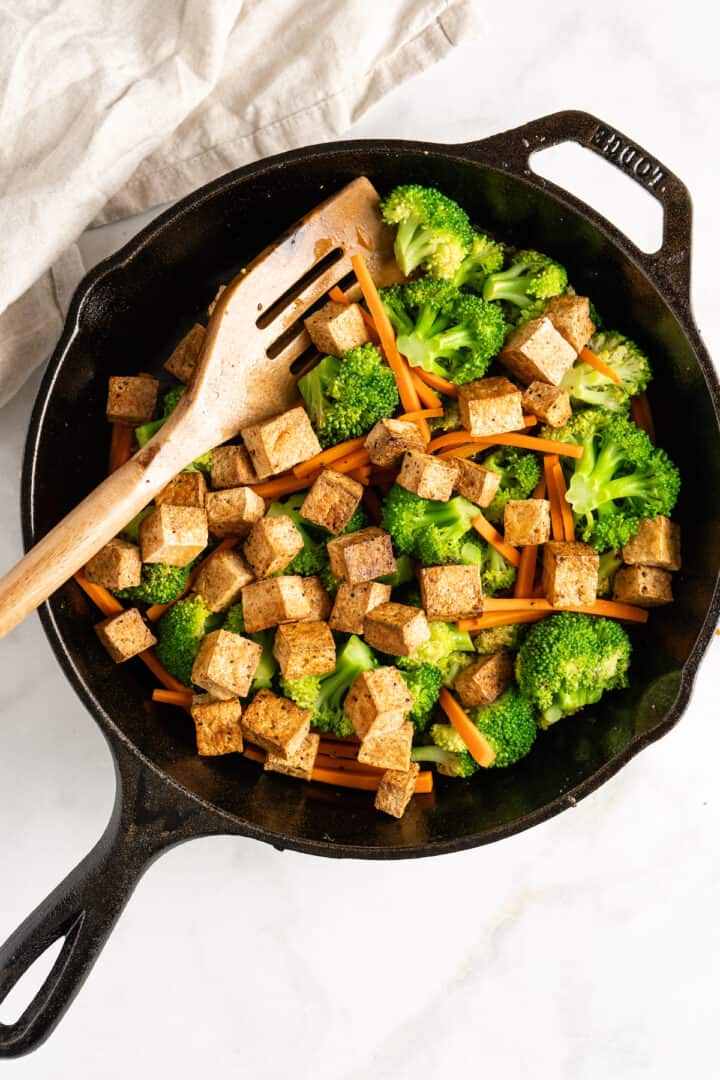 Finish. Add the tofu and sauce to the pan, then pour in the cornstarch slurry. Stir to coat; cook for another 2 to 3 minutes, or until the sauce thickens a bit. Remove from heat and garnish with sesame seeds and chopped scallions.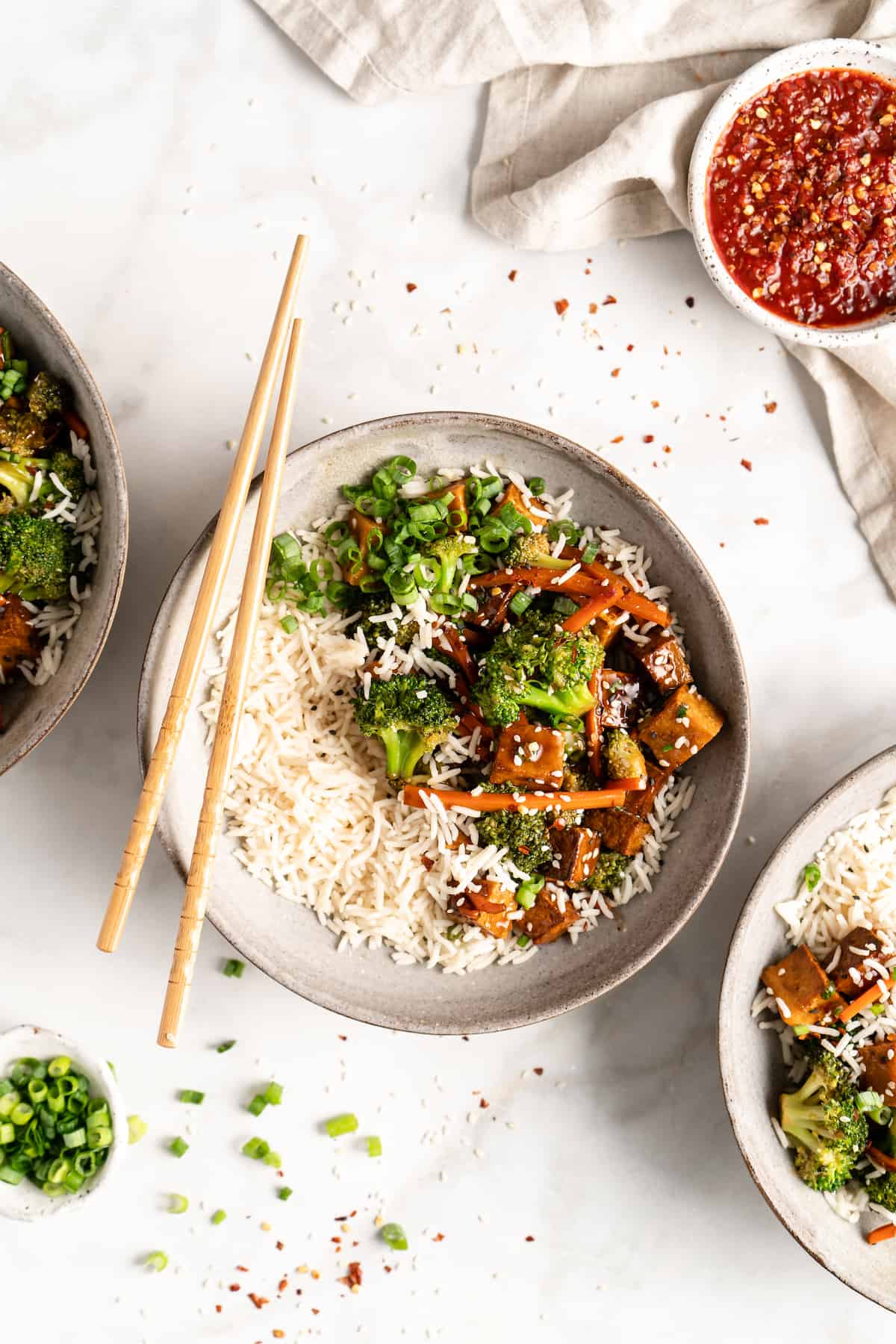 Tips for Success
While this recipe is fairly straightforward, there are a few tricks and tips that can help make sure you get the perfect Tofu and Veggie Stir Fry!
Cook the tofu and veggies separately. Yes, it's tempting to just throw everything together at the beginning and save a little time, but if you want perfectly chewy tofu, it needs to cook separately from the vegetables.
Make sure the cornstarch slurry is smooth. If it's lumpy, those little lumpy bits will cook in the stir fry sauce, which isn't the texture we're going for in this recipe!
Double the sauce if you'd like. If you like your stir fries extra saucy for serving over rice or cooked quinoa, you can double the sauce and slurry.
Meal Prep Ideas
Want to make this Tofu and Veggie Stir Fry into a week of meal prep lunches? I suggest pairing the stir fry with quinoa fried rice, traditional rice, or cauliflower rice, but store them separately to keep the grains (or cauliflower) from getting soggy. In a separate little container, you can bring thinly sliced scallions, sesame seeds, or cashews to add as garnish after heating; this will add some texture to your stir fry.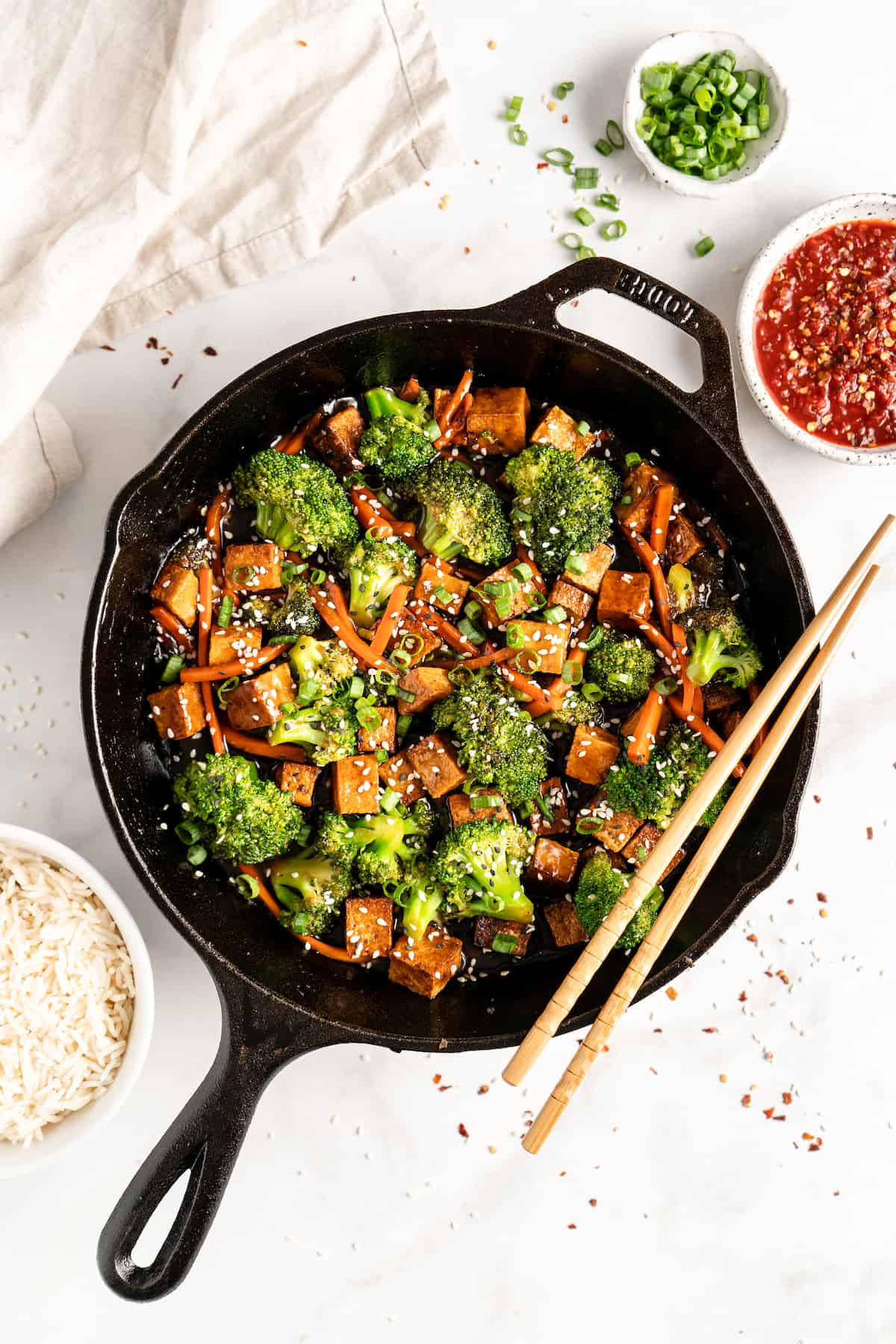 How to Store and Reheat Leftovers
Store leftover stir fry in an airtight container in the refrigerator for up to 4 days. It can be reheated in a skillet on the stovetop with a splash of oil, or in the microwave.
Can This Recipe Be Frozen?
You can freeze this stir fry in an airtight container or freezer bag for up to 3 months, but the texture won't be quite the same after freezing, thawing, and reheating; the veggies will be a little softer. I recommend letting the stir fry thaw in the refrigerator, then reheating in the microwave or on the stovetop.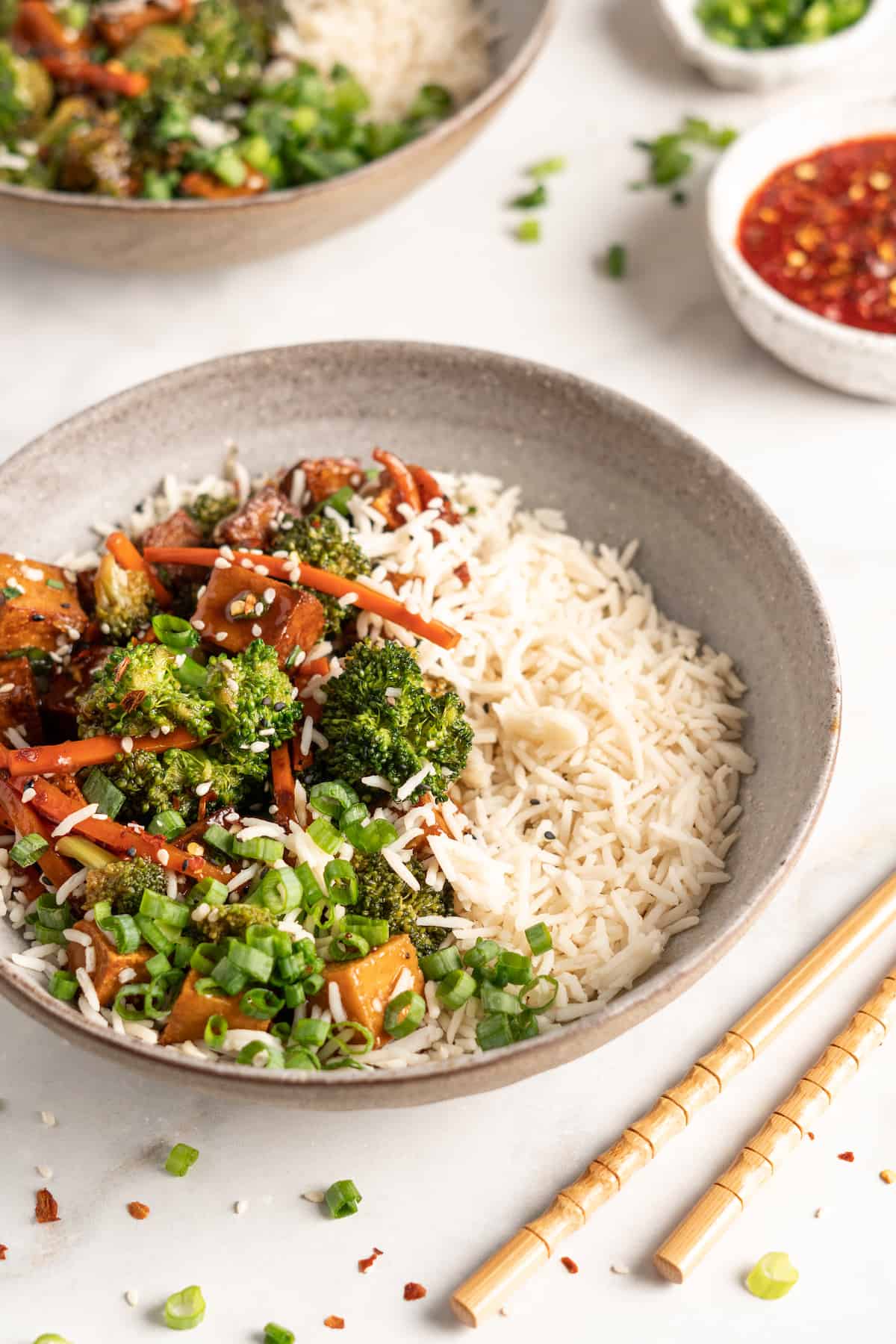 Enjoy friends! If you make this vegan tofu and veggie stir fry recipe, please snap a photo and tag #jessicainthekitchen on Instagram! We'd also love it if you would leave a comment below, and give the recipe a rating! Thanks so much!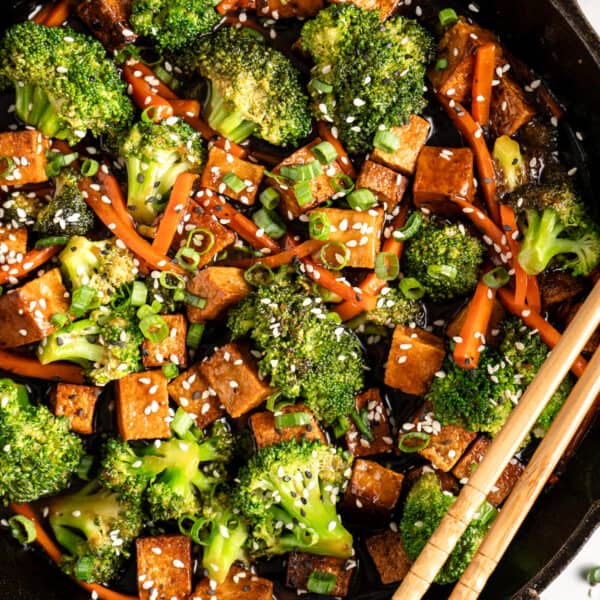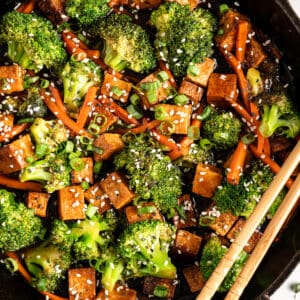 Tofu and Veggie Stir Fry in Sweet Ginger Sauce
This Tofu and Veggie Stir Fry is perfect for a weeknight dinner or easy meal prep lunches!
Ingredients
Sweet Ginger Sauce
4 tablespoons soy sauce, or liquid aminos
2 tablespoons maple syrup, or agave
1 teaspoon minced ginger
3-4 cloves of finely minced garlic
1 tablespoon rice wine vinegar
Stir Fry
1 lb block of firm tofu, pressed, (454g)
pinch sea salt and pepper
2 teaspoons oil , neutral and high smoke point (eg. avocado oil)
2 teaspoons sesame oil
2 heads broccoli, (168g) large stem removed and chopped
1 large carrot, peeled and julienned
2 teaspoons cornstarch + 2 teaspoon water for a cornstarch slurry
Instructions
Sweet Ginger Sauce
Stir all the sauce ingredients together and set aside. 
Stir Fry + Putting It All Together
In a pan over medium high, add both oils. When hot add in the tofu and 2 tablespoons of the sauce and crisp on each side for about 2-3 minutes on each side, until all sides are crisped up and browned. This helps to infuse the tofu with some sauce while it is cooking. Season with a sprinkle of sea salt and ground black pepper. Remove from pan and set aside. 

In the same pan, add the broccoli and carrot and toss for about 2 minutes heat. Then add in a few tablespoons of water and cover pan. Allow to steam for about 2 minutes. Remove cover, lower heat to medium and add in the tofu and the sauce. Pour in the cornstarch slurry here. Stir to coat everything in the sauce, then and allow to cook for another 2-3 minutes in the sauce.

Remove from heat and top with extra sesame seeds and chopped scallions. Serve and enjoy!
Notes
Here's my favourite way to press tofu! Wrap the tofu in some paper towels, then with a kitchen towel around that. That way the kitchen towel is much easier to wash and doesn't have pieces of tofu in it. Wrap it like a blanket around a baby. The tofu is now your food baby. Put a heavy pan on top, like a cast iron skillet. Then put two books in or on top of that. Balance it so it doesn't fall off, and leave it to be pressed for about 30 minutes. The tofu should be smaller, and the kitchen towel should be wet with the water from the tofu. Now you can proceed and use this. This makes tofu absorb flavours so much better, and gives it an amazing texture too. To store: Store leftover stir fry in an airtight container in the refrigerator for up to 4 days or in the freezer for up to 3 months. It can be reheated in a skillet on the stovetop with a splash of oil or in the microwave.  
Calories: 177kcal, Carbohydrates: 16.1g, Protein: 12.1g, Fat: 9.4g, Fiber: 2.2g, Sugar: 10g
Disclaimer: Although jessicainthekitchen.com attempts to provide accurate nutritional information, kindly note that these are only estimates. Nutritional information may be affected based on the product type, the brand that was purchased, and in other unforeseeable ways. Jessicainthekitchen.com will not be held liable for any loss or damage resulting for your reliance on nutritional information. If you need to follow a specific caloric regimen, please consult your doctor first.