How to Cook Quinoa (Fluffy & Tasty)
Learn how to cook quinoa perfectly every time with these tips! This ancient grain is so easy, you'll be done with this easy, healthy side dish in just 15 minutes. Great for meal prep, too!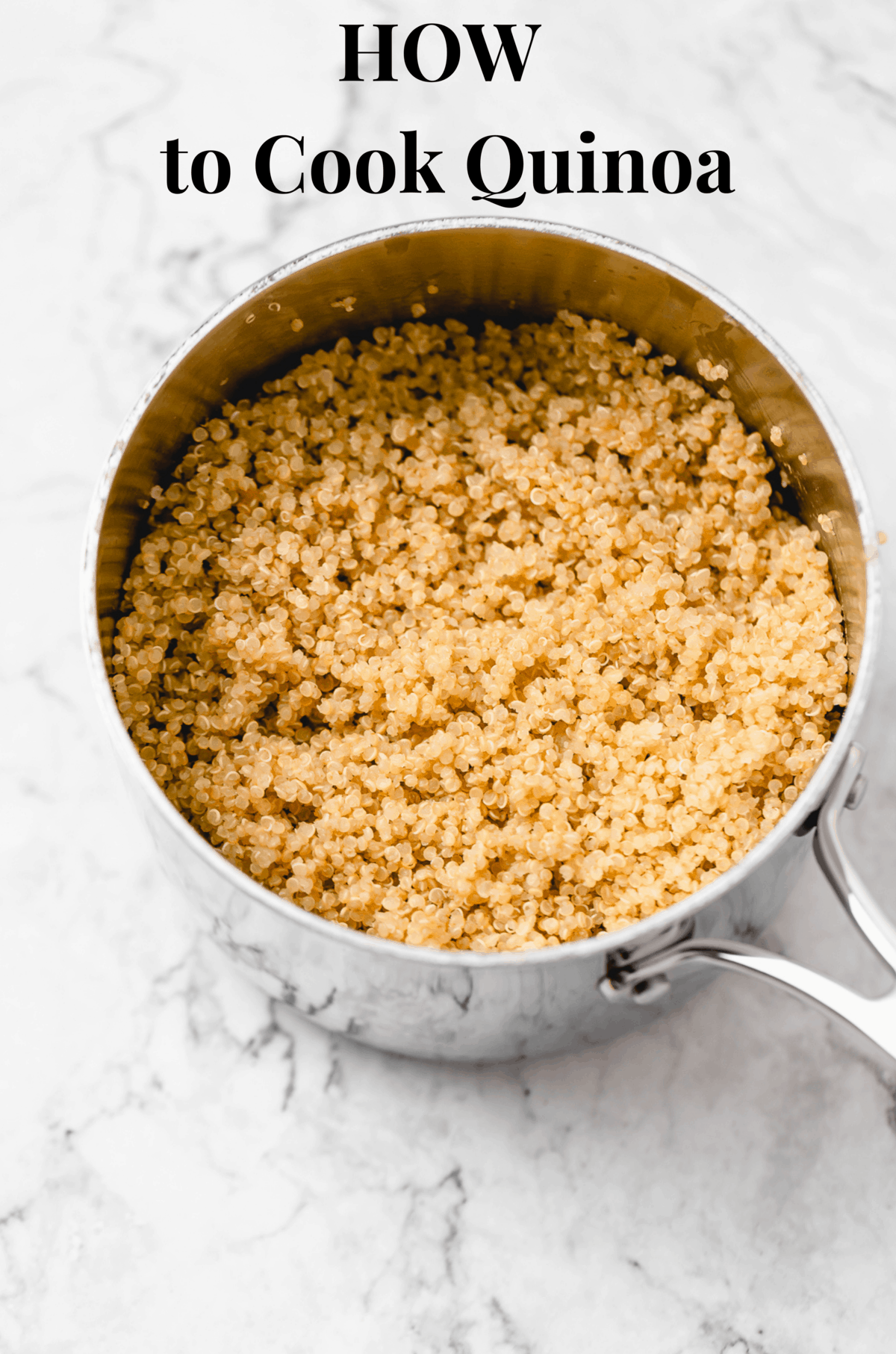 If you keep up with my blog, you know that I'm a quinoa fanatic. Ever since learning the best way to cook quinoa, I have made my whole family super fans of this magical ancient grain, too! I've got all the tips and tricks make perfectly fluffy, flavourful quinoa any night of the week!
I have, however, received many questions from readers as to how to cook their quinoa properly and complaints that theirs was too dry, or too wet, or too bitter, or just undercooked.
I have put together this post as a more in-depth look on how you can become a fan of quinoa and learn how to cook quinoa perfectly every time.
What Is Quinoa?
In short, quinoa (pronounced KEEN-wah) is a seed that has been around for at least 5,000 years and originated from the Andean region of Ecuador, Bolivia, Columbia and Peru. Think couscous in texture, or even oats in the way it absorbs the liquid.
Quinoa seeds are actually really really good for you. They contain essential amino acids like lysine and great amounts of calcium, iron and phosphorus. Quinoa is also high in protein AND is gluten free!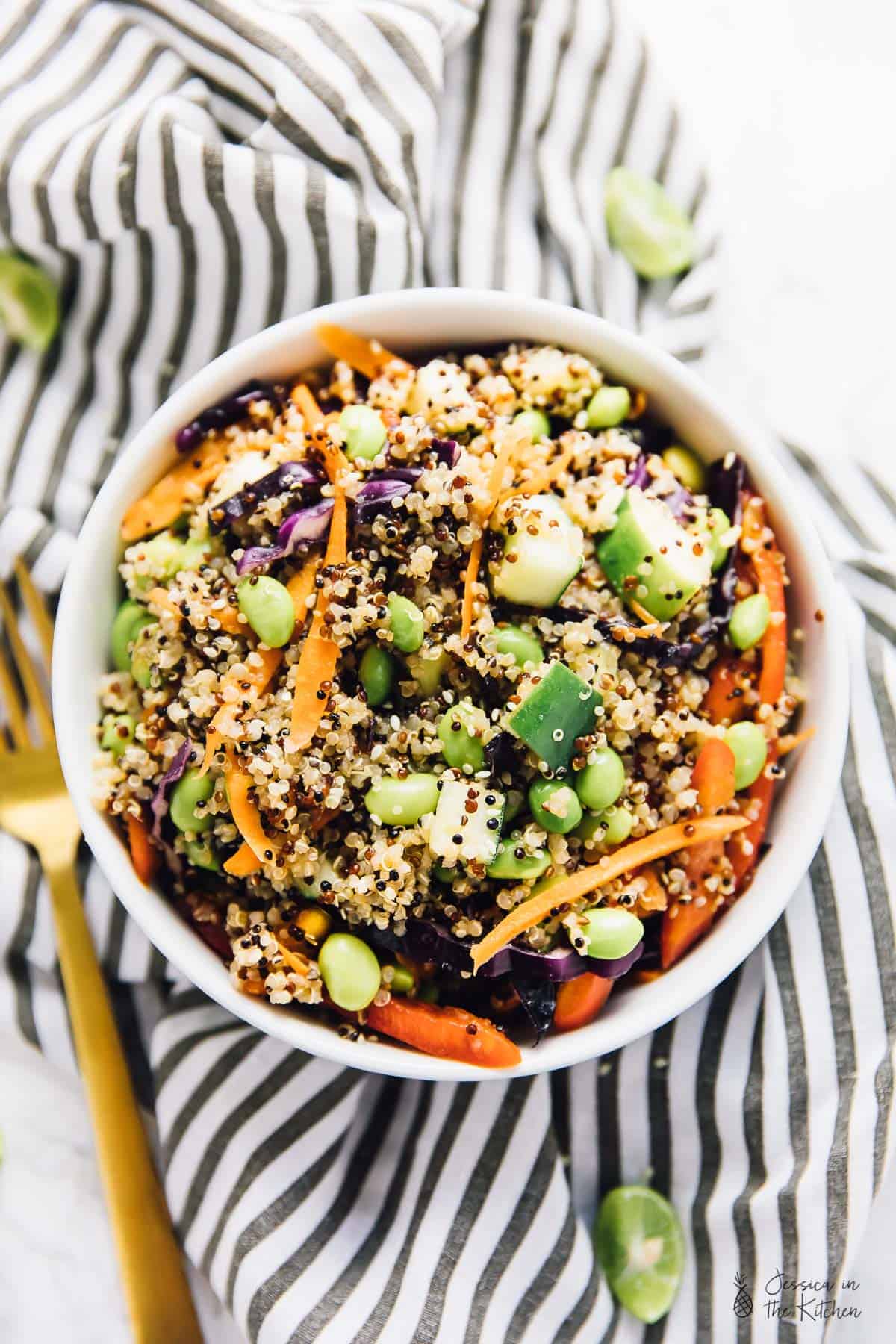 What Is the Ratio Of Quinoa To Water?
Whether you're making a little or a lot of quinoa, the ratio of seeds to water is always the same!
For 1 cup of quinoa, you want 2 cups of water. You can always add a little flavor and use 1 cup quinoa, 1 cup water, and 1 cup broth. Either way, it's 2:1 liquid to quinoa every time.
If you want to make less, you can easily use 1/2 cup raw quinoa with 1 cup of liquid. When it's done, 1 cup of quinoa makes about 3 cups of fluffy, cooked quinoa.
Is Quinoa Healthier Than Rice?
To be honest, I don't like to describe anything as "healthier" than another food — it's all about moderation!
However, if we're talking pure nutritional value, quinoa is packed with so many vitamins and essentials for any diet that other grains just can't give ya.
Compared to white rice, quinoa has twice the protein as the same amount of rice. Plus, it's got about 5g more fiber and fills you up faster!
Quinoa is a great side dish or salad addition because it can let you eat less and taste great, too.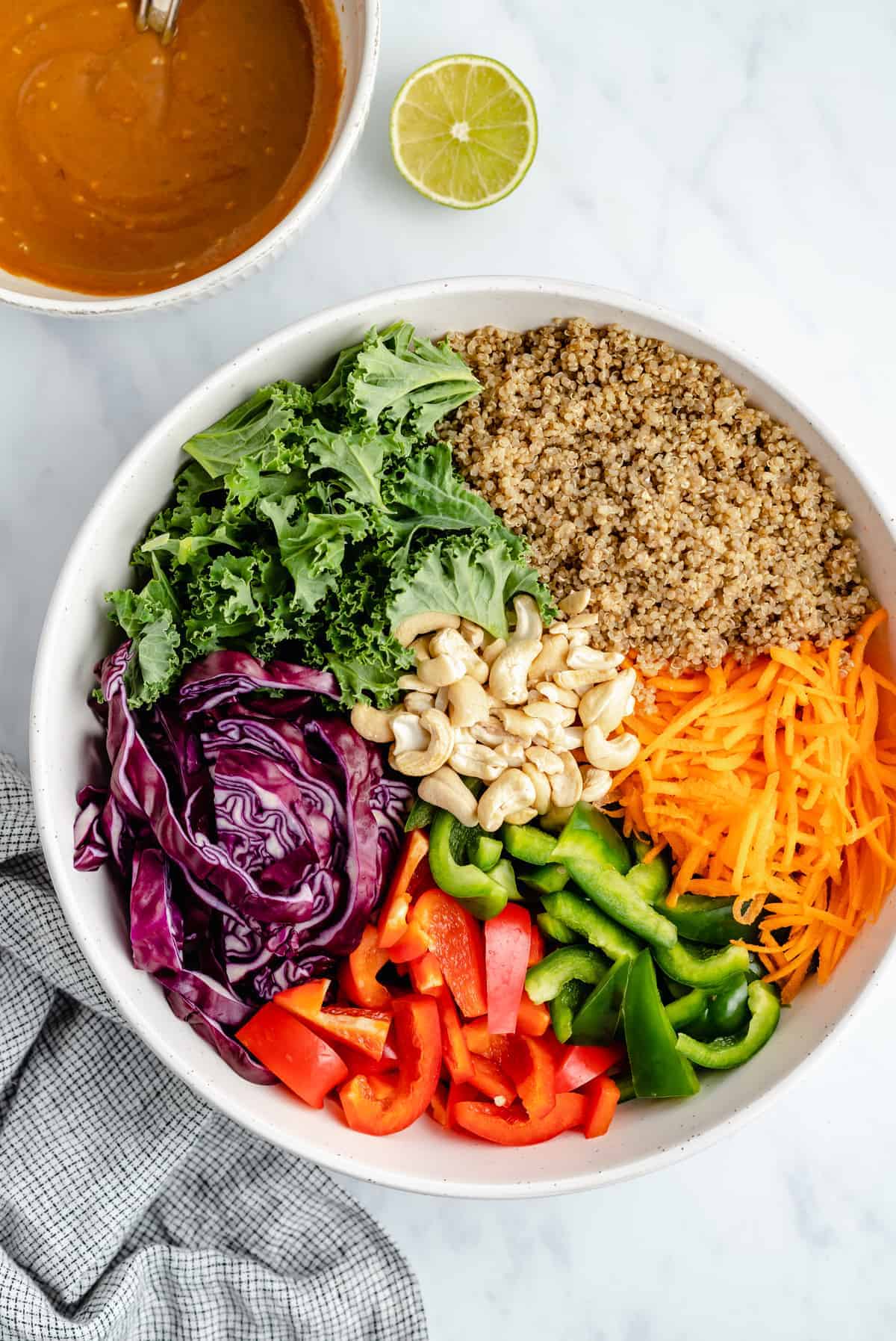 How To Cook Quinoa
Once you learn how to make quinoa, you'll make it forever! The rich nuttiness is so much better than brown rice or cauliflower rice.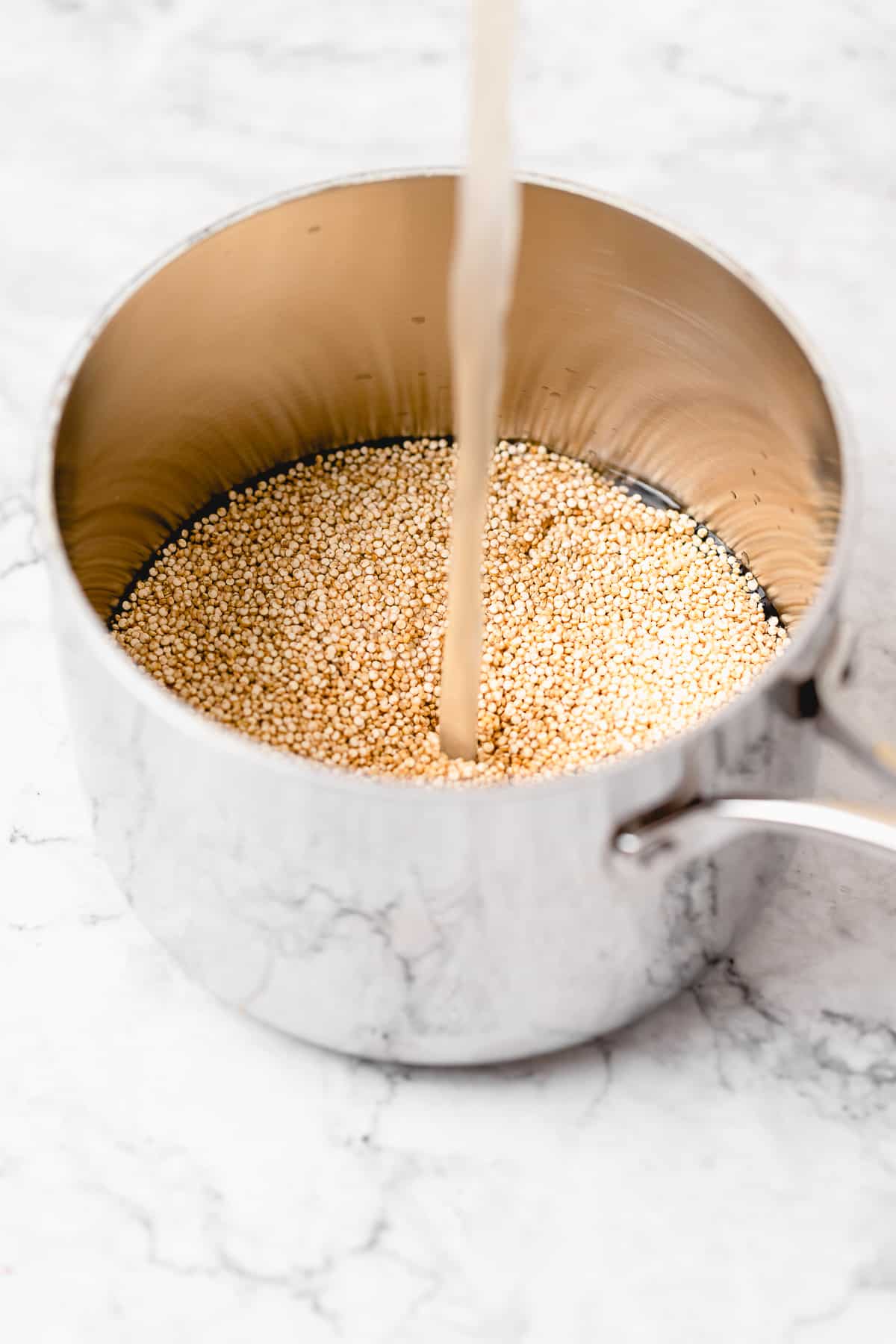 To cook quinoa perfectly, you want to add the dry quinoa seeds to a pot of water. Bring it all to a boil, then reduce and simmer covered for about 15 minutes. The FULL instructions are below in the recipe card.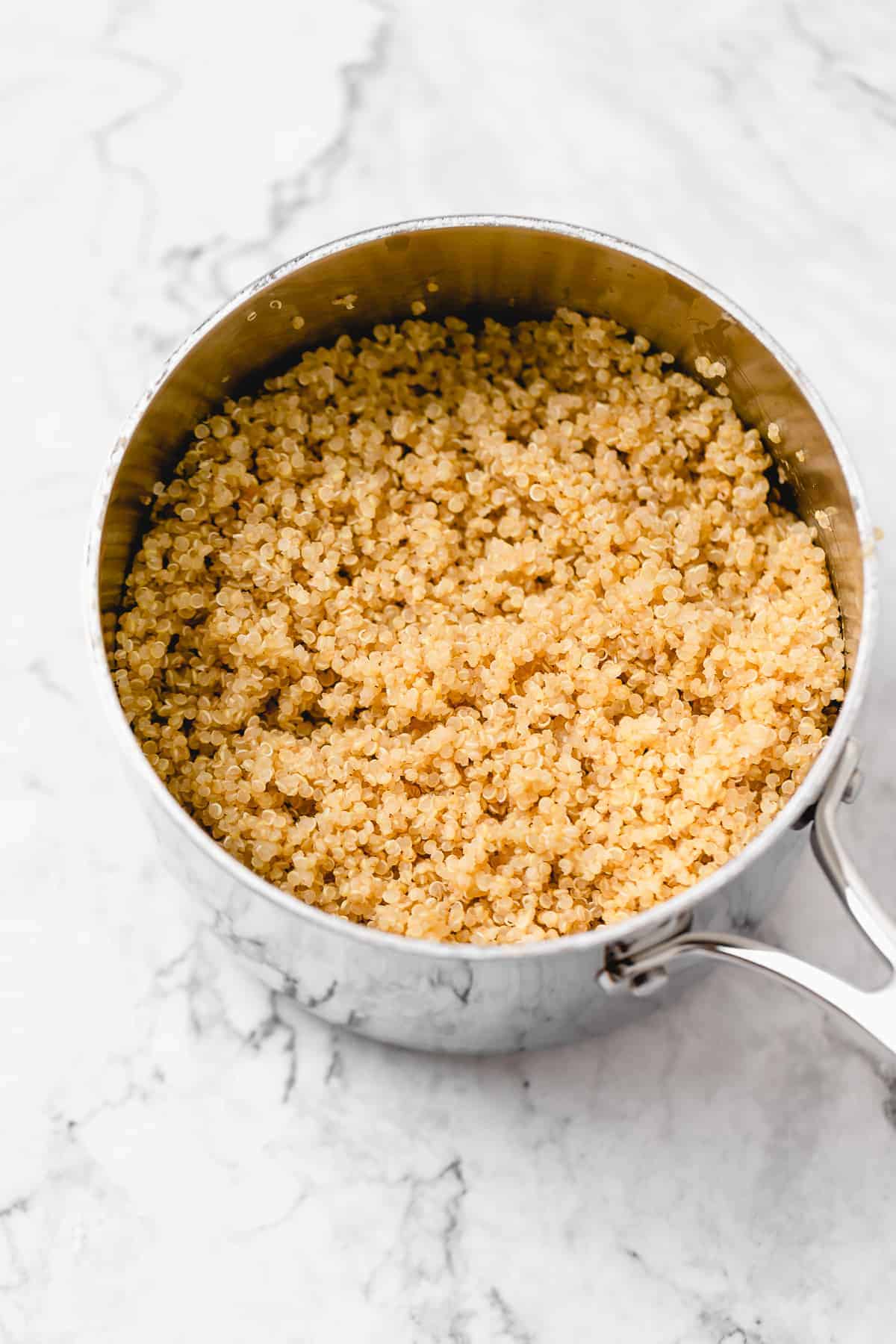 If you're making red quinoa, it will likely take an extra few minutes to cook. As a general rule of thumb, if the water has evaporated, the quinoa should be done if the ratio was right.
Pro tip: The key is to set the lid slightly to the side so that you allow liquid and steam to escape. When it's finished, you want to fluff the quinoa with a fork, which gives it a great cloud-like texture!
Tips and FAQs
Quinoa is very versatile and can literally be used in every meal of the day; breakfast, lunch, dinner, in casseroles, in desserts, in salads — the possibilities are endless!
Make it in batches. I love to meal prep quinoa for a week of easy lunches. However, cooking a huge pot isn't the best way to go. I only cook 1 cup of quinoa at a time to keep it from getting mushy in the pot. If you need a ton, make it in batches!
Add some flavor. You can make quinoa easily with just water, quinoa, and a pinch of salt. If you wanna add a little extra oomph, use broth or stock! Chicken, veggie, beef — the options are endless for taking this easy side dish from basic to amazing with no extra work.
Rinse the quinoa first. If you think quinoa is too bitter, try rinsing it first! This prep step helps remove saponin from it and make the quinoa taste less bitter.
Don't over cook it. Always be sure to set a timer for your quinoa so it doesn't get over cooked. As a rule of thumb, it's usually done when the liquid has evaporated. If it's still crunchy but there's no water left, add a tablespoon or 2 more and keep cooking.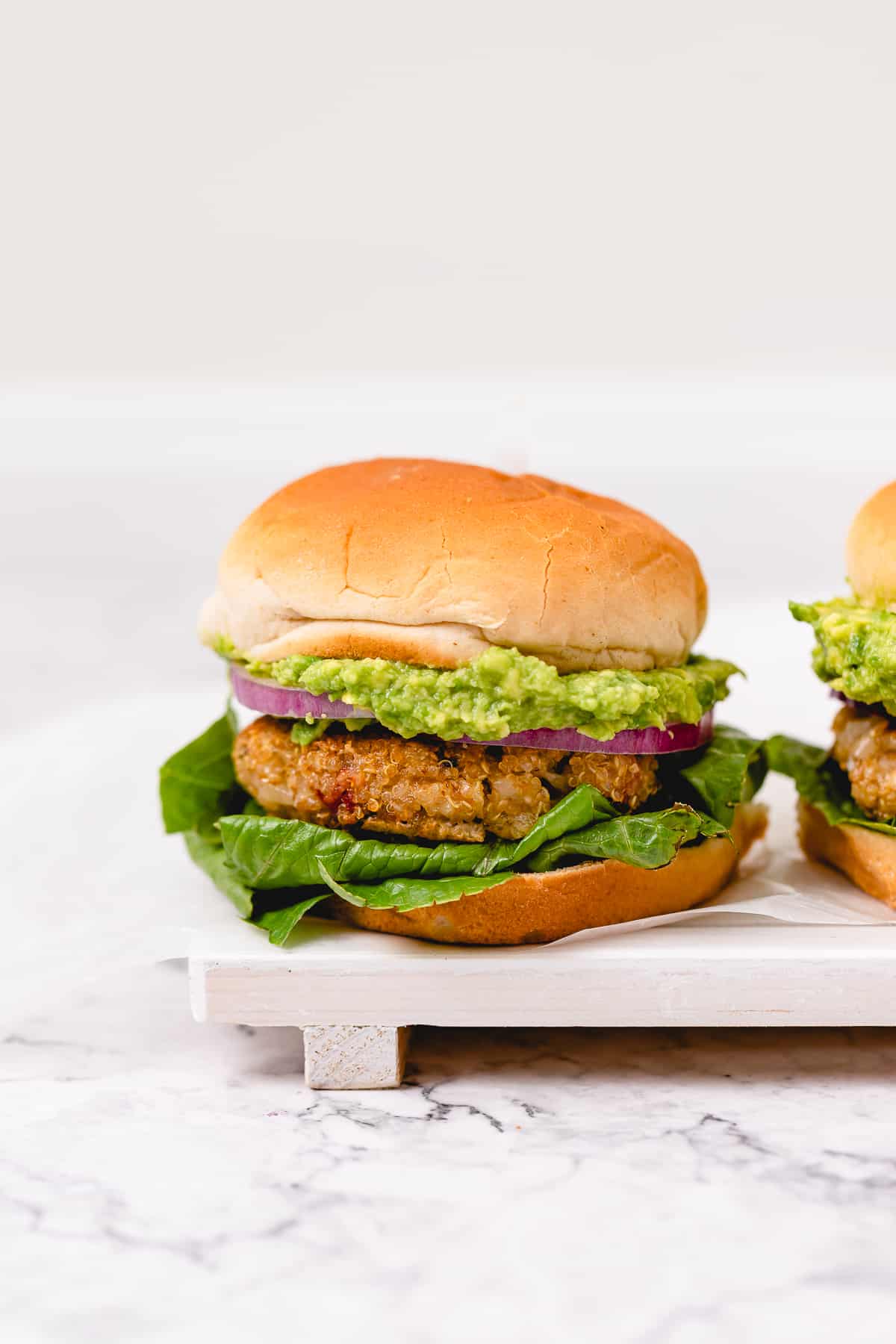 Easy Quinoa Recipes You'll Love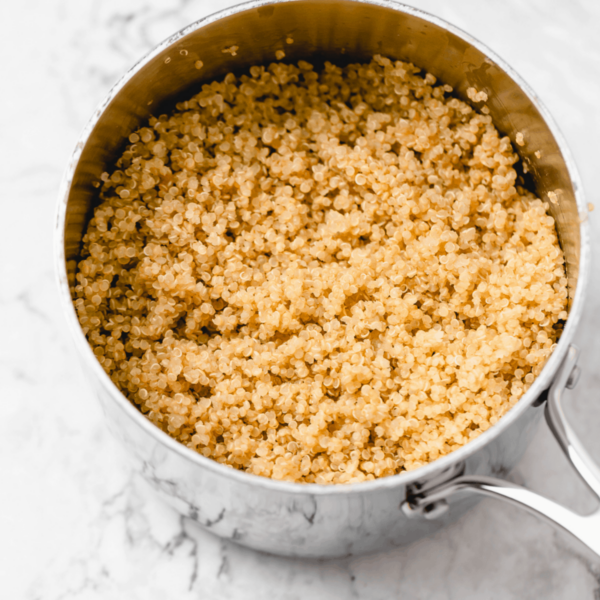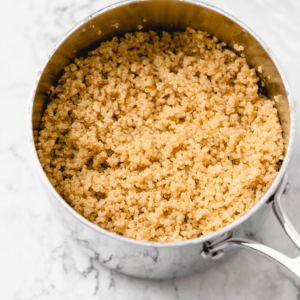 How to Cook Quinoa
Learn all the tips and tricks to make quinoa perfectly every time! Master the quinoa-to-water ratio and enjoy this simple, healthy side dish every night in just 15 minutes.
Ingredients
1 cup uncooked quinoa
2 cups broth, or water
½ teaspoon sea salt
2 teaspoons olive oil
Instructions
Wash the quinoa in a mesh strainer rigorously with water for about 2 minutes. You will see a slightly milky-coloured water coming from the quinoa which is the saponin you are washing off. Shake the excess water out of the mesh.

In a pan over medium-high heat, add olive oil. You're now going to dry the quinoa by adding it to the pan and letting it heat up for about 2 minutes. There should be a slightly sizzling while the water is drying off.

This toasting process adds a delicious slightly nutty flavour to the quinoa. Add the broth or water to the pan and the salt.

You can add in extra flavours if you want — garlic powder, onion powder, etc. Stir, and bring to a boil.

Lower to medium heat and cover, cooking for 15 minutes. Stir once every 5 minutes to ensure all the quinoa is being thoroughly cooked and so none of the quinoa stays on the bottom long enough to be burned.


You don't want to cook quinoa for any less time than this else you will get mushy quinoa, and don't stir it too often. Just allow it to cook.

When all of the water has been absorbed, the quinoa is finished cooking. Your quinoa should look fluffy and the seeds should be puffed up.


Remove the quinoa from the heat, and use your fork to fluff the quinoa a bit. This process helps to lighten the quinoa and releases some extra flavour. I like to leave the quinoa in the pot, off of the hot stove top, for about 5-10 minutes since the residual heat of the pot takes out any excess liquid and cools it down a bit.

Serve the quinoa and try some delicious quinoa recipes!

Notes
Sometimes red quinoa takes longer than 15 minutes to cook! If it's not fully cooked after 15 minutes, continue to stir for an extra 5 to 10 minutes until fully cooked.
Calories: 240kcal, Carbohydrates: 38g, Protein: 8g, Fat: 6g, Saturated Fat: 1g, Sodium: 1017mg, Potassium: 319mg, Fiber: 4g, Sugar: 1g, Vitamin A: 342IU, Calcium: 27mg, Iron: 3mg
Disclaimer: Although jessicainthekitchen.com attempts to provide accurate nutritional information, kindly note that these are only estimates. Nutritional information may be affected based on the product type, the brand that was purchased, and in other unforeseeable ways. Jessicainthekitchen.com will not be held liable for any loss or damage resulting for your reliance on nutritional information. If you need to follow a specific caloric regimen, please consult your doctor first.