Creamy Coconut Spinach and Mushroom Quinoa
This Creamy Coconut Spinach and Mushroom Quinoa is a delicious 30 minute dish that is incredibly nutritious with 7 servings of vegetables!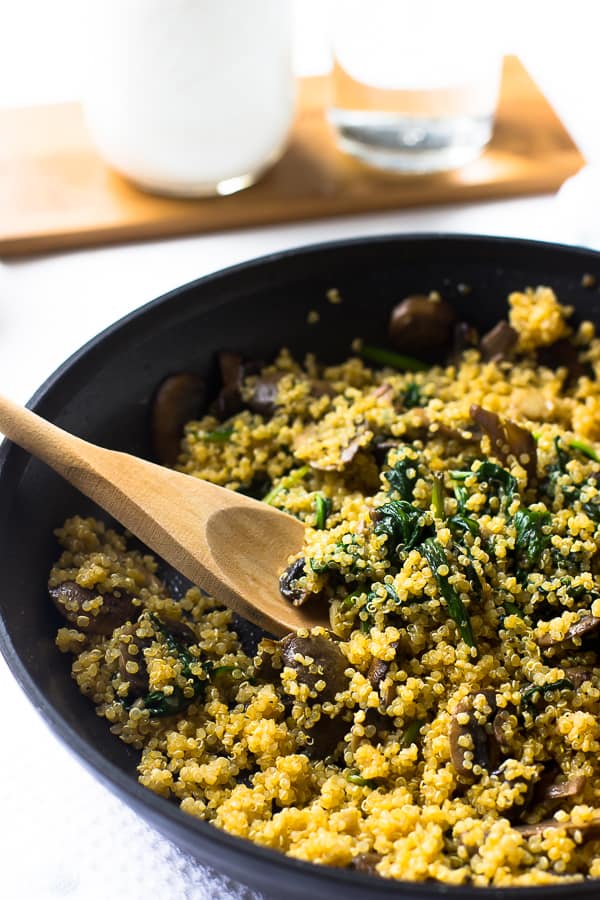 I've always believed that the best dishes that come together are those born out of pure creation, and lack of hunger. Whenever I try to create a recipe when I'm already hungry, I grab for the items I always use together, and create the same things over and over. Sure, they're delicious, but not really inspired. When I'm able to take ingredients out of the fridge, level-headed and already well fed, I can think more clearly. That's actually how this Creamy Coconut Spinach and Mushroom Quinoa dish came together. How could it not be so obvious to me from before, the combination of creamy coconut spinach, with delicious garlic mushrooms and soft fluffy fragrant quinoa? I've had them all separately the loved them so much. They are quite the marriage when paired together.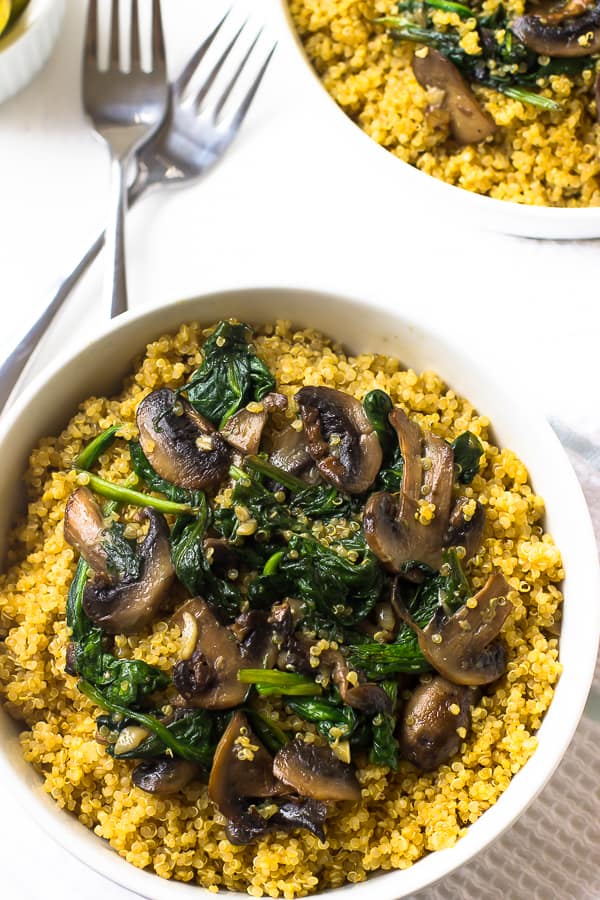 Let me break down the elements of this dish: first spinach, then mushroom, then the quinoa. To be fair, coconut in any dish makes is automatically magical. Coconut milk? Well, we are talking prize winning already. I've been creaming spinach with coconut for a few weeks now and adding it to everything. It creates a beautiful, incredibly flavorful spinach dish that can be used on its own or in anything at all.
When I shared this picture on instagram and saw the reaction that it got, I knew I needed to stop being selfish and keeping this techniques to myself, and that I should start sharing them with you all.
I've always been a fan of cooking down mushrooms, as is evident in one of my favourite side dishes featuring 5 cloves of garlic for these beautiful mushrooms. Adding the two together is what allows for the 7 servings of vegetables in this dish. Creamed spinach wilts beautifully, so you won't even know that you're having all your veggies while consuming this delicious dish.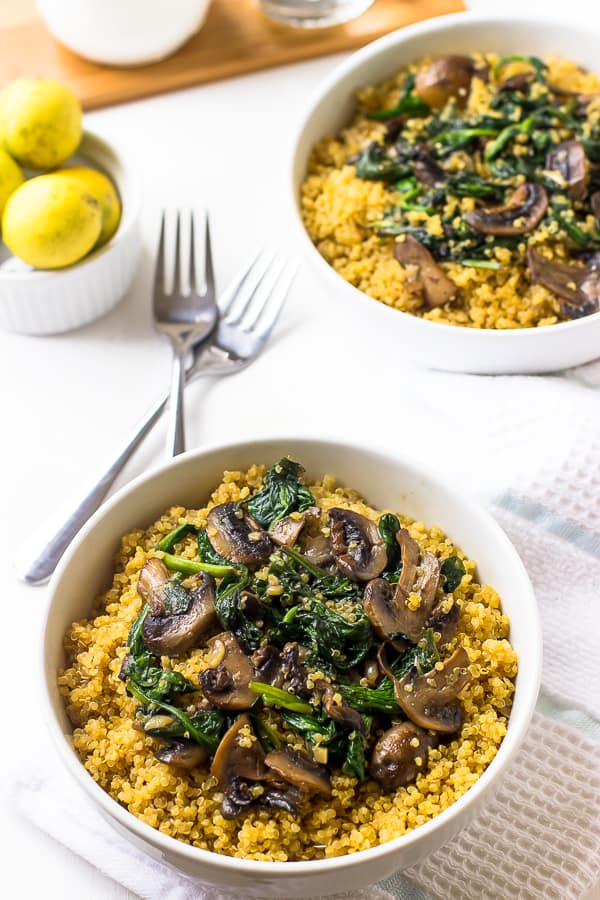 Now unto my first love, quinoa. The first time I ever tasted quinoa was at a very close friend's (who later become one of my bridesmaids) house, where her mom made it for me. From then I was hooked, bringing the ideas home and making my own family fall in love with it. Since getting married, I've also gotten the Mr. adequately hooked on quinoa, and slowly but surely, my plan to rule the world with quinoa is coming together. He looks forward to every time I make my quinoa fried rice, which I love making and sharing with him.
However, do you ever have a dish that well, you just don't want to share? I didn't want to share this. I mean come ON, Creamy Coconut Spinach and Mushroom Quinoa?? Creamy, buttery spinach, flavourful mushrooms and fluffy quinoa? I didn't want to leave it out in the open in the fridge. I wanted to hide it on the shelf he never checks, behind the gluten free flours. But alas, I left it on the top shelf aka the freshly cooked shelf, and the second he came through the door it's as if he knew. I prayed silently that he would skip over the purposely unmarked dish but he found it, but not before I could blurt about "PLEASE don't finish it!".
Yes, that's how good this was. Note the word was, since I helped him finish it all that same day. I'll definitely be making this again in the near future. The sharing part may be optional.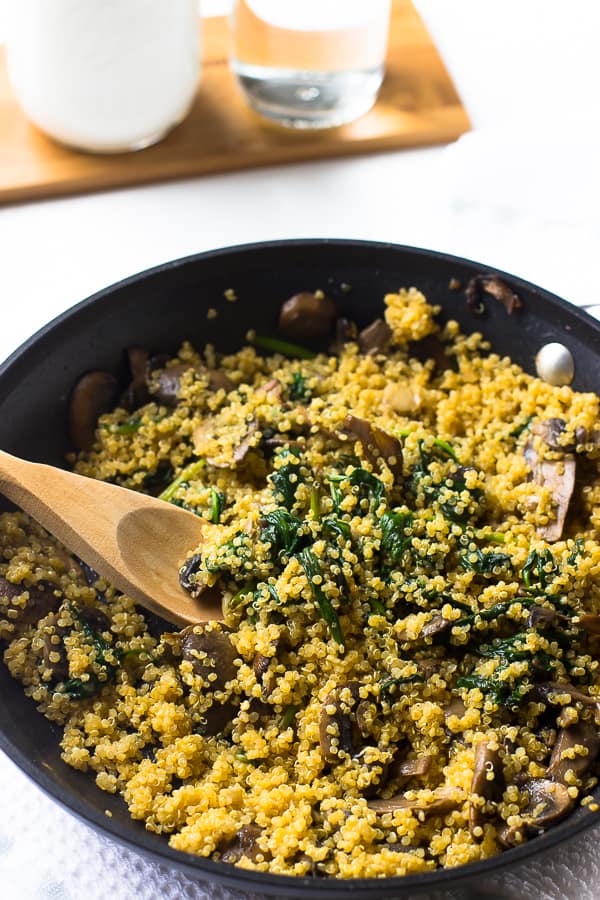 If you try this Creamy Coconut Spinach and Mushroom Quinoa, please let me know in the comment section below, or tag me on instagram with the hashtag #jessicainthekitchen!
RELATED RECIPES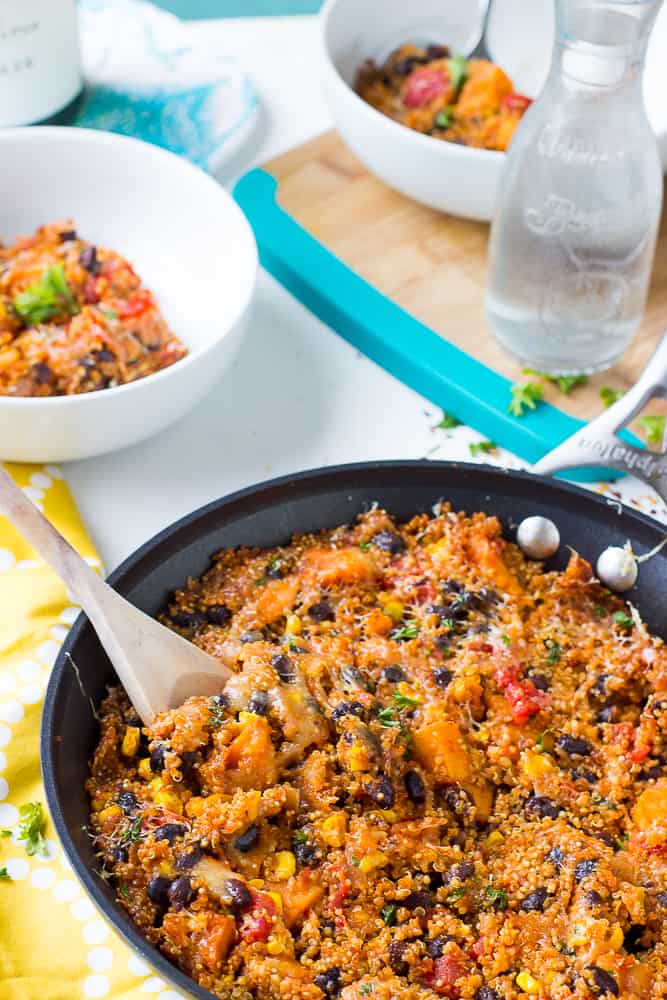 One Pot 30-Minute Quinoa Enchilada Skillet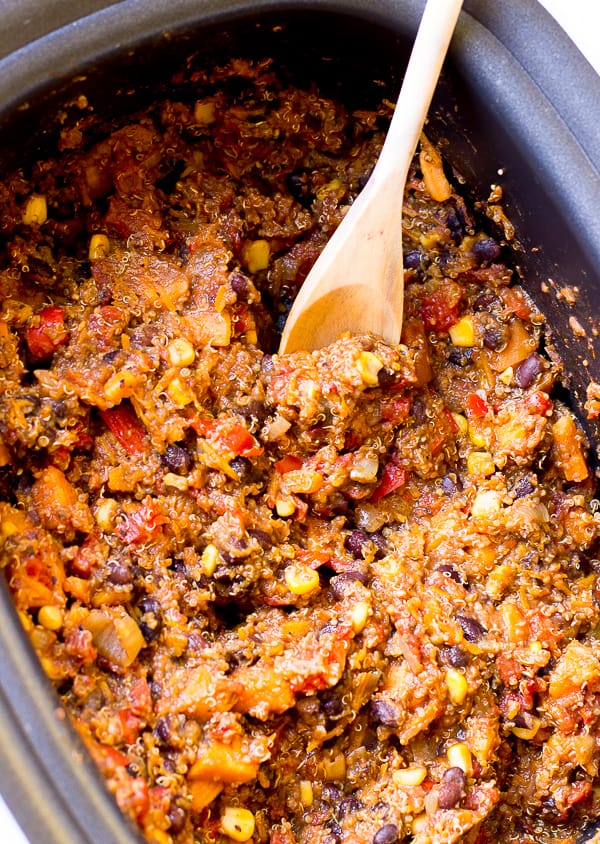 Slow Cooker Sweet Potato Black Bean and Quinoa Chili
Related Quinoa Recipes Around the Web
Quinoa Spinach Mac and Cheese by Two Peas and their Pod
Southwestern Quinoa and Black Bean Casserole by Pinch of Yum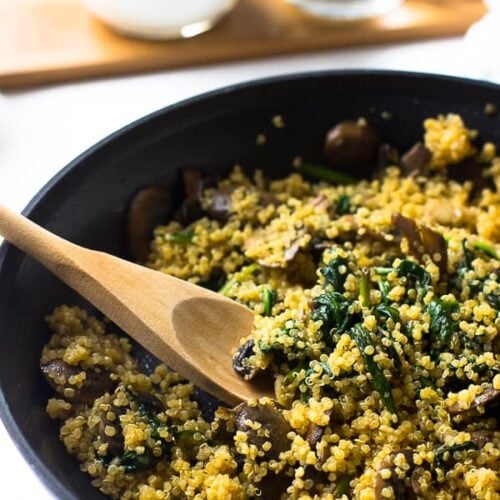 Creamy Coconut Spinach and Mushroom Quinoa
This Creamy Coconut Spinach and Mushroom Quinoa is a delicious 30 minute dish that is incredibly nutritious with 7 servings of vegetables!
Ingredients
Creamy Coconut Spinach and Mushroom Quinoa
3 cups cooked quinoa
1 clove garlic, minced
1 tablespoon olive oil
2 cup chopped raw mushrooms
Salt & Pepper to taste
3 cloves garlic, minced
3 cups raw spinach
2 tablespoons coconut milk
Lime, for squeeze over
Instructions
Creamy Coconut Spinach and Mushroom Quinoa
Cook quinoa , adding one clove of the garlic to the mixture.

While the quinoa is cooking, heat the olive oil in a large pan over medium high heat. Remember to remove quinoa from heat after cooking for 15 minutes.

Add the chopped mushrooms to the pan and stir together, coating. Season with fresh sea salt and freshly ground black pepper to taste.

Allow the mushrooms to cook for 10 minutes, stirring occasionally, until cooked through and softer.

Lower the heat to medium and add in the garlic and stir with the mushrooms, for about 5 minutes.

Add the spinach and the coconut milk to the mushroom mixture and stir. Cover with the lid and allow to cook for another 3 minutes until spinach becomes wilted. Remove lid and stir to combine everything. Season with more salt and pepper to taste if necessary.

Add the quinoa to the pan and stir everything together until combined.

Serve immediately with a wedge of lime to squeeze over the top. Enjoy!
Notes
 This recipe is vegan and gluten free. 2. You can add even more spinach and mushroom if you so desire to the dish. I used baby bella mushrooms, but you can use any variation that you want, bearing in mind a possible change in cook time.
HOW TO STORE QUINOA After the dish has cooled completely, transfer to a air-tight tupperware container. Place in the fridge and store for 3-4 days.
HOW TO FREEZE QUINOA If freezing, store as above, and then place in the freezer, or in a freezer friendly zipper plastic bag. Remove from the freezer when needed reheat in a heated pan until thawed.
Calories: 155kcal, Carbohydrates: 22g, Protein: 6g, Fat: 5g, Saturated Fat: 2g, Sodium: 69mg, Potassium: 362mg, Fiber: 3g, Sugar: 2g, Vitamin A: 1407IU, Vitamin C: 6mg, Calcium: 33mg, Iron: 2mg
Disclaimer: Although jessicainthekitchen.com attempts to provide accurate nutritional information, kindly note that these are only estimates. Nutritional information may be affected based on the product type, the brand that was purchased, and in other unforeseeable ways. Jessicainthekitchen.com will not be held liable for any loss or damage resulting for your reliance on nutritional information. If you need to follow a specific caloric regimen, please consult your doctor first.