Garlic Sautéed Mushrooms – 15 Minutes, Vegan
This 15 Minute Garlic Sautéed Mushrooms dish will produce the tastiest, softest and most buttery mushrooms you've ever tasted!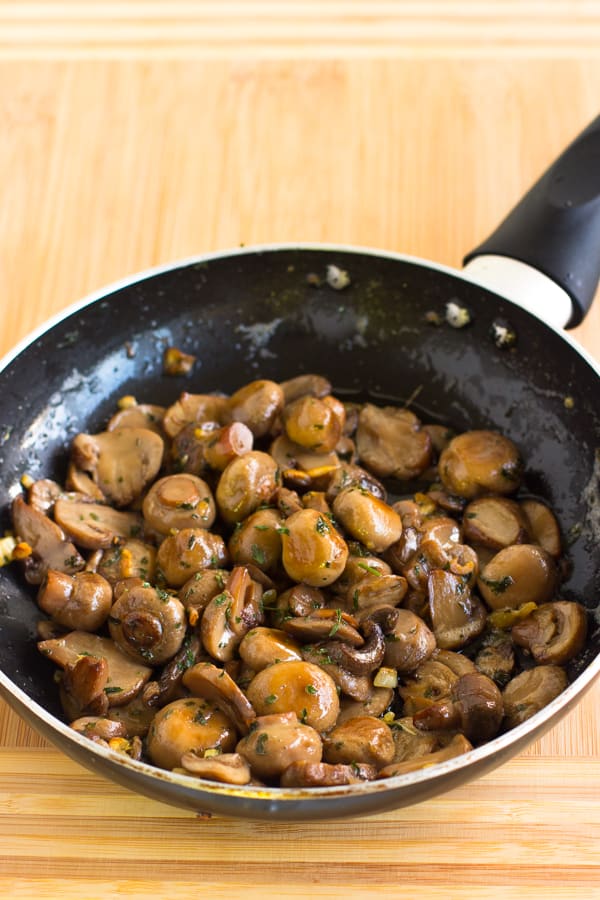 When life throws 70 hour work weeks at you, sometimes the only thing you desire to do is to sit down to an easy, quick and absolutely delicious home cooked meal. This thought is exactly what came to my mind when presented with the welcome challenge of what to make with my MELT® Organic; a dish that could easily be made after a long day's work that would feel and taste as if you were transported into a 3 starred Michelin chef's living room. I bring to you, the magic of sautéed garlic mushrooms: whole sautéed mushrooms, garlic and MELT® Organic.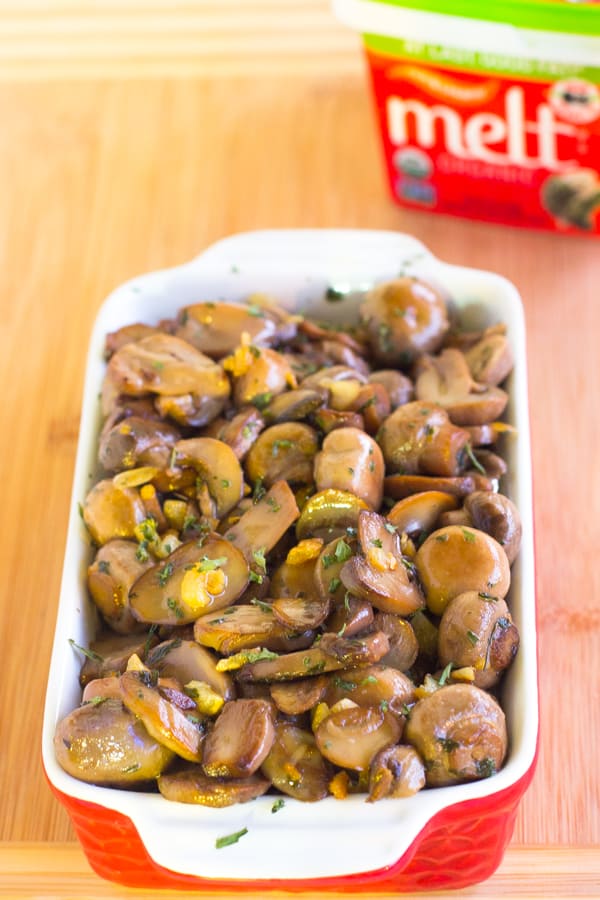 Before I get into my love for this dish, you know I have long been an ambassador for using vegan substitute ingredients and only those that I feel with taste exactly or as close to as possible as it's non-vegan counterpart. When the Mr. and I popped the seal on our MELT® Organic and spread it across a few slices of toast, for sampling reasons of course, the first words to pop out of our mouths at the same time were "This tastes just like butter!" followed by silence in the room as we finished chomping on our deliciously warm and now buttered slices of toast.
MELT® Organic is a brand relatively new to me, but one that I will definitely be buying for years to come. I've been substituting vegan butter for regular butter for months now, and finding a product that not only tastes amazing on toast but also in and on everything else has been a bit of a challenge until now. This butter, really, does do it all.
I've now used MELT® Organic for cooking, baking, sautéing, and grilling and can safely say that it is has won me over in all these categories and I'm sure will in those I've yet to explore. The butter is a perfect blend of different oils – virgin coconut, flaxseed, hi-oleic sunflower, palm fruit, and canola, of which coconut oil is my favorite,, and keeps its required consistency whether it needs to remain cold but also melts, as the name suggests, quite beautifully when it needs to.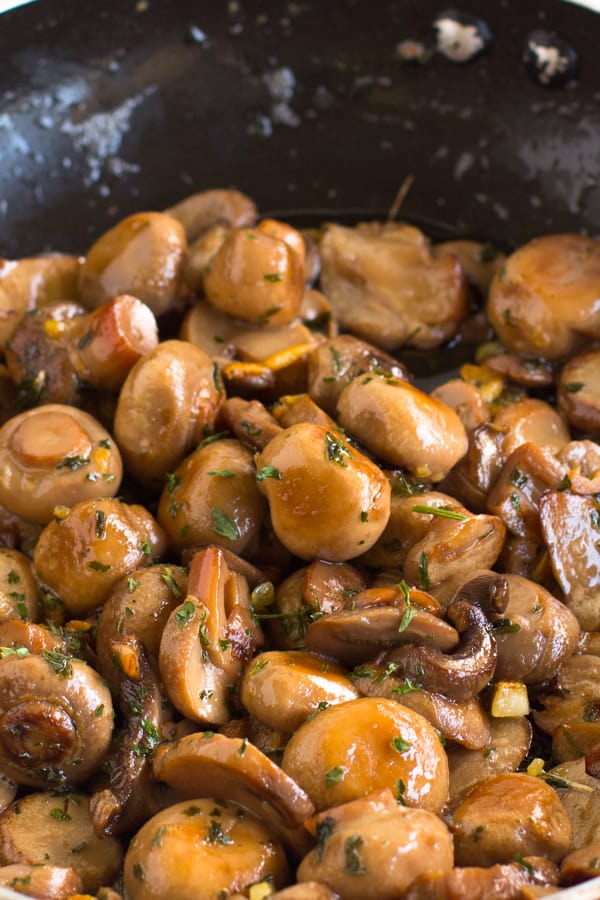 I'm pretty sure I've eaten enough toast for the rest of the year – again in the name of sampling or experimenting! – because of how smooth and plainly buttery this spread is! It has the right amount of saltiness needed for a perfect butter and matches all of my own criteria for product that is Non-Gmo, filled with good-for-you fats and ingredients in all respects. The spreads are dairy free, soy free, trans-fat free, and gluten free. And now, to the star, the garlic sautéed mushrooms.
Any vegetarian will tell you that mushrooms are often the star of their lives in many, many meals, from burgers to gravies to sautéing the mushrooms on their own. I'm convinced that the MELT® Organic added it's own smoothness and creaminess to these 15 Minute Garlic Sautéed Mushrooms since this is honestly the best I have ever had them.
The recipe is so simple, with only a few steps of sautéing the garlic, then adding the mushrooms until caramelized, and then devouring them immediately after, not before taking quite a few "tastes" (in the name of experimenting?) before it can even reach your plate. This is essentially cooking your mushrooms in butter – what could get better than that? – except Melt Organic Butter is much healthier and provides way more dimensions in flavor. The parsley adds an extra layer of freshness to the dish while the garlic adds a delectable aroma that fills every inch of your kitchen. My mouth is watering all over again just thinking of this dish. I love these these are also healthy sautéed mushrooms, making them a win, win.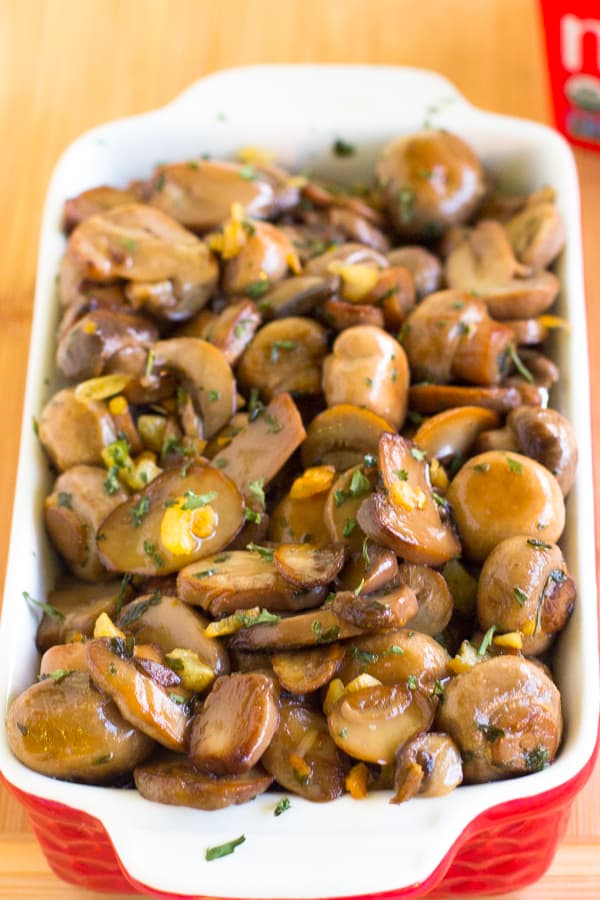 I love that in just 15 minutes, you have a great side dish, or if you'd like, you can make some pasta at the same time and make it a complete meal. Bon Appétit!
| SHOP THIS RECIPE // CLICK THE LEFT & RIGHT ARROWS TO SCROLL |



If you try these 15 Minute Garlic Sautéed Mushrooms please let me know in the comment section below, or tag me on instagram with the hashtag #jessicainthekitchen! For more exclusive recipes follow me on Instagram AND on Snapchat: jessinkitchen.
Disclosure: This is a sponsored conversation written by me on behalf of MELT Organic. The opinions and text are all mine.
MELT® Organic is a line of luscious, organic spreads made from healthy oils for butter lovers seeking a much healthier alternative, available in Rich & Creamy (original), Honey, and NEW Chocolate.
This is a sponsored conversation written by me on behalf of MELT Organic. The opinions and text are all mine.
MORE QUICK GARLIC SAUTÉED MUSHROOMS RECIPES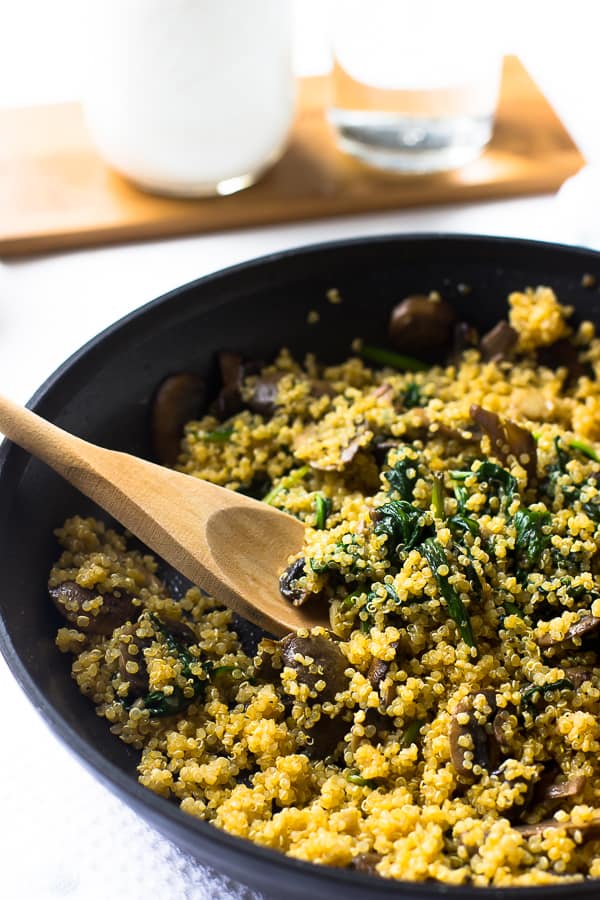 Creamy Coconut Spinach and Mushroom Quinoa
Comments are now turned ON on this post!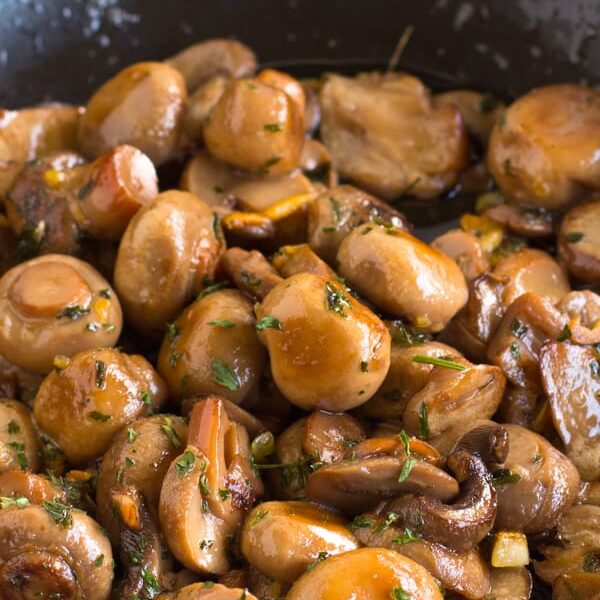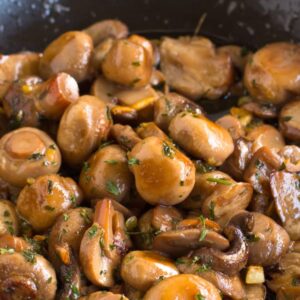 Garlic Sautéed Mushrooms - 15 Minutes, Vegan
This 15 Minute Garlic Sautéed Mushrooms dish will produce the tastiest, softest and most buttery mushrooms you've ever tasted!
Ingredients
1 lb mushrooms, washed and pat dry (you can use jarred mushrooms for convenience. I used a combination of whole mushrooms and sliced mushrooms)
5 cloves garlic, finely chopped
3 tablespoons MELT® Organic Rich & Creamy
2 teaspoons parsley
pinch salt
Instructions
In a pan over medium high heat, heat the MELT® Organic Rich & Creamy until melted and sizzling.

Add the garlic and reduce to medium heat. The garlic should sizzle when it hits the pan. Sauté the garlic for about 1 minute.

Add the mushrooms, parsley, and pinch of salt to the pan. Using a spatula, swirl all the ingredients together.

Let the mushroom mixture cook for about 3-5 minutes on one side without moving the mushrooms; this will allow it to caramelize a bit and produce a beautiful golden color.

Turn the mushrooms over and let brown on the other side for another 3-5 minutes.

Remove from heat, serve and enjoy! You can eat this as a side by itself, or as an addition to another meal such as to a pasta or quinoa.
Calories: 122kcal, Carbohydrates: 7g, Protein: 5g, Fat: 10g, Saturated Fat: 2g, Sodium: 196mg, Potassium: 501mg, Fiber: 2g, Sugar: 3g, Vitamin A: 535IU, Vitamin C: 5mg, Calcium: 14mg, Iron: 1mg
Disclaimer: Although jessicainthekitchen.com attempts to provide accurate nutritional information, kindly note that these are only estimates. Nutritional information may be affected based on the product type, the brand that was purchased, and in other unforeseeable ways. Jessicainthekitchen.com will not be held liable for any loss or damage resulting for your reliance on nutritional information. If you need to follow a specific caloric regimen, please consult your doctor first.