Vegan Garlic Alfredo Pasta
This Vegan Garlic Alfredo Pasta is such a creamy and cheesy weeknight dinner! It's absolutely decadent, made with a cashew cream sauce, and the sauce is made easily in your blender!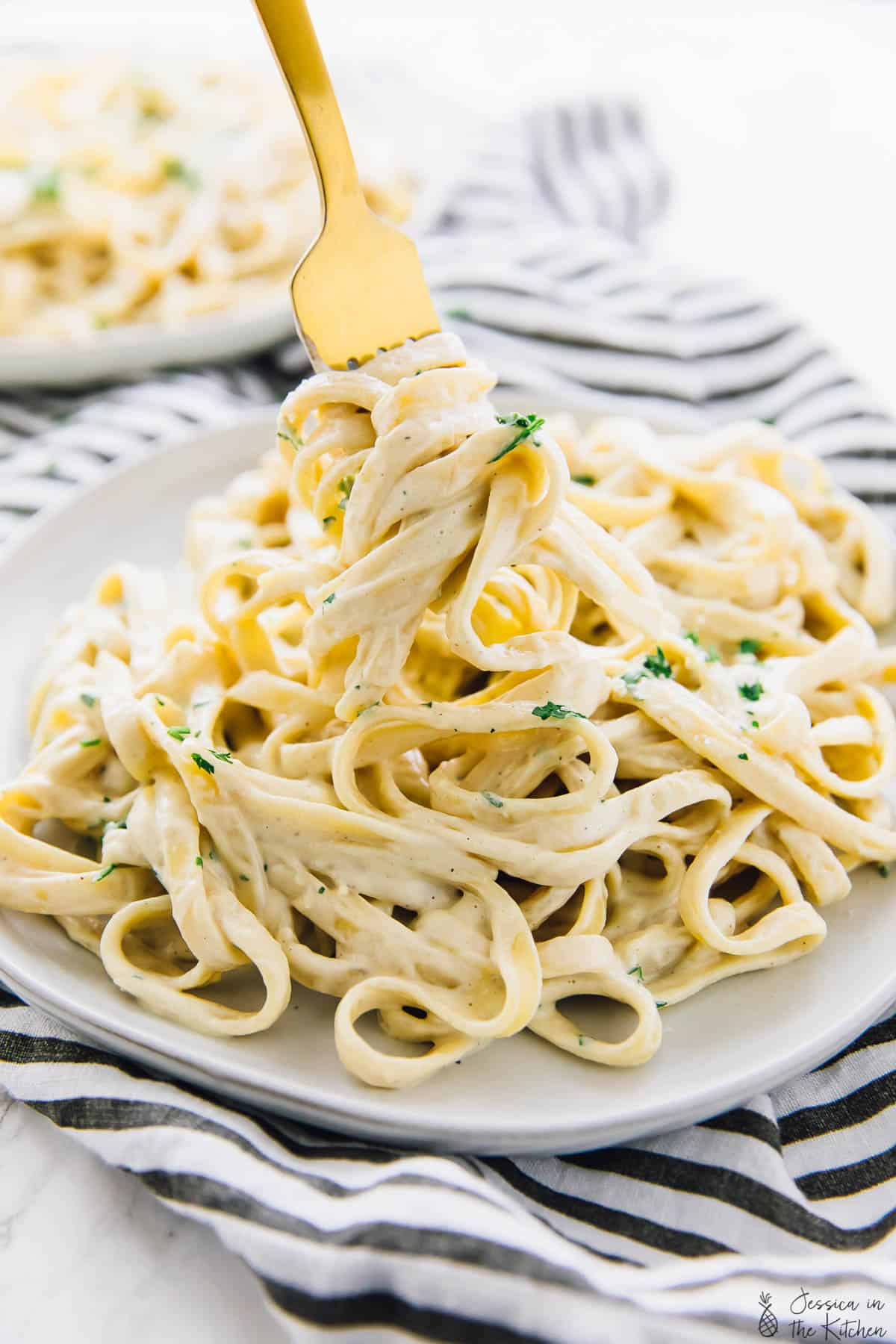 Where do I start? You're going to absolutely love and want to devour this Vegan Garlic Alfredo Pasta. I'm talking cheesy, creamy, absolutely indulgent in taste kind of pasta dinner. The kind of dinner that totally hits the spot, and makes you want to curl up on a Friday night. Without the heavy feeling, of course. All my pasta cravings are hereby conquered.
First things first – I haven't been a big pasta fanatic. LET me be clear. When a pasta dish is done well – I am all for that. If you're a vegetarian or a vegan though, you know that lots of pasta dishes just are not done correctly. Kind of a leftover, oh yeah whoops, kind of scenario, and it can drive you to never want to have pasta again.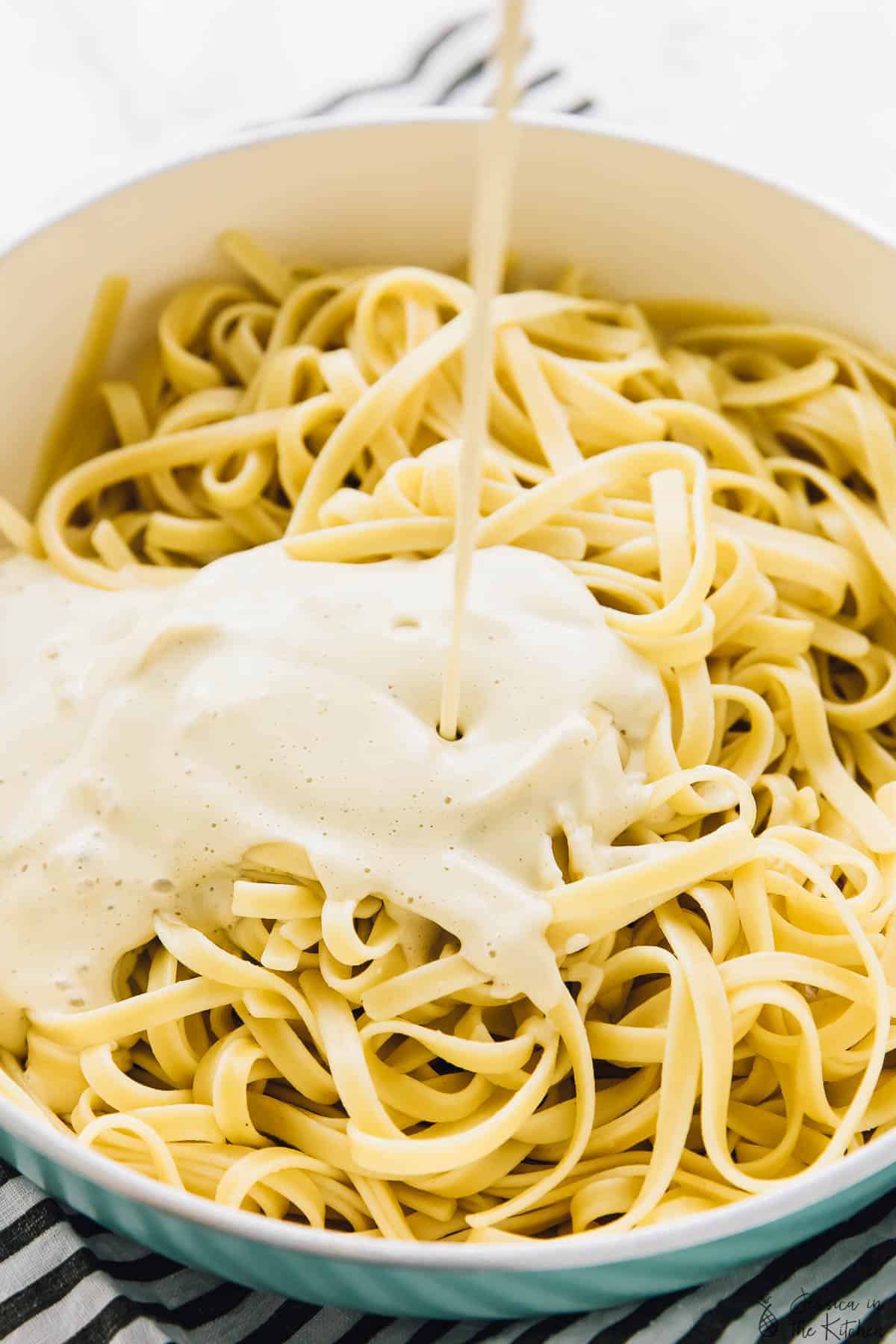 WHAT a terrible nightmarish scenario. Fortunately, after making this Vegan Garlic Alfredo Pasta, I now know I have the best pasta dish sitting and waiting at home on me! You're going to want to grab some cashews right now so that you can make this for dinner, friends.
Let's talk key ingredients. That roasted garlic is a must. I mean, it deepens the flavour of the entire sauce, and really brings it to another level. You're going to have to wait for your cashews to soak anyway, so you might as well make it. I guarantee it'll change all of your dishes.
Speaking of which, cashews. OMG. Adding soaked cashews to this sauce makes it so creamy and gives it that traditional white colour. No, the sauce won't taste like cashews, thanks to the addition of another ingredient: lemon or lime juice. This acid helps to neutralise the cashew flavour so all you taste is the cheesiness.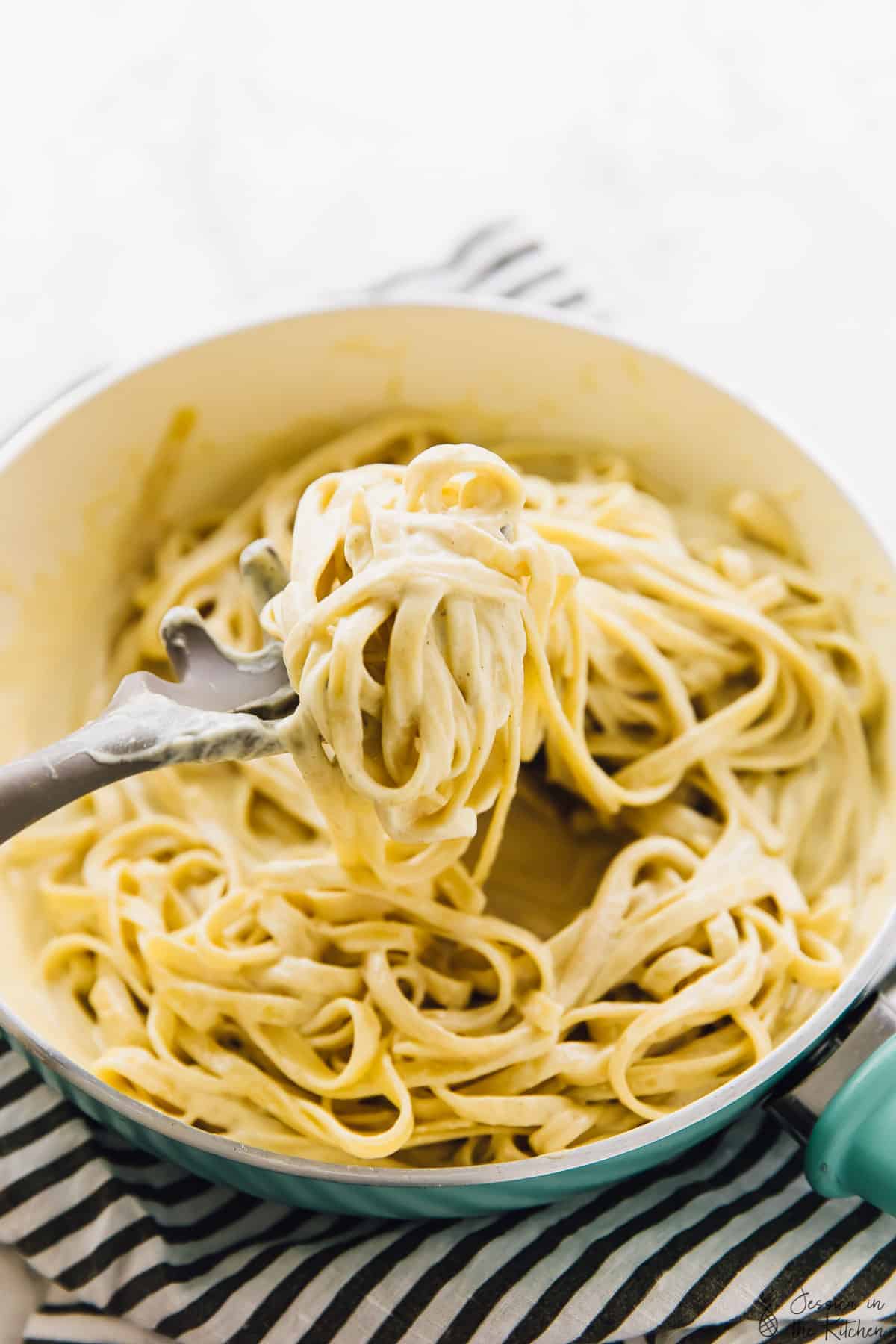 The nutritional yeast and the vegan parmesan cheese! I speak all about nutritional yeast here, and I made a vegan parmesan cheese for you here. You can also buy your vegan parm though, so it's totally up to you. That extra bit of tanginess really ups the sauce, and you can add eons of it on top too. The nutritional yeast in the Alfredo sauce gives it that cheesy flavour, that will have you taste testing the heck out of this sauce.
Almond milk and pasta water! Don't use regular water! Pasta water already has some saltiness, some starch, and is a perfectly seasoned form of water in this sauce. The almond milk of course adds more creaminess.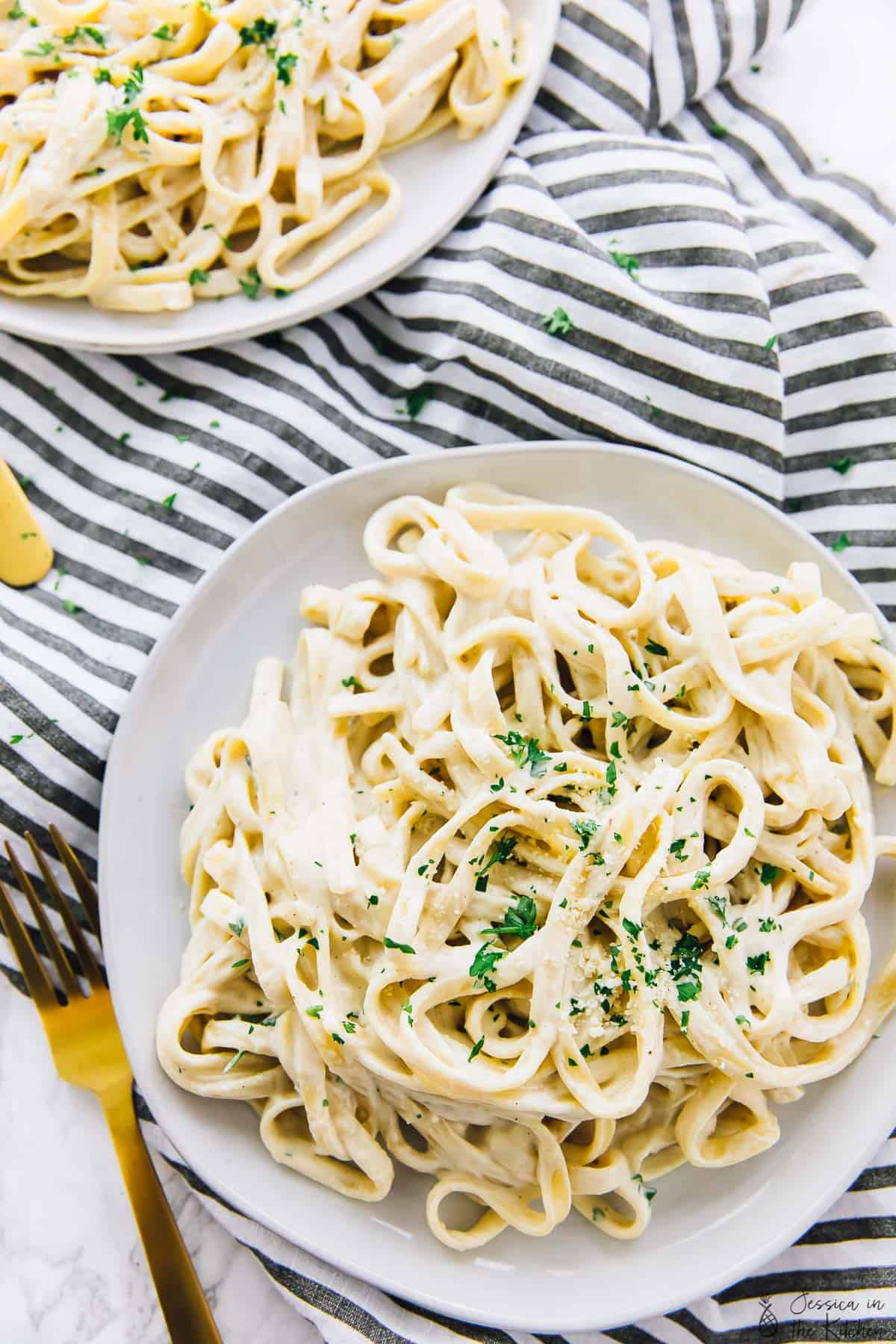 Basically what I'm saying is, friends, every ingredient is key here. Including the cooked down onions (adding a nice flavour + umami). What you get is a beautiful vegan Alfredo sauce recipe made in your blender that you can pour back on your pasta and then dig in. The kind of sauce you'll probably want to put on anything, but will definitely slather all over your pasta.
That's it! Your pasta dreams have come true! Dive in friends, and enjoy!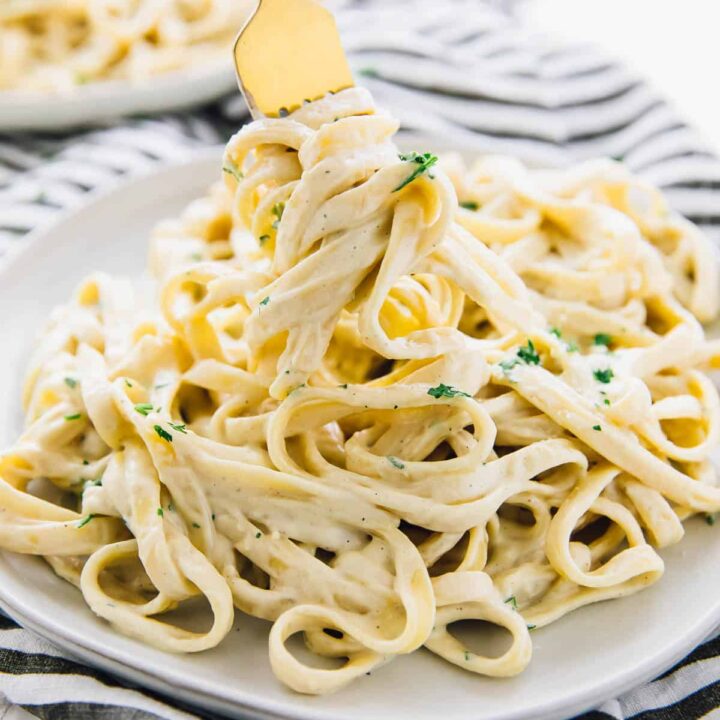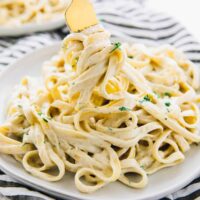 Vegan Garlic Alfredo Pasta
This Vegan Garlic Alfredo Pasta is such a creamy and cheesy weeknight dinner! It's absolutely decadent, made with a cashew cream sauce, and the sauce is made easily in your blender!
Ingredients
Pasta
12 ounces any pasta, I used fettuccine
chopped parsley, for garnish
Vegan Alfredo Sauce
2 teaspoons vegan butter or olive oil, or any oil
1/2 red onion, chopped
1 cup cashews, soaked overnight, or in hot water for one hour
1/4 cup pasta water
1 ½ cups unsweetened almond milk, or any vegan milk
4 cloves roasted garlic*
2 tablespoons nutritional yeast
½ teaspoon sea salt
2 tablespoons vegan parmesan cheese + extra for topping
1 tablespoon lime juice
Instructions
Cook pasta according to package directions in a well salted pot of water. Reserve ¼ cup of the pasta water.

While the pasta is boiling/you're waiting for the water to boil, in a pan over medium high heat, heat the vegan butter or olive oil. Add the onion, stir and let cook until translucent, about 5 minutes.

Remove the onions from the pan and add it to a blender. Add the rinsed off soaked cashews (without the water), the pasta water, the almond milk, the roasted garlic, the nutritional yeast, the sea salt the vegan parmesan cheese and the lime juice. Blend it all together until completely creamy. If you have a high powered blender this will happen quickly, about 1 minute, if not, just keep blending until completely smooth and creamy. Taste and add more salt or vegan parmesan cheese if necessary.

When the pasta is finished boiling, drain and pour back into the pan you had used earlier or even into a Tupperware container if you want. Pour the Alfredo sauce over and stir to combine completely.

When serving, top with parsley to garnish and more vegan parmesan cheese. Enjoy!
Notes
*YES roasted garlic takes about 40 minutes, but you'll need to wait for your cashews to soak for an hour at least anyway! Cut a bit of the tops off of a whole head of garlic, put it in foil, drizzle olive oil on it, wrap the foil around it and cook it at 450 degrees F for 45 minutes in your oven until the cloves are soft and velvety! Allow it to cool, then push the cloves out. You can reheat this! Just reheat it in a stove top over medium high heat with a bit more almond milk to thin it out again until hot. Prep time doesn't include soaking the cashews overnight.
Calories: 375kcal, Carbohydrates: 53g, Protein: 13g, Fat: 13g, Saturated Fat: 2g, Sodium: 309mg, Potassium: 340mg, Fiber: 4g, Sugar: 3g, Vitamin C: 2mg, Calcium: 102mg, Iron: 2mg
Disclaimer: Although jessicainthekitchen.com attempts to provide accurate nutritional information, kindly note that these are only estimates. Nutritional information may be affected based on the product type, the brand that was purchased, and in other unforeseeable ways. Jessicainthekitchen.com will not be held liable for any loss or damage resulting for your reliance on nutritional information. If you need to follow a specific caloric regimen, please consult your doctor first.