Vegan Lemon Garlic Spaghetti with Sundried Tomatoes
This Lemon Garlic Spaghetti with Sundried Tomatoes is bursting and loaded with fresh and juicy flavors and textures thanks to the citruses, tomatoes, herbs and pine nuts. This makes a delicious, summery and easy vegan side or main dish to prepare for your entire family!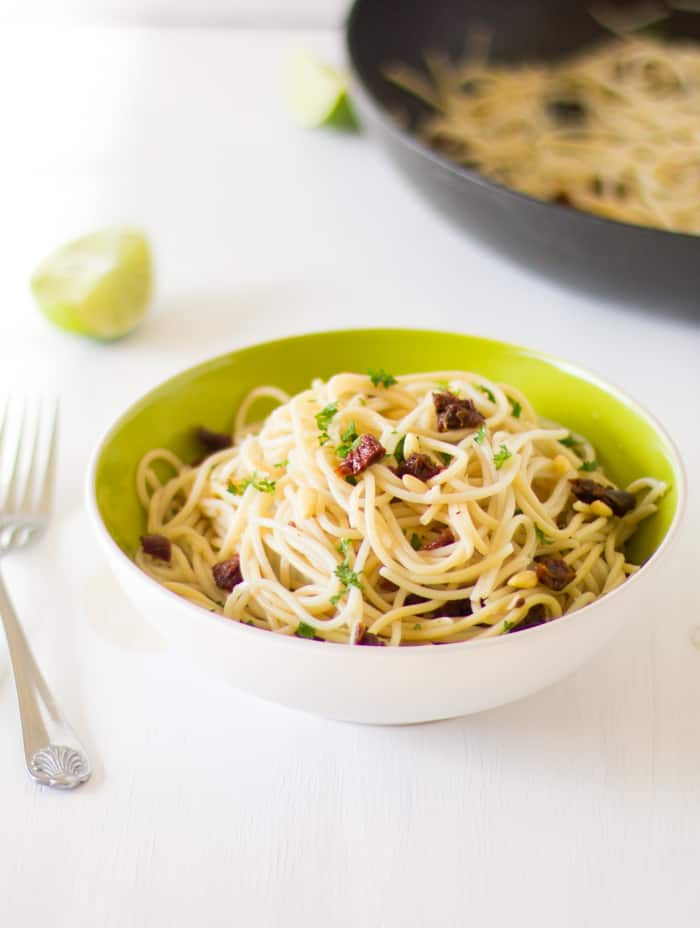 I'm in a summer-y kind of mood.
Do you know the mood? Where you genuinely look forward to the blazing heat of the sun, aren't annoyed by the chirping of birds outside your window waking you up, and get excited when you aren't obliged to leave the house wearing anything more than flip flops, your swimsuit and a coverup?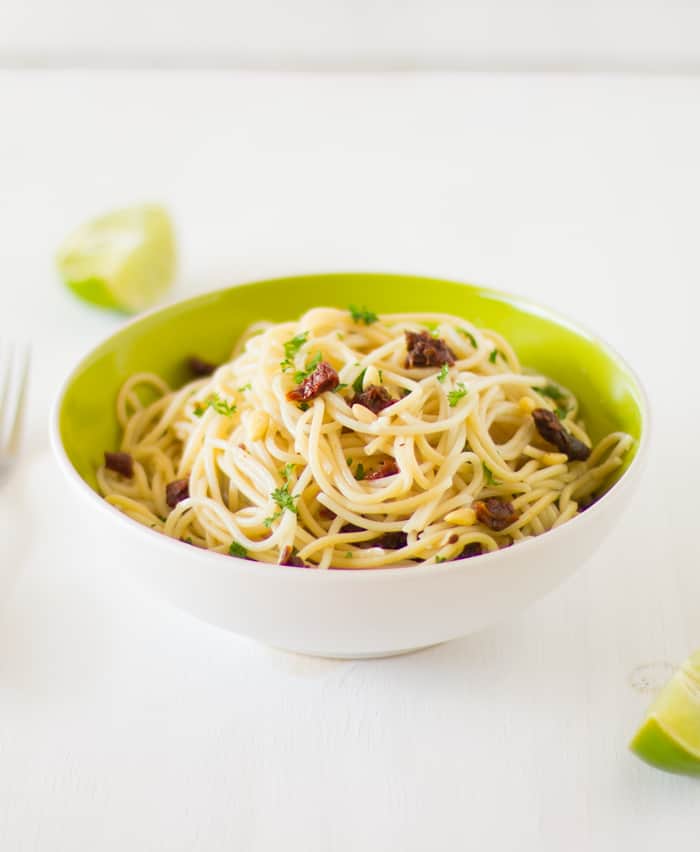 It's like, everything is in reverse mode. When it rains, I want the sun to shine. It's weird, but it's just so bright and pretty! I've been trying to spend as much time around mother nature as possible just to soak it all in. I know tourism ads for Jamaica are famous for their sun and surf, but it's kind of been raining for the past month.
Oops. I mean, every day, rain, overcast, it's just not okay. So when these pockets of sun come out, I'm running/hobbling on two crutches to go outside to catch it all. Reality does kick in once I realise it is 110 degrees outside, but thanks to my summer mood, that's okay!
It also means I have been a fruit addict and eating all things summer. All smoothies have switched to tropical ingredients such as yummy mango and strawberry, all hot salsas are now cool fruity salsas, I can't stop eating oranges or putting limes or lemons in my foods and all creamy pastas have switched to bruschetta-sauce pastas or light pastas with bright fresh ingredients. Exhibit A-Z in this post. To say this pasta rocked my world would be an understatement.
I guest posted this on Julie's Eats & Treats quite a while back, and it's been a hit in my house since then. What's funny is that how we validate meals sometimes is based off of others' opinion rather than our own (I'm my harshest critic!). When I tasted this vegan lemon pasta I thought, yum! So summery and fresh and delicious. When Mr. Bakes tasted it it was what-is-this-delightful-sorcery-please-make-more which from the chef himself is quite the compliment. Before long I was right back into the leftovers and throwing two more sun dried tomatoes on top.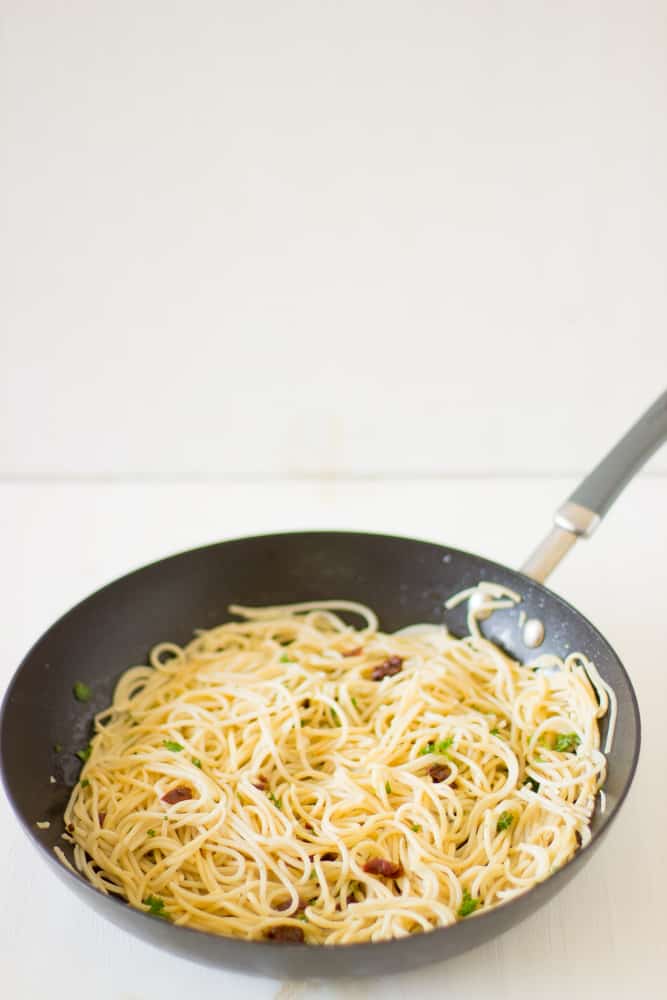 So, this pasta. Spaghetti? Check. Light, easy to blend with flavours. Delicious citruses? Check. Adds a slight tanginess to go perfectly with the sun dried tomatoes, which is yes a check. I kind of love, love, sun dried tomatoes. Although, to this date I am unsure whether sundried, sun dried and sun-dried are all the same thing but I tend to change them per post so we will just say they are all allowed for now. The burst of flavour (clearly my new favourite word) from these adds even more summer-ness to this pasta. Topped with fresh herbs and in a light olive oil sauce, I'm pretty much sure this is now on my permanent list of recipes. It's SO simple but so delicious and a must for you to try this summer.
I'm starting to sound like I'm selling you this vegan lemon pasta. Which, if it was possible for any to be leftover, I might actually be. Just, trust me, when your summer mood hits if it hasn't already, take 30 minutes and whip this up. You might just start chirping with those birds.
If you enjoyed this spaghetti, you'll also enjoy this Cheesy Quinoa Casserole!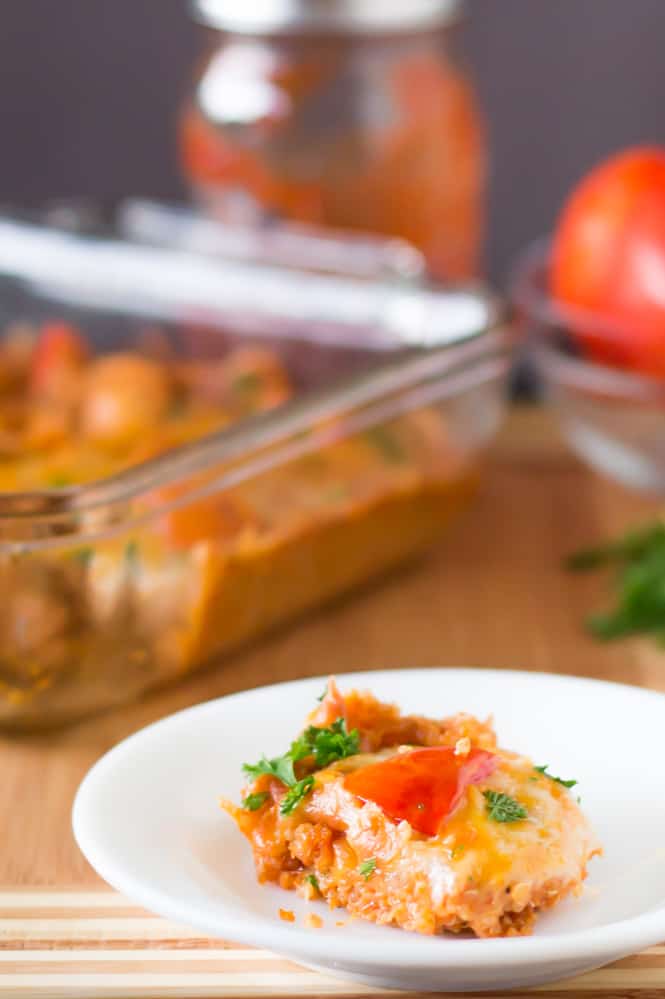 And this Italian-Style Stuffed French Toast!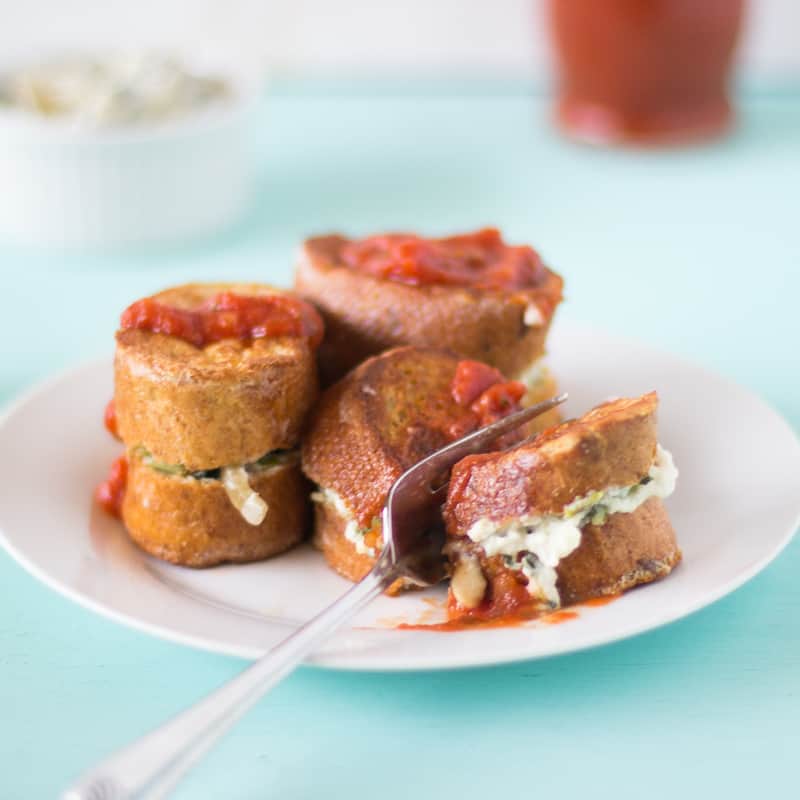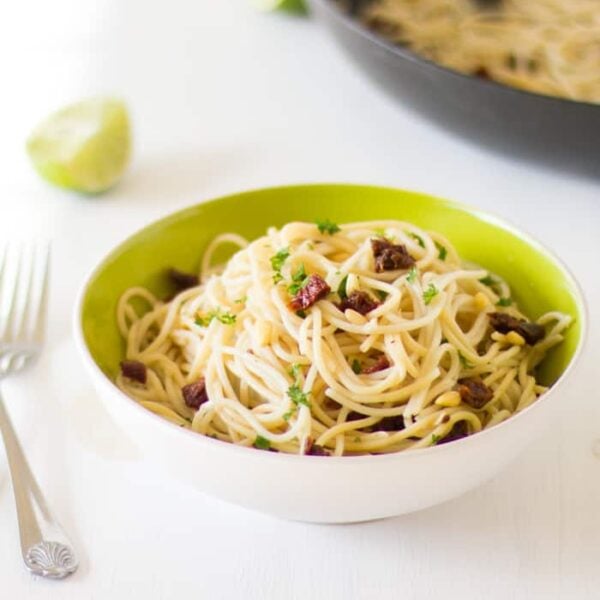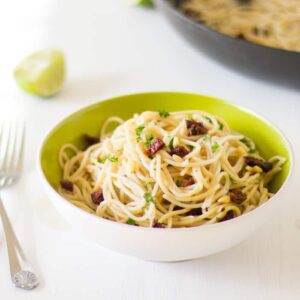 Vegan Lemon Garlic Spaghetti with Sundried Tomatoes
This Lemon Garlic Spaghetti with Sundried Tomatoes is bursting and loaded with fresh and juicy flavors and textures thanks to the citruses, tomatoes, herbs and pine nuts. 
Ingredients
8 oz spaghetti
4 sundried tomatoes, chopped
2 tablespoons Extra Virgin Olive Oil/Sundried Tomato Olive Oil
2 teaspoons parsley, chopped (or herb of your choice)
1 clove garlic, crushed
2 tbsp lemon juice
1 tablespoon pine nuts
1 teaspoon salt
1 teaspoon pepper
1 small lime squeezed over the top
Instructions
Prepare pasta as per instructions on the box in a large pot of salty water. Drain pasta.


Heat olive oil and garlic in a large pan over medium-high heat, until garlic is cooked slightly for about 2 minutes, stirring constantly.


Ensure all your ingredients are nearby. Toss the pasta in the olive oil to coat, then immediately add the salt, pepper and lemon juice.


Toss the pasta until all ingredients are mixed and turn off heat (you don't want to dry out the pasta). Add the sundried tomatoes in the pan and the pine nuts and toss again.

Add the parsley or herb of your choice on top and squeeze a small lime over the top to bring out even more flavours. Serve immediately, or if reheating, microwave with a little bit of water in the bowl.
Calories: 298kcal, Carbohydrates: 45g, Protein: 8g, Fat: 10g, Saturated Fat: 1g, Sodium: 590mg, Potassium: 210mg, Fiber: 2g, Sugar: 3g, Vitamin A: 17IU, Vitamin C: 4mg, Calcium: 12mg, Iron: 1mg
Disclaimer: Although jessicainthekitchen.com attempts to provide accurate nutritional information, kindly note that these are only estimates. Nutritional information may be affected based on the product type, the brand that was purchased, and in other unforeseeable ways. Jessicainthekitchen.com will not be held liable for any loss or damage resulting for your reliance on nutritional information. If you need to follow a specific caloric regimen, please consult your doctor first.