Vegan Spaghetti and Meatballs
This Vegan Spaghetti and Meatballs dish is JUST like your favourite classic comfort food! It's deliciously saucy, incredibly easy to make and so meal preppable!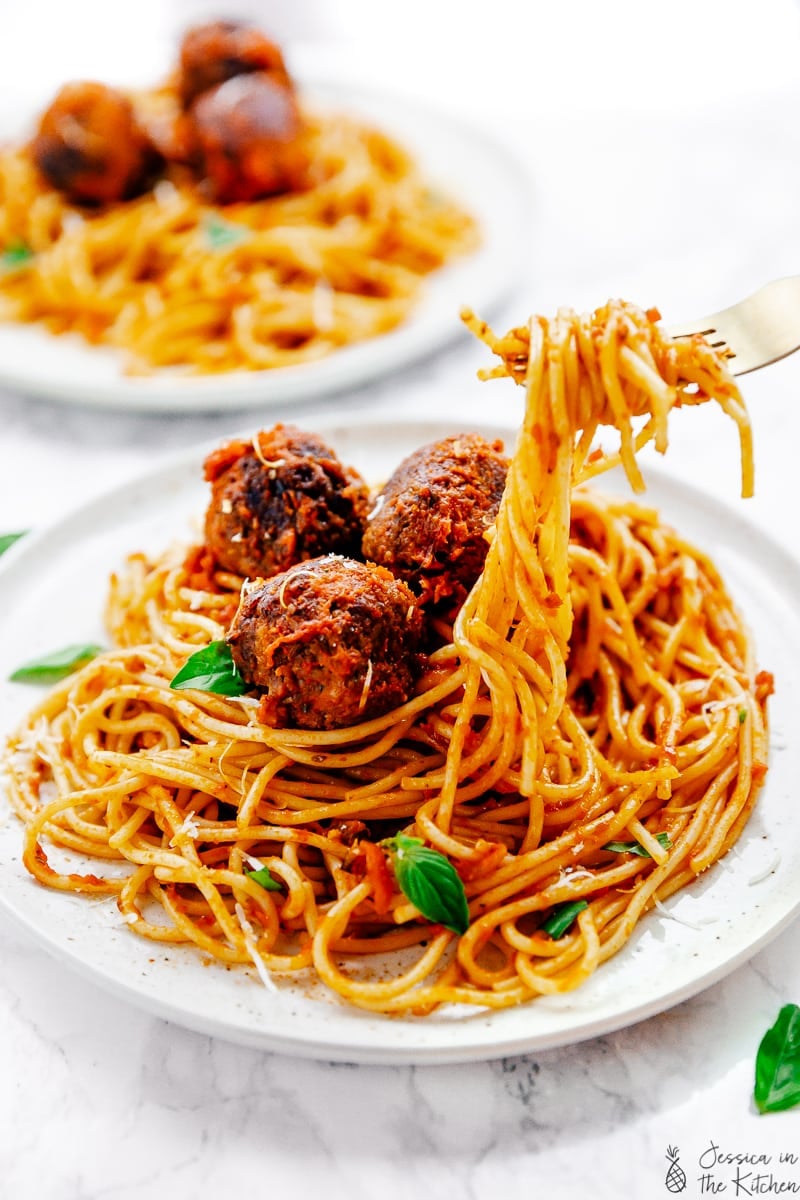 Oh my – Vegan Spaghetti and Meatballs! What's the thing that comes to your mind when you hear spaghetti and meatballs? To me – it's like a warm blanket of comfort. I not only grew up eating spaghetti and meatballs, but also got to give it an authentic taste on one of my two trips to Italy! So when I think of spaghetti and meatballs, one thing doesn't come to mind – multiple things do. Comfort, summer, and delicious and food.
Today we are making a lightened up version of the classic. This Spaghetti and Meatballs can be used with regular spaghetti or gluten free spaghetti, and the "meatballs" are made using my favourite cauliflower and quinoa meatballs. We are still keeping one thing very classic – the marinara sauce, aka the magic ingredient that binds this dish perfectly together. I actually used my favourite which is Rao's Marinara Sauce. This isn't a sponsored post, but I do recommend trying their sauce out for this since I didn't even need to add salt or anything else to it and it's decently low carb too.
How to make Vegan Spaghetti and Meatballs
Making this dish is divinely simple. You roast the cauliflower while the quinoa is being cooked, make cauliflower rice, add in the quinoa and seasonings. Add the tomato sauce, spaghetti and vegan parmesan cheese! I love that you can use frozen cauliflower rice (just thaw it) and pre-cooked quinoa, and you can even freeze the vegan meatballs before or after cooking them! It makes it so great for meal prepping, and also for sharing with loved ones, which we definitely did.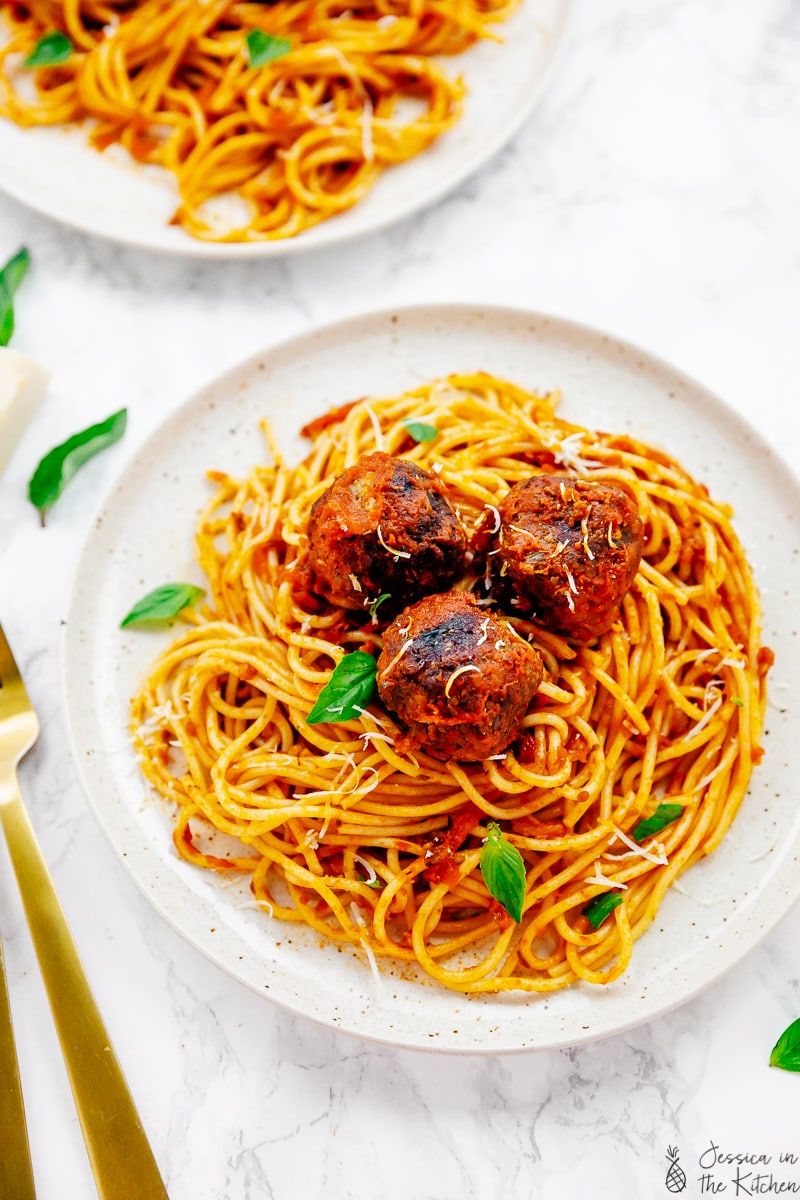 I actually made this dish at like 4 am in the morning, and I must say, it took great resistance to only have two forkfuls of this. The flavours come together SO beautifully! It's amazing how a fresh set of Italian seasonings can really transform these to "Italian" meatballs, which is exactly what it did. Don't leave that fennel out, trust me!
This entire dish is one for the books. I hope you enjoy it just as thoroughly as I did! Eat up and enjoy friends!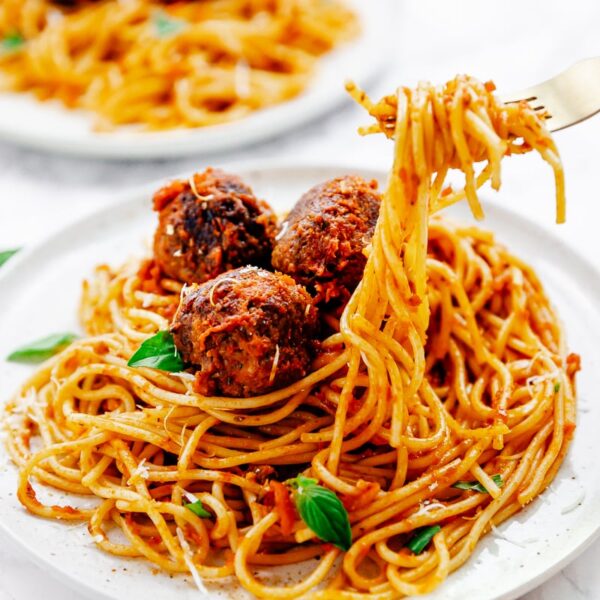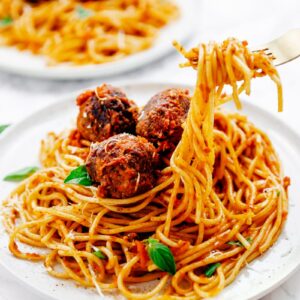 Vegan Spaghetti and Meatballs
This Vegan Spaghetti and Meatballs dish is JUST like your favourite classic comfort food! It's deliciously saucy, incredibly easy to make and so meal preppable!
Ingredients
8 ounces 1 cup roasted cauliflower (instructions below) roasted cauliflower (instructions below)
1 cup 137g cooked quinoa
2 Bob's Red Mill Egg Replacers OR flax eggs, if flax eggs, less one tablespoon of liquid per flax egg
½ cup 114g red onion, finely diced
1/2 teaspoon ground black pepper
¾ teaspoon sea salt
3 cloves garlic, minced
1 ½ tablespoons coconut oil
1 cup breadcrumbs
1 teaspoon fennel seeds
1 teaspoon dried oregano
2 tablespoons fresh parsley, chopped or 1 ½ teaspoons dried
2 tablespoons fresh basil, chopped or 1.5 teaspoons dried
2 24 ounce jars marinara sauce
250 g spaghetti pasta, ½ lb(or your favourite long pasta)
vegan parmesan shredded on top
Instructions
Cook pasta according to package directions in a well salted pot of water. Set aside.

Preheat oven to 450°F/230°C. Cut the cauliflower's stem off, and cut into even-sized florets. Drizzle the cauliflower with maybe a teaspoon of oil. Roast the cauliflower for 15-20 minutes in the oven. Remove and allow to cool for a few minutes.

In a food processor, add the cauliflower and pulse it until it's completely riced. Remove from the food processor. You only need 1 cup of this for this recipe and 8 ounces should make about 1 cup.

Add the 1 cup of riced cauliflower and all the other meatball ingredients EXCEPT the coconut oil. You can pulse them or mix them together until they form into a tight ball, combining everything. You want to ensure they are so mixed together that you're not seeing individual cauliflower or quinoa florets, it's all one big mixture. That's how you'll ensure the meatballs will hold together!

Heat the coconut oil in a pan over medium high heat. While it's heating, use a tablespoon measurer to form one raw meatball and shape into a ball with your fingers. You can place them on a plate while the oil heats.

Add one meatball to test the oil. Cook on one side for about 1-2 minutes, turning on all sides onto fully cooked inside and out, about 4 minutes. You can add as many meatballs as can fit in the pan without overcrowding it, cooking them all for about 4-5 minutes turning on each side, to cook them through.

Lower/turn the heat off. When the heat has cooled down, add in the tomato sauce. You want to do this because if the pan is too hot, the sauce will spew and the heat can be dangerous while so hot. Coat the meatballs in the sauce and then remove the pan from the stove.

You can add in all the spaghetti to combine so they are also fully sauced, or just add a dollop of sauce into each spaghetti serving if you aren't serving it all at once, then add the meatballs you want on top of the spaghetti. It's up to you how to want to serve it basically!

Enjoy!
Calories: 160kcal, Carbohydrates: 28g, Protein: 6g, Fat: 3g, Saturated Fat: 1g, Sodium: 407mg, Potassium: 325mg, Fiber: 3g, Sugar: 3g, Vitamin A: 255IU, Vitamin C: 11mg, Calcium: 39mg, Iron: 2mg
Disclaimer: Although jessicainthekitchen.com attempts to provide accurate nutritional information, kindly note that these are only estimates. Nutritional information may be affected based on the product type, the brand that was purchased, and in other unforeseeable ways. Jessicainthekitchen.com will not be held liable for any loss or damage resulting for your reliance on nutritional information. If you need to follow a specific caloric regimen, please consult your doctor first.