12 Hours in Venice
12 Hours in Venice – Here's your ULTIMATE must do guide for the best day in Venice!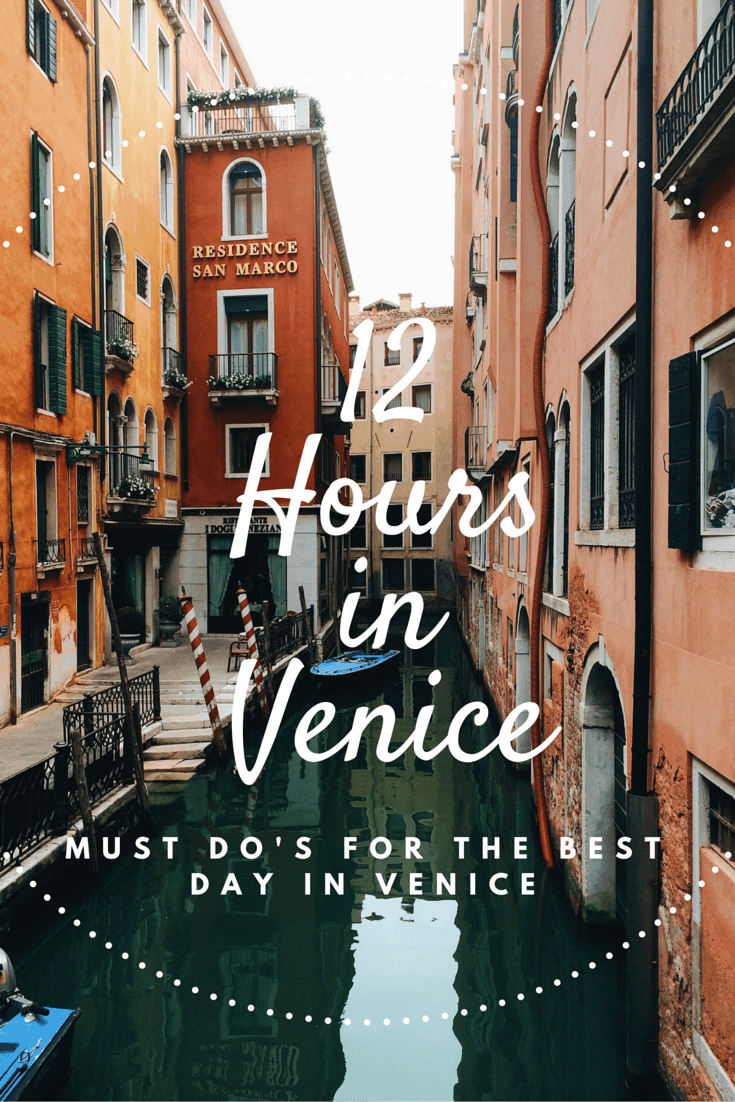 Our honeymoon trip to Paris & Venice was an unforgettable one. We took a day, barely able to sleep the night before from excitement, and flew to Venice early in the morning to spend the day there. It's beauty is hard to explain so I will let the pictures do all the talking. We had pre-planned our Venice itinerary, so if you'd like a quick PDF guide on what to do if you only have a day there, I will be posting it at the end of the blog post. If you have a spare day on your European vacation or a really long layover in Venice, Italy, this is a trip I would highly recommend. I'm sharing my MUST do's to maximise a day in Venice plus some tips that made all the difference for us.
WHY VENICE?
To be frank, because it's VENICE! Venice is a city built on water, divided by several canals and bridges. Its main form of transportation is by water; we actually didn't see one car in sight. It's absolutely stunning, a perfect tourist destination, and home to some of Italy's best food!
MUST DO'S

St. Mark's Square, or Piazza San Marco, is the main public square in Venice. It is home to the stunning St. Mark's Basilica Church, Doge's Palace, the Grand Canal and a host of other exciting tourist activities. There is so much to learn about in Venice, so I highly recommend Rick Steve's European Travel App and his section on St. Mark's Square as your guide. There's no need to join any tour groups, you can go at your own pace, and it's free. The Mr. and I learnt so much about St. Mark's Square through this app! Case in point, did you know that they've raised St. Mark's Square by SEVERAL inches since it gets completely flooded by water every couple of years?!


A gondola ride to Venice is like pizza to Naples, Italy. They are extremely romantic, peaceful, and you get to ride through the city in about 40 minutes. Gondola rides prices can get expensive during the summer, costing upwards of 80 euros per ride, and are even more for night rides. Regardless, it is just SO much fun! We had a gondolier sing throughout his performance while we entered the canal, and thoroughly enjoyed our ride. P.S. – The night rides are the best since you get to ride through the beautifully lit city.

Buy Murano Glass

The island of Murano, located in Venice, is known for its glass blowing. So naturally, Murano Glass shops are EVERYWHERE. If you can, attend a glass blowing class, but you can watch for free by just entering a boutique Murano glass shop and watching one of the artists at work. You can get Murano Glass for a fraction of the cost that you would find it anywhere else, so buy a souvenir to take home! I got an exquisite Murano Glass bracelet for 6 euros that would've easily cost $80 USD. I tried really hard not to buy an entire store.

Have Some Gelato and Eat an Authentic Italian Meal

True confessions: I had gelato three times in one day. To be fair, it was insanely hot, but to be honest, it was just that delicious! Gelato in Venice is extraordinarily delicious and also available on every corner! They have so many flavours so get some to cool you down. My favourite shop was Gelato Fantasy. In terms of an Authentic Italian Meal, I had pizza (so cliche) for lunch from Trattoria al Fabbri and Gnocchi for dinner from. I loved both meals and was kind of swimming in food, gelato and happiness by the time we got back on our plane. It is insane how many choices of restaurants there are, so be sure to check TripAdvisor before attending, and check for which restaurants have wifi!

Get Lost

No seriously, allow yourself at least 2-3 hours to just get lost. One of the things I loved about Venice was that you could easily visit any of 177 islands via boat or by crossing a bridge. It's the perfect destination to travel from island to island, exploring every nook and cranny, every bridge and canal to just simply sightsee.

The Mr. and I did actually get lost, and found ourselves on an island SO far from our port of entry San Marco, so I knew I needed to actually title this "Get Lost". We didn't even notice because we were just so entranced by the beauty and exquisite simplicity of every corner. We then sat by a cafe, chatted for over an hour, and then headed back over. There is just SO much to find when you allow yourself off schedule. It was the perfect peaceful end to a busy day, followed by our Gondola ride, and our trip to Venice. Just set a timer on your phone when you know you need to head back over for your flight out of Venice.

ESSENTIAL TIPS FOR MAXIMISING A DAY IN VENICE

These tips definitely helped us to maximise our day in Venice. Some of them come from personal experience, so definitely follow them!
Use a local airline to fly to Venice to be cost effective and absolutely hassle free. All you need is a backpack with your essentials if you're just spending a day there. We used EasyJet.
Speaking of essentials, ensure that you bring a hat. It is scorching in Venice during the summer, and of course, we left our hats in the hotel room. We both ran to one of the dozens of hat stands and purchased over priced hats, so definitely bring one with you. You'll also need a bottle of water, very very comfortable shoes for your walking, and light clothing to combat the heat. I wore a sundress and the Mr. wore a Tee and cargo shorts. Ensure you wear sunblock!
Rick Steve's Guide to St. Mark's Square (San Marco), again. I'm a tour fanatic and a history buff, and it'll make your trip even more interesting. Don't forget your headphones!
Transportation in Venice is by water, or by foot. If you get seasick easily, bring some medication to help you since this will be your only option. There is a public water bus, but it goes to every single stop before San Marco taking 40 minutes! It is well worth your while to take a water taxi that will take you straight to San Marco.
The official currency is Euros, so definitely change your currency at an ATM to avoid exchange rate fees. The official language (dialect) is Venetian, although everyone we met also spoke English. I always think learning a few phrases in a new language is nice, so you can brush up a bit by downloading a language app such as TripLingo.
Happy and safe travels!