Grilled Mexican Street Corn
This Grilled Mexican Street Corn is grilled to smoky perfection then smothered in a delicious and creamy vegan mayonnaise blend and Lime Crema. It's the best side dish!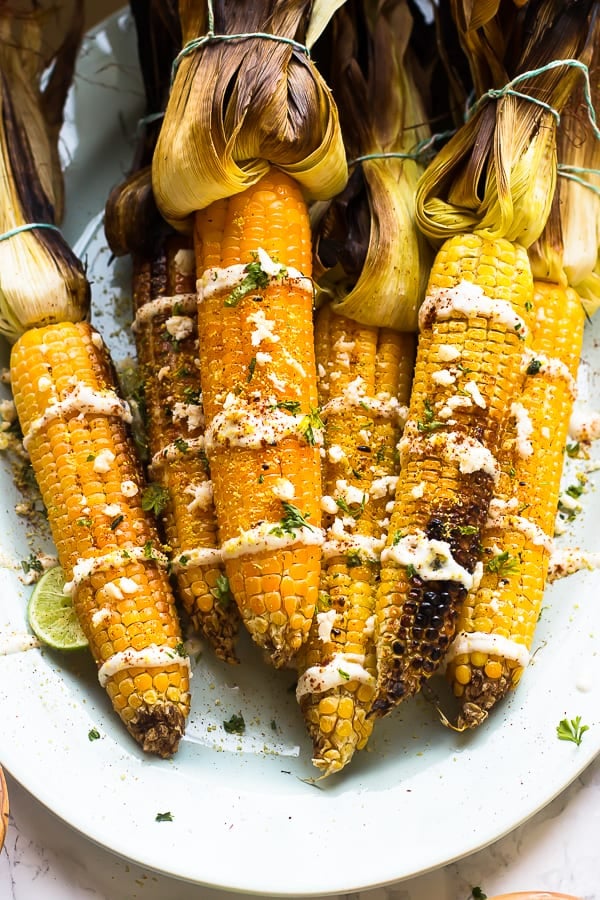 As you probably may have guessed, it's full blown grilling season in our house! We've lit up the grill every week to pre-celebrate summer and are enjoying it thoroughly. For some crazy reason, neither of us had tried grilled Mexican street corn aka elote and we finally did! Can I just say?! Ah-mazing. Truly amazing. Then I had to share the recipe with you – it's so easy that you're going to want to make it over, and over.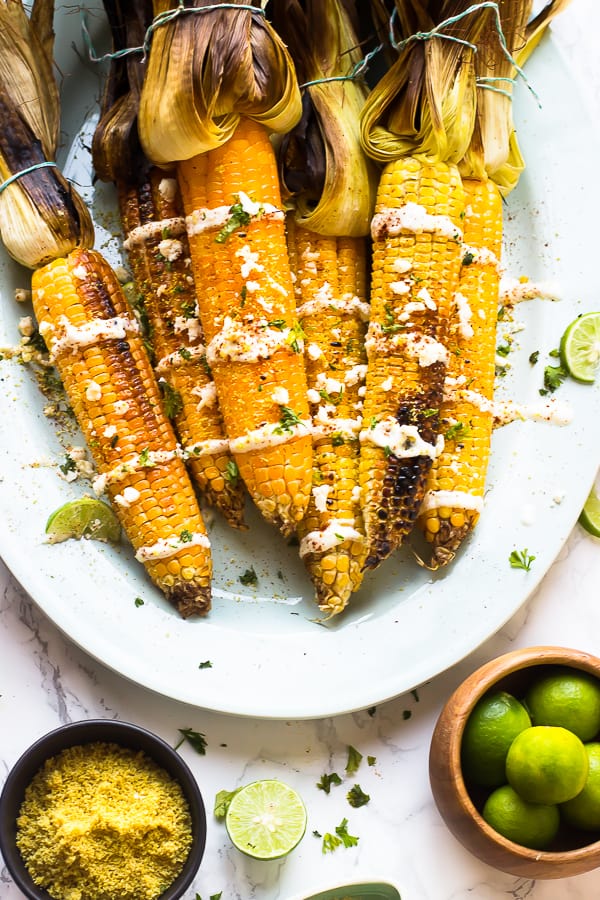 Great news – this is VEGAN! I know right?! Everything from the parmesan cheese to the other cheeses and the lime crema. I used that as the perfect excuse to over smother these corns in as much delicious toppings as I wanted. You could definitely swap out for non vegan alternatives, but regardless this recipe does not disappoint. Grilled corn is a pretty delicious side dish on its own, but it becomes extra special with the addition of the parmesan cheese, mayonnaise blend and the bomb lime crema.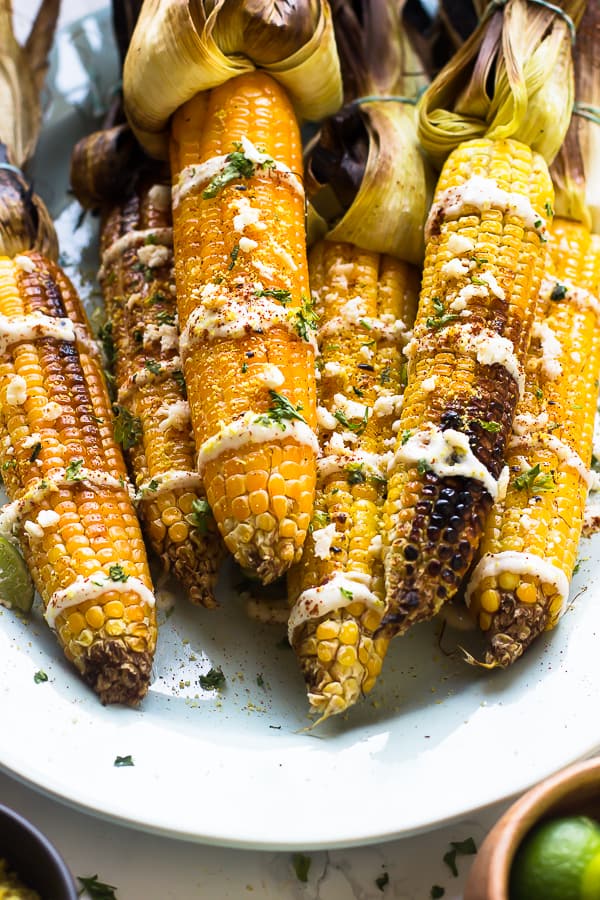 I grilled these corns in the husks 1) because I am obsessed with how cool grilled corn in husks look, and 2) it's insane how easy it was to just put the corn on the grill, and leave it. It's really so easy to make and fool proof. The lime crema is one I make often, and we just came into a few jars of vegan mayonnaise (aka health store binge) so I wanted to really try it all out on this recipe.
Go all out, friends. There isn't even much to say about this recipe except it needs to not only be on the menu for Father's Day, but to make an appearance in your summer grilling at least once. You won't regret when you see how incredibly easy it is to make, and how tasty too. The Mr. and I definitely polished these off way quicker than I thought we would, so we'll be getting some more corn to try this out again. Happy grilling!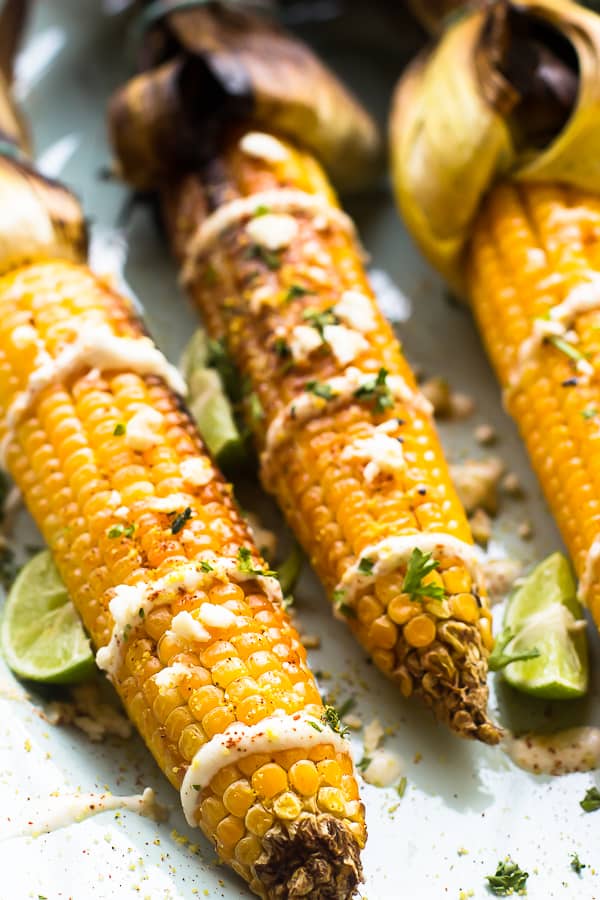 | WHAT YOU'LL NEED // SHOP MY FAVORITE INGREDIENTS & PREP PRODUCTS |



If you try this Grilled Mexican Street Corn please let me know in the comment section below, or tag me on instagram with the hashtag #jessicainthekitchen! For more exclusive recipes follow me on Instagram AND on Snapchat: jessinkitchen.
RELATED RECIPES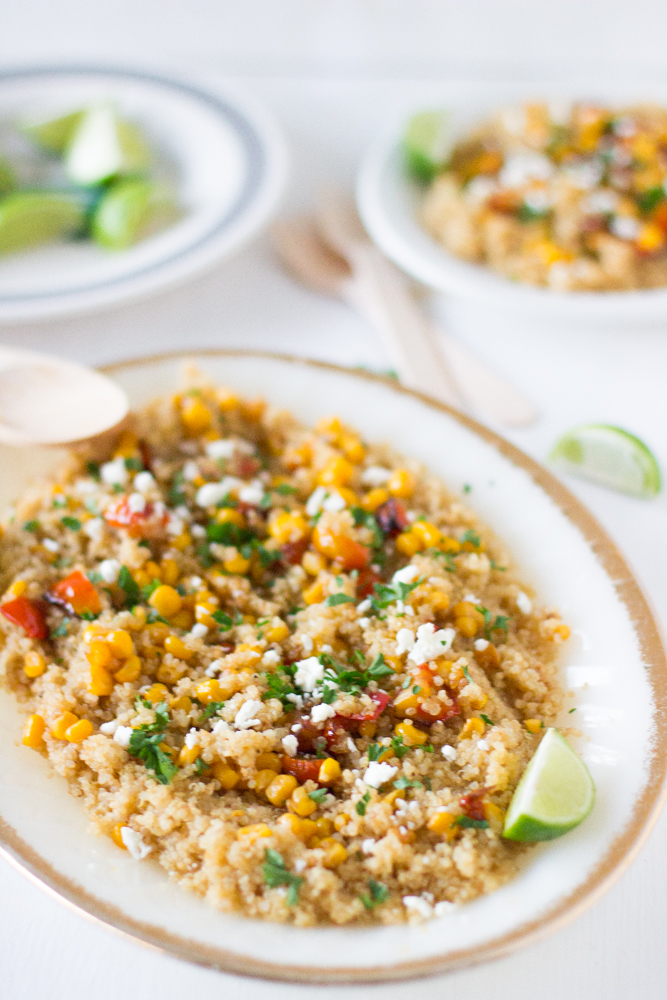 Quinoa and Corn Salad with Honey-Lime Dressing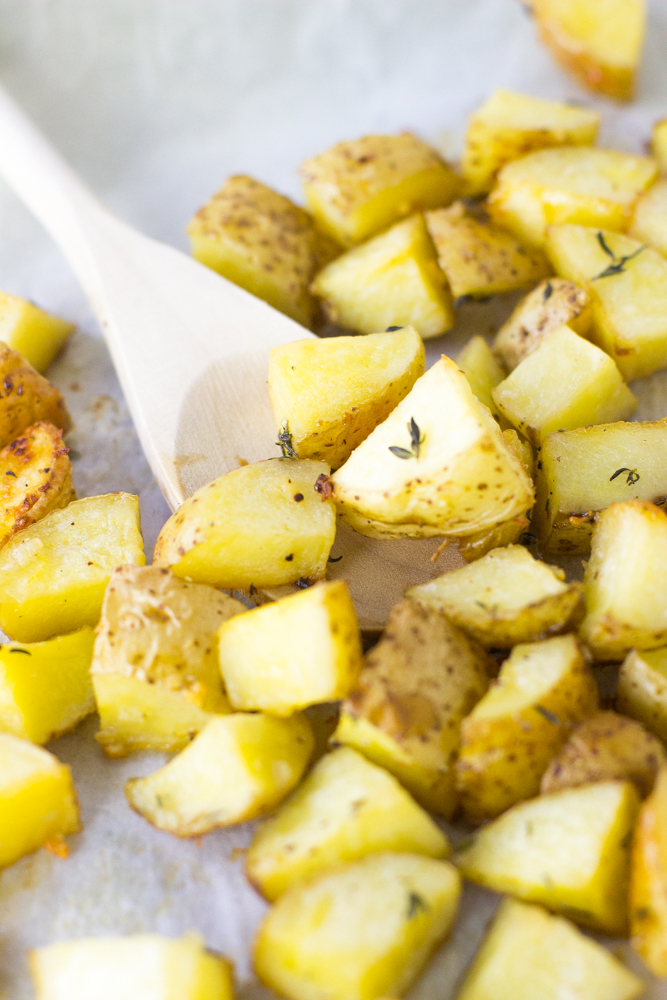 Garlic Butter Roasted Potatoes (vegan + gluten free)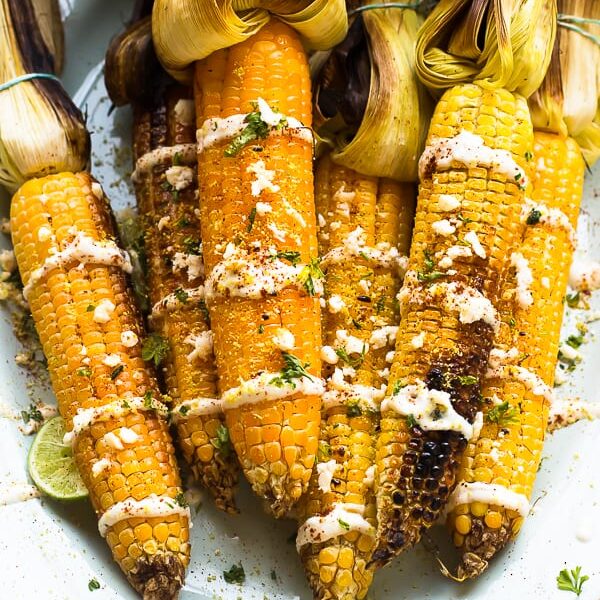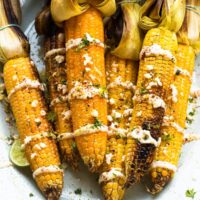 Grilled Mexican Street Corn
This Grilled Mexican Street Corn is grilled to smoky perfection then smothered in a delicious and creamy vegan mayonnaise blend and Lime Crema. It's the best side dish!
Ingredients
6 ears corn, unhusked
1/4 cup Vegan mayonnaise
1/2 teaspoon Garlic powder
Red Chili powder, to taste
1/4 cup Vegan parmesan cheese
Chopped Cilantro, for garnish
vegan feta cheese, optional
Lime Crema
1/4 cup vegan greek yogurt
2 teaspoons lime juice
1/2 tsp finely minced garlic
1 tablespoon water, optional
1/2 teaspoon sea salt
1/2 teaspoon ground black pepper
lime wedges, for garnish
Instructions
Lime Crema
In a bowl, mix all the ingredients together. Add a tablespoon or two of water to thin out the lime crema for drizzling if you so desire. Season with salt and pepper to taste. Place in a squeeze bottle and in the fridge until ready.
Heat your grill on high. Place the corn directly over the heat and grill for 10-15 minutes, turning often.

Remove corn from grill and remove the husks and silk strings from the corn. Mix together vegan mayonnaise, garlic powder and some red chili powder and brush on corns while hot.

Drizzle the lime crema over the top.

Sprinklesome more red chili powder, vegan parmesan cheese, and crumbled vegan feta cheese.

Serve with the lime wedges to squeeze over the corn and enjoy!
Notes
This recipe is naturally gluten free and vegan.
Calories: 161kcal, Carbohydrates: 20g, Protein: 3g, Fat: 8g, Saturated Fat: 1g, Sodium: 310mg, Potassium: 243mg, Fiber: 2g, Sugar: 6g, Vitamin A: 185IU, Vitamin C: 8mg, Calcium: 18mg, Iron: 1mg
Disclaimer: Although jessicainthekitchen.com attempts to provide accurate nutritional information, kindly note that these are only estimates. Nutritional information may be affected based on the product type, the brand that was purchased, and in other unforeseeable ways. Jessicainthekitchen.com will not be held liable for any loss or damage resulting for your reliance on nutritional information. If you need to follow a specific caloric regimen, please consult your doctor first.