Vegan Zucchini Fritters (Gluten Free)
These Vegan Zucchini Fritters are gluten free, crisp on the outside and soft and flavourful on the inside! All in under 30 minutes.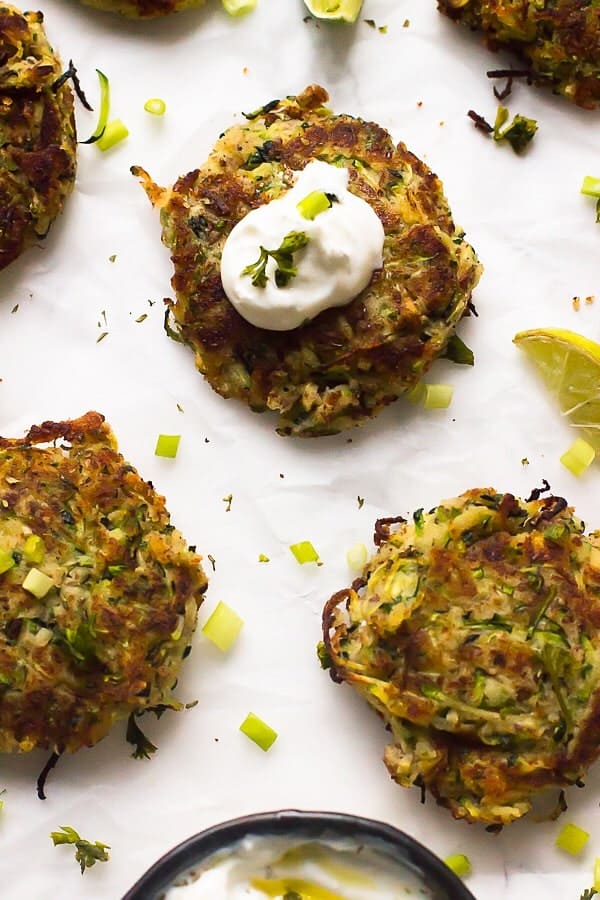 *Drumroll please* Happy first day of SUMMER! I feel as if I have been counting down to this day my whole…year. Yes, actually. As if you needed one, you now have the perfect excuse to wear flip flops everywhere, make beach references and eat endless amounts of summer fruits and veggies. Speaking of summer veggies, these vegan zucchini fritters aka vegan courgette fritters, better be on your list. They are definitely on the list of perfect crispy soft summer meals, all made in under 30 minutes.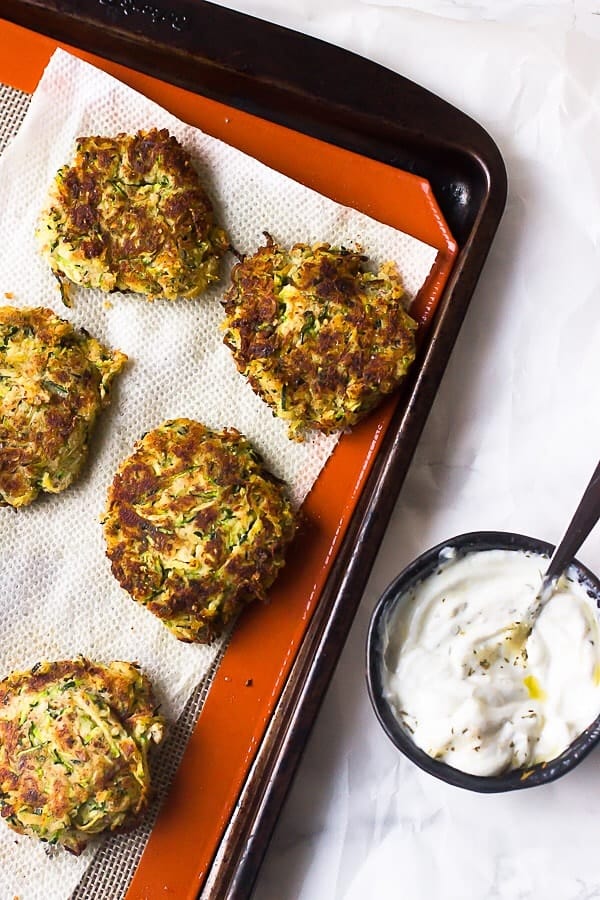 It would be a shame not to make these vegan zucchini fritters, given how simple they are. First, grate the zucchini, squeezing out as much water as possible. Then, mix all the ingredients, and put them in the pan. Simple. The key is squeezing the water out of the zucchini, which is up to 95% water content. This will ensure that your fritters are nice and crispy on the outside, but still soft and oh so incredibly delicious on the inside. Just reading this, I'm getting hungry all over again, and I've had this three meals in a row. Oops.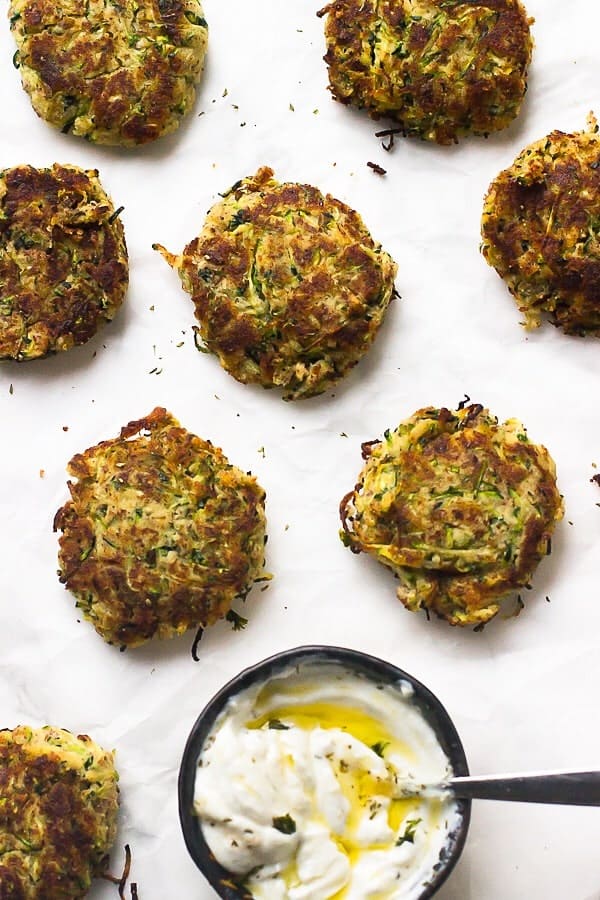 Aside from the incredibly taste, vegan zucchini fritters kind of seemed like a must share. A summer meal not requiring an oven, check, that literally looks like summer, check, that is really, really easy to make. Check. Making them gluten free was definitely a must too, because everyone should be able to eat these, as was making them vegan. I usually use coconut flour as a thickener, so it only made sense to use it here. They were so good that I had to resist devouring them right out of the pan. Okay okay, I definitely had a few out of the pan. But look at them; can you really blame me?!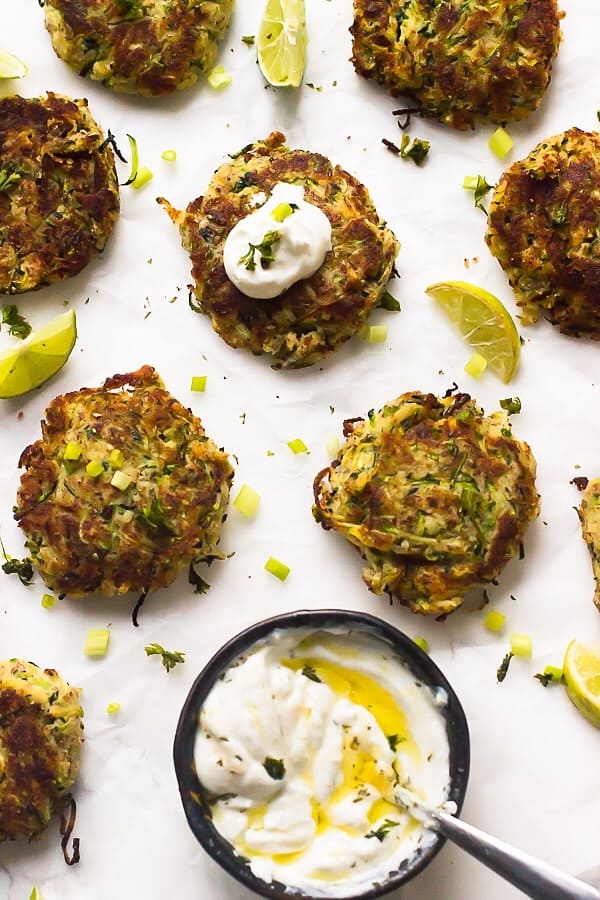 I'm not sure if it's these fritters, or zucchinis in general, or just both but we've actually been on a slight zucchini binge here. That, and the new season of Orange is the New Black, of course. This is probably the 4th zucchini I've grated in a few days, and my husband just picked up 4 more. At this point, I'm not sure who loves them more, me or him. Either way, I'll be making even more of these fritters throughout summer. Looks like summer, tastes like summer, it must be summer, right?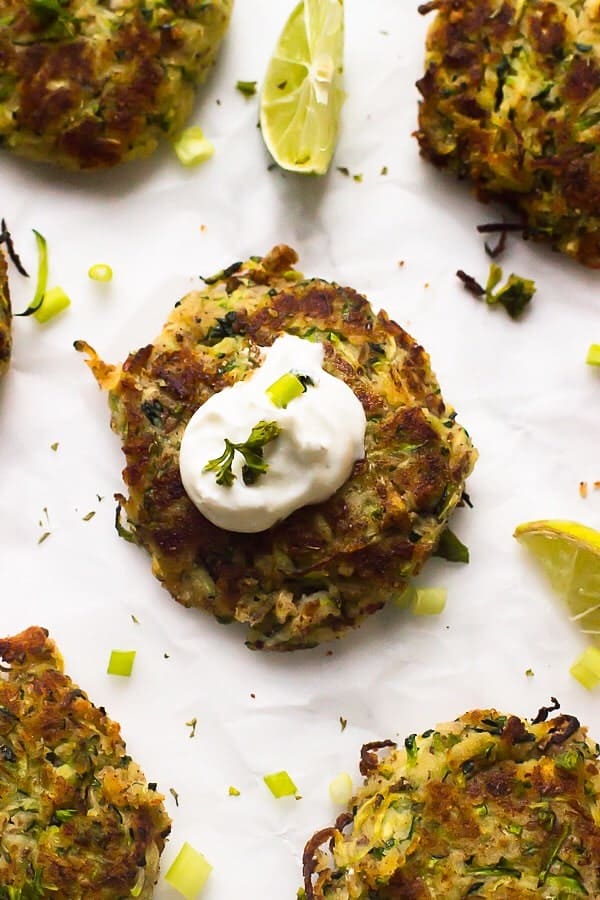 P.S. Here are some of the items I used to make this recipe if you'd like to use them too:
| WHAT YOU'LL NEED // SHOP MY FAVORITE INGREDIENTS & PREP PRODUCTS |


If you try these Zucchini Fritters please let me know in the comment section below, or tag me on instagram with the hashtag #jessicainthekitchen! For more exclusive recipes follow me on Instagram AND on Snapchat: jessinkitchen.
RELATED SUMMER RECIPES TO GO WITH: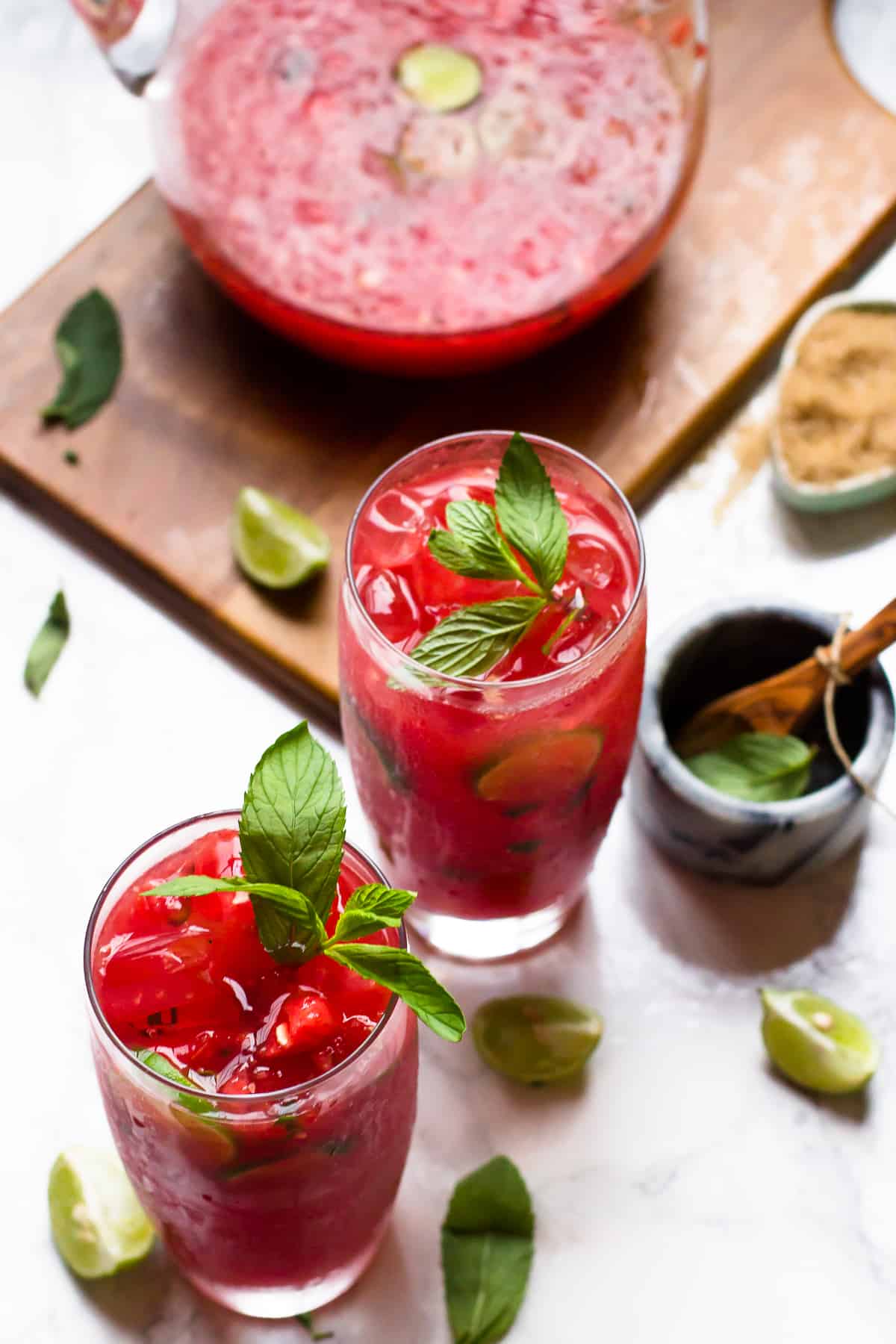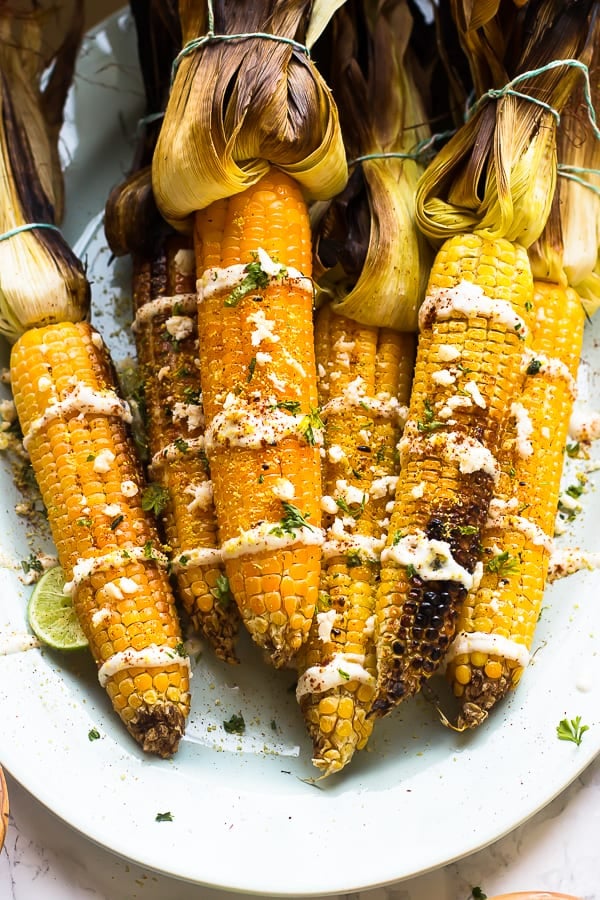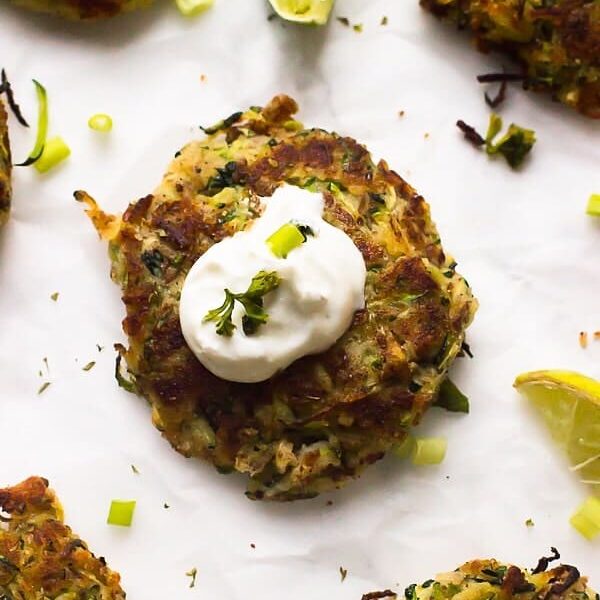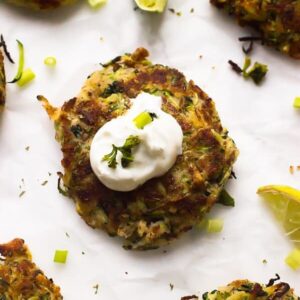 Vegan Zucchini Fritters (Gluten Free)
These Vegan Zucchini Fritters are gluten free, crisp on the outside and soft and flavourful on the inside! All in under 30 minutes.
Ingredients
4 cups grated zucchini + 1 teaspoon salt
1 teaspoon garlic powder
1/2 teaspoon sea salt
1 handful parsley, chopped
1/2 teaspoon ground black pepper
1/4 cup coconut flour + more if needed
2 flax eggs - Learn how to make a flax egg
2 tablespoons coconut or olive oil
lime wedges, to serve
Instructions
Add the grated zucchini to a cheesecloth or thin kitchen towel in a colander over your kitchen sink. Sprinkle with the 1 teaspoon of salt and leave to drain for 10 minutes.

After ten minutes, squeeze as much liquid out of the zucchini as possible. This is a crucial step to not making your fritters soggy!

Add to a bowl and mix in all the other ingredients until just combined.

Form fritter balls the size of 2 tablespoons and slightly flatten them on a plate or baking sheet with your fingers until you get about 10.

Heat the oil in a pan over high heat. Add the zucchini fritters, leaving some space between each, and cook on each side until golden brown, about 4 minutes. Flip, and cook for another for minutes.

Serve with some vegan sour cream, lime crema or vegan greek yogurt and lime wedges to squeeze over. Enjoy!
Notes
1.This makes 10 fritters. This recipe is gluten free and vegan.
2.HOW TO STORE
These fritters can be stored in an air tight tupperware container in the fridge for up to a week.
Calories: 20kcal, Carbohydrates: 2.6g, Protein: 1g, Fat: 1g, Fiber: 1.2g, Sugar: 1g
Disclaimer: Although jessicainthekitchen.com attempts to provide accurate nutritional information, kindly note that these are only estimates. Nutritional information may be affected based on the product type, the brand that was purchased, and in other unforeseeable ways. Jessicainthekitchen.com will not be held liable for any loss or damage resulting for your reliance on nutritional information. If you need to follow a specific caloric regimen, please consult your doctor first.