10 Minute Avocado Caprese Bruschetta + Blog Anniversary
This 10 minute Avocado Caprese Bruschetta makes for the perfect quick appetiser that's always a crowd pleaser!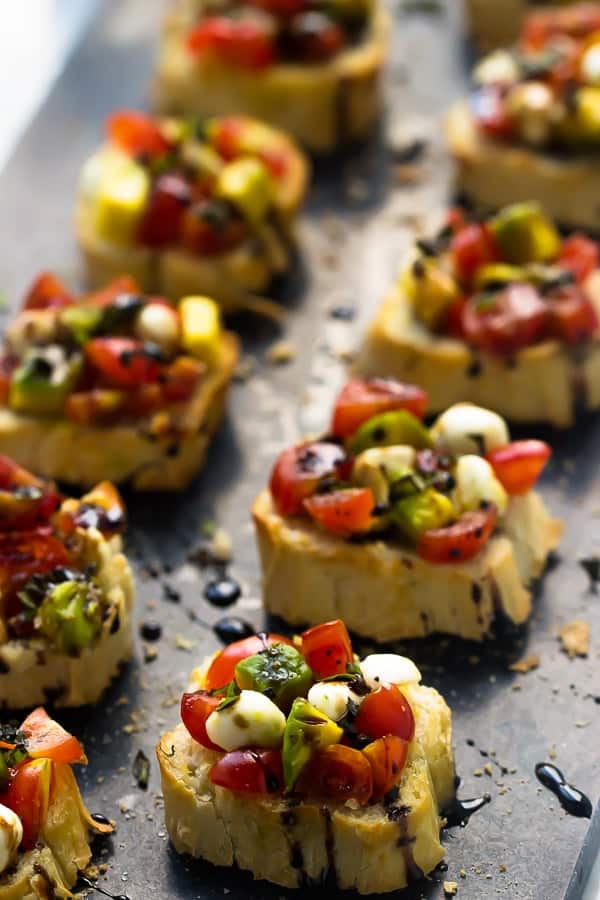 Today is my 2nd blog anniversary, so Happy Blog Anniversary to Jessica in the Kitchen! I was going to make cake, but let's be real, I'm more a savoury celebration kind of girl.
One thing I definitely haven't had enough of this summer was avocados. I mean, of course I had one every single chance I got to, but somehow that still wasn't enough! I got the chance to try one straight from Jamaica, Florida and Mexico and I still can't pick a favourite (although I'm learning towards Mexico!). One thing for sure is that avocados go great on pretty much everything, especially this Avocado Caprese Bruschetta. I thought it would be the perfect summer wind down (tears!) appetiser and it'll fit right into your Labor Day celebrations. Ready?!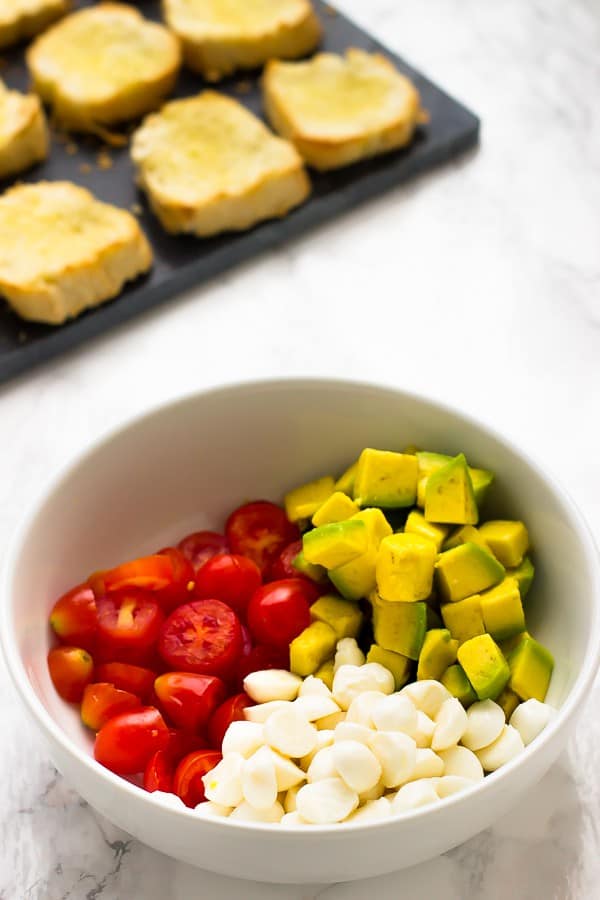 The last two years of this blog have been amazing. It's been a real life journey, but I'm so excited to be fully dedicated to the blog!! Apart from all the amazing connections I've made this bloggers and readers (super hearts <3), I really do love bringing you all this amazing healthy food!! Putting my speech down, let's get into these okay?
This could be named Avocado Caprese Bruschetta, Crostini or even just toasts. It doesn't matter and I'm not going to get into technicalities because it tastes AMAZING. My favourite thing about this that it is SO easy it's embarassing.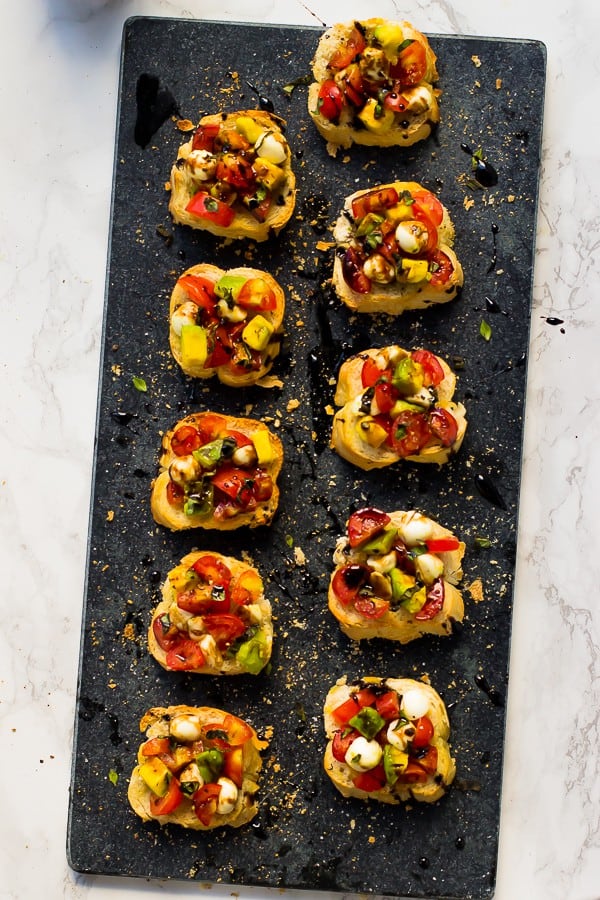 Toast the baguettes, spoon on the topping, and drizzle on the balsamic reduction. I'm talking – While the oven is preheating, start the reduction. While the bread is toasting, cut up the ingredients and mix them together. 10 minutes, in and out and they taste like the prep took longer than that. Win, win.
Not only are the ingredients super easy to put together, this isn't one of those appetisers that will leave you feeling guilty. You have avocados, fresh mozzarella, cherry tomatoes, whole baguette and balsamic vinegar. They come together so beautifully that I'm wondering – WHY haven't I done this before?!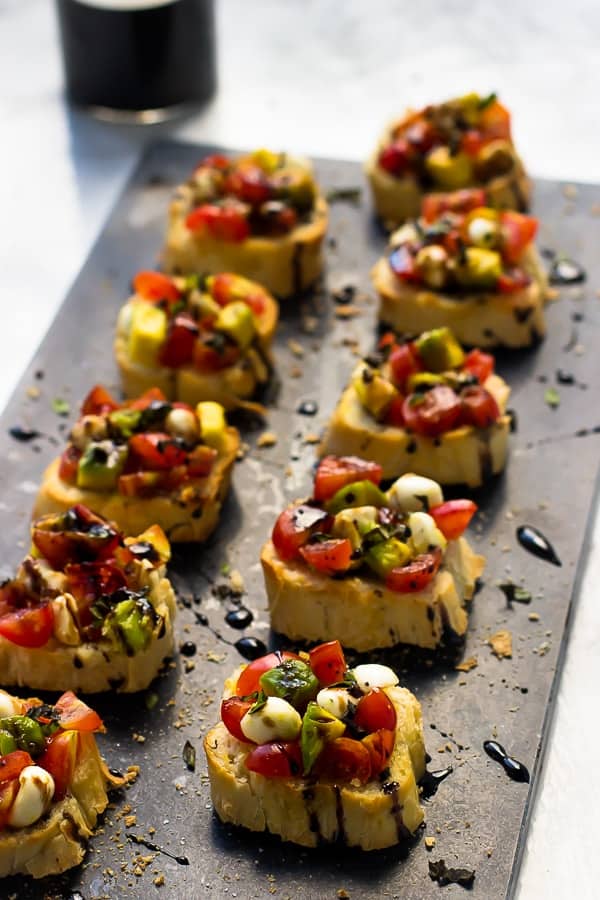 Whip these up now or you save them until Labor Day but either way you'll be glad you did. I made tons of topping and have been eating it in a caprese salad by itself in everything else basically. Can you say versatile?
P.S. Also, don't be afraid to mix it up! I think roasted peaches would taste AMAZING in replacement of the tomatoes, or even in addition.
P.S. 2 (is that a thing?) see that beautiful soapstone tray?! I made the Avocado Caprese Bruschetta ON it, and it stayed warm for ages. I can't wait to share the details in an upcoming post (teaser alert!) but you won't be disappointed!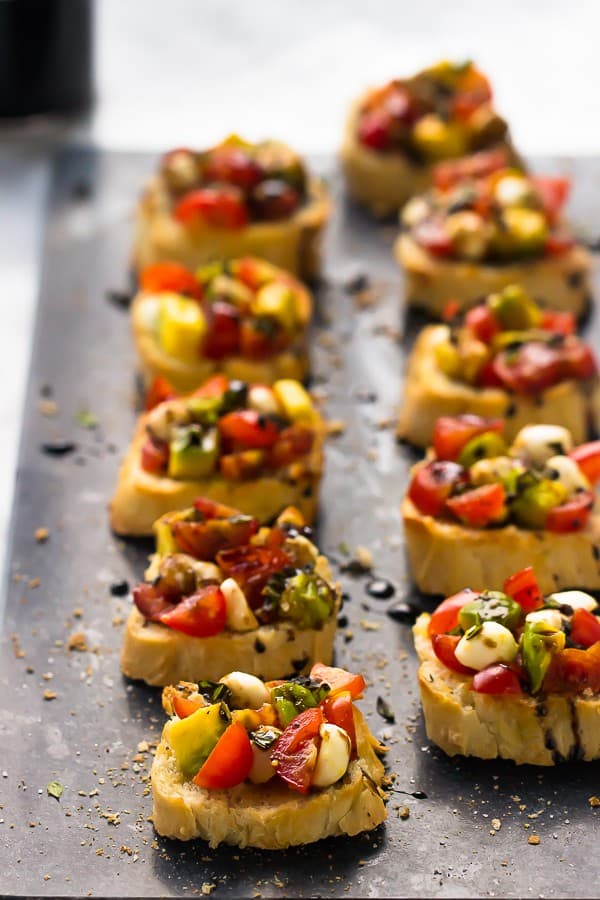 MORE DELICIOUS APPETISERS
Classic Bruschetta with Balsamic Glaze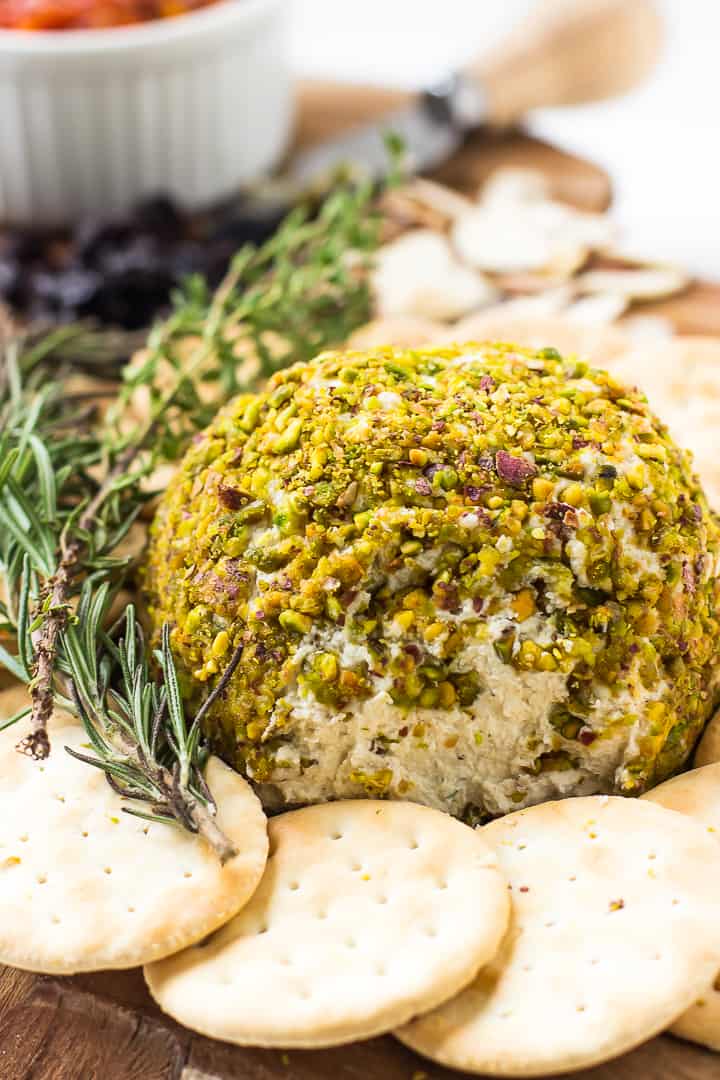 Pistachio-Crusted Vegan Cheese Ball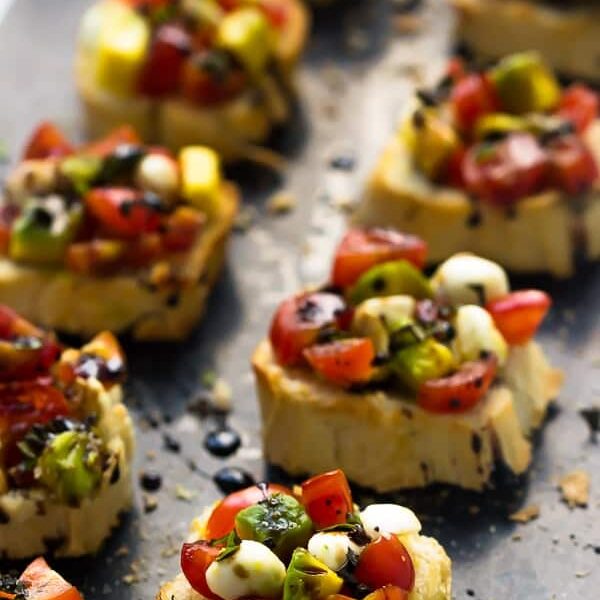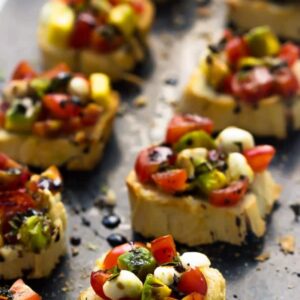 Avocado Caprese Bruschetta
This 10 minute Avocado Caprese Bruschetta makes for the perfect quick appetiser that's always a crowd pleaser!
Ingredients
½ baguette, cut into 1 inch toasts
1 1/2 tablespoons olive oil
½ cup cherry tomatoes, halved and sliced
1/2 cup cubed avocados
1/3 cup mozzarella pearls, halved
Balsamic Reduction
1/2 cup balsamic vinegar
1-2 tablespoons coconut sugar
1/2 teaspoon fine sea salt
1/2 teaspoon ground black pepper
3 tablespoons basil, chopped
Instructions
Preheat your oven to 450 degrees.

Line a baking sheet with a silicone mat or place a baking stone into preheating oven.

Brush the toasts with the olive oil and bake for 5 minutes, until coated and crispy.

While the toasts are baking, mix together the tomatoes, avocados and mozzarella pearls.

Remove the toasts from the oven and top each with the topping.

Drizzle balsamic reduction over it and garnish with basil.
Balsamic Reduction
In a pot over medium high heat, heat all the ingredients and stir. Watch carefully - the glaze should begin to thicken after 5 minutes and you want it thick enough to stick to the back of a spoon, but not to thicken into a glob. It becomes very thick very quickly so watch carefully.

Once glaze has thickened, remove from heat. Drizzle over the bruschetta.
Calories: 112kcal, Carbohydrates: 13g, Protein: 3g, Fat: 5g, Saturated Fat: 1g, Cholesterol: 2mg, Sodium: 253mg, Potassium: 101mg, Fiber: 1g, Sugar: 4g, Vitamin A: 99IU, Vitamin C: 3mg, Calcium: 33mg, Iron: 1mg
Disclaimer: Although jessicainthekitchen.com attempts to provide accurate nutritional information, kindly note that these are only estimates. Nutritional information may be affected based on the product type, the brand that was purchased, and in other unforeseeable ways. Jessicainthekitchen.com will not be held liable for any loss or damage resulting for your reliance on nutritional information. If you need to follow a specific caloric regimen, please consult your doctor first.