3-Ingredient Easy Watermelon Granita
This Watermelon Granita is the easiest dessert you'll ever make! It's only 3 ingredients, completely healthy and tastes unbelievably delicious!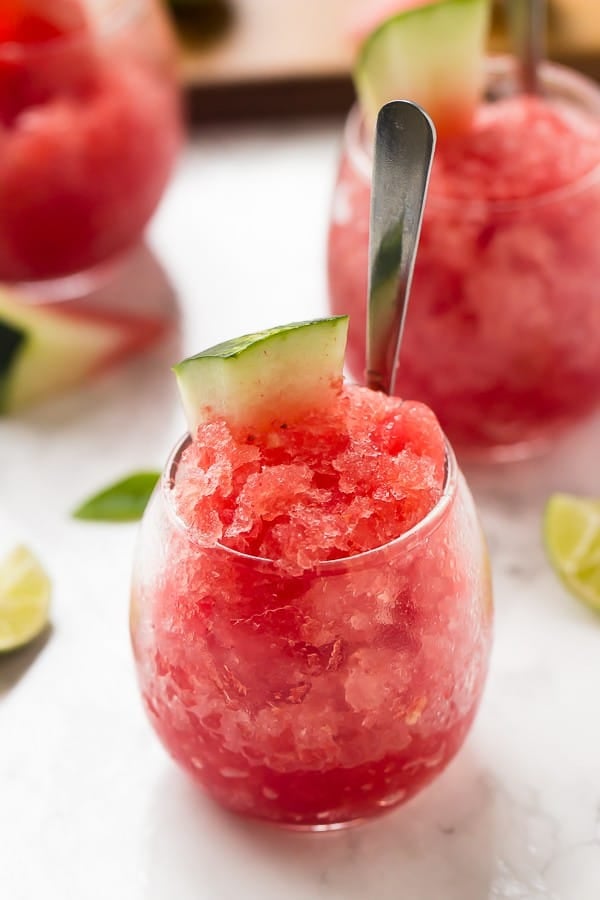 Ever since our trip to Italy, I've been fantasising about recreating one of the desserts that I…I mean we had our trip. I've played with the idea of granita before and finally decided that being summer, it was now or never, never being next year of course. I only have three words: Wow, Watermelon Granita.
I make all sorts of (true) claims on this blog about healthy desserts, delicious tasting healthy desserts, and easy desserts. However, this really is without a doubt the easiest dessert you'll ever make from scratch. It was so easy I almost wondered if this was too simple to share, but then I was like, wait isn't that the point?! Anyway, let me take straight into this recipe. You're not going to regret making this one.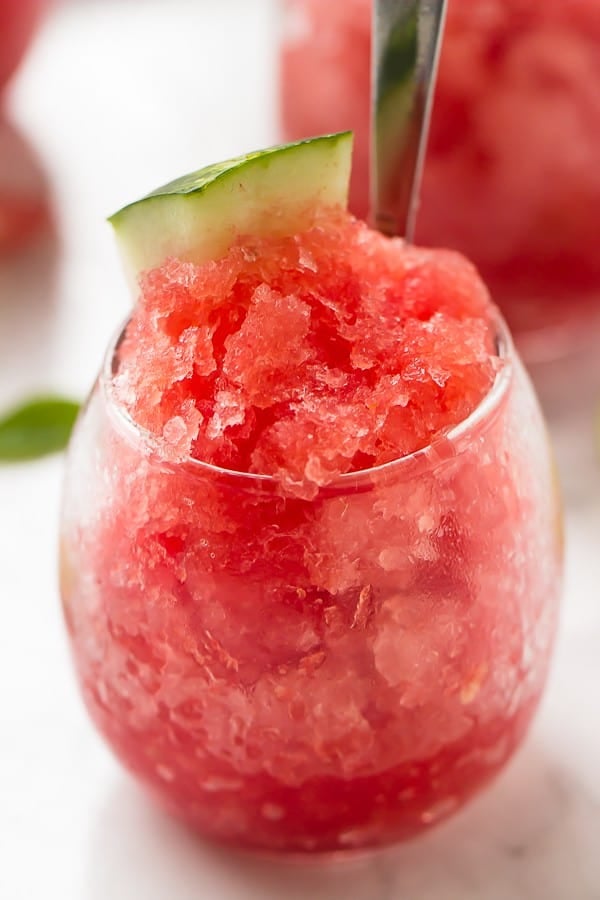 First things first, granita is an Italia-style flavoured ice. Think, a fancy version of the shaved ice you used to eat as a child. This granita is like a grown up version that still tastes absolutely amazing, except without the pounds of syrup on ice. It is so incredibly refreshing, a real cooler-down in this crazy summer heat and perfect for pretty much every occasion.
It truly does not sacrifice when it comes to flavour either. When the Mr. gave this Watermelon Granita a try, he was pretty shocked by how good it tasted. Days later, as if still caught in it's daze, he muttered "It's amazing how much flavour you can pack into it."
"Huh?" "The Watermelon Granita. It's just so good."
Win, win.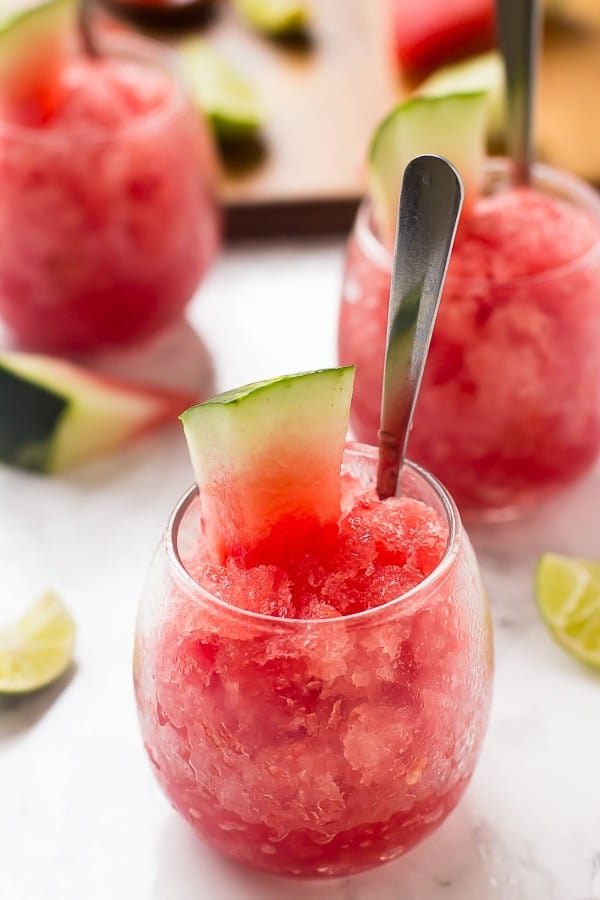 You only need watermelon, lime, and a liquid sweetener for this recipe. I used agave nectar, but you could also use maple syrup or honey. If you're going to use maple syrup/honey, just taste test to ensure it's not too sweet. These ingredients are mixed together, and then frozen. That's basically IT. Three hours later, scrape it with a fork to get the granita and shaved ice consistency, then serve. I mean, it's so easy I could do it blindfolded.
Okay, that actually sounds like a bad idea. Let's not operate kitchen machinery blindfolded, m'kay? Let's keep our eyes open, and make this easy summer dessert before the summer is over friends.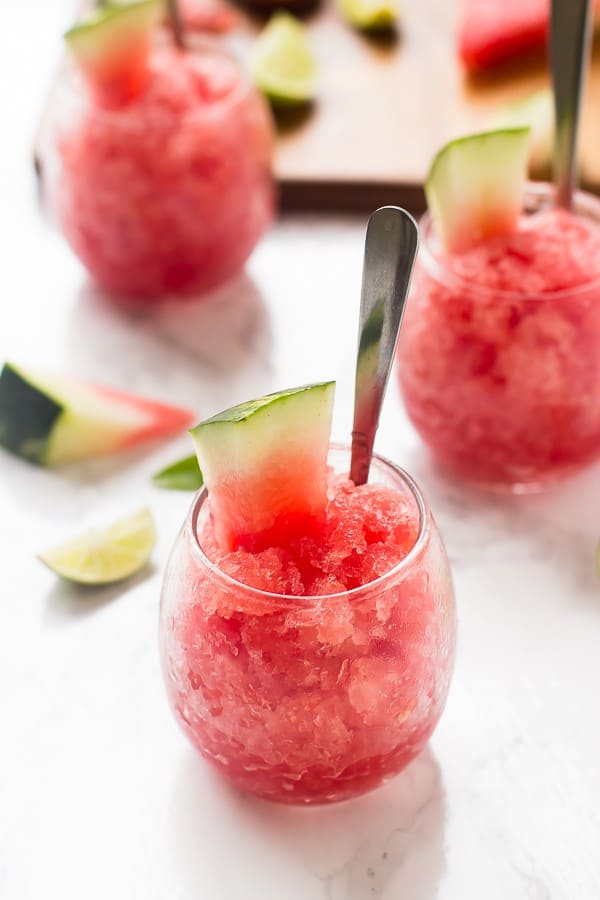 P.S. Here are some of the items I used to make this recipe if you'd like to use them too:
| WHAT YOU'LL NEED // SHOP MY FAVORITE INGREDIENTS & PREP PRODUCTS |


If you try this Watermelon Granita please let me know in the comment section below, or tag me on instagram with the hashtag #jessicainthekitchen! For more exclusive recipes follow me on Instagram AND on Snapchat: jessinkitchen.
MORE WATERMELON RECIPES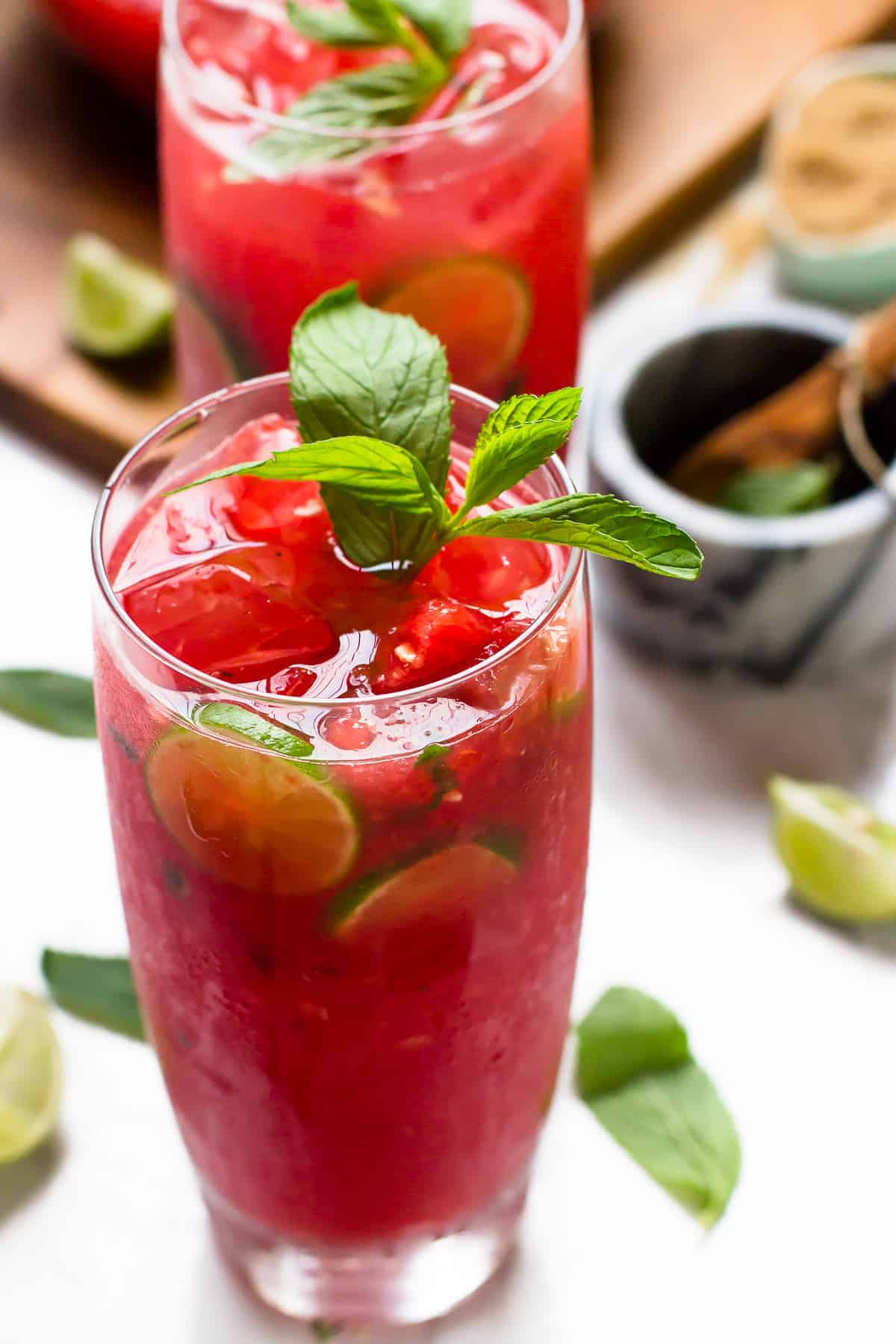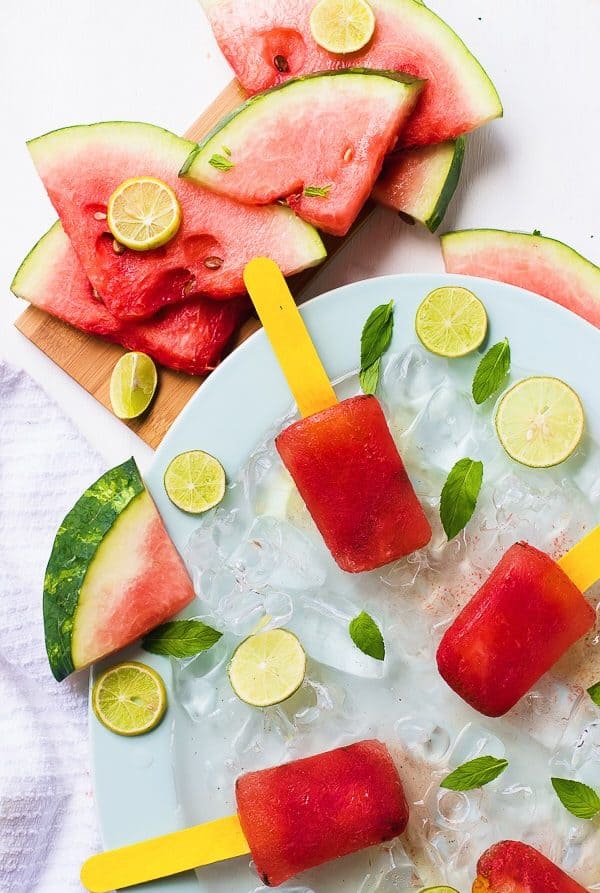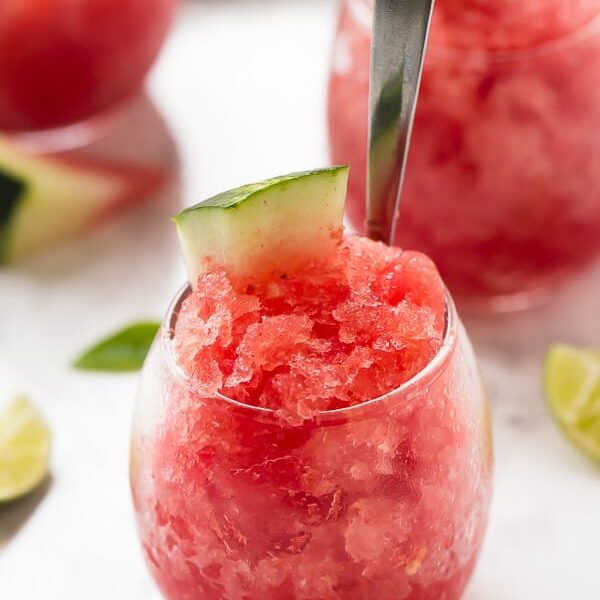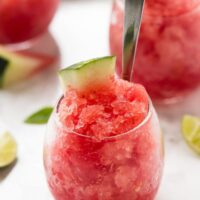 3-Ingredient Easy Watermelon Granita
This Watermelon Granita is the easiest dessert you'll ever make! It's only 3 ingredients, completely healthy and tastes unbelievably delicious!
Ingredients
1/2 watermelon, seedless or seeds removed (4 cups cubed watermelon)
Juice of two limes
3 tablespoons agave nectar
Instructions
Blend the watermelon, lime juice and agave nectar together in a blender or food processor. Pour the mixture into a square 8x8 container of a 5 x 9 loaf pan. Spread it across the container and allows to freeze for at least three hours. When the mixture has set, use a fork to scrape it gently to form a shaved ice texture. Serve immediately and enjoy!
Notes
This recipe is vegan and gluten free.
HOW TO STORE
Store in an airtight container in the freezer. You can serve this again by just scraping again with a fork.
Calories: 228kcal, Carbohydrates: 58g, Protein: 4g, Fat: 1g, Saturated Fat: 1g, Sodium: 7mg, Potassium: 664mg, Fiber: 3g, Sugar: 46g, Vitamin A: 3217IU, Vitamin C: 55mg, Calcium: 50mg, Iron: 2mg
Disclaimer: Although jessicainthekitchen.com attempts to provide accurate nutritional information, kindly note that these are only estimates. Nutritional information may be affected based on the product type, the brand that was purchased, and in other unforeseeable ways. Jessicainthekitchen.com will not be held liable for any loss or damage resulting for your reliance on nutritional information. If you need to follow a specific caloric regimen, please consult your doctor first.