Watermelon Mojitos
These Watermelon Mojitos are a refreshing, minty summer cocktail that's incredibly easy to make—and you only need 5 simple ingredients!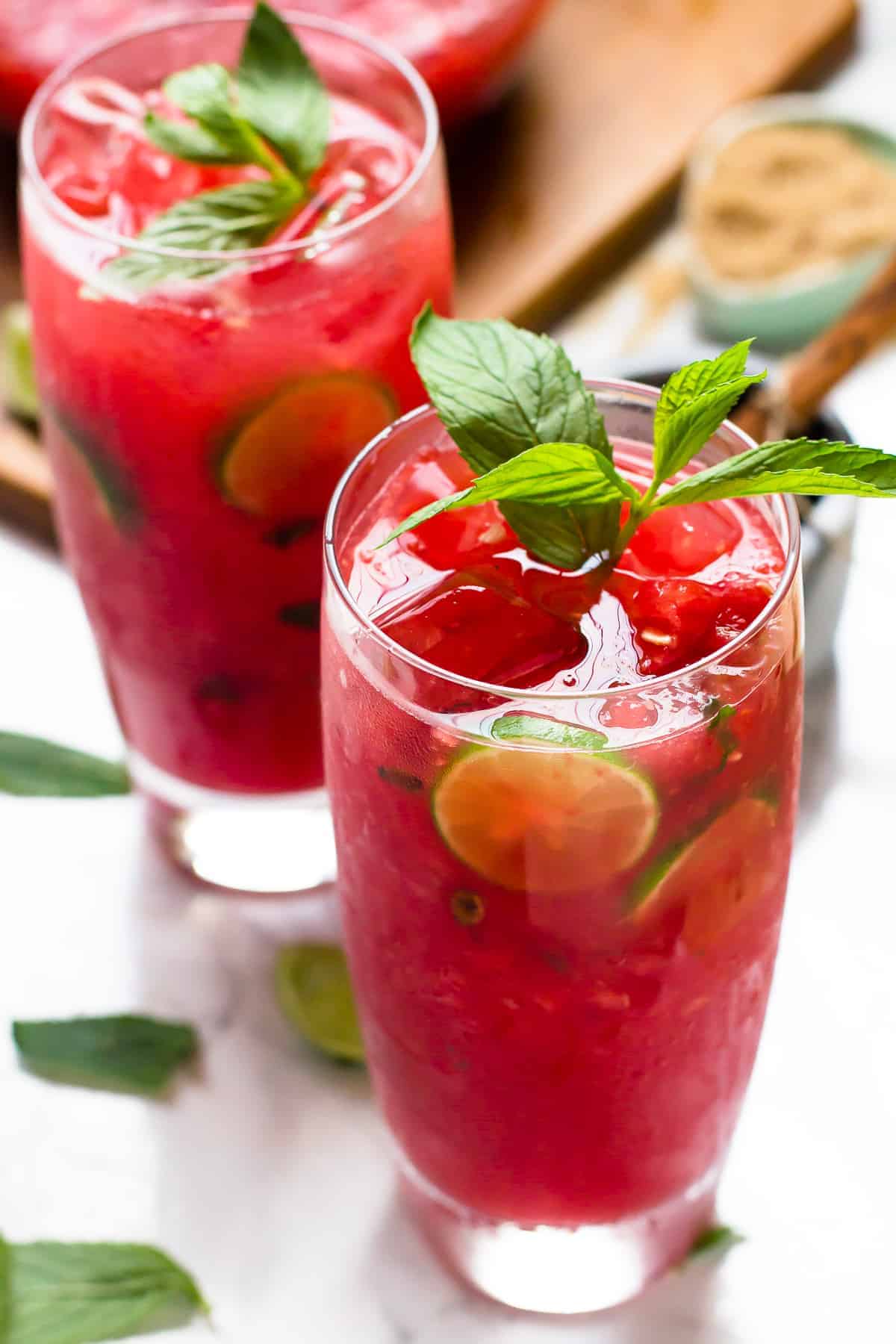 Anyone else love the idea of making cocktails at home, but balk at the recipes that require all kinds of special equipment and several $30 bottles of liquor that you'll probably never use again? I see you, friends, and these watermelon mojitos are for you.
No shakers, strainers, or fancy barware needed! And they only use white rum, so you don't have to buy a bunch of pricy spirits.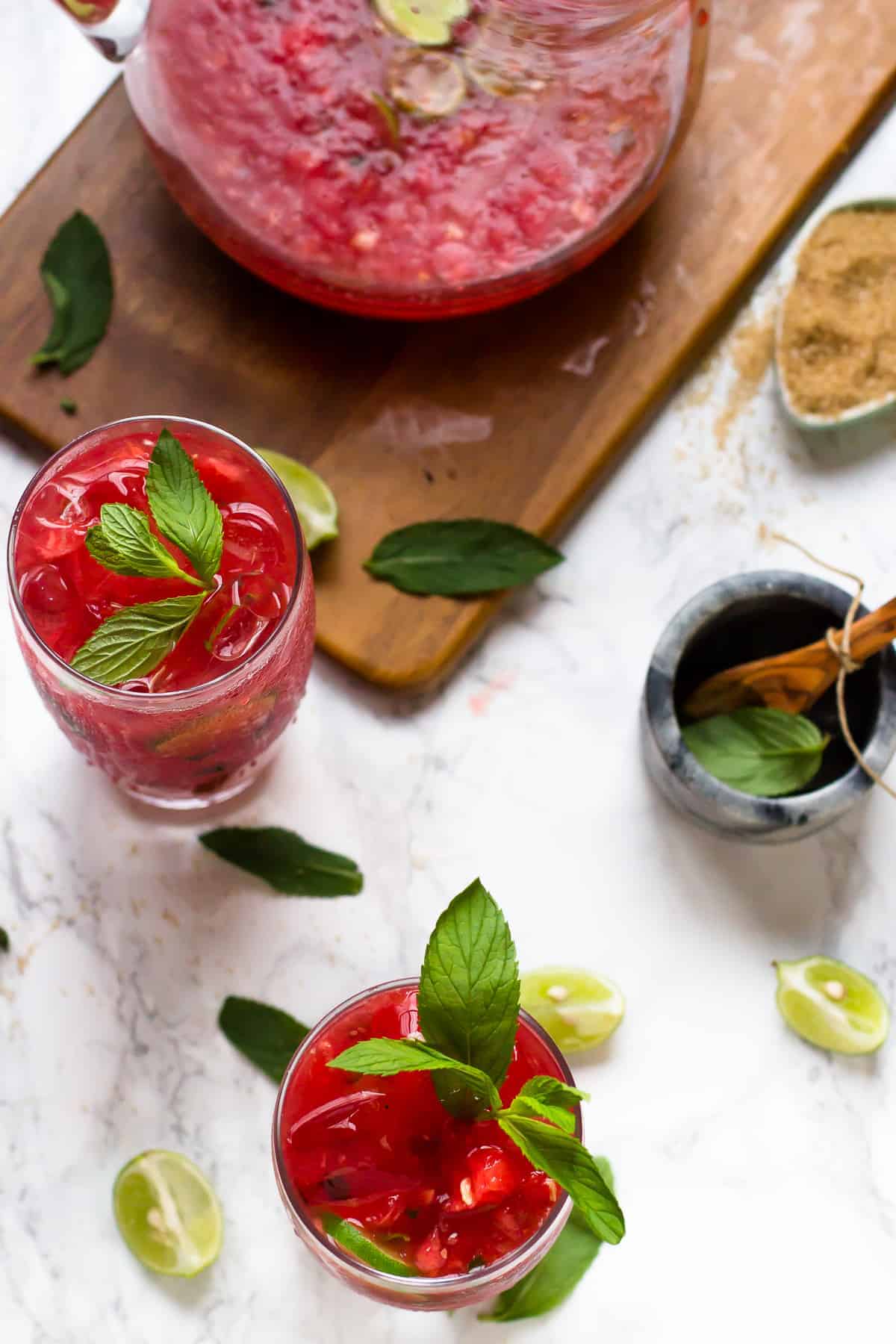 Mojitos are great all by themselves thanks to the magic of mint, and well, rum. But add fresh, ripe watermelon to the mix and you've got the best cocktail for summer sipping. You may just feel like you've been transported to a tropical (hey!) island on the beach, sipping on watermelon mojitos while gazing into the deep, clear blue sea. Ahhh. These cocktails are so refreshing and they'll definitely help with the summer heat!
(Do you love watermelon as much as I do? Add my Watermelon Mint Popsicles and 3-Ingredient Easy Watermelon Granita to your summer bucket list too!)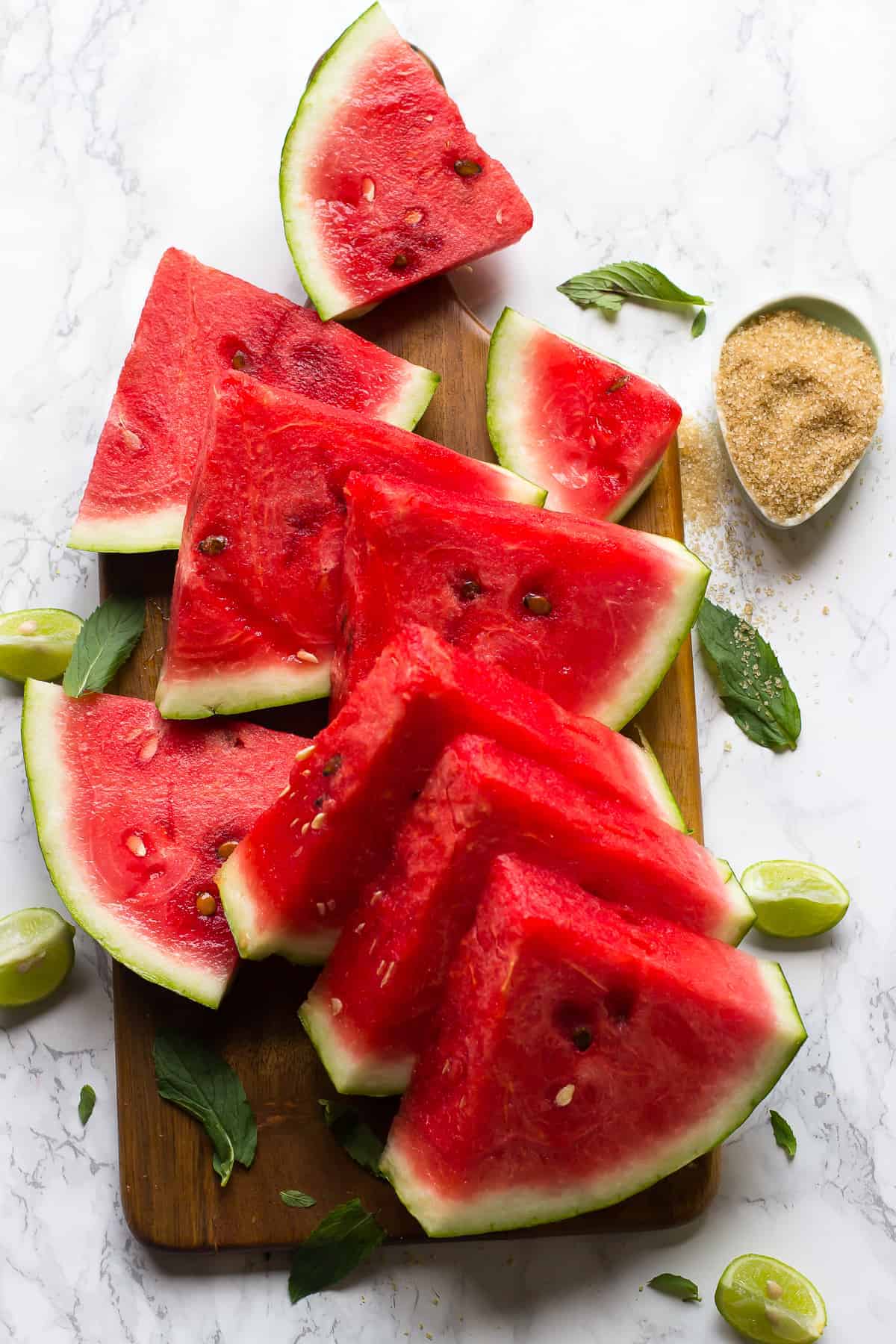 Notes on Ingredients
Please note that this is important information on the ingredients and instructions and the FULL recipe with amounts and details can be found DOWN BELOW (scroll to it) in the recipe card.
Watermelon – You'll need about 4 pounds; buy a seedless watermelon, or remove the seeds from a regular watermelon.
Freshly-squeezed lime juice – Don't use the kind in a bottle! It's just not the same.
White rum – I've used both a Jamaican Appleton White Rum and a Brazilian White Rum. Just don't use spiced rum; the warm spices don't work well with the cool, refreshing flavour we're going for with these watermelon mojitos.
Mint leaves
Simple syrup
How Do You Make Simple Syrup?
You can buy simple syrup at the grocery or liquor store, but it's much cheaper to make your own—and as the name suggests, it's quite simple!
Boil 1/2 cup of sugar with 1/2 cup of water, stirring often. Once the sugar is dissolved, remove the pan from the heat and let the syrup cool. Store it in an airtight container in the refrigerator for up to 4 weeks and use it to sweeten cocktails and lemonade.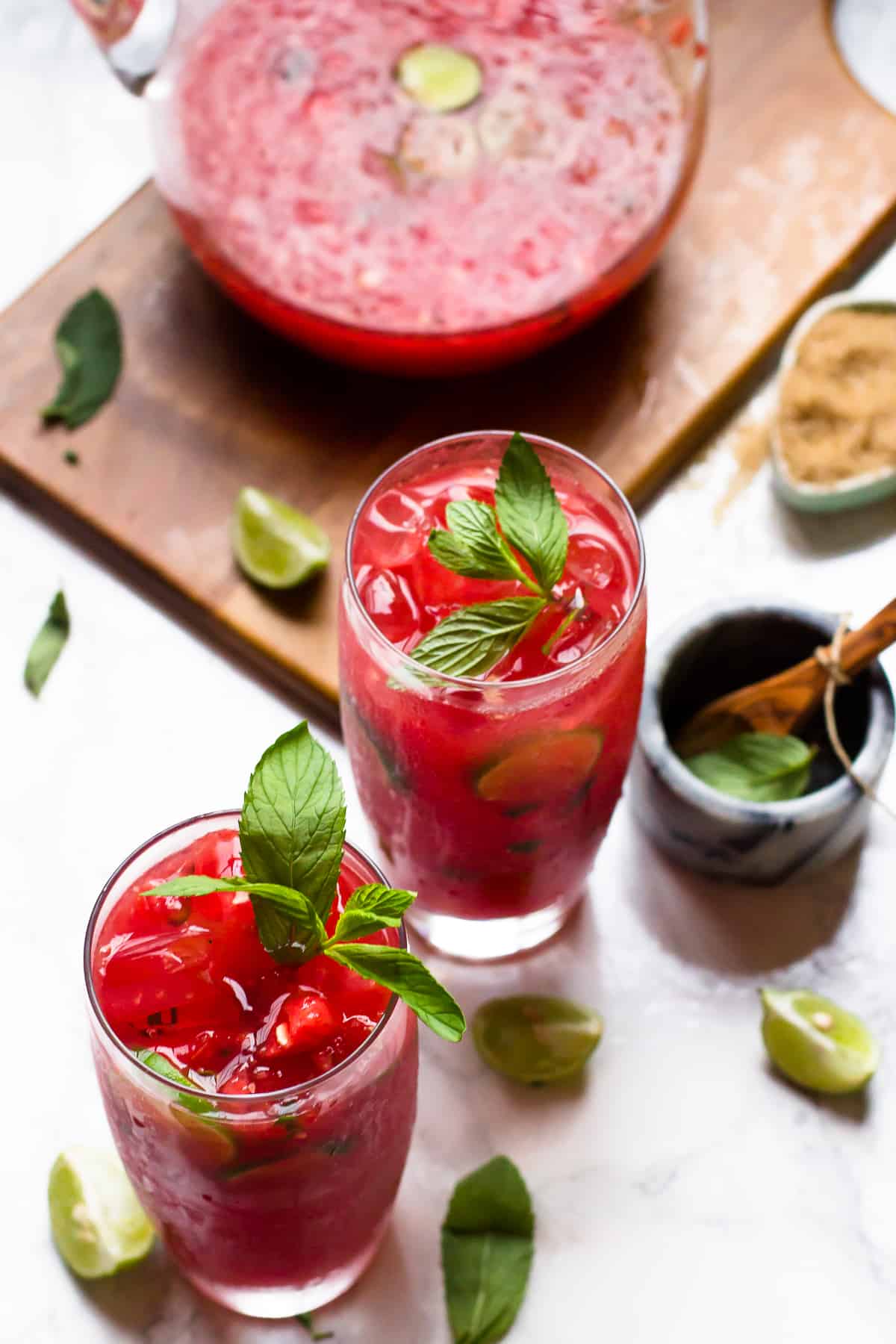 How to Make Watermelon Mojitos
It's mojito time! (And mojito time is the best time, right?!) Here's what you'll need to do.
Blend the watermelon. Add the watermelon to a food processor or high speed blender and puree until the mixture is smooth, about 30 seconds to 1 minute.
Mix the mojitos. Pour the pureed watermelon into a large pitcher. Stir in the lime juice and mint leaves. Add the white rum and stir vigorously for about 15 to 30 seconds.
Sweeten. Add simple syrup to taste (you may need more or less, depending on the sweetness of the melon) and stir again.
Serve. Pour the watermelon mojitos over crushed ice and serve.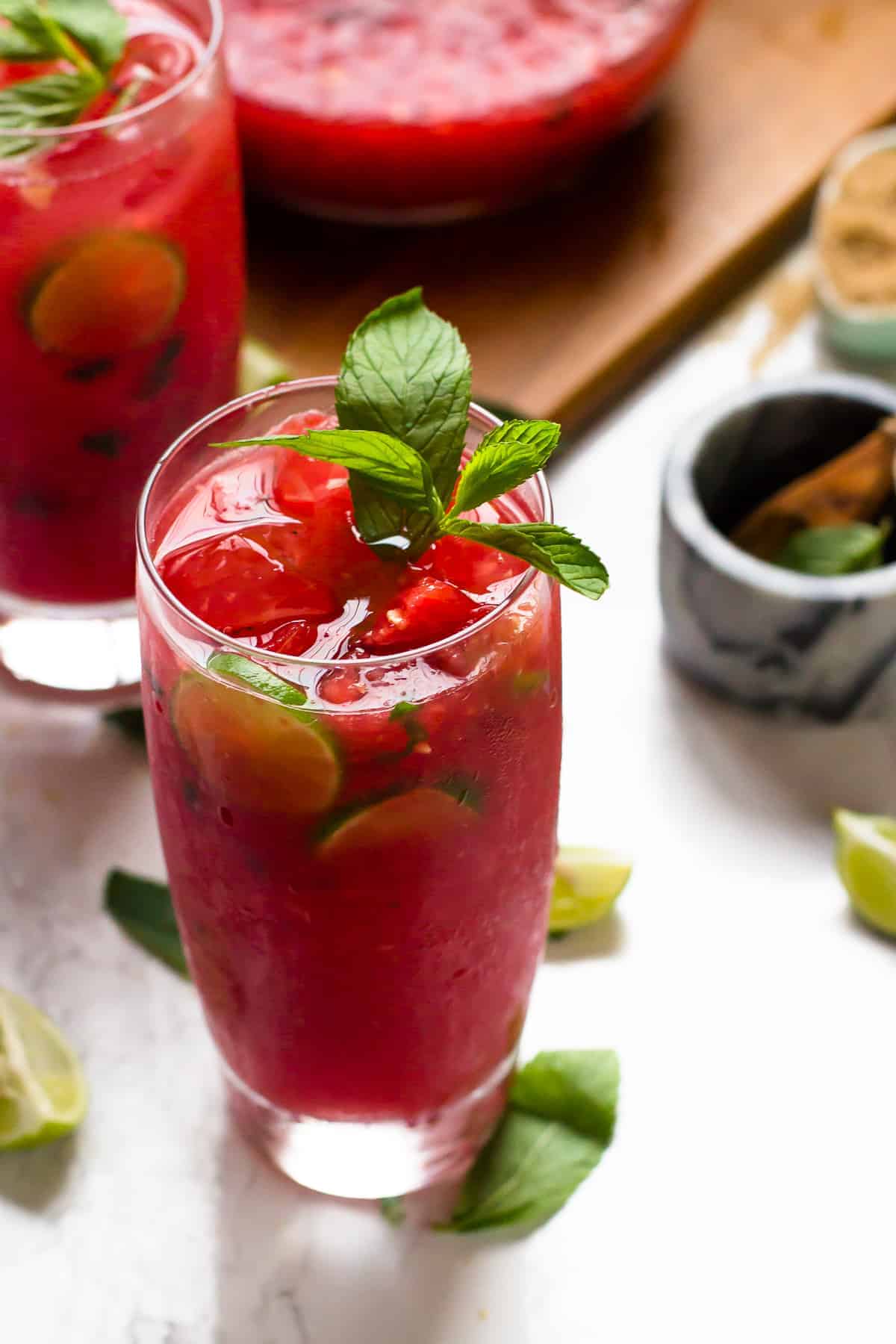 Tips for Success
Here are some simple tips and hints for the best watermelon mojitos:
Spring for a good rum. Since mojitos are a simple cocktail with a minimal number of ingredients, you'll want to use a rum that tastes good on its own. 
Don't over-muddle the mint. If you smash it too much and tear the leaves, it will become bitter. You want to muddle it just enough to release the mint oils in the leaves.
Garnish the glasses. Add a sprig of fresh mint and a lime wedge.
Variations
Here are some simple ideas for switching up these watermelon mojitos:
Add club soda. After pouring the mojito mixture over ice, you can top them off with club soda.
Make virgin watermelon mojitos. Swap the white rum for ginger ale or lemon-lime soda.
Sweeten with agave nectar. You can skip the simple syrup and use agave nectar if you want to avoid refined sugar.
Try different fruit. Like my mango mojitos!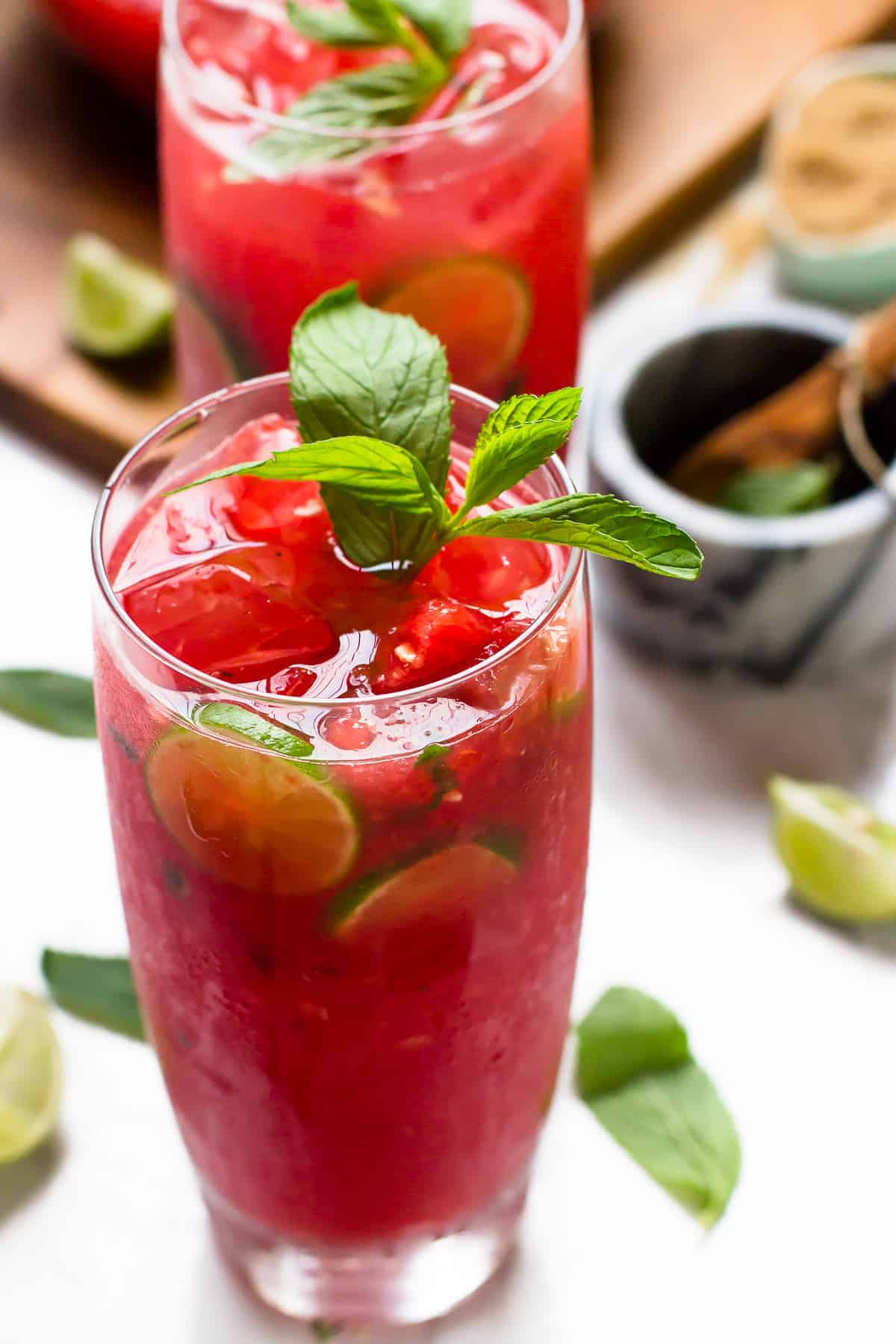 How to Store
You can store leftover watermelon mojitos in a pitcher in the fridge for several days.
WATCH THE VIDEO TO SEE HOW IT'S MADE:

Enjoy friends! If you make this watermelon mojito recipe, please snap a photo and tag #jessicainthekitchen on Instagram! We'd also love it if you would leave a comment below, and give the recipe a rating! Thanks so much!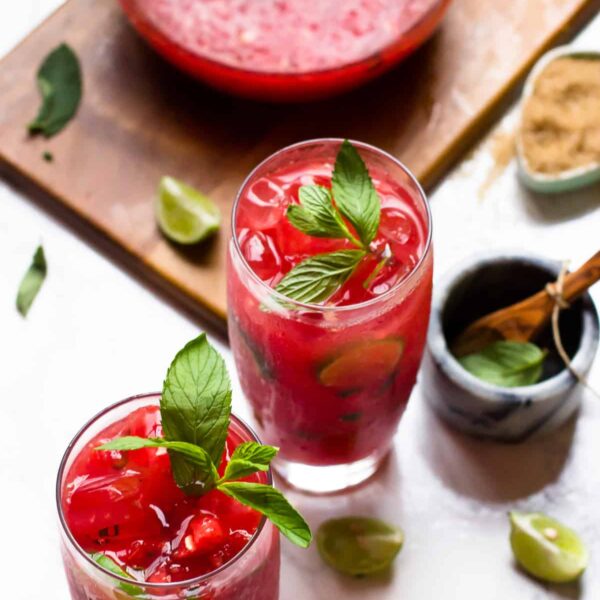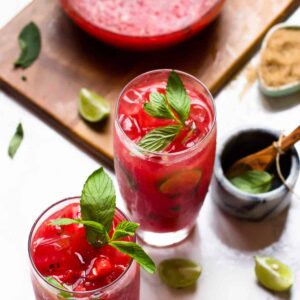 Watermelon Mojitos
These Watermelon Mojitos are a refreshing, minty summer cocktail that's incredibly easy to make.
Ingredients
1/2 a medium size watermelon, about 4 lbs watermelon, seeds removed and cut into chunks
1/3 cup freshly squeezed lime juice
3/4 cup to 1 cup white rum
20-30 fresh mint leaves, muddled
1/2 cup simple syrup*, see notes for how to make it
Instructions
Add your watermelon chunks to a food processor or high speed blender until smooth, about 30 seconds to 1 minute in the food processor or in the blender.

Pour the pureed watermelon into a large pitcher and add in the lime juice, muddled mint leaves and stir. Add in the white rum. Stir vigorously for about 15-30 seconds to incorporate.

Taste and add the appropriate amount of simple syrup based on the sweetness of your watermelon, up to ½ cup simple syrup, and stir again.

Pour into an ice filled glass and enjoy!
Notes
This recipe is vegan and gluten free. I've used both a Jamaican Appleton White Rum and a Brazilian White Rum, so any white rum should be fine! If your watermelon has seeds, you should remove the seeds. Alternatively, you could strain the watermelon but you will miss that cool refreshing watermelon taste.
You can make the simple syrup by boiling ½ cup sugar (cane sugar, brown sugar, coconut sugar or any granulated sugar) with ½ cup water until completely liquid, stirring often. Cool it down, then measure it out! This makes a bit more than ½ cup simple syrup, closer to ¾ cup, so use as much or as little of it as you want depending on the sweetness of your watermelon.
HOW TO STORE
You can store this Mojito recipe in the pitcher in the fridge for several days.
Feel free to add more or less rum!
Calories: 316kcal, Carbohydrates: 61g, Protein: 3g, Fat: 1g, Saturated Fat: 1g, Sodium: 26mg, Potassium: 567mg, Fiber: 2g, Sugar: 53g, Vitamin A: 2730IU, Vitamin C: 43mg, Calcium: 48mg, Iron: 2mg
Disclaimer: Although jessicainthekitchen.com attempts to provide accurate nutritional information, kindly note that these are only estimates. Nutritional information may be affected based on the product type, the brand that was purchased, and in other unforeseeable ways. Jessicainthekitchen.com will not be held liable for any loss or damage resulting for your reliance on nutritional information. If you need to follow a specific caloric regimen, please consult your doctor first.