Strawberry Coconut Overnight Oats (Meal Prep)
These Strawberry Coconut Overnight Oats are the easiest breakfast I've ever made. They require only 5 minutes of prep and are delicious, filling and so nutritious! They are perfect for meal prep!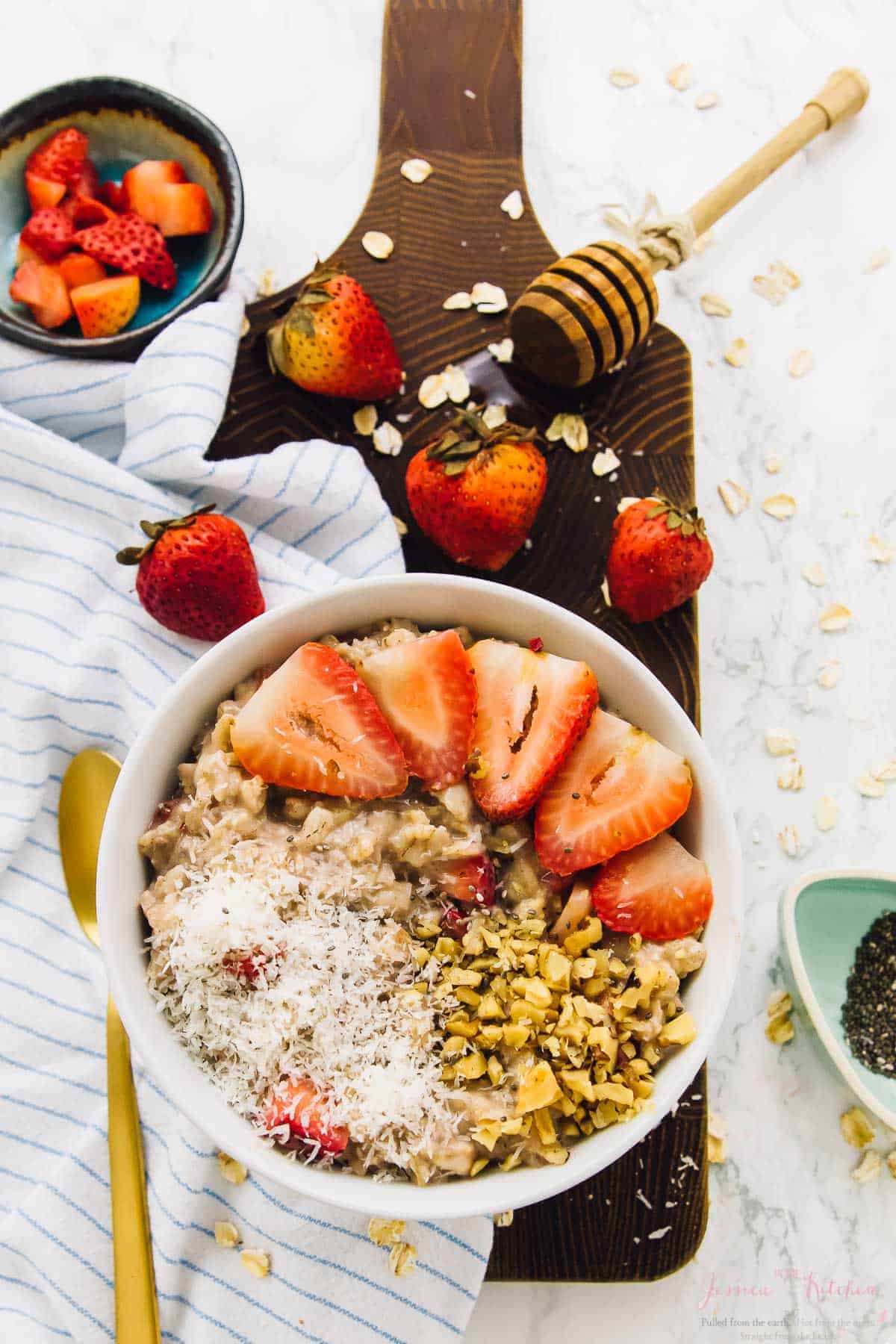 Firstly, I want to thank you for your outstanding feedback on the first post of my new series, Out of the Kitchen. Friends, you are the reason I keep creating!! Thank you! Your comments, shares, emails, phone calls and text messages brought me to tears and moved me.
Now, to breakfast being not only the most important meal of the day, but absolutely delicious! A few months ago, I wrote about my pumpkin pie overnight oats, and mentioned that if it was spring I would definitely make strawberry overnight oats. Fast forward to now, and these Strawberry Coconut Overnight Oats are my new favourite go to breakfast. 5 minutes is really all it takes – chop, place into the jar, stir, and into the fridge. These are the EASIEST breakfast you'll ever make, and all it takes it a little prep the night before.
Bonus factor? It tastes incredible.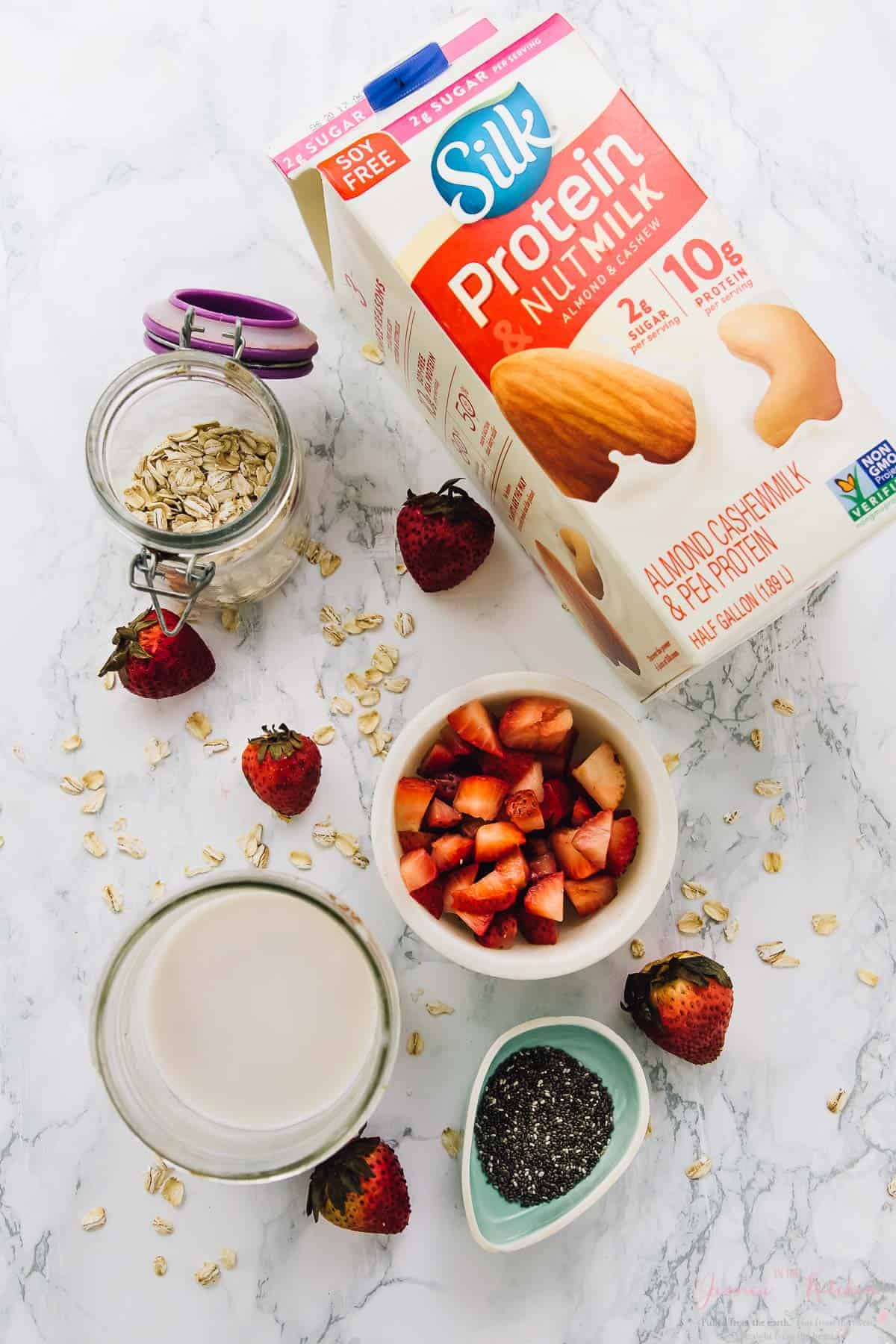 I never expected that when I shared my Pumpkin Pie Overnight Oats, that they would become a top fall hit. If you aren't familiar with overnight oats, it's a simple breakfast solution that involves placing all the raw ingredients for your warm oatmeal into a jar and letting it sit in the fridge overnight. The oats will absorb all of the liquid, and it's almost like a cold brew process of making oatmeal. The fridge does all the work for you, so all you need to do in the morning is grab and go. Yes, grab and go breakfast. The oatmeal plumps up just like it would on a stove top, with all the ingredients flavours perfectly mixed together. Hello delicious!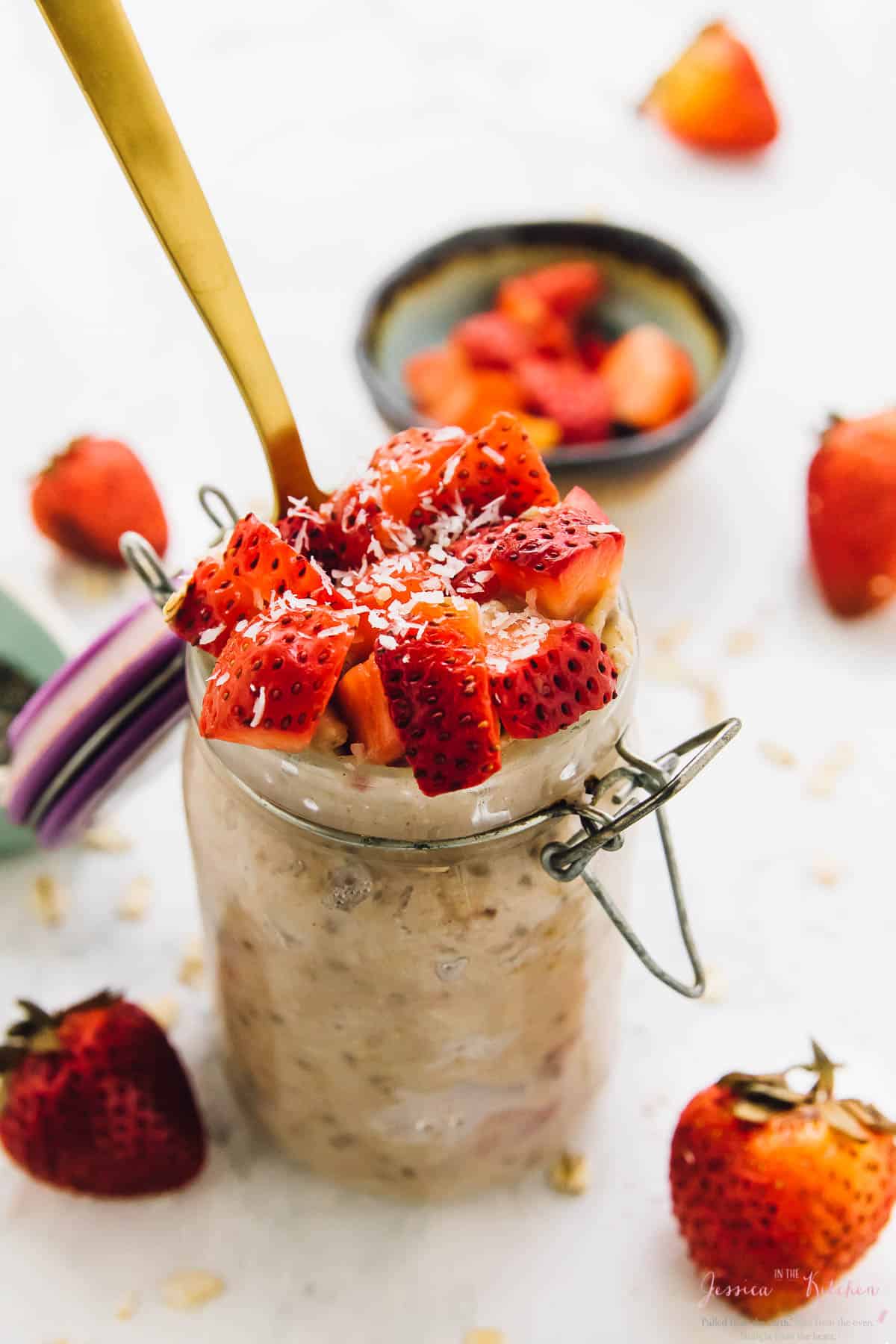 The best part is that you can still heat it in the morning if you want. I love it cold and hot, but when I want it hot, I add a little bit more milk on top, then heat it in the microwave or on stove top. 45 seconds in the microwave, or like three minutes on the stovetop is enough to reheat it. However, if you have raging heats like we are getting here, you'll probably want to enjoy this cold. It's pretty much a summer staple breakfast.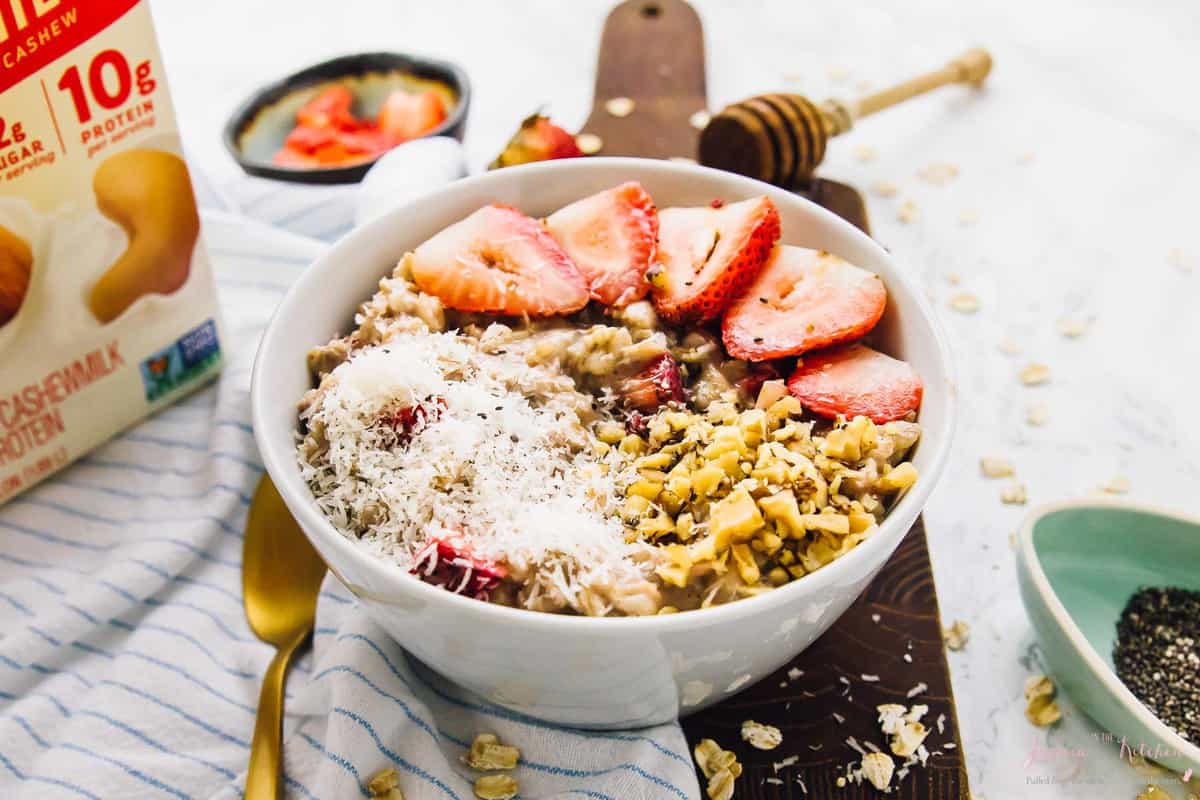 I keep my ingredients pretty simple for these overnight oats. I used my favourite, Silk Protein Nutmilk oats, cinnamon, coconut flakes, organic maple syrup and of course, strawberries. The recipe doesn't need the chia seeds to thicken up, but I love adding it more extra protein and omega-3's. Some toasted walnuts in the mix would also be totally delicious.
One of my favourite parts about using the Silk Protein Nutmilk is that this breakfast gets an extra dose of protein thanks to the pea protein used in their new cashew almond coconut blend. 10g of protein, yes, 10g, and only 2g of sugar means a smooth, delicious and protein rich breakfast to keep you full. This will be especially useful if you're travelling with your kids or family in general this summer. This breakfast works on the go, and will keep them full for all those fun filled days!!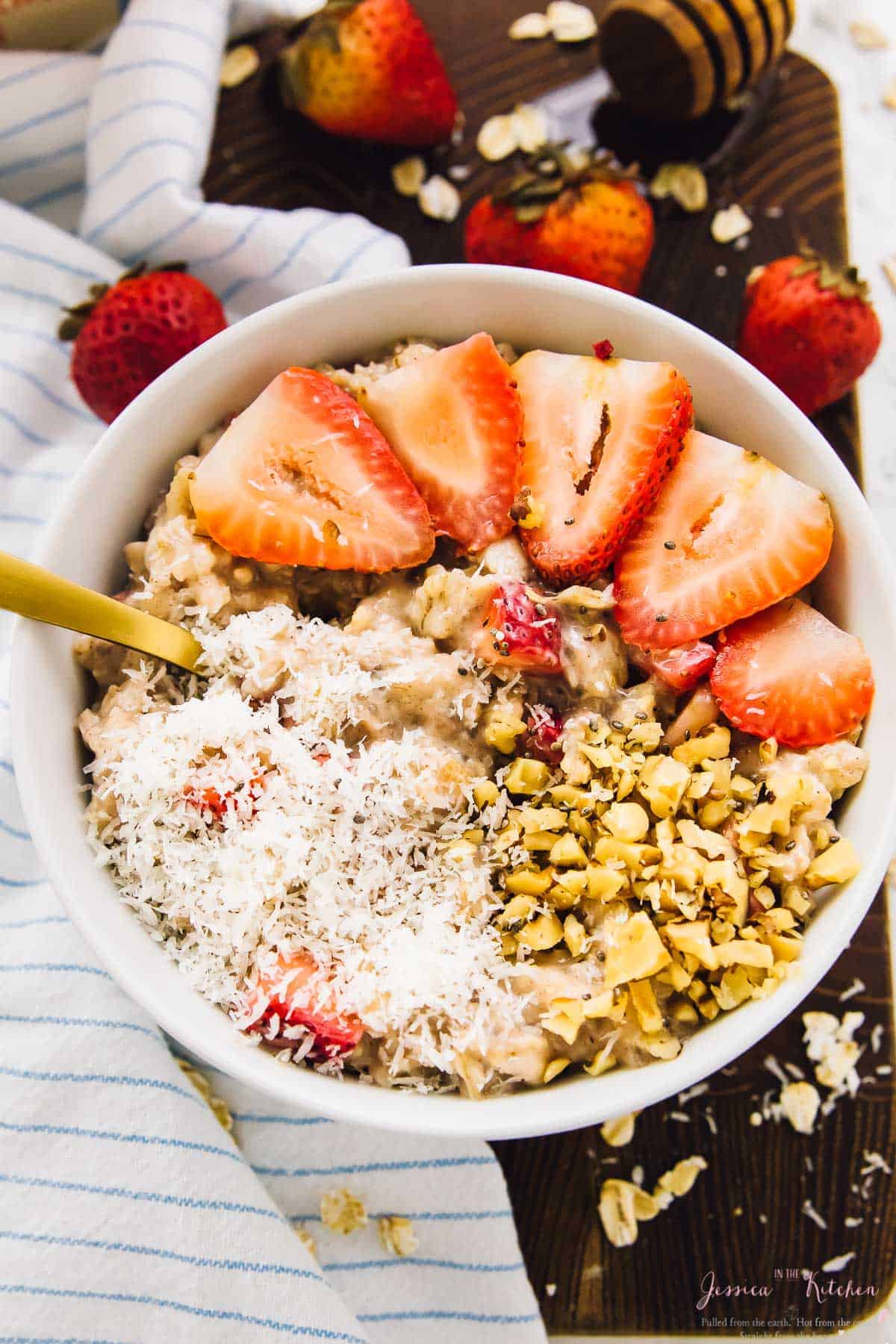 All in all, you have a great wholesome plant-based breakfast (Silk Protein Nutmilk is made 100% from plant-based protein!) that tastes like dessert. Umm, that's a total win. If you haven't tried overnight oats yet, give it a whirl and see how much it changes your morning routine. If you have, add this to your arsenal. I promise, you'll love all those fresh and smooth flavours. Enjoy!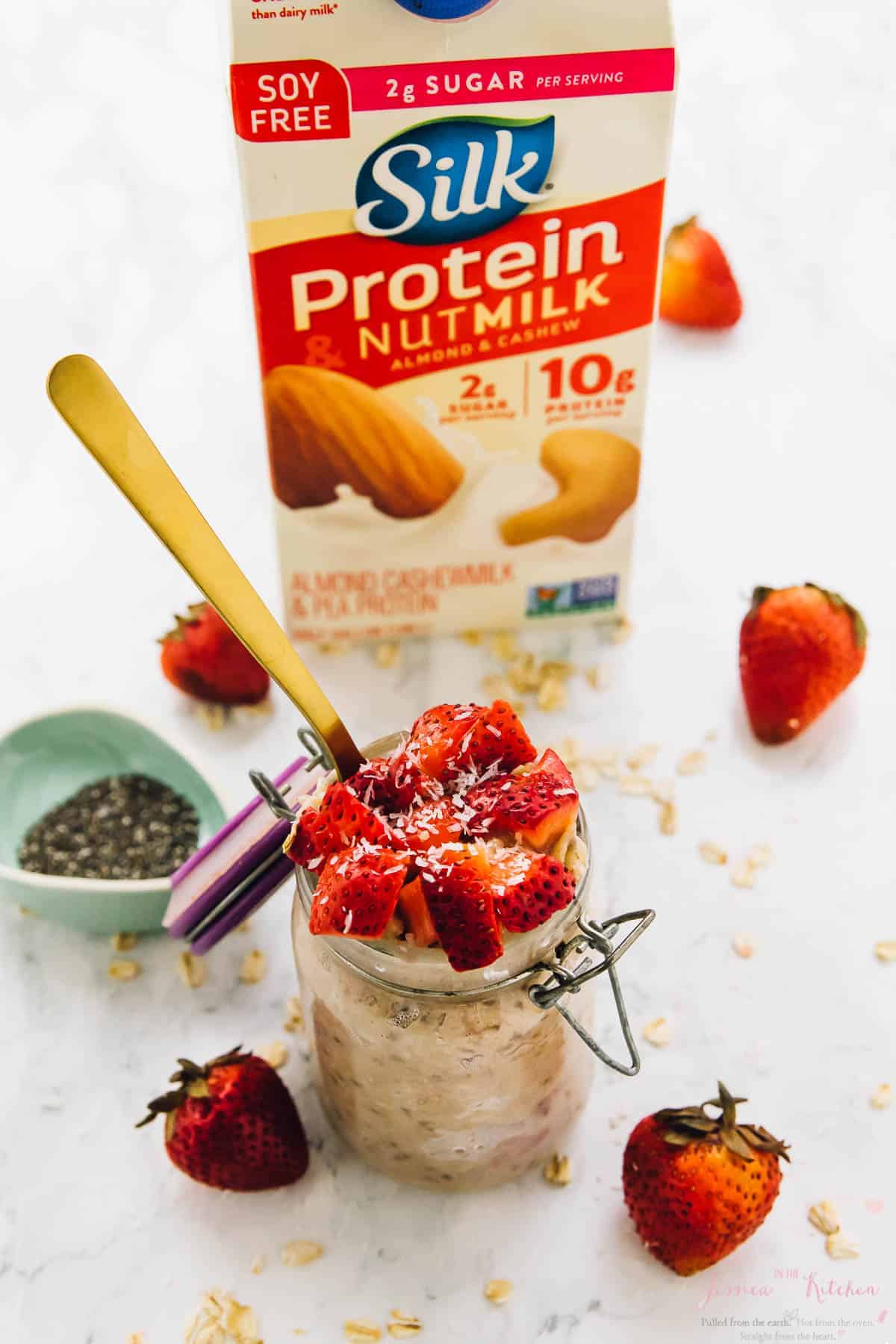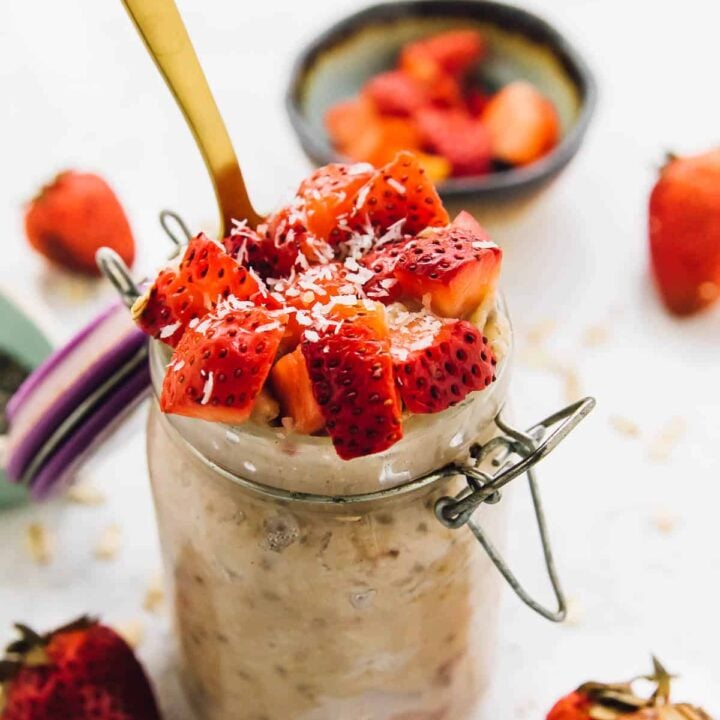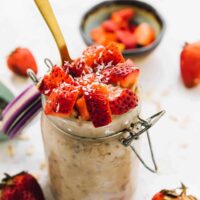 Strawberry Coconut Overnight Oats
These Strawberry Coconut Overnight Oats are the easiest breakfast I've ever made. They require only 5 minutes of prep and are delicious, filling and so nutritious! 
Ingredients
Strawberry Coconut Overnight Oats
1/4 cup chopped strawberries
1/2 cup gluten free certified old-fashioned or rolled oats
1 cup Silk Protein Nutmilk
1/2 teaspoon cinnamon
2 teaspoons maple syrup
2 teaspoons unsweetened coconut flakes
½ teaspoon chia seeds, optional
Instructions
Strawberry Coconut Overnight Oats
Mix all the ingredients in a jar. Stir to combine and cover.

Place in the fridge overnight.

The next morning, remove and eat in the jar or place in a pot over medium high heat to reheat the oatmeal, or in the microwave to reheat if a microwave safe jar for about 45 seconds. Top with your favourite toppings - walnuts, more chia seeds, peanut butter and more maple syrup (or anything else you want!). 

Enjoy!
Notes
Notes:
1. This recipe is vegan and gluten free. You can adjust the quantities of strawberries if you'd like less more or less. You can also add more chia seeds if you want a more pudding texture.
You can also adjust sweetness levels after it's set up in the fridge and add more maple syrup if you desire. You can also use agave nectar instead.
If you try this Strawberry Coconut Overnight Oats please let me know in the comment section below, or tag me on instagram with the hashtag #jessicainthekitchen! For more exclusive recipes follow me on Instagram AND on Snapchat: jessinkitchen.
P.S. If you head over to Silk's website, you'll get a coupon instantly upon signing up as a member! You can sign up for their newsletter to also receive various other member perks including tons of giveaways (free stuff? Yes please)!
This is a sponsored conversation written by me on behalf of Silk. All opinions and text are 100% mine. Thanks for supporting the brands that support Jessica in the Kitchen!
Calories: 263kcal, Carbohydrates: 43g, Protein: 7g, Fat: 8g, Saturated Fat: 2g, Sodium: 330mg, Potassium: 202mg, Fiber: 7g, Sugar: 11g, Vitamin C: 21mg, Calcium: 349mg, Iron: 2mg
Disclaimer: Although jessicainthekitchen.com attempts to provide accurate nutritional information, kindly note that these are only estimates. Nutritional information may be affected based on the product type, the brand that was purchased, and in other unforeseeable ways. Jessicainthekitchen.com will not be held liable for any loss or damage resulting for your reliance on nutritional information. If you need to follow a specific caloric regimen, please consult your doctor first.