Strawberry Coconut Overnight Oats
These Coconut Strawberry Overnight Oats are a healthy make-ahead breakfast that requires only 5 minutes of prep time. With fresh berries, coconut, and a touch of maple syrup, they taste like a treat!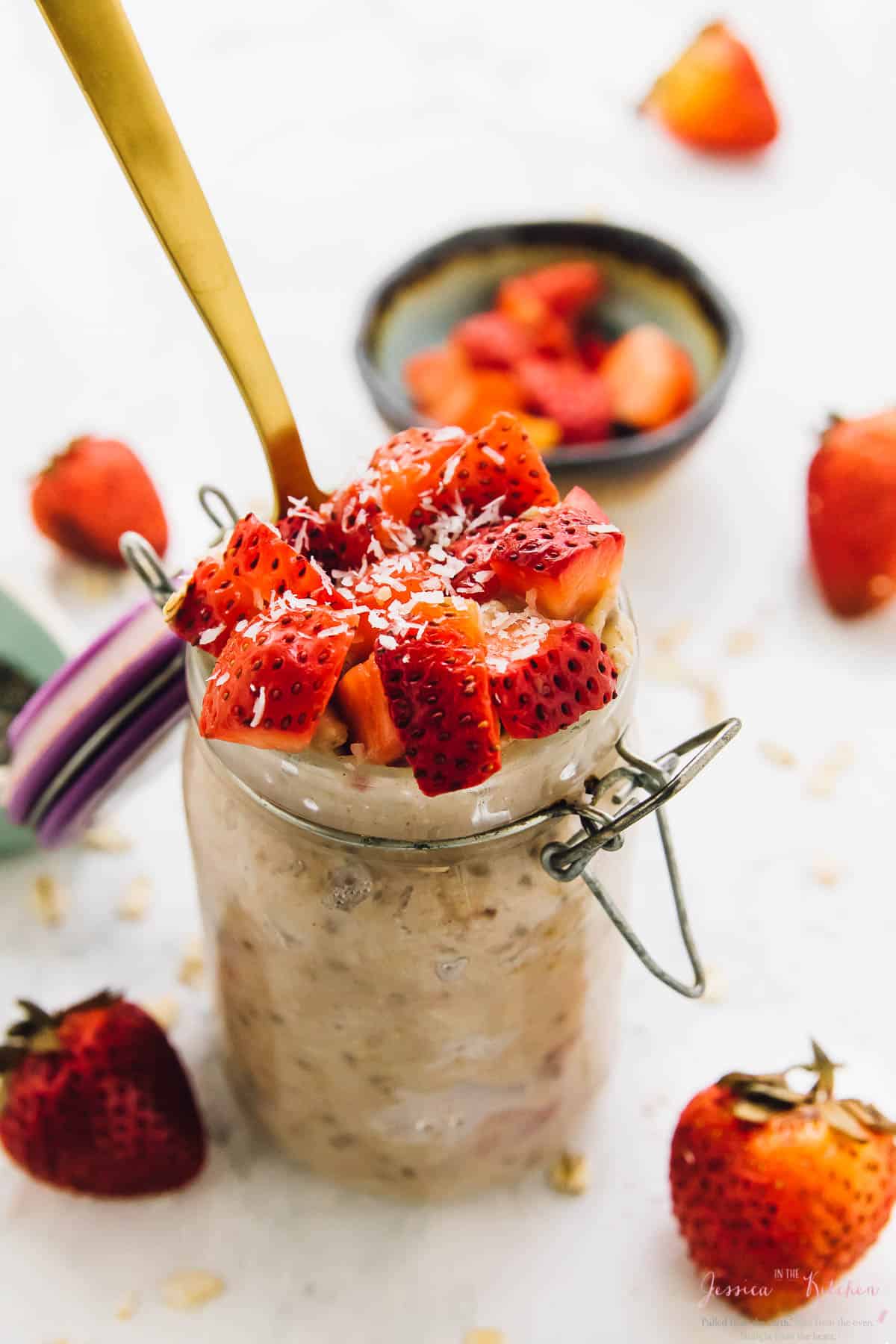 They say that breakfast is the most important meal of the day, but I think it's also the most delicious. Especially when you're having these Strawberry Coconut Overnight Oats for breakfast. Each bite is loaded with ripe strawberries and tropical coconut—you might even forget you're eating something healthy!
Coconut Strawberry Overnight Oats are my go-to breakfast when strawberries are in season. 5 minutes is really all it takes—chop the berries, place everything into the jar, stir, and pop in the fridge. These are the easiest breakfast you'll ever make.
The oats will absorb the liquid and soften while in the fridge—it's almost like a cold brew process of making oatmeal. The fridge does all the work for you, so all you need to do in the morning is grab and go!
(Looking for more ideas for overnight oats? Try my Peanut Butter Banana Overnight Oats, Banana Bread Overnight Oats, or Pumpkin Pie Overnight Oats next!)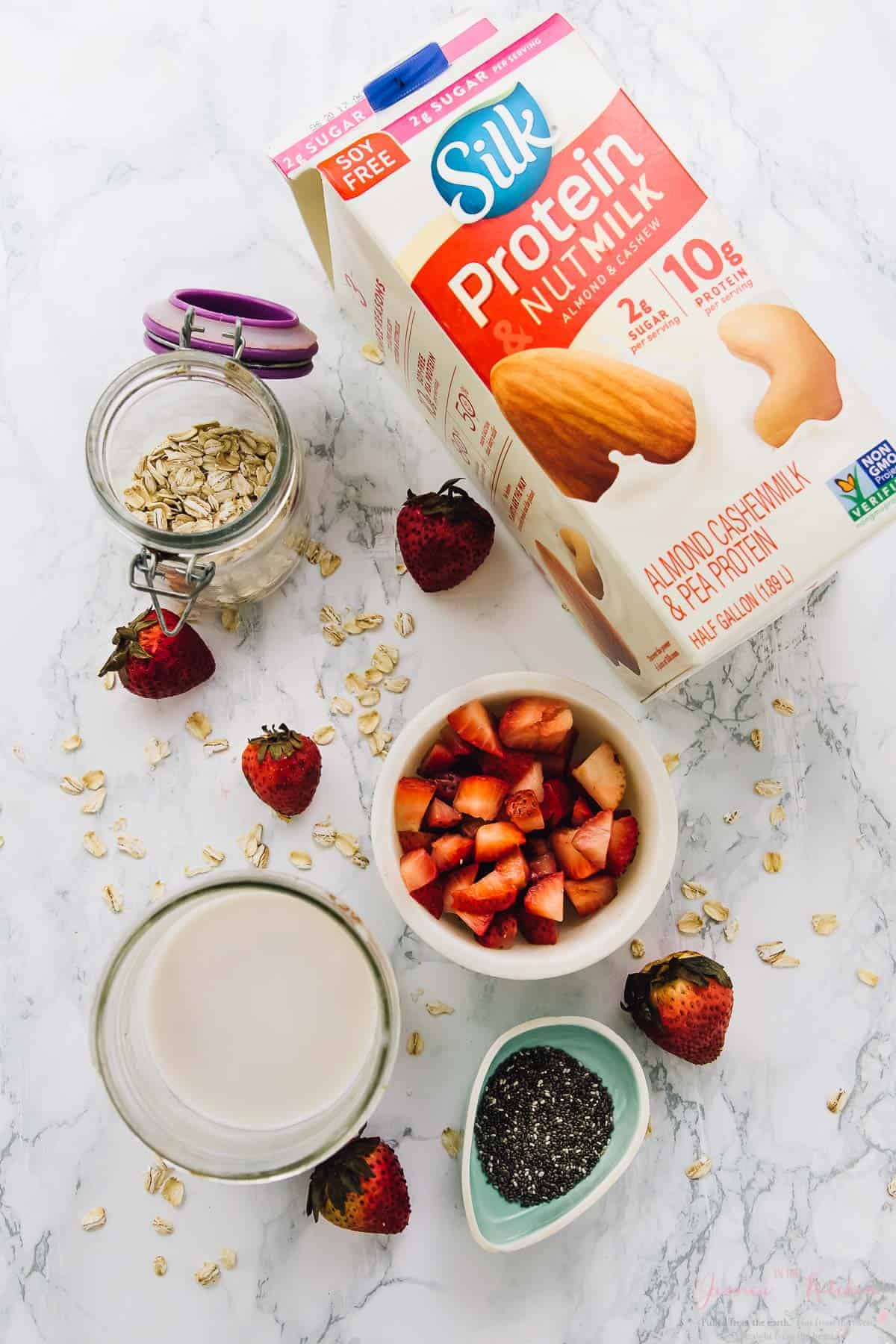 Notes on Ingredients
Please note that this is important information on the ingredients and instructions and the FULL recipe with amounts and details can be found DOWN BELOW (scroll to it) in the recipe card.
Strawberries – You can use frozen strawberries if you'd like, but you'll need to thaw them first.
Old-fashioned or rolled oats – Be sure to use gluten-free oats if you're on a gluten-free diet.
Plant-based milk – Whatever you like or have on hand! I love using my homemade cashew milk.
Ground cinnamon
Maple syrup – If you're using sweetened plant milk, you can use less maple syrup or skip it altogether.
Unsweetened coconut flakes – If you'd like, you can toast these first.
Chia seeds – Chia seeds aren't for everyone, so feel free to leave them out or swap in hemp seeds instead.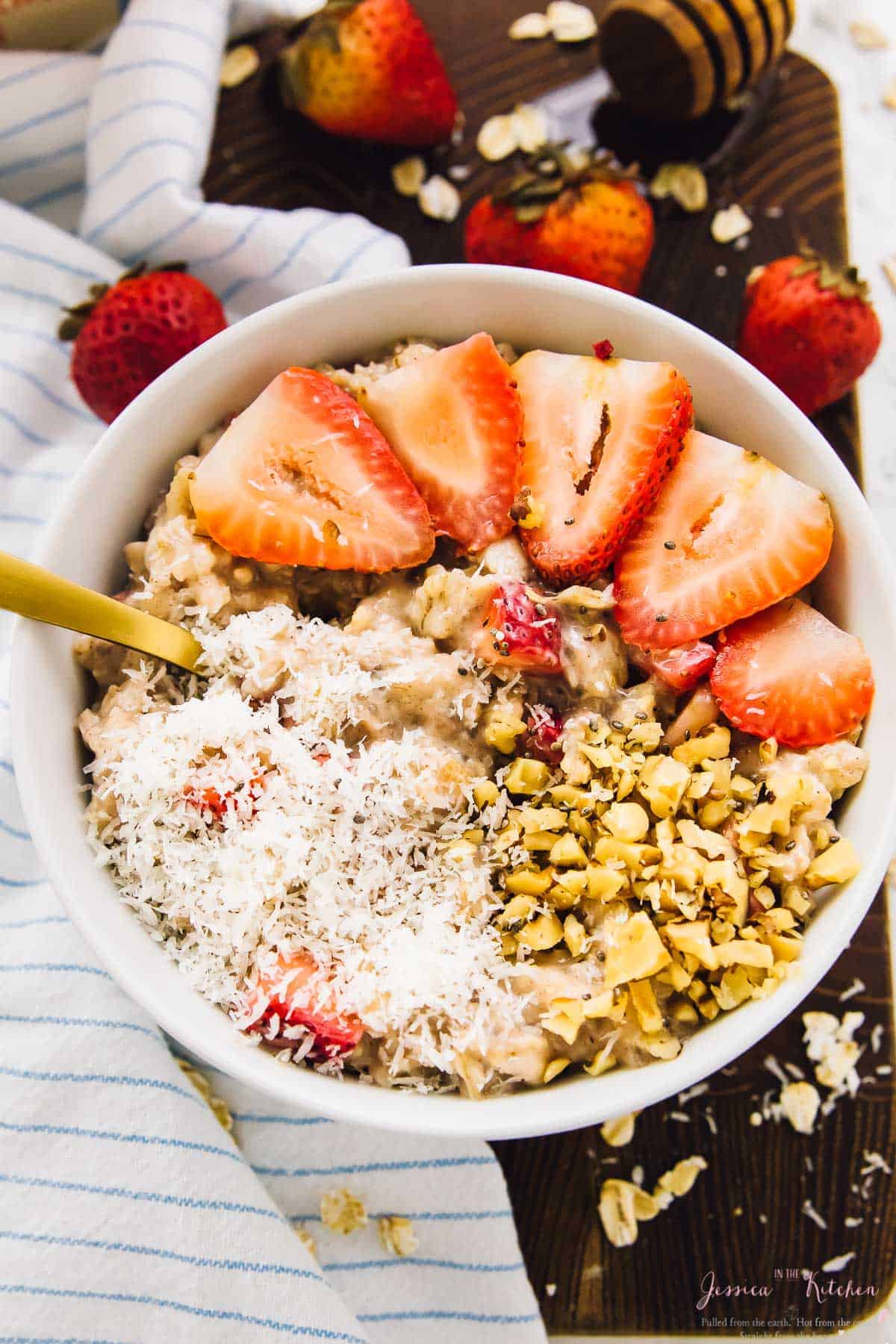 How to Make Coconut Strawberry Overnight Oats
When I said it takes 5 minutes of prep time, I meant it! Here's how easy it is to make these overnight oats.
Combine the ingredients. Add all of the ingredients to a mason jar and stir to combine. Screw on the lid.
Chill. Place the jar in the refrigerator and chill overnight.
Serve. Take the jar out of the fridge, give it a stir, and enjoy!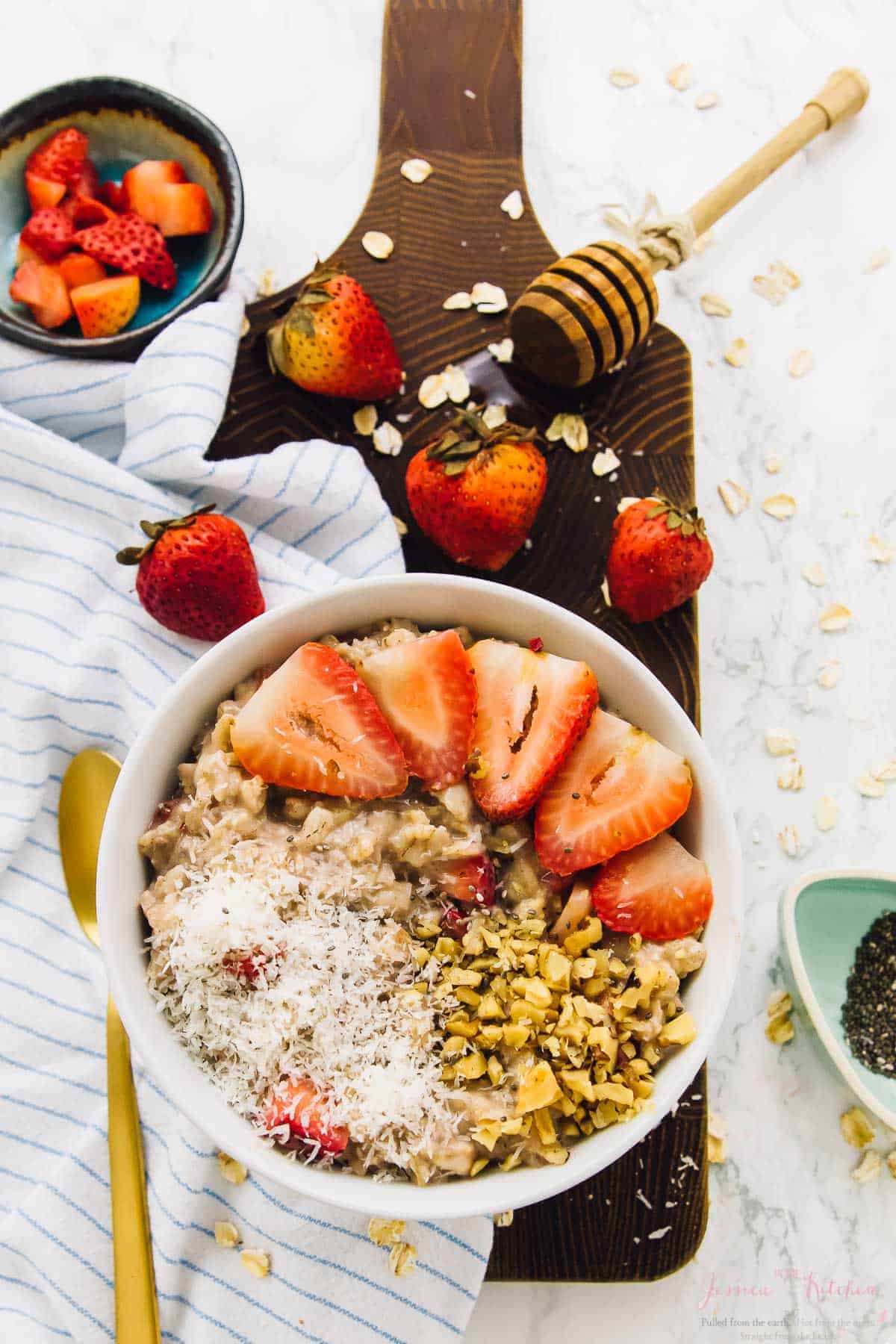 Are Overnight Oats Meant to Be Eaten Cold?
Overnight oats can be eaten cold, but they don't have to be! You can empty the contents of the jar into a saucepan set over medium-high heat and cook the oats until they're warmed through, or place the jar in the microwave (assuming it's microwave-safe!) and cook for about 45 seconds.
Tips for Success
Here are some tips for perfect Strawberry Coconut Overnight Oats:
Use old-fashioned or rolled oats. Quick oats will get too mushy, while steel-cut oats will be too tough.
No mason jar? No problem! You can simply mix everything together in a Tupperware container or stir it in a bowl and cover the bowl with plastic wrap.
Add more milk, if needed. If the liquid is completely absorbed, you can loosen up the oats a bit by adding a splash of milk.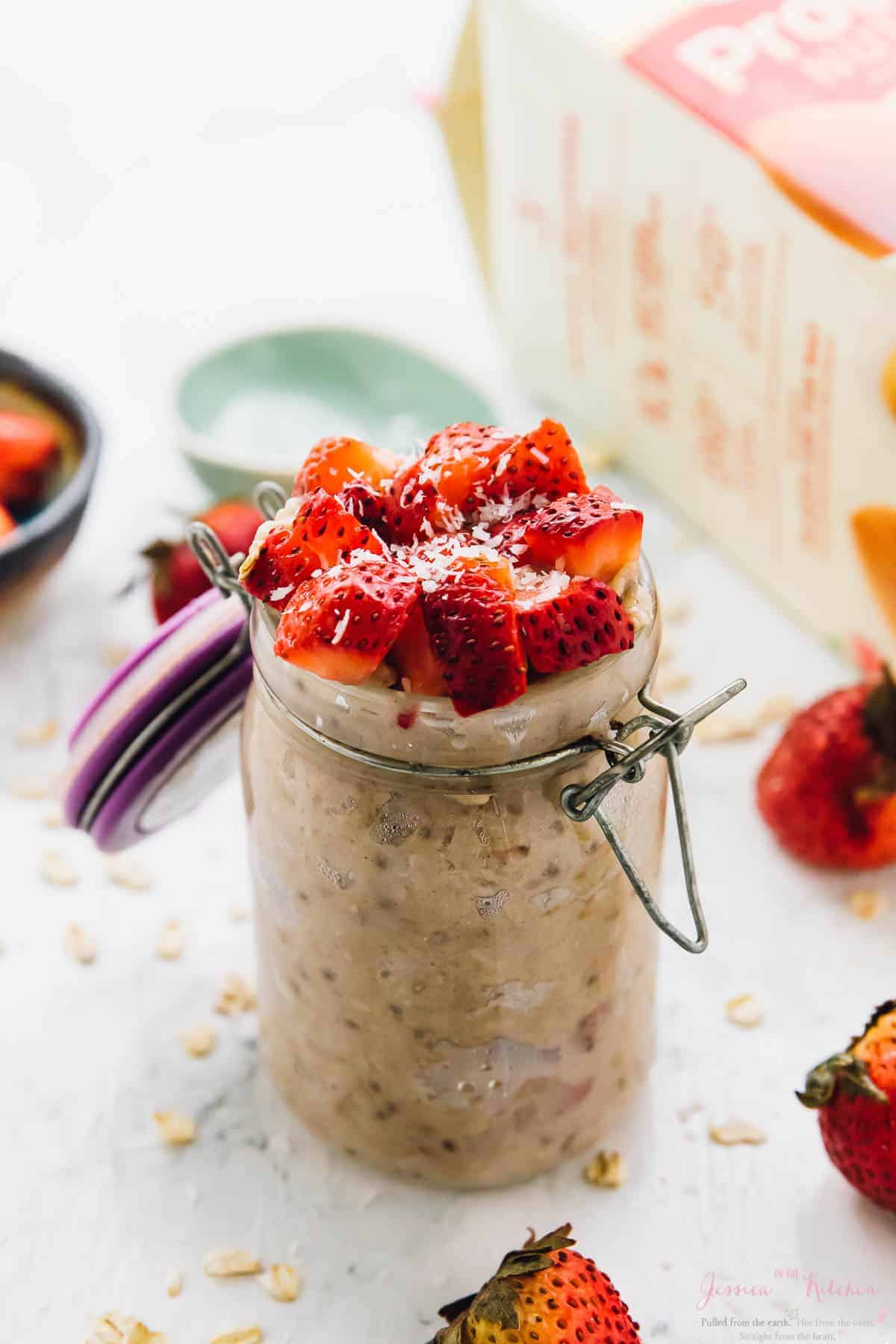 Topping and Mix-In Ideas
The best thing about overnight oats is that they're highly customizable! Add more maple syrup if you want them sweeter, stir in walnuts or sunflower seeds for crunch, or add a spoonful of peanut butter or almond butter for more protein. Homemade vegan yogurt adds a creamy texture and tangy flavour, and a spoonful of coconut whipped cream will make you think you're eating strawberry shortcake for breakfast!
How to Store
You can meal prep your Coconut Strawberry Overnight Oats and keep them in the fridge for up to 5 days. If you plan on doing this, be sure that your strawberries are firm and at the peak of ripeness—if they're mushy and dark in spots, they won't last that long in the fridge.
Can I Freeze This Recipe?
You can freeze individual portions of Strawberry Coconut Overnight Oats for up to 3 months in an airtight container. Thaw them in the refrigerator overnight.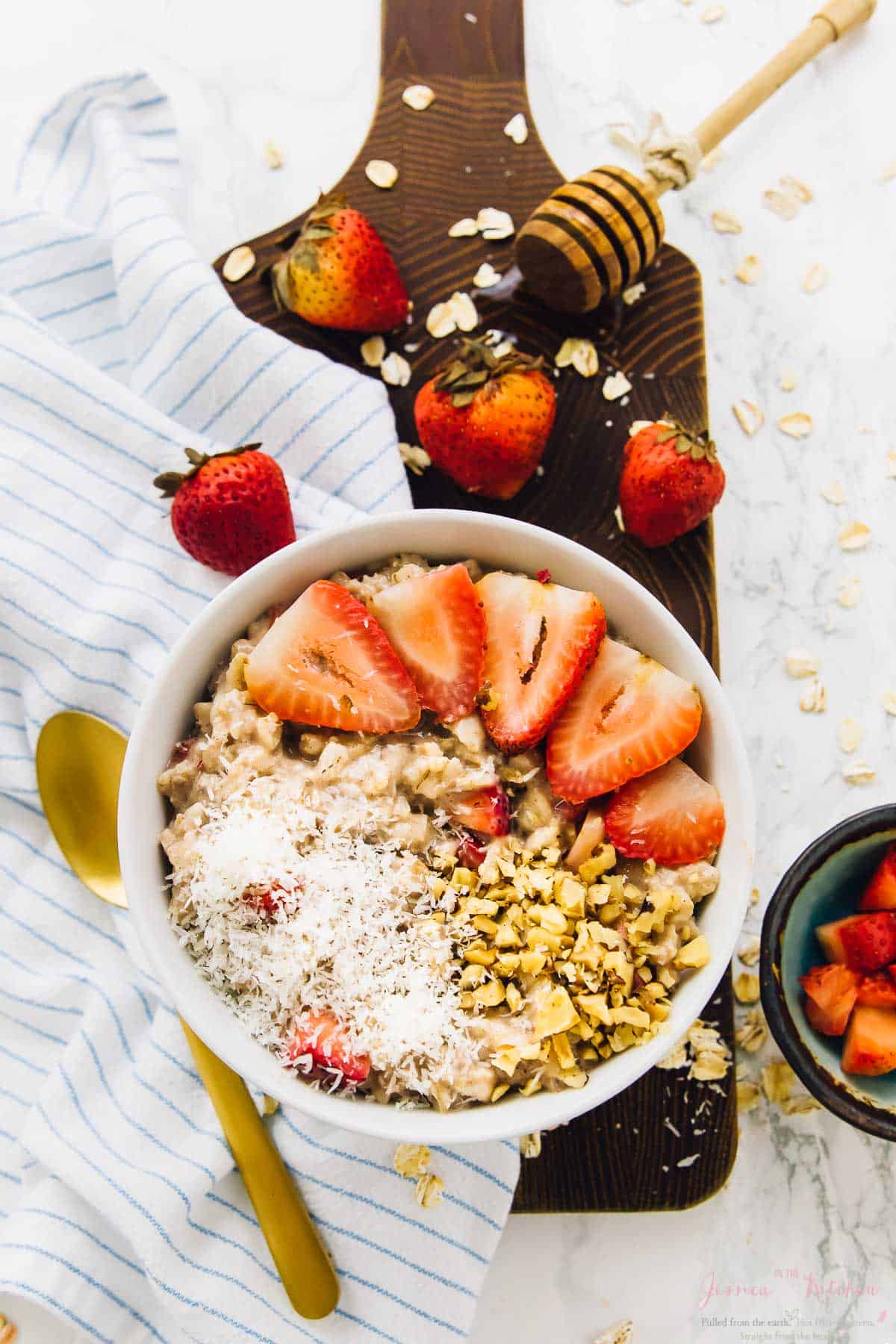 Enjoy friends! If you make this coconut strawberry overnight oats recipe, please snap a photo and tag #jessicainthekitchen on Instagram! We'd also love it if you would leave a comment below, and give the recipe a rating! Thanks so much!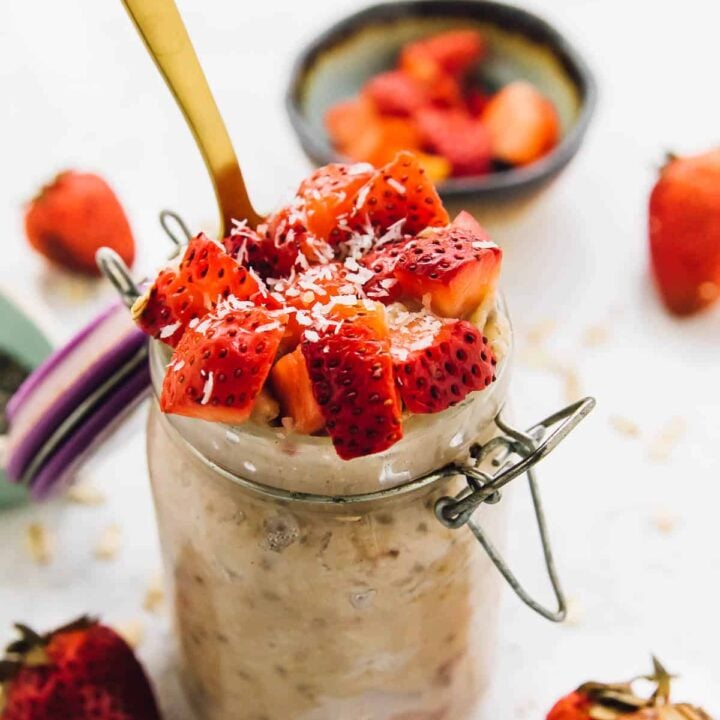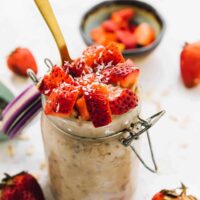 Strawberry Coconut Overnight Oats
These Strawberry Coconut Overnight Oats are a healthy make-ahead breakfast that requires only 5 minutes of prep time!
Ingredients
Strawberry Coconut Overnight Oats
1/4 cup chopped strawberries
1/2 cup gluten free certified old-fashioned or rolled oats
1 cup plant-based milk
1/2 teaspoon cinnamon
2 teaspoons maple syrup
2 teaspoons unsweetened coconut flakes
½ teaspoon chia seeds, optional
Instructions
Strawberry Coconut Overnight Oats
Mix all the ingredients in a jar. Stir to combine and cover.

Place in the fridge overnight.

The next morning, remove and eat in the jar or place in a pot over medium high heat to reheat the oatmeal, or in the microwave to reheat if a microwave safe jar for about 45 seconds. Top with your favourite toppings – walnuts, more chia seeds, peanut butter and more maple syrup (or anything else you want!). 

Enjoy!
Notes
1. This recipe is vegan and gluten free. You can adjust the quantities of strawberries if you'd like less more or less. You can also add more chia seeds if you want a more pudding texture.
You can also adjust sweetness levels after it's set up in the fridge and add more maple syrup if you desire. You can also use agave nectar instead.
Calories: 263kcal, Carbohydrates: 43g, Protein: 7g, Fat: 8g, Saturated Fat: 2g, Sodium: 330mg, Potassium: 202mg, Fiber: 7g, Sugar: 11g, Vitamin C: 21mg, Calcium: 349mg, Iron: 2mg
Disclaimer: Although jessicainthekitchen.com attempts to provide accurate nutritional information, kindly note that these are only estimates. Nutritional information may be affected based on the product type, the brand that was purchased, and in other unforeseeable ways. Jessicainthekitchen.com will not be held liable for any loss or damage resulting for your reliance on nutritional information. If you need to follow a specific caloric regimen, please consult your doctor first.