3-Ingredient Strawberry Banana Smoothie
This 3-ingredient strawberry banana smoothie is creamy, smooth, and full of fruity flavour—and it's so easy, you don't even need to be a morning person to make it!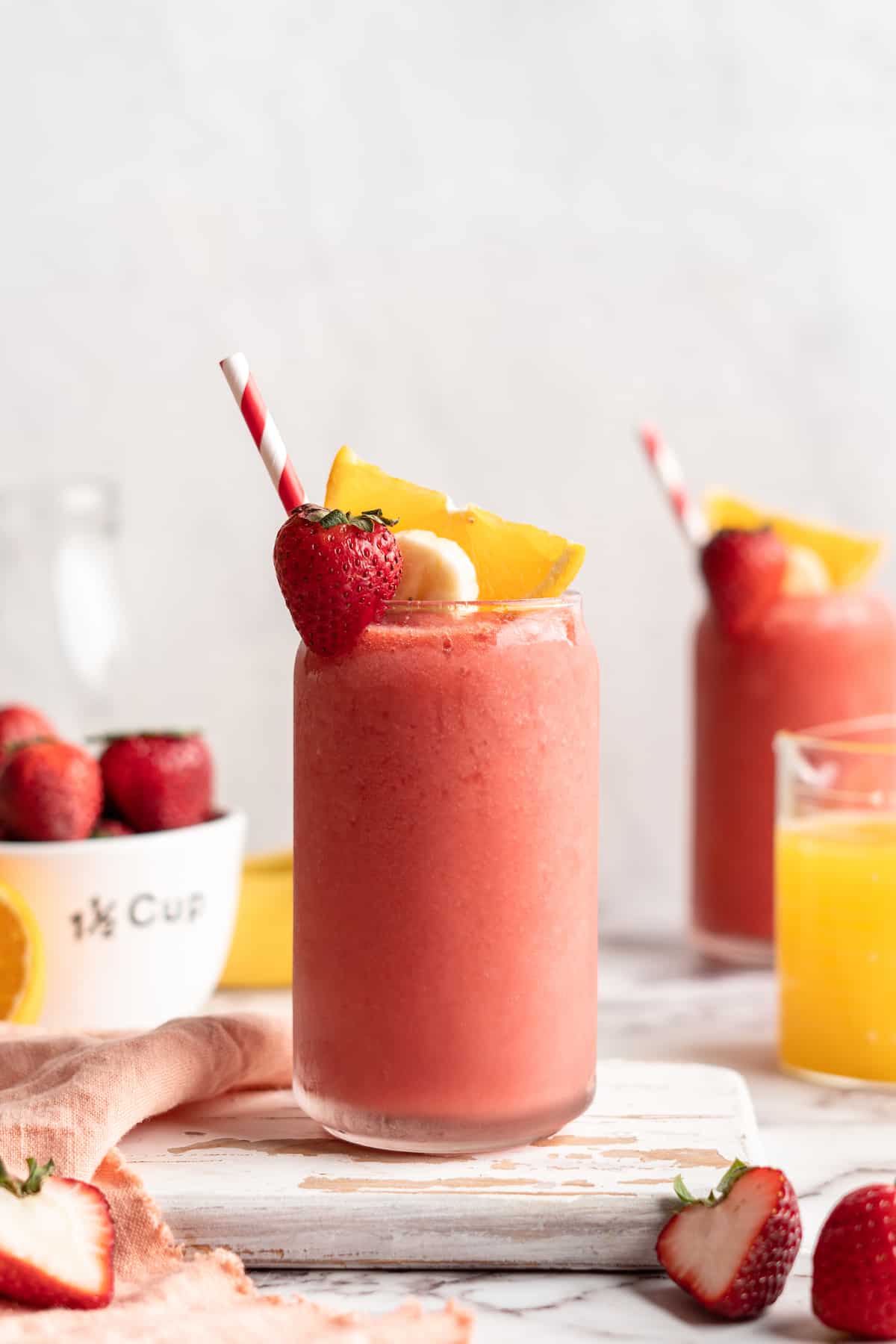 Smoothies always seem like they would be an easy breakfast, but when you're spending 20 minutes washing greens, pitting peaches, and measuring out protein powder and a dozen other add-ins, they can feel like quite the chore. Who wants to do all that first thing in the morning?!
Friends, this strawberry banana smoothie is the easiest you'll ever make. Three ingredients, minimal prep, and no clean up—well, other than throwing away the banana peel.
So let me give you the lowdown on this smoothie. I made it with frozen strawberries, fresh bananas and orange juice. That's it.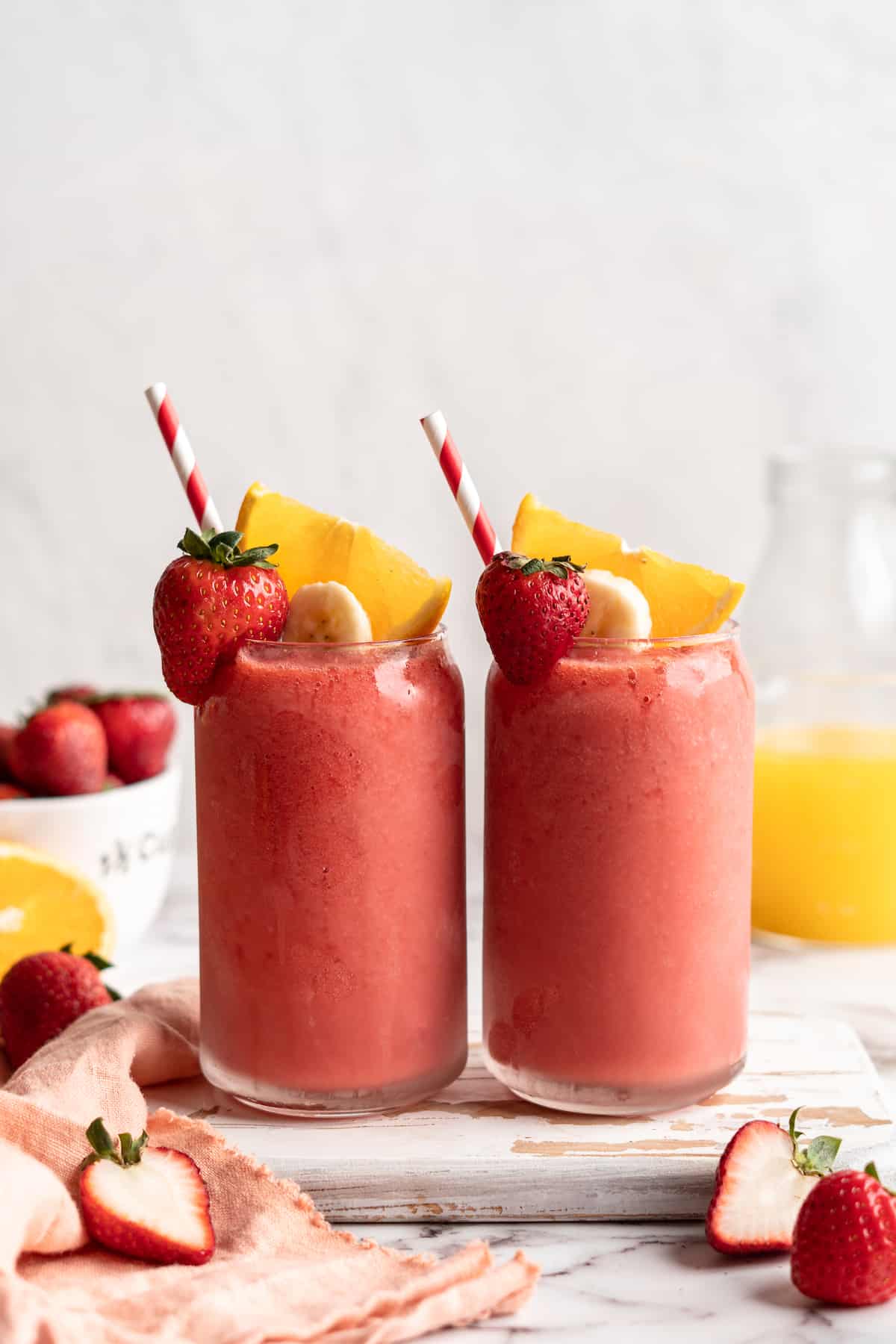 The banana brings that smooth, creamy texture, the strawberries add colour and flavour, and the orange juice brings it all together with sweetness and a bright burst of citrus.
Can you add more ingredients to the mix? Oh yes, and I share some ideas below! But if you want to streamline your morning routine, this three-ingredient strawberry banana smoothie is where it's at.
(Want to try some more of my best vegan smoothie recipes? My Green Smoothie, Pineapple Peach Smoothie, and Mint Chocolate Chip Green Smoothie are all reader favourites!)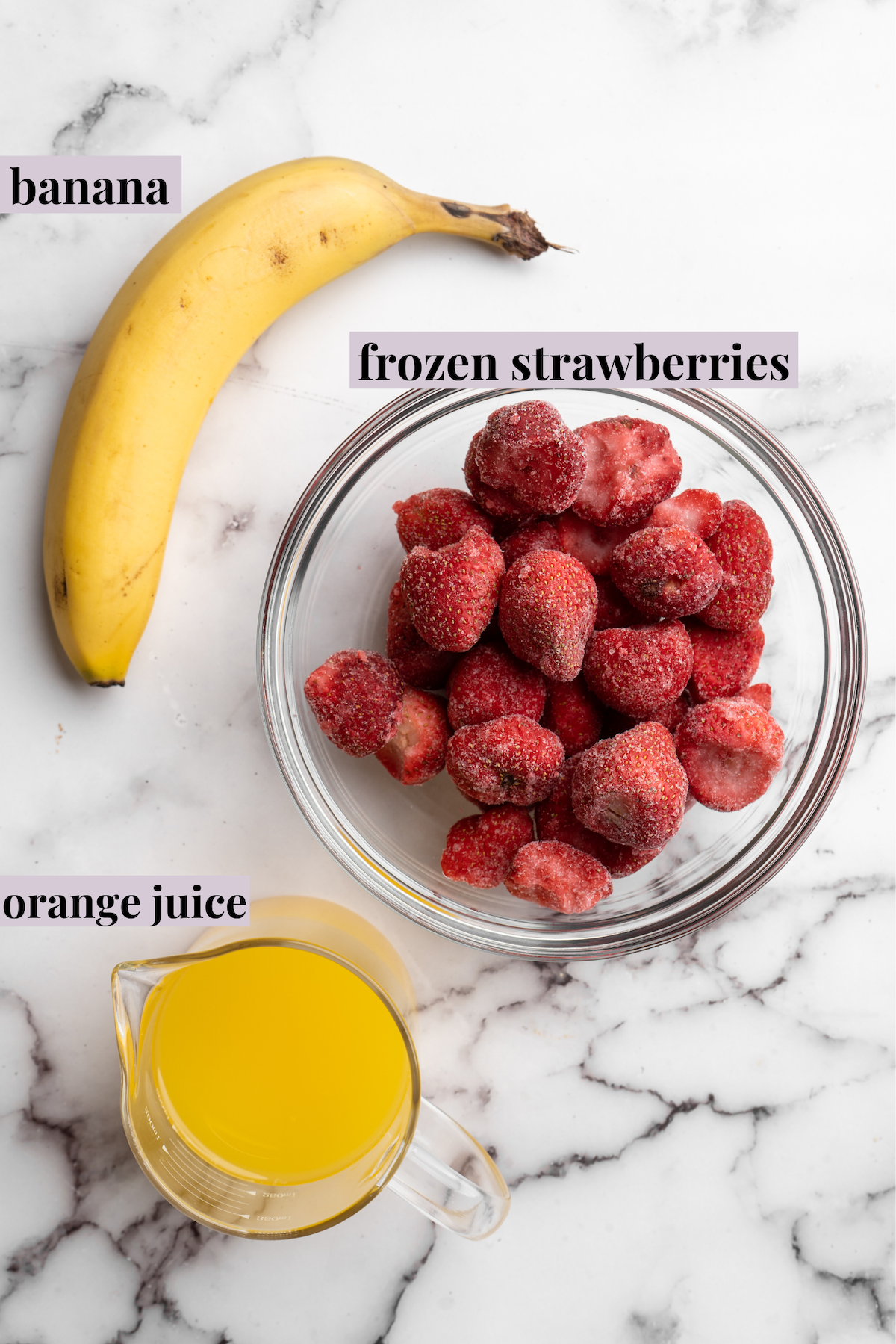 Notes on Ingredients
Scroll down to the recipe card to find the ingredient quantities and recipe instructions.
Frozen strawberries – Frozen strawberries chill the smoothie without watering it down like ice cubes. They also don't require washing or hulling!
Banana – The riper the banana, the more sweetness and flavour it will bring to your smoothie.
Orange juice – I simply use bottled orange juice, but if you're feeling ambitious, you can use freshly squeezed.
What Does Banana Do in a Smoothie?
Bananas appear in so many vegan smoothie recipes for a good reason—they're a dairy-free way to add a thick, creamy, luxurious texture to any smoothie. They'll sweeten your smoothie naturally, and they add tropical banana flavor.
How to Make a Strawberry Banana Smoothie
Here's how easy it is to make this vegan strawberry banana smoothie.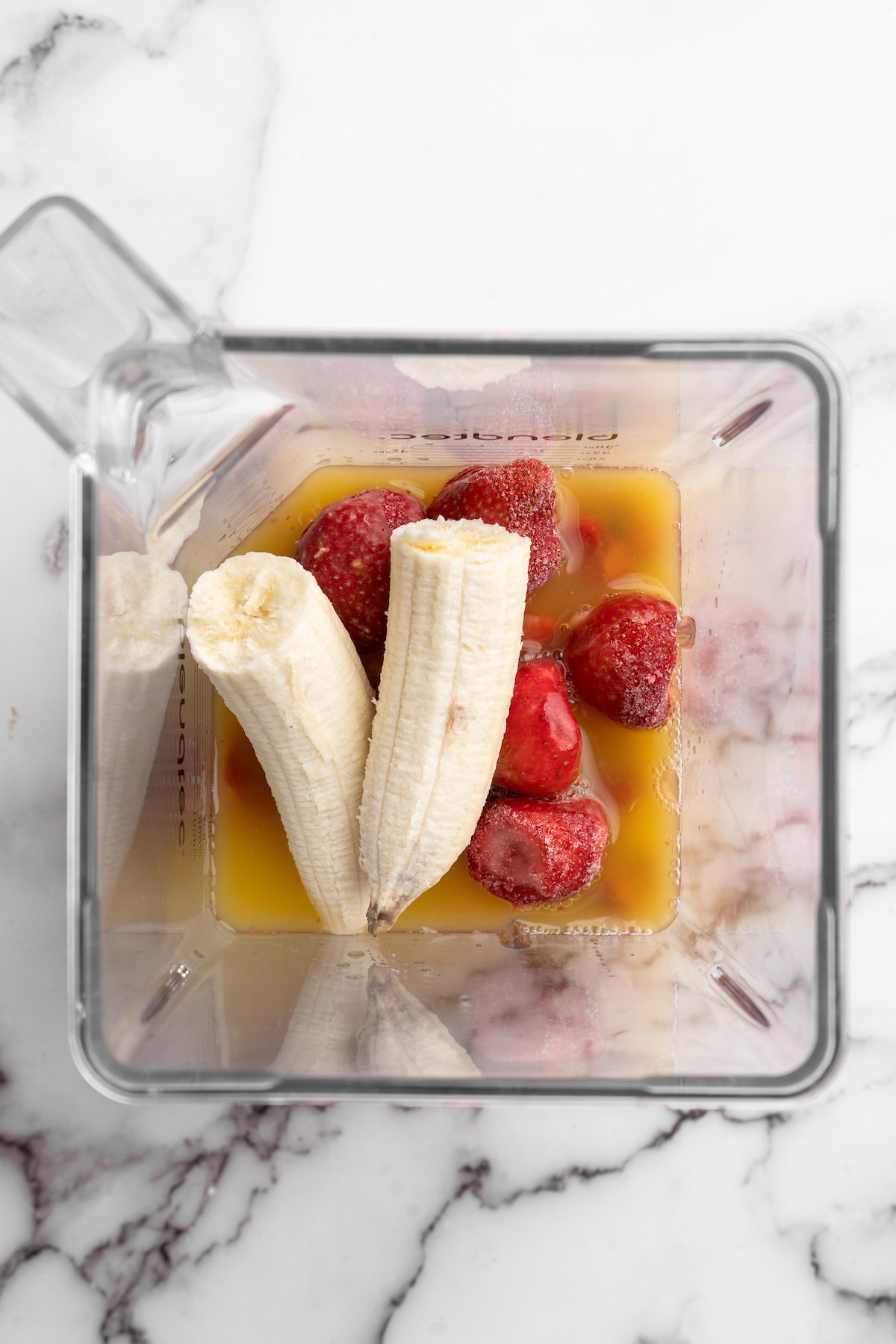 Place the ingredients in the blender. Start by pouring in the orange juice, then break the banana into chunks and add that, followed by the strawberries.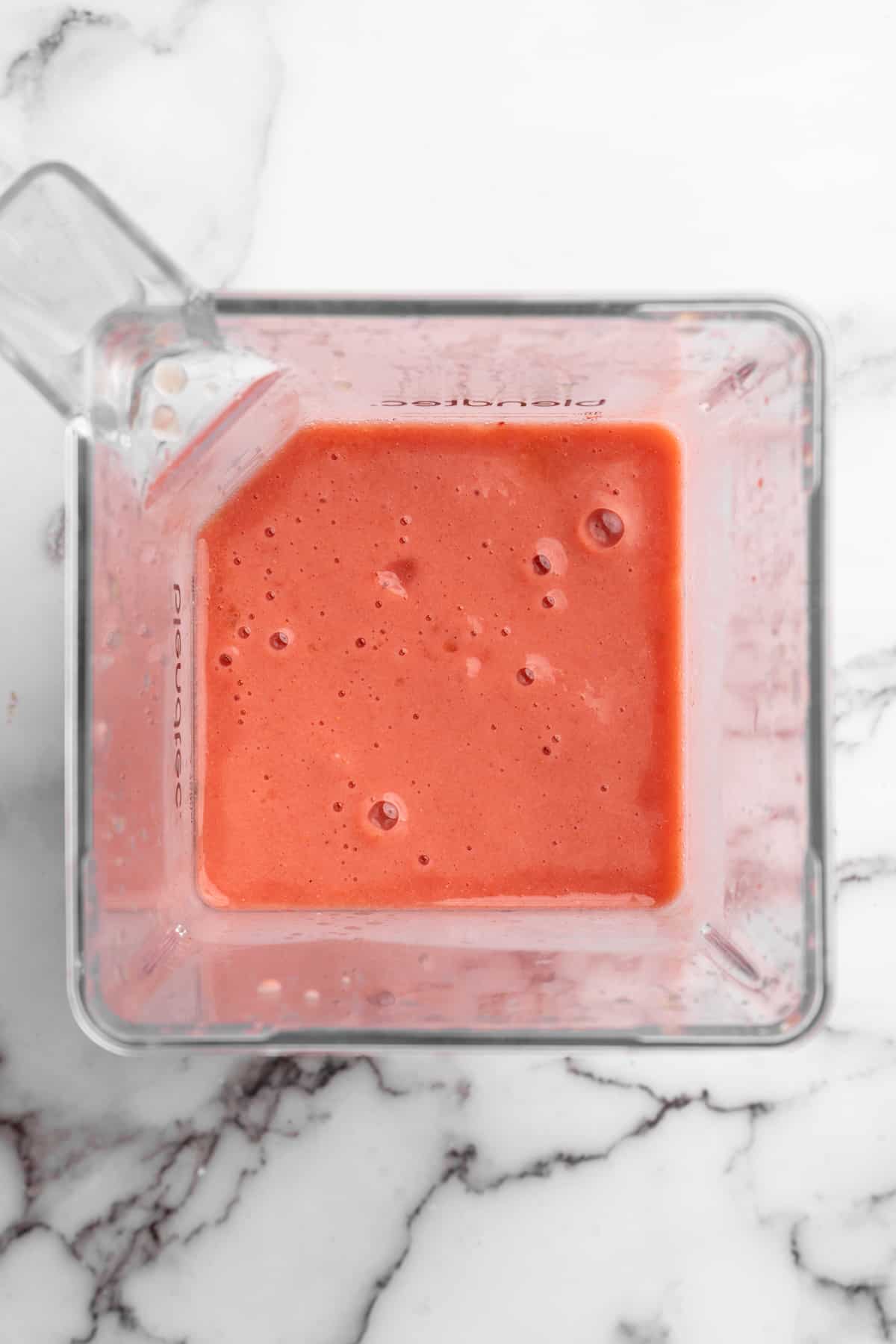 Blend. Slowly turn the blender dial from low speed to high and blend for about 1 minute, or until the mixture is smooth. If needed, stop the blender to scrape down the sides or pop any air pockets that form.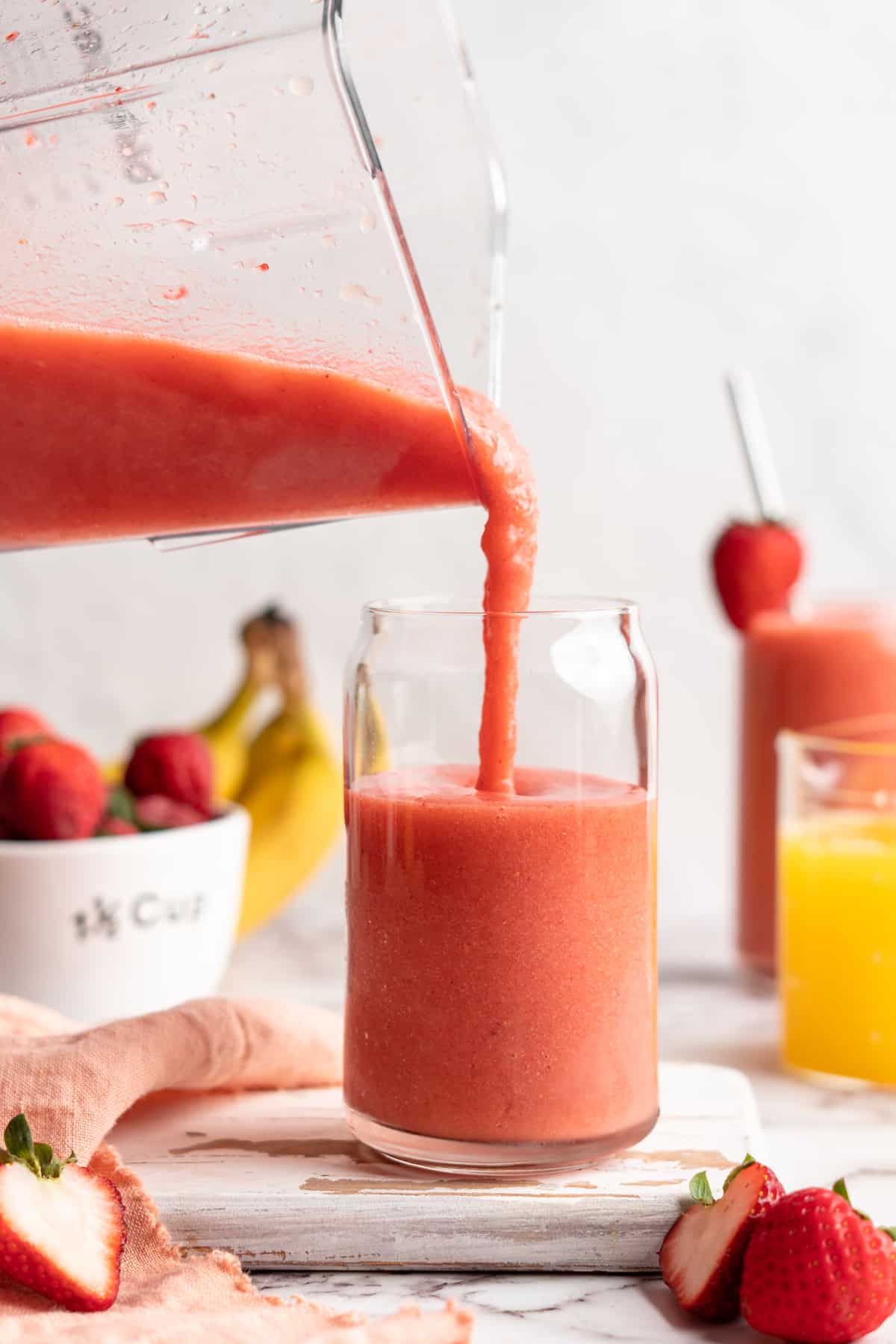 Serve. Pour the smoothie into glasses and enjoy right away!
Tips for Success
This strawberry banana smoothie recipe is easy to begin with, but here are a few tips to make it even easier.
Start with the liquid on the bottom. This goes for any smoothie recipe, not just this one! Putting the liquid in first helps your blender create a vortex that sucks the rest of the ingredients towards the blade. Your blender is less likely to get stuck this way!
Use at least one frozen fruit. If you happen to have fresh strawberries on hand, you can use those, but either pop them in the freezer or freeze the banana. You need at least one fruit to be frozen in order to get a cold, creamy texture.
Not a fan of bananas? Use an unripe banana and you'll get the creaminess without that strong banana flavour. (Note that you might need to add a little sweetener to your smoothie if you go this route.)
Variations
There are so many ways to make this strawberry banana smoothie your own! You can substitute frozen blueberries or raspberries for the strawberries, or add any of these ingredients:
Soaked raw cashews or silken tofu for extra creaminess
A handful of baby spinach for a green smoothie
Vanilla or plain protein powder or hemp hearts for protein
Chia seeds or oats for a boost of fibre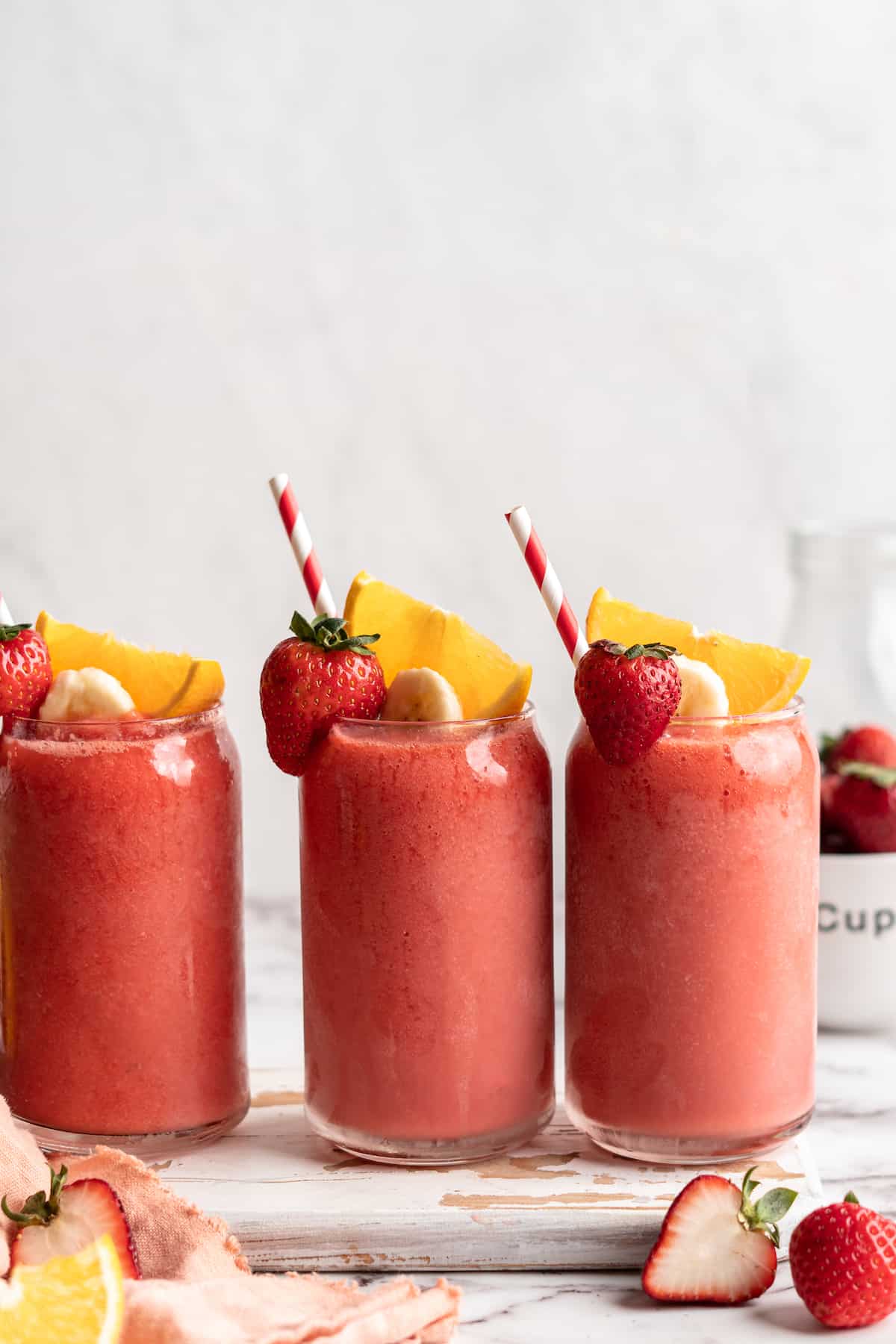 How to Store
Unfortunately, smoothies don't store very well and this strawberry banana smoothie is no exception. You can keep it in the refrigerator for up to a day and give it a good stir before serving, but it won't be as delicious as when it's fresh from the blender.
Can I Freeze This Recipe?
There are a few different ways to freeze this recipe! First, you can simply pour the smoothie mixture into zip-top bags, jars, or other storage containers and freeze for up to 3 months. Let the mixture thaw in the refrigerator before serving.
Another idea is to freeze your strawberry banana smoothie into ice pop molds and repurpose it as a popsicle.
Finally, you can freeze the smoothie in an ice cube tray. When you're ready to enjoy a smoothie, pop some cubes into your blender with a splash of water, plant-based milk, or orange juice and blend until smooth.
Enjoy friends! If you make this strawberry banana smoothie, please snap a photo and tag #jessicainthekitchen on Instagram! We'd also love it if you would leave a comment below, and give the recipe a rating! Thanks so much!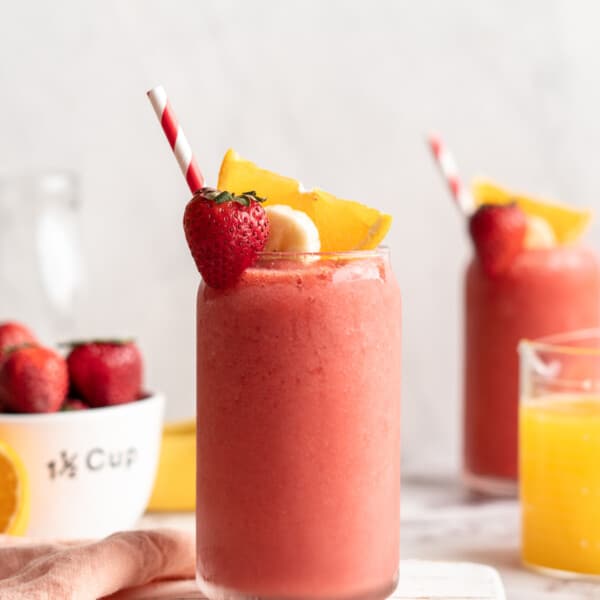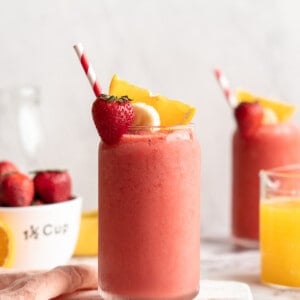 Strawberry Banana Smoothie
This 3-ingredient strawberry banana smoothie is creamy, smooth, and full of fruity flavour—and it's so easy you don't even need to be a morning person to make it!
Ingredients
1 1/2 cups frozen strawberries
1 banana
1/2 cup orange juice
Instructions
Blend all the ingredients together in a high powered blender for about 1 minute. Serve immediately and enjoy!
Calories: 230kcal, Carbohydrates: 56g, Protein: 4g, Fat: 1g, Saturated Fat: 1g, Sodium: 5mg, Potassium: 1001mg, Fiber: 7g, Sugar: 35g, Vitamin A: 324IU, Vitamin C: 199mg, Calcium: 48mg, Iron: 1mg
Disclaimer: Although jessicainthekitchen.com attempts to provide accurate nutritional information, kindly note that these are only estimates. Nutritional information may be affected based on the product type, the brand that was purchased, and in other unforeseeable ways. Jessicainthekitchen.com will not be held liable for any loss or damage resulting for your reliance on nutritional information. If you need to follow a specific caloric regimen, please consult your doctor first.