Strawberry & Kale Smoothie
This Strawberry & Kale Smoothie uses only 5 ingredients and is absolutely delicious! It is made in only 10 minutes and is great for quick breakfasts!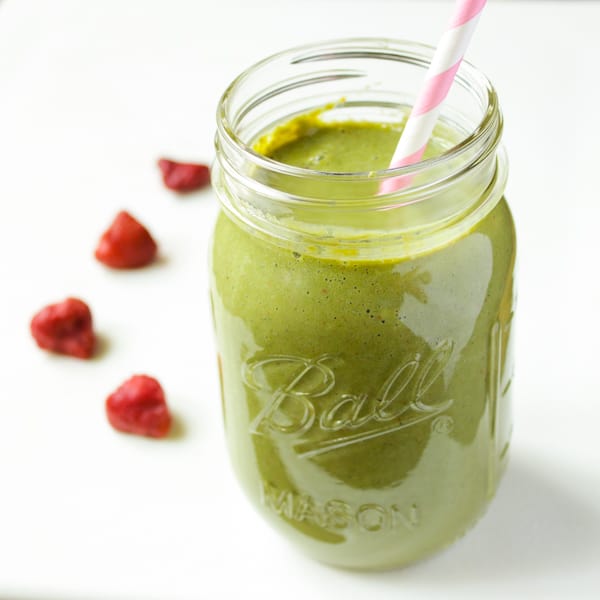 What better way to start the typical health month of the year than with a delicious and nutritious Strawberry & Kale Smoothie? It's three days into the new year and it's about time I went into health mode.
Cliche? Yes. Why? Trust me I need it. I don't know about you, but I went in on the pastries this holiday. Like, "oh I've woken up, what pastry should I have?" "I've just walked one block, what dessert should I have?" "It's snowing! Time to celebrate! What dessert should I have to celebrate?"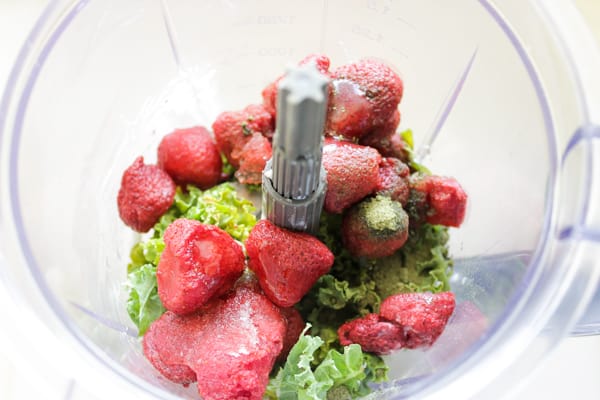 I figured it was time to stop delaying and dreaming about cheesecake and start off the year right with this Strawberry & Kale Smoothie. Now, let me give you a background; I'm a strawberry fiend. It's my favourite fruit and if given a choice I usually choose the breakfast or dessert containing strawberries. I also love eating strawberries by themselves and I've had endless strawberry smoothies.
Now Kale. I fell in love with Kale after I made Kale Chips and practically inhaled them, and I began using them as an ingredient in anything that allowed me to. Kale is also a SUPER veggie! I'm talking antioxidant loaded vitamins of A, C and K and is generally known as "the healthiest food group". I also added a tablespoon of Greens Best Balanced Memory Support Dietary Supplement which is a powdered super powered dose of the kale queen itself, broccoli, spinach, parsley, green tea and several others, adding a super charged amount of nutrients to your smoothie. Pretty much, you're set if you make this Strawberry & Kale Smoothie.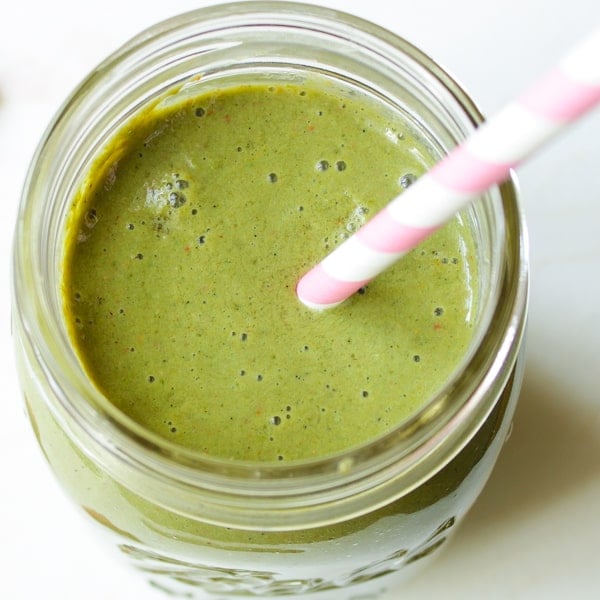 Rest assured that this actually tastes good. Like, I'm impressed! I have had some very "fresh" tasting green smoothies and here you get everything those offer plus a delicious smoothie. It's a very smooth and creamy smoothie that could be thinned out with ½ cup of milk if you wanted. As I specified in the recipe, you could increase the honey if you want or even use maple syrup or agave nectar in it's place, it's really up to you. You definitely get a clean, detoxed feeling after having this and a nice surge of energy! After barely sleeping last night I feel like I could run four marathons!
Okay, but truthfully maybe one.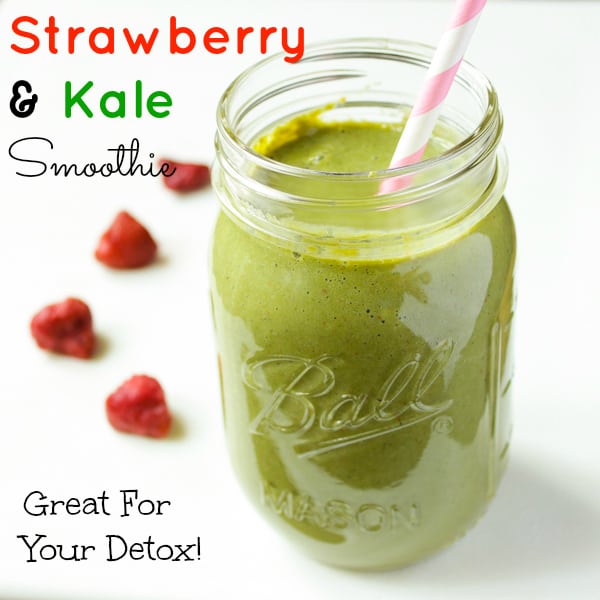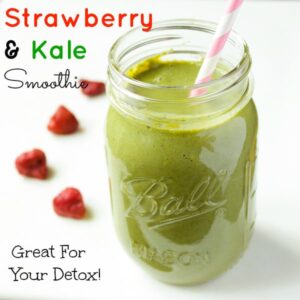 Strawberry Kale Smoothie
This Strawberry & Kale Smoothie uses only 5 ingredients and is absolutely delicious! It is made in only 10 minutes and is great for quick breakfasts!
Ingredients
2 cups kale, stripped from stem & washed
1 cup strawberries, frozen
1/2 cup vegan coconut yogurt
1/2 cup almond milk
3-4 teaspoons maple syrup
Instructions
Pour in the almond milk, coconut yogurt, kale, then strawberries and then finally the maple syrup.

Blend in a blender (preferably a NutriBullet or a Ninja or a Vitamix) and blend until all the ingredients are completely blended together.

Taste and add maple syrup by the teaspoon to your preference.

Enjoy!
Calories: 130kcal, Carbohydrates: 24g, Protein: 5g, Fat: 3g, Saturated Fat: 1g, Sodium: 116mg, Potassium: 463mg, Fiber: 2g, Sugar: 13g, Vitamin A: 6693IU, Vitamin C: 130mg, Calcium: 273mg, Iron: 1mg
Disclaimer: Although jessicainthekitchen.com attempts to provide accurate nutritional information, kindly note that these are only estimates. Nutritional information may be affected based on the product type, the brand that was purchased, and in other unforeseeable ways. Jessicainthekitchen.com will not be held liable for any loss or damage resulting for your reliance on nutritional information. If you need to follow a specific caloric regimen, please consult your doctor first.