Strawberry Kale Smoothie
With only 5 ingredients and 10 minutes of prep time, this healthy strawberry kale smoothie is the best way to start your day. Creamy, frosty, and full of berry flavour, it's a green smoothie you'll actually enjoy sipping!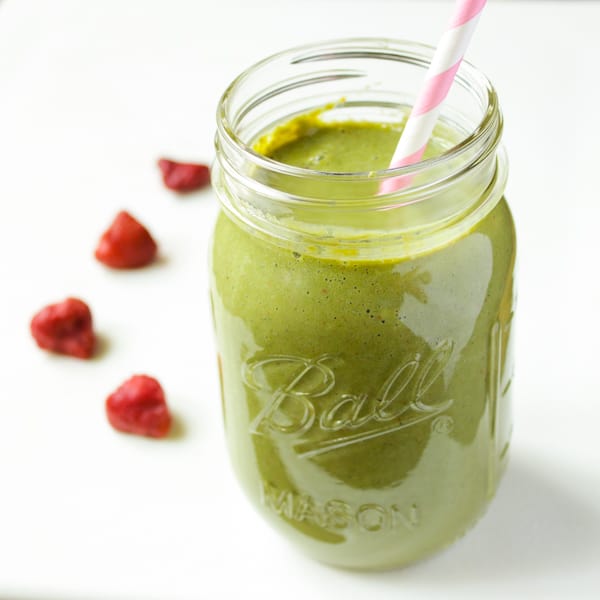 We all know that kale is a nutritional powerhouse, but let's be real: there are only so many kale chips and kale salads that we can eat in a day. Lucky for us, kale smoothies make it easy to work more of this superpower green into our diet—but not all kale smoothies are created equal.
Rest assured that this strawberry kale smoothie actually tastes good. I have had some very "fresh" tasting green smoothies over the years, but this smoothie gives you all the goodness of a green smoothie in a much more palatable form.
Why You'll Love This Kale Smoothie Recipe
Here's why you'll want to make this strawberry kale smoothie ASAP:
Balanced. You don't want a green smoothie that tastes like a green smoothie—you want it to taste sweet and fruity, with a hint of flavour from the greens. That's exactly what you get here!
Creamy. The addition of vegan yogurt gives this strawberry kale smoothie a little more staying power, and also makes it creamy and delicious.
Easy. Buy a bag of frozen strawberries and all you have to do is strip the kale from the stems and give it a quick rinse. This is not a kale smoothie that requires 20 minutes of prep work for a dozen different ingredients.
Healthy. Kale is loaded with vitamins A, C and K, while also being low in calories (7 per cup!) and high in antioxidants.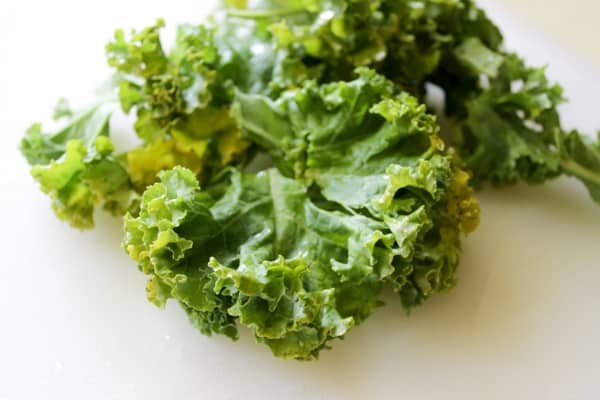 Notes on Ingredients
Scroll down to the recipe card to find the ingredient quantities and recipe instructions.
Kale – Curly, lacinato, or red kale all work here; you can also use a bag of baby kale and skip stripping the leaves from the stems. Baby kale has a milder flavour, too.
Strawberries – Using frozen strawberries gives your kale smoothie a thick, creamy texture.
Vegan coconut yogurt – Store-bought or homemade vegan yogurt.
Almond milk– Or another plant-based milk you like or have on hand.
Maple syrup – Use as much or as little as you like to sweeten your smoothie.
How to Make a Strawberry Kale Smoothie
Even if you're not a morning person, you can make this easy kale smoothie for breakfast!
Combine. Add the almond milk, coconut yogurt, kale, strawberries, and maple syrup to your blender.
Process. Turn on the blender and blend the ingredients until they are completely smooth.
Adjust. Taste and add more maple syrup, if desired.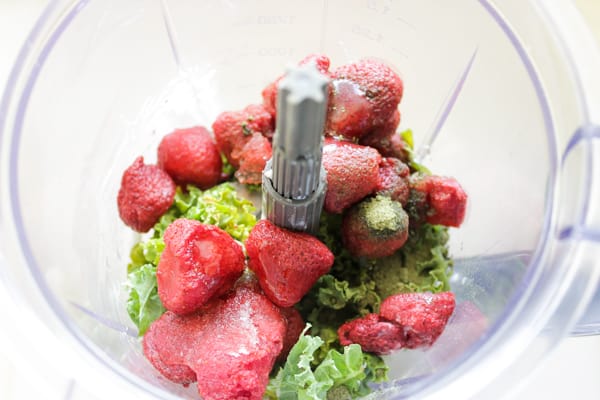 Tips for Success
As you can see, there's not much to this strawberry kale smoothie, but these additional tips will help you make sure it turns out perfect.
Use a high-powered blender. I like to use a Vitamix, Ninja, or NutriBullet to ensure that the strawberries and kale are blended completely smooth.
Add the almond milk first. Starting with the liquid helps create a vortex in your blender, pulling the solid ingredients towards the blade and preventing air pockets from forming.
Make meal prep smoothies. Freeze the vegan yogurt in an ice cube tray, then divvy up the yogurt, kale, and strawberries in freezer bags. You can freeze these for up to 3 months; when you're ready for a smoothie, just dump them into the blender and add almond milk and maple syrup to sweeten.
Variations
The beauty of kale smoothies is that they are easy to customise with different add-ins and toppings. Here are some of my favourite ideas.
Make it flavoured. Use orange juice (like my strawberry banana smoothie) for citrus flavour, coconut milk (like my strawberry pineapple smoothie) for tropical goodness, or vanilla plant milk for a subtle hint of vanilla.
Boost it with superfoods. Chia seeds, hemp hearts, and flax seeds will give your kale smoothie an extra boost of healthy ingredients.
Incorporate more protein. Use an unflavoured or vanilla plant-based protein powder to up the protein in this strawberry kale smoothie recipe.
Serve it with strawberry sauce. I love the strawberry sauce in my Korean strawberry milk, and it's perfect for adding some extra berry flavour to this smoothie.
Thin it out. Some people love their smoothies thick and creamy, while others prefer them thin and light. If you fall into the latter category, add an extra 1/2 cup of plant milk.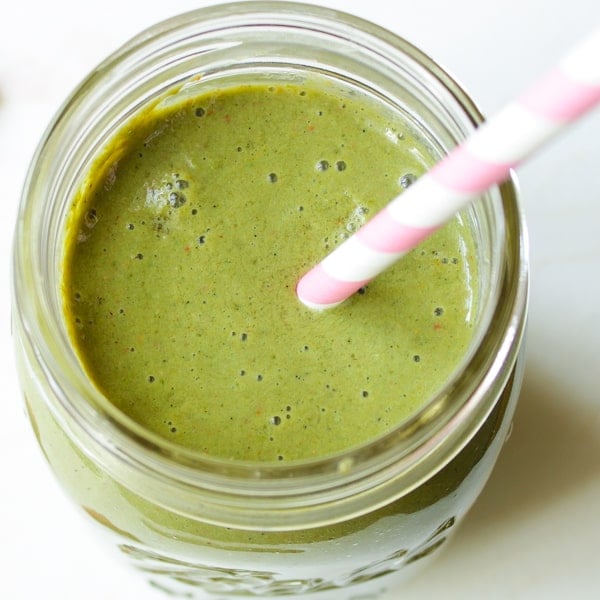 How to Store Leftovers
This strawberry kale smoothie is best enjoyed right away, but if you do have some left over, you can store it in the refrigerator for about a day. It will get thinner and separate with time, so stir it before serving.
Can This Kale Smoothie Recipe Be Frozen?
Yes, you can freeze this strawberry kale smoothie. Place it in a jar, zip-top bag, or airtight container and freeze for up to 3 months. Thaw in the refrigerator overnight before serving.
FAQ
Is it OK to Put Raw Kale in a Smoothie?
Yes, raw kale is perfectly safe to put into a smoothie. You can steam or boil it until it wilts for a milder flavour, though.
Does Blending Kale Remove Nutrients?
No, blending kale does not remove nutrients; in fact, blended kale is much healthier than juiced kale because it retains its fiber.
Is Kale or Spinach Better for Smoothies?
Both greens are excellent additions to smoothies, but spinach does have a milder flavour so many people prefer it.
Are Green Smoothies Better With Milk or Water?
This depends on what you're looking for in a smoothie! If you like your green smoothies creamier, go with milk; if you prefer a thinner, less rich smoothie, water or juice is the way to go.
More Vegan Smoothie Recipes
Enjoy friends! If you make this strawberry kale smoothie, please snap a photo and tag #jessicainthekitchen on Instagram! We'd also love it if you would leave a comment below, and give the recipe a rating! Thanks so much!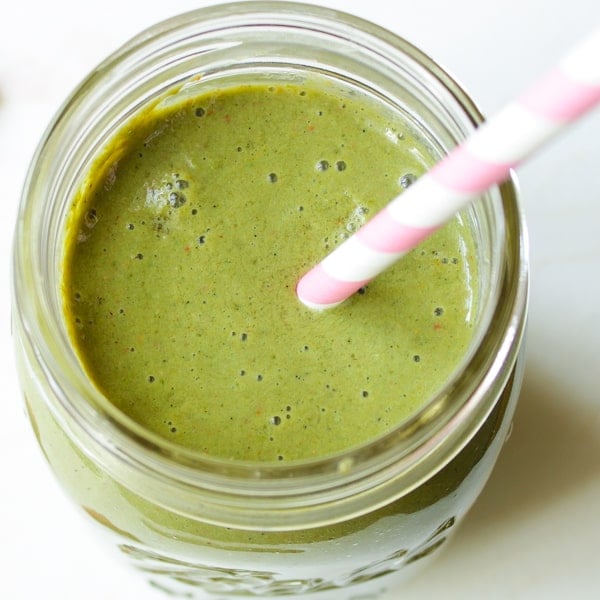 Strawberry Kale Smoothie
This strawberry kale smoothie is delicious, easy to whip up, and loaded with healthy ingredients!
Ingredients
2 cups kale, stripped from stem & washed
1 cup strawberries, frozen
½ cup vegan coconut yogurt
½ cup almond milk
3-4 teaspoons maple syrup
Instructions
Pour in the almond milk, coconut yogurt, kale, then strawberries and then finally the maple syrup.

Blend in a blender (preferably a NutriBullet or a Ninja or a Vitamix) and blend until all the ingredients are completely blended together.

Taste and add maple syrup by the teaspoon to your preference.

Enjoy!
Notes
To store: This strawberry kale smoothie is best enjoyed right away, but if you do have some left over, you can store it in the refrigerator for about a day. It will get thinner and separate with time, so stir it before serving. To freeze: Place the smoothie in a jar, zip-top bag, or airtight container and freeze for up to 3 months. Thaw in the refrigerator overnight before serving.
Calories: 130kcal, Carbohydrates: 24g, Protein: 5g, Fat: 3g, Saturated Fat: 1g, Sodium: 116mg, Potassium: 463mg, Fiber: 2g, Sugar: 13g, Vitamin A: 6693IU, Vitamin C: 130mg, Calcium: 273mg, Iron: 1mg
Disclaimer: Although jessicainthekitchen.com attempts to provide accurate nutritional information, kindly note that these are only estimates. Nutritional information may be affected based on the product type, the brand that was purchased, and in other unforeseeable ways. Jessicainthekitchen.com will not be held liable for any loss or damage resulting for your reliance on nutritional information. If you need to follow a specific caloric regimen, please consult your doctor first.