Insanely Delicious Cookie Butter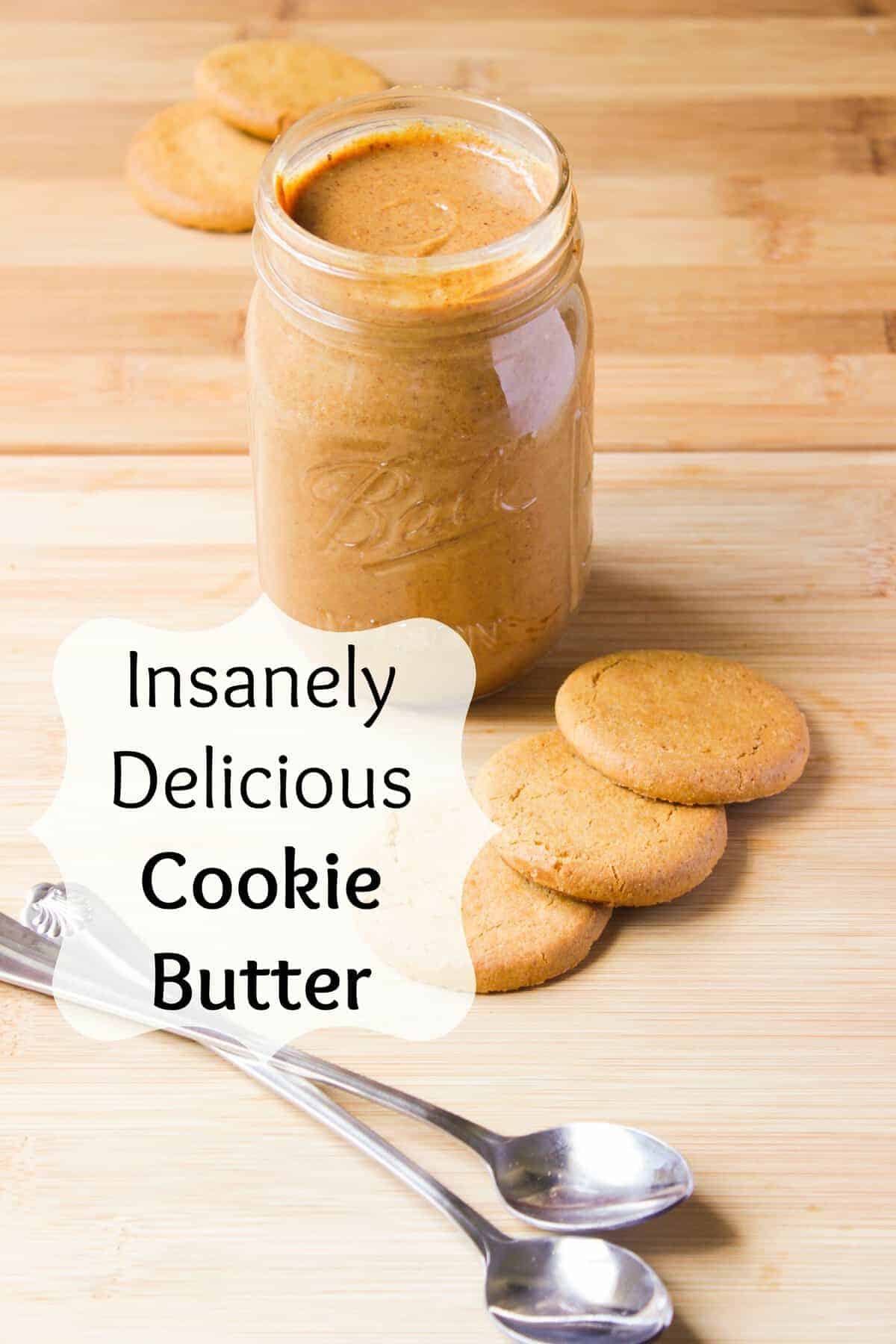 For the past few days, I feel like I have been in limbo. I've had two law school assignments due, two major projects I was working on (Thank God all of the above is now over as I am writing this), a major win for a Jamaican (Tessanne Chin! that show caused me major anxiety!) and the usual occurrences that life throws at us. That would explain why I haven't put out a new post in days.
So how did I celebrate the end of this insane week? I made 4 dozen mini cheesecakes (don't worry I only had half, JOKE) for a get together, oh and I made the best thing since sliced bread: Cookie Butter.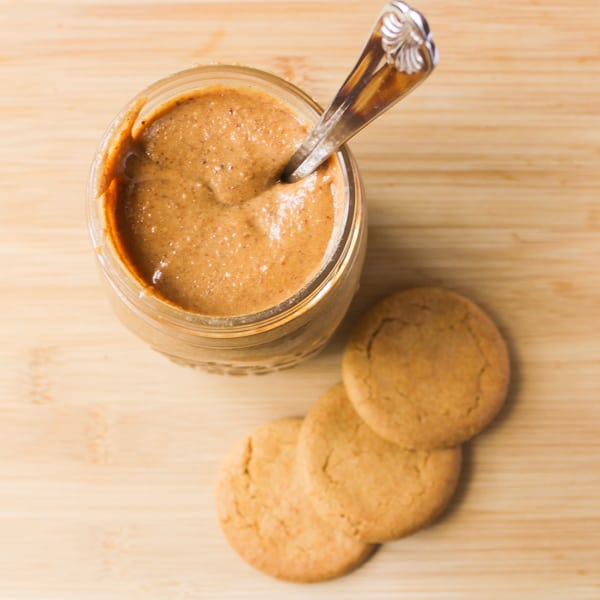 I'm dead serious; the best thing since sliced bread. This Cookie Butter will have you wondering what you've been doing all your life why you haven't been making cookie butter.
Oh, and I have a secret for you. It's kinda healthy. Not like, vegetables healthy, or exercise healthy, but it's as healthy as you can get for Cookie Butter. I didn't want to create just another cookie butter recipe that you'd feel guilty about eating, so I made sure it had a secret healthier ingredient: almonds. And it's only three ingredients.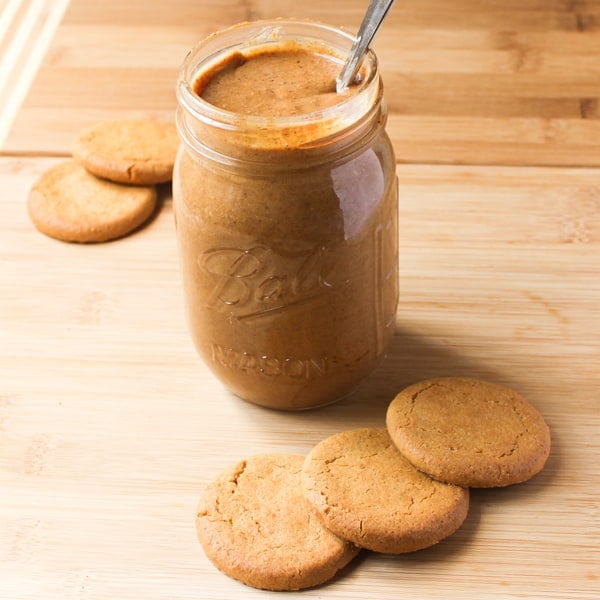 Almonds are like the most low fat nut you could find to make these without turning it into so-healthy-it-no-longer-tastes-good mode. Don't worry, I made sure we didn't enter that mode 🙂 . You could even opt for a low-fat ginger cookie if you wanted to but I like to live on the edge with at least one luxury item per recipe.
The thing is, the almonds act as the sugar, the oil, and all the other smoothers and binders found in most cookie butter recipes. I've made almond butter on countless occasions, and they do a very cool thing; they turn from rock hard to liquid. I know, what? You literally put them in a food processor and let them work their magic. It's like how butter and sugar cream into each other, or how whipped cream gets…whipped. Imagine awesome. Got it? More awesome than that! I was going to make another batch of almond butter and I literally thought, wait, couldn't I make cookie butter by this same method?
This is essentially Cookie Butter Almond Butter, but saying Cookie Butter alone is fine since I literally felt like I was eating these cookies in a spread. The almonds only enhance the taste, and since I used ginger cookies I really didn't need to use extra cinnamon or ginger, but if you want to that's totally fine. The pinch of salt is literally just to balance the flavours. Speaking of which, I would not recommend using salted almonds. Just, don't. Trust me.
Anyway, you can spread this on bread (sans Nutella, come on), add it to your favourite waffle or pancake recipe OR on top of it, spread it on cookies itself, add a spoonful in your oatmeal, or my favourite way, BY ITSELF. As you can see from the pictures it has beautiful speckles which come from the almonds and the cookies. There is a very slight grainy texture but for the most part it's smooth. I love the slight grain, it reminds me of how amazing homemade goodies can be.
Did I mention that this is an amazing gift to give? Can them in some mason jars (I finally got mine! Thank you Jamaica!) and send them to the people you love the most. This is how you let people know you love them; one taste and you'll see.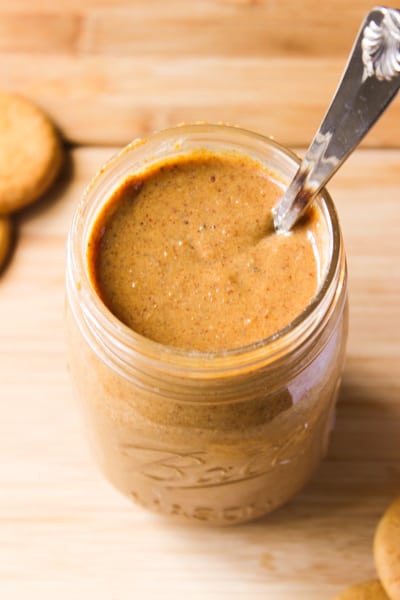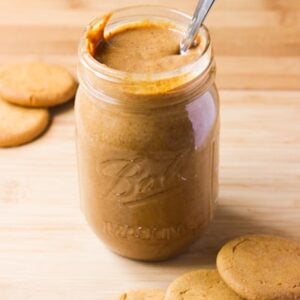 Insanely Delicious Cookie Butter
This homemade cookie butter is rich, creamy and delicious. Insanely easy to make, this cookie butter recipe will be your new favorite spread! Only 3 ingredients and ready in 10 minutes!
Ingredients
16 ounces almonds, I used Blue Diamonds butter toffee flavour
18-20 Gingersnap cookies, 12 grams each (240 grams)
1/2 teaspoon sea salt
Instructions
Add almonds to a food processor and blend Warning It WILL be loud.

Grind almonds for 7-10 minutes. The almonds will grind until they form into a dough ball, and then like turn into a smoother liquid substance.

Add the cookies and sea salt and optional spices and grind for 2-3 more minutes.

Spread on anything.

Store at room temperature or in the refrigerator (recommended).
Notes
This cookie butter can last in your fridge for a while, at least 4 weeks. At room temperature it would last at least a week.
Calories: 78kcal, Carbohydrates: 5g, Protein: 3g, Fat: 6g, Saturated Fat: 1g, Sodium: 45mg, Potassium: 91mg, Fiber: 1g, Sugar: 1g, Calcium: 32mg, Iron: 1mg
Disclaimer: Although jessicainthekitchen.com attempts to provide accurate nutritional information, kindly note that these are only estimates. Nutritional information may be affected based on the product type, the brand that was purchased, and in other unforeseeable ways. Jessicainthekitchen.com will not be held liable for any loss or damage resulting for your reliance on nutritional information. If you need to follow a specific caloric regimen, please consult your doctor first.