Chocolate Peppermint Swirl Cupcakes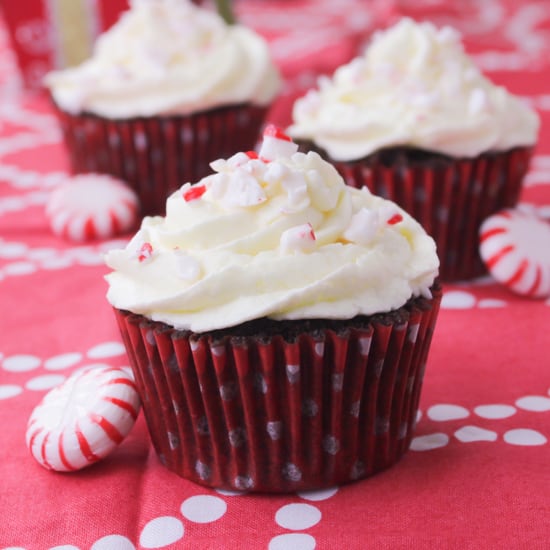 *Drumroll* I just wanted to announce that if you were watching TVJ's Weekend Smile yesterday morning, you probably knew these Christmas cupcakes would be here this morning :).
If not, I was on TV yesterday!
If you know Jamaica then you know that we have about 10 local channels, and out of the news channels three, and TVJ is one of these. Their show Weekend Smile is basically a show that comes on on the weekend and is a continuation of their weekly TVJ Smile Jamaica which comes on every weekday morning at about 6:00/6:30 am and features different people talking about different items.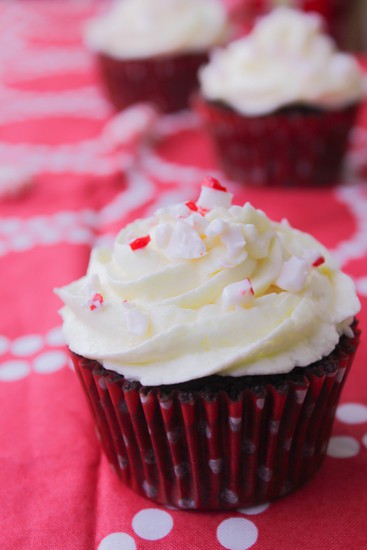 They asked me to come on and share my eggnog recipe, what you can pair with eggnog in a dessert form (these cupcakes) and also to share gifts that foodies would love to get for Christmas. This is the third time I have been on their show; twice now on the weekend show and once on the weekday show.
Again it was so fun!! And again the night before I was like "I'm chill" then woke up wondering if I ate all the cupcakes I would have no choice but to not go on! Just KIDDING! I could never eat all of those cupcakes…at one time…
After re-watching the tape (God bless my Dad!) I honestly think that this was the best appearance! I looked so calm cool and collected and I actually felt that way other than the fact that the segment goes by so fast you don't even realise when it is over. When they put up the online video I will link it here.
On to the delicious cupcakes that were featured; these Chocolate Peppermint Swirl Cupcakes.
These Chocolate Peppermint Swirl Christmas Cupcakes are so good. I never caught on to the mint chocolate trend but I understand the craze now. Something about the peppermint adds a sort of kick to the chocolate, a minty kick, lightening up the flavour but at the same time adding a depth and richness that can only be understood when you bite into them. The cupcakes are so soft and velvety and the melted peppermint that was swirled into the batter certainly did the trick. Alternatively you could just add a dot of peppermint extract – a little goes a long way – which is much easier but I don't regret swirling the peppermint into the cupcake batter. You get nice hints of peppermint in every bite and when combined with the frosting, the peppermint melts very slightly, creating a welcome crunch packed with flavour. After one day the peppermint flavour is even more prominent in the cupcakes, so consider making these a day in advance and storing in air-tight containers.
These would be great for any Christmas gathering! I'm going to be making them again later this week for a Christmas gathering and will probably be the last treat I make before I leave for the Christmas holidays. Snow! I'm so excited, so excited that I've already tried on all of my winter gear in this an air conditioned room in this very hot country and imagined myself in the snow. Yes I know, the reality is probably not as fanciful, but a girl can dream, right? 🙂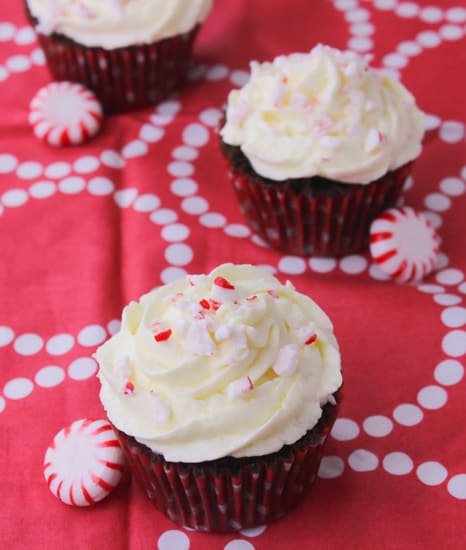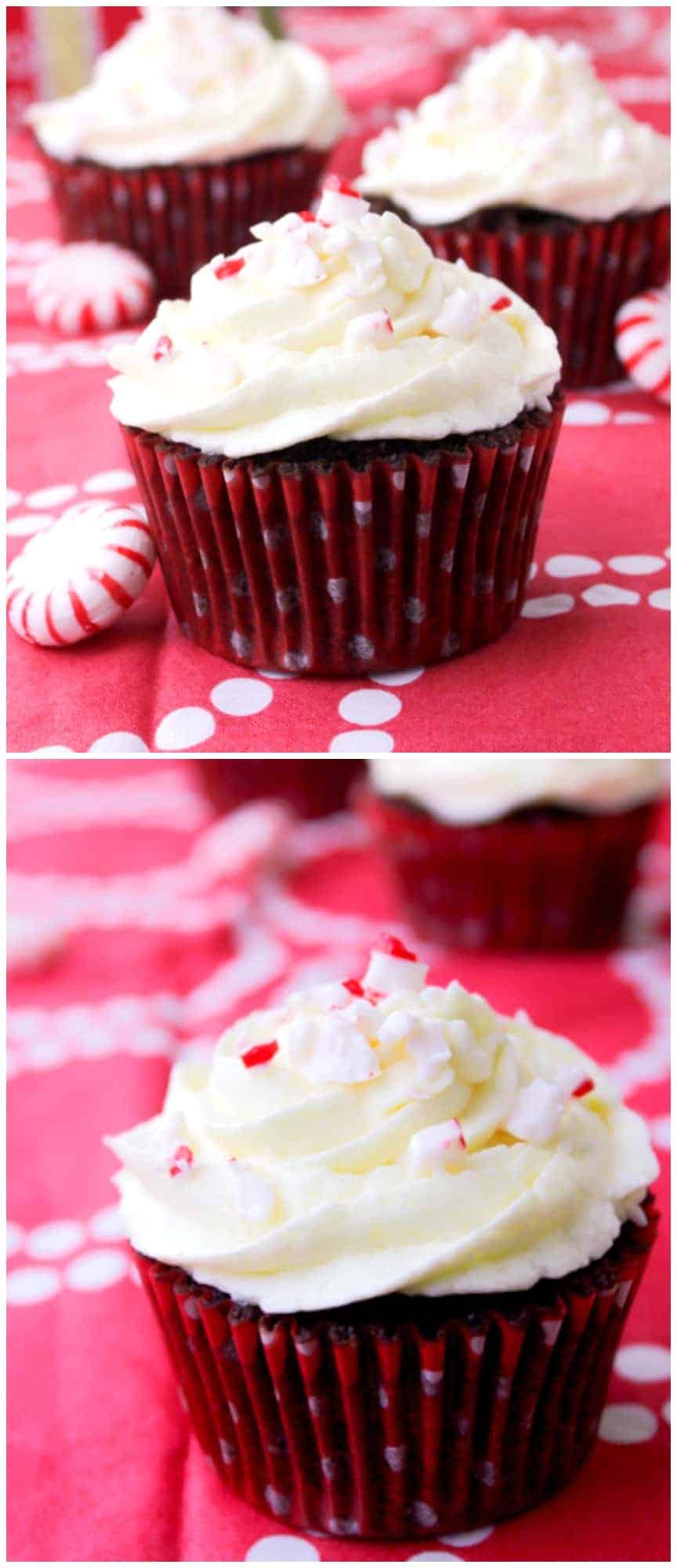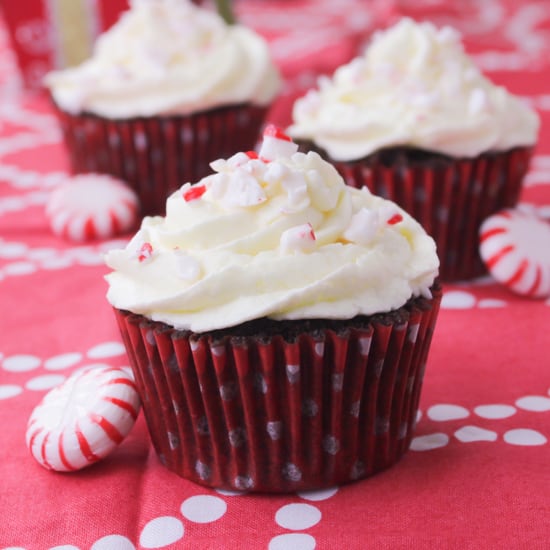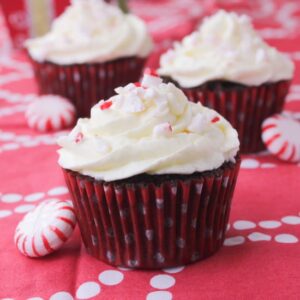 Peppermint Swirl Chocolate Cupcakes
These Chocolate Peppermint Swirl Cupcakes are so good. I never caught on to the mint chocolate trend but I understand the craze now.
Ingredients
Cupcakes:
1-3/4 cups all-purpose flour
2 cups sugar
3/4 cup unsweetened cocoa powder
1-1/2 teaspoons baking powder
1-1/2 teaspoons baking soda
1 teaspoon salt
2 eggs, room temperature
1 cup buttermilk
1/2 cup vegetable oil
2 teaspoons vanilla extract
1 cup coffee water, 1 tablespoon of coffee in 1 cup water
Peppermint Swirl
15-18 peppermints
2 tablespoons corn syrup
Frosting:
3 cups powdered sugar, sifted
8 oz. unsalted butter, room temperature, diced into 1" cubes
1 tsp. vanilla
pinch of salt
3-6 tablespoons milk
Garnish:
Chopped peppermints, in a food processor
Instructions
Peppermint Swirl
Chop (in a food processor or by hand) peppermints.

Add to a pot with corn syrup and heat on medium hight heat until melted, stirring continuously. Add up to 3 tablespoons of water if necessary if the peppermint begins to get sticky.

Remove from pot when melted completely. Make this immediately before making the cupcake batter, or even after and add to the cupcakes.
Cupcakes
Preheat oven to 350 degrees. Line 30 cupcake tins with liners.

Add all of the dry ingredients together and mix until incorporated.

Add the eggs, milk. oil and vanilla and stir.

Add the coffee water bit by bit so as to avoid splashing as it will make the batter very watery.

Add the peppermint swirl or 1 teaspoon of peppermint extract.

Using a level scoop, pour batter into the liners.

Bake for 22 minutes.

Allow to cool for 3 minutes then remove until a wire rack to cool completely.
Frosting
Mix the unsalted butter, salt and the vanilla in a standing mixer or by hand until smooth.

Add the powdered sugar one cup at a time.

Add the milk, 3 tablespoons first and the additional if necessary to thin out the frosting. Mix for 7 minutes minimum to blend until frosting is fluffy and white.

Decorate the cupcakes by piping frosting on top, and adding chopped peppermints. Note that the peppermints will start to melt back together almost immediately after chopping so chop directly before adding to cupcakes.
Notes
After one day the peppermint flavour is even more prominent in the cupcakes, so consider making these a day in advance and storing in air-tight containers. These Chocolate Peppermint Swirl Cupcakes are so good. Soft, chocolate-y and filled with peppermint, they'll be one of your favourite Christmas cupcakes! The frosting is heavenly!
Calories: 211kcal, Carbohydrates: 31g, Protein: 1g, Fat: 11g, Saturated Fat: 7g, Cholesterol: 28mg, Sodium: 128mg, Potassium: 60mg, Fiber: 1g, Sugar: 28g, Vitamin A: 224IU, Vitamin C: 1mg, Calcium: 21mg, Iron: 1mg
Disclaimer: Although jessicainthekitchen.com attempts to provide accurate nutritional information, kindly note that these are only estimates. Nutritional information may be affected based on the product type, the brand that was purchased, and in other unforeseeable ways. Jessicainthekitchen.com will not be held liable for any loss or damage resulting for your reliance on nutritional information. If you need to follow a specific caloric regimen, please consult your doctor first.